Decisive Victory for Ocasio & Progressives
Democratic Party Insider Joe Crowley Loses in Stunning Defeat
June 27, 2018 / Bronx Neighborhoods / Queens Neighborhoods / Queens Politics / Bronx Politics & Government / News Analysis & Opinion / Queens Buzz NYC.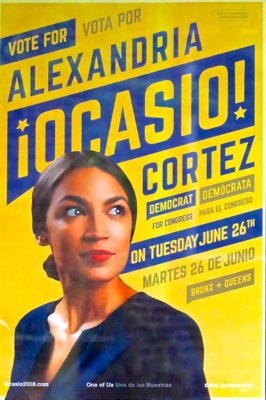 Congressman Joseph Crowley suffered an astonishing defeat Tuesday, when Alexandria Ocasio - Cortez defeated him in the 14th district NYS primary for U.S. Congress. According to Vox, with 97% of the precincts reporting, Ocasio-Cortez had received 15,897 or 57% of the vote, while Crowley had received 11,761 or 42% of the vote.
Crowley, age 56, inherited his office and the Queens Democratic Party Chairmanship from Thomas Manton in 1999. Crowley has spent the last two decades in Washington, D.C. rising to the top levels of the Democratic party leadership, considered by many to be one of the top contenders to succeed Nancy Pelosi as the House Democratic Leader.
Ocasio-Cortez is a youthful 28 years old, the daughter of a Bronx native and Puerto Rican mother. She graduated from Boston University with a BA in Economics and International Relations. Since then she has worked at a Bronx start up and in the Bernie Sanders presidential campaign of 2016.
Crowley reportedly had a campaign budget of $1.5 million versus $0.3 million for Ocasio-Cortez, raised via small and online donations.
Crowley, Pelosi, Schumer & the Democratic Party of Appeasement
Alexandria ran a spirited campaign, tapping into some of the energy and frustration of an increasingly rigged system, which Donald Trump has been hyper rigging since he took office in 2017.
The Donald tweeted that Joe lost because he opposed President Donald. But as oftentimes seems the case with Trump tweets - the reality is quite the opposite. The electorate that supported Ocasio-Cortez are more likely to view Crowley, Pelosi and Schumer as leaders of a Democratic Party of Appeasement who need to be replaced by people who will vigorously fight for the democratic principles upon which this nation was founded. Pelosi, Schumer and Crowley are seen as wet noodle leaders of the opposition - telling their supporters to hush up about any possibility of impeaching Trump.
Appeasers Say Don't Talk About Trump Impeachment ...
Some pundits believe that Trump is exactly the type of president for which the process of impeachment was included in the U.S. Constitution, as he appears to have colluded with a hostile foreign power to win the election, appears to be in numerous violations of the emoluments clause of the U.S. Constitution and is aligning the U.S. with dictators while undermining democracies around the globe with disruptive breaks in our military and economic alliances.
The party of appeasement references British Prime Minister Neville Chamberlain's appeasement of Hitler in 1938 when Chamberlain signed the Munich Agreement. The Munich Agreement basically ceded the German speaking segment of the Sudetenland in Czechoslovakia to Adolph Hitler. Emboldened by Chamberlain's lack of courage to stand up to him, Hitler invaded Poland in 1939 and WWII began.
Bernie Sanders championed the "government by the people for the people" wing of the Democratic party in 2016 and Cynthia Nixon, Jumaane Williams and the NYS Senate IDC challengers are running as the voice of this segment of the electorate in the NYS September 13th primaries.
Trump Aligns with Dictators Around the World, While Undermining Democracies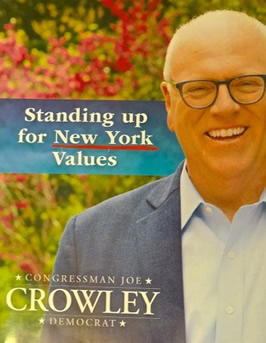 Trump has been aligning the U.S. with leaders of totalitarian states and dictators around the world including Supreme Leader Kim Jong-un of North Korea, President Vladimir Putin of Russia, King Salman bin Abdulaziz Al Saud of Saudi Arabia, President Xi Jinping of China and President Rodrigo Duterte of the Philippines.
Trump has been undermining our historical allies - comprised of the real democracies around the world - such as Canada, Britain, France, Germany, Japan, Mexico and most, if not all, of the rest of Europe and most of Latin America.
Left unchecked, this policy of appeasement by the Democratic and Republican parties could, over the long haul, result in the loss of democracy on the planet. Nancy Pelosi, Chuck Schumer and Joseph Crowley are all seen as the appeasers - and last night Crowley as one of them - took a big loss.
Crowley's Congressional District Changed from the 7th to the 14th in 2013
In 2013 the congressional district that Joe Crowley had historically run in [7th District] changed. The 7th district covered the northern and western rim of Queens. Since 2013 Crowley has been running in the 14th congressional district which covers the northern rim of Queens and the southeastern part of the Bronx. The changed district resulted in changes to the demographic composition of the electorate by increasing the Hispanic representation in the district. Also, by including the Bronx in the district, it included an area where the electorate had little familiarity with Crowley.
All of the above likely contributed to Crowley's loss. Joseph Crowley was a gracious loser, complimenting Alexandria Ocasio-Cortez on her well run and hard fought campaign.
Election 2018 Tuesday 6/26 - Please Vote
June 25, 2018 / Manhattan Neighborhoods / Manhattan Politics & Government / Manhattan Buzz NYC.
The New York State federal offices (Congress) primary election is tomorrow, Tuesday June 26th.
The polling booths will be open from 6 am to 9 pm Tuesday.
To find your poll location click on the graphic at right.
Once on the website, input your address, and then click the icon to the right of it to get the results of the search.
Remember that if you really want things to change, then you can't keep electing the same representatives.
---
Is Nixon the One for NYS?
Cynthia Nixon & Jumaane Williams Support Real Rent Reform
June 14, 2018 / NYC Neighborhoods / NYC & NYS Politics / Gotham Buzz NYC.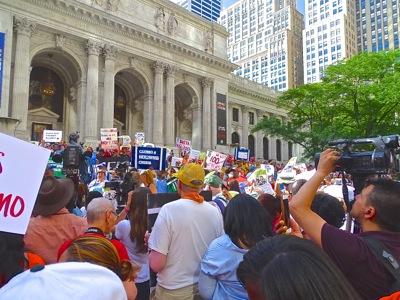 On Thursday afternoon I headed to the NY Public Library at Bryant Park to attend a Rent Reform Rally organized by RealRentReform.org. I had heard that Cynthia Nixon and Jumaane Williams, candidates for NYS Governor and NYS Lieutenant Governor, respectively, were to speak at the event - so given the relevance of rent reform and the growing interest in the challengers to the status quo ... I decided to go.
As I emerged from the subway, I wasn't disappointed. There were a thousand plus protesters gathered on the steps of the central library along Fifth Avenue, just south of 42nd Street, gathered to make their voices heard. What struck me as I surveyed the crowd was the cross sectional nature of the people who had gathered. From the young student activists, to the elderly handing out pamphlets, to people of all colors ranging from black to white.
I shot some photos and talked to some of the organizers and attendees to find out what they had come to say. Essentially they were disappointed with Governor Andrew Cuomo's inaction on strengthening rent regulations - which struck me as comparable to the inaction on housing and the rapid rise in homelessness in NYC as happened under former Mayor Michael Bloomberg.
NYS Department of Housing & Community Renewal
NYC Mayor de Blasio helped arrest the rising tide of homelessness in NYC by his actions since taking office in 2014, but there was plenty more to be done, and the Governor and the State of New York hold many of the cards. One of the complaints I heard was that the NYS Department of Housing & Community Renewal [DHCR] budget had been cut since Cuomo took office, and that there were only eleven lawyers to help tenants avoid evictions and unfair landlord and developer actions statewide.
Cuomo Decreases DHCR Staff While 'Appearing' to Increase Real Estate Development Incentives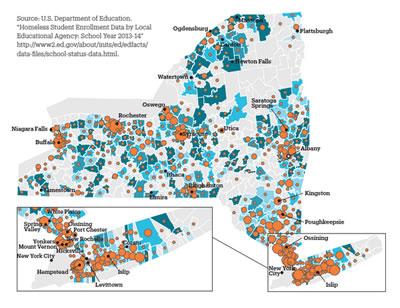 I went online and looked up the budget for the NYS Department of Housing & Community Renewal budget where the agency staff portion of the budget between 2011 and 2017 had been cut from $745 million to $682 million, which is a net reduction of 8.5%. The funds being allocated to the development of housing looked like it had increased substantially [+715%] from $314 million in 2011 & 2012, to $2,245 billion in 2018. But - as I found out - this multi-billion dollar increase is misleading ... so please spend a bit more time and keep on reading.
The 'added billions' goes toward categories entitled State Operations, Aid to Localities and Capital Projects. All of the increase went into a category entitled Capital Projects, which was comprised of two subcategories - Infrastructure Investments and a Housing Program Fund. But the budget increase was saddled with an MOU. The funds were allocated to incent and aid real estate developers to build affordable housing. The net result is that it looks like Governor Andrew Cuomo has cut DHCR agency staff who help residents stay in their homes, while 'appearing' to increase the state money to aid real estate developers to build affordable housing.
Governor Cuomo added $2 billion to the DHCR budget in 2016 referencing a Memo of Understanding [MOU]. While Cuomo claimed to commit $2 billion to building 20,000 new affordable housing units, he saddled the budget increase with a legislative tactic - the MOU. I was told - and the DHCR budget appears to confirm - that most of this money remains unspent and appears to be a revolving budget item that allows Cuomo to claim he's making the investment in affordable housing while not actually going through with it. Real Rent Reformers at the Rally last Thursday alleged that this is a part of a revolving budget game by Governor Cuomo, while the NYS affordable housing shortage continues.
This reminds me of another game allegedly played by Governor Cuomo, which was the use of the now disbanded 'Independent Democratic Caucus' [IDC], which Governor Cuomo is reported to have supported. The IDC was comprised of NYS Senate Democrats who caucused with the Republicans - thus essentially making them Republicans running as Democrats. I did a story earlier outlining this subterfuge which you can view by clicking the link.
NYS Losing Affordable Housing Stock?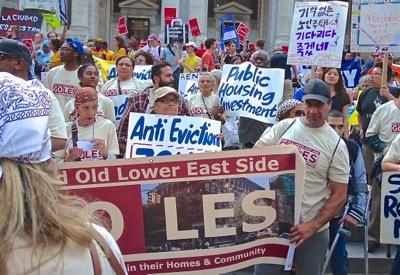 Another protester complaint was that somewhere between 75,000 and 100,000 affordable homes have been lost during Andrew Cuomo's two terms as Governor and that he has turned a blind eye to landlords and developers cashing in on his inaction. Cuomo's DHCR staff budget cuts would seem to support this allegation, as does Cuomo's inaction on closing loopholes used by developers and landlords to convert rent stabilized apartments to market rate housing stock.
One protester told me that homelessness has risen 36% since Cuomo took office. As of this writing I haven't had time to totally verify this claim - which I hope to do between now and when the primary season ends on election day Thursday, September 13th, 2018 [the election date was moved because Tuesday is 9/11]. But I did find that, at least directionally, these claims are correct.
An example of the growing statewide housing crisis is that in the school year 2012 - 2013, a bit less than halfway through the eight years Andrew Cuomo has been governor, New York had the third highest percentage of homeless students in the U.S. [source: Institute for Children Poverty & Homelessness - aka ICP]. I had thought that homelessness was largely a New York City problem, but as you can see by the map / chart the ICPH published - the problem is statewide.
Jumaane Williams & Cynthia Nixon Running for NYS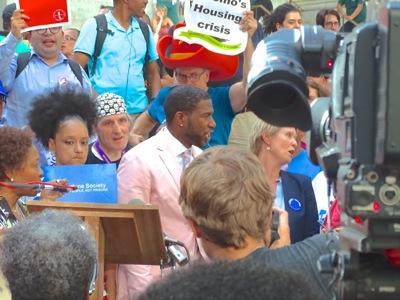 After speaking to the protesters a number of people rose to speak. Among them was Jumaane Williams, the NYC Councilmember of the 45th district in Brooklyn. He's challenging NYS Lieutenant Governor Kathy Hochul who he said was party to NYS Governor Cuomo's inaction.
The following is a video primarily of NYS Gubernatorial candidate Cynthia Nixon speaking at the rally. It was the first time I had seen her look like a real contender for the governorship since she announced her intention to run on March 19, 2018. Nixon talked first about rent regulations and one of her own personal experiences, and then she went on to mention other issues that separate her and Jumaane from Cuomo and Hochul.
This is just the beginning of our NYS state elections coverage 2018. I still have a fair amount of research to do to become more familiar with the state's role in so much of what affects us in NYC including affordable housing, the MTA, NYC public education and possibly corruption.
Petitions to Help Challengers get on the NYS Ballot
Nixon and Jumaane have about three weeks left to obtain the required signatures to get on the ballot. If you want to help them you can by copying & pasting this link into your browser for Cynthia Nixon for Governor and for Jumaane Williams for Lieutenant Governor
https://cynthiafornewyork.com/wp-content/uploads/2018/06/Cynthia-Jumaane-Petition.pdf
---
The Ridiculous & Scary Presidency of Benedict Donald
The Ridiculous & Scary Presidency of Benedict Donald
If Trump is so Innocent, Why is his Legal Team Spending so Much Effort on Asserting he can Pardon Himself?
June 4, 2018 / NYC Neighborhoods / NYC Politics / News Analysis & Opinion / Gotham Buzz NYC.
This would be funny, if it wasn't so real.
While Trump loudly and continuously proclaims his innocence, both he and his legal team are aggressively claiming that the president is above the law and can self pardon. These actions and concurrent narratives don't seem very innocent to me.
Is this a Shakespearean comedy of errors by fools?
Do They Think Americans Are Morons?
Is Democratic Rule of Law being Ceded to Billionaire Oligarchs?
Rudy Giuliani, once a lawyer who prosecuted the mob, seems to have sold out by becoming a lawyer who now represents mob-like characters, including Donald J. Trump and Turkish Iranian businessman Reza Zarrab.
Not long after Trump began his career in the real estate business in the 1970's, Trump is believed to have associated with the mob, doing business with them on deals relating to the construction of Trump Tower, and in developing casinos in Atlantic City, New Jersey. Trump reportedly admitted he was friendly with mobsters and I've seen photos of Trump with some. Trump has also sold in the neighborhood of a hundred million dollars or more in real estate to Russians, including an Oligarch, according to Haaretz, an Israeli English language publication. The Oligarchs are considered to be the Russian equivalent to what was the American mob by some. Click here for a brief and likely very incomplete accounting of some of what seem like Trump's nefarious dealings - Donald Trump & the Art of the Steal.
Rudy Giuliani was also hired by Reza Zarrab's defense lawyers - not to plead their case as their attorney - but to do something else, possibly akin to what Trump fixer Michael Cohen does. Giuliani was a staunch candidate Trump supporter in 2016, an unofficial Trump security adviser in 2017, and most recently became a member of the Trump legal team. According to an April 3, 2017 Seattle Times report,
"[Guiliani and former Attorney General Michael Mukasey] were hired by Zarrab's defense. But oddly, neither is involved in pleading the case in U.S. District Court, leading prosecutors to wonder if the defense is trying to circumvent the regular judicial process by going above prosecutors' heads. ... He [Zarrab] and several others are accused of conspiring to evade U.S. sanctions against Iran, using a network of companies to mask the true nature of transactions and defraud multiple banks. Prosecutors say they processed hundreds of millions of dollars for Iran and claim to have thousands of pages of bank, email and phone records to prove it. Zarrab pleaded not guilty."
To make a long story short, Trump subsequently fired Preet Bahara, the U.S. Attorney for the Southern District of New York who was prosecuting the Zarrab case [and also prosecuting a couple of cases against a company controlled by Trump propagandist billionaire Rupert Murdoch - see link below]. At the time it was believed that Marc Mukasey, Michael Mukasey's son, would replace Bahara. Instead Trump left the position vacant for about a half year, before a New York judge appointed a temporary replacement. The position may not have been filled to avoid the appearance of what it really may have been ... another example of Trump obstruction of justice.
Democracy Destroying Don: Trump Claims He's Above the Law
On Saturday, June 2, 2018 the NYT published a story that included the following,
"In a brash assertion of presidential power, the 20-page letter -- sent to the special counsel, Robert S. Mueller III, and obtained by The New York Times -- contends that the president cannot illegally obstruct any aspect of the investigation into Russia's election meddling because the Constitution empowers him to, "if he wished, terminate the inquiry, or even exercise his power to pardon."
According to a June 2, 2018 report by The Hill quoting Nick Akerman, the Assistant Watergate Prosecutor,
"First of all, the whole idea that he [Trump] can't be charged with obstruction of justice -- the last time that ever happened in this country is when we were ruled by King George ... That's what the whole rule of law is about. The president has to faithfully execute the laws." [Akerman told MSNBC]
Axis of Evil: Trump, Giuliani & Rupert Murdoch's Media
Rudy Giuliani began doing rounds on the media circuit, most notably, Rupert Murdoch's propaganda machine outlets including Fox News, where he appeared to assert that the president of the United States is above the law. To become better acquainted with what seems to be in it for Rupert Murdoch - who controls Fox News, Wall Street Journal, NY Post, Barron's, Market Watch, WWOR-TV, Fox 5 and Harper Collins Books - in exchange for his unapologetic propagandistic support of Trump - click the link above.
Trump Corruption Makes the Clintons Look Like Amateurs?
During the 2016 campaign Benedict Donald repeatedly labeled Hillary Clinton as Crooked Hillary. That resonated with the American people because the Clinton's appear to have a history of questionable political maneuvering and the billion dollar Clinton Foundation oftentimes seems self-serving.
But in the one and a half years since Trump took office, he's managed to make the Clintons look like small potato amateurs, and you're hearing that from someone who is no fan of the Clintons.
Not Serving the Nation but Criminals Serving Themselves?
Taxpayers Spend Added $60 Million on Trump's Golf Game & Family Travels. In 2017 the U.S. Secret Service budget had to be increased $60 million to keep apace with the Trump family travels. A good portion of that spending appears to be to provide protection for Trump's 100 days of golf which he did in his first 408 days in office.
D.C. Swamp Now a Trump-sized Cess Pool
Middle East Wars: American Foreign Policy & Security For Sale?
Jared Kushner, Trump's son-in-law, secured a $30 million investment from an Israeli finance company, Menora Mivtachim shortly after Kushner accompanied Trump on a trip to Israel in May of 2017. In December 2017 the U.S. Embassy in Israel was moved to Jerusalem following receipt of the investment.
A March 22, 2018 report by MSNBC states that The Intercept noted that the Saudi Royal Prince said he had Jared Kushner "in his pocket". Kushner, who has national security clearance, is reportedly an avid reader of Trump's daily security briefing.
U.S. to Pay For Murdoch Cheney Prince Black Ops?
Blackwater / Academi, Erik Prince, Dick Cheney, Rupert Murdoch & Syria - You Know This Can't be Good
According to a May 3, 2018 report in the NYT, the U.S. has quietly deployed Special Forces to Yemen, in what appears to be an escalation of help to the Saudi government's involvement in the Yemeni Civil War. The Trump Administration says America is providing refueling, logistics and intel sharing help and the Trump Administration never lies - do they? According to reports in the NYT in 2011 and in 2015 the United Arab Emirates and the Saudis have hired Blackwater [now called Academi] mercenaries and there have been reports of countless civilian casualties in Yemen and torture prisons either in Yemen, or elsewhere in the Middle East, or both.
Betsy De Vos' brother, Blackwater billionaire & Founder Erik Prince, is interested in going to the mercernaries-for-hire business again in the Middle East. According to an April 18, 2018 report in the WSJ,
"... the Trump administration is seeking to assemble an Arab force to replace the US military contingent in Syria and help stabilise the north-eastern part of the country ... [and that Erik Prince] has been informally contacted by Arab officials about the prospect."
It's worth mentioning that Rupert Murdoch, the global billionaire propagandist, went into business with former VP Dick Cheney through Genie Energy which bought energy rights from Israel in 2013 in the illegally-occupied Syrian Golan Heights. In 2007, on Cheney's watch, Erik Prince's Blackwater allegedly murdered dozens of unarmed Iraqi civilians - of which the most notable incident was the Nisour Square Massacre. And Erik Prince is also suspected of attempting to establish a back channel for Trump / Putin in the Seychelles [islands off the coast of Africa] in December of 2016.
It seems like the gang is back in town and American's reputation and government taxed money may be used again by these millionaires and billionaires to further enrich themselves. This time it seems they will make themselves even more fabulously rich on the stolen energy rights of the Syrian people, using the American taxpayer Defense budget to pay for it. An effort to defund some of these operations in March / April 2018 was stopped by one of Rupert Murdoch's many puppets, Senate Majority 'Leader' Mitch McConnell [his wife Elaine Chao was previously on Murdoch's 21st Century Fox Board].
Banking Deregulation For Sale?
Kushner also secured a half billion dollars in loans during Trump's first year as U.S. President. After multiple meetings at the White House in Spring of 2017, Citibank made a $325 million loan to Kushner. In November 2017 Apollo Global Management made a $184 million loan to Kushner. The loan they made to Kushner was reportedly triple the size of the average property loan in their portfolio. Apollo's slogan is "We take many paths to value."
In March 2018, Mouse McConnell, the Republican Senate Majority Leader announced that the Senate had passed a bank deregulation bill that pulls back the bank reforms made after a bank bailout and economic recovery that cost the American taxpayer over $4 TRILLION DOLLARS. In May 2018 Trump and the Republican Congress, led by Paul Ryan, passed a similar banking deregulation bill.
Chinese Trade Deals & American Security For Sale?
A May 23, 2018 report on Bloomberg states,
"Press reports in early May centered on $500 million in expected loans [to a Trump Partnership in Malaysian tycoon developer Hary Tanoesoedibjo] from a Chinese state-owned institution. This was particularly piquant because of Trump's unexpected announcement on May 13, via Twitter, that he was working with Chinese President Xi Jinping to give the Chinese phone maker ZTE Corp., which has been cut off from U.S. suppliers for violating sanctions against trading with Iran and North Korea, "a way to get back into business, fast." That produced accusations that Trump had engaged in a quid pro quo with Xi."
CLICK here to continue reading our report about the Ridiculous Presidency of Benedict Donald including the alleged sale of access to Russian Oligarchs, sale of U.S. federal land and mineral rights, potential corruption at Betsy De Vos' Department of Education, 187 former lobbysists working in the swamp-turned-cesspool, Melania's friend's multi-million dollar windfall, taxpayer funded federal government luxury, possibly a Cabinet member's Mile High Club enrollment on a U.S. Air Force jet and the Trump $1.5 trillion robbery of America's children.
---
NYC Landlord Harassments Continue
NYCCM Helen Rosenthal Hosts Housing Clinic to Inform Renters of Their Rights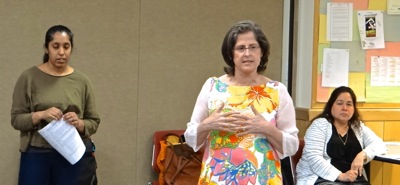 May 29, 2018 / Upper West Side Neighborhood / Manhattan Real Estate / Manhattan Neighborhoods / Manhattan Buzz NYC.
On Wednesday, May 25th I went to the Goddard Riverside Community Center on Columbus Avenue at 88th Street to attend a housing clinic designed to inform renters of their rights.
***The following introduction is based on prior research done by me, and was not information provided at the housing clinic. I'll let you know when I segue out of my preamble and into the housing clinic.***
Over the past decade landlords appear to have become increasingly aggressive in trying to wriggle out of NYC and NYS rent stabilization regulations, that govern the rental payments under which about two million New Yorkers live.
It is my understanding that the government contributed land and / or financing to build or repair the buildings governed by NYC / NYS rent stabilization laws in exchange for the pricing rights on rent stabilized units. Many of the new landlords who have acquired rent stablized buildings, may possibly be in violation of approaching their business contract(s) in good faith, as the definition of good faith according to Wikipedia is:
"In contract law, the implied covenant of good faith and fair dealing is a general presumption that the parties to a contract will deal with each other honestly, fairly, and in good faith, so as to not destroy the right of the other party or parties to receive the benefits of the contract. It is implied in every contract in order to reinforce the express covenants or promises of the contract. A lawsuit (or a cause of action) based upon the breach of the covenant may arise when one party to the contract attempts to claim the benefit of a technical excuse for breaching the contract, or when he or she uses specific contractual terms in isolation in order to refuse to perform his or her contractual obligations, despite the general circumstances and understandings between the parties. When a court or triar or fact interprets a contract, there is always an "implied covenant of good faith and fair dealing" in every written agreement."
What is at stake, throughout the city, is literally hundreds of millions and more likely billions of dollars in - rental benefits or rental income streams - depending on which side of the struggle you're on. The landlords appear to be trying - using the torturtous side effects of construction including noise, health risk dust [inhalation], privacy loss and apartment functional loss - to wrest away the billions of dollars of rental pricing rights benefits from tenants to be pocketed by the landlords themselves. Given the high dollar value of what's at stake - including people's homes - this seems like attempted grand larceny, especially in cases where landlords are breaking the law to achieve their goals.
This will be continued at a later date. Including the segue into the information provided by the Housing Clinic to inform tenants of their rights.
Tenants' Rights March & Rally - June 14th Midtown at 4.30 pm
P.S. There's a March & Rally scheduled for June 14th, beginning at 4.30 pm, at the NY Public Library at 5th Avenue and 40th Street. They plan to march to Governor Cuomo's office at 3rd Avenue and East 41st Street. For details contact info@realrentreform.org or call 212.979.6958. All but one of the No IDC NY senatorial candidates have been invited to participate, and there's a possibility that NYS gubernatorial candidate Cynthia Nixon will be there too - as this seems to coincide with her reasons for challenging Governor Cuomo.
---
Things To Do NYC - This Weekend
5 Boro Bike Ride, Bike Expo NY Brooklyn, Frieze Art Fair Randall's Island & Jane's Walks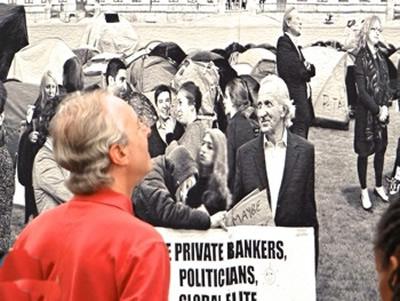 May 3, 2018 / NYC Things To Do /NYC Neighborhoods / Gotham Buzz NYC.
Weather. The Temperature highs will be in the high 80's Friday, low 70's Saturday, and low 60's on Sunday, while the temperature lows will be around 70 in Friday, dropping to about 60 for the rest of the weekend. There's some rain in the weekend forecast with a 10% chance Friday, 0% Saturday & 70% Sunday. The rain is expected to begin very early Sunday [may slip into late Saturday so beware] and will continue through the day - but it's less than a quarter inch - so I wouldn't cancel anything. Winds will be around 20 mph Friday, descending to 10 mph for the rest of the weekend. The Humidity will be about 50% Friday, 40% Saturday and 70% on Sunday. Click for NYC Weather.
The photo at right shows a man admiring a artwork at the Frieze Art Fair on Randall's Island in 2014. He seems to resemble one of the characters in the picture. The Frieze Art Fair has returned - see details below.
Bronx
Janes Walk along the Grand Concourse begins at 11 am beginning from the Bronx Museum. Click for Bronx things to do.
Brooklyn
Bike Expo New York at Pier 12 in Red Hook on Friday from 10 am - 8 pm & Saturday from 10 am - 6 pm. Click for Brooklyn things to do.
Manhattan
5 Boro Bike Ride takes off in waves from downtown Manhattan on Sunday between 7.30 - 9.20 am streaming through all five boroughs. Click for Manhattan things to do.
Queens
The Frieze Art Fair began on Randall's Island on Wednesday and continues through the weekend beginning 11 am - 7 pm, but closing an hour earlier on Sunday at 6 pm. Click for Queens things to do.
Staten Island
The 5 Boro Bike Ride ends in the Fort Wadsworth & St. George neighborhoods in Staten Island beginning about noon through the afternoon. Click for Staten Island things to do.
---
5 Boro Bike Ride 2018 - Bike New York
5 Boro Bike Ride Returns Sunday
Bike New York Organizes NYC Bike Ride & Bike Expo New York
April 30, 2018 / Manhattan Neighborhoods / Bronx Neighborhoods / Queens Neighborhoods / Brooklyn Neighborhoods / Staten Island Neighborhoods / Gotham Buzz NYC.
This story includes information about the upcoming 5 Boro Bike Ride on Sunday, as well as the Bike Expo New York which precedes it on Friday & Saturday in Red Hook. As of this report, the temperatures are expected to be in the 60's and the chances of rain appear slim. But bear in mind that the forecast probability of 20% chance of rain last Friday, turned into rain on Saturday evening, so check the weather as we get closer in.
Bike New York 5 Boro Bike Ride Route
Since 1977, every first Sunday of May, Bike New York has organized and promoted the 5 Boro Bike Ride. The ride begins in lower Manhattan, sweeps northward across the Harlem River Bridge to the Bronx, circles back across the Third Avenue Bridge to Manhattan, where it begins its southward trek crossing the Queensboro Bridge into Queens, heading south to Brooklyn after a quick stop north to Astoria Park, and then comes down past the Brooklyn Navy Yards, continuing southward along the west side of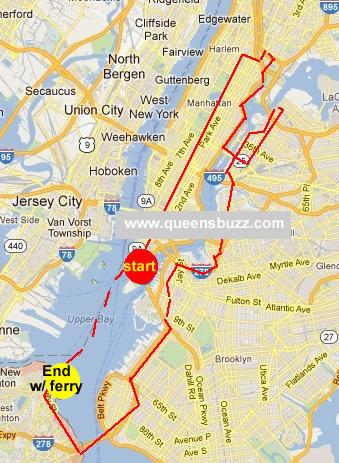 Brooklyn, to the Verrazano Narrows Bridge where it crosses over to the Fort Wadsworth neighborhood in Staten Island before terminating in the St. George neighborhood at the Staten Island Ferry.
Proceeds from Non-Profit New York Bike Ride go Toward Sustainable Transportation Efforts
The now famous bike ride was capped at 32,000 riders I believe sometime in the 1990's, where it still stands today. One report noted that the 5 Boro Bike ride is one of – if not the largest - non-profit bike rides in the nation. The proceeds go to Bike New York programs which are designed to teach people about sustainable transportation, most notably bicycle riding and bike maintenance and safety. Another report noted that the NYPD had considered [don't know the outcome] charging the organization $1 million for erecting, maintaining and terminating road closures during the New York 40 mile family-friendly bike ride.
Bike New York Bicyclist Outreach in all Five NYC Boroughs
Bike New York has offices in all five NYC boroughs. In 2015 their cyclist safety and bike maintenance programs reached 15,000 New Yorkers. And they are the organizers of the Bike Expo New York being held at Pier 12 in Brooklyn on Friday and Saturday [see details in rest of this story].
---
IDC Challengers' Rallies Sunday
Challenging Republicans Posing as NYS Senate Democrats?
April 28, 2018 / NYC Neighborhoods / NYC Politics & Government / Gotham Buzz NYC.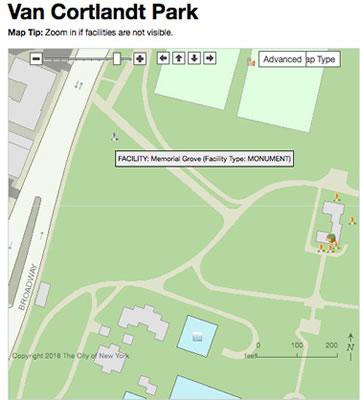 I just received an email notifying me of simultaneous rallies which will be held by IDC [Independent Democratic Caucus] member CHALLENGERS within the NYC Metro area. The members of the IDC, who these challengers are rallying against, have been caucusing with the Republicans since 2010 / 2011. By caucusing with the Republicans, the IDC Democrats have provided Republicans with a majority in the NYS Senate. Thus the IDC members appear to be Republicans running as Democrats on the Democratic ticket.
The IDC CHALLENGER rallies are intended to inform the electorate as to how their IDC electeds have been (mis?) representing them - as well as how the challengers would like to represent them - should they be given the chance.
"In an unprecedented show of strength and unity following the release of their joint statement about their agenda, the candidates will set forth their visions for their districts and will enlist those present at the rallies in registering voters, canvassing, and the like in preparation for the Thursday, September 13, 2018 primary election."
"The rallies will explain the need to replace the former IDC members with true blue Democrats whom we can trust not to turn their backs on the people who elected them. The IDC may have rejoined the Democrats for now, but they've been willing to ally themselves with the GOP since 2011 - and they've claimed to return to the Democratic fold before. The damage is done and we will not forget. New York deserves REAL Democrats who stand for progressive values, not Trump Democrats."
SUNDAY Rally Details:
Blue Wave Rally for Jessica Ramos, April 29, 2 PM, 31-04 Ditmar Blvd., Intersection at 31st Street Astoria, Queens.
Blue Wave Rally for Alessandra Biaggi, April 29, 2-3 PM, Memorial Grove in Van Cortland Park, Bronx. Memorial Grove is located in Van Cortlandt Park, near West 246 Street between Broadway and the Van Cortlandt Mansion - see map above.
Blue Wave Rally for Robert Jackson, April 29, 1:30-2:30 PM, at Bennett Park, W 183rd St & Fort Washington Avenue, Manhattan.
Blue Wave Rally for Rachel May, April 29, 2-3 PM, State Office Building, 301 East Washington Street, Syracuse.
Blue Wave Rally for Zellnor Myrie, April 29, 2-3 PM, at the Prospect Park subway stop, on Lincoln Avenue between Flatbush and Ocean Avenues, Brooklyn.
Blue Wave Rally for Jasmine Robinson, April 29, 2-3 PM, at Tappen Park, Staten Island (near the Stapleton SIR stop).
Blue Wave Rally to Make NY True Blue in SD38, April 29, 2-3, at 20 South Main Street, New City, NY
Blue Wave Rally to Make NY True Blue in SD21, April 29, 2-3 PM, Bell Boulevard at 73rd Avenue, Oakland Gardens, Queens
Press contacts:
Rise and Resist: Claire Ullman, 917-679-7120
True Blue NY: Lisa DellAquila, co-leader, 917-991-0605
Jackson campaign: Harris Doran, 917-797-6180
Myrie campaign: Andre Richardson (campaign manager), 201-892-5829, andrerichardson@gmail.com
Robinson campaign: Jane Nixon Willis, 914-584-2833; improvised3@gmail.com
Ramos campaign: Monica Klein, 917-565-0715, monica@seneca-strategies.com
Biaggi campaign: Dominique Shuminova, Deputy Campaign Manager, 917-821-7700
Avella protest: Judy Kirschner from Rise and Resist, 917-270-2705
Carlucci protest: John Gromada from Rockland Citizens Action, (845) 323-9896
Scroll down for related story or click here for the full story about the Independent Democratic Caucus & members.
---
NY Real Estate Expo
NYC Professionals Discuss Manhattan & NYC Metro Real Estate
April 23, 2018 / NYC Neighborhoods / Manhattan Real Estate NYC / Gotham Buzz NYC.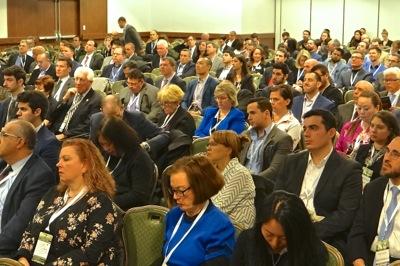 I attended the 10th annual NY Real Estate Expo at the New York Hilton last week. The event was well attended by hundreds of real estate, development and financial professionals from the NYC and metro area. Anthony Kazazis, Director of the event, had organized a series of panels to discuss key aspects affecting the real estate market ranging from software platforms, to financing, to NYC real estate market assessments.
Generally the mood was upbeat, but not without some concern about the future, given changes in the tax laws, foreign interest in NYC investment, interest rates forecasts and technological challenges facing the industry. But, I thought, that is why everyone is here. To find out what's going on so they can navigate the market changes - rather than be surprised by them.
While I had intended to stay only a short while, I found the topics and panelists too interesting to leave, so I stayed most of the day. I started with a discussion of a new information technology platform called Blockchain, which is intended to serve as an information clearing house, and it includes some artificial intelligence capability. I then found my way into a discussion about New York City versus Silicon Valley with respect to attracting large technology companies like Amazon, Facebook and Google. And I ended my visit after listening in on a discussion by NYC and metro area realtors discuss the residential real estate market in Manhattan and outer boroughs.
Sound like an interesting NYC real estate conference? It was. In the photo above you can see the audience at the well attended panel discussions at the NY Real Estate Expo this year.
I'll have more on this later in the week.
---
---
How We Hear @ Rough Draft Theater Festival
New Play Explores the Changing Nature of our Political Dialogue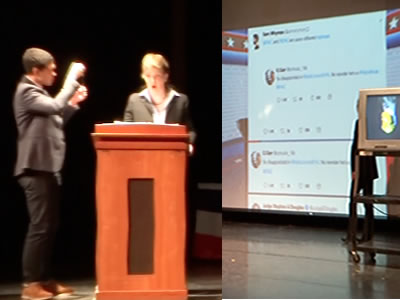 April 9, 2018 / Long Island City Neighborhood LIC / LaGuardia Performing Arts Center / Experimental Theater in Queens / Queens Buzz NYC.
Last weekend I had an opportunity to watch one of the new plays performed at the 5th Rough Draft Festival at the LaGuardia Performing Arts Center in LIC. The play was entitled How We Hear by Emily Lyon.
It was an exploratory exposition of what how the American national dialogue has changed over the past century and a half [158 years] and it was as much an experience, as it was a performance.
What Lyon did with the next hour and half of our time was an interesting journey through selected excerpts of our national debate. But even more importantly, Lyon took us on an exploratory journey - including some real time processing - of how new forms of mass media, with the incredible proliferation of information venues and access, impacts our ability to have a honest dialogue about important issues facing our society in a way that everyday Americans are able to process.
Lincoln Douglas Debates @ LaGuardia Performing Arts Center
I arrived shortly before the performance began and found a seat not far from the stage. The performance was given a short introduction by Handan Ozbilgin, the Rough Draft Festival Director and shortly thereafter, one of the seven Lincoln-Douglas debates of 1858 [August 21 – October 15] began. The debates were the first ever between two Senate candidates vying to for a U.S. Senate seat [Illinois]. They became an instant sensation, and became the forerunner of the platform upon which Lincoln would run for president in 1860. It's worth noting that at the time the Senators were elected by state legislatures – not by a direct tally of state citizens' votes.
How We Hear by Emily Lyon @ Rough Draft Festival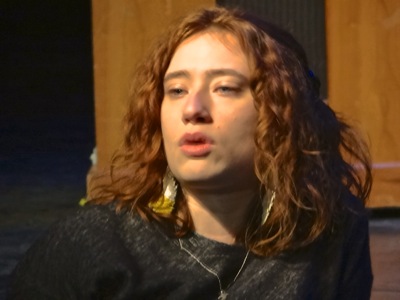 While Triney Sandoval, the Hispanic man who played Douglas, didn't resemble Stephen Douglas facially, he was an actor and orator of the first degree, and comported himself as one might imagine Douglas. His elocution and diction were very precise, cadenced and reminiscent of an earlier age. And his Hispanic heritage, in what was – over a century and a half ago – an Anglicized age, seemed purposeful in adding an ethnic layer and some complexity, to what was possibly a simpler time.
Sandoval, as Douglas, talked about the Lecompton Constitution, which was one of the hot issues of the time. The Lecompton Constitution which was a competing, pro-slavery, constitution for the state of Kansas induction into the United States, which also explicitly stated that only white males would have the right to vote.
Ironically, Stephen Douglas, a Democrat, helped the Republicans defeat the pro-slavery constitution by aligning with the other northern Democrats who were against it. The southern Democrats were supportive of it.
States Rights Vs Human Rights: Early American Hypocrisy or Dialectic?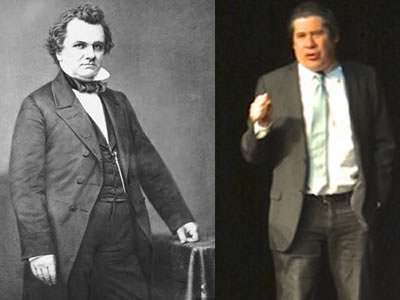 Sandoval, as Douglas, then went on to accuse Lincoln and the Republican Party of that time of being a northern political party – not a national political party like the Democrats were. Douglas then cited excerpts from speeches made by Lincoln which seemed at odds with each other, where it appeared Lincoln appealed to the anti-slavery sentiment while giving speeches in northern cities like Chicago while appealing to the racial prejudice of the south, while in southern Illinois cities like Charleston [which is about the same latitude as St. Louis, Missouri and Kansas City] by stating that he did not support allowing Black men to become whites equals, citing they weren't fit for the role of jurors and what not.
Stephen Douglas was a Democrat, but he wasn't pro-slavery per se. He was for the rights of states to decide for themselves what institutions to create and how they should conduct their business. He noted that all of the Founding Fathers had kept their slaves through the Revolutionary War. And Douglas reminded voters of Lincoln's speech in 1858 in Springfield, Illinois where he said that "A house divided against itself cannot stand." And that one day the United States would either be all slave or all free.
CLICK here to read the rest of our report of the LaGuardia Performing Arts Rough Draft Festival performance of How We Hear.
---
---
Spring Has Arrived
The Trees are Blooming and Warmer Weather is on its Way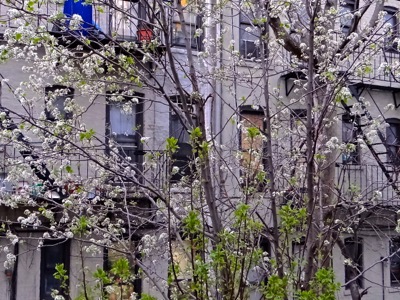 April 17, 2018 / NYC Neighborhoods / Gotham Buzz NYC.
This weeks our deciduous trees have begun budding and flowering. We can see the bright pea green buds and the white tree blossoms popping out everywhere. This unique period of springtime lasts only a week or two, so enjoy the majestic beauty while it lasts.
The photo to your right shows what is a very ordinary view of a back wall of apartment windows in NYC, as it comes alive with nature's beauty. The budding trees add oxygen during the day and carbon during the night to our atmosphere. And provide shelter from the hot sun during the summer and some privacy between neighbors as well.
So enjoy these magical week(s) as nature blossoms and our deciduous trees awake from their wintry slumber.
---
---
The Past Comes Alive: Historic Richmond Town
Historic Richmond Town on Staten Island Preserves a Bit of America's Colonial & 19th Century Past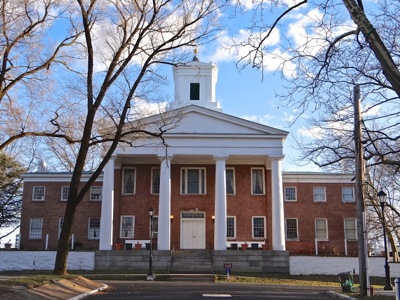 March 2018 / Historic Richmond Town Neighborhood / Staten Island Culture & History / Gothm Buzz NYC.
Earlier this month I visited Historic Richmond Town on Staten Island. I got off the train at Oakwood Heights and along with a visiting South Korean visitor, ubered the half to one mile inland to visit historic Richmond Town.
We were dropped off in a large parking lot adjacent to the main building, which turned out to be the rear of the site, and walked in. It was less than two hours before closing time and on this cold March day, things were pretty quiet.
In the museum gift shop we Lou Maira who manages it. The visiting South Korean took off on his own, while I struck up a conversation with Lou. He told me that we were in the Court House, which was the County Seat for Staten Island in 1837. The Court House also served as the prison. He told me that this late in the day, on the off season, wasn't really the optimal time to see the place, but he accommodated my unscheduled inquisitiveness anyhow.
Historic Richmond Town on Staten Island lies on 100 Acres of Colonial & 19th Century History
Lou told me that there were 15 buildings in Historic Richmond Town. He informed me that tours are given regularly by knowledgeable guides and that they take about an hour and fifteen minutes. The whole town lies on about one hundred acres. At some point in the conversation, one of the tour guides whose name I apparently didn't write down [please send it to me if you read this], joined us, and we continued conversing about Historic Richmond Town. In the photo at right is one of the tour guides of Historic Richmond Town on Staten Island.
Guyon Tavern in Historic Richmond Town
One of the buildings is Guyon Tavern, which may be found about a block and a half away on Richmond Road. The Court House lies at the top of a small hill where Center Street and Court Place meet. Guyon Tavern hosts tavern nights in March and April, where a thirsty 19th century American could and still can get a bottle of ale.
Historic Richmond Town - Things To Do on Staten Island
Historic Richmond Town also hosts other events. In the May / June timeframe there's a program entitled On Court, which I was told is a fairly large festival that includes live entertainment, beer and wine and food. And in September there's a pretty huge festival, it's Historic Richmond Town's signature event, called the County Fair.
The houses in Historic Richmond Town range in dates from the 1600's, 1700's and into the 1800's. The houses built in the 1700's date back to the time of the American Revolutionary War.
I'll add more to this, including more photos, at a later date. But suffice it to say it's worth at least one visit and likely many more. You can find out more about it and their events at http://www.historicrichmondtown.org
---
NYC Crime Continues To Drop, Breaking Records
Mayor de Blasio & NYPD Discuss City Safety & Ongoing Improvements
February 7, 2017 / NYC Neighborhoods / NYC Government / Gotham Buzz NYC.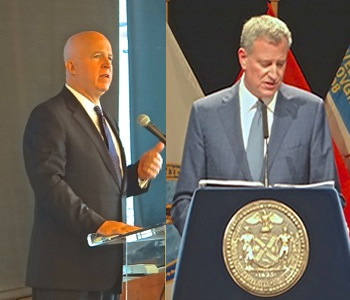 This just came in on the heels of our coverage of the Public Safety discussion below. Mayor de Blasio and NY Police Commissioner O'Neill spoke in the Bronx regarding ongoing efforts and results in improving safety in the city. The following are some of the crime statistics noted in their meeting taken directly out of a press release sent by them.
 
Chief of Crime Control Strategies Dermot Shea, NYPD: Thank you, Mr. Mayor. Good afternoon, everyone. As you've heard, we have begun a strong start to 2017 in terms of overall crime reduction. Strategies that have been put in place to address repeat offenders, illegal gun possession and gangs are having the desired effect. We're building on the momentum of the last few years.
So, some of the highlights for crime statistics from this January – overall index crime is down 0.2 percent for the month of January. When you carry it over to this morning, we are now down 2.7 percent in overall index crime in New York City.
To note – with the overall index crime, January marks the tenth consecutive month of reduced index crime. That's the momentum we've been talking about. Currently, four out of five boroughs in New York City – all but Queens – are down to start the year.
Homicides – we recorded 20 homicides in January. That's down two from 22. That 20, as the Mayor alluded to, is the lowest January that we have ever recorded going back a minimum into the 1960s.
Shooting incidents – down 1.7 percent in January. Last January we hit the modern mark with 59 shooting incidents. We came in with 58 this January.
Talking about momentum again – nine of the last 13 months we've had a reduction in shooting incidents. Nine of the last 13.
Three months in a row we've had a reduction in shooting incidents in New York City. We have now, when you look at New York City as a whole, we now have 24-hour periods where we do not record a shooting incident in New York City. That kind of thinking was impossible in the not too distant past.
This is the new normal. We want to build on it and we feel that we will build on it but there's still plenty of work to do.
Stabbings and slashings for January – down 7.2 percent.
Robberies – down 7.5 percent. Lowest January robbery number we've seen.
Felony assaults in New York City – down 5.4 percent.
Burglaries tied the lowest mark set last year.
Transit crime – down 1.4 percent.
And housing crime – not to be outdone – down 1.9 percent.
Clearly, a wide breath of crime across New York City – property and violent crime, down.
 
But there is, I alluded to, there is still work to do – three categories we saw increases in January.
Grand larceny, specifically, credit card related skimming and forging of checks – those two drove grand larcenies. And grand larceny was up for the month of January 4.7 percent.
And lastly, rounding out the crime totals – stolen vehicles which we have seen drop to unprecedented lows saw an increase of ten cars for January. So, that's 480 versus 470 – a two percent increase.
Commissioner O'Neill: Okay, thanks, Dermot. We'll take your questions.
 
Question: Do you think it's possible, really to keep driving crime down further at this point? And how could you achieve that?
O'Neill's response was yes, with some added context.
---
---
Jeff Klein's IDC: Republicans Running as Dems?
The Independent Democratic Caucus Aligns with Republicans which Enables Republicans to Control the NYS Senate
March 21, 2018 / Bronx Neighborhoods & Bronx News / Bronx Politics / News Analysis & Opinion / Bronx Buzz NYC.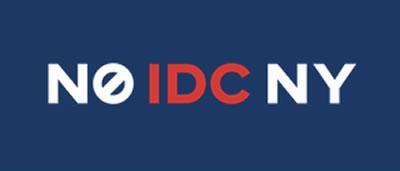 There's an NYS State and Federal election this year. The primaries will be held on Thursday, September 13th; instead of on Tuesday, September 11th, in recognition of 911. And the general election will be held on Tuesday, November 6th.
As in any year, the elections are important, but perhaps made more so this year, by what appears to be the anarchistic destruction and disrespect, for our government institutions and processes, by Republican President Donald Trump.
Trump Republicans: Debt Bomb Deficits Levied on America's Children to Enrich the Richest?
The Donald passed a stimulus tax bill that is expected to increases the deficit by $1.5 trillion over the next ten years, and there are some pundits who put the figure higher. He and the Republicans passed this budget busting stimulus tax bill, while the economy was operating at levels considered above a full employment economy [5% unemployment is considered standard / normal] and at a time when wages were rising over 2%.
Inflation above 2% is considered to be detrimental to economic stability by the Federal Reserve, so stimulating the economy while it's at full employment with rising wages is about the opposite of what makes sense, especially when you consider the funding for it is coming from America's children and most of the benefits for it are going to the wealthiest people on the planet. We posted a report analyzing the Trump Tax Reform Bill slightly before it was finalized, which includes a lot of facts and figures to help provide context to better understand what was in the bill they passed.
The Independent Democratic Caucus Aligns with NYS Senate Republicans & Gives Them Control
In 2010 / 2011 NYS Senator Jeffrey Klein broke away from the Democratic Party and formed the Independent Democratic Caucus which aligns with the Republican Party, thereby giving them control of the NYS Senate. The effect of this is that bills passed by the Democratic controlled NYS Assembly are indefinitely tabled, or in lay man's terms pretty much killed, in the Republican-controlled NYS Senate. The Republicans control the NYS Senate, because eight NYS senators who run as Democrats [IDC Independent Democratic Caucus], either vote with or kill bills with the Republicans.
Democratic NYS Assembly Bills Effectively Killed by IDC
According to the Democratic Senate Conference, the Republican controlled NYS Senate - with the help of their Republicans running as Democrats allies - have effectively killed one education bill providing full day kindergarten funding, three wage / leave bills, four voting rights bills including the allowance of early voting, four immigration bills including one related to the DREAM Act, four housing bills including several pertaining to NYC rent laws that help renters, three criminal justice bills including creation of correctional ombudsman and sealing of marijuana possession records [as marijuana is rapidly being legalized in states across the country], one related to LGBTQ issues, and six regarding healthcare, several of which pertain to women's reproductive rights.
The IDC Deception: Republicans Running as Democrats?
The net effect of this is that Democrats are, in a sense, cheated or tricked out of their majority by what appears to be Republicans running as Democrats. The Independent Democratic Caucus or IDC includes Jeffrey Klein of the Bronx, who founded the IDC, David Valesky of Oneida and Madison Counties in upstate New York, David Carlucci of Rockland and Westchester Counties, Diane Savino of Staten Island / Brooklyn, Tony Avella of Queens, Jose Peralta of Queens, Jesse Hamilton of Brooklyn, and Marisol Alcantera of Washington Heights / Manhattan. Simcha Felder of Brooklyn also runs as a Democrat and caucuses with the Republicans.
---
Trump Tax Plan - Super Rich Bilk Billions from America's Babies
Trump Tax Plan: A Morally Bankrupt President's Gift?
Are Billionaires Trump & Murdoch Bilking America's Unborn Babies?
Updated 12/26/17 _ December 19, 2017 / New York City Neighborhoods / New York City Business / News Analysis & Opinion / Gotham Buzz NYC.
Like many of you, I have been watching the Trump Tax plan make its way through Congress. While Trump and his cohorts were whipping together the tax package, I was doing research on the possible implications of some of their tax policy proposals.
According to an October 20, 2017 PolitiFact report [based on the plan at that time, which has since been modified],
"... in the first year of changes, the top 1 percent are projected to draw a little over half the tax savings. The threshold of 80 percent going to the top 1 percent is projected for the tenth year."
While directionally this statement is likely to hold [meaning the plan is biased toward the rich], the exact numbers as to how biased the Trump Tax Plan will be for the wealthy - based on the final bill - remains to be calculated.
In this report we look at a number of tax cuts included in the final bill including repatriation of overseas profits, reduction of the estate tax, reduction of the corporate tax and the blue vs red state tax increase. We include a review questioning why the Trump Administration is pushing this deficit expanding / debt increasing fiscal stimulus package - when we're in a full employment economy with rising wages. We also include how the Trump Tax Cut Plan has been treated propagandistically by Rupert Murdoch's media outlets, as he appears to personally and corporately benefit immensely from the tax cuts.
But before we begin, we take you on a quick review at some key characteristics and prior dealings of the man behind the plan – Donald J. Trump.
I. Character & The Art of the Deal - Or Steal?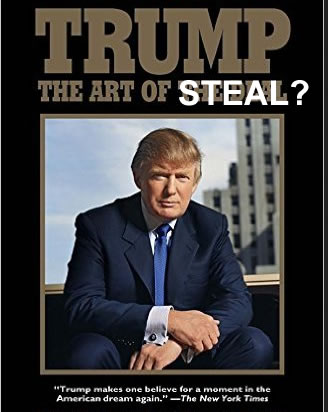 In Donald Trump's book The Art of the Deal, he says,
"You can't con people, at least not for long. You can create excitement, you can do wonderful promotion and get all kinds of press, and you can throw in a little hyperbole. But if you don't deliver the goods, people will eventually catch on …"
Is the Trump Tax Plan a Tax Boondoggle for Billionaires?
Based on recent polls regarding the Trump Tax Plan, it appears the American people are of the opinion that this a very bad deal for them and their children. Perhaps this is why the Donald appears to be rushing through what appears to be one of the greatest tax billionaire boondoggles in modern history, while telling the public that this tax plan isn't good for him ... or his super rich family and friends.
Always Pay Attention to a Person's Integrity or Lack Thereof
To listen to the Donald, you'd think he has always been a champion, if not a living martyr, of the middle and working classes of America. But the facts don't always square with the Donald's narratives. And the Donald, seems never to admit blame. That's why he has continually lashed out at the media who inform the public about him – calling all, but Rupert Murdoch's vast mass manipulation media [Fox News, Wall Street Journal & NY Post], Fake News. Trump and Murdoch live in the Bizarro World, where so much of what they say appears to be the truth turned upside down.
In the graphic at right, I modified Rupert Murdoch's Fox News website front page celebrating the passage of Trump Tax Plan - in which it appears that the bulk of the breaks will go to the super-rich, including the multi-billionaire Murdoch, who is a global propagandist and powerful Trump supporter. I call this Murdoch's propaganda payout and it appears to be HUGE.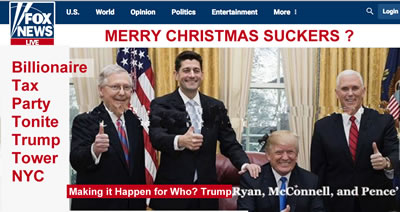 Law and Crime, a web magazine funded in part by A & E Network, states in a February 16, 2016 report that Trump was named in at least 169 Federal Lawsuits. They went on to say that,
"The federal lawsuits that we reviewed date back to 1983 and involve everything from business disputes, antitrust claims and, more recently, accusations that Trump's campaign statements are discriminatory against minorities. Some of the cases have been resolved, some were dismissed as frivolous, and others were privately settled. He's been sued by celebrities, personal assistants, prisoners, people in mental hospitals, unions, and wealthy businessmen. Of course, Donald Trump has also done his fair share of suing as well."
Slippery Donald – A Sales Promoter Who Must be Watched Carefully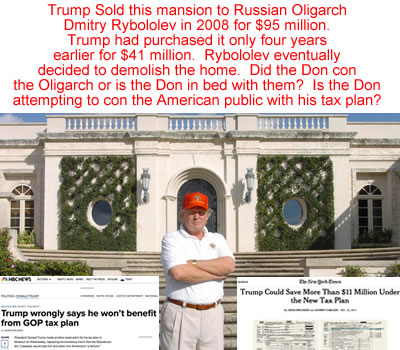 Watching Trump promote and sell his tax plan to the American public reminded me of a report about how the Donald sold a Palm Beach mansion - Maison de L'Amitie at 515 North Country Road - to Russian Oligarch Dmitry Rybolovlev in 2009. In a July 28, 2016 story in Politico, reporter Jose Lambiet says of the deal,
"This is what he [Trump] does with everything. He puts a little veneer on things and he doubles the price, and people buy it," … "He's [Trump] all smoke and mirrors—and that house was the proof."
Dmitry, the Russian Oligarch, paid $95 million for what Trump had paid only $41 million just four years earlier. Dmitry is now reportedly planning to demolish the mansion.
The question is whether the Donald snuck one by the Russian Oligarch, or whether the Donald is in cahoots with the Russian Oligarchs, and this was an indication of such?
The graphic / photo at right shows Trump standing in front of the Maison de L'Amitie. In the lower left I added his claim that he wouldn't benefit from the Trump Tax Plan as reported by NBC News on November 29, 2017; while in the lower right is a December 22, 2017 New York Times analysis indicating that the Trump Tax Cuts might enable him to take advantage of $11 million in tax breaks.
II. Trump & The Russian Oligarchs
Are These Birds of a Feather Flocking Together?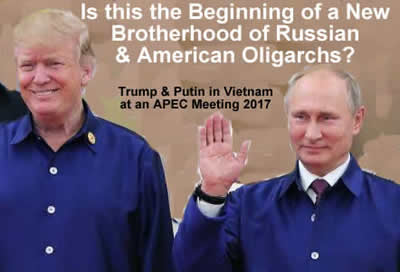 A July 13, 2017 report by the New Republic informs us that,
"In 2015, the Taj Mahal [controlled by Donald J. Trump] was fined $10 million—the highest penalty ever levied by the feds against a casino [in years] - and [they] admitted to having "willfully violated" anti-money-laundering regulations."
The report references the book, Red Mafiya, about the rise of the Russian mob in America, by investigative reporter Robert I. Friedman. It appears that the laundered money came from the Russian mob, and further in the story we learn a bit more about what appear to be the Donald's shadowy business dealings with Russia.
"In April 2013, a little more than two years before Trump rode the escalator to the ground floor of Trump Tower to kick off his presidential campaign, police burst into Unit 63A of the high-rise and rounded up 29 suspects in two gambling rings. The operation, which prosecutors called "the world's largest sports book," was run out of condos in TrumpTower—including the entire fifty-first floor of the building. In addition, unit 63A—acondo directly below one owned by Trump—served as the headquarters for a "sophisticated money-laundering scheme" that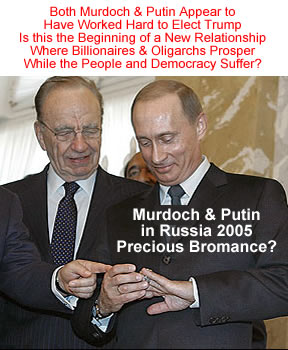 moved an estimated $100 million outof the former Soviet Union, through shell companies in Cyprus, and into investments in the United States. The entire operation, prosecutors say, was working under the protection of Alimzhan Tokhtakhounov, whom the FBI identified as a top Russian vor closely allied with Semion Mogilevich. In a single two-month stretch, according to the federal indictment, the money launderers paid Tokhtakhounov $10 million.
Tokhtakhounov, who had been indicted a decade earlier for conspiring to fix the ice-skating competition at the 2002 Winter Olympics, was the only suspect to elude arrest. For the next seven months, the Russian crime boss fell off the radar of Interpol, which had issued a red alert. Then, in November 2013, he suddenly appeared live on international television—sitting in the audience at the Miss Universe pageant in Moscow. Tokhtakhounov was in the VIP section, just a few seats away from the pageant owner, Donald Trump.
After the pageant, Trump bragged about all the powerful Russians who had turned out that night, just to see him. "Almost all of the oligarchs were in the room," he told Real Estate Weekly."
A Tax Plan for the new American Oligarchs?
The U.S. has a Full Employment Economy & Wages are Rising
So Why is Trump Promoting Fiscal Stimulus in a Full Employment Economy?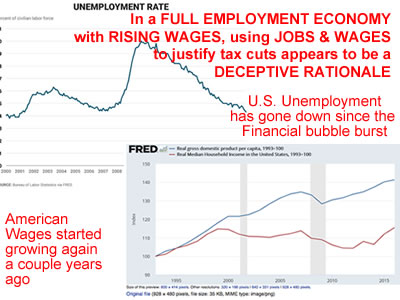 Over the past few years the economy has been steadily adding new jobs, and wages have been rising. The unemployment rate is 4.1%, which means the U.S. is operating in a full employment economy. A full employment economy is defined as one where everyone who wants a job, has one, except those who are in transition. Normal transitioning is generally estimated at 5% of those who are employed. These transitioning unemployed workers are those workers who are making the change from school to jobs or vice versa, switching jobs or careers, moving from one locale to another, or making other relevant job or life changes such as illnesses etc..
So given we're in a full employment economy where wages are rising, why are we incurring over $1 trillion in new debt to give the richest people in the nation / world tax breaks? The new jobs, higher wages argument seems deceptive as it just doesn't seem to apply here.
Former NYC Mayor Bloomberg Says "This Tax Bill is a Trillion Dollar Blunder"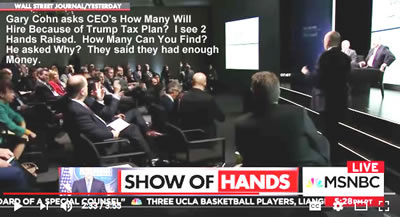 Former Republican Mayor Michael Bloomberg wrote an editorial dated December 15, 2017 on Bloomberg.com entitled "This Tax Bill is a Trillion Dollar Blunder".
In the editorial Bloomberg cites his rationale, including an anecdotal poll taken by Trump Economic Adviser Gary Cohn who on November 14, 2017 asked CEO's to raise their hands if they planned any additional hiring. In the video of the event I saw only two hands raised, and the moderator goes on to ask, 'Why weren't more hands raised?'. Go to YouTube.com and type in the search 'gary cohn asks ceos to raise hands' to see the video for yourself. The answer is that the top CEO's are sitting on trillions in cash, so a tax break isn't going to change the investment landscape for them with respect to adding jobs.
Bloomberg concluded his editorial with the following statement.
"The tax bill is an economically indefensible blunder that will harm our future."
It's also important to note that since the lows following the Great Recession of 2008 – 2009, wages have been going up between two and four percent, as measured on a quarterly basis.
---
---
Upper East Side French Restaurants – Café D'Alsace
Casual Dining at French Restaurant on the Upper East Side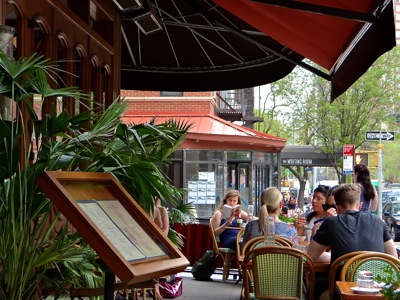 May 7, 2018 / Upper East Side Neighborhood / Upper East Side Restaurants / Manhattan Buzz NYC.
It was a warm pleasant May afternoon as I strolled into the Café D'Alsace on the Upper East Side. We'd planned to dine elsewhere, but the outdoor seating looked so inviting that we decided for a change of plans.
Formerly Elaine's Restaurant on the Upper East Side
The Café D'Alsace is located in what was once a kind of well known Upper East Side restaurant of the 1980's and 1990's – Elaines. Café D'Alsace is located at the corner of 88th and Second Avenue, just two blocks from the 86th Street stop off the Q line and the Second Avenue stop off the 86th Street crosstown bus – so it's a fairly convenient location to meet friends.
Today I was meeting a retired graphic artist, who spends his time managing some of his and his wife's business interests and their teenage kids' busy schedules. We took a spot outside to enjoy one of the first really nice days of 2018. The waiter appeared promptly and we began perusing the menu.
Cafe D'Alsace French Restaurant on the Upper East Side Manhattan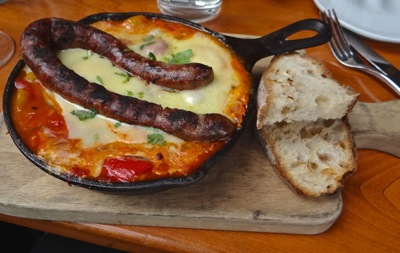 They included a prix fixe menu, offering three courses for $29. It included their Merguez Shakshuka, which I found to be of great interest. Nonetheless I began surveying the rest of the menu, adding up a combination or two of the other entrees, before I decided to give the Merguez Shakshuka a royal try. I also received the Soup of the Day, which was potato leek, and for dessert I went with the Molten Hazelnut Chocolate Gateaux. My dining companion wasn't in a very venturesome spirit today, and he settled on the Burger D'Alsace, preceded by the Winter Salad.
The conversation turned to some of the business ventures in which the artist and his wife are involved. It seems things are going reasonably well at the moment, and based on the conversation, it seemed they were expected to continue.
I have the rest of the story written, but I need to convert it to web format and add photos which I'll do Tuesday. Stay tuned.
---
---
Brooklyn Farmers Markets & Street Fairs
Also Staten Island Farmers Markets & Street Fairs
April 24, 2018 / Staten Island Famers Markets / Brooklyn Farmers Markets / Brooklyn Street Fairs / Staten Island St Fairs / Gotham Buzz NYC.
A few Staten Island & Brooklyn farmers markets might be open year round, but most of them are seasonal. Some of the seasonal Staten Island & Brooklyn farmers markets will begin opening in the Spring of 2018, with the rest of them opening no later than the first couple of weeks in July of 2018. Click here to view the schedules of many of the farmers markets in Brooklyn and here for the farmers markets in Staten Island.
Staten Island & Brooklyn street fairs, on the other hand, are entirely seasonal. Some of them hit the streets as early as April 2018. The number of Staten Island & Brooklyn street fairs rises during the late spring and continues through the dog days of summer [July / August], including into the late part of the Fall. By the end of November the Staten Island & Brooklyn street fairs go on hiatus, with a few returning as early as April. Click here to view a full schedule of the Brooklyn street fairs and also Staten Island street fairs.
---
Click here for Brooklyn tile stores.
---
---
Update: LaGuardia Airport Development Project
First Phase Moving Along with Second & Third Phases About to Begin
April 24, 2017 / Astoria Neighborhood / Queens Real Estate / Gotham Buzz NYC.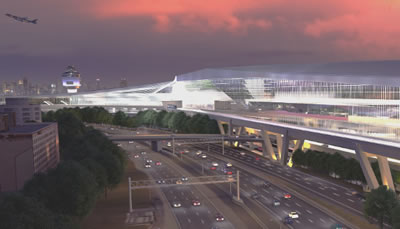 I attended a Community Board One meeting at the Astoria World Manor on Wednesday, April 19th. People representing the LaGuardia Airport development project were scheduled to provide the community with an update regarding several of the multi-billion dollar renovation projects associated with LaGuardia Airport, that are either currently in the works or nearing the end of the planning process.
The presentation was split into three parts: 1) LaGuardia Airport development project construction updates, 2) traffic mitigation efforts and 3) community outreach including job opportunities related to the projects.
Click here to read our report on the LaGuardia Airport development project & expansion, related job opportunities, its possible impact on travel times to the airport and the public hearing details on May 3rd, 2017 in Flushing. We have also included a small bit of history about the airport and the fight over the property and development in Flushing Meadows Corona Park. The graphic at right was created as part of the LaGuardia Airport development project.
---
---
Has The Pulitzer Prize Committee - Like the Corporate Media - Lost its Way?
Updated February 21, 2018 / NYC Neighborhoods / NYC Government & Politics / News Analysis & Opinion / Gotham Buzz NYC.
The following is an open letter that I sent to the Pultizer Prize Committee on January 25th, 2018 along with a journalistic series I had written in 2017 and sent to them in 2018 entitled Rupert Murdoch and the Rise of the 21st Century Propaganda Press. The series, which you can view by clicking the link, tells the story about how multi-billionaire Rupert Murdoch appears to use his media outlets as propaganda machines in order to promote pols who will grant him favorable tax legislation, favorable executive rulings and favorable industry regulatory legislation.
Murdoch also appears to be able to manipulate the course of governments and public policy. He appears to have done exactly this in the case of the Iraq War, whereby Murdoch appears to have sent three English-speaking democracies to war - not only for oil - but for his cable network TV ratings too. In Britain in 2016, regarding the Brexit referendum, Murdoch appears to have hijacked public policy in his favor - not the nation's - by pushing through a seismic policy change that enables Murdoch to have greater autonomy over how he conducts his multi-national media business - free from any meaningful government interference - and the Brexit referendum vote also gave Murdoch a huge purchase price discount, because of a devalued British currency.
While the Corporate Media obsesses over the Russian Collusion Investigation - they are distracted from putting in the spotlight what appears to be the REAL 2016 PRESIDENTIAL ELECTION STORY - which is Rupert Murdoch's election meddling to further empower and enrich himself at the expense of the republic and its institutions.
In Trump's first year, Murdoch was the recipient of numerous tax breaks, and breath-taking deregulatory actions in Murdoch's industry via FCC Rulings and telecommunications legislative changes. All of this has received scant news coverage, as the Pulitzer Prize Award winning corporate media, were too busy covering Donald Trump's Tweet distractions. By giving preferential treatment to Trump's tweets, which the American public is able to directly access on their own, the corporate media has failed the American public by regurgitating and hence amplifying the President's shock jock statements - instead of doing their job of providing the American public with context-based news reports about the important issues of the day.
---
Queens Library Corruption Scandal: Starring Mortimer Zuckerman's NY Daily News, NYC Comptroller Scott Stringer & Queens President Melinda Katz?
Queens Library: Controversy & Takeover
Queens Boro President Katz's Controversial Queens Library 'Reform Bill' & NYC Comptroller Scott Stringer's Lawsuit Against the Award Winning Queens Library Resulted in Taxpayers Paying Million$? for What?
---

The graphic at right was created by Sunnyside artist and jazz drummer Paul Maringelli.This section is dedicated to an important and evolving story happening within the borough of Queens regarding a change to the governance of the Queens Public Library system. Government officials with the help of the NY Daily News appeared to wrest away control of the library from the quasi-independent board of trustees set up by Andrew Carnegie in the early 20th century. Andrew Carnegie donated the funds to build public libraries in New York City and throughout the U.S. and the independent board structure was meant to keep the libraries independent of government control.
Queens Borough President Melinda Katz and NYC Comptroller Scott Stringer in tandem with the NY Daily News relentlessly attacked the award winning Queens Library President Thomas Galante and the Queens Library Board using allegations and innuendo in what appeared to be a publicity hanging. Queens Borough President Melinda Katz then pushed through legislation changing the Queens Library charter, which wrested control away from the independent board, and gave it to her and the Mayor. Governor Andrew Cuomo signed the bill into law with the near unanimous vote from both NYS legislative bodies.
It appears it was a power grab by Katz with Stringer's help, as the allegations did not result in any court actions and the Queens Library subsequently suffered a multi-million dollar lawsuit loss [we heard but could not confirm that it cost $7 million] regarding the Queens Library President's termination [settled out of court - probably so it wouldn't be scrutinized by the public or the press]. Most of the other local press was guilty of following the NY Daily News narrative which appeared to be guided by the then Publisher, billionaire and real estate developer Mortimer Zuckerman. We carved out our own narrative as what the NY Daily News was reporting didn't seem to be supported by what we knew about the Queens Library and its award winning president.
Click here to read our coverage of the Queens Library corruption scandal starring NYC Comptroller Scott Stringer, Queens Borough President Melinda Katz & Mortimer Zuckerman's NY Daily News or click here for Queens Public Library program and other announcements at the Queens Public Library website.
---
---
Bronx St Patrick's Day Parade in Throgs Neck
20th Annual St Patrick's Day Parade in Throgs Neck, Bronx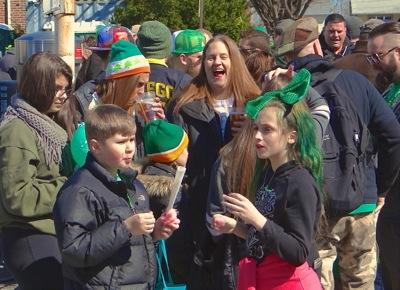 March 12, 2018 / Throgs Neck Neighborhood / Bronx Neighborhoods / Bronx Parades / Bronx Buzz NYC.
On Sunday I made my way north into a southeastern neighborhood in the Bronx, to attend the 20th annual St Patrick's Day in Throgs Neck. It's worth mentioning that the Throgs Neck neighborhood is also known as Throggs Neck, and apparently while the double g is the correct name and only spelling of the bridge [Throggs Neck Bridge], the Throgs Neck neighborhood uses both spellings.
It was a chilly Sunday morning, following the switch to Daylight Savings Time, so I began the day running a bit behind schedule, made worse by repair work being done along the #7 subway line in Queens.
The photo to your right shows folks milling along East Tremont where there's an Throgs Neck St Patrick's Day Parade after parade party.
Public Transit Between Flushing Queens & Throgs Neck Bronx
In the downtown section of the Flushing neighborhood of Queens I had planned to take the 44 SBS bus, but was [wrongly] advised to wait for the Q50. The Q50 came far less frequently, but it did get me there. That said, it's worth noting that the 44 SBS would have been faster, because four of them passed me while I was waiting for the Q50.
I departed the bus just off the Hutchison River Parkway at Lafayette Street and started walking east passing St Raymond's Cemetery. St. Raymond's Cemetery is one of the largest cemeteries in the city and associated with St. Raymond's Schools [one for Boys and another for girls] in Parkchester. Click here to see an earlier report we did regarding St. Raymond's Schools in nearby Parkchester, which is only a neighborhood [Schuylerville] away.
---
Gotham Buzz Voluntary Subscriptions
We work very hard to help keep you informed by providing you with independent news coverage, as well as

information about events in the arts, culture and business in the borough.
You can help us continue to provide you with independent, first-person, fact-based, contextural reporting by purchasing an annual subscription. As it's voluntary, there are a variety of price options, one of which should fit within your budget.
Thanks for your encouragement & support.
---
Back To Top