Irish Pubs In Manhattan
Irish Restaurants On St. Patrick's Day In NYC, UES, UWS, Midtown & Village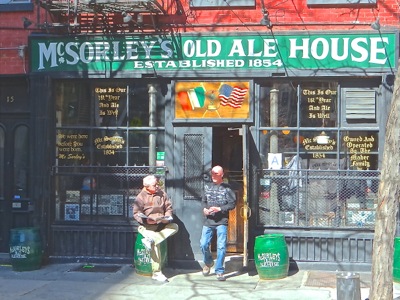 March 14, 2016 / Manhattan Bars & Pubs / Gotham Buzz NYC.
St. Patrick's Day is upon us once again and it's time for one and all, regardless of genetic history, to don their green clothing and head out to the Irish bars for a pint of ale or to the Irish restaurants for some down home Irish fare ... or something like that.
This report is about some of the Manhattan Irish bars and restaurants that have survived the test of time, and likely a might bit ... more. The Irish pubs include Irish bars and restaurants from the Upper East Side [UES], the Upper West Side [UWS], Midtown Manhattan as well as the East Village, as McSorley's remains not just a pub, but a good piece of history.
Click here to read our report about the Irish Pubs in NYC.
---
Irish Pubs In Manhattan
Irish Restaurants On St. Patrick's Day In NYC, UES, UWS, Midtown & Village
March 14, 2016 / Manhattan Bars & Pubs / Gotham Buzz NYC. Continued.
So we'll begin our journey on the Upper East Side UES where the Manhattan St. Patrick's Day Parade ends.
Upper East Side Irish Pubs / Bars / Restaurants / UES
Finnegan's Wake Pub - UES Irish Restaurants
Finnegan's Wake Pub on the Upper East Side is a traditional neighborhood Irish pub. There's Irish fare including chicken pot pies, meatloaves, and bacon cheeseburgers. It sports a mid century décor which complements the age of the crowd. It's comfortable, casual and serves generally good food, which is good value for the money.
The Irish restaurant appetizers range from $3 - $14, sandwiches range from $6 to $15, burgers range from $9 to $12 for a platter, and main entrée platters range from $15 - $25. There's outdoor seating.
Finnegan's Wake Pub is open from 11 am - 1 am daily.
Finnegan's Wake Pub is located at 1361 1st Ave between 72nd and 73rd Streets [10021] on the Upper East Side UES.
Tel. 212.737.3664
Website at finneganswakepubnyc .com
Murphy's Law - UES Irish Pubs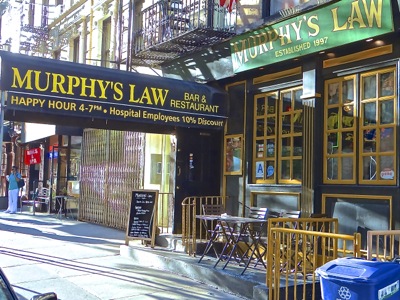 Murphy's is an Irish neighborhood pub with burgers and sandwiches. Most folks like the drinks and compare the food to a respectable American diner. Murphy's Law pub is usually quite popular during important televised [sports] events, frequently during which time they run drink specials. And given the Irish pub and restaurant is near the hospital, they offer a discounted rate [10%] to hospital employees. Both Memorial Sloan Kettering and Rockefeller University Hospitals are located in the neighborhood.
The Irish Pub appetizers are $7 - $14 and sandwiches are $10 to $17 and main entrée platters are $16 to $28.
Murphy's Law Irish Pub and Restaurant is open from 11 am-4 am daily.

Murphy's Law is located at 417 E 70th Street between 1st and York on the Upper East Side UES.
Tel. 212.628.3724
WS. Murphyslawnewyork.com
Midtown Manhattan Irish Bars & Pubs

This is an Irish whiskey bar, but they serve all kinds of other drinks as well. They run happy hour daily from 11.30 am to 6 pm with beers for as little as $3 at the time of this writing. They offer a burger and beer combination for $10. Thursday night is a music night starting at 10 pm [no cover] and going into the wee hours. They also host a theater night once each month. This clientele tends to run from just out of college on up.
They are open from 11.30 am to 4 am daily.
Failte Bar is located at 531 Second Avenue between 29th & 30th Streets [10016] in the Kips Bay section of Midtown Manhattan.
Tel. 212.725.9440
WS. Failtebar.com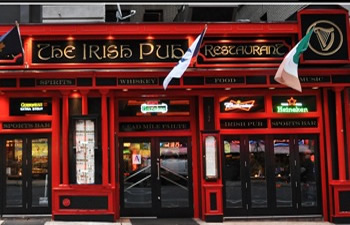 The Irish Pub & Restaurant is a sports bar and Irish Pub. The Irish Pub was established in 1939. They offer traditional Irish pub fare and American dishes. They are a sports bar, an Irish Pub and restaurant and oftentimes a tourist destination in Midtown West.
The Irish Pub is located at 837 7th Avenue between 53rd & 54th Streets in the West Midtown neighborhood of Manhattan, New York [10019].
Tel. 212.664.9364
Grace Irish Bar closed and is now Nick's Pizza Bar located at 365 Third Avenue and the telephone number is the same at 646.918.6553.

East Village NYC Irish Pubs / Restaurants
McSorley's Old Ale House is the oldest Irish pub in Manhattan, New York. Its earliest roots have been debated, but it opened in the mid 19th century - confirmed open by 1865 - but possibly before that time. McSorley's Ale House was also one of the last pubs to allow women customers to walk through their doors, doing this in 1970.
McSorley's Ale House in the East Village maintains the original décor, so it's a journey back into history. And McSorley's Ale House offers only two choices of drinks - dark or light ale - so don't reveal you're a newbie by asking for anything else - because they don't have it.
15 E 7th St
between Cooper Square and Taras Shevchenko Place in the East Village New York [10003].
Tel. 212.473.9148
WS. Mcsorleysnewyork .com
NoHo Irish Pubs - Irish Bars & Restaurants Near SoHo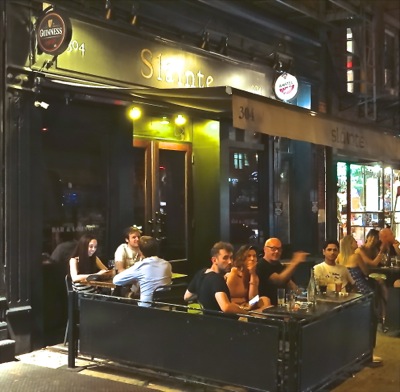 Slainte Bar and Lounge is an Irish bar and restaurant that's located in an area where there's not a lot else around. Most folks like the drinks, and the prices and the simple food fare.
Appetizers run from $8 to $15 and the sandwiches, burgers and platters are all under $15. Happy hours from 4 to 8 pm.
304 Bowery between Bleecker & Houston just north of Houston [NoHo] in the [eastern section] of the Village in Manhattan, New York [10012].
Tel. 212.253.7030.
Upper West Side Irish Bars - NYC

Mc Aleers Pub and restaurant stakes the claim that they are the oldestfamily owned Pub on the Upper West Side of NYC. Mc Aleers was opened by two brothers, John and Frank Mc Aleer in 1953. The family-owned Irish pub survived the drugs and prostitution ravages on the Upper West Side of the 1960's and1970's. And the neighborhood began gentrifying. In 1988 Keith Mc Aleer took over and adapted the fare to suit the newcomers' tastes. Mc Aleers has been featured in TV scripts like NYPD Blue as well as in a mystery novel, Libation By
Death, by Dorian Yeager.
Appetizers run between $6 and $14, sandwiches run from $9 to $12 and platter entrees run from $10 to $16.
McAleer's Pub is located at 425 Amsterdam Avenue between 80th and 81st Streets on the Upper West Side UWS of New York [10024].
Tel. 212.362.7867
WS. McAleersPub .com
West Village Irish Pubs Manhattan
Slane is a closed Irish restaurant and pub located in the West Village. It's an Irish bar and a sports bar that closed recently. Sorry.
Slane was located at 102 MacDougal at Bleecker Street in the West Village neighborhood of Manhattan, NYC [10012]. Their telephone was 212-505-0079 and their website was Slanenyc .com
Slainte.
---
---
Upper East Side NYC - Manhattan Related Info
Click this link for promotions, discounts and coupons in Manhattan.
Upper East Side Neighborhood Related Links - NYC
Click for Manhattan Restaurants
---
Archives - TBD
---
Site Search Tips. 1) For best results, when typing in more than one word, use quotation marks - eg "Astoria Park". 2) Also try either singular or plural words when searching for a specific item such as "gym" or "gyms".
---
---
Click the log in link below to create an ID and post an opinion.
Or send this story to a friend by filling in the appropriate box below.
---