NYC Crime - A Brief Look at NYPD Progress Reducing Murders and Shootings & Effort to Rein in Violent Crime by Making Gun Arrests
The Men & Women in NYPD Blue, Police Commissioner Shea & Mayor de Blasio Have Made Progress in Bringing Down the Number of the Most Violent Crimes in NYC
News Outlets Controlled by Australian Born Billionaire Propagandist, Rupert Murdoch, Generally Fail to Inform NYC & America of these Facts Because They Don't Fit into Murdoch's Manipulative Labeling of Democratic Governed Cities nor Murdoch's Deceitful Ongoing Disparagement of Mayor de Blasio
Murdoch Seems Not to Let Facts, Get in the Way of What he Wants his News Outlets to Convince the Public to Believe
April 19, 2021 / NYC Neighborhoods / NYC Corona Virus / News Analysis & Opinion / Gotham Buzz NYC.
Weather. The temperature highs will range from the mid 70's on Tuesday to the low 50's on Thursday, with the other days in the 60's. The temperature lows will range from the mid 50's on Tuesday to the the high 30's on Wednesday, with the other days somwhere in the 40's. There's a chance of about a third inch of rain on Wednesday. Winds will be between 10 - 15 mph all week. Humidity will be 50% - 60% in the beginning of the week, dropping to 40% - 50% the last two days of the week.
Mayor de Blasio, Police Commissioner Shea & the NYPD have been Making Progress in Improving Safety on NYC Streets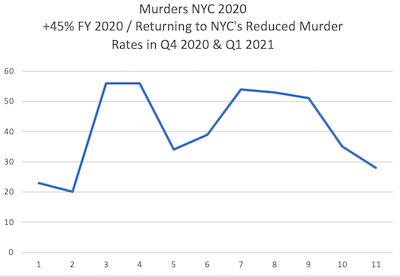 The NYPD has been working hard to bring down shootings and murders over the past year, in part by making a huge number of gun arrests. In the past four months of 2020, the NYPD made twice as many gun arrests as it had in the prior year. In the first quarter of 2021 the NYPD made 1378 gun arrests, which is a 64% increase over 2020.
As a result of the NYPD's gun arrests, murders in NYC have come back down from 1990's levels, to the more modest levels seen in the past two decades. And in 2020, in spite of the huge uptick in NYC murders [462], which was up 64% versus prior year, NYC's murder rate per thousand, is at or even under the murder rate for the United States as a whole. The count of America's murders made last year has not yet been finalized, but is reportedly about 20,000. So the murder rate per thousand for the nation is .000061, while the murder rate for NYC is about the same at .000055.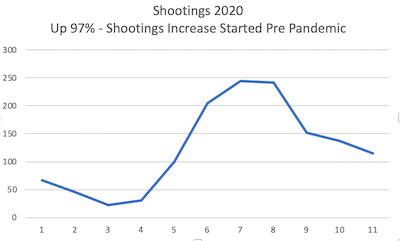 The shootings in NYC continue to be a problem, but there too the NYPD has made good progress since the spike last summer. Beginning in May 2020, shootings spiked into triple digits from the double digits of the prior year. Through the summer of 2020 we witnessed hundreds of shootings per month, although beginning in September the shootings began to fall into the hundred plus range, and thus far this year [first quarter 2021], NYC shootings have fallen to below 100 per month.
The statistics speak for themselves. But my interpretation of them is that Mayor de Blasio, Police Commissioner Shea and the NYPD have done a great job of managing violent crime back down, after a pandemic laden, socially restless, absolutely crazy 2020. But New Yorkers won't know this if they rely on miser Murdoch's mendacious NY Post, Fox News or Wall Street Journal - not because it's not true - but that it's truth that doesn't fit into how Murdoch wants his audiences to see the world ... which is through his incredibly warped, 90 year old lens, which seems to have been crafted by Nazi propaganist Joseph Goebbels himself.
---
NYC Crime - A Brief Look at NYPD Progress Reducing Murders and Shootings & Effort to Rein in Violent Crime by Making Gun Arrests
The Men & Women in NYPD Blue, Police Commissioner Shea & Mayor de Blasio Have Made Progress in Bringing Down the Number of the Most Violent Crimes in NYC
News Outlets Controlled by Australian Born Billionaire Propagandist, Rupert Murdoch, Generally Fail to Inform NYC & America of these Facts Because They Don't Fit into Murdoch's Manipulative Labeling of Democratic Governed Cities nor Murdoch's Deceitful Ongoing Disparagement of Mayor de Blasio
Murdoch Seems Not to Let Facts, Get in the Way of What he Wants his News Outlets to Convince the Public to Believe
April 19, 2021 / NYC Neighborhoods / NYC Corona Virus / News Analysis & Opinion / Gotham Buzz NYC. Continued.
Shootings Remain a Problem, Apparently Fueled by Record Gun Sales in 2020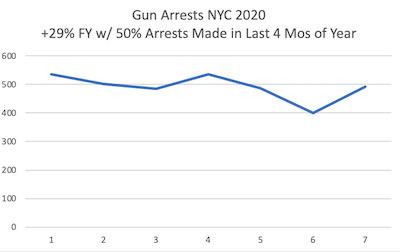 I have to add some information here. Essentially gun sales spiked in 2020 and there seems a strong correlation to gun sales and gun violence, as people who are upset can resort to simple solutions, like killing someone - in many cases - even themselves [suicides by guns].
We make drivers take classes before they get behind the wheel of a car, but we sell dangerous guns and in the case of AK 47's - weapons of war - without any such training. You have to pass a test to get a license to drive a car, but in many states no such license is required of someone who wants to buy / use a gun.
Too many states don't adequately regulate gun sales. So this is one part of the puzzled problem.
Then there's the notion of these weapons of mass destruction - automated guns. What need does a civilian have for such a weapon of mass destruction? These weren't around when the Constitution was written, so they may not have been included in the thought process. While I support the Second Amendment and every adult American's right to own guns for personal protection at home, and also for sporting / hunting activities - but I can't support the sale of automated machine guns, which don't fit into either category. Machine guns were banned back in the 1930's during mobster times, and the ban should never have been allowed to expire.
American public opinion favors more gun control. But unfortunately the Republican Party doesn't seem to care what the American people think. They seem only to care for who can fund them, and what organizations - like the NRA [National Rifle Association] can turn out voters on election day. Mitch McConnell said as much, when he opined that corporations should stay out of politics, but keep the money flowing into his and the Republican Party coffers.
And then there's a brief legislative history of guns. How little has been done over such a long period of time. More coming soon.
ADD CHARTS - POLLS / GUNS / UPDATE CHARTS ABOVE FOR FIRST 3 MOS OF 2021 W/ DEC ESTIMATE.
Mental Health Remains a Social Issue that's Not Unrelated to Violent Crime
Just this past week, a young Ohio teen was arrested for displaying his AK 47 in Times Square. According to reports, his father was killed in a shoot out with law enforcement in March 2021 in Ohio.
So really now, what is a teenager, who recently suffered a major psychological and emotional loss, doing in New York City with a weapon of war? This is where the discussion of crime and mental health come into play. The police can't do everything, which is why the Democrats have been pushing to RETHINK THE POLICE which has been twisted into the ill-considered and / or dishonest slogan of defund the police.
Rupert Murdoch's near monopolistic dominance of our nation's broadcast media [controls Fox News and he is the largest shareholder of Disney / ABC News effective Spring 2019], and Murdoch's influence in American newspapers / print [he controls two of the nation's largest daily newspapers - NY Post and the Wall St. Journal], Murdoch has been able to hijack the conversation about police reform by providing a shorthand labels, like defund the police, to enable the simpletons in the Murdoch media audiences to shut down any kind of intelligent / reasonable discussion of the issue.
Murdoch's Mendacious Press Seems to use Newspeak to Hijack the Very Important Conversation About Police Reform & Influence the Audiences Who Trust Them, into Making Disinformed Simpleton Decisions based on Murdoch's Omission Laden News Reports
Unfortunately the Democratic point of view was hijacked by Murdoch's deceitful press, which twisted what Democrats are generally trying to do with police reform, by labeling it 'DEFUND THE POLICE' instead of reporting and digging into the facts surrounding the issues associated with what Democrats are really saying which is 'RETHINK THE POLICE'. This is not to deny that some Democrats have called for police defunding - which is what gave Murdoch's mendacious media their opening to hijack the debate and put progressives on their heels.
Murdoch's dishonest media uses Orwellian style Newspeak to distort / distract people from becoming aware of the facts, the learning and the thrust of the general arguments surrounding police reform, which center around changing the way society is policed. The changes are about recognizing that there's a rainbow of offenders, from misguided children who generally come from under resourced families, to people who by their very nature, are violent or abusive. Even the latter, are more likely to have come from under resourced families, where abuse was tolerated and not flagged early on, because public awareness / resources weren't invested in disentangling these families from a web of abuse.
Murdoch seems to have fascist tendencies, having used the police in Britain to crush the printing unions in a year long, sometime violent struggle, where both police and unionists were hurt. Publicly Murdoch media appear to 'support the police', but they seem to only support the fascist side of policing - not the people who make up the police force. I say this because Murdoch media don't appear interested in resourcing the impoverished communities from where many criminals come [the billionaire doesn't like to pay his fair share in taxes], nor does he appear interested in saving police people's lives by reducing the number of guns on the streets, by supporting legislating background checks and banning the sale of automated weapons. So Murdoch's public show of support for law enforcement seems hollow at best, and more likely manipulative or even phony.
Murdoch's Newspeak or dishonest labeling seems to be his specialty. This appears to have been one of the many tactics the billionaire miser used to extricate Britain from the European Union, by virtue of labeling Britain's exit - BREXIT - so the billionaire miser wouldn't have to pay more in taxes. What befuddles me is why the Labor Party - and for that matter the Conservative Party headed by Prime Minister David Cameron who was against Brexit - didn't come up with a similar label to encourage Britain to remain in the European Union. It's too late I reckon, but it would have been as simple as - BREMAIN. Orwell pointed out in his book Animal Farm, that these labels become a substitute for actually thinking through an issue. They are a short hand for simpletons, who use them to make decisions, which inevitably seem to be in Murdoch's favor, and oftentimes appear not to be in the real interests of the folks in the Murdoch audiences who use them for their decision making and voting.
What's the Deal? How Big a Role Does Mental Health Play in Violent Crime?
I can't give you newspeak answers, because I know that this is not an easy problem, and to do so would be deceitful. I spent a bit of time researching the issue and I'll share a few differing viewpoints, to begin to help open the conversation a bit more as we go forward. But this issue requires far more research and thought than what I've researched and will share with you today.
MORE TO COME LATER.
---