---
September 14 2018 NYS Election Results: No IDC Wins NYS Senate Cuomo Defeats Nixon
No IDC NY Wins Big & Cuomo Buys Back In
No IDC NY Supported Candidates Won Six of Nine Senate Contests & Cuomo's Donors Spent $21 per Vote
September 14, 2018 / NYC Neighborhoods / NYS Politics & Government / News Analysis & Opinion / Gotham Buzz NYC.
Andrew Cuomo and his wealthy corporate backers appear to have won him a third term as NYS Governor. The win reportedly cost them over $21 million - thus reducing the the return on their political investment by requiring a significant upfront payment.
But you needn't worry about Cuomo or his wealthy corporate backers, as campaign contributions are reportedly very good investments, providing returns that range from modest to excessive. Do a search for studies conducted in 2004 by Harvard University, and in 2017 by Kellogg Graduate Business School at Northwestern for greater detail.
The photo at right shows voters on Thursday evening, September 13th, signing in to cast their votes.
Cuomo Defeats Nixon - Voting Interest Nearly Triples vs 2014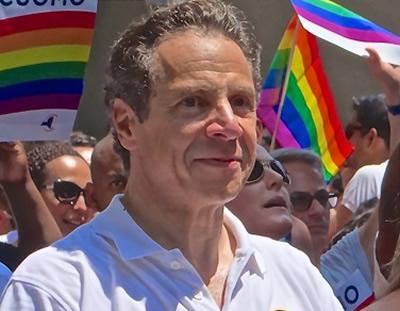 With 99% of the precincts reporting, Andrew Cuomo won 975,552 votes to Cynthia Nixon's 511,585 votes - that's 65.6% for Cuomo and 34.4% for Nixon. Nixon won many of the counties surrounding Albany, Tompkins County and Lewis County near Syracuse.
Cuomo won the rest of the state, but won by smaller margins in Manhattan and Brooklyn, while winning by wider margins in the other boroughs. Please note that the September 13, 2018 election totals and percentages shown in this story were reported by the New York Times this morning. The contextual and historical figures and percentages were reported by a multitude of other generally reliable sources.
In the photo at right is Andrew Cuomo marching in the June LGBT parade in the West Village of Manhattan in a prior year.
Had Cuomo only won as many votes as he'd secured in the 2014 primary against Zephyr Teachout, Nixon would have trounced him. In 2014 Andrew Cuomo received 327,150 votes to Zephyr Teachout's tally of 180,336 votes, with the percentages reflecting about the same as this year [64% / 36%] - but the ad spending by the Cuomo campaign was up significantly and so were the vote tallies on both sides. Thus in 2018, almost three times as many voters showed up at the polls during the primary election, but as you will see below - that's still only about 10% of the total potential electorate.
---
Election Day Thursday 9/13 - Please Vote
September 12, 2018 / Manhattan Neighborhoods / Manhattan Politics & Government / Manhattan Buzz NYC.
The New York State federal offices (Congress) primary election is tomorrow, Thursday September 13th.
The polling booths will be open from 6 am to 9 pm Thursday.
To find your poll location click on the graphic at right.
Once on the website, input your address, and then click the icon to the right of it to get the results of the search. You have to look for the super-tiny icon near the lower right corner of the screen.
Remember that if you really want things to change, then you can't keep electing the same representatives.
---
Alexandria Ocasio Cortez Defeats Democratic Congressman Joe Crowley
Decisive Victory for Ocasio & Progressives
Democratic Party Insider Joe Crowley Loses in Stunning Defeat
June 27, 2018 / Bronx Neighborhoods / Queens Neighborhoods / Queens Politics / Bronx Politics & Government / News Analysis & Opinion / Gotham Buzz NYC.
Congressman Joseph Crowley suffered an astonishing defeat Tuesday, when Alexandria Ocasio - Cortez defeated him in the 14th district NYS primary for U.S. Congress. According to Vox, with 97% of the precincts reporting, Ocasio-Cortez had received 15,897 or 57% of the vote, while Crowley had received 11,761 or 42% of the vote.
Crowley, age 56, inherited his office and the Queens Democratic Party Chairmanship from Thomas Manton in 1999. Crowley has spent the last two decades in Washington, D.C. rising to the top levels of the Democratic party leadership, considered by many to be one of the top contenders to succeed Nancy Pelosi as the House Democratic Leader.
Ocasio-Cortez is a youthful 28 years old, the daughter of a Bronx native and Puerto Rican mother. At age five her family moved to Yorktown, a small town in Westchester where she lived until leaving home for college. She attended and graduating from Boston University with a BA in Economics and International Relations. Since then she has worked at a Bronx start up, in the Bernie Sanders presidential campaign of 2016, and as a bartender.
Crowley reportedly had a campaign budget of $1.5 million versus $0.3 million for Ocasio-Cortez, raised via small and online donations.
Crowley, Pelosi, Schumer & the Democratic Party of Appeasement
Alexandria ran a spirited campaign, tapping into some of the energy and frustration of an increasingly rigged system, which Donald Trump has been hyper rigging since he took office in 2017.
The Donald tweeted that Joe lost because he opposed President Donald. But as oftentimes seems the case with Trump tweets - the reality is quite the opposite. The electorate that supported Ocasio-Cortez are more likely to view Crowley, Pelosi and Schumer as leaders of a Democratic Party of Appeasement who need to be replaced by people who will vigorously fight for the democratic principles upon which this nation was founded. Pelosi, Schumer and Crowley are seen as wet noodle leaders of the opposition - telling their supporters to hush up about any possibility of impeaching Trump.
---
Cynthia Nixon & Jumaane Williams for Governor & Lieutenant Governor NYS
Is Nixon the One for NYS?
Cynthia Nixon & Jumaane Williams Support Real Rent Reform
June 14, 2018 / NYC Neighborhoods / NYC & NYS Politics / Gotham Buzz NYC.
On Thursday afternoon I headed to the NY Public Library at Bryant Park to attend a Rent Reform Rally organized by RealRentReform.org. I had heard that Cynthia Nixon and Jumaane Williams, candidates for NYS Governor and NYS Lieutenant Governor, respectively, were to speak at the event - so given the relevance of rent reform and the growing interest in the challengers to the status quo ... I decided to go.
As I emerged from the subway, I wasn't disappointed. There were a thousand plus protesters gathered on the steps of the central library along Fifth Avenue, just south of 42nd Street, gathered to make their voices heard. What struck me as I surveyed the crowd was the cross sectional nature of the people who had gathered. From the young student activists, to the elderly handing out pamphlets, to people of all colors ranging from black to white.
I shot some photos and talked to some of the organizers and attendees to find out what they had come to say. Essentially they were disappointed with Governor Andrew Cuomo's inaction on strengthening rent regulations - which struck me as comparable to the inaction on housing and the rapid rise in homelessness in NYC as happened under former Mayor Michael Bloomberg.
CLICK here for Cynthia Nixon running for Governor & Jumaane Williams running for Lieutenant Governor at Real Rent Reform Rally at the NY Public Library.
---
IDC Challengers' Rallies Sunday
Challenging Republicans Posing as NYS Senate Democrats?
April 28, 2018 / NYC Neighborhoods / NYC Politics & Government / Gotham Buzz NYC.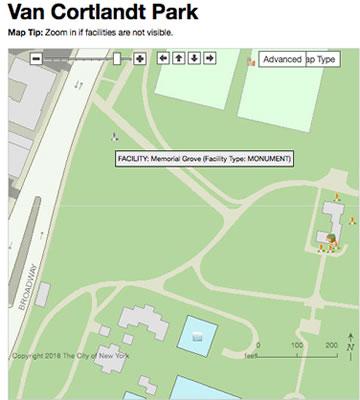 I just received an email notifying me of simultaneous rallies which will be held by IDC [Independent Democratic Caucus] member CHALLENGERS within the NYC Metro area. The members of the IDC, who these challengers are rallying against, have been caucusing with the Republicans since 2010 / 2011. By caucusing with the Republicans, the IDC Democrats have provided Republicans with a majority in the NYS Senate. Thus the IDC members appear to be Republicans running as Democrats on the Democratic ticket.
The IDC CHALLENGER rallies are intended to inform the electorate as to how their IDC electeds have been (mis?) representing them - as well as how the challengers would like to represent them - should they be given the chance.
"In an unprecedented show of strength and unity following the release of their joint statement about their agenda, the candidates will set forth their visions for their districts and will enlist those present at the rallies in registering voters, canvassing, and the like in preparation for the Thursday, September 13, 2018 primary election."
"The rallies will explain the need to replace the former IDC members with true blue Democrats whom we can trust not to turn their backs on the people who elected them. The IDC may have rejoined the Democrats for now, but they've been willing to ally themselves with the GOP since 2011 - and they've claimed to return to the Democratic fold before. The damage is done and we will not forget. New York deserves REAL Democrats who stand for progressive values, not Trump Democrats."
SUNDAY Rally Details:
Blue Wave Rally for Jessica Ramos, April 29, 2 PM, 31-04 Ditmar Blvd., Intersection at 31st Street Astoria, Queens.
Blue Wave Rally for Alessandra Biaggi, April 29, 2-3 PM, Memorial Grove in Van Cortland Park, Bronx. Memorial Grove is located in Van Cortlandt Park, near West 246 Street between Broadway and the Van Cortlandt Mansion - see map above.
Blue Wave Rally for Robert Jackson, April 29, 1:30-2:30 PM, at Bennett Park, W 183rd St & Fort Washington Avenue, Manhattan.
Blue Wave Rally for Rachel May, April 29, 2-3 PM, State Office Building, 301 East Washington Street, Syracuse.
Blue Wave Rally for Zellnor Myrie, April 29, 2-3 PM, at the Prospect Park subway stop, on Lincoln Avenue between Flatbush and Ocean Avenues, Brooklyn.
Blue Wave Rally for Jasmine Robinson, April 29, 2-3 PM, at Tappen Park, Staten Island (near the Stapleton SIR stop).
Blue Wave Rally to Make NY True Blue in SD38, April 29, 2-3, at 20 South Main Street, New City, NY
Blue Wave Rally to Make NY True Blue in SD21, April 29, 2-3 PM, Bell Boulevard at 73rd Avenue, Oakland Gardens, Queens
Press contacts:
Rise and Resist: Claire Ullman, 917-679-7120
True Blue NY: Lisa DellAquila, co-leader, 917-991-0605
Jackson campaign: Harris Doran, 917-797-6180
Myrie campaign: Andre Richardson (campaign manager), 201-892-5829, andrerichardson@gmail.com
Robinson campaign: Jane Nixon Willis, 914-584-2833; improvised3@gmail.com
Ramos campaign: Monica Klein, 917-565-0715, monica@seneca-strategies.com
Biaggi campaign: Dominique Shuminova, Deputy Campaign Manager, 917-821-7700
Avella protest: Judy Kirschner from Rise and Resist, 917-270-2705
Carlucci protest: John Gromada from Rockland Citizens Action, (845) 323-9896
Scroll down for related story or click here for the full story about the Independent Democratic Caucus & members.
---
Independent Democratic Caucus - No IDC NY Seeks to Replace Republicans Running as Democrats
Jeff Klein's IDC: Republicans Running as Dems?
The Independent Democratic Caucus Aligns with Republicans which Enables Republicans to Control the NYS Senate
Updated September 7, 2018 / March 21, 2018 / NYC Neighborhoods / NYS Politics & Government / News Analysis & Opinion / Gotham Buzz NYC.
There's an NYS State primary election this month. The primaries will be held on Thursday, September 13th; instead of on Tuesday, September 11th, in recognition of 911. And the general election will be held on Tuesday, November 6th.
As in any year, the elections are important, but perhaps made more so this year, by what appears to be the anarchistic destruction and disrespect, for our government institutions and processes, by Republican President Donald Trump.
Trump Republicans: Debt Bomb Deficits Levied on America's Children to Enrich the Richest?
The Donald passed a stimulus tax bill that is expected to increases the deficit by $1.5 trillion over the next ten years, and there are some pundits who put the figure higher. He and the Republicans passed this budget busting stimulus tax bill, while the economy was operating at levels considered above a full employment economy [5% unemployment is considered standard / normal] and at a time when wages were rising over 2%.
Inflation above 2% is considered to be detrimental to economic stability by the Federal Reserve, so stimulating the economy while it's at full employment with rising wages is about the opposite of what makes sense, especially when you consider the funding for it is coming from America's children and most of the benefits for it are going to the wealthiest people on the planet. We posted a report analyzing the Trump Tax Reform Bill slightly before it was finalized, which includes a lot of facts and figures to help provide context to better understand what was in the bill they passed.
The Independent Democratic Caucus Aligns with NYS Senate Republicans & Gives Them Control
In 2010 / 2011 NYS Senator Jeffrey Klein broke away from the Democratic Party and formed the Independent Democratic Caucus which aligns with the Republican Party, thereby giving them control of the NYS Senate. The effect of this is that bills passed by the Democratic controlled NYS Assembly are indefinitely tabled, or in lay man's terms pretty much killed, in the Republican-controlled NYS Senate. The Republicans control the NYS Senate, because eight NYS senators who run as Democrats [IDC Independent Democratic Caucus], either vote with or kill bills with the Republicans.
Democratic NYS Assembly Bills Effectively Killed by IDC
According to the Democratic Senate Conference, the Republican controlled NYS Senate - with the help of their Republicans running as Democrats allies - have effectively killed one education bill providing full day kindergarten funding, three wage / leave bills, four voting rights bills including the allowance of early voting, four immigration bills including one related to the DREAM Act, four housing bills including several pertaining to NYC rent laws that help renters, three criminal justice bills including creation of correctional ombudsman and sealing of marijuana possession records [as marijuana is rapidly being legalized in states across the country], one related to LGBTQ issues, and six regarding healthcare, several of which pertain to women's reproductive rights.
The IDC Deception: REPUBLICANS RUNNING AS DEMOCRATS?
The net effect of this is that Democrats are, in a sense, cheated or tricked out of their majority by what appears to be Republicans running as Democrats. The Independent Democratic Caucus or IDC includes Jeffrey Klein of the Bronx, who founded the IDC, David Valesky of Oneida and Madison Counties in upstate New York, David Carlucci of Rockland and Westchester Counties, Diane Savino of Staten Island / Brooklyn, Tony Avella of Queens, Jose Peralta of Queens, Jesse Hamilton of Brooklyn, and Marisol Alcantera of Washington Heights / Manhattan. Simcha Felder of Brooklyn also runs as a Democrat and caucuses with the Republicans.
The following is a list of challengers, eight of which I obtained off the NoIDCNY.org website. For some reason Blake Morris - Simcha Felder's challenger - was not included on their website. I have just contacted them to find out why.
Jessica Ramos is challenging Jose Peralta in District 13 in Queens.
John Liu is challenging Tony Avella* in District 11 in Queens.
Robert Jackson is challenging Marisol Alcantera in District 31 in Washington Heights / Inwood / Manhattan.
Alessandra Biaggi is challenging Jeff Klein in District 34 in the Bronx.
Zellnor Myrie is challenging Jesse Hamilton in District 20 in Brooklyn.
Blake Morris is challenging Simcha Felder in District 17 in Brooklyn.
Jasmine Robinson is challenging Diane Savino in District 23 in Brooklyn / Staten Island.
Julie Goldberg is challenging David Carlucci in District 38 in nearby upstate New York.
Rachel May is challenging David Valesky in District 53 in upstate New York.
* A Word About NYS Senator Tony Avella as He Appears to be a Real Independent
Of all of the IDC candidates listed above, NYS Senator Tony Avella deserves special consideration. NYS Senator Avella CHALLENGED Republican Mayor Michael Bloomberg and Queens Country Democratic Party Chairman Joe Crowley when both of these men, and many in their parties, supported real estate developments in Flushing Meadows Corona Park. Queens Borough President Melinda Katz took a position that appeared somewhere between supportive of the developments to - at best - indifferent.
NYS Senator Avella advocated on behalf of the community to thwart billionaire and mega millionaire real estate developers from grabbing Queens parkland - AND WON. In doing this, NYS Senator Tony Avella, appears to be more like a Maverick or Independent, resembling legislators like deceased U.S. Senator John McCain (Republican) and U.S. Senator Bernie Sanders (Democrat), both of whom have charted their own path through party-dominated politics.
Avella is an important independent voice in the Queens, NYC and NYS community, which the Democrats in his district will have to decide whether or not to keep.
---
Mayor de Blasio Delivers State of the City Address 2018
NYC Mayor de Blasio's Theme for Second Term - Fairness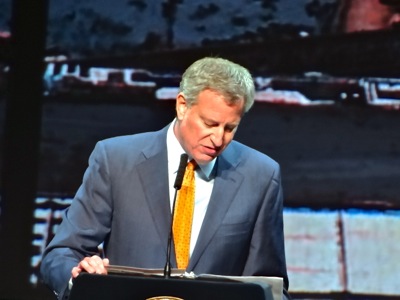 February 26, 2018 / Flatbush Neighborhood Brooklyn / NYC Neighborhoods / NYC Politics & Government / News Analysis & Opinion / Gotham Buzz NYC. By Michael Wood.
On Tuesday evening, February 13th, I made my way south toward the Kings Theater in the Flatbush neighborhood of Brooklyn. It was an unseasonably warm February, with temperatures descending into the 40's. I disembarked from the G subway at Church Avenue and headed east toward Flatbush Avenue, taking the opportunity to walk through the Prospect Park South neighborhood.
Kings Theatre - Historic 1920's Theater in Flatbush Brooklyn
When I arrived at Kings Theatre I found a number of people engaged in the exercise of their free speech rights, chanting for an accelerated pace of the reform initiated by Mayor de Blasio four years ago.
Once inside the theater I paused for a few minutes to take in the dazzling beauty of the 1929 theater built by Loews as a movie theater. The soaring arches and the ceiling had been restored in a renovation that was completed in 2015, at which time the Kings Theatre reopened. I walked up the stairs to look down into the lobby from the balcony to fully take in the architectural and artistic statement of an earlier time.
According to Wikipedia the Kings Theatre had been closed since 1977, named to the National Register of Historic Places in 2012, following the initiation of its restoration by the City in 2010.
Brooklyn Continues to Preserve its History & Queens does What?
It's nice to see this kind of preservation being done in Brooklyn - it's unfortunate that the government officials in Queens don't take the same sort of initiative to preserve more of the history of that borough. In 2017 a similar, although admittedly less expansive theater on 82nd Street in the Jackson Heights neighborhood of Queens, was demolished.
And in 2010 the landmarked mansion owned by the Steinways of Steinway & Sons Piano - built of granite in the 1850's, sitting atop about two and a half acres of land, and in very good condition - came on the market with an asking price of $2.5 million. The house was only blocks away from the piano factory where handmade pianos are still produced to this day and was the residence of one of the most influential, historically and culturally significant people in NYC and Queens of the latter half of the 19th century.
In an unbelievable failure of leadership in the borough of Queens - the Steinway mansion was not purchased by the government - nor was any meaningful attempt made to preserve it for the public - even though the mansion remained on the market until it was acquired by a developer in early 2014 [they had nearly four years to buy it]. The real estate developer subsequently built on the adjacent acreage - making back significantly more than he paid for the entire mansion, while still leaving him with ownership of the mansion. The future of the mansion itself remains unclear, as it is still in private hands, but because it has been landmarked, the outside of the mansion must be preserved. Click here to read our report about the Steinway Mansion and the travesty of the broken preservation process in Queens ... but I digress.
NYC Mayor de Blasio's State of the City Address 2018
Inside the theater, a Rabbi was making a speech. He was preceded by a priest, and followed by a minister, a transgender person, and the mayor's wife, Chirlaine McCray.
We were shown a film, which talked about education, housing and law enforcement - the three main challenges faced by the Mayor during his first term. And while the Mayor has made some solid progress in addressing these issues, they are likely to remain with us for many years to come.
New York City / The Tale of Two Cities: 2013 - 2017
Four years ago, the Mayor campaigned on a platform designed to address the tale of two cities. Last year he campaigned on his record of achievement in addressing the causes of the economic disparities implicit in his metaphor of the tale of two cities - but he didn't really tell us what to expect the next four years. Tonight, in his State of the City Address, the Mayor outlined what he hoped to achieve in the coming four years.
New York City / The Fairest Big City in America: 2018 - 2022
The Mayor, at his core is a bit of a policy wonk, and thus he began by outlining his plan to make New York City the Fairest Big City in America. I know that policy sounds boring - but in an age of political pugnaciousness and thoughtless theatrics - I actually find it refreshing to see an administration engaged in the process of trying to solve our social problems by using the data, analytic tools and most current social science / academic research.
1. NYC Mayor de Blasio's First Term Accomplishments
The Mayor started by touting his accomplishments which include on track to build a record number of affordable housing units, improving academic performance in the public education system [initiation Pre-K and 3-K] and continuing improvements in community safety, even while stop 'n frisk has declined over 90% [because the Mayor added thousands of police[wo]men to the force]. He noted that all of these accomplishments help make the city more fair than it was just four years ago.
The Mayor also spoke about the following topics, which I hope to add to at a later date.
2. Neighborhood Policing & Body Cameras
3. 3-K for All
4. Affordable Housing
He also proposed an electorate engagement plan, which I may also add at a later date.

Thomas Jefferson told us that a nation that expects to be ignorant and free, expects something that never was - and never will be. A government for the people by the people won't function properly if the people don't become engaged and remain engaged - as I witnessed on my way into the theater tonight.
---
Has The Pulitzer Prize Committee - Like the Corporate Media - Lost its Way?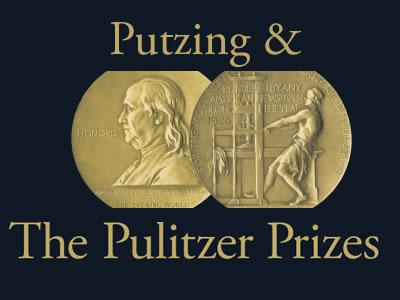 Updated February 21, 2018 / NYC Neighborhoods / NYC Government & Politics / News Analysis & Opinion / Gotham Buzz NYC.
The following is an open letter that I sent to the Pultizer Prize Committee on January 25th, 2018 along with a journalistic series I had written in 2017 and sent to them in 2018 entitled Rupert Murdoch and the Rise of the 21st Century Propaganda Press. The series, which you can view by clicking the link, tells the story about how multi-billionaire Rupert Murdoch appears to use his media outlets as propaganda machines in order to promote pols who will grant him favorable tax legislation, favorable executive rulings and favorable industry regulatory legislation.
Murdoch also appears to be able to manipulate the course of governments and public policy. He appears to have done exactly this in the case of the Iraq War, whereby Murdoch appears to have sent three English-speaking democracies to war - not only for oil - but for his cable network TV ratings too. In Britain in 2016, regarding the Brexit referendum, Murdoch appears to have hijacked public policy in his favor - not the nation's - by pushing through a seismic policy change that enables Murdoch to have greater autonomy over how he conducts his multi-national media business - free from any meaningful government interference - and the Brexit referendum vote also gave Murdoch a huge purchase price discount, because of a devalued British currency.
While the Corporate Media obsesses over the Russian Collusion Investigation - they are distracted from putting in the spotlight what appears to be the REAL 2016 PRESIDENTIAL ELECTION STORY - which is Rupert Murdoch's election meddling to further empower and enrich himself at the expense of the republic and its institutions.
In Trump's first year, Murdoch was the recipient of numerous tax breaks, and breath-taking deregulatory actions in Murdoch's industry via FCC Rulings and telecommunications legislative changes. All of this has received scant news coverage, as the Pulitzer Prize Award winning corporate media, were too busy covering Donald Trump's Tweet distractions. By giving preferential treatment to Trump's tweets, which the American public is able to directly access on their own, the corporate media has failed the American public by regurgitating and hence amplifying the President's shock jock statements - instead of doing their job of providing the American public with context-based news reports about the important issues of the day.
---
---
Midtown / UES / UWS - Manhattan NYC
Click here to go to the Arts & Culture section of this site.
Click these links for promotions by advertisers in Manhattan.
Click this link to go to the Manhattan Neighborhood.
---
Site Search Tips. 1) For best results, when typing in more than one word, use quotation marks - eg "Midtown Neighborhood". 2) Also try either singular or plural words when searching for a specific item such as "gym" or "gyms".
Click this link to the Gotham Buzz front page.
---
Click the log in link below to create an ID and post an opinion. Or send this story to a friend by filling in the appropriate box below.
---
---
---
Click the log in link below to create an ID and post an opinion.
Or send this story to a friend by filling in the appropriate box below.
---
---
NYC Related Links
Click for New Years Parties & Restaurants NYC
Click for Manhattan Farmers Markets NYC
---