This Weekend Things To Do NYC
Happy Hanukkah, New Yorkers Striving to Return to Normal with Tree & Menorah Lightings, Theater & Small Museum / Historic Site Reopenings, but CoVid back on the Offensive, Vaccine Help is on the way, Albeit Not so Soon for Most of Us & Dictator Donald & Seemingly Corrupt Friends Fail to Overturn U.S. Democracy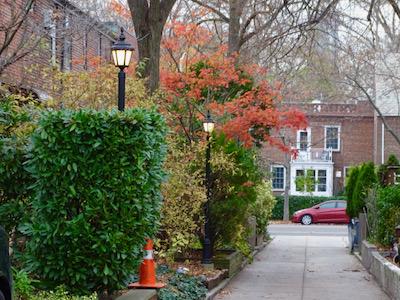 December 11, 2020 / NYC Neighborhoods / Things To Do NYC / News Analysis & Opinion / Gotham Buzz NYC.
Weather. The temperature highs go from the low 40's into the mid to high 50's the rest of the weekend. The temperature lows will be in the 40's on Friday and Saturday, descending into the low 30's on Sunday night. There's a bit of rain [not even 1/10th of an inch] in the forecast for Saturday morning. The humidity will be in the 70's Friday, rising to 80% Saturday and then dropping to 50% by the end of Sunday. Winds will be between 5 - 10 mph. Not a bad weekend weather report for mid December.
Life Continues & a Show Goes On, Albeit Differently
The Bartow Pell Mansion at 895 Shore Road in Pelham State Park in the Bronx is hosting a few historical / theatrical events in compliance with the NYS CoVid guidelines. They're doing Candlelight Tours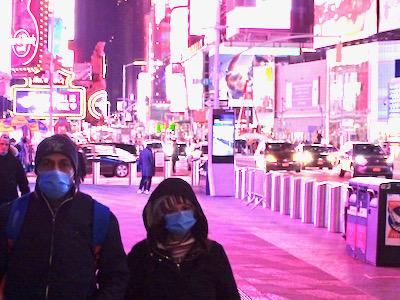 from 4 - 9 pm December 4 - 19 for $10 admission. They're doing Holiday Mansion Walk Thrus from December 5 - 18 from 10.45am - 3.15 pm [last tour begins] for $10 admission. And they're hosting performances of Mr. Dickens Tells a Christmas Carole from December 12 - 20 from 1 - 2.30 pm for $40. You must rsvp via their website - www.bartowpellmansionmuseum.org.
The photo at right, taken two weeks ago, shows the late fall we experienced this year. It was a welcome relief because in helped restaurants with their outdoor dining, and allowed cooped up denizens to at least enjoy a bit of exercise and fresh air.
In the Bronx there's a food pantry, of sorts, called the Mott Haven fridge outside of a bodega at 141st and St. Anne's in Mott Haven in the Bronx. It was started in the fall by a couple of teachers to provide both a means of giving food by those who can, as well as a means of distributing food to those who need. In late November the Mott Haven Fridge was on the brink of losing its home outside of Chicky's bodega due to that bodega being sold. But a nearby bodega, Brito's Deli Grocery, volunteered the use of a vacant lot their control, so the Mott Haven Fridge did move ... but only 30 feet down the block.
The National Lighthouse Museum at 200 The Promenade at Lighthouse Point on Staten Island [easy 5 minute walk from the ferry terminal] has re-opened with CoVid guidelines in effect. The new hours are Wednesday through Sunday from 11 am - 4 pm daily.
---
This Weekend Things To Do NYC
Happy Hanukkah, New Yorkers Striving to Return to Normal with Tree & Menorah Lightings, Theater & Small Museum / Historic Site Reopenings, but CoVid back on the Offensive, Vaccine Help is on the way, Albeit Not so Soon for Most of Us & Dictator Donald & Seemingly Corrupt Friends Fail to Overturn U.S. Democracy
December 11, 2020 / NYC Neighborhoods / Things To Do NYC / News Analysis & Opinion / Gotham Buzz NYC. Continued.
Holiday Tree Lighting & Hanukkah Menorah Lightings in Queens, Brooklyn & Manhattan
The eight days of Hanukkah menorah lighting in Brooklyn at Grand Army Plaza and in Manhattan at 5th Avenue and 59th Street in front of what was once the Plaza Hotel.
And there was a holiday tree lighting event on Tuesday, December 8th in Elmhurst Queens at the Moorehead Homestead Playground at Broadway & 45th Avenue . While the event has passed, the lit tree remains.
Also scroll down for events posted in the prior two weekends which continue through the holidays.
CoVid Pandemic Second Wave Continues to Ravage City & State?
Governor Cuomo announced that indoor dining at NYC restaurants will be suspended effective Monday, December 14th. But outdoor dining, pick up and delivery will remain viable dining options. People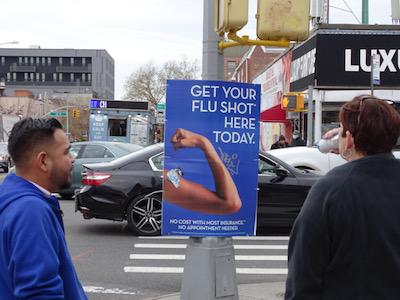 testing positive for CoVid were found twice as likely to have dined at a restaurant within the two weeks prior to testing positive.
The Governor extended the commercial eviction moratorium another month.
The photo at right shows an empty Times Square about a week ago during prime time of day [after work] and prime time of year [holidays]. Broadway theaters are closed until June 2021 and tourism in NYC is operating just a shade above non-existent at present.
Cuomo noted that 74% of new CoVid cases appear to have arisen from attendance at small private in-home social gatherings. And the percent testing positive at both NYC and NYS levels has passed 5% which has been a cautionary threshold, as the transmission rate also rose above 1%, which means the spread in NYS is accelerating. It's worth bearing in mind that this weekend we will be two weeks past the Thanksgiving holiday, which was likely the cause for the increase transmissions, as people likely let their guard down among family, friends and loved ones.
This second wave might abate, except that the holiday season is winding up, and most folks are longing for a bit of social interaction. Part of the holiday kickoff began with the tree lighting at Rockefeller Center on Wednesday, December 2nd, followed by one at Washington Square Park on Wednesday, December 9th, and the beginning of Hanukkah on Thursday, December 10th. We are now two weeks away from Christmas week, and then the New Year [virtual celebration from Times Square], and then things should 'die' down.
The photo at right shows a poster encouraging Astorians in Queens to obtain a flu shot a couple of weeks ago.
So government officials are asking people to continue exercising restraint during the holidays and beyond, as the Pfizer vaccine received FDA emergency approval and will begin rolling out over the next few weeks. But patience is still required as it will take somewhere between many months and a half year to year for everyone or most folks to obtain the vaccine. The good news is that the end is in sight. The bad news is that we probably have at least as long as we have endured to date, to get to the new post pandemic normal.
---