What I Found: Unite The Right Rally in D.C.
Media Reality Distortion - How Out of Whack is America's News / Information System?
August 13, 2018 / Government, Media & Politics USA / Washington, D.C. / Gotham Buzz NYC.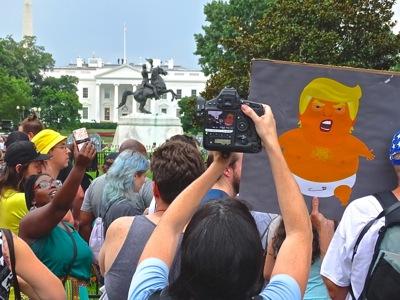 Just over a week ago, I made the decision to travel down to Washington, D.C. to cover the Unite The Right Rally scheduled Sunday, August 12th, on the anniversary of the same rally organized by the same group in Charlottesville, Virginia. Charlottesville is located about 100 miles south / mostly west of Washington, D.C.
In the rally a year ago, White Supremacists, Ku Klux Klansmen, neo-Confederates and neo-Nazis participated in the rally and it became violent. One person was killed in the event when an alleged neo-Nazi drove his car through the crowd, and two officers monitoring the event in a helicopter died, when the aircraft crashed [I believe it was an accident]. And somewhere between 19 and 34 people were injured in clashes between the Unite The Right rally participants and Antifa along with other counter protesters.
The D.C. event was scheduled in D.C. because Jason Kessler, the Unite The Right Founder, couldn't get a permit in Charlottesville for the first year anniversary of the Unite The Right event. After some skirmishing over the permitting with the local Washington, D.C. authorities, Kessler prevailed and was given a permit to hold a march and rally ending in Lafayette Park, just south of the White House.
At one point there were discussions about arranging separate public transit buses for the Unite The Right rally members from their staging area a several miles west of the White House, to the march starting point at Foggy Bottom Metro Station. But the D.C. public transit union resisted, as the majority of their members are African Americans, and the union reportedly opined that they didn't want to do anything to facilitate the Unite The Right rally.
---
What I Found: Unite The Right Rally in D.C.
Media Reality Distortion - How Out of Whack is America's News / Information System?
August 13, 2018 / Government, Media & Politics USA / Washington, D.C. / Gotham Buzz NYC.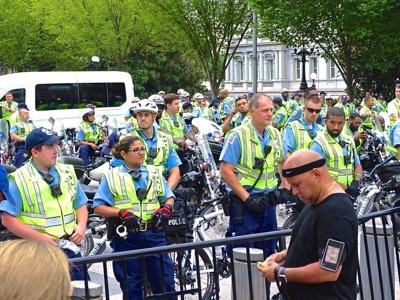 Meanwhile there were somewhere between a half dozen and dozen counter protester groups that organized to protest the Unite The Right rally. Several of them also sought and received permits.
On Friday Christian and Jewish groups joined forces for an interfaith teach-in and interfaith vigil. This was according to The DCist, which I found to be the best source of information regarding planning / preparing to cover the event on Sunday. The DCist also noted that Black Lives Matter DC in collaboration with several other activist groups held a workshop at an Episcopalian Church.
On Saturday, a Presbyterian Church held a prayer service at Foggy Bottom Station in advance of the rally, where they prayed and chalked some of the sidewalk where the Unite The Right marchers would begin on Sunday.
On Sunday a counter protest, Shut It Down DC, organized a permitted counter protest in Freedom Plaza a few blocks east of Lafayette Park, from where they would march to Lafayette Park beginning at 3 pm. The DCist reported that the Shut It Down DC group included the D.C. Antifascist collective, Hoods4Justice, March for Racial Justice, and others.
Black Lives Matter DC organized to meet a couple of blocks north of Lafayette Park, and would then march south to the park. A group from NYC began their march on August 3rd to D.C. where they planned an event at the MLK monument from 12 noon to 4 pm on Sunday [#AgapeMarch]. And a group, The Real White People's Rally, led by a local tour guide, Tim Krepp, was scheduled to counter protest at Lafayette Park from 1 to 4 pm.
The DCist also mentioned about a half dozen other counter protest group events, but for the most part those noted above, were the ones most relevant to my planned coverage.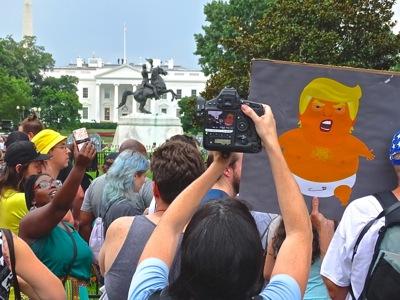 I headed down to D.C. a bit anxious, given the violent skirmishes that occurred at the rally a year ago in Charlottesville, and the following instructions on the unitetherightrally.com website.
Do NOT bring these items:
-Guns
-Pepper spray, clubs, knives or other weapons
-Shields
-Non-approved flags
ALWAYS Be aware of your surroundings. Do not talk to the media.
Do not engage in any fighting.
ALWAYS be a good representative for our cause.
My thoughts were that if you have to provide instructions like these to the people you expect at your rally - there's a good likelihood that some of the unwanted weapons will be there. I had read that last year people brought guns to the rally in Charlottesville - but I also reasoned that in Washington, D.C. the gun laws are likely far less permissive than in Charlottesville, Virginia. And there were reports that the D.C. police were preparing for the worst.
Anyhow, I arrived at Union Station in Washington, D.C. Sunday afternoon at about 3 pm. It was hot, humid and rain was in the forecast for later in the afternoon. I took the Metro subway from Union Station to the Metro Center stop, which was only a few blocks away from Freedom Plaza. Once on the street, as I began to get my bearings, I asked a young woman if she could tell me in which direction Freedom Plaza was. She was also headed to the counter protest, so we walked over there together. Ironically, her name was Hope.
I'll have more about covering the Unite The Right Rally in Washington, D.C. on August 12, 2018 at a later date. The story turned out to be something different than I first expected. Stay tuned.
---
NYC Boroughs - New York City
NYC Neighborhoods - New York City Related Info
Click this link for promotions, discounts and coupons in New York City.
Click here to go to the NYC Arts & Culture section of this site.
Click these links for promotions by advertisers in Manhattan.
Click this link to go to the NYC Neighborhoods section.
---
Site Search Tips. 1) For best results, when typing in more than one word, use quotation marks - eg "Midtown Neighborhood". 2) Also try either singular or plural words when searching for a specific item such as "gym" or "gyms".
Click this link to the Gotham Buzz front page.
---
---
Click the log in link below to create an ID and post an opinion.
Or send this story to a friend by filling in the appropriate box below.
---
NYC Related Links
Click for NYC Restaurants NYC.
Click for NYC Shopping NYC.
Click for Things To Do NYC - Holidays in NYC.
Click for NYC Neighborhoods NYC.
---