Mayor Invited for Cocktails at Steinway Mansion
Vallone Invites Mayor To Visit Mansion Before Making Decision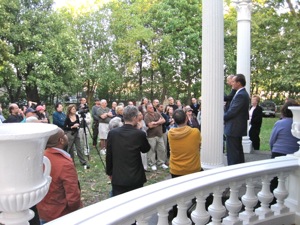 October 7, 2010 / Astoria / NYC Neighborhoods & History NYC / Steinway Mansion History & Steinway Hall NYC / Gotham Buzz NYC.
What an evening! It started with an interesting journey through some of the Steinway & Sons history by local historian Bob Singleton and was followed by a rousing speech by City Council Member Peter Vallone. Then the mansion was opened up to some 70 or 80 people who had been invited to 'Help Save The Steinway Mansion'. The photo to your left shows Peter Vallone and historian Bob Singleton standing on the steps of the Steinway mansion talking to community members who wish to preserve the Steinway mansion.
It's been said that President Grover Cleveland visited this historic treasure in the 1880's as a guest of Henry Steinway. And Mayor Ed Koch made a visit to the Steinway Mansion as guest of Michael Halberian. Click here to read more about Mayor Bloomberg's invitation to the Steinway Mansion in Astoria later this month.
---
Mayor Invited To Steinway Mansion
Mayor Asked To View Astoria Queens Mansion Before Deciding On Vallone Request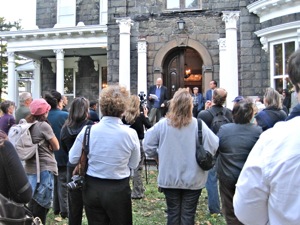 October 7, 2010 / Astoria / NYC Neighborhoods & History NYC / Steinway Mansion History & Steinway Hall NYC / Gotham Buzz NYC. Continued.
It was a dry, clear October evening as some 80 guests of Michael Halberian and Peter Vallone casually toured the Steinway Mansion in the Astoria neighborhood of Queens. During this time I conversed with several members of the audience who were, like me, pretty much awestruck as they soaked up the mansion's innate charm, ambiance, and some good old fashioned 19th century Americana.
The photo above shows Bob Singleton [left] speaking from the porch of the Steinway Mansion, while Peter Vallone [right] looks on.
Steinway Mansion - Mansion Among Mansions
One member of the audience compared the Steinway Mansion to the Vanderbilt Mansion in Hyde Park, New York. While another audience member compared it to the Brady Mansion near Manhasset on Long Island [the Brady Mansion was subsequently converted to a Jesuit retreat, now called Inisfada].
Both men explained that some of the analogy might not hold, given the rural surroundings of the analogous estates, while the Steinway Mansion is only 20 minutes away from Grand Central Station NYC. We also determined that the Steinway Mansion predates these two mansions by some 40 and 60 years respectively. In the photo to your right is Kim Parshley, one of the realtors working on the sale, standing in the entrance of the main foyer of the Steinway Mansion.
Peter Vallone - Save The Steinway Mansion
I had an opportunity to ask Peter Vallone what progress had been made in the three weeks since he had sent a request urging the city to purchase the mansion. Peter explained that getting the city to buy the mansion outright would be challenging, given the lean economic times and city budget constraints.
Undaunted, Peter said he was exploring various options to facilitate the transaction and he brandished a sheet of paper containing a list of about ten different parties with whom he'd already made contact. "And at least two of these parties are here tonite", he informed me. He also noted that fellow City Council Member Jimmy Van Bramer had also sent the mayor a similar request in a show of support for the measure.
"What about Queens Borough President Helen Marshall?" I inquired. He responded, "I believe that she is generally supportive of the measure, given the recent statements she'd made in the Daily News." In the photo above Peter Vallone is shown speaking to a televison news reporter.
Steinway Mansion Media Coverage
It's worth noting that in addition to the reports published by the Daily News - Crain's NY Business, the Queens Gazette, the Queens Chronicle and the Woodside Herald have either published reports or run letters to the editor regarding the Steinway Mansion sale.
It's also worth asking why The New York Times has been so conspicuously silent on the Steinway Mansion story, particularly given the fact that two NYC city council members have asked the city to purchase it.
Michael Halberian - Consummate Host & Historian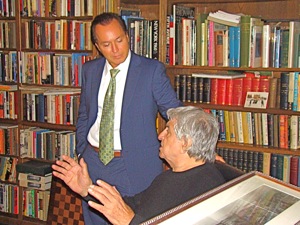 Michael Halberian played the consummate host. He was charming, informative and tireless. I learned that he had owned and managed the restaurant Knickers on 49th Street near 2nd Avenue in Manhattan, where he had had sixteen years [1969 to 1985] of interacting with large public audiences like the one here tonite.
Michael took the press members who lingered, for a verbal tour of his history of associations with the Vallone family while Peter was still in attendance. Jack Halberian [Michael's father] and Judge Charles Vallone [Peter's grandfather] both lived in Astoria about 100 years ago and both men were avid pinochle players. Michael also told us about how he sought Peter Vallone Sr's [Peter's father] counsel shortly after Peter Sr. had graduated from law school about 40 or 50 years ago. Michael spoke highly of Peter Sr. as well as his bride, who Michael described as 'an angel'. Near the end of the evening, Peter informed us that he'd just heard some of these stories himself, during his first visit to the Steinway Mansion back in September. In the photo above, Peter Vallone hears Michael Halberian tell a story about his family.
The Mayor Is Invited
Before we departed Peter and Michael made mention of a private cocktail party that is being thrown to generate additional publicity and to solicit different approaches to secure the means to buy and operate the Steinway Mansion as a museum / cultural center for Queens. The photo to your left shows one of the living rooms, complete with marble fireplace and floor to ceiling windows, at the Steinway mansion in Astoria Queens.
When asked, if the mayor would be invited and whether it would it be ok to post a public copy of the invitation on our website, they replied in the affirmative.
So, dear Mayor, we encourage you to accept the following invitation:
---
Dear Mayor Bloomberg,
You're cordially invited to a private cocktail party at the Steinway Mansion on Wednesday, October 20, 2010 from 6.30 to 8.30 pm.
Cocktail attire required, but we will make an exception for you.
Michael Halberian & Peter Vallone
---
Will The Mayor Attend?
After having visited Michael Halberian at the Steinway Mansion for the second t
ime, I can pretty much guarantee that the evening will be charming, that the mayor will learn things about Queens and New York's past that he never knew, and that he may even have a good time. Just ask Ed Koch.
The photo to your right shows Michael Halberian greeting Mayor Ed Koch at the Steinway Mansion in Astoria Queens. The inset photo of Grover Cleveland was found at the Steinway Mansion in a storage room on the third floor, but to date we haven't been able to cross reference the visit.
We'll follow up with the next installment of this story following the cocktail party on October 20th unless there's breaking news in between. You can help by calling 311 to register your interest in having the city preserve the Steinway mansion.
---
Steinway Mansion & Steinways History
Click here to read our first story on the Steinway Mansion. This story has photos of the mansion as well as information about the history of the Steinway Mansion, the Steinways and about Astoria Queens in the 19th & early 20th centuries.
---
---
$element(adman,groupad,Catgry Realestate)$
NYC Neighborhoods & History - Queens Borough Links
Click on these advertisements for promotions, discounts and coupons by retailers and restaurateurs in Astoria and nearby LIC.
---
$element(adman,groupad,Catgry Rest)$
Site Search Tips. 1) For best results, when typing in more than one word, use quotation marks - eg "Astoria Park". 2) Also try either singular or plural words when searching for a specific item such as "gym" or "gyms".
$element(bwcore,insert_search,N)$
---
$element(adman,groupad,Sectional2 Ad)$
Click the log in link below to create an ID and post an opinion.
Or send this story to a friend by filling in the appropriate box below.
---