Click here for the current calendar of NYC things to do.
---
Things To Do Labor Day Weekend NYC 2020 - CoVid Pandemic Labor Day Weekend
Things To Do Labor Day Weekend
NYC Schools to Re-Open Monday 9/21, MTA Resumes Collecting Bus Fares, Theaters Open, Museums Open, Swimming Pools Open thru Labor Day 9/7, Shopping, Outdoor Dining
September 1, 2020 / NYC Neighborhoods / Things To Do NYC / Gotham Buzz NYC.
Weather. The temperatures highs will be in the low to mid 80's, while the lows will be in the mid to high 60's all weekend. There's a 20% chance of rain on Friday and Monday, and less than that on Saturday and Sunday. Winds will be 5 - 10 mph all weekend. Humidity will be in the 50% - 70% range.
The photo at right was taken at the U.S. Open in a prior year.
New Yorker CoVid Tests, Deaths & Requirements to Visit Public & Private Places
We've come a long way since NYS and NYC went into a lockdown in March of 2020. For over three weeks NYS has had less than 1% of CoVid positive tests, while testing a record number of people. Deaths have also dropped below ten a day. To date 439,000 New Yorkers tested positive, so over two percent of us. And 32,541 New Yorkers have died from CoVid, so 7% of those who tested positive died.
Attendance to NYC Public Schools will require some testing and masks. Masks and hand sanitizer will be available but try to bring your own. Call 311 or visit the schools.NYC.gov website for full CoVid school details.
Masks and social distancing are also required to ride the MTA buses, subways and to enter any business. If you forget your mask, you might be able to secure one through an MTA booth or a nearby business. The museums generally ask visitors to secure tickets in advance, as capacity threshholds have been lowered, so the ticketing is a way to ensure you'll be admitted. Sick people may be barred from entry.
NYC Postpones Schools Reopening to Monday 9/21 & MTA Buses Resume Fare Collection
Mayor de Blasio, in an effort to avert a teachers' strike, has postponed the reopening the NYC public schools until Monday, September 21st in order to address outstanding teacher work safety concerns.
The MTA buses discontinued charging fares on March 23rd, boarding passengers through the back door to protect drivers. Effective Monday, August 31st the MTA began collecting fares again.
NYC Beaches Open in Four Boroughs
The NYC public park beaches at Coney Island in Brooklyn, in the Rockaways in Queens, Orchard Beach in the Bronx and South Beach and Midland Beach on Staten Island are all open this weekend.
---
Things to do this Weekend & Phase IV NYC Reopening
Things To This Weekend & Phase IV NYC Reopening
Governor's Island Opened 7/15, Statue of Liberty Island Opens 7/20 while Ellis Remains Closed, Subway Series this Weekend w/ o Fans, Evolving CoVid Science Update & More Economic News
July 17, 2020 / NYC Neighborhoods / NYC CoVid 19 Special Section / News Analysis & Opinion / Gotham Buzz NYC.
Well another CoVid influenced weekend in NYC has arrived. It's the weekend before the NYS Phase IV reopening of the economy, which is happening on Monday, July 20th - but with an important modification. The important modification is that indoor cultural centers and shopping will remain on hold indefinitely.
CoVid Droplets Can Linger in Air for up to 16 Hours
The rationale is that CoVid 19 appears to be transmitted significantly - if not primarily - via the air droplets of infected people who may or may not be symptomatic. In the outdoor environment, the droplets are diffused by the planetary volume of air, while in the indoor environment they can linger for up to 16 hours. It was previously believed that the droplets could linger for up to three hours.
In the photo at right is Congresswoman Alexandria Ocasio-Cortez handing out food bags at Our Lady of Sorrows Church in Corona, Queens. The Congresswoman's campaign raised funds to put together 250 food bags for the folks in the community. Our Lady of Sorrows Church has been the locale for a number of such prior distributions by various donors, including by the Catholic Charities Built In Queens.
Things To Do NYC / Events This Weekend
Mets host Yankees at 7.10 pm Saturday at Citi Field and Yankees host Mets at 7.05 pm at Yankee Stadium Sunday. No attendees will be allowed, but the games will be shown on the Yes Network on TV and WFAN radio.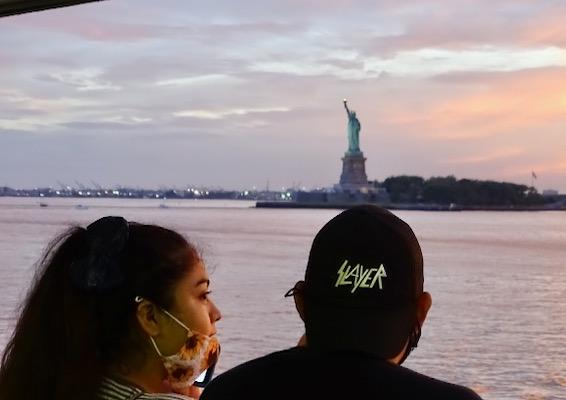 The Statue of Liberty island will open on Monday, July 20th. The statue itself will remain closed, but there will be limited souvenir and food shopping along with restrooms. The Ellis Island and the Liberty Museums will remain closed at this time. Both sites are part of the National Parks System. There are also new rules for a visit - https://www.nps.gov/stli/
St. John the Divine opened its doors to visitors from 7.30 am - 1 pm daily. No word yet on when services will resume. https://www.stjohndivine.org/
St Patrick's Cathedral reopened on June 28th for two daily services at 25% capacity on weekdays and two to three services daily on the weekend. They are suffering a $4 million revenue shortfall as a result of the Corona Virus pandemic - https://saintpatrickscathedral.org/
The piazza style dining in cordoned off streets continues on weekends beginning 5 pm Friday and at noon on Saturday and Sunday - ending at 11 pm each night. New streets and restaurants continue to be added to the original list, as clusters of restaurants apply and receive authorization for piazza style dining on their blocks / streets.
https://www1.nyc.gov/html/dot/html/pedestrians/openstreets-restaurants.shtml
The implementation of the curbside / sidewalk dining by local restaurants has been well received and appears to be a success. Thus this week the Mayor announced that it will be extended through October 31st.
Just over a week ago, on Thursday, July 9th, the Mayor extended the ban on large events requiring a city permit, through September 30th. The rationale for this extension is that states like Florida and Texas have seen surges due to large scale gatherings, where social distancing and mask norms were difficult to enforce and hence violated, leading to huge surges of the number of CoVid infections in those states. This ban extension includes NYC street fairs.
---
July 4th Weekend & Fireworks NYC Budget Piazza Style Dining in NYC BLS Unemployment Numbers Faked Phony Fiscal Conservatives
July 4th Weekend NYC: The New Normal is About Adjustment & Simplicity
The NYC Budget, NYC Events, the Economy & CoVid Update
July 2, 2020 / NYC Neighborhoods / NYC CoVid 19 Special Section / News Analysis & Opinion / Gotham Buzz NYC.
George Floyd Protests, the NYPD and other NYC Budget Cuts
The George Floyd protests seem to have abated, over a month after his death. The new NYC budget does cut about a billion from the NYPD budget by reducing the staff from 36,000 to 34,000 employees, cancelling the most current class of new cadets, and reallocating school security to the Department of Education and homeless engagement to social services units. About 5,000 people work in the school security program and that will be transferred over a period of time to make sure it works properly. Another$160 million was allocated to summer youth programs [$115 million], as well as to address food insecurity [$33 million] and housing [$8 million].
The overnight Staten Island Ferry service was also cut for the time being. That affects about 4,250 riders per night based on 2019 statistics. Other cuts included in the NYC budget include an $800 million cut for schools, a 5% - 7% cut to all departments, some labor savings [$1 billion]. The labor savings could result in NYC layoffs in the Fall if other solutions aren't found. The cuts were due to a mix of actual and expected NYC revenue shortfall of about $8 - $9 billion. City Councilmember Helen Rosenthal of the Upper West Side tells us that about $4 billion of the shortfall will be made up by the Mayor's rainy day fund, which de Blasio had prudently set aside to address unexpected events.
The Mayor also announced that NYC public schools would be reopening in the Fall. He said he was working with the unions to implement safe plans which would include social distancing measures which would possibly take larger classes online, stagger schedules to fill the school with fewer students at any given time, implement cleaning efforts and staggered lunchtimes. The Governor noted that ultimately it's his call on school reopenings. Nonetheless, the Mayor said that NYC was working to submit a plan by late July / early August.
NYC Moving to Phase III Monday but Indoor Dining on Hold
Because of the upturn in CoVid infections in other states as noted below, the Governor and Mayor have put indoor dining in NYC on hold. Nonetheless, the rest of Phase III will continue as planned on Monday, July 6th. Phase III also includes the opening of personal care businesses such as tanning, waxing & nail salons and spas.
Piazza Style Dining to come to 22 Streets in all Five Boroughs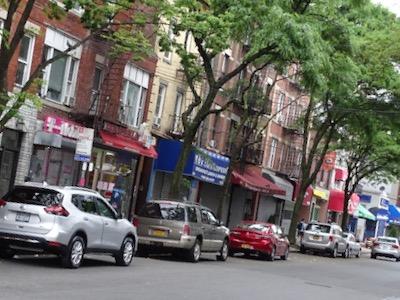 The Mayor announced efforts to mitigate the impact of the delay of the opening of restaurants indoor areas by further opening the streets to restaurateurs over the weekends beginning Friday evenings - in what was described as piazza style dining. Expanded dining areas are planned for 22 streets around all five boroughs in the city including Restaurant Row in the Hell's Kitchen neighborhood of Manhattan, Mulberry Street in the Little Italy neighborhood of Manhattan, and streets in Chinatown at Doyers Street, the East Village at Broome and Orchard Street, Harlem at 101st Street and Lexington, Gansevoort & 13th in the West Village, Broadway and 25th in the Flatiron District.
In the outer boroughs there's Arthur Avenue in the Little Italy / Belmont neighborhood of Bronx [7/10], New Dorp at Hylan Blvd in the New Dorp neighborhood of Staten Island, Bell Blvd in the Bayside neighborhood of Queens, and in Brooklyn a number of streets in DUMBO between the Brooklyn and Manhattan Bridge near the water in Brooklyn, 5th Avenue in the Park Slope neighborhood of Brooklyn, at Reed Street and Van Brunt near the Fairway in the Red Hook neighborhood of Brooklyn. And speaking of Fairway - they're planning to close three stores as a result of the pandemic including the one in Red Hook, another in Harlem and one on Long Island.
In Phase II NYC had started to clear the way for restaurants to occupy the curbside parking spaces in front of their dining / drinking establishments to allow the serving patrons outdoors. This appears to have worked well, with - thus far - no attendant substantive increase in CoVid cases. This is even though many to most of the folks I see dining and drinking outside aren't wearing masks. This is understandable as it's hard to eat and drink with a mask on, as I tried it a week ago and didn't like it.
But for the people who are most susceptible to severe illness - and even death - due to CoVid, they are advised to continue to exercise caution, even in the outdoor dining and drinking setting, as the consequences for them are too severe to take the risk.
---
Columbus Day Weekend Things To Do
There are Columbus Day Parades in All Boros Except Staten Island, but ...
October 11, 2019 / NYC Neighborhoods / NYC Things To Do / Gotham Buzz NYC.
Staten Island has an Italian Festival at Mount Loretto - see Staten Island street fairs for details. The following are the specifics for the Brooklyn Columbus Day Parade.
Saturday, October 12, 2019 from 1 pm to 2 / 3 or 4 pm - 38th Annual Columbus Day Parade. Begins at 61st Street and 18th Avenue following a 10.30 am Mass at St. Athanasius Church at 2154 61st Street in Bensonhurst / Mapleton. The parade ends at Benson Avenue where a street fair / festival runs from 4 - 6 pm along Benson Avenue between 18th Avenue and 19th Street. Brooklyn street fairs in Bensonhurst.
Click here for other street fairs in Brooklyn over the Columbus Day Weekend or this link for things to do Columbus Day Weekend in BK.
Week Beginning 10.14.19 - Columbus Day Holiday & Democrats Debate
* Columbus Day, is celebrated in recognition of Christopher Columbus daring journey across the Atlantic Ocean in 1498 whereon he discovered the lands that would eventually be named America.
* On Tuesday, October 15th the fourth Democratic Debate will occur in Westerville, Ohio beginning at 8 pm on CNN. It will be the first time the candidates will be on one stage, as over a half dozen of them didn't make the cut for this one. The candidates making the cut are: Joseph Biden, Elizabeth Warren, Bernie Sanders, Cory Booker, Amy Klobuchar, Andrew Yang, Kamala Harris, Julian Castro, Pete Buttigieg, Tom Steyer, Tulsi Gabbard and Beto O'Rourke.
---
Things To Do in NYC This Weekend
Labor Day Parade, Gracie Square Art Show, Washington Square Outdoor Art Exhibit, Century Bike Ride, Feast of St Markella Astoria, Italian Festival in Ridgewood, Ferragosto Fest, Central American Independence Day Parade & Festival, Last Weekend for Swimming & U.S. Open Ends Sunday
September 6, 2019 / NYC Neighborhoods / NYC Things To Do / Gotham Buzz NYC.
Weather. The Temperature highs will be around 80 and the lows will be in the mid 60's all weekend. Precipitation. There's a 50% chance of less than 1/4 inch of rain Friday night and then clear the rest of the weekend. Winds will be around 10 - 15 mph all weekend. The Humidity will be 80% Friday and in the mid 50% range for the rest of the weekend. Click for NYC Weather.
Thursday through Sunday, September 5 - 8, 2019 from 5 - 10 pm Thurs / 5 - 11 pm Fri & Sat / 1 - 10 pm Sun - Hellenic Orthodox Traditionalist Church of America [St Markella] celebrates patron feast day with traditional Greek food and unique arts and crafts. Along 22-68 26th Street between 22nd & 23rd Avenues in Astoria.
Thursday - Sunday, September 5 - 8, 2019 from 12 noon - 10 pm & Sun until 9 pm - Fresh Pond Road - The ITALIAN FESTIVAL is back in full swing - After years of curtailment this street fair has won back the full four days. It even went on hiatus over traffic in 2017. Along Fresh Pond Road between Palmetto and Menahan Street. This is a big real Italian themed fair with great food, rides for kids and plenty of shopping. Organized by the Ridgewood Social Club. Brooklyn St fairs in Ridgewood organized by the Federazione Italo-Americana di Brooklyn and Queens.
Saturday, September 7, 2019 from 10 am - 5 pm - Annual AFL-CIO Labor Day Parade - Marches up along 5th Avenue beginning at 44th Street and ending at 67th Street. Parades in Midtown / UES Manhattan.
Saturday & Sunday, September 7 & 8, 2019 from 10 am - 5 pm - Gracie Square Art Show - Along East End Avenue from East 84th to East 88th Street [art].
Saturday & Sunday, September 7 & 8, 2019 from 12 noon to 6 pm - The Washington Square Outdoor Art Exhibit in the Village runs along University Place from West Third Street to East 13th Street [art].
On Sunday there's the 30th & Final Century Bike Ride running through all boroughs beginning at 6 am and ending at 6 pm, including a rest stop in Astoria Park and maybe in LIC [need to confirm]. The streets are not closed, but extra officers are on duty to facilitate cyclists along the way. Route lengths vary from 25 to 50 to 75 and up to 100 miles biking through all five boroughs. There's a fee [$105], the proceeds of which go to Transportation Alternatives, a non-profit biking, pedestrian and public transit advocate of NYC - www.nyccentury.org.
Sunday, September 8, 2019 from 10 am - 6 pm. Ferragosto Festival. Along Arthur Avenue between Crescent and 187th Street, and along East 186th Street between Arthur & Hughes Avenues. It's an Italian harvest celebration & celebrating 100 years of Arthur Avenue in the Belmont section of the Bronx. Bronx St Fairs in the Belmont neighborhood.x
Sunday, September 8, 2019 from 11 am - 6 pm. Central American Independence Parade. The parade begins at 12 noon at East Tremont Avenue & Southern Blvd, which is the site of the Happy Land Fire Memorial where in 1990 about 100 people lost their lives - mostly Honduran Garifuna celebrating carnival. This parade celebrates Honduran Garifuna and snakes its way down Boston Road, then Charlotte Street to Crotona Park East - ending between Crotona Avenue and Claremont Parkway. Street fairs in the Bronx neighborhood of West Farms.
The public swimming pools close for the season on the evening of Sunday, September 8th.
The U.S. Open ends at the USTA in Flushing Meadows Corona Park on Sunday. The matches continue up until then - see www.usopen.org for details and tickets, which can cost hundreds of dollars.
Week Beginning 9.9.19 - 9/11 Commemorations
Wednesday, September 11th is the 18th anniversary of the 9/11 attack on the World Trade Center. There are several events to commemorate it this week, including the commemoration ceremony at the site in downtown Manhattan beginning at 8.39 am.
---
Things To Do in NYC Labor Day Weekend
Brazilian Day Festival, Washington Square Outdoor Art Exhibit, U.S. Open, Historic Richmond Town County Fair
* August 31, 2019 / NYC Neighborhoods / NYC Things To Do / Gotham Buzz NYC.
* Weather. The Temperature highs will be around 80 and the lows will be around 70 all weekend. Precipitation. There's a 25% [morning] - 50% [afternoon / evening] chance of about 1/3 inch of rain Monday. Winds will be around 10 mph all weekend. The Humidity will be 50% Friday & Saturday, rising to 60% Sunday and 70% Monday. Click for NYC Weather.
* The Washington Square Outdoor Art Exhibit runs from 12 noon - 6 pm all three days Labor Day Weekend in the Village in Manhattan.
* On Sunday the Brazilian Day Festival runs from 11 am - 6 pm along 6th Avenue going north from 42nd Street in Midtown in Manhattan.
* On Monday the West Indian American Labor Day Parade starts in Grand Army Plaza at 11 am in Prospect Heights in Brooklyn.
* The U.S. Open tennis matches at various time runs through the Labor Day Weekend in Flushing Meadows Corona Park in Queens.
* The Historic Richmond Town County Fair runs 12 noon to 6 pm through the Labor Day Weekend on Staten Island.
* And it's the last weekend to enjoy the Sunday Salsa Party from 1 pm - 6 pm at Orchard Beach at Pelham Bay Park in the Bronx.
---
Brooklyn Fireworks Celebrating July 4th
Brooklyn has Fireworks Displays at Coney Island and at the Brooklyn Bridge as the Macy's 4th of July Fireworks has Moved Down River
June 25, 2019 / Brooklyn Neighborhoods NYC / Brooklyn Things To Do NYC / Brooklyn Blvd NYC.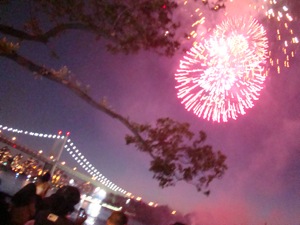 The following are the dates and locations of the legal fireworks displays in Brooklyn over the next week or so leading up to and just beyond the July 4th holiday.
It begins on Coney Island on Friday, June 28th beginning around 9.30 pm when the fireworks will be shot into the air off Coney Island. You can get a good view from the Coney Island Beach. Organized by the Coney Island Alliance. This continues on July 4th, and then Fridays such as July 5th & July 12th and into the summer.
On Wednesday, July 3rd at 9.45 pm there will be a barge of Fort Hamilton in the southern top of Brooklyn near the Verazanno Narrows Bridge. These fireworks are sponsored by Fort Hamilton.
The big event is of course on July 4th, beginning just before 9.30 pm, when the Macy's 4th of July fireworks takes to the sky. This year the fireworks have been moved south of the Brooklyn Bridge on the East River [Between Pier 17 and Manhattan Heliport], so the view from Brooklyn should be better than in prior years.
And last, but not least, are the Breezy Point fireworks in the Rockaway Inlet in Queens on July 5th beginning at 9.30 pm. The Breezy Point Co-Op is the sponsor. Folks in southeastern Brooklyn should be able to see these fireworks.
---
Things To Do NYC - This Weekend
5 Boro Bike Ride, Bike Expo NY Brooklyn, Frieze Art Fair Randall's Island & Jane's Walks
May 3, 2018 / NYC Things To Do /NYC Neighborhoods / Gotham Buzz NYC.
Weather. The Temperature highs will be in the high 80's Friday, low 70's Saturday, and low 60's on Sunday, while the temperature lows will be around 70 in Friday, dropping to about 60 for the rest of the weekend. There's some rain in the weekend forecast with a 10% chance Friday, 0% Saturday & 70% Sunday. The rain is expected to begin very early Sunday [may slip into late Saturday so beware] and will continue through the day - but it's less than a quarter inch - so I wouldn't cancel anything. Winds will be around 20 mph Friday, descending to 10 mph for the rest of the weekend. The Humidity will be about 50% Friday, 40% Saturday and 70% on Sunday. Click for NYC Weather.
The photo at right shows a man admiring a artwork at the Frieze Art Fair on Randall's Island in 2014. He seems to resemble one of the characters in the picture. The Frieze Art Fair has returned - see details below.
Bronx
Janes Walk along the Grand Concourse begins at 11 am beginning from the Bronx Museum. Click for Bronx things to do.
Brooklyn
Bike Expo New York at Pier 12 in Red Hook on Friday from 10 am - 8 pm & Saturday from 10 am - 6 pm. Click for Brooklyn things to do.
Manhattan
5 Boro Bike Ride takes off in waves from downtown Manhattan on Sunday between 7.30 - 9.20 am streaming through all five boroughs. Click for Manhattan things to do.
Queens
The Frieze Art Fair began on Randall's Island on Wednesday and continues through the weekend beginning 11 am - 7 pm, but closing an hour earlier on Sunday at 6 pm. Click for Queens things to do.
Staten Island
The 5 Boro Bike Ride ends in the Fort Wadsworth & St. George neighborhoods in Staten Island beginning about noon through the afternoon. Click for Staten Island things to do.
---
Things To Do This Weekend NYC
Earth Day Events, Tribeca Film Festival, Greek Independence Parade & NY Art Expo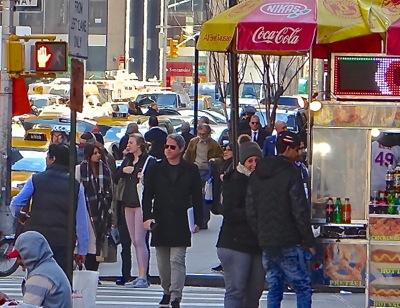 April 20, 2018 / Things To Do NYC / NYC Neighborhoods / Gotham Buzz NYC.
Good Weather. The Temperature highs will be in the low 50's Friday, rising to the low 60's Saturday and Sunday. The temperature lows will be around 40 throughout the weekend. There's No Rain in the weekend forecast. Winds will be a blustery 20 mph Friday and then falling to a low breeze of 10 mph for the rest of the weekend. The Humidity will be about 40% throughout the weekend. Click for Manhattan Weather.
The photo at right shows a Midtown mid morning street scene along 6th Avenue earlier this week.
Manhattan Things To Do This Weekend
Art Expo, Tribeca Film Fest & Greek Independence Parade & more - see Manhattan Things To Do.
Queens Things To Do This Weekend
Earth Day, Modern Dance performances, Avante garde theater, Greek Flag Raising & more - see Queens Things To Do.
Bronx Things To Do This Weekend
Kids Comic Con, Orchid Show, Bone White performance & more - see Bronx Things To Do.
Brooklyn Things To Do & Staten Island Things To Do
Coming shortly are Brooklyn Things To Do & Staten Island Things To Do. In the meantime click here for a listing of Brooklyn Farmers Markets, Brooklyn Street Fairs, Staten Island Farmers Markets & Staten Island Street Fairs where you can find unique items and fresh foods. Street fairs wind up in March / April and so do most farmers markets, but a few of the farmers markets continue year round.
---
Things To Do NYC - Fall 2020 Event Cancellations in NYC due to CoVid Pandemic
NYC News Briefs & Things to do This Weekend
CoVid Outbreaks in Queens & Brooklyn Neighborhoods, NYCC Speaker Corey Johnson Drops Out of NYC Mayoral Race, Census Deadline is 9/30 but Challenged to Extend to 10/31, Mayor Extends Week Long Furloughs for 9,000 More Non Union City Employees, Macy's Thanksgiving Day Parade & New Years Eve Ball Drop 2021 to be Virtualized, Hotels Hurting & TSQ Hilton Closes, Yom Kippur Sunday, Metropolitan Opera Cancels Entire 20-21 Season, In Door NYC Restaurants Begins 9/30 & Outdoor Dining Permissible Year Round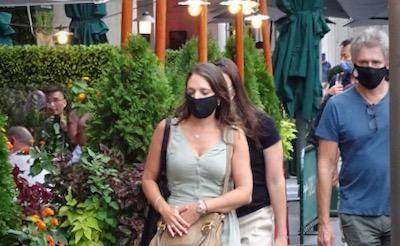 September 25, 2020 / NYC Neighborhoods / Things To Do NYC / Gotham Buzz NYC.
As you can see from the headlines above, there seems little abatement in the adjustments / crises created by the CoVid pandemic - unseating the Donald as the Disrupter in Chief - for the first time in four years.
Weather. The temperature highs will be in the 70's and the lows in the high 60's. There's a 20% chance of a small amount of rain, and winds will be between 5 - 10 mph. Humidity will remain high at about 80%.
NYC News Updates for Week Ending September 25th - City Furloughs & Layoffs, Mayor's Race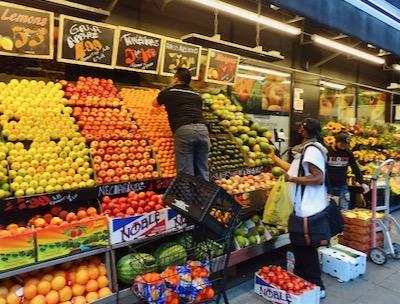 On Wednesday, September 23, NYC Mayor Bill de Blasio announced week long furloughs for an additional 9,000 NYC managerial employees who are not members of the unions. This is in addition to week long furloughs for 500 members of the Mayor's Office announced last week. Together the effort will save an estimated $22 million, which is one of numerous efforts the Mayor is making to delay the layoff of 22,000 of the 300,000 city employees.
The layoffs were originally expected to begin in early September, as New York City may not borrow money without permission of the NYS legislature, which was a deal cut between the city and state in the 1970's when NYS bailed NYC out of possible bankruptcy. There's talk of allowing NYC to borrow a couple of billion, but that also would fall short of the estimated $9 billion tax revenue shortfall expected over the next two years.
On Thursday, September 24, NY City Council Speaker Corey Johnson suspended his campaign for Mayor in 2021.
---
Archive _ NYC Things To Do - New York City
NYC Things To Do _ New York City Archive
September 16, 2020 / New York City, NYC / Gotham Buzz NYC.
This is an archive of recent postings of things to do on the weekend in NYC. The archive contains notices of things to do in the boroughs of NYC including art exhibitions, films, theater, live music, comedy, dance, sports social events, classes, and restaurant reviews for the upper east side, upper west side, east village, west village and midtown neighborhoods of Manhattan NYC.
Click here to view the Things To Do In New York City this weekend - Archive for recent weeks / months of 2020.
---
---
NYC Things To Do - New York City Events
NYC Things To Do - New York City Related Info
Click this link for promotions, discounts and coupons in New York City.
Click here to go to the Arts & Culture section of this site.
Click these links for promotions by advertisers in Manhattan.
Click this link to go to the NYC Neighborhoods section.
---
Site Search Tips. 1) For best results, when typing in more than one word, use quotation marks - eg "Midtown Neighborhood". 2) Also try either singular or plural words when searching for a specific item such as "gym" or "gyms".
Click this link to the Gotham Buzz front page.
---
---
Click the log in link below to create an ID and post an opinion.
Or send this story to a friend by filling in the appropriate box below.
---
NYC Related Links
Click for Holiday Parties & Restaurants NYC
Click for NYC Farmers Markets NYC
---