Click here for the current calendar of NYC things to do.
---
NYC Slowly Comes Back to Life
NYC Slowly Comes Back to Life - Things To Do
Live NYC Events, NYS Rental Assistance & Eviction Law Update, & Giuliani Appears to Foment Trump Rioters, so NYS National Guard Deployed to Capitol
January 8, 2021 / US Politics / NYC Neighborhoods / News Analysis & Opinion / Gotham Buzz NYC.
Weather. The weekend temperature highs will be around 40 and the temperature lows will be around 30. No rain is in the forecast. Winds will be between 5 - 10 mph. Humidity will be about 50% through the weekend, rising Sunday evening to about 70%.
Live Events in NYC This Weekend
Note that you must rsvp for timed tickets to enter these cultural sights. Also CoVic protocols - meaning masks, social distancing and in good health [possibly temperature tests] - are required. Most charge some modest fee or ask for a voluntary donation.
Also there's an opening reception for an art exhibit, What the Light Saw, at the Plaxall Gallery at 5-25 46th Avenue in LIC Queens this weekend. The exhibit is open Fridays from 6 - 9 pm and Saturday & Sunday from 12 noon - 5 pm and it runs through February 2nd.
Tickets at https://www.culturelablic.org/current-exhibitions
Also, the NYC Parks Department is hosting its annual Mulchfest around NYC through Saturday, January 9th where you can have your tree mulched on the spot and walk away with some wood chips. See their website www.nycgovparks.org.
---
Things To Do during Hanukkah & Christmas in Brooklyn, Queens & Manhattan NYC 2020
This Weekend Things To Do NYC
Happy Hanukkah, New Yorkers Striving to Return to Normal with Tree & Menorah Lightings, Theater & Small Museum / Historic Site Reopenings, but CoVid back on the Offensive, Vaccine Help is on the way, Albeit Not so Soon for Most of Us & Dictator Donald & Seemingly Corrupt Friends Fail to Overturn U.S. Democracy
December 11, 2020 / NYC Neighborhoods / Things To Do NYC / News Analysis & Opinion / Gotham Buzz NYC.
Weather. The temperature highs go from the low 40's into the mid to high 50's the rest of the weekend. The temperature lows will be in the 40's on Friday and Saturday, descending into the low 30's on Sunday night. There's a bit of rain [not even 1/10th of an inch] in the forecast for Saturday morning. The humidity will be in the 70's Friday, rising to 80% Saturday and then dropping to 50% by the end of Sunday. Winds will be between 5 - 10 mph. Not a bad weekend weather report for mid December.
Life Continues & a Show Goes On, Albeit Differently
The Bartow Pell Mansion at 895 Shore Road in Pelham State Park in the Bronx is hosting a few historical / theatrical events in compliance with the NYS CoVid guidelines. They're doing Candlelight Tours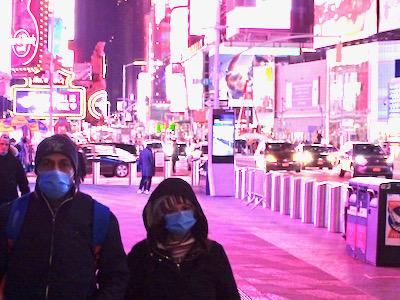 from 4 - 9 pm December 4 - 19 for $10 admission. They're doing Holiday Mansion Walk Thrus from December 5 - 18 from 10.45am - 3.15 pm [last tour begins] for $10 admission. And they're hosting performances of Mr. Dickens Tells a Christmas Carole from December 12 - 20 from 1 - 2.30 pm for $40. You must rsvp via their website - www.bartowpellmansionmuseum.org.
The photo at right, taken two weeks ago, shows the late fall we experienced this year. It was a welcome relief because in helped restaurants with their outdoor dining, and allowed cooped up denizens to at least enjoy a bit of exercise and fresh air.
In the Bronx there's a food pantry, of sorts, called the Mott Haven fridge outside of a bodega at 141st and St. Anne's in Mott Haven in the Bronx. It was started in the fall by a couple of teachers to provide both a means of giving food by those who can, as well as a means of distributing food to those who need. In late November the Mott Haven Fridge was on the brink of losing its home outside of Chicky's bodega due to that bodega being sold. But a nearby bodega, Brito's Deli Grocery, volunteered the use of a vacant lot their control, so the Mott Haven Fridge did move ... but only 30 feet down the block.
The National Lighthouse Museum at 200 The Promenade at Lighthouse Point on Staten Island [easy 5 minute walk from the ferry terminal] has re-opened with CoVid guidelines in effect. The new hours are Wednesday through Sunday from 11 am - 4 pm daily.
---
Video of July 4th Fireworks From NYC Streets
This Year the Macy's July 4th Fireworks were Launched from Numerous Sites including the Empire State Bldg
July 7, 2020 / NYC Neighborhoods / NYC CoVid 19 Special Section / News Analysis & Opinion / Gotham Buzz NYC.
Here's a video of the Fireworks, which includes some street activity and commentary & music. Click the box in the lower right corner to max it up to the full screen for best view. Hit the escape key (esc) to exit the full screen view.
Have a good week. Enjoy.
---
Things To Do Over the Holidays in NYC During the Pandemic
The Holidays Look & Feel Different This Year
Did the Donald & his Dementos Suck the Cheer Right out of Us?
December 8, 2020 / NYC Neighborhoods / Things To Do NYC / News Analysis & Opinion / Gotham Buzz NYC.
Sunday, December 6th was St. Nick's feast day. This year it seemed like more people talked about it and celebrated it than in prior years. And Pearl Harbor Day was yesterday, Monday, December 7th. It was only 81 years ago that we entered into the second world war.
On Thursday, December 10th Hanukkah begins and runs through the following week. And Christmas is now only two and a half weeks away, falling on a Friday. But it just doesn't really FEEL like the holidays this year.
There's little hustle bustle, as about as much shopping was done online by folks in their homes as in stores. And the stores did about half their business via pickup or drop offs so the mingling and social element of shopping has been mostly absent this year. Then, the restaurants weren't and aren't filled with high energy, cheery get togethers and parties [party plans are reportedly down 90% this year], and the millions of tourists who bring fun, excitement and their hard earned currency, are nowhere to be found.
The Washington Square Tree Lighting is expected to take place on Wednesday, December 9th. But they're not encouraging a big gathering.
Politics. Meanwhile the CoVid pandemic rages on, while an incompetent, self-serving, egomaniacal, lame duck president continues to try to overturn the will of the people by propagating lies and disinformation. He seems aided and abetted by a plethora of dishonest media who repeat his fictional nonsense because it fuels their ratings and his and their pockets with cash. His cash comes via donations from millions of unsuspecting working class rubes, who he's convinced they're doing their patriotic duty by 'stopping the steal' when in fact they are unwittingly helping a billionaire pay off his debts, instead of helping themselves by paying down their own debts. And then there's Shanghai Mitch McConnell, who oversaw the largest deficit in American history - by multiples - and the fastest run up in American debt ever. Shanghai McConnell is in the process of changing his costume and rearranging his make up, so he can tell the American people he's now a fiscal conservative again.
Tis the season to be jolly, falla lala la, la, la, la, la.
I'm working through my post election, and anticipatory post pandemic angst, in order to begin the new year with a new mindset, and leave 2020 where it belongs ... in the rearview mirror.
---
Thanksgiving Day - America's Communal Holiday NYC
Thanksgiving - America's Communal Holiday
The Pilgrims Legacy: Love, Sharing & Community Empowerment
November 23, 2020 / NYC Neighborhoods / Thanksgiving Holidays in NYC / Gotham Buzz NYC.
A couple of years ago, I happened upon a childhood book of fables and fairytales that I had saved since I was a first grader. I was young enough to still like fairytales and old enough to be learning and loving to read.
The book, A Gateway to Storyland, by Platt & Munk Co, was given to me around the holidays, and the book still gives me a warm, loved feeling when I periodically open it to browse through the fairytales and fables containing little nuggets of age old wisdom about how to conduct onesself [see photo at right / the book is still in print]. I read it numerous times immediately upon receiving it, as the illustrations fed my imagination, and lessons embedded in the words resonated with timeless sagacity.
Unselfish Parental Love Manifested by Empowering Progeny
Love comes in many forms, but the purest form is unselfish love. The love of truly giving something with no thought of anything in return. That love is oftentimes given intergenerationally - from grandparents to parents to children.
Perhaps the greatest gifts are those that cost us nothing but our time. Like the gift of teaching someone something that they will be able to put to good use throughout their lives. Parents do this all the time, when they help their children develop skills, and impart some knowledge and learning ... just as my parents did many years ago, by giving me a well illustrated fairytale book to encourage my interest in reading, while sharing the time tested insights of the ages, handed down through storytelling.
I. A Brief Thanksgiving History
The Pilgrims Shared Communal Resources to Actualize a Dream
At Thanksgiving time we commemorate one of America's first settlements, founded by the risk-taking, resource-pooling, hardworking, spiritual community of Pilgrims.
The Pilgrims were early English settlers who arrived on American shores in the early 17th century [1600's]. They came here because they wanted a measure of freedom and self-determination that they were forbidden in Europe or what was called the 'old country'. The Pilgrims wanted to practice their faith, unencumbered, in a way that differed from the established Church of England. They pooled their money to obtain a ship, the Mayflower, to cross the Atlantic in mid September of 1620, landing on America's shores at Plymouth Rock in Massachusetts on November 9, 1620. Think of it. It took about a month and a half to travel a distance we can now traverse in about five hours.
The Pilgrims Receive Help from the Native People of a Strange Land
Per Wikipedia, the Piligrims survived a hard winter in 1621 with the help of the Wampanoag, an American Indian tribe. The Pilgrims were the immigrants, and the first Americans, the Indian natives, welcomed them. The Wampanaog taught the Pilgrims how to catch eels, and how to grow and harvest corn. Thus the Pilgrims ended 1621 with a good harvest which they celebrated and shared with their new friends, expressing their gratitude to a higher power, aka God, for the success of their endeavors.
Thus it was that the first Thanksgiving celebration happened in America ... or did it?
---
Things To Do NYC Manhattan Brooklyn Queens Bronx Staten Island Holiday Things To Do 2020 during CoVid Pandemic
The Weekend Before Thanksgiving NYC
Less Than a Week Away, Thanksgiving Provides an Opportunity to Start Pivoting to a Better Place
November 20, 2020 / NYC Neighborhoods / Things To Do NYC / News Analysis & Opinion / Gotham Buzz NYC.
The evil dictator wannabe appears to have been soundly defeated by a far more capable, trustworthy and honest man.
And, in spite of numerous attempts on Trump's part to steal the election - which he ignominiously accuses Biden of doing - it seems we may be approaching the end of what seems his blatant, corrupt, phony drain-the-swamp attempts to stay in power, like a dictator.
Biden has shown incredible restraint and patience, allowing the hedonistic, self-centered bigot to throw a presidential sized tantrum by firing staff, making drastic policy changes, and inciting some of the dumbest people in America to parrot his false claims of election fraud.
I'm looking forward to turning on the TV, without having to be subjected to Trump's ignorance in the form of racist, sexist tweets, rambling, say-nothing-meaningful on Fox friendly interviews, or the inane and insane comments repeated and amplified by the broadcast TV networks in order to get viewers to tune in to their stations to boost their money-grubbing quest for ratings.
While that may not happen in time for Thanksgiving or the holidays. I'm pretty sure we're going to have a qualified, experienced, level headed American president in place for Presidents Day 2021 - following a four year hiatus.
---
Things To Do NYC - Catch Up Post Election 2020
This Weekend Things To Do
November 12, 2020 / NYC Neighborhoods / Things To Do NYC / News Analysis & Opinion / Gotham Buzz NYC.
Weather. On Friday and Saturday the temperature highs will be in the low 50's, rising to 60 on Sunday. The temperature lows will in at or in the low 40's. There's a 90% chance of about a quarter inch of rain Friday morning ending about 1 pm. Saturday will be clear, but on Sunday there's a 90% chance of about a third of an inch of rain beginning around noontime and lingering into the evening. The winds will be about 5 mph Friday, about 10 mph Saturday and about 15 mph Sunday. Humidity will be between 70% and 90% Friday, dropping to 50% to 60% Saturday and settling around 60% on Sunday.
Thank You for being respectful of each other. In the photo at right, are the masked up subway riders on the MTA last weekend. In the cars I rode in, either 100% or over 90% of all riders were not just wearing their masks, they were wearing them correctly. Thank you New Yorkers and guests.
---
NY Post Endorses Donald Trump - Citing Ridiculous Campaign Slogan Make America Great Again Again by Rupert Murdoch?
NYC Halloween CoVid Style?
Trick or Treating Permitted Outside in NYC but Not in Apartment Complexes as CoVid Resurges & Election Day Nears
October 26, 2020 / NYC Neighborhoods / Things To Do NYC / Gotham Buzz NYC.
"These are the times that try [wo]men's souls"...
so wrote Thomas Paine on December 23rd, 1776.
The American colonists had declared their independence from King George V only six months before Paine wrote this - as not all colonists were on board with the break from the British crown.
Election day is Tuesday, November 3rd, which is only about a week away. And early voting began last Saturday and ends this coming Sunday. Thereafter, meaning on Tuesday, November 3rd [election day], you have to vote at your normal polling place. For details, see - https://vote.nyc/
The photo at right shows a Halloween decoration, which in keeping with the times, features the new disrupter in chief - CoVid 19.
---
Columbus Day Weekend NYC - Entertainment, Economy & Real Estate During CoVid Pandemic NYC 2020
Columbus Day Weekend News Update
Broadway Won't Re-Open until June 2021, CoVid Cases Spike in Queens & Brooklyn Neighborhoods, Shootings Still Up - but Growth Slowing, Real Estate Listings Increase as Prices Fall & Early Voting
October 10, 2020 / NYC Neighborhoods / NYC Things To Do / News Analysis & Opinion / Gotham Buzz NYC.
Weather. The temperature highs will be in the mid 70's Saturday, mid 60's Sunday and high 50's Monday. The temperature lows will be in the low 60's Saturday, dropping to the mid to high 50's on Sunday and Monday. There's little chance of rain until Sunday evening around 9 pm, when rain is expected to begin falling through Monday, dropping an estimated two inches. The wind will be about 10 mph Saturday and Sunday, rising to about 15 mph Monday. Humidity will range from 50 - 75 on Saturday and Sunday, rising to 85 - 90% range on Monday.
Broadway theaters announced they won't be reopening until after May 31st, 2021. The group of over 40 theaters made this announcement yesterday. This is a blow to the NYC economy and many of the 97,000 theater employees and contractors, who have been out of work since mid March 2020. Theater generates about $15 billion in revenue annually.
NYC tourism has taken and likely will continue to take big hits from the CoVid global pandemic. Tourism generates about $70 billion in economic activity in NYC each year. Since the pandemic about 200 of the over 700 large hotels operating in the city remain closed. Those who are open are operating at an estimated 40% of capacity this month, compared with about 90% last year. And the prices have fallen considerably, providing great deals for those who wish to visit, as prices for a room fell from about $335 per room last year to about $135 this year.
Regal Cinema closed its 663 theaters again this week. Regal is the second largest movie theater chain in the U.S. following AMC. They cited a lack of new films, as a number of new releases were pushed back again including the James Bond 007 movie, and they pleaded with the Governor to let them resume operating in NYS.
---
Things To Do NYC - Fall 2020 Event Cancellations in NYC due to CoVid Pandemic
NYC News Briefs & Things to do This Weekend
CoVid Outbreaks in Queens & Brooklyn Neighborhoods, NYCC Speaker Corey Johnson Drops Out of NYC Mayoral Race, Census Deadline is 9/30 but Challenged to Extend to 10/31, Mayor Extends Week Long Furloughs for 9,000 More Non Union City Employees, Macy's Thanksgiving Day Parade & New Years Eve Ball Drop 2021 to be Virtualized, Hotels Hurting & TSQ Hilton Closes, Yom Kippur Sunday, Metropolitan Opera Cancels Entire 20-21 Season, In Door NYC Restaurants Begins 9/30 & Outdoor Dining Permissible Year Round
September 25, 2020 / NYC Neighborhoods / Things To Do NYC / Gotham Buzz NYC.
As you can see from the headlines above, there seems little abatement in the adjustments / crises created by the CoVid pandemic - unseating the Donald as the Disrupter in Chief - for the first time in four years.
Weather. The temperature highs will be in the 70's and the lows in the high 60's. There's a 20% chance of a small amount of rain, and winds will be between 5 - 10 mph. Humidity will remain high at about 80%.
NYC News Updates for Week Ending September 25th - City Furloughs & Layoffs, Mayor's Race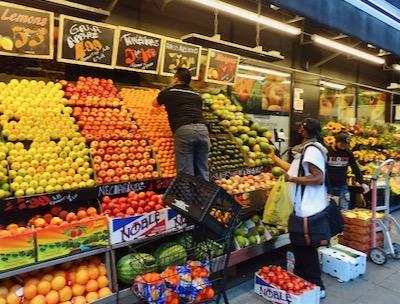 On Wednesday, September 23, NYC Mayor Bill de Blasio announced week long furloughs for an additional 9,000 NYC managerial employees who are not members of the unions. This is in addition to week long furloughs for 500 members of the Mayor's Office announced last week. Together the effort will save an estimated $22 million, which is one of numerous efforts the Mayor is making to delay the layoff of 22,000 of the 300,000 city employees.
The layoffs were originally expected to begin in early September, as New York City may not borrow money without permission of the NYS legislature, which was a deal cut between the city and state in the 1970's when NYS bailed NYC out of possible bankruptcy. There's talk of allowing NYC to borrow a couple of billion, but that also would fall short of the estimated $9 billion tax revenue shortfall expected over the next two years.
On Thursday, September 24, NY City Council Speaker Corey Johnson suspended his campaign for Mayor in 2021.
---
CoVid NYC Weekend Update - NYPD BLM, Mass Transit, NYC Economy, Back to School & NYC Real Estate Pandemic
Weekend Update - Happy Rosh Hashana, Back to School, Economy, Social Unrest, Real Estate, Transit & Masks
September 17, 2020 / NYC Neighborhoods / Things To Do NYC / Gotham Buzz NYC.
Rosh Hashana begins tonight at sundown and ends Sunday at sundown. Happy New Year.
EVENTS & SPORTS - U.S. Open, Virtual Boston Marathon, NJ Theaters & Restaurants & NYC Cultural Sites Reopen
U.S. Open ended and Dominic Thiem of Austria won the men's singles, while Naomi Osaka of Japan won the women's singles.
The Boston Marathon is going virtual with a starting gun, national anthem and cheers. I think there's an app to go with it as folks participate from around the globe.
Theaters opened in NJ to 25% capacity, as did indoor dining. In NYS bowling alleys at 50% capacity with some other restrictions [9/4].
The NY Aquarium in Brooklyn reopened 8/27. Think this was previously mentioned, as was MoMA free / or donation until 9/27. And the American Museum of Natural History on the Upper West Side opened on 9/9. And on September 11th, the 911 Museum reopened.
BACK TO THE SCHOOLS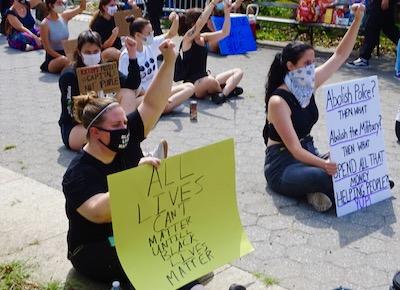 NYC began back to public school virtually on Thursday, September 17, 2020. Everyone starts virtually Monday, September 21st and the in person / in classroom part will be phased in beginning next week through early October to give the city more time to meet the NYC teachers' union demands for safety. Part of what happened is that the initial demands were done on paper, and a secondary set followed once the schools were opened operationally.
Some teachers tested positive - like 22 0f 22,000 [or so]. The testing percentage was lower than the general population rate of the city which is still below 1%.
Governor Cuomo said that swimming, field hockey and soccer sporting activity would be permissible at schools effective Monday, September 21. Football still on hold. Ice hockey and wrestling (?) open October 10 or 19 [still checking]?
LAW ENFORCEMENT / SOCIAL UNREST
Homicides in America's twenty largest cities are up 37% in.a period from May through June. An August 6, 2020 U.S. News report suggested four theories as to why the spike in violent crime. One of the reasons was that crime plummeted following the initial lockdown for the CoVid pandemic, and skyrocketed as things reopened.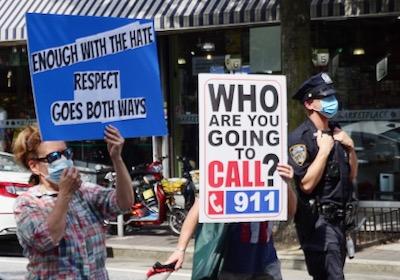 A second theory was that the police initially curtailed some policing activities because of CoVid concerns, and that morphed into anger and a continued pull back in the wake of the George Floyd protests, budget cuts and police reforms. Police reforms and / or police frustration with them are also cited as a possible cause [but not in article].
A third theory is that communities pulled back from trusting and working with the police as a reaction to the George Floyd protests, and that unemployment and healthcare issues exacerbated the situation. And the last theory, doesn't really explain the increase per se, except that homicides do tend to rise and fall with the seasons and temperatures.
The police union challenged legislation that would make complaints against the police, corrections officers and firemen public. They argued that the publication of complaints - even unverified complaints - would be unfair to the people working in these positions. The courts delayed the publication of complaint records, pending further review.
About 1189 NYPD officers have resigned or retired this year, and another 1489 are planning to do so, pending decisions on pensions et al. Police Commissioner Dermot Shea was concerned that this was a loss of some experience, but it's important to note that the NYPD police department is comprised of 55,000 employees, of which 36,000 are active duty police officers - so while departures / resignations are higher than last year - it's less than 6% turnover.
---
Buglisi Dance Theatre Company at Lincoln Center 911
Weekend Events & Update Coming Later Today
September 11, 2020 / NYC Neighborhoods / Things to do NYC / News Analysis & Opinion / Gotham Buzz NYC.
This is a video of one of the rehearsals for the Table of Silence performance this morning at Lincoln Center, commemorating the 19th anniversary of 911. We'll have the weekend events and some news updates later today.
---
Things To Do This Weekend NYC
While there are - Shortened Hours, Limited Capacity & (Food) Services, Face Masks, Social Distancing & Some Temperature Check Requirements - NYC is Nearly Fully Reopened
As previously mentioned, the 911 Museum in downtown Manhattan reopens today, and the NY Historical Society on the Upper West Side did too.
On Wednesday, September 9 the American Museum of Natural History on the Upper West Side reopened its doors to the general public after opening a week earlier to members. You're advised to purchase tickets at their website at www.amnh.org before visiting and their new hours are 10 am - 5.30 am but last entry is at 4.30 pm. Like most places these days there are CoVid requirements.
The Whitney Museum of American Art in the West Village reopened last week on Thursday, September 3 and is offering 'pay what you want' until September 28th.
As previously mentioned, the Museum of Modern Art in Midtown opened on Thursday, August 27th and the Metropolitan Museum on the Upper East Side opened on Saturday, August 29th, but as of Saturday, September 12th the Cloisters in Washington Heights will also reopen its doors.
Bowling Alleys and gyms opened in mid August. In mid August Governor Cuomo said that Movie theaters will remain closed in NYC indefinitely. I've not heard, any further word, since.
NYC Parks beaches have closed for the season, but some beaches on Long Island are expected to remain open through the end of September.
NYS & NYC Restaurants to Move to Indoor Dining on 9/30/20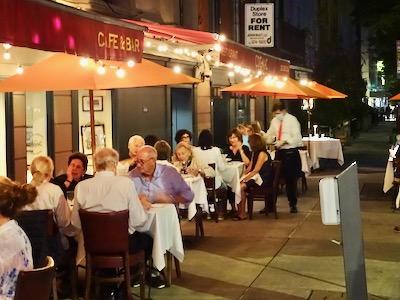 A couple of days ago, Governor Cuomo announced that restaurants may open their doors to indoor dining beginning Wednesday, September 30th. Like everything else that's reopened since the pandemic began, the opening comes with CoVid related limitations including face masks, distancing, operating at 25% capacity [could move to 50% in November [1] if all goes well], close by midnight, no service at the bar, temperature checks, contact tracing where needed and there are some requirements related to air ventilation. And in the meantime the piazza style dining seems to be working pretty well around the city, except in Hell's Kitchen in Manhattan, where they're having a homeless problem.
The NFL Football Season Started & So Did the Kneeling Controversy
The National Football League played its first game of the 2020 season on Thursday, September 10th to a live audience. The players on both teams knelt while the national anthem was being played. It's important to remember that kneeling is a sign of respect as it's done in church, at funerals and when one is being knighted by a king, queen or organization. But kneeling during the anthem is also not an American tradition, as traditionally one would stand and salute.
But that was the point of Colin Kaepernick's taking a knee - to be respectful of our nation - while drawing attention to the fact that we, collectively, have not yet achieved the promise of the U.S. Consitution regarding equal opportunity in life, liberty and the pursuit of happiness. He did it to draw attention to his ethnic group, which is very real, as we've seen this past year on videos of unarmed African Americans being slain by rogue police officers. But the inequities go beyond that - and encompass other groups like women, Latinos and rural whites - many of whom in some measure have also not had access to opportunities matching their potential. There's enough here for all of us, it just needs to be divvied up more equitably.
Plenty of Outdoor Activities at NYC Parks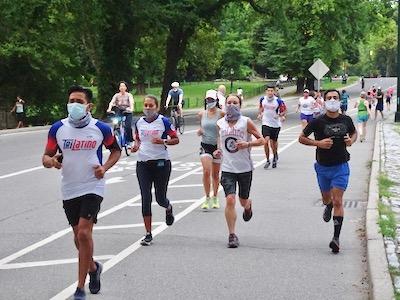 I walked through Central Park this week and noticed tons of people out and about enjoying the nice weather we had. There were cyclists, a yoga class, joggers, volleyball players, dancers, strollers, people on scooters, pedestrians and a newly wed couple.
In the outdoor dining areas on both the upper west and upper east side there were dozens upon dozens of diners, enjoying the balmy evening in their own coiffed, culinary and accoutrement laden way.
The Grocery Plastic Bag Ban Finally Went into Effect on Wednesday, August 26th
As you may recall, right around the time of the CoVid pandemic outbreak [March / April 2020], NYC was in the midst of implementing a transition away from grocery store plastic bags which make up a lot of the landfill. Government officials kept postponing the transition in recognition that most folks were having enough difficulty coping with the pandemic and related economic fallout. Now, about a month after we fell below the 1% infection rate where we have since stayed [congratulate yourself, your friends & family], we're ready to move forward with saving the planet.
So, I don't see stores universally or consistently implementing the changeover, but the official date was Wednesday, August 26th, and I suspect that by the end of September they'll start enforcing it - if they haven't already. So while you're trying to remember to take your mask with you, remember to also grab some sort of bag to take along which you can use to carry your groceries home.
Job Growth Shows Signs of Stalling & Other Shoe to Drop?
By mid August new unemployment claims had dipped below one million, which is at least twice as high as 'normal'. Since then the number of newly unemployed seems to have stalled, staying at about that rate since. And ongoing unemployment claims continued at elevated levels of over 13 million [8% unemployment], versus about 8 million [5% unemployment] for a normal fully functioning economy. One pundit on CNBC seems to think the real unemployment rate is higher [11%] in part because people aren't looking for work at the moment.
The next wave of economic news could be a lackluster performance in the third quarter, because the trillions in stimulus ended only one month [July] into this quarter. And then the next couple of shoes could drop, including 1) layoffs at the end of September / early October due to the expiration of the funds of the PPP program, 2) layoffs by states and municipalities who've been sucked dry fighting the CoVid pandemic and 3) all of the dominoes associated with the eviction moratorium expirations that could impact landlords, banks and real estate related businesses.
I'll have more later. Have a nice weekend.
---
Things To Do Labor Day Weekend NYC 2020 - CoVid Pandemic Labor Day Weekend
Things To Do Labor Day Weekend
NYC Schools to Re-Open Monday 9/21, MTA Resumes Collecting Bus Fares, Theaters Open, Museums Open, Swimming Pools Open thru Labor Day 9/7, Shopping, Outdoor Dining
September 1, 2020 / NYC Neighborhoods / Things To Do NYC / Gotham Buzz NYC.
Weather. The temperatures highs will be in the low to mid 80's, while the lows will be in the mid to high 60's all weekend. There's a 20% chance of rain on Friday and Monday, and less than that on Saturday and Sunday. Winds will be 5 - 10 mph all weekend. Humidity will be in the 50% - 70% range.
The photo at right was taken at the U.S. Open in a prior year.
New Yorker CoVid Tests, Deaths & Requirements to Visit Public & Private Places
We've come a long way since NYS and NYC went into a lockdown in March of 2020. For over three weeks NYS has had less than 1% of CoVid positive tests, while testing a record number of people. Deaths have also dropped below ten a day. To date 439,000 New Yorkers tested positive, so over two percent of us. And 32,541 New Yorkers have died from CoVid, so 7% of those who tested positive died.
Attendance to NYC Public Schools will require some testing and masks. Masks and hand sanitizer will be available but try to bring your own. Call 311 or visit the schools.NYC.gov website for full CoVid school details.
Masks and social distancing are also required to ride the MTA buses, subways and to enter any business. If you forget your mask, you might be able to secure one through an MTA booth or a nearby business. The museums generally ask visitors to secure tickets in advance, as capacity threshholds have been lowered, so the ticketing is a way to ensure you'll be admitted. Sick people may be barred from entry.
NYC Postpones Schools Reopening to Monday 9/21 & MTA Buses Resume Fare Collection
Mayor de Blasio, in an effort to avert a teachers' strike, has postponed the reopening the NYC public schools until Monday, September 21st in order to address outstanding teacher work safety concerns.
The MTA buses discontinued charging fares on March 23rd, boarding passengers through the back door to protect drivers. Effective Monday, August 31st the MTA began collecting fares again.
NYC Beaches Open in Four Boroughs
The NYC public park beaches at Coney Island in Brooklyn, in the Rockaways in Queens, Orchard Beach in the Bronx and South Beach and Midland Beach on Staten Island are all open this weekend.
---
Things to do this Weekend & Phase IV NYC Reopening
Things To This Weekend & Phase IV NYC Reopening
Governor's Island Opened 7/15, Statue of Liberty Island Opens 7/20 while Ellis Remains Closed, Subway Series this Weekend w/ o Fans, Evolving CoVid Science Update & More Economic News
July 17, 2020 / NYC Neighborhoods / NYC CoVid 19 Special Section / News Analysis & Opinion / Gotham Buzz NYC.
Well another CoVid influenced weekend in NYC has arrived. It's the weekend before the NYS Phase IV reopening of the economy, which is happening on Monday, July 20th - but with an important modification. The important modification is that indoor cultural centers and shopping will remain on hold indefinitely.
CoVid Droplets Can Linger in Air for up to 16 Hours
The rationale is that CoVid 19 appears to be transmitted significantly - if not primarily - via the air droplets of infected people who may or may not be symptomatic. In the outdoor environment, the droplets are diffused by the planetary volume of air, while in the indoor environment they can linger for up to 16 hours. It was previously believed that the droplets could linger for up to three hours.
In the photo at right is Congresswoman Alexandria Ocasio-Cortez handing out food bags at Our Lady of Sorrows Church in Corona, Queens. The Congresswoman's campaign raised funds to put together 250 food bags for the folks in the community. Our Lady of Sorrows Church has been the locale for a number of such prior distributions by various donors, including by the Catholic Charities Built In Queens.
Things To Do NYC / Events This Weekend
Mets host Yankees at 7.10 pm Saturday at Citi Field and Yankees host Mets at 7.05 pm at Yankee Stadium Sunday. No attendees will be allowed, but the games will be shown on the Yes Network on TV and WFAN radio.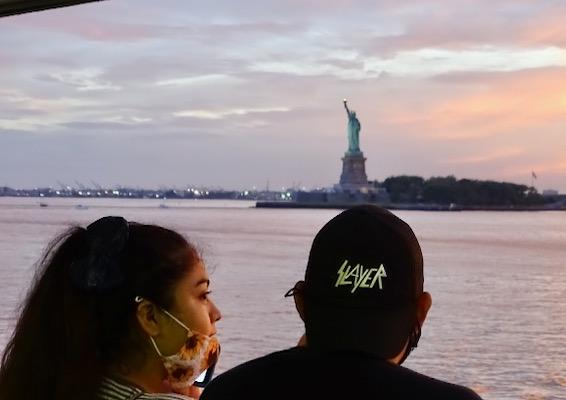 The Statue of Liberty island will open on Monday, July 20th. The statue itself will remain closed, but there will be limited souvenir and food shopping along with restrooms. The Ellis Island and the Liberty Museums will remain closed at this time. Both sites are part of the National Parks System. There are also new rules for a visit - https://www.nps.gov/stli/
St. John the Divine opened its doors to visitors from 7.30 am - 1 pm daily. No word yet on when services will resume. https://www.stjohndivine.org/
St Patrick's Cathedral reopened on June 28th for two daily services at 25% capacity on weekdays and two to three services daily on the weekend. They are suffering a $4 million revenue shortfall as a result of the Corona Virus pandemic - https://saintpatrickscathedral.org/
The piazza style dining in cordoned off streets continues on weekends beginning 5 pm Friday and at noon on Saturday and Sunday - ending at 11 pm each night. New streets and restaurants continue to be added to the original list, as clusters of restaurants apply and receive authorization for piazza style dining on their blocks / streets.
https://www1.nyc.gov/html/dot/html/pedestrians/openstreets-restaurants.shtml
The implementation of the curbside / sidewalk dining by local restaurants has been well received and appears to be a success. Thus this week the Mayor announced that it will be extended through October 31st.
Just over a week ago, on Thursday, July 9th, the Mayor extended the ban on large events requiring a city permit, through September 30th. The rationale for this extension is that states like Florida and Texas have seen surges due to large scale gatherings, where social distancing and mask norms were difficult to enforce and hence violated, leading to huge surges of the number of CoVid infections in those states. This ban extension includes NYC street fairs.
---
Phase III Reopenings NYC Layoffs, Economic Comeback Looks Slow, Mail In Vote Delays & Fraud, Tale of Two Economies Tech vs Bricks n Mortar,
Things to do This Weekend in NYC
Bit by Bit NYC Emerges from the CoVid Pandemic Shock ...
... but it's Increasingly Looking Like It Will be a Slow Recovery
July 10, 2020 / NYC Neighborhoods / NYC CoVid 19 Special Section / News Analysis & Opinion / Gotham Buzz NYC.
Weather. The temperature highs will be in the high 70's Friday, rising to about 90 degrees on both Saturday and Sunday. There's a 100% chance of inches of rain throughout the day Friday, with some rain - about an inch - in the late morning / early afternoon on Saturday, and then clear on Sunday. Humidity will be in the 90% plus range on Friday, dropping to 80% on Saturday and down to 65% on Sunday. There will be wind gusts of up to 20 - 26 mph on Friday, settling down to 5 - 10 mph on Saturday and Sunday.
We began to return to some measure of normalcy this week as NYC moved into Phase III of the reopening. Restaurants sprung back to life with sidewalk and curbside seating which seemed to fill up pretty well in the first week of opening. Rain will dampen that enthusiasm today and through mid afternoon tomorrow, but I expect seatings to resume later in the day Saturday.
Things to do in NYC This Weekend
The Mayor also announced the opening of 22 European piazza style dining streets in all five boroughs [scroll down to July 2nd post for a listing of them]. Some of these NYC 'piazzas' opened last weekend. I visited the one on Restaurant Row in Manhattan and it looked to be a success - see photo.
While things haven't returned to normal, and likely won't for some time, they are becoming more normal from week to week. And there's more to do these days, than there has been for a long while, for those who want to get out and about.
New openings this past week include:
---
July 4th Weekend & Fireworks NYC Budget Piazza Style Dining in NYC BLS Unemployment Numbers Faked Phony Fiscal Conservatives
July 4th Weekend NYC: The New Normal is About Adjustment & Simplicity
The NYC Budget, NYC Events, the Economy & CoVid Update
July 2, 2020 / NYC Neighborhoods / NYC CoVid 19 Special Section / News Analysis & Opinion / Gotham Buzz NYC.
George Floyd Protests, the NYPD and other NYC Budget Cuts
The George Floyd protests seem to have abated, over a month after his death. The new NYC budget does cut about a billion from the NYPD budget by reducing the staff from 36,000 to 34,000 employees, cancelling the most current class of new cadets, and reallocating school security to the Department of Education and homeless engagement to social services units. About 5,000 people work in the school security program and that will be transferred over a period of time to make sure it works properly. Another$160 million was allocated to summer youth programs [$115 million], as well as to address food insecurity [$33 million] and housing [$8 million].
The overnight Staten Island Ferry service was also cut for the time being. That affects about 4,250 riders per night based on 2019 statistics. Other cuts included in the NYC budget include an $800 million cut for schools, a 5% - 7% cut to all departments, some labor savings [$1 billion]. The labor savings could result in NYC layoffs in the Fall if other solutions aren't found. The cuts were due to a mix of actual and expected NYC revenue shortfall of about $8 - $9 billion. City Councilmember Helen Rosenthal of the Upper West Side tells us that about $4 billion of the shortfall will be made up by the Mayor's rainy day fund, which de Blasio had prudently set aside to address unexpected events.
The Mayor also announced that NYC public schools would be reopening in the Fall. He said he was working with the unions to implement safe plans which would include social distancing measures which would possibly take larger classes online, stagger schedules to fill the school with fewer students at any given time, implement cleaning efforts and staggered lunchtimes. The Governor noted that ultimately it's his call on school reopenings. Nonetheless, the Mayor said that NYC was working to submit a plan by late July / early August.
NYC Moving to Phase III Monday but Indoor Dining on Hold
Because of the upturn in CoVid infections in other states as noted below, the Governor and Mayor have put indoor dining in NYC on hold. Nonetheless, the rest of Phase III will continue as planned on Monday, July 6th. Phase III also includes the opening of personal care businesses such as tanning, waxing & nail salons and spas.
Piazza Style Dining to come to 22 Streets in all Five Boroughs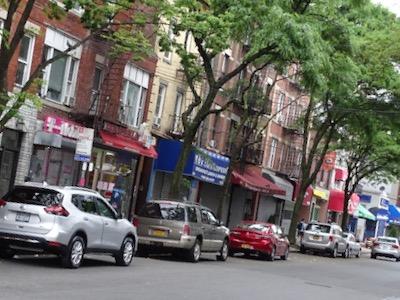 The Mayor announced efforts to mitigate the impact of the delay of the opening of restaurants indoor areas by further opening the streets to restaurateurs over the weekends beginning Friday evenings - in what was described as piazza style dining. Expanded dining areas are planned for 22 streets around all five boroughs in the city including Restaurant Row in the Hell's Kitchen neighborhood of Manhattan, Mulberry Street in the Little Italy neighborhood of Manhattan, and streets in Chinatown at Doyers Street, the East Village at Broome and Orchard Street, Harlem at 101st Street and Lexington, Gansevoort & 13th in the West Village, Broadway and 25th in the Flatiron District.
In the outer boroughs there's Arthur Avenue in the Little Italy / Belmont neighborhood of Bronx [7/10], New Dorp at Hylan Blvd in the New Dorp neighborhood of Staten Island, Bell Blvd in the Bayside neighborhood of Queens, and in Brooklyn a number of streets in DUMBO between the Brooklyn and Manhattan Bridge near the water in Brooklyn, 5th Avenue in the Park Slope neighborhood of Brooklyn, at Reed Street and Van Brunt near the Fairway in the Red Hook neighborhood of Brooklyn. And speaking of Fairway - they're planning to close three stores as a result of the pandemic including the one in Red Hook, another in Harlem and one on Long Island.
In Phase II NYC had started to clear the way for restaurants to occupy the curbside parking spaces in front of their dining / drinking establishments to allow the serving patrons outdoors. This appears to have worked well, with - thus far - no attendant substantive increase in CoVid cases. This is even though many to most of the folks I see dining and drinking outside aren't wearing masks. This is understandable as it's hard to eat and drink with a mask on, as I tried it a week ago and didn't like it.
But for the people who are most susceptible to severe illness - and even death - due to CoVid, they are advised to continue to exercise caution, even in the outdoor dining and drinking setting, as the consequences for them are too severe to take the risk.
---
Columbus Day Weekend Things To Do
There are Columbus Day Parades in All Boros Except Staten Island, but ...
October 11, 2019 / NYC Neighborhoods / NYC Things To Do / Gotham Buzz NYC.
Staten Island has an Italian Festival at Mount Loretto - see Staten Island street fairs for details. The following are the specifics for the Brooklyn Columbus Day Parade.
Saturday, October 12, 2019 from 1 pm to 2 / 3 or 4 pm - 38th Annual Columbus Day Parade. Begins at 61st Street and 18th Avenue following a 10.30 am Mass at St. Athanasius Church at 2154 61st Street in Bensonhurst / Mapleton. The parade ends at Benson Avenue where a street fair / festival runs from 4 - 6 pm along Benson Avenue between 18th Avenue and 19th Street. Brooklyn street fairs in Bensonhurst.
Click here for other street fairs in Brooklyn over the Columbus Day Weekend or this link for things to do Columbus Day Weekend in BK.
Week Beginning 10.14.19 - Columbus Day Holiday & Democrats Debate
* Columbus Day, is celebrated in recognition of Christopher Columbus daring journey across the Atlantic Ocean in 1498 whereon he discovered the lands that would eventually be named America.
* On Tuesday, October 15th the fourth Democratic Debate will occur in Westerville, Ohio beginning at 8 pm on CNN. It will be the first time the candidates will be on one stage, as over a half dozen of them didn't make the cut for this one. The candidates making the cut are: Joseph Biden, Elizabeth Warren, Bernie Sanders, Cory Booker, Amy Klobuchar, Andrew Yang, Kamala Harris, Julian Castro, Pete Buttigieg, Tom Steyer, Tulsi Gabbard and Beto O'Rourke.
---
Things To Do in NYC This Weekend
Labor Day Parade, Gracie Square Art Show, Washington Square Outdoor Art Exhibit, Century Bike Ride, Feast of St Markella Astoria, Italian Festival in Ridgewood, Ferragosto Fest, Central American Independence Day Parade & Festival, Last Weekend for Swimming & U.S. Open Ends Sunday
September 6, 2019 / NYC Neighborhoods / NYC Things To Do / Gotham Buzz NYC.
Weather. The Temperature highs will be around 80 and the lows will be in the mid 60's all weekend. Precipitation. There's a 50% chance of less than 1/4 inch of rain Friday night and then clear the rest of the weekend. Winds will be around 10 - 15 mph all weekend. The Humidity will be 80% Friday and in the mid 50% range for the rest of the weekend. Click for NYC Weather.
Thursday through Sunday, September 5 - 8, 2019 from 5 - 10 pm Thurs / 5 - 11 pm Fri & Sat / 1 - 10 pm Sun - Hellenic Orthodox Traditionalist Church of America [St Markella] celebrates patron feast day with traditional Greek food and unique arts and crafts. Along 22-68 26th Street between 22nd & 23rd Avenues in Astoria.
Thursday - Sunday, September 5 - 8, 2019 from 12 noon - 10 pm & Sun until 9 pm - Fresh Pond Road - The ITALIAN FESTIVAL is back in full swing - After years of curtailment this street fair has won back the full four days. It even went on hiatus over traffic in 2017. Along Fresh Pond Road between Palmetto and Menahan Street. This is a big real Italian themed fair with great food, rides for kids and plenty of shopping. Organized by the Ridgewood Social Club. Brooklyn St fairs in Ridgewood organized by the Federazione Italo-Americana di Brooklyn and Queens.
Saturday, September 7, 2019 from 10 am - 5 pm - Annual AFL-CIO Labor Day Parade - Marches up along 5th Avenue beginning at 44th Street and ending at 67th Street. Parades in Midtown / UES Manhattan.
Saturday & Sunday, September 7 & 8, 2019 from 10 am - 5 pm - Gracie Square Art Show - Along East End Avenue from East 84th to East 88th Street [art].
Saturday & Sunday, September 7 & 8, 2019 from 12 noon to 6 pm - The Washington Square Outdoor Art Exhibit in the Village runs along University Place from West Third Street to East 13th Street [art].
On Sunday there's the 30th & Final Century Bike Ride running through all boroughs beginning at 6 am and ending at 6 pm, including a rest stop in Astoria Park and maybe in LIC [need to confirm]. The streets are not closed, but extra officers are on duty to facilitate cyclists along the way. Route lengths vary from 25 to 50 to 75 and up to 100 miles biking through all five boroughs. There's a fee [$105], the proceeds of which go to Transportation Alternatives, a non-profit biking, pedestrian and public transit advocate of NYC - www.nyccentury.org.
Sunday, September 8, 2019 from 10 am - 6 pm. Ferragosto Festival. Along Arthur Avenue between Crescent and 187th Street, and along East 186th Street between Arthur & Hughes Avenues. It's an Italian harvest celebration & celebrating 100 years of Arthur Avenue in the Belmont section of the Bronx. Bronx St Fairs in the Belmont neighborhood.x
Sunday, September 8, 2019 from 11 am - 6 pm. Central American Independence Parade. The parade begins at 12 noon at East Tremont Avenue & Southern Blvd, which is the site of the Happy Land Fire Memorial where in 1990 about 100 people lost their lives - mostly Honduran Garifuna celebrating carnival. This parade celebrates Honduran Garifuna and snakes its way down Boston Road, then Charlotte Street to Crotona Park East - ending between Crotona Avenue and Claremont Parkway. Street fairs in the Bronx neighborhood of West Farms.
The public swimming pools close for the season on the evening of Sunday, September 8th.
The U.S. Open ends at the USTA in Flushing Meadows Corona Park on Sunday. The matches continue up until then - see www.usopen.org for details and tickets, which can cost hundreds of dollars.
Week Beginning 9.9.19 - 9/11 Commemorations
Wednesday, September 11th is the 18th anniversary of the 9/11 attack on the World Trade Center. There are several events to commemorate it this week, including the commemoration ceremony at the site in downtown Manhattan beginning at 8.39 am.
---
Things To Do in NYC Labor Day Weekend
Brazilian Day Festival, Washington Square Outdoor Art Exhibit, U.S. Open, Historic Richmond Town County Fair
* August 31, 2019 / NYC Neighborhoods / NYC Things To Do / Gotham Buzz NYC.
* Weather. The Temperature highs will be around 80 and the lows will be around 70 all weekend. Precipitation. There's a 25% [morning] - 50% [afternoon / evening] chance of about 1/3 inch of rain Monday. Winds will be around 10 mph all weekend. The Humidity will be 50% Friday & Saturday, rising to 60% Sunday and 70% Monday. Click for NYC Weather.
* The Washington Square Outdoor Art Exhibit runs from 12 noon - 6 pm all three days Labor Day Weekend in the Village in Manhattan.
* On Sunday the Brazilian Day Festival runs from 11 am - 6 pm along 6th Avenue going north from 42nd Street in Midtown in Manhattan.
* On Monday the West Indian American Labor Day Parade starts in Grand Army Plaza at 11 am in Prospect Heights in Brooklyn.
* The U.S. Open tennis matches at various time runs through the Labor Day Weekend in Flushing Meadows Corona Park in Queens.
* The Historic Richmond Town County Fair runs 12 noon to 6 pm through the Labor Day Weekend on Staten Island.
* And it's the last weekend to enjoy the Sunday Salsa Party from 1 pm - 6 pm at Orchard Beach at Pelham Bay Park in the Bronx.
---
Brooklyn Fireworks Celebrating July 4th
Brooklyn has Fireworks Displays at Coney Island and at the Brooklyn Bridge as the Macy's 4th of July Fireworks has Moved Down River
June 25, 2019 / Brooklyn Neighborhoods NYC / Brooklyn Things To Do NYC / Brooklyn Blvd NYC.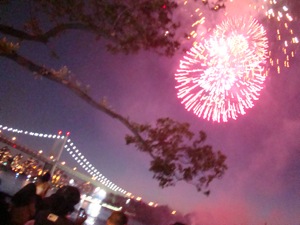 The following are the dates and locations of the legal fireworks displays in Brooklyn over the next week or so leading up to and just beyond the July 4th holiday.
It begins on Coney Island on Friday, June 28th beginning around 9.30 pm when the fireworks will be shot into the air off Coney Island. You can get a good view from the Coney Island Beach. Organized by the Coney Island Alliance. This continues on July 4th, and then Fridays such as July 5th & July 12th and into the summer.
On Wednesday, July 3rd at 9.45 pm there will be a barge of Fort Hamilton in the southern top of Brooklyn near the Verazanno Narrows Bridge. These fireworks are sponsored by Fort Hamilton.
The big event is of course on July 4th, beginning just before 9.30 pm, when the Macy's 4th of July fireworks takes to the sky. This year the fireworks have been moved south of the Brooklyn Bridge on the East River [Between Pier 17 and Manhattan Heliport], so the view from Brooklyn should be better than in prior years.
And last, but not least, are the Breezy Point fireworks in the Rockaway Inlet in Queens on July 5th beginning at 9.30 pm. The Breezy Point Co-Op is the sponsor. Folks in southeastern Brooklyn should be able to see these fireworks.
---
Things To Do NYC - This Weekend
5 Boro Bike Ride, Bike Expo NY Brooklyn, Frieze Art Fair Randall's Island & Jane's Walks
May 3, 2018 / NYC Things To Do /NYC Neighborhoods / Gotham Buzz NYC.
Weather. The Temperature highs will be in the high 80's Friday, low 70's Saturday, and low 60's on Sunday, while the temperature lows will be around 70 in Friday, dropping to about 60 for the rest of the weekend. There's some rain in the weekend forecast with a 10% chance Friday, 0% Saturday & 70% Sunday. The rain is expected to begin very early Sunday [may slip into late Saturday so beware] and will continue through the day - but it's less than a quarter inch - so I wouldn't cancel anything. Winds will be around 20 mph Friday, descending to 10 mph for the rest of the weekend. The Humidity will be about 50% Friday, 40% Saturday and 70% on Sunday. Click for NYC Weather.
The photo at right shows a man admiring a artwork at the Frieze Art Fair on Randall's Island in 2014. He seems to resemble one of the characters in the picture. The Frieze Art Fair has returned - see details below.
Bronx
Janes Walk along the Grand Concourse begins at 11 am beginning from the Bronx Museum. Click for Bronx things to do.
Brooklyn
Bike Expo New York at Pier 12 in Red Hook on Friday from 10 am - 8 pm & Saturday from 10 am - 6 pm. Click for Brooklyn things to do.
Manhattan
5 Boro Bike Ride takes off in waves from downtown Manhattan on Sunday between 7.30 - 9.20 am streaming through all five boroughs. Click for Manhattan things to do.
Queens
The Frieze Art Fair began on Randall's Island on Wednesday and continues through the weekend beginning 11 am - 7 pm, but closing an hour earlier on Sunday at 6 pm. Click for Queens things to do.
Staten Island
The 5 Boro Bike Ride ends in the Fort Wadsworth & St. George neighborhoods in Staten Island beginning about noon through the afternoon. Click for Staten Island things to do.
---
Things To Do This Weekend NYC
Earth Day Events, Tribeca Film Festival, Greek Independence Parade & NY Art Expo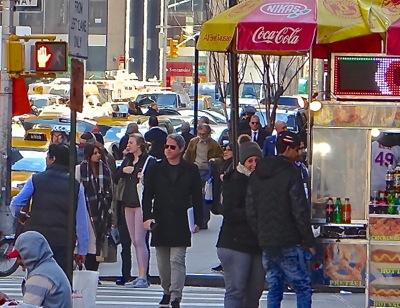 April 20, 2018 / Things To Do NYC / NYC Neighborhoods / Gotham Buzz NYC.
Good Weather. The Temperature highs will be in the low 50's Friday, rising to the low 60's Saturday and Sunday. The temperature lows will be around 40 throughout the weekend. There's No Rain in the weekend forecast. Winds will be a blustery 20 mph Friday and then falling to a low breeze of 10 mph for the rest of the weekend. The Humidity will be about 40% throughout the weekend. Click for Manhattan Weather.
The photo at right shows a Midtown mid morning street scene along 6th Avenue earlier this week.
Manhattan Things To Do This Weekend
Art Expo, Tribeca Film Fest & Greek Independence Parade & more - see Manhattan Things To Do.
Queens Things To Do This Weekend
Earth Day, Modern Dance performances, Avante garde theater, Greek Flag Raising & more - see Queens Things To Do.
Bronx Things To Do This Weekend
Kids Comic Con, Orchid Show, Bone White performance & more - see Bronx Things To Do.
Brooklyn Things To Do & Staten Island Things To Do
Coming shortly are Brooklyn Things To Do & Staten Island Things To Do. In the meantime click here for a listing of Brooklyn Farmers Markets, Brooklyn Street Fairs, Staten Island Farmers Markets & Staten Island Street Fairs where you can find unique items and fresh foods. Street fairs wind up in March / April and so do most farmers markets, but a few of the farmers markets continue year round.
---
NYC Things To Do - New York City Events
NYC Things To Do - New York City Related Info
Click this link for promotions, discounts and coupons in New York City.
Click here to go to the Arts & Culture section of this site.
Click these links for promotions by advertisers in Manhattan.
Click this link to go to the NYC Neighborhoods section.
---
Site Search Tips. 1) For best results, when typing in more than one word, use quotation marks - eg "Midtown Neighborhood". 2) Also try either singular or plural words when searching for a specific item such as "gym" or "gyms".
Click this link to the Gotham Buzz front page.
---
---
Click the log in link below to create an ID and post an opinion.
Or send this story to a friend by filling in the appropriate box below.
---
NYC Related Links
Click for Holiday Parties & Restaurants NYC
Click for NYC Farmers Markets NYC
---