Was the Staten Island Ferry Sale a Joke?
Did You Hear the One about a Staten Island Ferry, Two Comedians, an Architect & a Night Club Owner?
Updated January 26 from 1/24/2022 / NYC Neighborhoods / NYC News / Gotham Buzz NYC.
Weather. The temperature highs will be within about 5 degrees of 30 throughout the week, except on Tuesday when it will be in the low 40's. The temperature lows will be between 20 and 30 degrees, except on Wednesday, when it will drop to 12 degrees. The winds will be 5 - 10 mph Monday & Tuesday, rising to 10 - 15 mph on Wednesday, before falling back to 5 - 10 mph Thursday & Friday. Humidity will be 50% - 70% on Monday, dropping to 50% - 60% on Tuesday, and then 40% - 50% on Wednesday & Thursday, before rising back to 50% - 70% on Friday. No precipitation is in the forecast until Friday afternoon / evening at which time it looks like we're going to get several or more inches of snow.
As the new year begins to unfold, we encounter a mixed bag of news that has already made it out onto the public stage. Let's start with the purchase of a de-commissioned Staten Island Ferry, the JFK. The photo above right was taken in January 2020, likely near the end of the JFK's life of ferrying passengers to and from Staten Island. You can see the 'JFK' in the upper right corner of the photo below the black circle and with a bit of glare obfuscating part of the 'F'.
They may be Laughing Now, but ...
SNL Comedians Pete Davidson & Colin Jost, Architect Developer & Contractor Ron Castellano and Night Club Owner Paul Italia Buy the JFK Staten Island Ferry Boat
Last week, after several rounds of bidding, a consortium of investors, including SNL Comedians Pete Davidson & Colin Jost; Architect, Developer & Contractor Ron Castellano; and Night Club Owner Paul Italia purchased a 2,100 ton de-commissioned Staten Island ferry boat - the JFK - for $280,100. The purchase prices was only $100 above the next nearest bid, after the price doubled during the bidding process - up from $125,000 - after the starting bid had to be lowered from $250,000 because of a lack of early interest.
At right are Pete Davidson [left] and Colin Jost [right] announcing their new acquisition on SNL's News update. This project is likely to get a fair amount of publicity given the fame of these two owners and Jost's famous wife and Davidson's famous girlfriend.
Riding the JFK Ferry from Staten Island in 2020
I have ridden the JFK, which was commissioned in 1965, and named after a very charismatic president who was assassinated at the relatively young age of 46. On my first ride I remember wondering why riding this boat felt different, so I asked one of the crew members, who told me that I was riding the JFK, the oldest boat in the fleet. I took some photos, which I have found, three of which are included in this report [the first three boat photos]. The last two boat photos were taken on Tuesday, January 25, 2022 and added to this report.
The JFK was the oldest boat of the Staten Island Ferry fleet, and it was also the most pleasurable to ride. The 277 foot long, and 69 feet wide, boat was a joy to ride because of its ample proportions and its older, more stately fixtures. Why is it that it almost always seems that they built things so much better long ago?
Above and below right is a look up and down the length of the JFK ferry boat. You can see the minimalist nature of the design of the boat, which might be classified as Mid Century Classic.
What They're Planning to do with the 2,100 Ton Vessel
The consortium has two weeks [I believe from Thursday, January 20th, 2022] to move the huge boat from its berth at the Staten Island Ferry docks. One rumor floating around is that the JFK will be moved to a berth near the Gowanus Canal in Brooklyn, where the group will begin working to convert it to a night club / comedy club / restaurant. The boat had a seafaring capacity of about 3,000 people and on land it could possibly be expanded - but no matter how you cut it, it's a huge venue. It remains unclear whether the boat will remain in Gowanus or be moved to some other location.
The two comedians, both from Staten Island, are also both romantically involved with some very famous actresses. Davidson is dating Kim Kardashian and Jost is married to Scarlett Johansson. All of whom will no likely be able to generate publicity for the project. And the role of the architect, developer and contract owner Castellano seems obvious, as does the role of the Night Club Owner Italia.
Above right is a photo of the JFK in January 2020, as I disembarked on the Manhattan side. Notice the smooth flowing wooden benches, harking back to an more friendly, communal, simpler age.
Below right is the JFK ferry, sitting in the docks at the Staten Island Ferry Terminal in St. George on Tuesday, January 25, 2022. Within the next week or two, it is expected that the consortium that purchased the ferry, will move the boat to another location where they will attempt to transform the huge vessel into a viable business venture.
It's worth mentioning that there have been others who have attempted something similar to what this brave band of entrepreneurs has just undertaken. A January 21, 2022 report in Curbed tells us that the Staten Island Ferry named Mary Murray was purchased in 1976 by someone planning to make it into a restaurant. In 2010, after rotting in New Jersey and then Newburgh, NY for 34 years, the Coast Guard had to step in when the boat started listing. They tell us other decommissioned Staten Island Ferries were purchased with various grand plans that eventually stalled, including the Knickerbocker in the 1960's and the Miss New York in the 1970's. And they cited a couple of temporary successes, but not with Staten Island Ferry boats in NYC.
Did You Hear the One About Two Comedians, an Architect & a Night Club Owner Buying a Ferry on Staten Island?
So did you hear the one about two comedians, an architect, contractor, developer and a night club owner? ... conspiring to refurbish an old boat, find a permanent home for a 2,100 ton behemoth and turn it into a viable business ... ???
It could be hilarious. It already is ... kind of.
There's no doubt about it, it's a crazy idea as both comedians have already said. But as musician, comedian, talk show host Oscar Levant once said,
"There's a fine line between genius and insanity."
That statement has since, been proven, genetically. There is a link. And these guys just might be crazy enough to make it work. But, regardless of the outcome, it's likely to be good fodder for SNL, raising awareness of Staten Island - and should they succeed - good for NYC.
At right is a photo of the JFK sitting at the docks in St. George on Staten Island. Notice just below the pilot house window, that the ship name has been removed, leaving a silver toned rectangle behind.
Have a nice week.
---
Things To Do This Weekend NYC
Bumper Cars in Bryant Park, Thunderbird Dance Concert, Winter Jazz Festival Cancelled goes Virtual, Jewish Film Festival, First Irish Theater Festival Manhattan, Last Weekend for the Holiday Train Show Bronx, Historic Richmond Town 2:1 Museum Tickets Staten Island, Lenape Indian Exhibit & Programs at Greenpoint Library in Brooklyn and Film & Modern Dance in Queens
January 21, 2022 / NYC Neighborhoods / NYC Things To Do Events / Gotham Buzz NYC.
Weather. The temperature highs will be in the mid 20's on Friday, rising to about 30 on Saturday, and then rising to the mid 30's on Sunday. The temperature lows will be in the mid teens on Friday, rising to the low 20's on Saturday, and falling back slightly to the high teens on Sunday. No precipitation is in the forecast and it will be dry, with humidity between 40% and 50%. Winds will be 5 - 10 mph throughout the weekend.
In the photo at right, there's a man who fell down. It reminded me of how the world has fallen down a couple of times in dealing with the Corona Virus. We just have to pick ourselves back up and get going again. I am cautiously optimistic that we will do so in 2022. Although I must caution you that last summer I had thought the same ... so I've been wrong before.
CoVid Continues to Affect Things, but Increasingly Event Organizers are Adapting
In the graph at right you can see the new CoVid cases in NYC as of a week ago Thursday [January 13th]. The graph shows that we likely have peaked from the holidays, and are on our way back down again. This trend continued this week, but the new graph has not yet been published. Nonetheless, many organizations have continued to take a cautious approach to public events and programming, with a few making cancellations.
That said, increasingly event organizers are moving to managing things via rsvps, timed tickets, vaccination requirements, social distancing and masks. Thus you are strongly encouraged to check the event organizer's website prior to attending any event.
Things To Do This Weekend in Manhattan
You can rent a Bumper Car in Bryant Park between the hours of 2 - 8 pm weekdays and 11 am - 5 pm Saturdays and Sundays between now and February 2nd. It's recommended that you rsvp on their website at www.bryantpark.org where tickets for a ten minute ride are $20.
Theater for a New City at 155 First Avenue [at 10th Street] in the East Village is hosting Thunderbird Dance Concerts Friday and Saturday at 8 pm, and Saturday and Sunday at 3 pm. Tickets are $15. As the host website does not appear to be working, I recommend using www.tdf.org to buy tickets.
The live Winter Jazz Festival has been cancelled and gone Virtual.
The Jewish Film Festival continues through January 25, 2022 at the Walter Reade Theater at Lincoln Center. See their website www.filmlinc.org for details and tickets.
The First Irish Theater Festival by the Origin Theater Company continues through January 31st. The shows are held at various venues in several boroughs of NYC. See www.origintheater.org for details and tickets.
Things To Do This Weekend in Brooklyn
Lenape Hoking is an Indian Art Exhibit with Programs that opened at the Greenpoint Library at 107 Norman Avenue at Leonard Street in Greenpoint, Brooklyn on Thursday, January 20, 2022. The exhibit runs through April 30, 2022 and has several interesting talks scheduled. The Lenape Indians are said to be the tribe that traded Manhattan for a 'string of beads' in a myth that is debunked in one of the upcoming lectures / programs.
The Brooklyn Museum at 200 Eastern Parkway has about a dozen exhibits running at present. The two featured exhibits focus on Andy Warhol's Revelation print which explores the artist's religious faith. The other is one about Christian Dior entitled Designer of Dreams which includes, "... seventy-year history of the House of Dior with over two hundred haute couture garments as well as photographs, archival videos, sketches, vintage perfume elements, accessories, and works from the Museum's collection..." Admission is $25 / $16 / $10 and CoVid protocols remain in effect.
Things To Do This Weekend in Queens
The Museum of the Moving Image is showing a number of interesting international films this weekend, including one on Chuck Jones' classic animations while at Warner Bros., another entitled French Cancan which is about the founder of Moulin Rouge, and a third entitled the Tales of Hoffman which is said to be a film that greatly influenced Martin Scorses & George Romero. There are two more, including Siege on Lipertis Street, which was the winner of the Thessaloniki Film Festival about a father trying to save his home near the buffer zone of Nicosia, and Plaza Catedral is a film about the rich and poor of Panama City and explores the question of how far would one go to help a stranger. All at the Moving Image at 35th Street and 36th Avenue in Astoria Queens. Tickets may be found at www.movingimage.us and cost $15 / $11.
There are two Take Root modern dance performances at 8 pm on Friday and Saturday at GreenSpace at 37-24 24th Street in in Long Island City, Queens. Tickets are $17 online and $20 at the door. CoVid guidelines are in effect.
Things To Do This Weekend in the Bronx
The Holiday Train Show at the NY Botanical Garden at 2900 Southern Blvd in the Bronx is entering its final weekend. You may obtain tickets which cost $18 - $32 on their website at www.nybg.org.
Things To Do This Weekend on Staten Island
On Saturday Historic Richmond Town has a candle making workshop in the afternoon and a tavern concert in the evening this weekend, along with a 2 for 1 Museum Ticket offer on Staten Island.
On Saturday at 2 pm the Lighthouse Museum at 200 The Promenade is hosting a book lecture entitled The Soul of the Hurricane. The author, Nelson Simon, sailed from Brooklyn to Bermuda 30 years ago, ending up in what is billed as the 'Perfect Storm'. He was rescued by the U.S. Coast Guard. Admission $10 / $5.
We expect things to begin picking up in February, which is only another weekend away. And assuming no new variant, the year could be a good one.
Have a good one.
---
News Updates – De Blasio Announcement & NYC Crime Stats 2021
De Blasio Decides Not to Run for NYS Governor, Hochul's Fundraising Haul, NYC Violent Crime Up Slightly in 2021, but NYC Homicides Still Below the National Average & To Be or Not To Be - do we want to Politicize the Guns / Violent Crime Problem or Solve it?
January 18, 2022 / NYC Neighborhoods / News Analysis & Opinion / Gotham Buzz NYC.
This morning, January 18, 2022, former NYC Mayor Bill de Blasio announced that he will not seek the Governor's office on Twitter. 
De Blasio mentioned some of his accomplishments during his eight years as Mayor including Universal Pre-K, building hundreds of thousands affordable housing units, implementing some police reforms at the NYPD to make policing fairer, and efforts to transition NYC to cleaner energy.  He didn't say what his future plans were, only that he would be announcing them from his neighborhood in Brooklyn.
Governor Kathy Hochul is well positioned for the NYS Governors race this year. Hochul received the very early endorsement of the NYS Democratic Party Chairman Jay Jacobs in October of 2021, and has raised $21.6 million since she announced her candidacy in August of 2021. It's a record for the five month period, and about the same amount of money that former Governor Andrew Cuomo had to ward off challengers in 2018. NYC Public Advocate Jumaane Williams and 3rd District [Nassau County] Congressman Thomas Suozzi have announced their candidacies. In December of 2021, Attorney General Letitia James withdrew her candidacy, in favor of running for reelection in her current post.
On the Republican side of the race there's former Westchester County Executive Rob Astorino, who is running against newcomer Andrew Giuliani, who's primary claim to fame is that he is the son of Rudy, the former NYC Mayor with the same surname and Lee Zeldin, a Congressman from Long Island.
In fundraising as well as in polling, Hochul seems to have all the advantages at this point in the campaign. Her nearest competitor in polling recently done by Siena would have been de Blasio, who had 12% of the vote versus Hochul's 46%. NYC Public Advocate Jumaane Williams was next with 11% and Suozzi with 6%. The Suozzi campaign has about $5 million in campaign funding, $2 million of which was transferred from his congressional campaign. Republican Astorino has about $1.3 million, and none of the other contestants released their funding.
A number of snide comments were made in the wake of Hochul's record haul and competitive fundraising position for the upcoming June primary. She was compared to Cuomo with allusions to the possibility of corruption, but nothing specific was provided to support those insinuations.
De Blasio's announcement came as I was working on an update report on NYC crime.  Unfortunately, the NYPD doesn't publish a December monthly report, like they do every other month, so it's more challenging to do a year end tally.  Hence, this report won't be as comprehensive as some of the others I've done the past couple of years, and will instead focus mostly on shootings and the murder rate.
NYC Crime Statistics for 2021
Thefts Down Significantly / Murders Up Slightly & Still Below the National Average / Most Other Crimes up in Low to Mid Single Digits with Some Exceptions ...
The outlier in the year end crime stats, which were up slightly from 2020, was that thefts were down almost 19%.  This may have something to do with the fact that fewer people are out and about, so thieves have fewer to prey upon and the victims have fewer distractions and events where thefts may occur.
As for other salient changes in the main categories, Grand Larceny was up about 12% while Grand Larceny Auto was up 14%, Other (than rape) Sex Crimes were up 30%, Misdemeanour Assault was up 10%, and Hate Crimes were up 93%. It's worth noting that only murders and hate crimes are counted in the hundreds - not thousands.
The murders in NYC were up slightly in 2021 versus 2020.  Note that the graph at right is for the entire nation and in 2020 - not 2021. The purpose is so that you can have context in evaluating where we are and what's going on.
In 2021 the preliminary murder rate in the U.S. was about 6.6 per 100,000 people [21,750 / 330M], while the murder rate in NYC was 5.5 per 100,000 people [485 / 8.8M].  Prior to the pandemic, in 2018, the murder rate in the U.S. was 4.96 per 100,000 people [WorldPopulationReview.com], and the murder rate in NYC was 289 victims [8.4M population] or 3.4 per 100,000 people, which was the lowest on record.  In 2012, during former Mayor Bloomberg's last year as NYC Mayor, the murder rate had fallen to 414 [8.2M] or about 5.0 per 100,000 people. 
So with our larger population [8.8M vs 8.2M], NYC experienced a bit higher murder rate in former Mayor de Blasio's last year in office, versus former Mayor Bloomberg's last year in office.  And for de Blasio this was in the midst of the pandemic amid record gun sales.
NYC Shootings in 2021, as with NYC Murders, were About Even with 2020
But Shootings & Murders were up Significantly in the Bronx, which by Implication Means they were Down in Other Boros
In spite of a laudable effort by the NYPD to rein in illegal transport of guns, shootings were only about flat with 2020, during which shootings had spiked.  According to NYPD CompuStat 2.0 as of 12/19/21, there were 1828 shooting victims in NYC, versus 1821 in the prior year of 2020. 
As murders and shootings were up significantly in the Bronx [both up over 30% versus 2020], and about flat for NYC overall, the mathematical implication is that murders and shootings were down in some or all of the other boroughs.
Gun Sales in 2021 were 2nd Only to Gun Sales in 2020, with Both Years Attracting Millions of First Time Buyers
Contrary to Impressions Given by Murdoch's Manipulative Fake News Outlets, Violent Crime is Highest in Republican Governed States - but this Sort of Labeling & Politicizing an Issue isn't Helpful
The increase in violence is accompanied by significant rises in the purchase of firearms.  For the year 2021 approximately 18 million guns were sold, of which more than 2.4 million were sold to first time buyers.  This is the second highest gun sales year on record, following the surge of the pandemic fueled gun buying spree of 2020 where 22.8 million guns were sold, including to 5.0 million first time gun buyers. 
The problem with these record gun sales – and to new owners - is that while NYC and NYS and neighboring states have restrictive firearm laws, guns are being transported into the city and state by illegal gun runners from other states that employ less oversight over gun sales. It's called the I-95 Iron Pipeline - see graphic at right.
Using InterState Commerce Regulatory Powers May be a Viable Method of Aiding Municipal and State Authorities in Curtailing Gun Trafficking, but it's a Clumsy Approach to the Problem vis a vis Passing More Effective Gun Legislation
I believe one tool at the disposal of the Biden Administration would be to use federal agencies like the Alcohol, Firearms, Tobacco and Explosives Agency to intercept gun runners coming up along the Iron Pipeline from southern states like Florida to NY and NJ and charge them with violating interstate commerce laws which fall in the jurisdiction of the federal government. A few high profile arrests with significant penalties might help discourage the gun running trade, but nothing is going to be as efficient, nor as effective as passing new gun legislation in line with the majority of American's opinions regarding gun legislation [see below].
Divide & Conquer to Maximize Profits & Power?
The Mass Media Brands of Australian born Billionaire Rupert Murdoch Politicize the Guns & Violent Crime Debate, by Blaming one Political Party in order to Toxify the Debate, which Precludes an Honest & Reasonable Discussion About how to Fix the Problem
Murdoch's Manipulative Media Seemed to do the Same in 2020 by Proliferating Misinformation about the Voting Machines used in the Presidential Election and by Calling CoVid a Hoax & Impeachment Scam Early in the Pandemic
One can't intelligently talk about issues or high profile government officials, without addressing the 800 lb. Australian born billionaire propagandist in the room.  Rupert Murdoch's overwhelming share of America's national mass media influences tens – if not hundreds of millions of Americans' perception of events, issues and personalities.  And far too often it seems, he's in hot pursuit of filling his own pockets, instead of doing anything for the community, whether it's at the city, state, federal or even international level.
Murdoch tightly controls Fox News, the NY Post and the Wall St. Journal and increasingly seems to have infiltrated ABC News, where he and two of 21st Century Fox funds are the three largest shareholders.  Thus, through this ownership of the lion's share of American mass media, Murdoch has both toxified and politicized debating the issue of guns and violent crime between Democrats and Republicans – even though most Americans agree on multiple approaches to reining in the problem.
For this issue, the Murdoch narrative is designed to label violent crime a Democrat caused problem.  This deflects attention away from solving the problem, crippling efforts by Democrats and moderate Republicans to address the issue.  By politicizing Americans' views of crime, the Australian born billionaire propagandist ensures that we Americans can't come together to solve the problem by reining it in. 
Murdoch with his overwhelming share of national / local mass media appear to employ this same technique over and over and over again.  Just within the past two years Murdoch's Fox News appeared to politicize and toxify the results / fairness of the 2020 election results by 1) publicizing unsubstantiated, fraudulent accusations of voting machine failures, and 2) hyping Trump's stop the steal campaign. 
Likewise in 2020, Murdoch's Fox News and other entities seemed to obstruct government efforts to rein in CoVid as a public health problem, by allowing Fox propagandists like Sean Hannity to label CoVid a Hoax, Trish Regan to call it an Impeachment ploy, and Laura Ingraham to dismissively accuse Democrats of using CoVid to score political points.
Republican-Governed States Have the Highest Murder Rates
Generally, I don't think it's productive to label an issue as Republican or Democrat as we are all Americans and we all live in the same communities.  When someone labels things like this it's generally to use for their own selfish interests.  And when they label it dishonestly, like too often Murdoch mass media see, tp do, you can be sure it's for Murdoch's own interests.  But when issues are labeled dishonestly, that dishonesty must be called out and debunked.
Hence, I did a little research and found that the highest murder rates per 100,000 people [the standard metric] are mostly found in Republican controlled states.  You can see for yourself in the CDC chart at right, which shows the murder rates of the top 13 states [I cut off the chart there to prove a point, while the CDC showed all 50 states in descending order].
I did a bit more research to find that 11 of the 13 states with the highest murder rates are governed by Republicans. On the list to your right only New Mexico and Nevada are governed by Democrats.
I don't think either political party should be blamed for crime per se. I think the root causes of crime should be discussed and then possible solutions identified on how to mitigate them. But Murdoch's Fox News and his other manipulative media, opportunistically politicize issues by labeling them and attributing blame for them, to the party that doesn't give Murdoch whatever he wants. After which, Murdoch media then uses the negative labels they created, to manipulate the views of the low information / easy to fool members of their audiences, in order to convince them to vote for pliable Murdoch preferred candidates. And thus, the Australian born billionaire can plug his snout back into the public trough and start pigging out again, at our collective expense. Murdoch has been doing this for decades in Australia, Britain and increasingly here in the United States.
More Legislative Gun Control is Favored by the Vast Majority of Americans - Regardless of Party Affiliation
A March 2021 poll by USA Today and Ipsos showed that two thirds of Americans favor stricter gun control, including half of all gun owners. Democrats favor it by 90%, while Independents favor it by 66% and 35% of Republicans. Overwhelmingly, Americans favor instituting background checks for purchasers of firearms, with 55% of gun owners favoring such action including 82% of Democrats, 62% of Independents and 40% of Republicans [versus 41% who say no].
With respect to assault weapons bans, according to an August 17, 2019 report in Politico, a Politico / Morning Consult Poll showed that even a majority of Republicans support an assault weapons ban.
They tell us,
" ... The poll found that nearly 70 percent of all voters would back such a ban. Support ... was higher, at 86 percent, among Democrats ... the poll found that 55 percent of GOP voters were comfortable with banning assault weapons ... 89 percent of voters want to block gun sales to people who have been reported as dangerous to law enforcement by mental health providers ... Eighty-four percent of voters want to prevent people convicted of violent misdemeanors
from purchasing guns. A similar percentage, 83 percent, support limitinggun purchases to those 21 and older. Eighty percent think there should be a mandatory three-day waiting period before someone can take home a gun. And 72 percent support banning high-capacity magazines ..."
So if We The People want to get serious about crime, we need to ignore Murdoch the Manipulator's assignment of blame to one party or another, and pass some meaningful gun control legislation for the nation and its children.
The new NYC Mayor and the new Police Commissioner may be able to mitigate some of the violence associated with the rise in gun sales, but the work they do without meaningful gun legislation is a band aid - not a solution to the problem.
Have a good week.
---
Things To Do This MLK Weekend NYC & News Update
News Updates - Guesstimating the End of the Omicron Surge [Graphs],
January 14, 2022 / NYC Neighborhoods / NYC Things To Do Events / Gotham Buzz NYC.
Weather. The temperature highs will be in the 40's on Friday, dropping to the low 20's on Saturday, and then rising to the low 30's on Saturday and back to the 40's on Monday. The temperature lows will be around 20 degrees Friday, falling to 10 degrees on Saturday, and then rising to 30 degrees on Sunday and Monday. There's a 100% chance of some precipitation on Sunday night / Monday morning, but forecasters are having difficulty estimating how much at this time because the system is still forming. And it's unclear whether it will be rain or snow. But it's going to be something, but hitting us sometime between 9 pm and 10 am on a holiday weekend. The humidity drops from 50% Friday, to 30% Saturday, rising to 80% by Sunday night, dropping back to 60% by Monday. The winds are 15 - 20 mph Friday, dropping to about 10 mph Saturday, rising to 25 - 30 mph by Sunday night and then falling back to 15 - 20 mph on Monday.
Expect Some Omicron Related Cancellations in the Short Term - Like the Toy Fair 2022 & More Broadway Shows
It is worth noting that the International American Toy Fair at the Javits Center, scheduled for February 19th - 22nd, 2022 has been cancelled. Reportedly, some of the larger manufacturers pulled out like Hasbro, and some of the larger buyers like WalMart, continue to have business travel bans. As you will see below, this surge isn't expected to last as long as the first two, as vaccinations and increasing herd immunity begin to impede the devastation - but not the disruption.
Broadway shows played to about 60% of capacity, which was rumored to be one of the lowest attendance seasons on record. In our December 27, 2021 report [scroll down] we highlighted many of the Broadway shows that were taking a brief hiatus or closing either short term or for good because of the rapid spread of Omicron. That trend has continued in 2022, with more shows deciding to go on hiatus due either to actor or staffing sick leaves, or lower than desired attendance - most of which appears Omicron related.
For example 'To Kill a Mockingbird' decided to go on hiatus until June, but they were not alone. 'The Girl from the North Country' is also going on hiatus and will reopen in the Spring. And some of the new shows that were to open in January / this Winter have delayed their openings, pending the CoVid surge hiatus. Nonetheless, as they say on Broadway - The Show Must Go On. Hence the Broadway League said that this time around, the whole of Broadway would not be closing, although it's likely that from time to time individual shows may go on hiatus for staffing health and safety reasons. The Broadway League also extended its CoVid saftey protocols which include vaccinations for all those eligible as well as masks.
South Africa vs NYS - Omicron Surge Graphs - Where We Are?
Most of the Things To Do this weekend you can find below in our MLK Weekend report. If we find more events of interest, we'll post them here.
But that said, even though Omicron may have peaked here, it is likely to continue raging on in some fashion through January. This probable assessment is based on what we saw in the South African CoVid chart, where the Omicron variant first swept through, in late November 2021.
See chart at right, which shows the South Africa Omicron surge beginning around November 30th, cresting mid December and where it is on January 13, 2022. See the chart below which shows the Omicron surge in NYS, where it appears we're peaking, but using the South African chart as a guide, we have about a month to go before things level off - but not go away. The viral threat will remain viable so long as a significant portion of the populace refuse to get vaccinated.
The negative influential impact, of the half of the daily national newspaper and TV coverage controlled by Australian born billionaire Rupert Murdoch [Fox News, NY Post, WSJ], has not been exposed to the American public enough to wake folks up to the mass manipulation that seems his hallmark and has given him defacto control over both Australia and Britain through the government officials and political parties he appears to effectively control.
Murdoch appears to have been effective in turning American's attention to the disinformation coming from the millions and billions using social media, while somehow avoiding this same scrutiny himself.
The non-Murdoch mass media and government officials should be sure to include Murdoch's mass media brands like the NY Post, WSJ and especially Fox News in all of these conversations, as they also seem reckless, and far more effective in spewing convincing disinformation.
Because of this ongoing near term viral threat, the two remaining weekends in January and likely the first couple in February are also likely to be fairly subdued, as event sponsors, and many attendees curtail or limit their activities. Likely starting sometime in mid to late February and almost certainly in March, we expect things to come back.
In the chart at right is the NYS CoVid new cases chart, showing that we appear to have hit a peak in about the same time as happened in South Africa. If the parallels hold true, then about a month from now we will still continue to have CoVid Omicron around, but at vastly reduced levels.
Long CoVid Impact on Organs - Not Good
It should be noted that ongoing evaluation of Omicron indicates that it is less dangerous than the Delta variant, but the unvaccinated continue to fill the hospitals and ICU's because of the rapidity of the spread of Omicron. Also, it should be noted that the Omicron virus has been shown to remain in people's vital organs even after they have recovered, sometimes wreaking continued trouble for months on end. According to a December 26, 2021 Forbes report a study found that,
" ... The scientists said results from autopsies on 44 patients who died following coronavirus infections showed that although the "highest burden" is in the airways and lung, the virus can "disseminate early during infection and infect cells throughout the entire body," including widely in the brain, as well as in ocular tissue, muscles, skin, peripheral nerves, and tissues in the cardiovascular, gastrointestinal, endocrine and lymphatic systems..."
Short Term Omicron CoVid Impact on Supply Chain via Labor Outages
On January 3, 2022 we did a report on how much of the supply chain shortages were perception versus reality. Since then Murdoch's Disney / ABC did a report on inflation and - like Murdoch's other manipulative mass media - showed empty store shelves. We also saw empty shelves in other, non-Murdoch TV reports, but continue to believe based on my travels, interactions with grocers and industry expert reports - that those photos don't reflect reality, but TV hype. Ask yourself the same question as you peruse your local grocery store. The TV newspeople appear to hype the weather because it's good for ratings, so why not hype everything else to keep viewers' attention and get those ratings up? TV ratings generate TV revenue, even if they're misleading the public with hyped up, hysterical reports about everything.
This is excepting for semiconductors and related gear. In every report I have scoured through, industry professionals say that there continue to be disruptions in the supply chain, but not scarcities of product. This means product is available, but not necessarily where you want it to be, when you want it.
The disruptions now arise mostly from labor shortages due to the Omicron surge. This has hit some of the food production areas like meat products, and there continues to be a shortage of warehouse workers and truck drivers to transport product from one location to another. As the omicron surge falls, and the stimulus payments dry up, workers are likely to become available again, to fill these openings. Most forecasters predict the resumption of some sort of new normalcy in the next six months.
This assumes no new CoVid variant to wreak havoc again. But that said, we have far more tools in the box, and some level of herd immunity has already been achieved. As a nation we are now about 62.8% vaccinated with 75% with at least one dose, and at the NYS state level 73% vaccinated with 86% having received at least one dose, and in NYC 74% vaccinated with 83% having received at least one dose. See graph at right for NYC vaccination rates of one dose and fully vaccinated per the NYC government website.
Airline Flight Cancellations
There were thousands of flights cancelled over the holiday season due to staffing shortages caused by Omicron sick outs. Although not scientific - as people who work at airlines must also do the same things we all do like travel to and from work, shop for groceries and pick up the kids - don't these airline staffing shortages due to CoVid kind of challenge the notion that flying is super safe?
We'll have more of this sort of catch up on Monday / Tuesday. In the meantime have a nice MLK weekend and there are still a number of things to do this weekend as noted below.
---
Martin Luther King Day Weekend Events / Things To Do in NYC
Things To Do in NYC over the MLK Day Weekend
January 10, 2022 / NYC Neighborhoods / NYC Things To Do Events / Gotham Buzz NYC.
The Martin Luther King Day Weekend is ony a few days away. Although significantly changed from last year, the CoVid Omicron variant is still wreaking some havoc, so you're advised to not only rsvp, but also check event websites prior to departing for the event.
Weather. The MLK Weekend forecast as of January 10, 2022. The Temperature highs will range from 20 to 30 degrees through the long weekend. The temperature lows will range from 10 to 25, rising as the weekend progresses. As of this post, no precipitation is expected over the MLK Day Weekend. Winds will be about 10 mph throughout the long weekend, except Friday when they'll be a bit higher [13 mph]. The Humidity will be between 30% - 60%, dipping on Saturday from the highs on Friday and Monday.
Click for an update on NYC Weather.
Brief History of Martin Luther King Holiday in NYC
Martin Luther King, Jr. was a Baptist Minister who became the leading voice for African Americans' non-violent civil rights movement beginning in the mid 1950's through to his assassination in 1968. In 1983, the third Monday of every year was set aside to honor Martin Luther King for his service to the nation. The third Monday was chosen, as it was the nearest Monday to the anniversary of King's birthday, which was January 15, 1929.
Martin Luther King Day has grown to take on an even larger meaning, as it is oftentimes referred to as a day on, versus a day off. Organizations around the city and nation have used the day to call people into action to address the needs of the community through volunteering and service.
As Martin Luther King Day is a national holiday, it's worth keeping in mind that many / most federal offices will be closed, along with a number of businesses.
The following links will take you to MLK Day of Service and civil rights related events happening over the MLK Weekend in each NYC borough.
Click here for Things to do Martin Luther King Day Weekend in the Bronx.
Click here for Things to do Martin Luther King Day Weekend in Brooklyn.
Click here for Things to do Martin Luther King Day Weekend in Manhattan.
Click here for Things to do Martin Luther King Day Weekend in Queens.
Click here for Things to do Martin Luther King Day Weekend on Staten Island.
We'll also have an update with additional events this Friday. Enjoy.
---
Things To Do This January 2022 Weekend NYC
Mulchfest, Skating, Train Show and Ending Holiday Light Shows in Brooklyn, Bronx and Staten Island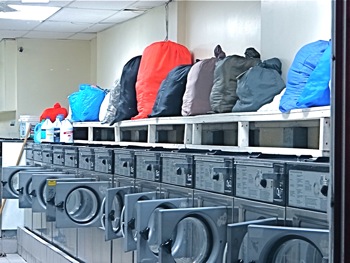 January 7, 2022 / NYC Neighborhoods / NYC Things To Do Events / Gotham Buzz NYC.
Weather. The temperature highs will be in the low 30's on Friday and Saturday, rising to about 40 on Sunday. The temperature lows will range between the low to high 20's, rising slightly through the weekend. There's a 65% chance of a slight amount (1/10th of an inch) of precipitation between 2 - 9 pm on Sunday. Winds will be running between 10 - 15 mph through the weekend. Humidity will rise from 55% on Friday to 65% on Saturday to 75% on Sunday.
Mulchfest from 10 am - 2 pm All Boros
The NYC Parks Department continues its annual Mulchfest conservation / recylcing efforts by offering New Yorkers in all five boroughs the opportunity to mulch their Christmas tree. Folks can visit one of the participating parks between 10 am and 2 pm on both Saturday and Sunday and either drop off the tree to be mulched by the Parks Department to be used by them at one of the parks, or stay and take home the mulch for their own garden. See the Parks Department map above or visit their website to find the park nearest you.
https://www.nycgovparks.org/highlights/festivals/mulchfest
Things to do in Manhattan in January 2022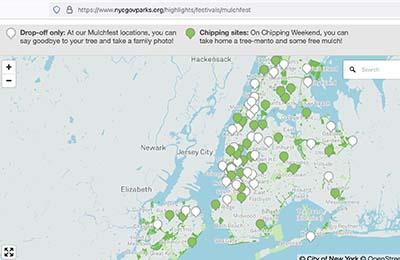 There's outdoor skating at Wollman Rink in the southeast corner of Central Park.
There's also skating in Midtown at Rockefeller Center at 5th Avenue and 48th Street and at Bryant Park off 6th Avenue at 42nd Street.
Things to do in Brooklyn in January 2022
The Brooklyn Botanical Garden Lightscape Show runs through January 9, 2022. Tickets are $18 / $34.
There's also skating in LeFrak Center at Lakeside in Prospect Park from 9a - 9p on the weekends. It's recommended that you rsvp a 90 minute skating slot on their website.
https://www.prospectpark.org/visit-the-park/places-to-go/lefrak-center-lakeside/
Things to do in Queens in January 2022
The Noguchi Museum in Astoria / Long Island City at 9-01 33rd Road in Astoria / LIC Queens is hosting a couple of exhibits, one is about the 'Common Objects' that runs through February 13th, 2022.
MoMA PS1 has an exhibit on that is called 'Greater New York' which is about and by artists living in and around NYC during the CoVid pandemic. The exhibit runs through April 18, 2022. Tickets required at www.moma.org/ps1.
Things to do in the Bronx in January 2022
NY Botanical Garden Holiday Train Show in the Belmont Neighborhood of the Bronx runs through Sunday, January 3, 2022 from 10 am to 4 pm.
Description. This 30 year old family-friendly Bronx holiday event includes a scenic train show of G-scale toy locomotives that run through 175 NYC landmarks including the Statue of Liberty and Brooklyn Bridge - all made of natural materials.
Admission. Tickets cost $15 / $28 / $30 and kids under age two are free.
Location. This Bronx holiday event is located at 2900 Southern Blvd in the Enid Haupt Conservatory in the Belmont neighborhood of the Bronx.
Contact. www.nybg.org
Bronx Zoo Holiday Lights near the Belmont & Bedford Park Neighborhoods of the Bronx thru January 9, 2022 - from 3 - 9 pm
Description. The Bronx Zoo Holiday Lights program continues thru Sunday, January 9th. The Bronx Zoo stays open until about 9 pm during the holiday lights program.
Admission. Tickets run $25 for kids / $35 seniors / $40 adults and children under age two are free.
Location. The Bronx Zoo is located at 2300 Southern Blvd in the Fordham Manor neighborhood of the Bronx.
Contact. www.bronxzoo.com
Things to do on Staten Island in January 2022
Winter Lanterns at the Snug Harbor Cultural Center & Botanical Garden runs through anuary 9, 2022 - from 4.30 pm - 9.30 pm
Description. There's a Winter Lanterns exhibit open through Sunday, January 9, 2022. There are 1,000 lanterns artistically sculpted into the Snug Harbor campus.
Tickets. Cost $25 / $17. Not shown Mondays - Thursdays.
Location. Snug Harbor Cultural Center at 1000 Richmond Terrace in the Randall Manor neighborhood on the north shore of Staten Island.
Contact. www.nycwinterlanternfestival.com / www.snug-harbor.org / Contact the Business Department for rentals via email jkelly@snug-harbor.org or by phone 718-425-3516.
Have a nice first weekend of 2022.
---
The Great Supply Chain Crisis 2021: Hype vs Reality
TV & Murdoch News Sensationalized the Great Supply Chain Crisis of 2021 - Telling us for Months on End No Pumpkins for Halloween, No Turkeys for Thanksgiving, No Trees for Christmas & No Cream Cheese in NYC
But How Much of that Hyping was a Murdoch Inspired Perspective in Pursuit of Political Profit & Fear Mongering Ratings at the Expense of Reporting What's Really Happening?
January 3, 2022 / NYC Neighborhoods / NYC Things To Do Events / News Analysis & Opinion / Gotham Buzz NYC.
The closer I pay attention to what's happening in our mass media, the more concerned I get. Nearly half of our daily nationally branded news media is controlled by one man, Australian born billionaire Rupert Murdoch - who strikes me as either a sociopath or psychopath. Based on the seven years I've been covering Murdoch, it appears as if he doesn't care about anything other than enriching and empowering himself, even at 90 years of age [his mother lived to 103 so he's likely going to be with us for a while].
What Those Who Know Murdoch Say About Him
In Australia - where Murdoch has been operating all his life - former Prime Minister Kevin Rudd described,
"Murdoch's media empire as a cancer on democracy".
And in Britain, a Parliamentary Report stated that,
[Murdoch] "was not a fit person" to exercise stewardship of a major international company].
Keith Rupert Murdoch, controls the Wall St. Journal, Fox News, the NY Post, Harper Collins Publishing, MarketWatch, Barrons - and along with two of Fox News largest shareholders - Murdoch appears to have a controlling interest in Disney / ABC by virtue of what seems his proximity to their relatively new CEO. Murdoch's influence appears to be manifesting itself in personnel moves being made since he became one of their largest shareholders in March of 2019. The personnel moves are in their news and related programming areas, and ultimately impact what ABC News presents to the public. I just witnessed one of many subtle changes on Sunday, while watching This Week with George Stephanopolous. I'll say more about this at the end of this report.
Fox News Lyin' Laura Ingraham, earned that moniker, as you can see in the image above. Fox News has repeatedly used misleading photos and images to lend deceptive and misleading support to their news accounts, which appear designed to influence the unaware and low information voters, in order to get them to vote for billionaire Murdoch's favored pols and against the very government officials who are trying to help the manipulated victims.
How did you Survive the Great Supply Chain Crisis of 2021?
Starting sometime this summer we have been hearing incessant chatter on TV news, and this includes all the national TV news networks, that there was a supply chain crisis. We were told most predominantly on Fox News that was going to steal away Christmas. No American was going to be able to purchase the things they wanted for themselves or their children for Christmas. And they seemed to imply that the economy would fail because retailers wouldn't have anything to sell. According to Fox and the Wall St Journal, which together promoted Nirvana - aka "the Trump Economy" - we were headed into Doomsday - "the Biden Economy".
They warned us that our American way of life will soon be lost because of Biden and those left wing radical Democrats. While most of the non-Murdoch nationally branded mass media didn't repeat all of the deceptions of the Murdoch mass media, they failed MISERABLY, to put the rating-driven, hyped, fear mongering reality distortion of Murdoch's Fox News and other Murdoch mass media outlets in context. This involves doing their own homework, and not copying someone else's work like they too often seem to do. In broadcast news this means the other networks should NOT be repeating storylines originating at organizations controlled by a billionaire propagandist who has a reputation for distorting the truth to win elections for the pols who will give him what he wants out of the public purse and domain.
I grew up in a three generation newspaper household. At one point I was working on a story about which both my parents challenged me. Frustrated, I asked them, then what is the role of media. They told me, "to inform". That it's the role of the media to help educate their audience, to help them understand what is going on, by putting things in context. Thus, in the supply chain crisis it seemed like the network TV media weren't doing enough to inform the American public about what was being done to correct the real supply chain problems [not the b.s. about pumpkins, turkeys, Christmas trees and cream cheese], and to help people more fully understand what was happening, and how things would likely play out, in a manner similar to what anchormen like Walter Cronkite did back in the day.
In the graphics above, the Wall St. Journal shows just how far they have deviated from objective reporting, by seeking to manipulate their readers' views of Halloween, Thanksgiving and Christmas staples by attributing what turned out to be honest-to-goodness FAKE NEWS. Generally speaking the holidays of 2021 and the staples that accompany them were about in as abundance as in other years. Ask yourself - could you not find a pumpkin for Halloween, a turkey for Thanksgiving or a tree for Christmas?
So, it's January 2022, Christmas is Over & ...
Magically ... the Supply Chain Doomsday Hype Disappears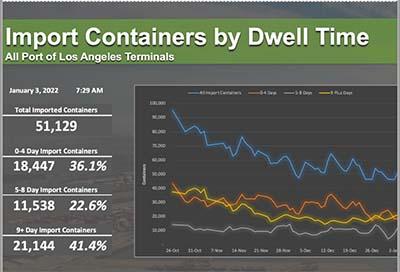 Leading up to Halloween there was a Murdoch Fox News implied Biden pumpkin shortage. Leading up to Thanksgiving there was a Murdoch NY Post implied Biden turkey shortage. And leading up to Christmas there was a Biden evergreen shortage. Fox News snake oil salespeople 'Lyin' Laura Ingraham, 'Hyperventillating" Hannity and the Baby Faced Tucker Carlson all hyped the shortages, induced people to buy early and pay more and ... lo and behold there weren't any shortages, and in fact based on my anecdotal observations, actually an overstock as quite a number of people actually believed those reports, bought early and paid more which left a significant supply of unused turkeys and trees when the holidays finally passed.
In the graphic at right you can see how the backlog at the Port of Los Angeles fell from its heights in mid October 2021, to more manageable levels by the end of the year. And while the backlog persists, good old fashioned Yankee ingenuity is addressing the problem. The doomsday hype has disappeared, and the remnants of the problem are also expected to disappear - more or less - by mid 2022.
But CoVid impacts on labor and Climate Change disruptions on natural products are likely to persist in disrupting commerce in ways we didn't consider prepandemic, so we're living in a new normal - but the doomsday hype was, for my money, done not to inform, but to alarm audiences so they would tune back into the TV news to follow the fictious fear mongering. Beware the tale of the 90 year old Boy Who Called Wolf.
Did you Hear of, or Experience, any Extraordinary Holiday Supply Chain Shortages?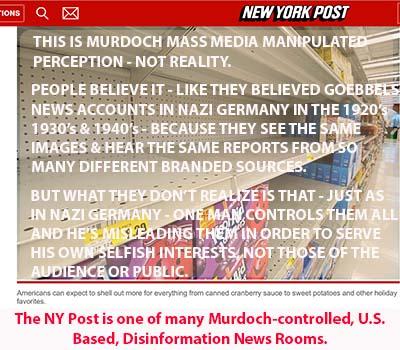 I venture to guess what your answer is to the question in the headline above ... NO.
So think about that. Don't let them off the hook. TV News provided bad information. Expand your patronage of other information sources.
No, we haven't heard a thing about supply chain shortages since the holidays hit, because there likely weren't any. At least none that were highly unusual. This excludes the anomaly, because every year some hot toy or game console experiences a run / out of stock because of incredibly high demand.
I'm pretty sure that the photo at right was taken during the pandemic, not this fall. It's another example of how Murdoch mass media uses its influence to deceive voters about what is what and who is who, so Murdoch can continue to enrich and empower himself at the public expense. Murdoch has long denied this charge, but the 'circumstantial evidence' seems incontrovertible.
Perception Versus Reality
Fox, WSJ, NY Post & Increasingly ABC vs NBC, CBS, NPR, NYT & Washington Post
The Cliff Notes Version of the Real Supply Chain Shortage
This is not to deny that there weren't supply chain shortage issues that emerged as we began to come out of the pandemic. The most notable was the backlog in shipping at our western ports, most notably Long Beach and Los Angeles where about 40% of imports arrive.
I'll give you the Cliff Notes on America's Supply Chain Crisis of 2021. American purchases of goods rose in 2020 because of excess cash available to American households because Americans weren't spending on travel, liesure, dining and the like. So that money went into making life at home during lockdown better, by purchasing all kinds of goods. Many of those goods come from China, India and other Asian nations, so a backlog built up at our western ports. There were other things driving this, like labor shortages due to the pandemic, and other natural goods shortages due to climate change, but the primary disruption was at those two California ports which saw a jump of 18% in the goods coming through those two ports in 2021 which were already operating at a high capacity, given their labor, space and transportation configurations.
President Biden got involved in helping sort through the supply chain crisis, as things were building up, which was right around the time the Afghanistan withdrawal was peaking. The first thing he did is change the port operating hours from closed weekends and nights, to open 24/7 like the rest of the world. The next thing he did was threaten transporters with a fee for not moving containers through the port in a timely fashion. The threat alone reduced the time by about 40%, so it remained a threat - I think even to this day since it had done it's job which was to get transporters moving their wares out of the port.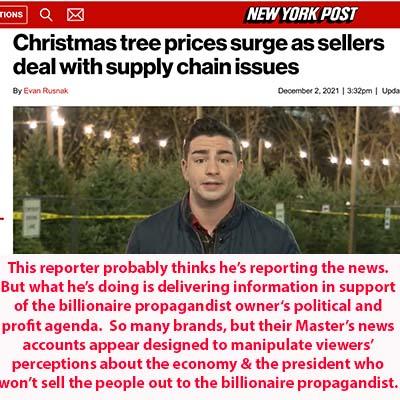 Another improvement was to leverage technology for queuing up the ships, by having them log into a system to mark their place in line to enter the port, while showing their position. In this manner ships which once raced across the Pacific only to wait in line, could now mark a spot and not waste fuel racing across the Pacific only to wait in line.
There was also a shortage of warehouse space for incoming goods and empty containers. This was partially solved by making short term investments in nearby warehouse rentals, but there's ongoing work to do. And then lastly, a shortage of port laborers and truck drivers to move all the goods through the port and into the nation, which is still being worked on.
Biden isn't God. He's not the King. He's not the Dictator like Putin and Xi Jinping. He's the President. And so far, Murdoch's constant mass media attacks aside, he seems like a very competent one. But Biden is being hammered daily, by Murdoch's overwhelming share of nationally branded daily news media in this country, so that come 2024 another Murdoch puppet can be installed. The installation of Murdoch promoted and influenced puppets has largely been the case in both Australia and Britain for decades.
In the two graphics above, you can see how Murdoch's mass media outlets [NY Post] are trying to tie inflation to the supply chain crisis - both of which they are laying at the feet of President Biden. Given Murdoch controls an overwhelming share [in multiple categories approaching half] of the nationally branded daily news media, his hyping inflation - like his hyping the 'stop the steal' and 'rigged voting machines' - might be, in part, responsible for it.
Post Holiday Fear Mongering, the WSJ Reports Supply Chain Crisis is Nearly Over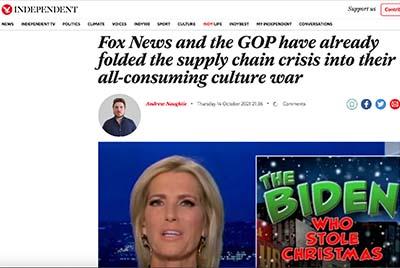 By the New Year, the billionaire's propaganda machine had done it's work. They had imprinted upon the American public the impression of a failed economy, failed supply chain - and by implication a failed Biden Administration. The Wall St Journal pronounces the patient, meaning the American supply chain and economy, in relatively good condition, and the American supply chain and economy should be back to normal in the next three to six months - in spite of Omicron.
In the graphic at right, you can see how Murdoch - like Goebbels and Hitler - uses b.s. culture wars to manipulate unsuspecting Americans to fight against their own interests, because Murdoch's mendacious minions have convinced their veiwers to believe what they see and hear on the Murdoch propaganda machine - which often enough is far, far away from the truth. As you can see, the Independent, a British newspaper, calls out Murdoch's Fox News for using the culture wars to manipulate their audiences' perspective on events, in order to influence voting outcomes at the polls that favor the propagandist billionaire's interests - NOT the interests of the people whose views of events that they are manipulating.
Murdoch Media Corruption in NYC - Apparent Quid Pro Quos with Rudy Giuliani?
Americans see and hear this information on multiple Murdoch news outlets and thus believe that if so many outlets and pundits are saying the same thing - it must be true.
What members of these audiences fail to recognize, is that Murdoch controls so many of the media outlets, and he pays the pundits who he reportedly fires if they don't put out the sorts of narratives that reflect what Murdoch wants his audiences to believe - regardless of the truth.
Murdoch also pressures the pols he promotes, like Rudy Giuliani, to achieve his same ends. The pols get plenty of free publicity, book deals, media jobs and what not and Murdoch appears to be given access to take from the public purse and domain whatever he wants that can be spun with multi-media optics.
Giuliani illegally provided Murdoch with the use of the NYC public access channel in the 1990's, while Murdoch was in a dispute with Time Warner Cable in NYC. Reportedly, after a judge struck down Giuliani's patronage, Giuliani then threatened to revoke Time Warner's cable franchise in NYC which would have disrupted a pending merger of Time Warner and Turner Cable in the city (also required city approval). Murdoch's company also was given NYC police protection during a labor dispute, and a $20 million tax break when it moved its headquarters into Midtown in the 1990's shortly after Giuliani took office.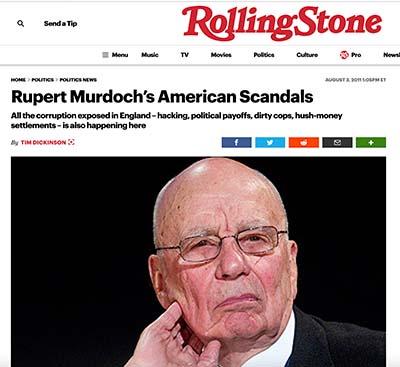 Giuliani on the other hand, received the endorsement and editorial support of Murdoch's NY Post, along with favorable coverage by Fox News during his administration and campaigns. According to a study done by University of Southern California researchers, there was not a single negative editorial attacking Rudy Giuliani during his entire eight years in office. And to sweeten things even further, Murdoch gave Giuliani's wife, Donna Hanover, a job at a salary triple to quadruple what she last made in a similar position. This new position also enabled her to obtain access to other opportunities to make additional income by leveraging her new position at Fox TV.
Joseph Goebbels and Adolph Hitler were the first to use mass media to manipulate entire societies by using the technology of their day - which encompassed newspapers, radio and film - coupled with sophisticated use of manipulative psychology. Murdoch has finessed the deceptive dark arts and made far more clever use of it. But the colossal destruction, that the inherent evil and deceit that propaganda wreaks on civil society, is the same. The only question is how far will it go before civil society breaks down.
This is the question we face in the new year and in our time.
Murdoch's Disinformation News Rooms have Succeeded in Doing Their Work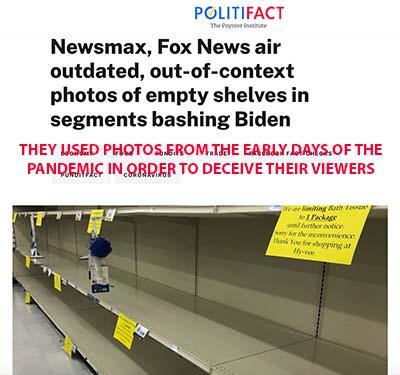 But here's how propaganda works. Murdoch's mass media has left this imprint in tens of millions of Americans' minds that will lie dormant there until Murdoch's mendacious minions - like hypnotists - ask the patient to recall their deceptions about the supply chain, the failed economy and by implication the failed Biden presidency, as if these deceptions by Murdoch's mass media were real. This enables the Murdoch propaganda machine to leverage its planted perceptions, deceptions, misconceptions going forward. And because unsuspecting Americans hear and see this information on multiple [unknown to them - Murdoch controlled] branded sources - they believe it. This is what Goebbels and Hitler did in Germany in the 1920's, 1930's & 1940's.
As Goebbels and Hitler used to like to say, "If you repeat a lie often enough, it will be believed."
The Wall St Journal didn't just deliver the news, they also delivered propagandistic distortions, labels and emotional angst with that news. As did other Murdoch news outlets like Fox and the NY Post as you can see by some of the images included with this report. Murdoch's Fox News, WSJ, NY Post and increasingly ABC News appear to have been used the supply chain disruption to fuel angst leading into the holidays, hype fear of inflation and undermine President Biden because Biden won't cave into billionaire Rupert Murdoch's wishes - so Murdoch mass media attack him EVERY DAY. That's not delivering the news, that's delivering Goebbels' Nazi style propaganda.
A Post Truth World is a Pre Fascism World
Dishonest Murdoch Media Distortions Appear Designed to Deceive Murdoch Media Audiences, so They Will Make Decisions Using Murdoch's Distorted and Deceptive Propaganda Machine Information - which is Falsified like the Image Above
Murdoch Media, oftentimes Hypes Freedom & Yet the Hypocrites are Stealing Americans' Freedom to Make Their Own Choices, by Stacking the Deck using Dishonest, Deceptive Information which Favors Murdoch's Interests - Not Those of his Audiences
In the graphic above right, you can see a photo from the pandemic used this year to bash Biden regarding the supply chain problems in the country. A PolitiFact report on October 22, 2021 shows the above AP photo which they tracked and noted as follows,
"... Bath tissue shelves were empty at a Hy-Vee supermarket in Omaha, Neb., on March 15, 2020. Fox News aired the same photo during an Oct. 19, 2021, segment and represented it as though it were a current image. (AP) ..."
Timothy Snyder, a professor of History at Yale, discusses the importance of truth to maintaining an honest conversation in our democracy, and wrote in the book that,
" ... Post-truth is pre-fascism [and] ... To abandon facts is to abandon freedom..."
This is because if you let people lie to you and deceive you - they are taking away your right to make up your own mind. They are taking away your FREEDOM OF CHOICE.
Murdoch does this far, far, far too often.
He did it with the voting machines, for which he's now being sued.
Murdoch is One of the Largest Shareholders of Disney / ABC & He Seems to be Infecting ABC News Programs via Personnel Changes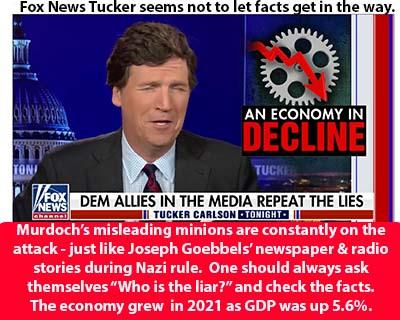 And this is where I return to ABC News and This Week with George Stephanopolous. On Sunday, January 2, 2022 Stephanopolous took a look at the Capitol Riot or Insurrection on This Week which is an ABC Sunday news program. Prior to the discussion, they aired a prepared video which showed some footage of the insurrection and also of the hearings currently underway in Congress in the Capitol. In those hearings Republican Congresswoman Liz Cheney talked about how Trump knew what was going on by virtue of electonic media messages sent to Trump's by his family and the propagandists on Fox News.
And just as the Wall Street Journal continued propopagandistic publication of the Afghan Withdrawal video for over three months after it happened [see November 2021 Thanksgiving OpEd] - ABC News OMITTED the fact that a number of high profile FOX NEWS people were some of the people involved in telling Trump to do something to stop the attempted coup on January 6, 2021. That, my friends, is slick propaganda, and likely done by an unaware George Stephanopolous. That they can slide this by Stephanopolous, shows that he's either already compromised, or that TV newspeople like him are more clueless about what's happening in this nation, than we'd like to think. But the on air folks sure do dress well, and they are good at enunciating all of their syllables.
In the graphic at right, the Baby Faced Tucker Carlson twists and turns the truth upside down, in very slick manipulative pieces that omit key facts, rearrange the chronology of video, twist a selective use of the facts into a truth bending kaleidoscope, that turns the truth upside down, and sends his audience off all fired up, on an emotional bender, determined to work hard against the very pols who are working in their interest - but not in the interests of multi-millionaire Carlson, nor his billionaire boss, Rupert Murdoch. By the way the U.S. economy is expected to have grown between 5% - 6% in 2021, versus a decline of 3.4% in 2020 [Trump's last year in office].
Murdoch Appears to use the Wall St Journal & ABC News for Mass Manipulation
See report we did on September 7, 2021 about a Wall St Journal report about the Biden led American withdrawal from Afghanistan and how the WSJ seemed to act as a propaganda outlet in covering that story by setting a disinformative narrative, and how many of the other very lazy national broadcast outlets again, failed MISERABLY, to carve out their own narrative and put the American withdrawal from Afghanistan in context for their audiences. Also see a November 24, 2021 Thanksgiving OpEd we did showing how the WSJ ran a video on the front page of their website from August through November of Biden's worst day in office, as if it were that day. This is incredibly dishonest, especially for a newspaper with such wide readership and once of some renown.
I suggest that readers switch to Bloomberg, or the Financial Times or some other financial information source other than the Wall St. Journal for their financial information, as Murdoch's minions at that outlet appear to be increasingly using their platform to disinform the public to meet their billionaire boss's political, profit and power accumulation objectives. Or, if not a complete switch away from the WSJ, then at the very least, be sure to use other - non Murdoch information outlets.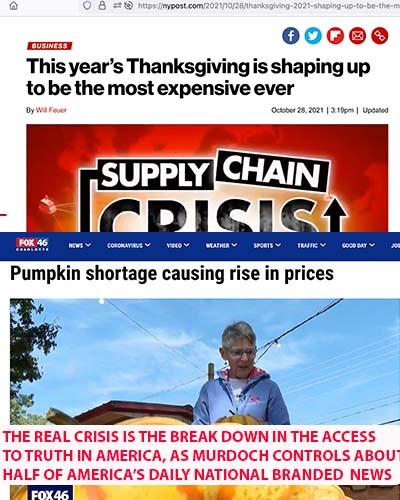 It's worth mentioning that Murdoch controls a near monopoly share of traditional media in Australia, and an overwhelming share of media in Britain, so if you think you're getting your information from an objective or reliable source out of Australia or Britain, think again. Go to Google / MSN / Wikipedia to find out who owns / controls the media outlets you use, so you understand who is providing you with your information. These days, far too many once respected brands, are increasingly being acquired by very wealthy individuals or investment funds, and they likely didn't buy them to pursue excellence in journalism.
May I suggest that one of your new year resolutions be to continually seek out news sources that are reliable, analytical and research-driven in order to stay informed?
The graphics at right should be easy to recall, while at the same time falling flat on their faces with respect to ringing true. Most of the graphics included in this report, are from or about Murdoch controlled media, including Fox News, the NY Post and the Wall St Journal.
With so many different brands and pundits all saying nearly the exact same thing, one must ask themselves whether it is true, or the work of dictator-like billionaire Rupert Murdoch and his American news branded propaganda.
New Year Resolutions for Journalists & Media Professionals & Government Officials
And my new year resolution suggestion to the non-Murdoch nationally branded daily news media, is to wake up and start doing your jobs, which is to do your own research and carve out your own narratives - not parrot what Murdoch's overwhelming share of nationally branded daily news outlets are saying.
Sometimes, the late night comedy talk show hosts [Stephen Colbert on CBS, Jimmy Kimmel on ABC (beware insidious Murdoch influenced changes) and Seth Meyers on NBC] do a better job of explaining what's going on in this nation, than the TV networks nightly news does. Unfortunately, just as was done in Australia and in Britain over the past five to six decades, non-Murdoch journalists are ignoring the 800 lb. gorilla in the room who (in Australia and Britain) now eats their lunch daily and leaving only the crumbs behind.
How any journalist [and for that matter non-Murdoch pols] can talk about almost any large national issue, or significant national government official, without talking about the incredible influence and manipulated perceptions wielded by Murdoch's overwhelming share of American mass media on voters' perception of such, is beyond me. And real journalists would help their audiences connect the dots of Murdoch's mass media manipulation machine, by properly labeling them Murdoch's Fox News, Murdoch's NY Post, Murdoch's Wall St. Journal and Murdoch's ABC News, so that when the viewing public is ingesting Murdoch's manipulated news accounts, at least they'll have some chance over time to begin to realize that these disseminated narratives and propagandistic perceptions, are all emanating from the same source. And lastly, quit using a sledge hammer, when a scalpel is needed. By this I mean, quit saying that what Murdoch is saying is the 'conservative press', because in doing so you're empowering him. Call it what it is - the Murdoch press, because he's not necessarily conservative, on most days it seems he would easily trade ideology for the things he wants from the pols he promotes to government positions.
Have a Happy New Year.
---
Omicron, CoVid, Omicron, CoVid ... STOP
NYC News Update With as little CoVid Omicron Specific Info as Possible
This Report includes the Over Hyped 'Supply Chain Xmas Tree Shortage', Broadway Show Cancellations & Postponements & Economic Impact, MTA Subway Trains & Airline Flights Cancellations due to Staffing Outages, the Tug of War between Office Workers & their Companies, JFK getting New Terminals & Staten Island getting New Ferries
December 27, 2021 / NYC Neighborhoods / NYC Things To Do Events / News Analysis & Opinion / Gotham Buzz NYC.
Weather. Temperature highs are between 40 and 50 degrees each day, and the lows are about 40 each day. Humidity will be between 60% - 80% all week. And the wind will be fairly steady at 5 - 10 mph daily. There's a chance of showers around 8 pm tonight and a chance of a tenth inch of rain on each day - Tuesday, Wednesday and Thursday. Given the low amount of precipitation and that it's spread out over the entire day, each day, I'd say your chances of getting very wet are pretty slim.
CoVid, CoVid, CoVid ... How We Moved Beyond it as a Conversation Centerpiece at an Xmas Party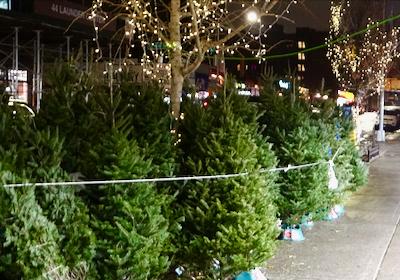 So I attended a Christmas party a couple of weekends ago, and at one point someone asked is there anything else to talk about besides CoVid? This was near the end of the party, so there were only about a dozen of us there. So, someone asked, how about those Nets? And of course, Kylie Irving soon came up, and his anti-vax stance on CoVid, and that the Nets had to postpone a number of games because of ... CoVid.
Someone else asked, whose traveling for the holidays? As you can imagine, it wasn't long before CoVid came up and how it was going to affect everyones' holiday travel plans. Another asked, whether people were going to see their kids over the holidays. And of course, the discussion about vaccinations, testing and masks ensued. And then someone asked about gifts being given this season, and eventually the impact of CoVid on shipping and supply chain ensued. How about going out to dinner ... and so forth.
Actually, it turned out to be kind of funny, in an ironic sort of way, as the pandemic was still touching most parts of people's lives.
But the good news is that we eventually did move on past CoVid. Onto what? Well that's personal and thus not going to be shared here publicly, but we did eventually make it past the CoVid goal line ... but it wasn't as easy as one would think it should have been.
So the rest of this report is going to be about other things affecting our life, but recognizing that the pandemic and our community health affects just about everything else.
How Real was the TV News Hyped Supply Chain & Xmas Tree Shortage?
Retail Sales Hit a Level Not seen in 17 Years in Spite of "No Supply"?
How is it that network TV news, still a primary source of information in this nation - and the only source by many of the uneducated - can get a story so wrong? For months they've been hyping the SUPPLY CHAIN SHORTAGE, SUPPLY CHAIN SHORTAGE, SUPPLY CHAIN SHORTAGE. I've seen little on TV news saying anything else to the contrary, and yet somehow, retailers magically had the best holiday sales season in 17 years, with department store sales up 21% [that's huge] and online sales up 8% [also very solid performance].
Did retailers MAGICALLY turn in their best performance in 17 years without any inventory? Come on.
People need to start questioning the information they get on TV, because too often, it's so distorted in order to generate an emotional or fearful response that's good for ratings and profit - but not in the public interest.
A December 26, 2021 report in Politico provided the following update on retail sales,
"... By category, clothing rose 47%, jewelry 32%, electronics 16%. Online sales were up 11% from a year ago and 61% from 2019. Department stores registered a 21% increase over 2020 ..."
In that report they dutifully cite inflation, ongoing CoVid and supply chain shortages. Based on what I've been observing of the reporting in our fair nation, a lot of what is reported is repeating what others have said, without questioning or second sourcing it. So, since Politico did not cite any specific product shortages, they probably dutifully repeated what they heard on TV news, even though based on my own observations [recognizing this is a limited sample size and therefore not representative of NYC or the U.S] - while there may be some things in short supply as there are nearly every year - there weren't the massive out of stocks one might have believed there would be, if they had watched Fox News.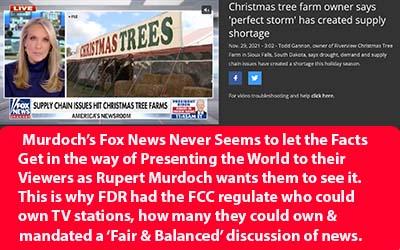 I ask Fox News, what happened to the Great Christmas tree shortage of 2021? Somone burned down the one in front of the propaganda machine headquarters, and they had one up the next day in spite of the incredible shortages they were telling their audiences existed. And I walked the streets of NYC in the weeks before Christmas, including just days before the holiday, and there were PLENTY OF TREES to be had AT DISCOUNT PRICES shortly before the holiday. Please note the Christmas trees I easily found in the photo above, in the week before Christmas, and I have plenty of other photos from different locations, showing the same.
W.C. Fields used to say that, "There's a sucker born every fifteen minutes and two to take 'em". Fox News seems willing to hype any and every sort of fear mongering story they can, in order to keep their audience tuned in for the latest fake news, which is a great generator of ratings and profit.
I know there are some real supply chain shortages, mostly having to do with semiconductors, but TV news fails to meaningfully articulate what problems are or are not, and they do a horrible job of providing much needed context.
Tons of Broadway Shows Postponed or Cancelled - More than One for Good
According to a December 22, 2021 Broadway News report, Broadway is facing significant challenges as the new Omicron variant dampens theater going attendance and causes cancellations due to infections. They tell us,
" ... [This past week] the industry grossed $22.5 million across 31 shows, marking the third lowest gross on record for the season. The comparative week in 2019, which had 34 productions running, saw a total gross of $40.6 million. However, industrywide attendance stayed somewhat stable, with theaters collectively reporting an 82.6% capacity ..."
Broadway News noted that long lasting shows will survive the pandemic, but new shows face even more daunting challenges in trying to establish themselves.
This is a snapshot in time of what's been cancelled according to reports from Broadway World. This information could change before I post this, so if you're planning to attend a Broadway Show, check the theater site before heading to the show. And if you're looking for shows to attend Broadway World is a good source of updated information on what's on and off and they have links to tickets.
So this is a December 27, 2021 Broadway World list of Broadway show cancellations beginning just prior to Christmas.
"... 12.23 Winnie the Pooh and Santa's Sing-A-Long cancel. Romeo and Bernadette and Cat on a Hot Tin Roof postponed, Moulin Rouge cancels through Xmas and also cancels Monday night 12.27. Ain't Too Proud cancels 12.27. Waitress won't reopen on Broadway - last show 12.20.21. Thoughts of a Colored Man ends Broadway Run. West Bank Cafe and Laurie Beechman Theatre close through January 11, 2022. Hamilton extends closure through 12.27. Flying Over Sunset cancels additional shows and plans return on 12.28. Twas the Night Before Xmas by Cirque du Soleil cancels rest of run. Music Man cancels Staturday evening and Sunday morning 12.25 & 12.26. Tina to resume on 12.26. To Kill a Mockingbird cancels Christmas Day performance and Sunday 12.26 matinee shows, but resumes Sunday evening 12.26. Company cancels Sunday 12.26 shows. Lion King cancelled through 12.26. Alladin extends cancellation through Tuesday 12.28.21..." Editor's Note - I inserted the dates.
Some of the Broadway shows have been able to continue using back up talent to fill in for those who've tested positive for CoVid, and there was some other illness that affected at least one of the shows that was not CoVid.
MTA Cuts Subway Trains This Week & Airlines Cut Flights due to Staffing Shortages
The MTA is cutting trains from its service this week through Thursday. The number of trains being cut was unspecified, and the reason was said to be staffers calling in sick citing Omicron CoVid as the reason. So if you're using MTA buses and subways this week, you might have a bit longer to wait than normal.
The MTA service reduction, while something of an inconvenience, will have nowhere near the impact that the flight cancellations had on folks' holiday travel plans. The major airlines serving NYC all announced sigificant flight reductions, meaning those remaining flights were probably as jam packed as they were prepandemic. The reason cited for the flight reductions included weather, but was primarily CoVid sickness call outs.
Air travel this holiday season is up somewhere between 25% - 50% over last year. According to a December 25, 2021 CBS News report, air passengers this season are expected to include an estimated 30 million people between December 23, 2021 and January 3, 2022. This is still a third below the pre-pandemic level of the holiday season in 2019 of 44 million passengers. A sizeable portion of this reduction is attributed to a significant decline [50% - 60% reduction vs prepandemic levels] in international travel.
It's worth noting that the Christmas / New Years travel fell below how well the airlines did over the Thanksgiving holiday, when according to a November 29, 2021 CNBC report airline travel came within 15% of the 2019 prepandemic Thanksgiving travel season. Naturally it's likely most of the Christmas / New Year airline travel shortfall was due to caution on the part of travelers, in the wake of the Omicron outbreak.
AAA estimates that some 109 million Americans will travel by auto over 50 miles this holiday season and another 3 million by bus, train or ship. In 2019 that figure was 119 million and in 2020 it was 82 million, so it's up significantly, but still below prepandemic travel during the same period. I reckon we're normalizing, which seems like it's going to be living with CoVid around indefinitely.
Conundrums - Will Workers Return to the Offices in Manhattan?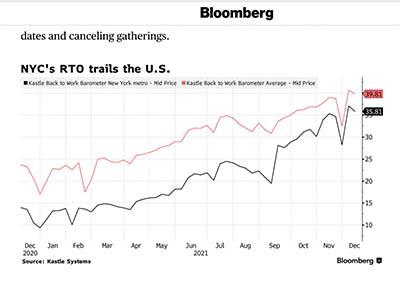 According to a November 10, 2021 Spectrum News report, office workers aren't planning on returning to full time office work any time soon. They tell us that according to a poll conducted by the business group, Partnership for New York City, more than 50% of office workers will NOT be back in the office by January.
The survey found that,
" ... the real estate industry ... had the highest in-person office attendance — 77% — of the industries surveyed as of last month [October]. Financial service companies and law firms tied for the second-highest in-person office attendance, with 27% each, according to the release.  Law stood at 10%, media at 7%, consulting at 5%, tech at 4% and accounting at 4%, the survey found..."
In the chart at right you can see that not just NYC, but also in the rest of the U.S., office workers have been slow to return to the office. About 30% - 40% have returned, and the more than other half don't look too eager to return.
A new book entitled, Out of Office, explores the resistance to returning to the office by highly educated, highly skilled people who are generally able to perform their work requirements remotely, by telecommuting. The book explores the social and demographic factors that led to the current office configuration, like two parent families where one spouse stayed home as a full time caregiver to the kids and the 9 am - 5 pm office day. They depict the current environment as a male and white dominated paradigm, which they predict won't fully survive the pandemic, as workers feel empowered to ask for lifestyle concessions in the current economic climate. They also describe those favoring the current configuration as older, while younger people want more options and flexibility.
They also ponder whether the new configuration will lead to even more encroachment into one's personal life or less. And ask the question whether it is more important to have someone log x [more] number of hours which may not be productive versus logging y [less] number of hours which may be more productive.
JFK Terminals 1 & 4 to be Upgraded & Three New Staten Island Ferries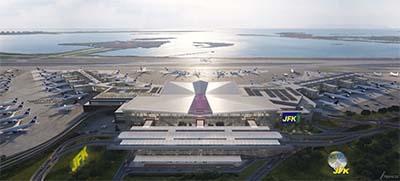 In mid December [13th & 15th to be exact] Governor Hochul announced $11 billion of investments in JFK Airport in Queens. Most of it [$9.5 billion] will be directed toward the upgrade of Terminal One into a state of the art international facility adding 23 new gates. The remainder funding [$1.5 billion] will be directed toward upgrading Terminal Four by adding ten domestic gates to the terminal. The projects are expected to begin in 2022 and be completed by 2026, replacing the existing terminals one, two and three.
And lastly, the second of three new Staten Island Ferries is expected to be launched in January of 2022. The first of the new ferries was launched in October of 2021, while the third is expected sometime in 2022. It's also worth mentioning that a paid service is available for a faster ride to Manhattan, with two stops - the second at Hudson Yard.
The rendition of planned Terminal 4 at JFK, above right, was made available by the NYS Governor Hochul's Office.
Have a good week.
---
New Years Eve Parties & Events in NYC 2021 / 2022
It Seems a Mostly Normalized Holiday as of this Writing, but Requiring a few Adjustments
December 15, 2021 / NYC Neighborhoods / NYC Things To Do Events / Gotham Buzz NYC.
Weather Forecast for New Years Eve. It's still a bit early to obtain a reliable weather forecast for New Years Eve, which is over two weeks away. But since that doesn't stop the TV weather people from making forecasts, I won't let it stop me. Using the Wednesday before New Years Eve as a benchmark, it looks like the temperature high will be just below 40 and the temperature low will be just below 30. No rain is forecast, winds will be about 10 mph and humidity will likely be on the lower side.
Here are links to some New Years Eve parties and events planned around the five boroughs. These pages are mostly done and we will finish updating them a bit later in the week.
Bronx New Years Eve Parties and Events 2021 NYC
Brooklyn New Years Eve Parties and Events 2021 NYC
Manhattan New Years Eve Parties and Events 2021 NYC
Queens New Years Eve Parties & Events 2021 NYC
Staten Island New Years Eve Parties and Events NYC
Enjoy.
---
Omicron Sweeps NYC & the Rest of the U.S.
NYS Hit its Highest Number of New Cases Friday 12.17.21, Omicron Now Dominant Strain in America [73%], Breakthrough Infections & Need for Boosters, Multiple Measures of Vaccine Effectiveness, NYS Governor Hochul Foreshadows Change to Definition of Fully Vaccinated Likely Coming Soon, NYC Mayor de Blasio Offers $100 to those who Boost Before Year End, False Positives Coming from Some Testing Kits, Hospitalizations Trending Toward Younger Age Groups & Kids Getting Infected at Higher Rates
It's Not the Omicron Virus that is Dividing Us. It's the Manipulative Murdoch Mass Media, that Continually Misinforms its Audiences. The Highly Paid Propagandists do This in Order Enrich Themselves & Empower the 90 Year Old Multi-Billionaire by Undermining the Government Officials who Won't Give Rupert what he wants out of the Public Purse & Domain
December 20, 2021 / NYC Neighborhoods / NYC Things To Do Events / News Analysis & Opinion / Gotham Buzz NYC.
So the Omicron variant represents the third wave of Corona Virus sweeping the land. First it was the original CoVid 19, then the Delta variant and now Omicron.
The Omicon variant spreads far more easily and hence far faster than the prior two variants, which spread around the globe in a matter of months. Omicron is beating them hands down in terms of spreading, even in nations that have some good measure of vaccinations - but nowhere near the two thirds plus needed for 'herd immunity'. Reportedly, the Omicron is spreading 2x to 4x faster than the Delta variant which reportedly spread faster [by about 50%] than the original strain of CoVid. As of the last week of testing, Omicron represents 73% of all new cases in the U.S.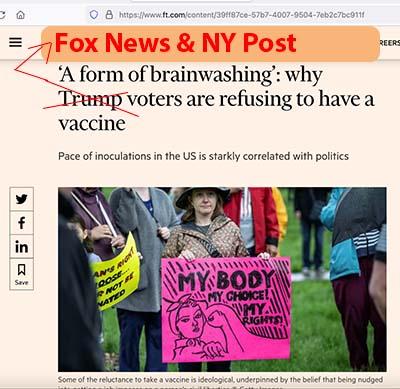 In the graphic at right you see a headline from FT, which is the Financial Times of London, noting how something that should be common sense has become a political hot potato. At the end of this update on the Omicron variant, we'll take a look at how science and the truth are being distorted by millionaires and billionaire(s) in what appears an attempt to manipulate voters perceptions. The goal is to change the perceptions of their viewers enough, so their viewers will vote for the candidates chosen by the propaganda billionaire and his friends. The end game is, of course, getting the billionaire / propaganda machine selected pols into office, so they can fill their pockets with the taxpayers' money, and obtain legislative changes that are anti-democratic.
Oftentimes reports like that found in the Financial Times fail miserably to call out media mogul Rupert Murdoch, who controls an overwhelming share of the daily national news media in the U.S., Britain and Australia. For my money, Murdoch [not Trump] is the root cause of so many of our current problems by virtue of the disinformation he spreads, which is inserted into many of the news reports that his organizations deliver to well over a hundred million people each day. Murdoch hides behind his media brands, propagandists and favored pols, while the other media and government officials seem either: 1) ignorant of his incredible influence on our daily news, and thus a huge swath of American people's views, or 2) are unwilling to do the right thing and call Murdoch out into the open so the public can get a closer look at who's dominating the national conversation.
The last point made is an important one for the Smartmatic and Dominion Voting Systems lawsuits [more on this below]. My advice to their attorneys, is to hire a great public relations firm to publicize the hell out of each case, making damned sure to include Keith Rupert Murdoch in EVERY news release / update as the slithery Murdoch - like Voldemort in Harry Potter - doesn't like the light of day. And then ride the case to the end, because you're in the right, and what you're fighting for is - in part - the heart and soul of America.
NYS Sees its Highest Number of Daily New CoVid Cases Since Pandemic Began
In NYC New Infections Double in 3 Days & in the U.S. Omicron is now 73% of New Cases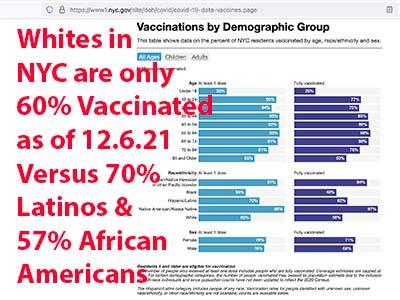 A testament to the Omicron variants transmissibility is that on Friday, December 17, 2021 NYS saw its highest number of new CoVid cases [21,027] in a single day since the pandemic began according to an New York Times report. In NYC the infection rate nearly doubled in just three days, rising from 3.9% to 7.8% from Thursday, December 9 to December 12, 2021 according to a December 16, 2021 NBC report.
I checked the NYC website a couple of weeks ago and found the chart at right, which - to my surprise - showed Whites as the second slowest group to vaccinate. Hispanics were a full ten percentage points ahead of them, and African Americans were only three percentage points behind them. I interpret this as the power of Murdoch's media in NYC as he owns / controls Fox News on WNYW [channel 5], WWOR [channel 9], the NY Post, and the Wall Street Journal.
---
2ND HALF DECEMBER WEEKEND THINGS TO DO NYC
This section contains our Weekend Things To Do reports for the second half of the month of December 2021. Click into this link to see second half of December 2021 weekend reports.
---
1st HALF DECEMBER WEEKEND THINGS TO DO NYC
This section contains our Weekend Things To Do reports for the first half of the month of December 2021. Click into this link to see all November 2021 weekend reports.
---
CoVid Update – Omicron Variant, Vax Updates, Vax Boosters, Vax Kids & Manipulative NYC Based Disinformation Sources
December 6, 2021 / NYC Neighborhoods / NYC Social Issues Health News / News Analysis & Opinion / Gotham Buzz NYC.
The first Omicron virus case was first detected on November 8, 2021 in South Africa.  The first case detected in the U.S. was in San Francisco on November 22, 2021.  Four days later, on November 26, 2021, the World Health Organization [WHO] designated Omicron a CoVid variant [B1.1.529].  As of December 5, 2021 there were eight Omicron cases in NYS, most of which were found in NYC.
Early Precautions in the Face of Omicron's Rapid Spread
On November 26, 2021, President Biden instituted a temporary travel ban on South Africa and neighboring countries including, Botswana, Eswatini, Lesotho, Mozambique, Namibia and Zimbabwe.  He also shortened the CoVid testing time from three to one days, for those traveling internationally. The passenger must test negative for CoVid. And he extended the mask mandate for those using public transit domestically to March 15, 2021.
The reason for taking these early immediate precautions is that the Omicron variant appears to be spreading at twice the rate of the Delta variant, which overwhelmed this nation within about 3 - 4 months [May - August 2021].
The Omicron variant was also detected in Belgium, Hong Kong, Canada, Australia and Israel at the time the news broke regarding the rapid spread of the new variant at the beginning of the Thanksgiving holiday.  As of this writing the Omicron variant has been found in 15 states including, California, Colorado, Connecticut, Hawaii, Maryland, Massachusetts, Minnesota, Missouri, Nebraska, New Jersey, New York, Pennsylvania, Utah, Washington and Wisconsin, according to a Reuters tally on December 5, 2021.
Vaccine Efficacy vis a vis Omicron Variant
The Omicron variant is known to be more transmissible, but it's health impact is still being studied.  Most of those who contracted the Omicron variant had been vaccinated, and hence it is believed that most suffered fairly mild symptoms because they had CoVid antibodies in their systems. By the end of this week [12/10/21] or sometime the following week, early test results on vaccine efficacy vis a vis Omicron are expected.
One health official noted that efficacy isn't measured as a simple yes or no, but rather in degrees.  The strongest efficacy prevents one from catching the virus, the medium measure of efficacy is how troublesome the symptoms - ranging from mild to hospitalization, and the weakest efficacy – meaning no efficacy is death.
CoVid prognosticators believe that the current vaccines will continue to offer some measure of protection / efficacy, but they caution that at some point it may be necessary to create a separate vaccine for new CoVid variants.
---
*** 5 Boros WS Update
NYC Holiday Events in Manhattan, Brooklyn, Queens, the Bronx & Staten Island
Christmas Tree Lightings, Hanukkah Menorah Lightings, Kwanzaa Candle Lightings in Manhattan, Brooklyn, Queens, the Bronx & on Staten Island NYC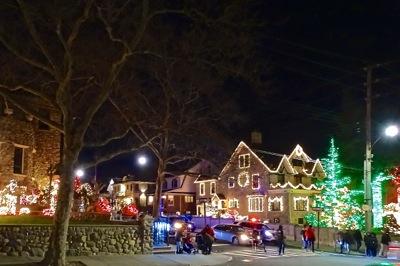 December 1, 2021 / NYC Neighborhoods / NYC Holidays / Gotham Buzz NYC.
NYC Holiday Events in All Five Boroughs of NYC
This section is intended to provide a compendium of a multitude of mostly free holiday communal events in all five boroughs of NYC. This is not an exhaustive list.
The photo at right was taken in the Dyker Heights neighborhood in Brooklyn, which goes all out for the holidays.
For indoor events the NYC COVID protocols remain in effect. Rsvp is recommended.
Click here for Bronx holiday events, Christmas tree lightings, Hanukkah menorah lightings, Kwanzaa candle lightings NYC.
Click here for Brooklyn holiday events, Christmas tree lightings, Hanukkah menorah lightings, Kwanzaa candle lightings NYC.
Click here for Manhattan holiday events, Christmas tree lightings, Hanukkah menorah lightings, Kwanzaa candle lightings NYC.
Click here for Queens holiday events, Christmas tree lightings, Hanukkah menorah lightings, Kwanzaa candle lightings NYC.
Click here for Staten Island holiday events, Christmas tree lightings, Hanukkah menorah lightings, Kwanzaa candle lightings NYC.
Enjoy.
---
NYC Gourmet Shops & Thanksgiving Restaurants in NYC
Shops and Restaurants for Preparing or Eating Thanksgiving Day Dinner in NYC, including Manhattan, Brooklyn, Queens, the Bronx and Staten Island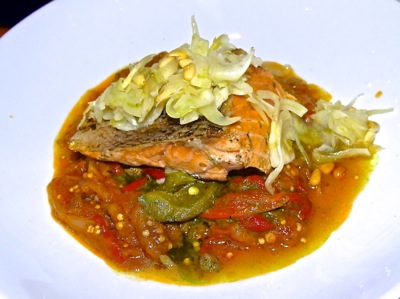 November 16, 2021 / NYC Neighborhoods / NYC Holidays / Gotham Buzz NYC.
The origins of Thanksgiving Day in the United States began with one of America's first settlements, founded by the risk-taking, resource-pooling, hardworking, spiritual community of Pilgrims. The Pilgrims were early English settlers who arrived on American shores in the early 17th century [1600's]. They came here because they wanted a measure of freedom and self-determination that they were forbidden in Europe or what was called the 'old country'. The Pilgrims wanted to practice their faith, unencumbered, in a way that differed from the established Church of England. They pooled their money to obtain a ship, the Mayflower, to cross the Atlantic in mid September of 1620, landing on America's shores at Plymouth Rock in Massachusetts on November 9, 1620.
The Pilgrims Receive Help from the Native People of a Strange Land
Per Wikipedia, the Piligrims survived a hard winter in 1621 with the help of the Wampanoag, an American Indian tribe. The Pilgrims were the immigrants, and the first Americans, the Indian natives, welcomed them. The Wampanaog taught the Pilgrims how to catch eels, and how to grow and harvest corn. Thus the Pilgrims ended 1621 with a good harvest which they celebrated and shared with their new friends, expressing their thanks to a higher power, aka God, for the success of their endeavors.
Thus it was that the first Thanksgiving celebration happened in America. There's some dispute to this account, which we'll address in a future post, near Thanksgiving Day.
Thanksgiving Gourmet Food Stores & Restaurants Open on Thanksgiving Day in NYC
This section is intended to provide a few suggestions for Thanksgiving Day food shopping and a number of restaurants that are open Thanksgiving Day in NYC. This is not meant to be an exhaustive list as there are many other fine NYC shops and restaurants, but for the moment this is what we have to offer.
For shops and restaurants the NYC COVID protocols remain in effect. Rsvp is recommended.
Click here for Thanksgiving Day gourmet specialty food shops, grocery stores and restaurants in Manhattan NYC.
Click here for Thanksgiving Day gourmet food specialty shops, grocery stores, restaurants and communal events in Queens NYC.
Click here for Thanksgiving Day restaurants, gourmet specialty food shops and grocery stores in Brooklyn NYC .
Click here for Thanksgiving Day restaurants, gourmet food shops and grocery stores in the Bronx NYC.
Click here for Thanksgiving Day restaurants, gourmet specialty food shops and grocery stores on Staten Island NYC.
Enjoy.
---
Holiday Markets in All Five Boros of NYC 2021
Things aren't yet back to Normal, as Many Markets Decided to Opt Out
November 8, 2021 / NYC Neighborhoods / NYC Things To Do Events / Gotham Buzz NYC.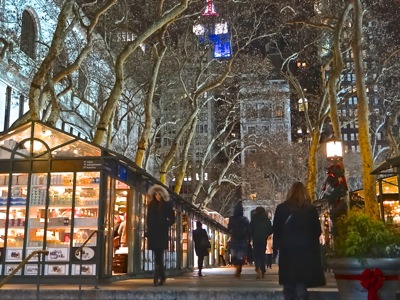 Weather. The temperature highs this week will be in the 60's and the temperature lows will be in the mid 40's to mid 50's. An inch of rain is expected Thursday night / Friday morning - gone by the time the work week is done. Humidity will range from 50% - 80% with Wednesday being the dryest. Winds will be 5 - 15 mph, with the strongest winds on Thursday evening / Friday day.
NYC Holiday Markets Forecast. I think they should be pretty good, as many markets are stocked with locally hand crafted goods. And god knows that folks have had plenty of time to get creative - if so inclined.
Here are links to some holiday markets planned around the five boroughs between now and the end of the year. We will finish updating these pages this week, in as much as we can. And then continue updating as more information becomes available as we navigate our way through the holiday season.
Staten Island Holiday Markets NYC
Enjoy.
---
Eric Adams Wins in Landslide Defeating Sliwa by More than 2:1
Republican Voter Turnout Was Strong on Long Island, but not in NYC
November 3, 2021 / NYC Neighborhoods / NYC Politics & Government / News Analysis & Opinion / Gotham Buzz NYC.
Moderate Democrat Eric Adams sailed to victory Tuesday to become NYC's second African American Mayor. Democrat David Dinkins was the first. With 78% of the precincts reporting Adams won 676,481 votes to Sliwa's 293,127.
Democrat Jumaane Williams was re-elected Public Advocate, garnering 598,810 votes which was nearly 69% of the total, with 93% of the scanners reporting.
Progressive Democrat Brad Lander won the NYC Comptroller position, winning 604,000 of the votes, or 70% of the vote with 93% of the scanners counted.
And Democrat Alvin Bragg won the Manhattan District Attorney office, garnering 183,000 votes or 83% of the total.
Four of the five Borough Presidencies were won by Democrats. In Manhattan Mark Levine handily won the borough presidency with 181,000 votes or 85% of the total, with 93% of scanners counted. In Queens Donovan Richards handily won re-election, winning 160,000 votes or 66% of the total, with 79% of the precincts reporting. In Brooklyn Antonio Reynoso also won handily, winning 217,000 votes or 73% of the total, with 78% of the precincts reporting. In the Bronx Vanessa Gibson took in 80,000 votes which was 80% of the total, with 72% of the precincts reporting.
And on Staten Island, the only Republican to win a Borough Presidency, Vito Fossella, won 60,000 votes or 60% of the total, with 87% of the precincts reporting.
---
---
The Nature of Democracy is Compromise
How Else Would a Majority of 330 Million People Get Agreement on Anything?
September 30, 2021 / NYC Neighborhoods / NYC Politics & Government / News Analysis & Opinion / Gotham Buzz NYC.
There are a couple of important legislative bills being debated in the House and Senate. On the one hand you have the Progressive Caucus threatening to hold, or even kill, the $1 trillion bipartisan infrastructure bill passed in the Senate. And on the other you have a couple of Democratic Senators withholding their votes on passing the $3.5 trillion Build Back Better bill.
Trump left office leaving a multi-trillion dollar deficit in 2020, and the same is expected to occur this year, regardless of the votes on the pending bills. If both bills pass, these huge deficits could spell significant trouble for American business, the economy and the people employed by them by virtue of impacting the trading rate for our currency vis a vis other currencies around the world. The combination of these bills could significantly devalue the purchasing power of the dollar.
If neither bill passes, Biden along with EVERY OTHER Democrat, would be negatively impacted. By possibly failing to pass at least one of the measures, while holding majorities in both chambers, the Democrats would leave themselves wide open to the opposition labeling them "Do Nothing Democrats". And you can be sure that Rupert Murdoch's Fox News, NY Post, Wall St Journal and ABC News would not let that opportunity slip by unheralded, unhyped and unsensationalized by his plethora of putrid propagandists.
There comes a time when one must step back and see the bigger picture. And at present, the bigger picture is that the Democrats can score a BIG WIN, by passing the Infrastructure Bill - as that can be a rallying cry for them in the 2022 midterms and beyond. In passing the Infrastructure Bill, Biden and the Democrats would have accomplished something that President Trump and the Republicans failed to do, with even bigger majorities in both chambers.
It would be very sad, to see the Democrats let this opportunity slip away, because they fail to do what American legislators have done beginning with the inception of the republic - which is to compromise in order to get something done. We are at an important inflection point, voters, so pay heed to who votes which way, so that in 2022 and beyond, you'll know who is so uncompromising, that they will never get anything done.
Senator Bernie Sanders' legislative record is a case in point. In March of 2020, I did a story that, in part, focused on Sanders' legislative record, which was abysmal. Click here for our report on Senator Sanders' legislative record where no legislation of any significance was passed.
I like Bernie, and in 2016 found his candidacy to be of great interest. I think he's an important player in politics in our day, and continues to play an important role in the national conversation. But that said, the reason Biden won out for the presidency, is that Sanders has never achieved anything legislatively. Click here for our report on Senator Sanders' candidacy for president in 2016.
---
Economic Snapshot NYC & US
In spite of Non-Vaxers' Negative Impact on the Recovery, Generally the Economy Appear to be Steadily Improving
September 21, 2021 / NYC Neighborhoods / NYC Business & Economy / News Analysis & Opinion / Gotham Buzz NYC.
It's been a while since I have done an economic update, and as we head into the Fall, it seems a good time to look through the tea leaves to figure out where we are and what risks lie ahead between now and the New Year.
The graph at right, created by the Federal Reserve Bank of St. Louis, shows employment in the U.S. from 1940 to date. To the far right of the graph, you can see the huge dip in employment in the Spring of 2020, as the pandemic hit. Since then U.S. employment has recovered, but not yet completely.
Unemployment Back to Normal Levels & Stimulus Winding Down
Unemployment continues to decline, and the unemployment rate reflects a growing economy and a tight labor market. One debated theory about the tight labor market, is that it was fueled in part by some of the generous government spending programs, designed to cushion folks from the pandemic, which some believed kept workers out of the employment market. As of this posting, we've not seen any good study that proves or disproves that hypothesis. So for now, I recommend you consider that hearsay, at least until you or I find one or more reliable studies that proves or disproves that hypothesis.
In any event, a good measure of both the federal and states stimulus programs have begun to wind down. Beginning in late Spring / early Summer, both states and the federal government began reducing or withdrawing the funding for extra [federal] and extended [states] unemployment benefits.
---
NYC & NYS Continue to Have Lower Murder Rates Than the Rest of the Nation
The Past Couple of Months, NYC Murders have been Below 2019 Levels, and NYC Shootings are Down Double Digits versus 2020, While Gun Arrests Have Doubled vs 2020
August 31, 2021 / NYC Neighborhoods / NYC Crime & Law Enforcement / News Analysis & Opinion / Gotham Buzz NYC.
This is news you're not likely to find in Australian born billionaire Rupert Murdoch's NY Post, Wall St. Journal nor Fox News because it doesn't fit with Murdoch's self-enriching, propagandistic narratives of blaming Democrats for the increase in violent / gun crimes. He appears to use such narratives to get the politicians who will give him tax breaks, and allow him to continue deregulating his industries, so he can make ever more money at the expense of American Democracy.
The NYPD has been working hard to rein in the out-of-control sales and trafficking of guns in the nation, because of the absence of an intelligent debate on national gun control legislation to combat the growing gun violence, and in particular the mass shootings, that started rising again during the Trump Administration and continued rising in the wake of the CoVid pandemic.
Year To Date Murders in NYC are Below the National Average & Have Begun Falling Versus 2020
So we're going to take a look at a number of the NYC crime statistics, and then follow up with an analytical look at some of the issues driving gun related violence, before closing with a look at the distorted, deceitful and destructive coverage provided by Murdoch's Fox News & Propaganda.
As you can see by the chart at right, with the exception of GLA or Grand Larceny Auto and YTD / Year To Date Shootings, all NYC crime is either in the single digits or down, versus last year. It's important to note however, that in July shootings dropped by 35% versus prior year [up 17% YTD], while gun arrests were up 134% versus the prior year [up 68% YTD], so the NYPD continues to make good progress in this regard. And murders were down 49% in July versus prior year and down 10% year to date.
The chart at right shows the NYPD Crime statistics for the month of July 2021 and Year To Date 2021. I have also included comparisons to 2019 as 2020 was an unusual year all the way around - including for NYC crime.
The Iron Pipeline - Interstate 95 - is used to Transport Guns from Primarily Red Republican States with Lax Gun Laws
The graphic at right shows what is called the 'Iron Pipeline' which is Interestate 95 which runs from New York to Florida. This interestate highway is used to transport guns / weapons across state lines from mostly red Republican controlled states with lax gun control laws to blue states that have passed stronger gun control laws.
Once the guns arrive here, they are illegally sold and are the root of the gun violence and murder problem in New York City and New York State. Thankfully, Mayor de Blasio, Commissioner Shea and the NYPD are on top of things, and have been working hard to rein in the problem, even in the absense of national legislative help.
I think President Biden should look into the possibility of using federal powers regulating interstate commerce, to curtail the transport and sale of guns into states that have tighter regulatory frameworks surrounding the sale of murder weapons. And perhaps the district attorneys in our city and state should consider naming the people who sell these guns, as accessories or even accomplices, to the crimes committed with them.
---
Next Gen & CoVid - Still the Talk of the Town
This Report Provides an Update on Why the Downward Trend in CoVid Infections Swung Back Up, the Science Behind the Vaccine Breakthrough Infections, the Lamda & Delta Variants, the Precautionary Wisdom of Continuing to Wear Masks & the Impact of Murdoch Controlled News Outlets Continuous Stream of Mass Media Disinformation
Is it the Patriotic Duty of Every Eligible American to Get Vaccinated?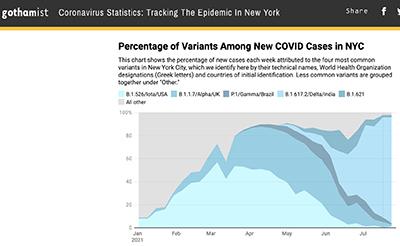 August 9, 2021 / NYC Neighborhoods / NYC during the CoVid Pandemic / News Analysis & Opinion / Gotham Buzz NYC.
I reckon we all wish it weren't so, but CoVid 19 has been resurging with a vengeance these past couple of months, fueled largely by the Delta variant, which at the beginning of May 2021, accounted for less than 10% of U.S. new cases, while today it accounts for more than 90% of all new U.S. CoVid infections. What's most disturbing about this new trend is that even fully vaccinated people can catch the Delta variant, which was largely NOT the case with the original strain [alpha] of CoVid. The infections that are picked up by fully vaccinated people are called 'breakthrough' infections, because they have broken through the immunity protection provided by the vaccines.
In the graphic at right, note the large light blue at the right of the graphic, which denoted the Delta variant of CoVid which grew from almost nothing in May, to almost every new CoVid case in the U.S. in August.
The Delta Variant has Changed So Significantly, Hence the New CoVid Reign of Terror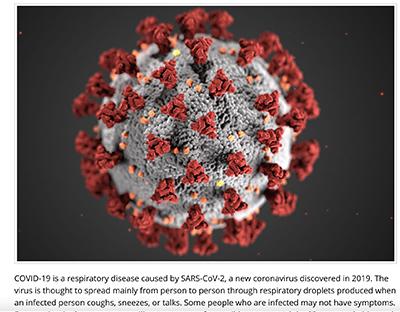 I found a chart that I found of great interest in an August 5, 2021 story in the Gothamist, which was acquired by NPR in 2018. The chart shows how the original CoVid is almost non-existent in the U.S. today, while the Delta variant has risen to represent over 90% of all new cases.
The vaccines were developed to address the original CoVid stain, as the Delta variant - as noted above - didn't become a real factor until about May of this year. Thus, the vaccines efficacy in preventing CoVid has been significantly reduced, but thankfully the vaccines are still very effective in preventing the worst possible outcomes which are hospitalizations and death.
---
A Look Back at the NYC Municipal Primary Election Results of 2021
Females Won Big, But Because of Ranked Choice Voting, the Results Trickled in Over the Past Month, & Real Assessments of the Changed Landscape have yet to Follow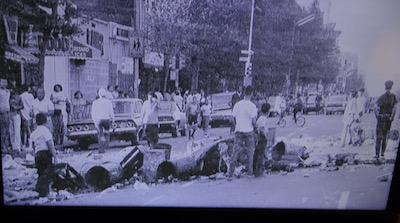 August 3, 2021 / NYC Neighborhoods / NYC Government & Politics / News Analysis & Opinion / Gotham Buzz NYC.
The June 22nd election primary for NYC municipal offices has long passed, but a solid look at the overall results of the election has not yet followed. What I will attempt to do today, is to offer provide a top down summary of the results, along with some interpretation of what this means going forward.
Women Won Big in the New York City Council Democratic Primaries
One of the biggest changes to municipal government likely to occur following the November election is that the NYC Council will move from less than a third women, to over half women for the first time in NYC history. This assumes most or all of the Democrats win their seats in the general election. This usually happens in a heavily blue state like New York, just as Republican primary winners in Alabama become the likely winners of the general election in that heavily red state. Somewhere between 29 and 31 of the Democratic primary winners in the NYC Council races were women out of a 51 member municipal legislative body.
---
CoVid NYC Economic Update
NYC Hotels, Restaurants & Entertainment Continue to Feel the CoVid Pain, Also Real Estate & Construction but Less so, and Things Should Gradually Improve in 2021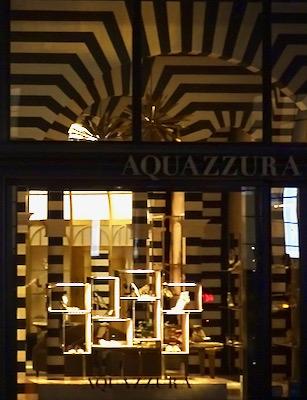 November 16, 2020 / NYC Neighborhoods / Business & Real Estate NYC / News Analysis & Opinion / Gotham Buzz NYC.
CoVid & Donald Continue Raging
So the CoVid pandemic is raging wildly in the nation, while the Demento in the White House is raging with reckless false claims about the 'rigged election'. The Donald also made these same false claims four years ago, when he won the electoral college contest, but failed to win the popular vote.
This time America's biggest loser lost both the electoral college vote contest and popular vote [by nearly six million], but the fraudster President has found his false claims of a stolen election, is a great way to raise funds from our nation's morons, who somehow still believe his lies. As the saying goes,
"We're all born ignorant. But you have to try really, really hard to remain so."
I consider Donald Trump losing the White House, to be the one silver lining coming out of the CoVid pandemic.
Meanwhile back in NYC, we continue to fare far better than the rest of the nation vis a vis CoVid, perhaps having learned our lessons last Spring. When I look at the CoVid map of the United States, I'm beginning to interpret it as a sort of national I.Q. test. Those places where it's raging most - almost a year since the pandora came out of the box - are states with slow learning media, slow learning government officials and slow learning populations. Otherwise, why would CoVid be raging again, after all that we have learned in the past year?
---
---
---
ART
Snug Harbor Fence Show on Staten Island
69th Annual Art Show Organized by the Staten Island Museum
October 1, 2019 / Randall Manor Neighborhood Staten Island / Things to do on Staten Island / Staten Buzz NYC.
I attended the 69th Annual Snug Harbor Fence Show on Staten Island on Saturday. The show included about 150 exhibiting artists, primarily from Staten Island, but also neighboring NYC boroughs and New Jersey. There were food and beverage vendors, an accomplished jazz group - the Musical Chairs Chamber Ensemble - as well as plenty of interesting artworks that ranged from ceramics, to clothing and jewelry, to all sorts of art on canvass and other materials. The crowd the show attracted was also an eclectic group of art lovers, art exhibitors and curious Staten Islanders [it's free admission]. See video to take in a couple of minutes of the ambiance of the show.
---
---
SPORTS
NYC Marathon in Brooklyn Queens Manhattan Bronx Staten Island NYC Marathon 2019
NYC Marathon Coming Through All Five Boroughs
New York Road Runners 49th NYC Marathon on Sunday
October 29, 2019 / NYC Neighborhoods / NYC Government & Politics / Gotham Buzz NYC.
The New York Road Runners / NYRR is hosting its 49th NYC Marathon on Sunday. The NYRR was founded in 1958 and has been organizing the NYC Marathon since 1970. The proceeds from the race go toward the programs of the runner non-profit. They report that the NYRR serves 670,000 people, of which 250,000 are youth, annually.
There are plenty of festivities this week surrounding the affair. Some are held at the NYRR Run Center [NYRR headquarters] at 320 West 57th Street between 8th and 9th Avenues in Manhattan, while others are held at the NYC Marathon Pavilion in Central Park at 67th Street and Central Park West, near the Tavern on the Green in Manhattan.
The other pre-race activities [see location addresses above] include a discussion on Tuesday about the NYC Marathon Book Club from 6 - 8 pm at the NYC Marathon Pavilion. On Wednesday there's a forum of Celebrity Charity Runners who talk about why they are running at the NYC Marathon Pavilion from 7 - 8 pm. On Thursday evening between 6 and 7 pm the NYRR presents the awards for the NYRR Hall of Fame inductees at the NYC Marathon Pavilion. On Friday at the NYRR Run Center there's an NYRR Running History Tour which runs from 10 - 11.30 am.
The pre-race festivities culminate the Saturday evening before the race, when there's an early dinner [3.30 - 8.30 pm] for the runners at the NYC Marathon Pavilion that is prepared by the chefs from Tavern on the Green. They call it the Marathon Eve Dinner. It has a sort of holiday ring to it.
---
---
 RESTAURANTS
Halloween Parties & Events in NYC 2021
Things aren't yet back to Normal, but When was Normal a Part of Halloween?
October 19, 2021 / NYC Neighborhoods / NYC Things To Do Events / Gotham Buzz NYC.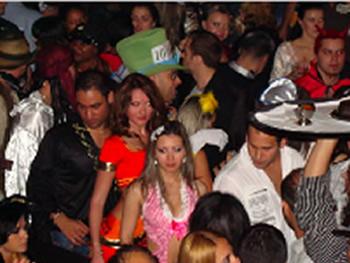 Weather. The temperature highs this week will be in the 70's and the temperature lows will be in the mid to high 50's. No rain is expected, but it will be partly cloudy. Humidity will be on the low side of the 50% - 70% range. And winds will be 5 - 10 mph.
Weather Forecast for Halloween. the current forecast is pretty similar to the forecast above, except there's currently a 30% chance of a small amount of rain and it will be more humid, about in the 70% - 80% range.
Here are links to some Halloween parties and events planned around the five boroughs. We will finish updating these pages this week.
Bronx Halloween Parties and Events NYC
Brooklyn Halloween Parties and Events NYC
Manhattan Halloween Parties and Events NYC
Queens Halloween Parties & Events NYC
Staten Island Halloween Parties and Events NYC
Enjoy.
---
Mothers Day Restaurants in NYC 2021
New York City Restaurants are Ready to Return to Life ... Beginning w/ Mothers Day ... Is This Irony and / or Coincidence?
April 27, 2021 / NYC Neighborhoods / NYC Restaurants / News Analysis & Opinion / Gotham Buzz NYC.
Weather. This forecast was made just shy of two weeks out from Mothers Day. The temperatures will be between 50 and 70 degrees. Right now there's a 24% chance of some precipitation. So, as things currently stand, Mothers Day looks to be alright weather-wise.
We posted a number of different Mothers Day reports, by borough, of a wide range of restaurant suggestions that will be open and ready to accommodate folks on Mothers Day. Take a look.
Bronx Mothers Day 2021 Restaurants
Manhattan Mothers Day 2021 Restaurants
Queens Mothers Day 2021 Restaurants
Brooklyn Mothers Day Restaurants 2021
Staten Island Mothers Day Restaurants 2021
Enjoy.
---
St Pat's Day 2021 - Irish Pubs, Bars & Restaurants in NYC
Most Irish Pubs, Bars & Restaurants We Cover Survived & Are Ready to Party, but Remember Reduced Capacity Seating Offset by Outdoor Seating & CoVid Guidelines Still Apply
March 8, 2021 / NYC Neighborhoods / NYC Irish Pubs Bars & Restaurants / Gotham Buzz NYC.
So We're a bit more than a week away from St. Patrick's Day 2021. It was around this time last year that we were all waking up to a new reality ... the CoVid pandemic. So the Manhattan NYC St. Patrick's Day parade was hugely scaled down ... and again this year. While the other St. Patrick's Day parades were cancelled and this year either cancelled or moved virtual.
But things are looking up. Restaurants and bars are back to indoor dining at 25%, restaurants can stay open until 11 pm and we've all adapted to outdoor dining. The current weather forecast [as of 3/8/21] for St. Patrick's Day calls for temperatures to range from 40 - 50 degrees with a wee bit of rain. So outdoor dining / drinking should be doable.
So we've compiled a set of Irish pubs, bars and restaurants in each borough for you to peruse if you're contemplating going out that day. Please remember, that like New Years Eve, all the amateur drinkers come out including those not Irish, so be careful. Especially because it's likely a lot of folks will become sloppy mask wearers and not keep their social distance and perhaps not be as mindful of hand cleanliness when not imbibing a few drinks.
So enjoy yourself, but responsibly, so we can all move beyond this pandemic.
---
Valentines Day Restaurants in NYC
Updated for CoVid 2021 - If Planning to Dine Out on Valentine's Day Better Get Moving
February 5, 2021 / NYC Restaurants / NYC Neighborhoods / Gotham Buzz NYC.
A week from Sunday is Valentine's Day in NYC. We have nearly completed a round up of a number of restaurants by borough that will be open, offering indoor and outdoor dining on that day.
One thing worth noting is that, because of the limited indoor seating [25% capacity] and the resumption of indoor dining from its hiatus, demand is likely to exceed capacity for a regular old fashioned restaurant experience. In fact a few restaurants we spoke to were already sold out and creating waiting lists.
UPDATE. The restaurants had sold out before the Governor had moved up the resumption of indoor dining from beginning on Valentines Day, February 14th to beginning on Friday, February 12th, so there are likely openings for indoor dining over the weekend - if not on Valentines Day itself.
But so far that hasn't been true of the outdoor option, which might be ok, depending on the weather. Here are links to Valentine's Day dining in NYC by borough. These restaurants have been updated for CoVid in 2021.
Enjoy.
---
---
---
SHOP
NYC Farmers Markets & Street Fairs NYC
Brooklyn, Staten Island Farmers Markets & Street Fairs as Well as Queens, Bronx & Manhattan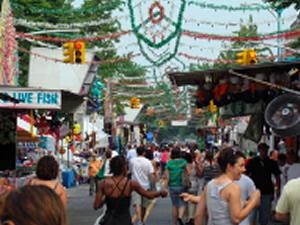 March 23, 2019 / Staten Island Famers Markets / Brooklyn Farmers Markets / Brooklyn Street Fairs / Staten Island St Fairs / Gotham Buzz NYC.
A few Staten Island & Brooklyn farmers markets may be open year round, but most of them are seasonal. Some of the seasonal Staten Island & Brooklyn farmers markets usually begin opening in May, with the rest of them opening in June or no later than the first couple of weeks in July. Click here to view the schedules of many of the farmers markets in Brooklyn and here for the farmers markets in Staten Island.
Staten Island & Brooklyn street fairs, on the other hand, are entirely seasonal. Some of them hit the streets as early as April. The number of Staten Island & Brooklyn street fairs rises during the late spring and continues through the dog days of summer [July / August], including into the late part of the Fall. By late October / the end of November the Staten Island & Brooklyn street fairs go on hiatus, with a few returning as early as April. Click here to view a full schedule of the Brooklyn street fairs and also Staten Island street fairs.
---
NYC Farmers Markets 2021
Year Round Farmers Markets in NYC Continue & New Season Beckons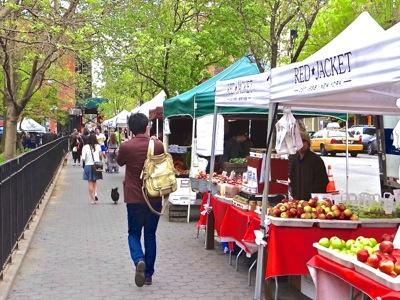 March 5, 2021 / NYC Neighborhoods / Things To Do NYC / Gotham Buzz NYC.
We're only a week away from Daylight Savings Time, when we all spring ahead into longer days, where the sun doesn't depart until around 7 pm.
The J&J vaccine was approved last Saturday, February 27, 2021 and already millions of doses have been distributed. While the vaccine was proven to be somewhere between 72% - 85% effective in providing total protection, it was found to be 100% effective against hospitalizations and deaths.
As the J&J vaccine was tested after the stronger mutating CoVid variants started appearing, the effectiveness percent vis a vis the other vaccines might not be apples to apples. And what's more is that it requires only a single dose, no highly sophisticated storage requirements, and can be quickly manufactured.
So things are looking up. Last year farmers markets were classified as essential businesses and while many remained open, they curtailed hours and some went on hiatus. The following is an update for the 2021 season of NYC farmers markets dates / times and selections. We'll update again as we near the opening of the first wave of seasonal markets in May. In the meantime here's a guide to farmers markets, including those that are open year round, by NYC borough. Remember masks, social distancing and hands washing are required. Enjoy.
Staten Island Farmers Markets NYC
---
Click here for Brooklyn tile stores.
---
---
HOLIDAYS PRDS HOTELS
Columbus Day Weekend Things To Do in NYC
Things To Do in NYC over the Columbus Day Weekend
October 4, 2021 / NYC Neighborhoods / NYC Things To Do Events / Gotham Buzz NYC.
The Columbus Day Weekend is ony a few days away. Although significantly changed from last year, the CoVid Delta variant is still wreaking some havoc, so I thought you might want some time to plan ahead for the long weekend.
Weather. As of October 4, 2021, the Temperature highs will be in the 70's all four days of the long weekend. The temperature lows will be in the low 60's throughout the weekend. There's a 35% chance of a small amount of rain [2/10th's of an inch] between Saturday evening 5 pm and Sunday evening 6 pm. Winds will be about 5 - 10 mph Friday and Monday and between 10 - 15 mph on Saturday and Sunday. The Humidity will be between 65 - 75% on Friday & Saturday, and 70 - 80% on Sunday and Monday.
Click for an update on NYC Weather.
Click here for Things to do Columbus Day Weekend in the Bronx.
Click here for Things to do Columbus Day Weekend in Brooklyn.
Click here for Things to do Columbus Day Weekend in Manhattan.
Click here for Things to do Columbus Day Weekend in Queens.
Click here for Things to do Columbus Day Weekend on Staten Island.
Links to Staten Island & Brooklyn coming Monday night - or more likely - Tuesday 10/5/21.
We'll also have an update with additional events this Friday. Enjoy.
---
Labor Day Weekend Things To Do in NYC
Things To Do in NYC over the Labor Day Weekend
August 17, 2021 / NYC Neighborhoods / NYC Things To Do Events / Gotham Buzz NYC.
I know Labor Day Weekend is fully two weeks away, but given the changed landscape due to the CoVid Delta variant, I thought you might want more time to think about how you're going to spend the weekend.
Labor Day Weekend Forecast as of 8/20/21. It's too early as of this posting, to get an accurate weather forecast. We'll provide an update as we get closer to the Labor Day Weekend.
Click for an update on NYC Weather.
Click here for Things to do Labor Day in the Bronx.
Click here for Things to do Labor Day in Brooklyn.
Click here for Things to do Labor Day in Manhattan.
Click here for Things to do Labor Day in Queens.
Click here for Things to do Labor Day on Staten Island.
We'll also have an update with additional events next weekend. Enjoy.
---
NYC 4th of July Fireworks 2021 Bronx, Brooklyn, Manhattan, Queens & Staten Island
Best Viewing Places / Locations to Watch Fireworks in NYC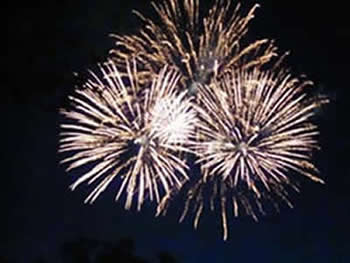 June 28, 2021 / NYC Neighborhoods / Gotham Buzz NYC.
The Macy's 4th of July fireworks will be shown along the East River again this year. They were shown along the East River in 2014 for the first time since 2008. Mayor de Blasio had lobbied the change, which now spans three years.
But the Macy's July 4th fireworks isn't the only fireworks show in town. In the Bronx there's the Independence Day fireworks at Orchard Beach, in Queens there's the Astoria Park fireworks, in Brooklyn there's the Coney Island fireworks and on Staten Island there's the Raritan Bay fireworks. The Raritan Bay fireworks has been put on hiatus because of CoVid and the Orchard Beach fireworks happened last Thursday. But the rest lie before us, as well as the Long Beach fireworks on Long Island.
Click these links for details to July 4th fireworks viewable from each of the boroughs, including some suggestions on from where to best view them.
---
Memorial Day Weekend Things To Do in NYC
Things To Do in NYC over the Memorial Day Weekend
May 21, 2021 / NYC Neighborhoods / NYC Things To Do Events / Gotham Buzz NYC.
I know Memorial Day Weekend is fully a week away, but given it's such a changed landscape due to the CoVid pandemic, I thought you might want more time to think about how you're going to spend the weekend.
Weather. The Temperature highs will be in the mid 70's on Friday, rising to 90 for Saturday and Sunday. The temperature lows will be around 60 on Friday and Sunday, rising to 70 on Saturday. No Rain is in the forecast. Winds will range between 5 - 12 mph all weekend. The Humidity will be betwen 40% - 60% through the weekend.
Memorial Day Weekend Forecast as of 5/21/21. The temperature highs will be in the mid to high 70's and the temperature lows will be in the low to mid 60's. No Rain is in the forecast. Winds will range between 5 - 9 mph all weekend. The Humidity will be betwen 50% - 70% through the long weekend.
Click for an update on NYC Weather.
Click here for Things to do Memorial Day in the Bronx.
Click here for Things to do Memorial Day in Brooklyn.
Click here for Things to do Memorial Day in Manhattan.
Click here for Things to do Memorial Day in Queens.
Click here for Things to do Memorial Day on Staten Island.
We'll also have an update with additional events next weekend. Enjoy.
---
Things To Do Presidents Day Weekend NYC
UPDATED FOR COVID 2021 - If Planning to Dine Out on Valentine's Day Better Get Moving
February 9, 2021 / Things To Do NYC / NYC Neighborhoods / Gotham Buzz NYC.
This weekend is Presidents Day Weekend. For many, not all, it's a three day weekend. This means the Post Office and most federal, state and oftentimes municipal offices are also closed.
As of this posting the Presidents Day Weekend Weather. The Temperature highs will be around 30 throughout the three day weekend beginning on Friday, dropping to the high teens nightly, except on Saturday when the low temperature will also be around 30. Precipitation - There's an 80% chance of about two inches of snow late Saturday / early Sunday morning as of this post. Winds will be relatively stable hovering around the 10 mph range throughout the long weekend. The Humidity will range between 60% - 75% throughout the weekend. Click for NYC Weather.
A Few Valentines Day / Presidents Day News Items - Indoor Dining Resumes, Folks with Co-Morbidities become Vaccine Eligible, Vaccine Production & 2nd Trump Impeachment Trial Begins Today
Governor Cuomo announced that indoor dining in NYC resumes on Friday, February 2, 2021 at 25% capacity. NYS positivity rate is about 4%, while the NYC positivity rate is about 8% - but both have been declining since the Thanksgiving / Christmas / New Year surge began in late November / early December of 2020.
This past weekend, Governor Cuomo announced that folks with CoVid comorbidities will be eligible to receive vaccinations effective Monday, February 15, 2021. According to the Governor's website, the CoVid co-morbidities [say that fast five times] include the following:
"... Cancer, Chronic Kidney Disease, Pulmonary Disease, Intellectual and Developmental Disabilities, Heart Conditions, Immunocompromised State, Severe Obesity, Pregnancy, Sickle Cell Disease or Thalassemia, Type 1 or 2 Diabetes Mellitus, Cerebrovascular Disease, Neurologic Conditions and Liver Disease Will Be Eligible ..."
Vaccine production for the U.S. is nearing the 1.5 million doses daily required to meet Biden's upwardly mobile 100 million vaccinations in the Biden Administration's first 100 days. As of this writing about 10% of all New Yorkers as well as 10% of all Americans have received at least one CoVid vaccination dose.
Trump's Failed Capitol Riot of 2021 Seems Not Unlike Hitler's Failed Beer Hall Putsch of 1923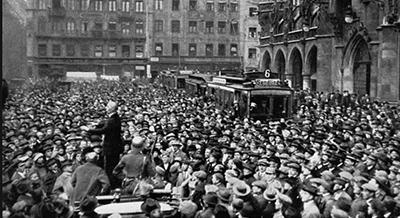 The second Trump impeachment trial began today, Tuesday, February 9th, 2021. Generally I find the rushing of the trial to be an insult to the American people, and the U.S. Constitution philosophies of due process and rule of law. The government officials prosecuting and managing the trial should take all the time required to educate the American people about who Donald Trump really is - not who he says he is.
They need to use the Impeachment Trial to highlight how Trump has significantly battered our democratic processes, undermined Americans' faith in our democratic institutions, personalized the power of the presidency, breached the rule of law, and appears to have colluded with the Russians to undermine our government over the past five years. Oh, yeah, and it all culminated in that lame Capitol Riot Insurrection which was not unlike and had striking similarities to Hitlers' lame / failed Beer Hall Putsch in Germany in 1923.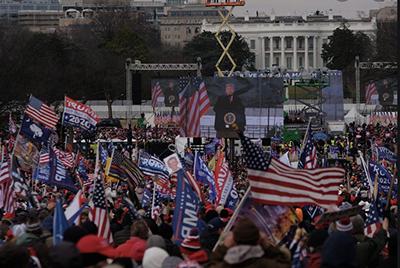 Ten years later Hitler rose to power as the Nazi Party leader and proceeded, like Trump did during his presidency, to usurp and personalize the power of the state thanks in part to the Goebbels / Murdoch/propaganda machines which misled the citizenry in each nation about who these two leaders were, and also victimized minorities in both nations. In the Beer Hall Putsch, 16 Nazis and four policemen died. In the Capitol Riot four Trumpsters and one policeman died.
Hitler was found guilty of treason following the Beer Hall Putsch, but still rose to power. Will the Senate take the precaution of sanctioning the Donald, or continue to enable the dysfunctional democracy damager - possibly destroyer?
Brief History of Presidents Day Holiday in NYC
A day commemorating Lincoln's birthday was first passed in Buffalo, New York in the early 1870's. Presidents Day originated as Washington's Birthday which was a holiday narrowly prescribed for federal government offices in Washington, D.C. in 1879. The holiday was dedicated to honoring the memory of the first American president, George Washington who was born on February 22, 1732.
In 1885 the holiday was expanded to include all federal government offices around the nation. In 1951 there was a push to create a Presidents Day holiday [vs a George Washington's birthday holiday] to include President Lincoln whose birthday is February 12, 1809 and was also celebrated by localities, but it didn't pass.
In 1971 the holiday was moved off of George Washington's birth date to being the third Monday in February. Thus while it never falls upon Washington's birthday 2/22, the official name of the holiday remains Washington's Birthday. But today, most folks refer to it as Presidents Day and to recognize the presidents who honored the U.S. Constitution and served the interests of the people.
Please note that we've updated things to reflect current conditions related to the CoVid pandemic. Enjoy.
---
---
SCHOOLS / ISSUES
The Trouble, Fear, Pain & Relief of My First CoVid Vaccination
As More New Yorkers are Vaccinated, the Pressure Grows on Those Who've Not Yet Received a Shot, Also the Role of Limiting Eligibility in Effecting a Smoothe Transition & Effective Tuesday 3/23/21 Folks Aged 50 plus Become Eligible for the CoVid Vaccination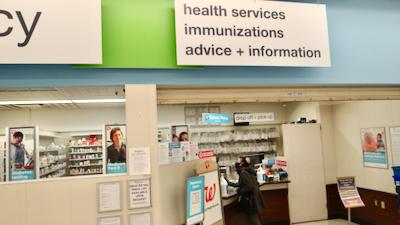 March 22, 2021 / NYC Neighborhoods / NYC Corona Virus / Gotham Buzz NYC.
So I've been putting off getting a CoVid vaccination ever since I became eligible earlier this year. At first I held off was because there were intermittent shortages of the vaccine, then rumors of long lines to get them, and finally I had to wrestle through the various websites offering a shot, at a time and place that 'easily' worked for me.
Finding a Vaccination Center Near You in NYC
But this past week I hit the proverbial CoVid vaccine jackpot, after spending what was probably a couple of hours online trying to navigate my way to an appointment. One of the issues are the numerous websites out there, offering vaccines. There's both NYC and NYS vaccinations centers and I waded through each looking for specific locations, specific vaccinations [J&J, Pfizer & Moderna] and specific times.
Let me make it simple for you, as I oftentimes ended up on this site.
https://vaccinefinder.nyc.gov
---
---
---
NYC GOV
911 / The War in Afghanistan is Over - but the War on the Truth that put us there - Continues
TV News People Provided Superficial, Dimwitted, Gossipy Accounts of the Withdrawal, & Unfortunately, Far too many of the Print Reports Weren't Much Better
September 7, 2021 / Fox News Fakes the News / U.S. Politics / News Analysis & Opinion / Gotham Buzz.
Somehow amidst the din of Murdoch mass media hyped criticism, the real headline was buried.
"The War is Over. The Twenty Year War in Afghanistan is Over. "
This was one of two Murdoch Wars - So his Outlets Seemed to Disminish or Ignore the Human & Taxpayer Costs - Over 170,000 Human Lives & Over $2 Trillion and Counting - and so did the Knuckleheads at the Other News Outlets
Where are the parades? Where are the celebrations? Where are the Congressional and Senate committees and hearings to investigate how we got into the Afghanistan war in the first place? And then why we stayed so long? Who incited this war and then profited from the $2 trillion in spending that the U.S. taxpayer took out loans to pay?
About 2,461 American soldiers died in the Afghanistan War. According to an August 17, 2021 report by the Associated Press, another 3846 American contractors lost their lives, as well as 72 journalists. The Afghanis suffered significant fatalities as well, as 66,000 Afghani military and police died, 47,000 Afghani civilians and 51,000 Taliban fighters.
TV News Provided Scant Real Insight, Information or Understanding Surrounding America's Withdrawal from Afghanistand to the Viewer
In the reporting over the past month or so I DID NOT SEE EVEN ONE REFERENCE TO THE RUSSIAN WITHDRAWAL from Afghanistan in the 1980's. NOT ONE! Why does that matter?
Because if you're going to evaluate how effective the U.S. withdrawal from Afghanistan was, you MUST look at prior history, and the Russian withdrawal is the closest, realistic assessment of what the costs of withdrawal from Afghanistan could, would or should be. I watched with something bordering between disgust and horror, as the gutted out nationally branded TV 'news' organizations 'informed' the American people as to what was happening as the American withdrawal from Afghanistan took place before our eyes in real time.
I. The Pied Piper Framed a Dishonest & Negative Narrative about President Biden's Handling of the Withdrawal via his WSJ, then Echoed it with the Nearly Half of the Nationally Branded U.S. Daily Media he Controls, which the Lazy and / or Incompetent Competition then Parrotted
Australian born billionaire, Rupert Murdoch - as is too often the case - led the rest of the mindless mass media, like the Pied Piper. On August 15, 2021, the Wall St. Journal published an OpEd by the 'Editorial Board'. The 'Editorial Board' appears to be the pen name of billionaire Rupert Murdoch who owns and controls the paper. The 'Editorial Board' said published the narrative that Biden was incompetent and had messed things up, with scant reference to history or a holistic presentation of the facts.
Ever since that narrative was published, it has been used by many of the rest of the mass media, to contextualize or frame presentations made by the corporate press in discussing the American withdrawal from Afghanistan. Not everyone in the mass media was so incompetent or so lazy that they used the mendacious Murdoch's narrative – thankfully. But eyeballing things, I'd estimate that more than half of them did. I suppose the good news is that there are still a few real, independent-minded journalists operating in our midst.
Murdoch used his Wall St. Journal brand to lead the narrative, because it has a history as a respected publication. Even though respect for the brand seems to have been diminishing ever since Murdoch's took control of the paper in August of 2007. After the announcement many of the real journalists who could leave, did. Barron's was included in the acquisition and remains a Murdoch brand today.
---
How Would a Mayor Eric Adams Govern?
He Seems to Favor Charter Schools & They Seem to Favor Him, He's Pulled in the Most Real Estate Cash & He has Indicated He'll Reverse Course a bit on Police Reform
Included in this Report is a Look at the Impact of Gun Sales on NYC Violent Crime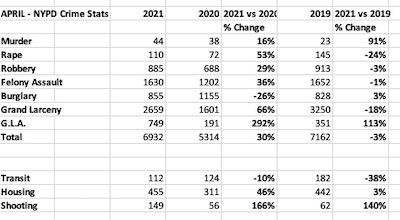 May 17, 2021 / NYC Neighborhoods / NYC Politics / News Analysis & Opinion / Gotham Buzz NYC.
Eric Adams isn't Scott Stringer
We recently did a report showing how Scott Stringer has repeatedly appeared to have traded the community interest for his personal interest and career ambitions.
In that report we showed how Stringer takes big public stands, on what I would call generic Democratic issues over which he has little influence, such as gender equality, race and climate change. And yet on issues over which he has considerable influence that significantly impact the local communities, neighborhoods and unions - like real estate developments, local education, public libraries and the pension fund investments - he has taken big public stands in one direction, while appearing to do just the opposite with his actions.
In that report I also noted how Stringer seems opportunistic in compromising his stances [for example in education and the public library system] in order to capitalize on what he seems to think are self enhancing career opportunities. Stringer also seems to have used the power and authority of government positions entrusted to him by the people, to aid those who fund his campaigns, possibly trading what's good for the people, in exchange for what's good for Scott Stringer.
Stringer hit my radar nearly a decade ago, while Eric Adams only hit my radar a couple of years ago. So I'm less familiar with Adams' career than Stringer's. But in doing the research, I found that Eric Adams appears to be a slow steady hand, whose positions have evolved over time ... and I would add that generally they appear to have evolved carefully.
1. Eric Adams - Public Schools & Education
Pro Charter Schools & What that Means
In my reporting I have found that FOR PROFIT Charter Schools, don't seem to solve the failing schools problem, but rather split and shift the problem burdens, while privatizing and gutting a significant portion of the public school system.
I began reporting on education during the Bloomberg era, wherein Bloomberg's Administration seemed to split public schools into two smaller entities, and then parcel out the achieving students / families via charter recruitment to the privately run for profit charters, while leaving the lower performing students / families in the care of unions and the general public. It seemed to me they didn't really solve anything, and sucked needed capital out of the public school system, putting it in the hands of the venture capitalists who were funding the for profit charter schools.
This situation appeared to me not unlike what the insurance industry had done prior to Obamacare - whereby the insurance companies recruited healthy people for health insurance, and avoided signing those who weren't healthy in order to enhance their economic performance. To me this goes against the grain of what America is all about - which is equal opportunity for all. The privatization of the public schools by the predatory for profit charters would turn the public education system into the haves and have nots.
*** It's worth noting that NON-PROFIT CHARTERS evolved for different reasons and provided a healthy challenge to the union run public education system and thus non-profit charters appear to have a more more beneficial impact than the for-profit charters.
---
The Sexual Harassment Allegations Against Cuomo
The Sheer Number of Allegations Appears to Indicate Something is Not Right
But This Report is Not About Judging Cuomo, Either Way, but Urging People to Let Due Process Play Out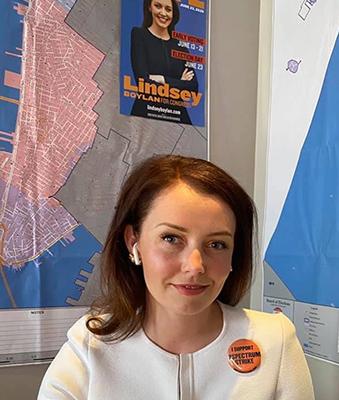 March 15, 2021 / US Politics / NYC Neighborhoods / News Analysis & Opinion / Gotham Buzz NYC. Part II.
I'm going to explore each accuser's allegations while providing a bit of background on each of them. I have found some of Cuomo's accusers more credible than others, in what I would call the integrity of the whole situation. That said, the sheer number of allegations certainly lends credence to the notion that something is not right in how Cuomo is managing his staff at the Capitol and in the Governor's mansion.
One's attractiveness to the opposite sex, can cut both ways. It can be used: 1) as a powerful tool to obtain special favors, wage increases and promotions one didn't earn, or 2) it can attract unwanted advances that feel threatening to one's person and livelihood. In the former case (#1), one's co-workers or competitors are often the victims by being passed over for promotions, travel and other opportunities. In the latter case (#2), one is a victim / target of unwanted sexual advances by virtue of their god given beauty.
While in Business School, one of my very best friends - who coincidentally was named Murdoch [but no relation to Rupert] - told me that his father had told him that
"... it was more important to be respected, than liked ..."
We both had to seriously contemplate this advice, as this friend was immensely popular. He had asked me to help him unravel what seemed his father's riddle. Ultimately In due time I concluded that my friend's father was right - it is more important to be respected than liked.
I think that is also good advice for women in the workforce, and provides a compass for how one should conduct oneself. Not every man out there is a gentleman, and oftentimes successful men are also the badly behaved men, some can even be assholes like - let's say - Donald Trump. And as we've seen over the past four year presidency, both the men and women who reported into him were certainly psychologically abused. And I won't even begin to contemplate Melania's situation.
So with that in mind, let's take a brief look at each of Cuomo's accusers and their allegations regarding the Governor.
I. Lindsey Boylan (36) - Deputy Secretary for Economic Development & Special Advisor to the Governor
Lindsay Boylan was the first woman to come forward and charge Andrew Cuomo with sexual harrassment in a tweet in December of 2020. She worked for Cuomo from 2015 - 2018 as the Governor's Deputy Secretary and Advisor, during which time she alleges she was continually harassed. Boylan is now running for Manhattan Borough President.
In the accounts of Boylan's claims I've seen published she indicated Cuomo would touch or brush against her arm or leg, compare her to an ex-girlfriend, make unwanted sexually charged statements or inquiries, and on one occasion kissed her on the lips without her permission following the award of a promotion.
Boylan first went public with her claims in December 2020, telling the world that she was speaking out now, because she felt that the public should know this, as Andrew Cuomo was up for consideration for the position of the U.S. Attorney General. This seemed reminiscent of Christine Blasey Ford stepping forth in 2018 with allegations of attempted rape by Supreme Court nominee Brett Kavanaugh. But attempted rape is a far more serious allegation than harassment / inappropriate workplace behavior.
At the time Boylan said she didn't want to speak to any journalists about the explosive claims. This set off my spidey sense, because it seems unfair to think that you can make such explosive, career busting allegations without expecting reporters to want to dig deeper for the full context of the story.
Cuomo denied the allegations.
Last year [2020] Boylan was beaten in the Democratic congressional primary. It would seem to be a fair question to ask whether she is angry / blames Cuomo for her loss, believing that perhaps he did not help her enough? One might also ponder whether she is she using the explosive claims of sexual harassment against Cuomo to gain publicity for her current campaign for Manhattan Borough President, while simultaniously by capitalizing on / reaching out to the #MeToo movement?
In what appeared Cuomo pushback, some of Boylan's personnel files were disclosed to the press, indicating there may have been some issues surrounding to her departure from the Cuomo Administration, regarding her management of employees working for her. Boylan says this is part of a Cuomo intimidation / smear campaign.
Boylan said she was harrassed most or many of the nearly four years she worked for Cuomo [2015 - 2018]. Like many women, she hesitated and waited until [two] years after her departure before going public.
The #MeToo movement advocates that all women's sexual harassment claims should be believed, as for centuries women's sexual harrassment claims have been discredited and ignored.
Yet not long after she went public, she threatened to start a women's PAC to torch Schumer and other New York politicians who did not come out to support her in her allegations sooner. The gap in her announcement and in Schumer and other politicians' speaking out in her favor, was about two and a half months [late Dec 2020 to early Mar 2021]. Boylan also published a threatening tweet castigating both President Biden & Vice President Kamala Harris for withholding judgment as well, before she deleted it.
Boylan's vehement 'PAC fundraising' response, caused me to stop to ponder the full nature of Boylan's nearly four relationship with Cuomo, which seems to have greatly benefitted her with promotions and travel, until it did not. I was also reminded of how Donald Trump and Senators Josh Hawley and Ted Cruz opportunistically used 'Stop the Steal' to fundraise PAC money for themselves off of an emotional, voter 'patriotism' hot button issue.
As with Janice Dean's allegations / crusade / soft gubernatiorial campaign launch, where Shakespeare's quote in Hamlet "The lady doth protest too much me thinks" seemed to resonate, as I again found myself asking if this quote also has some relevance to Boylan's case. See prior report for full explanation regarding Janice Dean.
Boylan's allegations would be given due consideration in an investigation. And we may learn much more about hers and Cuomo's relationship ... and it's possible that it could be highly toxic to both of them.
---
How the President, a Former NYC Mayor and Murdoch's Fox News Seemed to Incite the Capitol Insurrectionists
Rudy Giuliani, Nicknamed America's Mayor by Murdoch's Fox News, Appears to have Helped Incite the Band of Simpleminded Trumpsters to Insurrection
Updated January 11, 2021 from 1.8.21 / US Politics / NYC Neighborhoods / News Analysis & Opinion / Gotham Buzz NYC. 
Rising Film Star [Barat2] and Former NYC Mayor, Rudy Giuliani, appears to have devolved into something of a national freak show or farce over the past five years. Perhaps longer. But in the past few months, he's become something of a national disgrace.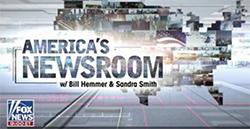 Fox News seems to use nicknames for their propaganda assets, like referring to British Prime Minister Margaret Thatcher as the 'Iron Lady' and President Ronald Reagan as the 'Gipper'. Rudy Giuliani seems to be yet another Fox propaganda asset and, as such, is oftentimes referred to as America's Mayor by Fox pundits.
This is not unlike how Murdoch's Fox News nicknames themselves America's Newsroom. This was a trick used by Hitler and Goebbels, using words and images to create the illusion that they, the Nazi Party [in this cae the Fox Nation with red, white and blue colors] was the same as the state - and thus represented all that was right and just. But remember - just because Murdoch's Fox News says it's so - doesn't make it so [like they used to call themselves 'Fair & Balanced' before they started fearing a lawsuit for false advertising]. But, the Australian born billionaire's overwhelming control and / or ownership of America's television media [see our special section on Murdoch and the 21st Propaganda Press on Gotham Buzz] does give him a leg up in attaching and making both good and bad labels stick to people, places and things.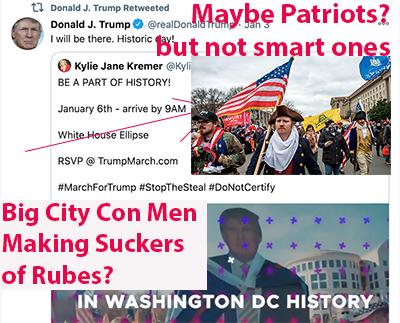 On Wednesday, January 6, 2021, Rudy Giuliani joined Donald Trump and Donny junior at a Trump rally in Washington, D.C. near the White House. The Donald had promoted this gathering as something 'wild' and related to his seemingly phony stop the steal / election fraud fundraising claims. At the rally Trump told his supporters, numbering about 5,000 [per the park permit] to march down to the Capitol and that he'd be there with them.
I think it's safe to say that the Trump supporters who came to this event came prepared to continue to be misinformed and misled by the con men standing on the stage in front of them. After the speeches the audience mindlessly did as Trump had instructed them, and began marching toward the Capitol - but without their fearful leader [bonespurs acting up again?]. The Trumps and Giuliani were not to be found when the group arrived at the Capitol. What a surprise!
When the Trumpsters reached the barricades in front of the Capitol, the police in charge of protecting it, seemed to give way. What exactly transpired at this juncture we'll find out eventually, but one thing we do know for certain is that Trump didn't deploy as many of the National Guardsmen as he did for his tear gassing photo op with the Bible last summer. So Vice President Mike Pence had to step in to call up more National Guardsmen who eventually secured the Capitol - but not until after it had been ransacked [including one report of defecation].
---
Kentucky Insanity: Voting Repeatedly for Mitch McConnell & Expecting Things to Change
Kentucky Has the 6th Highest Poverty Rate, Ranks 46th in Healthcare, 44th in Education & 45th in Income While
McConnell's Leadership Enriches Him & his Taiwanese Born Wife, so that Mitch is Now in the Top Ten Wealthiest Senators Club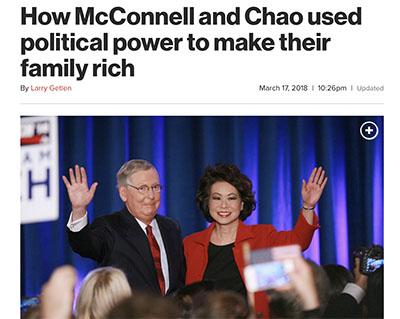 October 26, 2020 Updated from 10/13 & 10/21/20 / NYC Neighborhoods / U.S. Politics / News Analysis & Opinion / Gotham Buzz NYC.
Monday night Republican Majority Leader Mitch McConnell squared off against challenger former Lieutenant Colonel Amy McGrath. She, along with another woman, were the first females assigned to the Marine All Weather Attack Squadron.
Televised debates these days, seem to shed little light on the candidates or issues. This may be in part due to the format of them, as well as the failure of the debate moderators to hold the candidates' feet to the fire by pressing them on tough questions, and the current climate of conversational corruption where politicians pretty much say whatever the hell they want to say ... regardless of the truth.
So I did some of my own digging to learn more about Mitch McConnell. What I found surprised me, given how deep the rabbit hole goes and yet how little attention has been given to one of the most powerful men in Washington. So it may surprise you too.
DEFINITION OF INSANITY - Repeatedly Doing the Same Thing Expecting a Different Result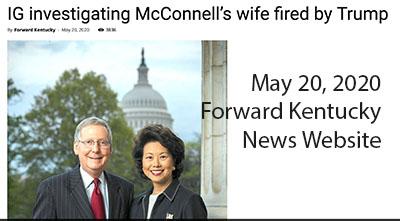 The definition of insanity is doing the same thing over and over again and expecting a different result. 
The image at right was found in a web magazine, Forward Kentucky earlier this year. Donald Trump fired FIVE inspectors and among them was one investigating McConnell's wife.
What are they afraid of ... the truth?
And that is exactly what Kentuckians appear to have been doing for decades, having reportedly voted for Mitch in various elections approximately THIRTY TIMES in a row. 
Let's take a look.
RICH MITCH - McConnell is the Longest [Self?] Serving Republican Leader in Senate History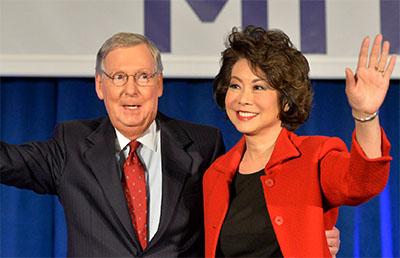 In June 2018, Mitch McConnell became the longest 'serving' Senate Republican Leader in the history of the Senate. 
McConnell has been a Kentucky Senator for nearly 36 years, having first taken office in January 1985. 
He's been the Republican Senate Majority Leader for nearly six years - since January 2015, and the Republican Senate Minority Leader since January 2007 – another eight years and Republican Senate Majority Whip from 2003 - 2007. 
And he's been 'serving' Kentucky as a senator since 1985.
POOR KENTUCKY - Kentucky Ranks Near the Bottom in Education, Healthcare and Income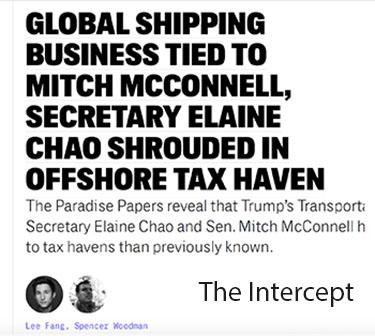 And yet Kentucky has little to show for Mitch's length of service – even though Mitch McConnell keeps telling them how good is for them, as he's been a member of the elite Republican Leadership for decades.
But McConnell he likes to tell Kentuckians - he's the only top federal political leader who is not from one of the big urban centers on the coasts, even though he's been living in Washington, D.C. for one helluva lot longer than he ever lived in Kentucky. And he's married to a Taiwanese born millionairess who has never lived in Kentucky, per se, during the nearly three decades of their blissful married life. 
So what difference does it make where Mitch McConnell claims he is from, if he's not representing the people of Kentucky?  But rather … representing the big corporate and foreign interests that appear to fund his campaigns and enrich – not the state of Kentucky – but their chosen one, their 'representative' Senate Majority Leader Republican Mitch McConnell.
NOT A NATIVE KENTUCKIAN - Why Alabama Born McConnell May not Care About Kentucky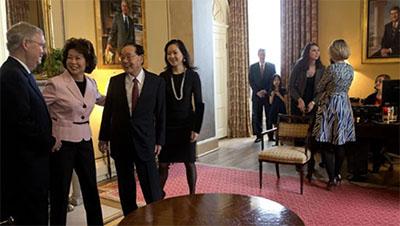 I suspect part of the reason that Mitch McConnell doesn't care that much about Kentucky, is because he wasn't born there, and he mostly did not grow up there.  McConnell was born in ALABAMA in 1942, and then – by way of GEORGIA – arrived in KENTUCKY in 1956 at age 14. I think it's worth mentioning that McConnell's great, great grandparents – on both sides - were Alabama slave owners, which we'll get to shortly.
In 1968 McConnell left Kentucky for the big city, Washington, D.C., for a couple of years.  He returned to Kentucky to run for office in 1971, but failed to meet the Kentucky residency requirement.  In 1974 McConnell left Kentucky again for Washington, D.C. to work in the Ford Administration.  Gerald Ford lost the election in 1976, so McConnell returned to Kentucky to run for office again. This time Kentuckians cut him a break and elected him the Jefferson County Executive, an office he held until he was elected in 1984 to 'represent' them as a senator, at which time he departed Kentucky for Washington, D.C. where he's been ever since. 
So all tolled, McConnell only spent about 24 years in Kentucky [1984-1956=28-2-2=24], which is not even a third of his 78 years of life.  And McConnell has spent 36 years 'representing' Kentuckians in the big city of Washington, D.C. – where he has lived half again as much time, as he has lived in Kentucky.  So while Mitch doesn't appear to represent Kentuckians – one has to ask how could he - given he has spent so little time there and it was what seems a lifetime ago?
McConnell Received Educational Deferment from Military, Followed by Medical Exemption for Optic Neuritis – Not Polio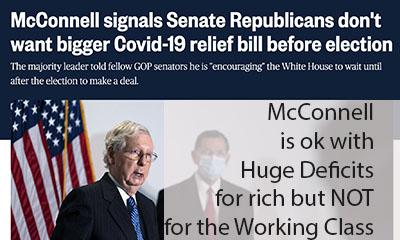 According to Wikipedia, after McConnell's educational deferment from the military expired in 1967, McConnell 'served' about a month.  The same report tells us McConnell was diagnosed with optic neuritis – a temporary inflammation in the eye that can cause temporary blindness.  According to a few Google searches, optic neuritis is a common eye problem that self resolves in about four to 12 weeks.  There are severe cases of it, but given McConnell is 78 years old and we've heard nary a word of it since his getting out of military service, I suspect his case was 'mild', not unlike Trump's CoVid case.  McConnell is also said to have contracted polio, but apparently escaped any significant long term impairment, as we see him walking up and down the halls of the Capitol without a problem.
MONEY BAGS MITCH - McConnell Supported by Chinese, Russian & Australian Immigrants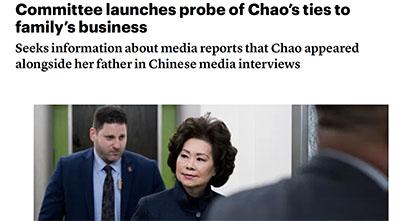 In 1984 McConnell became a Kentucky Senator.  And while most Kentuckians don't like him and neither do most Americans – Australian born billionaire Rupert Murdoch's soon to be media executive, Roger Ailes, ran McConnell's first campaign. Murdoch seems to have been influential in rolling back media regulations beginning around that time, so it wouldn't be a big leap to assume that McConnell helped Murdoch feather his nest through regulatory rollbacks, while Murdoch helped keep McConnell in place as an enabler in hacking through the regulatory environment which had previously held large media corporations in check. Murdoch controls Fox News, the NY Post, the Wall St Journal and in 2019 became the largest shareholder of Disney / ABC in an inverted takeover. 
We'll zoom in on why the rich Chinese and Russian born immigrants started backing Mitch McConnell a little further in the story.
McConnell Sells Out or Trades in his Old Kentucky Home?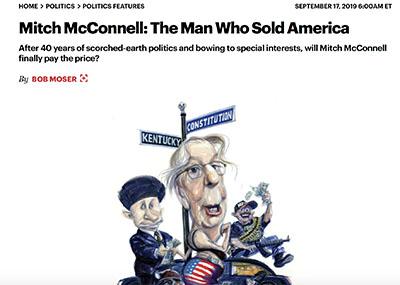 McConnell was married to a Kentucky woman, Sherrill Redmon, from 1968 [around the time of his military deferment] to 1980 [around the time he was re-elected but a few years before he hit the big time as a senator beginning in 1984].  In the early years in Kentucky McConnell was considered a liberal leaning moderate [his ex-wife and one or more of his daughters still seem to lean more toward the middle, having oppposed the Brett Kavanaugh SCOTUS confirmation]. 
But McConnell's views seemed to quickly change after he hired Roger Ailes, [who later became Fox News CEO], to run his 1984 Senate campaign. This was followed by McConnell 's social climbing upward mobility when he met and married his new Chinese American wife, who connected his campaign to a multi-million dollar money train. Taiwanese born Elaine Chao's mega millionaire father is well connected to the Chinese Communist Party Leadership, owns a Chinese American Shipping Company, and he and her family have donated millions to McConnell, as well as his and Republican PACs.
The Decade McConnell Went From Kentucky Mitch to Shanghai Mitch
Following the 1984 election Rolling Stone story reports McConnell,
"As I always say," McConnell wrote in his book, "the three most important words in politics are 'cash on hand.' "
---
A Stuttering Biden or An Intransigent Bernie?
Democrats Choice: A Stuttering Biden or An Intransigent Bernie?
Most Folks Don't Know that Biden has a Stuttering Handicap which is Why he doesn't do so Well in Debates & his 'Circumlocution' Remedy is Likely the Primary Cause of his Verbal Gaffes
Most Sanders Supporters Probably Haven't Taken a Look at Sanders' Record of Accomplishment which During his 29 Years in Congress is Comprised of his Leadership on Only Three Passed Senate Bills - Two of Which were Naming Post Offices
March 9, 2020 / NYC Neighborhoods / National Politics & Government / News Analysis & Opinion / Gotham Buzz NYC.
This past week, as we all watched the Democratic race for the presidency unfold, we witnessed a bit of history. Former Vice President Joe Biden's incredible comeback from what seemed like a campaign on life support, ended with him sweeping the south and decisively winning victories in most of the states up for grabs on Super Tuesday.
Biden's Coalition - The Moderates, The Working Class & The Realists
But like all victories, Biden didn't do it alone. Biden first received a boost via the endorsement of Congressman James Clyburn only days before the South Carolina primary. On Monday, Amy Klobuchar ended her campaign and endorsed Biden, followed shortly that same day by Pete Buttigieg, who had ended his campaign a day earlier. And Beto O'Rourke reappeared, to throw his support behind Biden in Texas.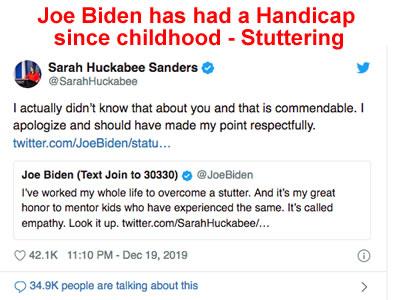 As a result, Biden became the front runner, eclipsing Vermont Senator Bernie Sanders following Biden's electoral sweep on Super Tuesday.
One might say that this demonstrates the biggest difference between Joe Biden and Bernie Sanders. Joe has been able to bring many of his former challengers into his tent, while Bernie Sanders has not.
Don't get me wrong. I like Bernie Sanders. I think he has great integrity, he is a strong advocate for the working class, and he has clearly demonstrated that he has an admirable talent for running an organization during his two presidential bids.
But the difference between Sanders and Biden is that Sanders appears to be a purest ... an ideologue ... someone who does not compromise. And people who don't compromise can make great thought leaders, but they rarely - if ever - make great leaders.
Great Leaders Know How To Compromise & That's How They Get Things Done
Leaders need to make compromises in order to get things done. They generally don't get everything they want because vested interests will do everything in their power to thwart them when they try. So what real leaders do, is stake out the next evolution, by moving the ball a bit forward, hoping that someone else will pick it up at a later date and move it forward again.
CLICK here to read the rest of our report on Joe Biden is a Stutterer & Bernie Sanders Legislative Record. The report includes: 1) a synopsis of an Atlantic report whereby a journalist who has a stutter followed Biden on the campaign trail and shared his insights with us, 2) a look at Sanders legislative record by another reporter writing in the Washington Post, and 3) a Case Study in leadership regarding moving the nation forward through compromise.
---
---
---
---
MURDOCH
Rupert Murdoch & the Rise of the Propaganda Press: Fox News Propaganda Machine NY Post Fake News
K. Rupert Murdoch & the Rise of the Propaganda Press
This Section is Dedicated to Preserving One Man One Vote Democracies by Exposing What Appears to be Murdoch's Life's Work in Propaganda
November 29, 2021 / NYC Neighborhoods / NYC Politics / News Analysis & Opinion / Gotham Buzz.
In the Spring of 2016, while watching the Bernie Sanders campaign unfold, I noticed that the 'mainstream media' was showing what seemed to be tangible bias in favor of Hillary Clinton. This prompted my first story about the Bernie Sanders campaign & phenomenon, and made me aware of how the mainstream media appeared to treat him unfairly.
After the New York Primary, I noticed a relentless onslaught of attacks by Rupert Murdoch's NY Post on Mayor de Blasio. The attacks were based on allegations and innuendo, and sometimes included as many as five attack stories per day. Their relentless attacks based on allegations and innuendo outraged my sense of decency and fair play, so I began a study of the NY Post reporting bias which resulted in the second story of this series.
While doing the de Blasio / NY Post story, I couldn't help but notice a wide ranging pattern of what appeared to be a rampant abuse of First Amendment power by Keith Rupert Murdoch and his organization, including breaking laws, invading people's privacy, and bribing public officials. While these activities were uncovered in Britain, it's not a stretch to think that given the same man, Murdoch, is controlling the Newscorp & 21st Century Fox global media empire, that these same sorts of nefarious activities might be going on here as well. In fact, people responsible for management oversight of the tainted operations were subsequently given high ranking positions in this country.
As the Republican and Democratic Conventions of 2016 approached, I decided that the time period surrounding the political party conventions, up through the general election in November, would provide me with a good case study period to evaluate whether and how Murdoch's Fox News, NY Post and other assorted media properties, including the Wall Street Journal and the National Geographic, might be used as propaganda outlets.
In doing the context research, I found America's and Britain's media laws had been rewritten and loosened over time. In numerous cases I noticed that Keith Rupert Murdoch, all too often appeared to be in close proximity to the politicians changing those laws - almost always having supported them with his media properties - and at least in one case - even making personally direct donations to their campaigns.
I dug a bit further and found that there are few 'real' media laws of the books in Australia, where Murdoch is no longer a citizen. In spite of his status as a foreigner he reportedly owns 64% of that nation's daily newspapers and has a controlling interest in the nation's satellite TV system. I did some cursory research and it's not a stretch to think that Murdoch may have gotten his start influencing the re-writing of a nation's media laws there.
I also found what appeared to be a striking pattern of Murdoch manipulations and moves that seemed to come straight out of the political and propaganda playbook written by two of the earliest, most successful, and most evil practitioners of modern mass market propaganda - Adolph Hitler and Joseph Goebbels.
Hitler and Goebbels came to my attention because I found that I really could not even begin to understand modern propagandist techniques without studying Hitler and Goebbels in Germany in the 1930's. Hitler's skillful use of propaganda appears to have hastened his ascent to power, and enabled him to keep his grip on it. These two men are the fathers of modern propaganda, and it appears that Keith Rupert Murdoch has adopted and updated their propagandist techniques to serve his own interests.
Those who do not learn from history are doomed to repeat it. So please read on.
Click here to view our report about the state of media coverage of the 2016 election.
Or click here to continue on with this story about Keith Rupert Murdoch & the rise of the propaganda press / media madness/ corrupt Fox News / NY Post.
---
---
---
TRUMP
Dysfunctional Donald: The Trump Presidency
The American Presidency & Dysfunctional Donald Trump
This Section is Dedicated to Informing the American Public about the Democracy Destroying Donald
Updated October 10, 2021 from 9/16/20 / NYC Neighborhoods / NYC Politics / News Analysis, Opinion & Satire / Gotham Buzz.
Beginning in late 2016 I began to start paying attention to some of the crazy stories floating around about Donald Trump. At first the stories seemed almost unbelievable tales of someone competing to become president of the United States, but the more I dug, the more I found, and eventually the evidence of who this man was and is, almost frightened me when pausing to consider that he had and still has control of the most powerful government apparatus in the world.
Empires and civilizations come and go because those who worked hard to build them are not the same people who inherit them. And the people who inherit them are oftentimes unappreciative of the hard work and thought that went before them.
We're too close, to my way of thinking, of squandering the gifts that were left to us by our forbears because we have not paid attention to all of the malfeasance and corruption that today is so much a part of government and the media we rely on to inform us. I've began running a series on what I view as the most egregious threat coming from the media in the series on Rupert Murdoch and the Rise of the Propaganda Press, which I had at first titled Murdoch Media Madness.
This series is a compendium of reports I've published on the presidency of the dysfunctional Donald. The graphic above showing Rupert Murdoch's Fox Fake News celebrating the billionaire tax cut of December 2017 includes my take on things in red.
---
---
---
BK
---
---
SI
Casa Belvedere and the Festa & Motori D'Italia
9th Annual Festa & Motori D'Italia Keeps the Engine Running on All Cylinders
September 23, 2019 / Grymes Hill Neighborhood Staten Island / Things to do on Staten Island / Staten Buzz NYC.
I attended the Festa & Motori D'Italia at the Italian Cultural Foundation at Casa Belvedere on Staten Island. The following video captures most of what I experienced - save for the delicious aromas floating in the air.
---
---
---
MB
Greta Thunberg at Climate Strike in Battery Park NYC 2019
Tens of Thousands Showed for the Climate Strike - NBC Estimated 60,000
September 20, 2019 / Downtown NYC / Manhattan Buzz NYC.
I attended the Climate Strike in Battery Park Friday late afternoon. It was a beautiful day and thousands had shown up to rally support for changing how we live in order to avert the disaster of irreparably destroying the ecosystem which supports life on the planet. Swedish teen activist Greta Thunberg was there and spoke at the rally. The video below provides views of the crowd, some of their signs, a poetry performance, a musical performance and some of Greta's remarks. Stay tuned next week as the United Nations meets and Greta visits the U.N. to implore them to take action.
---
---
QB
Only in Queens: The U.S. Open & the USTA
Intergenerational Tennis Wins: Nadal Defeats Medvedev & Andreescu Defeats Williams
September 10, 2019 / Flushing Neighborhood / Sports in Queens / Queens Buzz NYC.
In the week leading up to the U.S. Open the USTA opens its doors to the Flushing, Queens and NYC community. They host a number of tennis related events, and provide opportunities for those who visit to watch the pros practice on the courts. The week culminated in Arthur Ashe Kid Day at the end of the week and families from the NYC metro area, most notably Queens come in droves to take in the rich atmosphere of the newly renovated USTA Billie Jean King National Tennis Center.
I had the opportunity to visit this year, which was enhanced by being able to photograph and video a shirtless Rafael Nadal - who won the men's title this year, complete with ripped abs - while practicing. See video later in the story.
---
---
BX
Closure of Rikers Island Moves Another Step Forward
In Oct 2019 NYC Council Designated Neighborhood Jail Locations in Four Boroughs
Community Board One in Astoria Only Approved the Closure of Rikers Island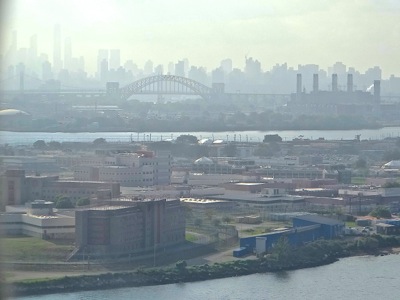 January 26, 2020 / Bronx Neighborhoods / Queens Neighborhoods / Queens Politics / Bronx Politics & Government / Queens Buzz NYC & Bronx Buzz NYC.
A week ago, on Tuesday, January 21st I attended the Community Board One meeting at the Astoria World Manor where the board was asked to approve the closing of the Rikers Island Detention Facility effective sometime before the end of the year 2026.
The photo at right was taken from an airplane while landing at LaGuardia in a prior year. Rikers Island Correctional Facility is a stone's throw away from LGA.
Queens Community Board One in Astoria Votes on Rikers Closure
The presentation consisted of two slides. One highlighted the social / moral blight that Rikers Island had become. The second slide simply proposed the request in very limited terms - the closing of Rikers Island and the conversion of it to a 'public place'. The presentation to the Committee was done by a team lead by Dana Kaplan, Deputy Director of the NYC Mayor's Office of Criminal Justice.
So please note that the Community Board had no role in the placement of neighborhood jails, nor did they sign off on anything that may become of Rikers Island going forward. They only approved the closing of the Correctional Facility and the allowance of use for it as a "public place".
I spoke with CB1 District Manager Florence Kolouris after the meeting about what exactly that meant. She told me that there isn't any definition, per se, given for public place – but a couple of examples of prior public places include Lincoln Center, Fort Totten and Queens Borough Hall.
The Community Board approved the measure with a recommendation that CB1 be kept in the loop throughout the closing process, including any demolition. Plenty of questions followed regarding what would become of the 400 acre island. Nothing concrete was proposed at this time, but the audience was assured that any changes would have to come through the Community Board via the ULURP process [Uniform Land Use Review Procedure].
The Bronx & Queens - Rikers Island Community Jurisdiction & Prison Population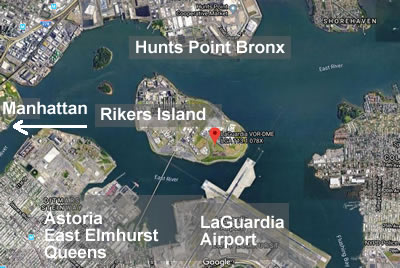 It's worth noting that technically Rikers Island is a part of the Bronx – not Queens – even though the only road traveling onto the island originates in the Astoria / East Elmhurst neighborhoods of Queens. In addition to Queens Community Board One, Bronx Community Board Two, representing the Hunts Point neighborhood, also has influence over the island. Since the Dinkins Administration in the 1990's, there's been a floating barge facility that's docked in Hunts Point, that is considered a part of the Rikers Island Correctional Facility.
Currently there are an estimated 7,000 plus inmates on Rikers Island. At its height, in 1991, Rikers Island held an estimated overcapacity inmate population of nearly 22,000. By the time the facility is to be closed in 2026, the inmate population is expected to have declined to between 3,000 and 4,000.
The photo at right shows the Rikers Island Correctional Facility which will be closed by the end of 2026.
---
---
NEIGHBORHOODS
NYC Swimming Pools - Free Outdoor Public Swimming Pools in NYC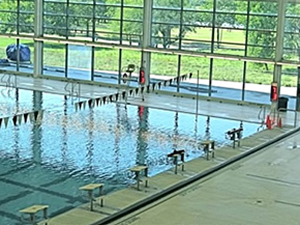 June 28, 2021 / NYC Neighborhoods / Gotham Buzz NYC.
New York City offers easy access to a wide range of recreational swimming pools. The following is our first attempt to provide you with a view of the range of public swimming pools available in the parks of the entire city. We encourage you to make use of these facilities because they provide healthy, fun, and frequently free or inexpensive entertainment for both individuals and families with children.
Be advised that as of this posting, 6.28.21, masks are mandated in all indoor areas like locker rooms. Please be respectful of your fellow Bronxians, Brooklyners, Manhattanites, Queensians and Staten Islanders.
Click these links to view a listing of swimming pools in each borough, complete with location and contact information, swimming pool sizes, hours and other details.
---
Things To Do in NYC This Weekend July 30 - August 1st, 2021
Food, Music, Art Festivals & Movies in NYC this Weekend
July 30, 2021 / NYC Neighborhoods / NYC Things To Do Events / News Analysis & Opinion / Gotham Buzz NYC.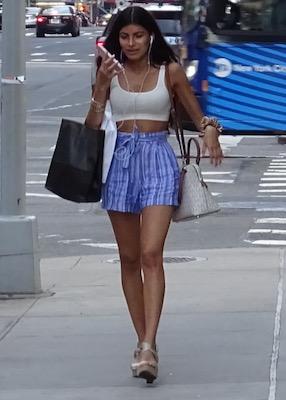 Weather. There's a 60% probability of about a third inch of rain beginning sometime between 3 and 6 pm Sunday. The rest of the weekend should be clear. The temperature highs will be around 80 and the lows in the mid 60's all weekend. Humidity will range from 50% - 60% all weekend, except Sunday night when it rises to near 80% due to the rain. The winds will vary throughout the weekend from about 15 mph Friday, to 5 mph Saturday and 10 mph Sunday. All in all, not a bad weather weekend.
FYI - On the Great Lawn - NYC Homecoming Concert 2021
CENTRAL PARK _ Tuesday August 24, 2021 from 10 am - 6 pm - We Love NYC - A big Free HomeComing Concert - On the Great Lawn in Central Park, but must be ticketed, and meet CoVid guidelines. Tickets go on 'sale' on August 2nd and are expected to go quickly at www.ticketmaster.com. Free Manhattan concerts NYC.
All Five Boros are Back Online with Live Cultural Programs & Events
But please remain CoVid cautious for your own health and that of those around you by getting vaccinated, wearing masks when indoors or in close proximity to others and by washing your hands regularly.
Here are links to things going on in each borough this weekend.
Things to do this weekend in the Bronx
Things to do this weekend in Brooklyn
Things to do this weekend in Manhattan
Things to do this weekend in Queens
Things to do this weekend on Staten Island
Also see links below, posted on July 16, 2021, to farmers markets, street fairs and free theater, movies, concerts and swimming pools.
Enjoy.
---
Mostly Free Summer Outdoor Movies in NYC
There are a Number of Free Summer Outdoor Movies being Shown in all Five Boros Again this Year, Showing that NYC Continues to Make its Journey Along the Path to Near Normalcy
July 26, 2021 / NYC Neighborhoods / Paid & Free Things To Do NYC / News Analysis & Opinion / Gotham Buzz NYC.
NYC continues its efforts to return to normal. We've seen an uptick in white collar workers returning to the city during the week. And tourism appears to be making a comeback, which apparently started in earnest around the July 4th holiday weekend.
Many of the free summer cultural programs, that have been the hallmark of summers in the city in years past, are making a return - albeit not quite in the full force of recent years - but certainly in a robust enough manner for one to enjoy some free live performances of song, dance and theater, as well as the free enjoyment of outdoor film in the parks.
The following are links to the film events / free movies going on around the five boroughs of the city over the next couple of months.
Enjoy.
Free Things to do NYC / Free Outdoor Summer Movies Bronx NYC
Free Things to do NYC / Free Outdoor Summer Movies Brooklyn NYC
Free Things to do NYC / Free Outdoor Summer Movies Manhattan NYC
Free Things to do NYC / Free Outdoor Summer Movies Queens NYC
Free Things to do NYC / Free Outdoor Summer Movies Staten Island NYC
---
Mostly Free Summer Outdoor Concerts in NYC
There are a Number of Free Summer Outdoor Concerts being Performed in all Five Boros Again this Year, Showing that NYC Continues to Make its Journey Along the Path to Near Normalcy
July 19, 2021 / NYC Neighborhoods / Paid & Free Things To Do NYC / News Analysis & Opinion / Gotham Buzz NYC.
NYC continues its efforts to return to normal. We've seen an uptick in white collar workers returning to the city during the week. And tourism appears to be making a comeback, which apparently started around the July 4th holiday weekend.
And many of the free summer cultural programs, that have been the hallmark of summers in the city in years past, are making a return - albeit not in full force - but certainly in a robust enough manner for one to enjoy some free live performances of song, dance and theater, as well as the free enjoyment of outdoor film in the parks.
The following are links to the musical happenings / free concerts going on around the five boroughs of the city over the next couple of months.
Enjoy.
Free Things to do NYC / Free Outdoor Summer Concerts Bronx NYC
Free Things to do NYC / Free Outdoor Summer Concerts Brooklyn NYC
Free Things to do NYC / Free Outdoor Summer Concerts Manhattan NYC
Free Things to do NYC / Free Outdoor Summer Concerts Queens NYC
Free Things to do NYC / Free Outdoor Summer Concerts Staten Island NYC
---
Free Things To Do This Summer - Free Theater NYC
Free Theater in the Parks, Free Shakespeare in the Park NYC
July 13, 2021 / NYC Neighborhoods / NYC Things To Do Events / Gotham Buzz NYC.
Summer events have gotten off to a bit of a late start this year due to the uncertainty surrounding the CoVid pandemic. Nonetheless, many outdoor theatrical performances will go on with the show, albeit a bit late and many remain either dormant or permanently closed.
We just finished doing a preliminary round up of who's performing this summer and who's not. We are of the unconfirmed opinion that those who haven't scheduled or publicized any particulars for this season are probably not going to this year.
So here it is by borough. As of this posting we're still finishing up our work on these events, with most posted in some fashion, except for Bryant Park, and Harlem and Washington Heights. This will be done either later today or surely later this week. Enjoy ... or shall I say 'break a leg'.
---
---
REAL ESTATE & BUSINESS
NYC Landlord Harassments Continue
NYCCM Helen Rosenthal Hosts Housing Clinic to Inform Renters of Their Rights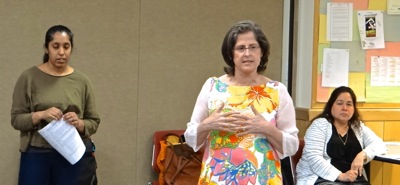 May 29, 2018 / Upper West Side Neighborhood / Manhattan Real Estate / Manhattan Neighborhoods / Manhattan Buzz NYC.
MB - S.
On Wednesday, May 25th I went to the Goddard Riverside Community Center on Columbus Avenue at 88th Street to attend a housing clinic designed to inform renters of their rights.
***The following introduction is based on prior research done by me, and was not information provided at the housing clinic. I'll let you know when I segue out of my preamble and into the housing clinic.***
Over the past decade landlords appear to have become increasingly aggressive in trying to wriggle out of NYC and NYS rent stabilization regulations, that govern the rental payments under which about two million New Yorkers live.
It is my understanding that the government contributed land and / or financing to build or repair the buildings governed by NYC / NYS rent stabilization laws in exchange for the pricing rights on rent stabilized units. Many of the new landlords who have acquired rent stablized buildings, may possibly be in violation of approaching their business contract(s) in good faith, as the definition of good faith according to Wikipedia is:
"In contract law, the implied covenant of good faith and fair dealing is a general presumption that the parties to a contract will deal with each other honestly, fairly, and in good faith, so as to not destroy the right of the other party or parties to receive the benefits of the contract. It is implied in every contract in order to reinforce the express covenants or promises of the contract. A lawsuit (or a cause of action) based upon the breach of the covenant may arise when one party to the contract attempts to claim the benefit of a technical excuse for breaching the contract, or when he or she uses specific contractual terms in isolation in order to refuse to perform his or her contractual obligations, despite the general circumstances and understandings between the parties. When a court or triar or fact interprets a contract, there is always an "implied covenant of good faith and fair dealing" in every written agreement."
What is at stake, throughout the city, is literally hundreds of millions and more likely billions of dollars in - rental benefits or rental income streams - depending on which side of the struggle you're on. The landlords appear to be trying - using the torturtous side effects of construction including noise, health risk dust [inhalation], privacy loss and apartment functional loss - to wrest away the billions of dollars of rental pricing rights benefits from tenants to be pocketed by the landlords themselves. Given the high dollar value of what's at stake - including people's homes - this seems like attempted grand larceny, especially in cases where landlords are breaking the law to achieve their goals.
This will be continued at a later date. Including the segue into the information provided by the Housing Clinic to inform tenants of their rights.
Tenants' Rights March & Rally - June 14th Midtown at 4.30 pm
P.S. There's a March & Rally scheduled for June 14th, beginning at 4.30 pm, at the NY Public Library at 5th Avenue and 40th Street. They plan to march to Governor Cuomo's office at 3rd Avenue and East 41st Street. For details contact info@realrentreform.org or call 212.979.6958. All but one of the No IDC NY senatorial candidates have been invited to participate, and there's a possibility that NYS gubernatorial candidate Cynthia Nixon will be there too - as this seems to coincide with her reasons for challenging Governor Cuomo.
---
NY Real Estate Expo
NYC Professionals Discuss Manhattan & NYC Metro Real Estate
April 23, 2018 / NYC Neighborhoods / Manhattan Real Estate NYC / Gotham Buzz NYC.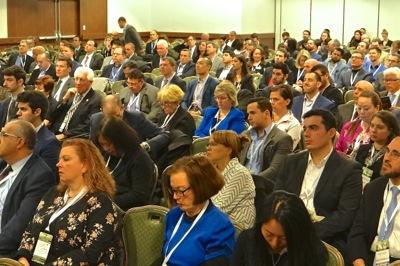 I attended the 10th annual NY Real Estate Expo at the New York Hilton last week. The event was well attended by hundreds of real estate, development and financial professionals from the NYC and metro area. Anthony Kazazis, Director of the event, had organized a series of panels to discuss key aspects affecting the real estate market ranging from software platforms, to financing, to NYC real estate market assessments.
Generally the mood was upbeat, but not without some concern about the future, given changes in the tax laws, foreign interest in NYC investment, interest rates forecasts and technological challenges facing the industry. But, I thought, that is why everyone is here. To find out what's going on so they can navigate the market changes - rather than be surprised by them.
While I had intended to stay only a short while, I found the topics and panelists too interesting to leave, so I stayed most of the day. I started with a discussion of a new information technology platform called Blockchain, which is intended to serve as an information clearing house, and it includes some artificial intelligence capability. I then found my way into a discussion about New York City versus Silicon Valley with respect to attracting large technology companies like Amazon, Facebook and Google. And I ended my visit after listening in on a discussion by NYC and metro area realtors discuss the residential real estate market in Manhattan and outer boroughs.
Sound like an interesting NYC real estate conference? It was. In the photo above you can see the audience at the well attended panel discussions at the NY Real Estate Expo this year.
I'll have more on this later in the week.
---
Gotham Buzz Voluntary Subscriptions
We work very hard to help keep you informed by providing you with independent news coverage, as well as

information about events in the arts, culture and business in the borough.
You can help us continue to provide you with independent, first-person, fact-based, contextural reporting by purchasing an annual subscription. As it's voluntary, there are a variety of price options, one of which should fit within your budget.
Thanks for your encouragement & support.
---