Michael Bloomberg Record - Part II.
Is Picking Between Two NYC Republican Billionaires Who Govern for the 1% Really a Choice?
Democrats Should Take a Hard Look at the Billionaire Republican Bloomberg's Record Before Casting Their Votes
And any American with Half a Brain should Know that Relying Soley on an Ad for all the Information You use to make a Decision is Not a Good Idea
February 21, 2020 / NYC Neighborhoods / National Politics & Government / News Analysis & Opinion / Gotham Buzz NYC.
Buying Ads to Provide Voters with a Distorted View
Michael Bloomberg has already reportedly spent somewhere between a quarter and half BILLION DOLLARS TO TELL AMERICAN VOTERS WHAT HE WANTS THEM TO BELIEVE ABOUT HIM.
This is not unlike what Rupert Murdoch's Fox Fake News did to the Republican electorate in 2016 and appears to do every day. The difference is that Murdoch passes off his narratives through various propaganda segments of 'news' , while Bloomberg has been confined to 30 second or 60 second TV commercial ads. And both billionaires also use the web, which is now the dominant medium in the nation, but not yet in political ad spending.
Bloomberg Ads Talk About Recent Donations – NOT About his Record as Mayor
If you watch Bloomberg's commercials carefully you'll note that HE DOESN'T TALK MUCH ABOUT HIS RECORD AS NYC MAYOR, but rather talks mostly about the DONATIONS HE'S MADE OVER THE PAST TWO OR THREE YEARS. Donations made AFTER the Donald won the presidency, and showed the other presidential seeking NYC Republican Billionaire, that rich people can fool enough of the electorate to convince a winning number of them, to vote for a very self-centered, very self-interested billionaire candidate who has no idea what it's really like to be middle class or working class – let alone poor.
Bloomberg's donations, while laudable, appear to be very politically calculating. Bloomberg has given to Democratic candidates over the past few years, even though Bloomberg governed as NYC Mayor primarily as a Republican. And the former NYC Mayor also gave to Republican candidates, including senators who supported the Trump / Mitch McConnell agenda such as South Carolina Republican Lindsay Graham [$250,000] and Pennsylvania Republican Pat Toomey [$11,700,000].
According to a November 26, 2019 report in the New York Times, Bloomberg
"… The former mayor of New York poured in $11.7 million to help re-elect the Republican incumbent, Senator Pat Toomey … Federal records show that political committees funded by Mr. Bloomberg have spent more than $86 million since 2012 — the bulk devoted to promoting Democrats. Yet more than $17 million went to boost Republicans. In addition, Mr. Bloomberg has personally donated another $950,000 to Republican campaigns and political action committees … "
Bloomberg claimed he supported Pennsylvanian Pro Lifer Toomey because he was an advocate for gun control. But according to NY Magazine, so was the Democratic challenger, Kate McGinty. McGinty was also an environmental policy expert, while Toomey was also a Pro Life advocate. Sources for this paragraph are NYT 11/26/2019 and NY Mag 2/18/2020.
Another political donation the former NYC Republican billionaire made was in 2014 when he supported the gubernatorial campaign of former Michigan Governor Rick Snyder with a $3 million contribution. According to a February 18, 2020 report in NY Magazine,
"In 2014, Bloomberg gave $3 million to Michigan governor Rick Snyder, the conservative Republican who presided over the mass poisoning of Flint's water supply. The supposedly "socially liberal" billionaire's rationale for backing a self-described "pro-life, pro-Second Amendment" Republican? Snyder was, in Bloomberg's words, a guy "who took on the unions to get Detroit and Michigan going in the right direction. And he was re-elected despite being attacked by the unions.""
How Many Votes Can Billionaires & Billionaire Owned Media Buy?
Is Buying 'Results' in Line with the - One Man / One Vote - Promise of the Democratic Process?
Bloomberg said he spent this money to "get it done", essentially proving he has his own agenda and can buy the accomplishment of it. Americans need to take note, when they relinquish their votes to the billionaires, they are relinquishing their role in what has been the democratic process.
Voters have come to the fork in the road where they must choose between that which is easy and that which is right. You can make a difference by donating small sums of money over the internet, and if you can't do that you can do a search for candidates or government officials you like and help them make calls or sign up voters or canvass neighborhood getting the word out the old fashioned way – the human way.
---
It's not a Democracy if the American Government's Power is Personalized
We're not Living in a Democracy if We Allow America's Power to be Personalized
Donald Trump, Rupert Murdoch, Michael Bloomberg & the Personalization of America's Governmental Power
February 10, 2020 / NYC Neighborhoods / NYC Politics & Government / News Analysis, Opinion & Satire/ Gotham Buzz NYC.
I've been watching events on the national stage rather closely these past four years. I think most everybody has tuned in a bit more than in prior years. And what we're witnessing is an insidious failure of our democratic institutions because "We The People" haven't been paying attention, for far, far too long.
King George III was America's Last Monarch / Dictator in 1783
And if we don't start making the right choices, due process, checks and balances and the rule of law are going to slip away from us. And a few people will make most of the important decisions for the rest of us, just like when King George III ruled the colonies, and just as is done in Russia and China today.
Trump may represent the end game, but Rupert Murdoch seems to be the man who started us on the not-so-long journey to ignorance. Since the Australian born billionaire arrived on our shores, his accumulation of an overwhelming share of our mass media has led to the election of numerous representatives who don't keep their pledge to uphold the Constitution, and no longer even pretend to adhere to the rule of law.
We should have seen this coming, as Rupert Murdoch has nearly single-handedly ruled Australia and Britain through surrogates for decades. And since Reagan, Clinton and George W. Bush collectively relinquished our ability to have access to numerous independent information sources, contrary to what Murdoch's Fox Fake News tells us, it's not the Voters who are Deciding - but rather those who provide the voters with the corrupt information the voters use to make their voting decisions - who are the real deciders.
But I digress. That's how we got here. And now we are inching ever closer to the possible end game. The non-choice choice in 2020 between two autocratic billionaires - Donald J. Trump and Michael Bloomberg. Once we let the billionaire class take and keep the top spot, it will become increasingly difficult to win back our democracy.
CLICK the link below for the rest of our report on the Personalization of Power - How the Donald & Rupert Murdoch are Destroying America's Democracy.
The report includes:
1) Corrupton: Financial Incest in the Oval Office,
2) Courtiers: Rudy & the Royal Republican Boot Lickers,
3) Bully Brutus: Breaking the Law with Impunity,
4) Rigged Republicans: Using Public Money & Power to Further Family & Friend's Interests,
5) Criminal King: Undermining Rule of Law,
6) Back to Royal Incompetence: Hiring Royal Loyals versus the People of Merit and
7) The Great American Sell Out: Commander-in-Chief Big Mouth seems to compromise American Security & Foreign Policy.
CLICK here to continue reading our news analysis and opinion on Trump, Murdoch & the Personalization of Power on Presidents Day 2020 in America.
---
State of the Union Dividers: Rupert & the Donald
February 4, 2020 / U.S. Politics / News Analysis & Opinion / Gotham Buzz NYC.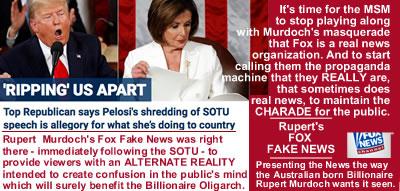 The Donald delivered his State of the Union Address in what was yet another one of his divisive speeches. It seems he's no longer talking to the nation as a whole - but that he's primarily talking to Rupert Murdoch's Fox Nation.
Plunderers always seek to divide, to destructively exploit community divisions, in order to further their own agenda.
Conversely real leaders seek to unite people around issues they can agree upon, in order to move forward with efforts that benefit the whole community.
Founding Father John Dickinson told the American people, prior to the Revolutionary War, that "United we stand. Divided we fall.". This is as true today as it was back then.
And Benjamin Franklin warned Americans at the Constitutional Convention that we had "A republic ... if you can keep it." Right now there are numerous powerful, deceptive and manipulative forces - both domestic and foreign - working relentlessly and insidiously to take our democracy and the rule of law away from us.
This year we, as a nation, will decide who we really are, and whether we can keep the republic.
Australia and Britain currently have failed democracies due to Murdoch's mass media manipulations. Murdoch through his overwhelming share of media in those nations, appears to nearly single-handedly pick their leaders.
The pinocchio pundits on Murdoch's monopolistic & oligopolistic share of national media outlets cry out "Let the Voters Decide", because they know the majority of voters will decide using Murdoch's corrupt presentation of the news. So what they're really saying is "Let Murdoch & Us Decide." Here's just one example of seemingly innumerable Murdoch mass media reports that distort the truth to their audience - this one was in the NY Propaganda Post.
Murdoch & the Rise of the 21st Century Propaganda Press Report Series. Click on the image above to see our report series on Rupert Murdoch's Fox Fake News Machine. You'll find our reports showing Murdoch's fake news is the biggest, possibly the first, and one of the most - if not the most - deceptive and thus dishonest media corporations in modern times in many areas of the English-speaking western world.
Dysfunctional Donald Report Series. Click here to read prior reports posted on the dysfunctional presidency of Donald Trump, including reports on his early attacks on the media, on his increase in the Defense budget even though the U.S. spends more on Defense than the next seven other nations in the world COMBINED, Trump's tax cut giveaway to the richest people on the planet which he funded by taking loans out on the backs of America's children, Trump's attacks on America's law enforcement and judicial institutions, his prior association with mobsters and the Russians, the Kavanaugh confirmation hearings, his losses in the 2016 midterm elections, and his endless stream of lies.
It's not a pretty picture, but it's based on the facts.
---
Closure of Rikers Island Moves Another Step Forward
In Oct 2019 NYC Council Designated Neighborhood Jail Locations in Four Boroughs
Community Board One in Astoria Only Approved the Closure of Rikers Island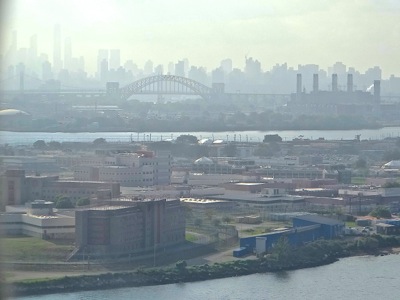 January 26, 2020 / Bronx Neighborhoods / Queens Neighborhoods / Queens Politics / Bronx Politics & Government / Queens Buzz NYC & Bronx Buzz NYC.
A week ago, on Tuesday, January 21st I attended the Community Board One meeting at the Astoria World Manor where the board was asked to approve the closing of the Rikers Island Detention Facility effective sometime before the end of the year 2026.
The photo at right was taken from an airplane while landing at LaGuardia in a prior year. Rikers Island Correctional Facility is a stone's throw away from LGA.
Queens Community Board One in Astoria Votes on Rikers Closure
The presentation consisted of two slides. One highlighted the social / moral blight that Rikers Island had become. The second slide simply proposed the request in very limited terms - the closing of Rikers Island and the conversion of it to a 'public place'. The presentation to the Committee was done by a team lead by Dana Kaplan, Deputy Director of the NYC Mayor's Office of Criminal Justice.
So please note that the Community Board had no role in the placement of neighborhood jails, nor did they sign off on anything that may become of Rikers Island going forward. They only approved the closing of the Correctional Facility and the allowance of use for it as a "public place".
I spoke with CB1 District Manager Florence Kolouris after the meeting about what exactly that meant. She told me that there isn't any definition, per se, given for public place – but a couple of examples of prior public places include Lincoln Center, Fort Totten and Queens Borough Hall.
The Community Board approved the measure with a recommendation that CB1 be kept in the loop throughout the closing process, including any demolition. Plenty of questions followed regarding what would become of the 400 acre island. Nothing concrete was proposed at this time, but the audience was assured that any changes would have to come through the Community Board via the ULURP process [Uniform Land Use Review Procedure].
The Bronx & Queens - Rikers Island Community Jurisdiction & Prison Population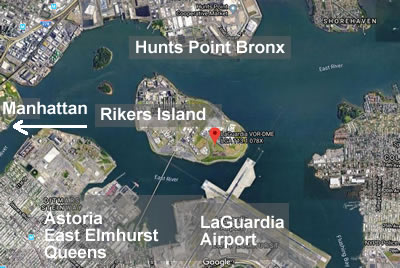 It's worth noting that technically Rikers Island is a part of the Bronx – not Queens – even though the only road traveling onto the island originates in the Astoria / East Elmhurst neighborhoods of Queens. In addition to Queens Community Board One, Bronx Community Board Two, representing the Hunts Point neighborhood, also has influence over the island. Since the Dinkins Administration in the 1990's, there's been a floating barge facility that's docked in Hunts Point, that is considered a part of the Rikers Island Correctional Facility.
Currently there are an estimated 7,000 plus inmates on Rikers Island. At its height, in 1991, Rikers Island held an estimated overcapacity inmate population of nearly 22,000. By the time the facility is to be closed in 2026, the inmate population is expected to have declined to between 3,000 and 4,000.
The photo at right shows the Rikers Island Correctional Facility which will be closed by the end of 2026.
---
Michael Bloomberg Record - The Part You Won't See in His Ads
Michael Bloomberg's Real Record as NYC Mayor
This Contains the Part of Bloomberg's Record You Won't See in His Ad Campaign
December 16, 2019 / NYC Neighborhoods / NYC Politics & Government / News Analysis & Opinion / Gotham Buzz NYC.
I started reporting for Queens Buzz in the second half of 2007, in anticipation of the website opening in 2008. At the time, politics wasn't in the docket. But over time, as I watched government and political events unfold, I couldn't ignore the huge gap between what was happening - versus what was reported to be happening.
Thus over time I began reporting on NYC, NYS and eventually national politics, doing in-depth research along the way, so that I could provide our readers with a fresh point of view, based on facts and knowledge, with scant pandering to the politicial spin.
While I only began tuning into NYC politics as a reporter during Michael Bloomberg's third term, I had picked up information about him prior to that as an aware NYC resident / voter. My first glimpse into Republican Mayor Michael Bloomberg's anti-democratic tendencies came about in 2004, during the Republican Presidential Convention, when Bloomberg appeared to illegally lock up people protesting the wars and policies of then president George W. Bush. But before I delve into that aspect of Bloomberg's performance, I want to highlight a few others.
Disdains Democracy: Overturns Mayoral Term Limits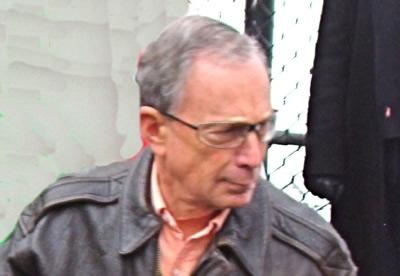 In 2008, just a year before former Mayor Michael Bloomberg was about to be term limited out of the Mayor's Office, he convinced the NYC City Council to override the plebiscite that term limited his time in office as the Mayor.
Thus Michael Bloomberg sought and won a third term - which he essentially bought - by funding his campaign with nearly $100 million of his own money, to defeat an relatively unknown candidate, retiring City Comptroller Bill Thompson.
Thompson was not given much support by the Democratic Party in that election, likely because they didn't believe he would do anywhere near as well as he did, and they were competing with a billionaire who could / would and did greatly outspend the competition. The final vote was 50.7% for Bloomberg and 46.3% for Thompson.
Did Former Mayor Bloomberg Override Term Limits in Order to Cash In NYC's Municipal Real Estate Holdings?
The deals on the Bronx Terminal Market, Hudson Yard, Hunters Point South & Flushing Meadow Corona Park were all begun in 2007. So were the two multi-billion dollar [each] subway line extension projects - the Q and the #7.
All of the real estate developments and the two major subway infrastructure projects seemed to greatly benefit one person - Stephen Ross and his privately held Related Companies. Stephen Ross went from not being counted as a billionaire at the beginning of Bloomberg's Mayoralty, to becoming the richest real estate developer in New York City within a couple of years after he took office.
It's worth noting that Bloomberg's net worth during this period shot up too. And that Bloomberg LLP, the company he founded, also operates in NYC and is also privately held.
Former Mayor Michael Bloomberg's Real Record as Mayor
The Real Record of Mike Bloomberg's Accomplishments as Mayor - Doubling of Homelessnes, Taxpayer Funded but Privately Owned Luxury Apartments, Massive Public Land Giveaways to Friendly Developer, Massive Public Transit Spending Benefitting Same Developer, Privatization / Profitization of Many Public Schools, Failure to Negotiate with Unions, City Time Scandal & Racist Stop N' Frisk Policing Program
The report includes: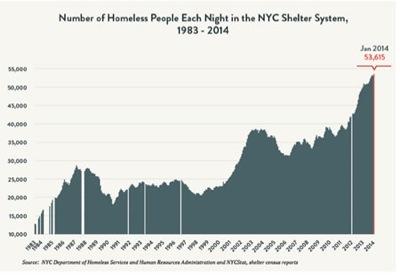 1) HOMELESSNESS: Bloomberg had a horrendous record on homelessness which broke all records & doubled during his Mayoralty.
2) AFFORDABLE HOUSING: Bloomberg sold the public on funding 'affordable' apartments that rented for $48,000 per year. These were publicly funded but privately owned apartment units that Bloomberg sold to the public as 'affordable' in order to gain passage of the bills authorizing them.
3) PUBLIC LAND GRAB. Four huge real estate developments appeared to be given to Stephen Ross & Related Companies which are now worth billions. The public lands reportedly sold for $1 apiece include Hudson Yard, Hunters Point South and the still pending Flushing Meadows Corona Park development. I'm not sure but Bronx Terminal was also transferred in a sweet deal to the real estate developer Stephen Ross & Related Companies.
4) PUBLIC SPENDING BENEFITTING FRIENDLY DEVELOPER. Bloomberg pushed two subway line extensions that seemed to disproportionately benefit Stephen Ross & Related Companies. The subway line extensions were 1) the #7 subway line extension that supported Stephen Ross & Related Companies Hudson Yard development and 2) the Q subway line extension which greatly enhanced the value of Stephen Ross and Related Companies Upper East Side properties.
5) PRIVATIZATION OF PUBLIC SCHOOLS. Bloomberg's privatization of a significant portion of the NYC public school system which appeared to tear apart the NYC public school system by enabling for profit private charter schools, disproportionately favoring Eva Moskowitz and Success Academy, to recruit the best students of the NYC public school system, while leaving the rest behind in the hands of the public and unions;
6) UNION BUSTER? Bloomberg's failure to sign a single major union contract during his 12 year administration and the
7) GIULIANI / BLOOMBERG CORRUPTION. City Time corruption scandal.
8) RACIST POLICING POLICY. Presided over racist Stop N' Frisk policing policy.
CLICK here to read the rest of our report on the part of the Mike Bloomberg's record of Mayor. The part of the Bloomberg record you won't see in his $33 million ad campaign to convince Democrats to vote for him. Billionaire Bloomberg, like the billionaire President, seems to have an inclination to distort the truth.
---
The Road Ahead 2020
A Few Axioms To Keep In Mind Throughout The New Year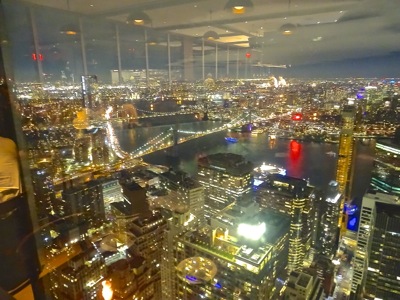 January 2, 2020 / NYC Neighborhoods / NYC Holidays / Gotham Buzz NYC.
For all of us, tomorrow starts the beginning of the new year.
I used to make new years resolutions that generally lasted a few days or few weeks. Over time I've given that up and have focused on a few guiding principles that I work toward throughout the year, every year.
MB - S.
1. The first guidepost is to keep things as simple as possible by letting things go, so you can change and evolve who you are. Over time it's important to learn to let go of the past which includes letting many of the people, projects and things - once so meaningful and relevant - to fade away with time. This process involves discarding much of what one collects, in order to open up space in your life to make room for new possibilities.
2. The second guidepost is to take care of the vessel that carries one's being - meaning take care of your body because it's the only one you'll ever get, and it has to last an entire lifetime. This means consuming the foods that will enable the body to function properly and ward off disease, while recognizing that satisfying the mind is important too, as it's a part of the body. There are three elements to this guideline.
a _ Try to maximize consumption of natural foods while managing / minimalizing consumption of the delicious processed foods that come in packages. Read package container nutrition labels which indicate the amount of fat, sugar, sodium and cholesterol consumed per serving. You can manage the balance of natural and processed foods depending on what's going on in life, meaning leaning toward natural foods to take care of the body, and leaning toward tasty processed foods to treat your mind.
b _ Reduce consumption of toxins by first paying attention to the quantities consumed of them, and then by substituting the toxins with healthier choices. For example dilute a soft drink with seltzer water [cuts sugar], or swap in a lemonade for a beer [cuts alcohol], or swap in pretzels for potato chips [cuts salt and fat]. Over the years these little substitutions can add up to some fair measure of weight loss or stability, and can aid in maintaining generally good health. But it's also important not to deprive oneself, too much, of some of the simple pleasures in life that keep one going - experience tells us not to be too draconian, or you can expect a subconscious rebellion, and then your program doesn't work.
c _ The third element of this guidepost is to try to walk and bike whenever possible. It's a good way to kill two birds with one stone, as it enables getting somewhere, while also getting some exercise. And be sure to carve out enough time each night, for a proper rest.
3. The third guidepost is to try to move your life in the direction of your interests. This will likely take a great many years, as well as needing to make a good number of economic and other lifestyle trade offs. But if successful, you can then spend most of your time doing the things that totally engage you. It's said that "when someone is doing something they truly love, they'll never have to work another day in their life."
4. The fourth guidepost is to keep on learning, because "luck is when preparation meets opportunity". So the more you learn, and the more experience you get, the better prepared you'll be ... come what may.
May your new year be filled with promise and possibilities. Best wishes for a happy and successful 2020.
---
* SHOPPING
HOLIDAY MKTS BROOKLYN & STATEN respectively 1468 / 1469
Brooklyn Holiday Events & Things To Do - Brooklyn NYC
Brooklyn Holiday Events & Things To Do NYC
Brooklyn Holiday Things To Do - Christmas Tree Lightings, Brooklyn Hanukkah Menorah Lightings & Kwanzaa Holiday Candle Lightings
December 28, 2018 / Brooklyn Neighborhoods / NYC Shopping / Brooklyn BLVD NYC.
Community holiday events have been on the rise in Brooklyn since the start of the 21st century. While some date back many years, even prior to the start of the 21st century, many are relatively new.
Enjoying a community get together around the holidays is a good way to share in other people's cultures and strengthen the human bonds that transcend cultural variation. Or conversely, an opportunity to share your cultural upbringing with others.
Each of the Brooklyn holiday events is a bit different, as some are organized by community groups, local government officials and others by business organizations. Oftentimes one can find artisanal products that are made in NYC or NYS for sale, but we've dedicated a special section to announcing Brooklyn Holiday Markets & Shopping - Brooklyn NYC.
Brooklyn Holiday Events & Things To Do Getting Underway
The Brooklyn holiday events get underway shortly after Halloween, with some coming opening up about the time of Thanksgiving. The Brooklyn holiday events are located in or near the following Brooklyn neighborhoods - Greenpoint, Williamsburg, Bushwick, Fort Greene, Brooklyn Heights, Downtown Brooklyn, Prospect Park, Park Slope, Sunset Park, Bayridge, Gowanus, Carroll Gardens, Cobble Hill and Dyker Heights. Many either include the serving of some beverage like hot chocolate and generally snacks like cookies - or are near food vendors and restaurants.
Click here to read our report about Brooklyn Holiday Events / Holiday Things To Do in Brooklyn NYC.
---
Brooklyn Holiday Markets & Holiday Shopping - Brooklyn NYC
Brooklyn Holiday Markets, Christmas Shopping & Hanukkah Shopping
Brooklyn Christmas Shopping, Hanukkah Shopping & Brooklyn Holiday Markets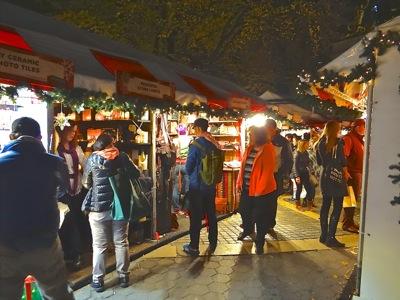 November 19, 2019 / Brooklyn Neighborhoods / Brooklyn Shopping / Brooklyn Blvd NYC.
Holiday outdoor markets have been on the rise in Brooklyn since the dawn of the 21st century. While some date back many years, some are relatively new.
Shopping at holiday markets alone, with friends, or with the kids gives folks a chance to enjoy the fruits of their labor and satisfy some of their yearnings and some of the yearnings of those we love.
Each of the Brooklyn holiday markets is a bit different, as some are organized by community groups and others by business organizations. Oftentimes one can find artisanal products that are made in NYC or NYS.
Brooklyn Holiday Markets Getting Underway
The Brooklyn holiday markets get underway shortly after Halloween, with some coming opening up about the time of Thanksgiving. The Brooklyn holiday markets are located in or near the following Brooklyn neighborhoods - Greenpoint, Williamsburg, Bushwick, Fort Greene, Brooklyn Heights, Downtown Brooklyn, Prospect Park, Park Slope, Sunset Park, Bayridge, Gowanus, Carroll Gardens, Cobble Hill and Dyker Heights. Many either include the serving of some beverage like hot chocolate and generally snacks like cookies - or are near food vendors and restaurants.
Click here to read our report about Brooklyn Holiday Markets & Shopping - Brooklyn NYC.
---
Staten Island Holiday Markets Shopping & Events - Staten Island NYC
Staten Island Holiday Markets, Holiday Events, Christmas Shopping & Holiday Things To Do
Staten Island Christmas Tree Lightings, Staten Island Menorah Lightings Hanukkah, Staten Island Holiday Markets & Holiday Shopping
Updated December 4, 2018 / November 24, 2018 / Staten Island Neighborhoods / Staten Island Shopping / Staten Island Buzz NYC.
The holidays are a special time of the year. In ancient times there were harvest celebrations to give thanks and enjoy the bounty after a long growing and harvesting season aka a year of work.
THESE HOLIDAY EVENT & HOLIDAY MARKETS ARE ORGANIZED
1. BY NEIGHBORHOODS OF STATEN ISLAND
2. And BY DATE
Watch carefully as some locales have multiple dates, and all dates for a given locale are shown at the time the venue is first listed.
And there were also winter solstice celebrations to commemorate the end of the darkening of the skies. Some cultures celebrate with a festival of lights, and in Christian cultures the holidays are marked with holiday lightings including tree lightings and candle lightings - as well as the celebration of giving through the most well known and most generous man in the world - Santa Claus.
Meanwhile, back on Staten Island we celebrate in a number of ways, which carry on some of these ancient traditions. The following provides the dates / times / locales and some details regarding many of the various Staten Island holiday celebrations and Staten Island holiday markets and shopping for folks to enjoy between now and the end of the year.
Click here to read our report about Staten Island Holiday Events / Holiday Things To Do & Staten Island Holiday Markets & Shopping.
---
THANKSGIVING / VOTE NOV 2019
Thanksgiving Day - America's Communal Holiday NYC
Thanksgiving - America's Communal Holiday
The Pilgrims Legacy: Love, Sharing & Community Empowerment
November 25, 2019 / NYC Neighborhoods / Thanksgiving Holidays in NYC / Gotham Buzz NYC.
Last year I happened upon a childhood book of fables and fairytales that I had saved since I was a first grader. I was young enough to still like fairytales and old enough to be learning and loving to read. The book, A Gateway to Storyland, by Platt & Munk Co, was given to me around the holidays, and the book still gives me a warm, loved feeling when I periodically open it [see photo at right and it's still in print]. I read it numerous times after I received it, as the illustrations fed the imagination, and lessons embedded in the words resonated with wisdom.
Unselfish Parental Love Manifested by Empowering Progeny
Love comes in many forms, but the purest form is unselfish love. The love of truly giving something with no thought of anything in return. That love is oftentimes given intergenerationally - from grandparents to parents to children.
Perhaps the greatest gifts are those that cost us nothing but our time. Like the gift of teaching someone something that they will be able to put to good use throughout their lives. Parents do this all the time, when they teach their children's skills and impart some knowledge and wisdom ... just as my parents did many years ago, by giving me a well illustrated fairytale book to encourage my learning to read, while sharing the time tested wisdom of the ages, handed down in fables and fairytales.
The Pilgrims Shared Communal Resources to Actualize a Dream
At Thanksgiving time we commemorate one of America's first settlements, founded by the risk-taking, resource-pooling, hardworking, spiritual community of Pilgrims.
The Pilgrims were early English settlers who arrived on American shores in the early 17th century [1600's]. They came here because they wanted a measure of freedom and self-determination that they were forbidden in Europe or what was called the 'old country'. The Pilgrims wanted to practice their faith, unencumbered, in a way that differed from the established Church of England. They pooled their money to obtain a ship, the Mayflower, to cross the Atlantic in mid September of 1620, landing on America's shores at Plymouth Rock in Massachusetts on November 9, 1620.
The Pilgrims Receive Help from the Native People of a Strange Land
Per Wikipedia, the Piligrims survived a hard winter in 1621 with the help of the Wampanoag, an American Indian tribe. The Pilgrims were the immigrants, and the first Americans, the Indian natives, welcomed them. The Wampanaog taught the Pilgrims how to catch eels, and how to grow and harvest corn. Thus the Pilgrims ended 1621 with a good harvest which they celebrated and shared with their new friends, expressing their thanks to a higher power, aka God, for the success of their endeavors.
Thus it was that the first Thanksgiving celebration happened in America ... or did it?
---
NYC Municipal Elections Nov 2019 - NYC Charter Revisions on Ballot Queens DA Race & Public Advocate
Please Vote Tuesday, 11/5 NYC Municipal Elections
NYC Public Advocate, Queens District Attorney, Brooklyn District 45 NYC Councilmember Races & Changes to NYC Charter to be Decided
November 4, 2019 / NYC Neighborhoods / NYC Government & Politics / Gotham Buzz NYC.
The polling booths will be open from 6 am to 9 pm Tuesday, November 5, 2019.
To find your poll location click on the graphic above.
Once on the website, input your address, and then click the icon to get the results of the search.
PLEASE BE ADVISED that as of Sunday evening, the first poll site shown was the one used for EARLY VOTING, which at this point has ended, so scroll down to be sure you are going to the correct Poll site on Election Day.
---
---
---
* BROOKLYN
NYC MARATHON 2019
NYC Marathon in Brooklyn Queens Manhattan Bronx Staten Island NYC Marathon 2019
NYC Marathon Coming Through All Five Boroughs
New York Road Runners 49th NYC Marathon on Sunday
October 29, 2019 / NYC Neighborhoods / NYC Government & Politics / Gotham Buzz NYC.
The New York Road Runners / NYRR is hosting its 49th NYC Marathon on Sunday. The NYRR was founded in 1958 and has been organizing the NYC Marathon since 1970. The proceeds from the race go toward the programs of the runner non-profit. They report that the NYRR serves 670,000 people, of which 250,000 are youth, annually.
There are plenty of festivities this week surrounding the affair. Some are held at the NYRR Run Center [NYRR headquarters] at 320 West 57th Street between 8th and 9th Avenues in Manhattan, while others are held at the NYC Marathon Pavilion in Central Park at 67th Street and Central Park West, near the Tavern on the Green in Manhattan.
The other pre-race activities [see location addresses above] include a discussion on Tuesday about the NYC Marathon Book Club from 6 - 8 pm at the NYC Marathon Pavilion. On Wednesday there's a forum of Celebrity Charity Runners who talk about why they are running at the NYC Marathon Pavilion from 7 - 8 pm. On Thursday evening between 6 and 7 pm the NYRR presents the awards for the NYRR Hall of Fame inductees at the NYC Marathon Pavilion. On Friday at the NYRR Run Center there's an NYRR Running History Tour which runs from 10 - 11.30 am.
The pre-race festivities culminate the Saturday evening before the race, when there's an early dinner [3.30 - 8.30 pm] for the runners at the NYC Marathon Pavilion that is prepared by the chefs from Tavern on the Green. They call it the Marathon Eve Dinner. It has a sort of holiday ring to it.
---
---
---
* STATEN ISLAND
Casa Belvedere and the Festa & Motori D'Italia
9th Annual Festa & Motori D'Italia Keeps the Engine Running on All Cylinders
September 23, 2019 / Grymes Hill Neighborhood Staten Island / Things to do on Staten Island / Staten Buzz NYC.
I attended the Festa & Motori D'Italia at the Italian Cultural Foundation at Casa Belvedere on Staten Island. The following video captures most of what I experienced - save for the delicious aromas floating in the air.
---
---
* MANHATTAN
Greta Thunberg at Climate Strike in Battery Park NYC 2019
Tens of Thousands Showed for the Climate Strike - NBC Estimated 60,000
September 20, 2019 / Downtown NYC / Manhattan Buzz NYC.
I attended the Climate Strike in Battery Park Friday late afternoon. It was a beautiful day and thousands had shown up to rally support for changing how we live in order to avert the disaster of irreparably destroying the ecosystem which supports life on the planet. Swedish teen activist Greta Thunberg was there and spoke at the rally. The video below provides views of the crowd, some of their signs, a poetry performance, a musical performance and some of Greta's remarks. Stay tuned next week as the United Nations meets and Greta visits the U.N. to implore them to take action.
---
---
* QUEENS / NEIGHBORHOOD POLICING LIC
NYPD Neighborhood Police Program NYC
Neighborhood Policing in Queens & NYC
The NYPD Program Helps Build Trust & Stronger Community Relationships
August 28, 2019 / Long Island City Neighborhood / Queens Community Issues / NYC Neighborhoods / Queens Buzz NYC.
Last night I attended one of the New York Police Department Neighborhood Policing programs. It was held at the Information and Technology High School on 44th Road in LIC beginning at 7 pm. The NYPD Neighborhood Policing program began in 2015 under the leadership of NYPD Commissioner Bill Bratton and was rolled out under the leadership of NYPD Commissioner James O'Neill who replaced Bratton in 2016. The program became citywide in 2019.
In the photo at right are the two NYPD Police Officers in charge of the 108th Precinct Neighborhood Policing program - Jorge Ozuna and Andrew Ali.
The NYPD Neighborhood Policing program is designed to build trust and a robust two-way communication mechanism between the New York Police Department and the neighborhoods they serve. To that end the NYPD works to enable the same officers patrol the same neighborhoods at the same times / shifts in order to build a consistent rapport between the officers and the neighborhoods they serve. By building this two-way conversation about community safety and other policing issues, the NYPD becomes more aware of the concerns of neighborhood businesses and residents. Conversely, the folks living in a neighborhood develop a rapport and trust in the NYPD staff who patrol their communities, which enables the residents to collaborate with the police in ensuring community safety.
It makes perfect sense, which causes one to wonder why we're only getting to this place now.
---
---
---
* BRONX
IDC Challengers' Rallies Sunday
Challenging Republicans Posing as NYS Senate Democrats?
April 28, 2018 / NYC Neighborhoods / NYC Politics & Government / Gotham Buzz NYC.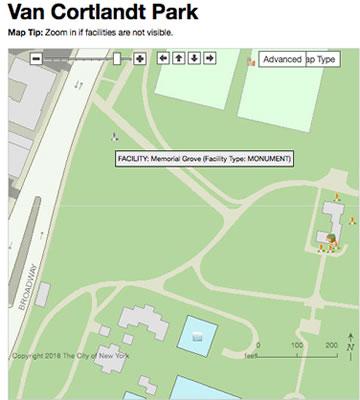 I just received an email notifying me of simultaneous rallies which will be held by IDC [Independent Democratic Caucus] member CHALLENGERS within the NYC Metro area. The members of the IDC, who these challengers are rallying against, have been caucusing with the Republicans since 2010 / 2011. By caucusing with the Republicans, the IDC Democrats have provided Republicans with a majority in the NYS Senate. Thus the IDC members appear to be Republicans running as Democrats on the Democratic ticket.
The IDC CHALLENGER rallies are intended to inform the electorate as to how their IDC electeds have been (mis?) representing them - as well as how the challengers would like to represent them - should they be given the chance.
"In an unprecedented show of strength and unity following the release of their joint statement about their agenda, the candidates will set forth their visions for their districts and will enlist those present at the rallies in registering voters, canvassing, and the like in preparation for the Thursday, September 13, 2018 primary election."
"The rallies will explain the need to replace the former IDC members with true blue Democrats whom we can trust not to turn their backs on the people who elected them. The IDC may have rejoined the Democrats for now, but they've been willing to ally themselves with the GOP since 2011 - and they've claimed to return to the Democratic fold before. The damage is done and we will not forget. New York deserves REAL Democrats who stand for progressive values, not Trump Democrats."
SUNDAY Rally Details:
Blue Wave Rally for Jessica Ramos, April 29, 2 PM, 31-04 Ditmar Blvd., Intersection at 31st Street Astoria, Queens.
Blue Wave Rally for Alessandra Biaggi, April 29, 2-3 PM, Memorial Grove in Van Cortland Park, Bronx. Memorial Grove is located in Van Cortlandt Park, near West 246 Street between Broadway and the Van Cortlandt Mansion - see map above.
Blue Wave Rally for Robert Jackson, April 29, 1:30-2:30 PM, at Bennett Park, W 183rd St & Fort Washington Avenue, Manhattan.
Blue Wave Rally for Rachel May, April 29, 2-3 PM, State Office Building, 301 East Washington Street, Syracuse.
Blue Wave Rally for Zellnor Myrie, April 29, 2-3 PM, at the Prospect Park subway stop, on Lincoln Avenue between Flatbush and Ocean Avenues, Brooklyn.
Blue Wave Rally for Jasmine Robinson, April 29, 2-3 PM, at Tappen Park, Staten Island (near the Stapleton SIR stop).
Blue Wave Rally to Make NY True Blue in SD38, April 29, 2-3, at 20 South Main Street, New City, NY
Blue Wave Rally to Make NY True Blue in SD21, April 29, 2-3 PM, Bell Boulevard at 73rd Avenue, Oakland Gardens, Queens
Press contacts:
Rise and Resist: Claire Ullman, 917-679-7120
True Blue NY: Lisa DellAquila, co-leader, 917-991-0605
Jackson campaign: Harris Doran, 917-797-6180
Myrie campaign: Andre Richardson (campaign manager), 201-892-5829, andrerichardson@gmail.com
Robinson campaign: Jane Nixon Willis, 914-584-2833; improvised3@gmail.com
Ramos campaign: Monica Klein, 917-565-0715, monica@seneca-strategies.com
Biaggi campaign: Dominique Shuminova, Deputy Campaign Manager, 917-821-7700
Avella protest: Judy Kirschner from Rise and Resist, 917-270-2705
Carlucci protest: John Gromada from Rockland Citizens Action, (845) 323-9896
Scroll down for related story or click here for the full story about the Independent Democratic Caucus & members.
---
---
* ART & CULTURE
Snug Harbor Fence Show on Staten Island
69th Annual Art Show Organized by the Staten Island Museum
October 1, 2019 / Randall Manor Neighborhood Staten Island / Things to do on Staten Island / Staten Buzz NYC.
I attended the 69th Annual Snug Harbor Fence Show on Staten Island on Saturday. The show included about 150 exhibiting artists, primarily from Staten Island, but also neighboring NYC boroughs and New Jersey. There were food and beverage vendors, an accomplished jazz group - the Musical Chairs Chamber Ensemble - as well as plenty of interesting artworks that ranged from ceramics, to clothing and jewelry, to all sorts of art on canvass and other materials. The crowd the show attracted was also an eclectic group of art lovers, art exhibitors and curious Staten Islanders [it's free admission]. See video to take in a couple of minutes of the ambiance of the show.
---
---
* SPORTS
Only in Queens: The U.S. Open & the USTA
Intergenerational Tennis Wins: Nadal Defeats Medvedev & Andreescu Defeats Williams
September 10, 2019 / Flushing Neighborhood / Sports in Queens / Queens Buzz NYC.
In the week leading up to the U.S. Open the USTA opens its doors to the Flushing, Queens and NYC community. They host a number of tennis related events, and provide opportunities for those who visit to watch the pros practice on the courts. The week culminated in Arthur Ashe Kid Day at the end of the week and families from the NYC metro area, most notably Queens come in droves to take in the rich atmosphere of the newly renovated USTA Billie Jean King National Tennis Center.
I had the opportunity to visit this year, which was enhanced by being able to photograph and video a shirtless Rafael Nadal - who won the men's title this year, complete with ripped abs - while practicing. See video later in the story.
---
---
NYC BOROS HISTORY
---