* SHOPPING
HOLIDAY MKTS BROOKLYN & STATEN respectively 1468 / 1469
Brooklyn Holiday Markets & Holiday Shopping - Brooklyn NYC
Brooklyn Holiday Markets, Christmas Shopping & Hanukkah Shopping
Brooklyn Christmas Shopping, Hanukkah Shopping & Brooklyn Holiday Markets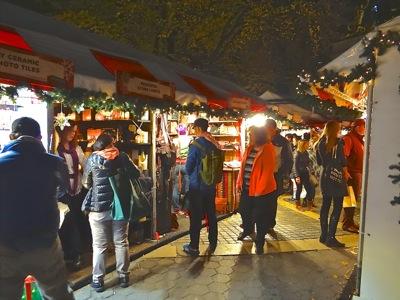 November 19, 2019 / Brooklyn Neighborhoods / Brooklyn Shopping / Brooklyn Blvd NYC.
Holiday outdoor markets have been on the rise in Brooklyn since the dawn of the 21st century. While some date back many years, some are relatively new.
Shopping at holiday markets alone, with friends, or with the kids gives folks a chance to enjoy the fruits of their labor and satisfy some of their yearnings and some of the yearnings of those we love.
Each of the Brooklyn holiday markets is a bit different, as some are organized by community groups and others by business organizations. Oftentimes one can find artisanal products that are made in NYC or NYS.
Brooklyn Holiday Markets Getting Underway
The Brooklyn holiday markets get underway shortly after Halloween, with some coming opening up about the time of Thanksgiving. The Brooklyn holiday markets are located in or near the following Brooklyn neighborhoods - Greenpoint, Williamsburg, Bushwick, Fort Greene, Brooklyn Heights, Downtown Brooklyn, Prospect Park, Park Slope, Sunset Park, Bayridge, Gowanus, Carroll Gardens, Cobble Hill and Dyker Heights. Many either include the serving of some beverage like hot chocolate and generally snacks like cookies - or are near food vendors and restaurants.
Click here to read our report about Brooklyn Holiday Markets & Shopping - Brooklyn NYC.
---
Staten Island Holiday Markets Shopping & Events - Staten Island NYC
Staten Island Holiday Markets, Holiday Events, Christmas Shopping & Holiday Things To Do
Staten Island Christmas Tree Lightings, Staten Island Menorah Lightings Hanukkah, Staten Island Holiday Markets & Holiday Shopping
Updated December 4, 2018 / November 24, 2018 / Staten Island Neighborhoods / Staten Island Shopping / Staten Island Buzz NYC.
The holidays are a special time of the year. In ancient times there were harvest celebrations to give thanks and enjoy the bounty after a long growing and harvesting season aka a year of work.
THESE HOLIDAY EVENT & HOLIDAY MARKETS ARE ORGANIZED
1. BY NEIGHBORHOODS OF STATEN ISLAND
2. And BY DATE
Watch carefully as some locales have multiple dates, and all dates for a given locale are shown at the time the venue is first listed.
And there were also winter solstice celebrations to commemorate the end of the darkening of the skies. Some cultures celebrate with a festival of lights, and in Christian cultures the holidays are marked with holiday lightings including tree lightings and candle lightings - as well as the celebration of giving through the most well known and most generous man in the world - Santa Claus.
Meanwhile, back on Staten Island we celebrate in a number of ways, which carry on some of these ancient traditions. The following provides the dates / times / locales and some details regarding many of the various Staten Island holiday celebrations and Staten Island holiday markets and shopping for folks to enjoy between now and the end of the year.
Click here to read our report about Staten Island Holiday Events / Holiday Things To Do & Staten Island Holiday Markets & Shopping.
---
THANKSGIVING / VOTE NOV 2019
Thanksgiving Day - America's Communal Holiday NYC
Thanksgiving – America's Communal Holiday
The Pilgrims Legacy: Love, Sharing & Community Empowerment
November 25, 2019 / NYC Neighborhoods / Thanksgiving Holidays in NYC / Gotham Buzz NYC.
Last year I happened upon a childhood book of fables and fairytales that I had saved since I was a first grader. I was young enough to still like fairytales and old enough to be learning and loving to read. The book, A Gateway to Storyland, by Platt & Munk Co, was given to me around the holidays, and the book still gives me a warm, loved feeling when I periodically open it [see photo at right and it's still in print]. I read it numerous times after I received it, as the illustrations fed the imagination, and lessons embedded in the words resonated with wisdom.
Unselfish Parental Love Manifested by Empowering Progeny
Love comes in many forms, but the purest form is unselfish love. The love of truly giving something with no thought of anything in return. That love is oftentimes given intergenerationally – from grandparents to parents to children.
Perhaps the greatest gifts are those that cost us nothing but our time. Like the gift of teaching someone something that they will be able to put to good use throughout their lives. Parents do this all the time, when they teach their children's skills and impart some knowledge and wisdom ... just as my parents did many years ago, by giving me a well illustrated fairytale book to encourage my learning to read, while sharing the time tested wisdom of the ages, handed down in fables and fairytales.
The Pilgrims Shared Communal Resources to Actualize a Dream
At Thanksgiving time we commemorate one of America's first settlements, founded by the risk-taking, resource-pooling, hardworking, spiritual community of Pilgrims.
The Pilgrims were early English settlers who arrived on American shores in the early 17th century [1600's]. They came here because they wanted a measure of freedom and self-determination that they were forbidden in Europe or what was called the 'old country'. The Pilgrims wanted to practice their faith, unencumbered, in a way that differed from the established Church of England. They pooled their money to obtain a ship, the Mayflower, to cross the Atlantic in mid September of 1620, landing on America's shores at Plymouth Rock in Massachusetts on November 9, 1620.
The Pilgrims Receive Help from the Native People of a Strange Land
Per Wikipedia, the Piligrims survived a hard winter in 1621 with the help of the Wampanoag, an American Indian tribe. The Pilgrims were the immigrants, and the first Americans, the Indian natives, welcomed them. The Wampanaog taught the Pilgrims how to catch eels, and how to grow and harvest corn. Thus the Pilgrims ended 1621 with a good harvest which they celebrated and shared with their new friends, expressing their thanks to a higher power, aka God, for the success of their endeavors.
Thus it was that the first Thanksgiving celebration happened in America ... or did it?
---
NYC Municipal Elections Nov 2019 - NYC Charter Revisions on Ballot Queens DA Race & Public Advocate
Please Vote Tuesday, 11/5 NYC Municipal Elections
NYC Public Advocate, Queens District Attorney, Brooklyn District 45 NYC Councilmember Races & Changes to NYC Charter to be Decided
November 4, 2019 / NYC Neighborhoods / NYC Government & Politics / Gotham Buzz NYC.
The polling booths will be open from 6 am to 9 pm Tuesday, November 5, 2019.
To find your poll location click on the graphic above.
Once on the website, input your address, and then click the icon to get the results of the search.
PLEASE BE ADVISED that as of Sunday evening, the first poll site shown was the one used for EARLY VOTING, which at this point has ended, so scroll down to be sure you are going to the correct Poll site on Election Day.
---
---
---
* BROOKLYN
NYC MARATHON 2019
NYC Marathon in Brooklyn Queens Manhattan Bronx Staten Island NYC Marathon 2019
NYC Marathon Coming Through All Five Boroughs
New York Road Runners 49th NYC Marathon on Sunday
October 29, 2019 / NYC Neighborhoods / NYC Government & Politics / Gotham Buzz NYC.
The New York Road Runners / NYRR is hosting its 49th NYC Marathon on Sunday. The NYRR was founded in 1958 and has been organizing the NYC Marathon since 1970. The proceeds from the race go toward the programs of the runner non-profit. They report that the NYRR serves 670,000 people, of which 250,000 are youth, annually.
There are plenty of festivities this week surrounding the affair. Some are held at the NYRR Run Center [NYRR headquarters] at 320 West 57th Street between 8th and 9th Avenues in Manhattan, while others are held at the NYC Marathon Pavilion in Central Park at 67th Street and Central Park West, near the Tavern on the Green in Manhattan.
The other pre-race activities [see location addresses above] include a discussion on Tuesday about the NYC Marathon Book Club from 6 - 8 pm at the NYC Marathon Pavilion. On Wednesday there's a forum of Celebrity Charity Runners who talk about why they are running at the NYC Marathon Pavilion from 7 - 8 pm. On Thursday evening between 6 and 7 pm the NYRR presents the awards for the NYRR Hall of Fame inductees at the NYC Marathon Pavilion. On Friday at the NYRR Run Center there's an NYRR Running History Tour which runs from 10 - 11.30 am.
The pre-race festivities culminate the Saturday evening before the race, when there's an early dinner [3.30 - 8.30 pm] for the runners at the NYC Marathon Pavilion that is prepared by the chefs from Tavern on the Green. They call it the Marathon Eve Dinner. It has a sort of holiday ring to it.
---
---
---
* STATEN ISLAND
Casa Belvedere and the Festa & Motori D'Italia
9th Annual Festa & Motori D'Italia Keeps the Engine Running on All Cylinders
September 23, 2019 / Grymes Hill Neighborhood Staten Island / Things to do on Staten Island / Staten Buzz NYC.
I attended the Festa & Motori D'Italia at the Italian Cultural Foundation at Casa Belvedere on Staten Island. The following video captures most of what I experienced - save for the delicious aromas floating in the air.
---
---
* MANHATTAN
Greta Thunberg at Climate Strike in Battery Park NYC 2019
Tens of Thousands Showed for the Climate Strike - NBC Estimated 60,000
September 20, 2019 / Downtown NYC / Manhattan Buzz NYC.
I attended the Climate Strike in Battery Park Friday late afternoon. It was a beautiful day and thousands had shown up to rally support for changing how we live in order to avert the disaster of irreparably destroying the ecosystem which supports life on the planet. Swedish teen activist Greta Thunberg was there and spoke at the rally. The video below provides views of the crowd, some of their signs, a poetry performance, a musical performance and some of Greta's remarks. Stay tuned next week as the United Nations meets and Greta visits the U.N. to implore them to take action.
---
---
* QUEENS / NEIGHBORHOOD POLICING LIC
NYPD Neighborhood Police Program NYC
Neighborhood Policing in Queens & NYC
The NYPD Program Helps Build Trust & Stronger Community Relationships
August 28, 2019 / Long Island City Neighborhood / Queens Community Issues / NYC Neighborhoods / Queens Buzz NYC.
Last night I attended one of the New York Police Department Neighborhood Policing programs. It was held at the Information and Technology High School on 44th Road in LIC beginning at 7 pm. The NYPD Neighborhood Policing program began in 2015 under the leadership of NYPD Commissioner Bill Bratton and was rolled out under the leadership of NYPD Commissioner James O'Neill who replaced Bratton in 2016. The program became citywide in 2019.
In the photo at right are the two NYPD Police Officers in charge of the 108th Precinct Neighborhood Policing program - Jorge Ozuna and Andrew Ali.
The NYPD Neighborhood Policing program is designed to build trust and a robust two-way communication mechanism between the New York Police Department and the neighborhoods they serve. To that end the NYPD works to enable the same officers patrol the same neighborhoods at the same times / shifts in order to build a consistent rapport between the officers and the neighborhoods they serve. By building this two-way conversation about community safety and other policing issues, the NYPD becomes more aware of the concerns of neighborhood businesses and residents. Conversely, the folks living in a neighborhood develop a rapport and trust in the NYPD staff who patrol their communities, which enables the residents to collaborate with the police in ensuring community safety.
It makes perfect sense, which causes one to wonder why we're only getting to this place now.
---
---
---
* BRONX
IDC Challengers' Rallies Sunday
Challenging Republicans Posing as NYS Senate Democrats?
April 28, 2018 / NYC Neighborhoods / NYC Politics & Government / Gotham Buzz NYC.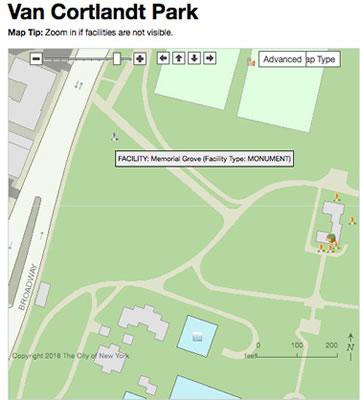 I just received an email notifying me of simultaneous rallies which will be held by IDC [Independent Democratic Caucus] member CHALLENGERS within the NYC Metro area. The members of the IDC, who these challengers are rallying against, have been caucusing with the Republicans since 2010 / 2011. By caucusing with the Republicans, the IDC Democrats have provided Republicans with a majority in the NYS Senate. Thus the IDC members appear to be Republicans running as Democrats on the Democratic ticket.
The IDC CHALLENGER rallies are intended to inform the electorate as to how their IDC electeds have been (mis?) representing them - as well as how the challengers would like to represent them - should they be given the chance.
"In an unprecedented show of strength and unity following the release of their joint statement about their agenda, the candidates will set forth their visions for their districts and will enlist those present at the rallies in registering voters, canvassing, and the like in preparation for the Thursday, September 13, 2018 primary election."
"The rallies will explain the need to replace the former IDC members with true blue Democrats whom we can trust not to turn their backs on the people who elected them. The IDC may have rejoined the Democrats for now, but they've been willing to ally themselves with the GOP since 2011 - and they've claimed to return to the Democratic fold before. The damage is done and we will not forget. New York deserves REAL Democrats who stand for progressive values, not Trump Democrats."
SUNDAY Rally Details:
Blue Wave Rally for Jessica Ramos, April 29, 2 PM, 31-04 Ditmar Blvd., Intersection at 31st Street Astoria, Queens.
Blue Wave Rally for Alessandra Biaggi, April 29, 2-3 PM, Memorial Grove in Van Cortland Park, Bronx. Memorial Grove is located in Van Cortlandt Park, near West 246 Street between Broadway and the Van Cortlandt Mansion - see map above.
Blue Wave Rally for Robert Jackson, April 29, 1:30-2:30 PM, at Bennett Park, W 183rd St & Fort Washington Avenue, Manhattan.
Blue Wave Rally for Rachel May, April 29, 2-3 PM, State Office Building, 301 East Washington Street, Syracuse.
Blue Wave Rally for Zellnor Myrie, April 29, 2-3 PM, at the Prospect Park subway stop, on Lincoln Avenue between Flatbush and Ocean Avenues, Brooklyn.
Blue Wave Rally for Jasmine Robinson, April 29, 2-3 PM, at Tappen Park, Staten Island (near the Stapleton SIR stop).
Blue Wave Rally to Make NY True Blue in SD38, April 29, 2-3, at 20 South Main Street, New City, NY
Blue Wave Rally to Make NY True Blue in SD21, April 29, 2-3 PM, Bell Boulevard at 73rd Avenue, Oakland Gardens, Queens
Press contacts:
Rise and Resist: Claire Ullman, 917-679-7120
True Blue NY: Lisa DellAquila, co-leader, 917-991-0605
Jackson campaign: Harris Doran, 917-797-6180
Myrie campaign: Andre Richardson (campaign manager), 201-892-5829, andrerichardson@gmail.com
Robinson campaign: Jane Nixon Willis, 914-584-2833; improvised3@gmail.com
Ramos campaign: Monica Klein, 917-565-0715, monica@seneca-strategies.com
Biaggi campaign: Dominique Shuminova, Deputy Campaign Manager, 917-821-7700
Avella protest: Judy Kirschner from Rise and Resist, 917-270-2705
Carlucci protest: John Gromada from Rockland Citizens Action, (845) 323-9896
Scroll down for related story or click here for the full story about the Independent Democratic Caucus & members.
---
---
* ART & CULTURE
Snug Harbor Fence Show on Staten Island
69th Annual Art Show Organized by the Staten Island Museum
October 1, 2019 / Randall Manor Neighborhood Staten Island / Things to do on Staten Island / Staten Buzz NYC.
I attended the 69th Annual Snug Harbor Fence Show on Staten Island on Saturday. The show included about 150 exhibiting artists, primarily from Staten Island, but also neighboring NYC boroughs and New Jersey. There were food and beverage vendors, an accomplished jazz group - the Musical Chairs Chamber Ensemble - as well as plenty of interesting artworks that ranged from ceramics, to clothing and jewelry, to all sorts of art on canvass and other materials. The crowd the show attracted was also an eclectic group of art lovers, art exhibitors and curious Staten Islanders [it's free admission]. See video to take in a couple of minutes of the ambiance of the show.
---
---
* SPORTS
Only in Queens: The U.S. Open & the USTA
Intergenerational Tennis Wins: Nadal Defeats Medvedev & Andreescu Defeats Williams
September 10, 2019 / Flushing Neighborhood / Sports in Queens / Queens Buzz NYC.
In the week leading up to the U.S. Open the USTA opens its doors to the Flushing, Queens and NYC community. They host a number of tennis related events, and provide opportunities for those who visit to watch the pros practice on the courts. The week culminated in Arthur Ashe Kid Day at the end of the week and families from the NYC metro area, most notably Queens come in droves to take in the rich atmosphere of the newly renovated USTA Billie Jean King National Tennis Center.
I had the opportunity to visit this year, which was enhanced by being able to photograph and video a shirtless Rafael Nadal - who won the men's title this year, complete with ripped abs - while practicing. See video later in the story.
---
---
NYC BOROS HISTORY
---