NYC Farmers Markets 2023
Year Round Farmers Markets in NYC Continue & New Season Beckons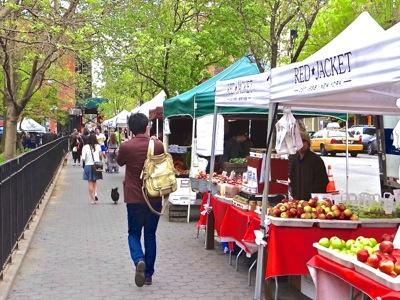 Updating May 29, 2023 from 3/21/23 / NYC Neighborhoods / Things To Do NYC / Gotham Buzz NYC.
For the past two years many farmers markets remained open, as they were classified as essential businesses and held outdoors so considered less of a potential breeding ground for CoVid. While many remained open, they curtailed hours, and some went on a long hiatus or completely closed down.
To inform you as to which farmers markets are returning, and which are not, we've kept the closed farmers markets on our pages, so you'll know.
The rest is an update for the 2023 season of NYC farmers markets, including opening and closing dates / times, food selections, payment options and related services like composting and clothing collection for those who are trying to do their best to help save our planet.
We'll update these pages again as we enter the opening of the first wave of seasonal markets in May / June and again in July. In the meantime here's a guide to farmers markets, including those that are open year round, by NYC borough. Enjoy.
---
Staten Island Farmers Markets NYC
---