nyc things to do manhattan brooklyn queens bronx staten island things to do events nyc
Things To Do in NYC This Weekend
St Pat's Parades in Bayside Queens & in Bay Ridge Brooklyn, Andy Warhol exhibit in Brooklyn, Queens World Film Festival Scheduled for November, Bangla Festival in Flushing, Soh Daiko at LaGuardia College, Deepfake at the Museum of the Moving Image in Queens, Fotos Femininas & the Orchid Show in the Bronx, Cicadas on Staten Island; Affordable Art Fair, Exhibit at Rick Wester Art Gallery, Macy's Flower Show Begins & Photo Exhibit ends in Manhattan & so far I don't see any posting for the Greek Independence Day Parade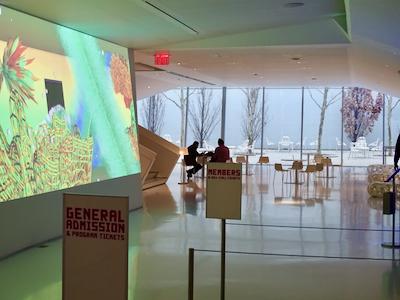 March 25, 2022 / Things To Do NYC / NYC Neighborhoods / Gotham Buzz NYC.
Weather. The temperature highs will be in the low 60's on Friday, descending to the mid 50's on Saturday and then down to the high 40's on Sunday. The temperature lows will from the low to mid 40's on Friday and Saturday, down to the mid 20's on Sunday. There's a small chance [40% between 1 pm and 5 pm], of a small amount of rain [less than 1/10th of an inch] on Saturday afternoon. Otherwise, it's a dry but partially cloudy weekend. The humidity will fall from about 60% on Friday, to 50% on Saturday to 40% on Sunday. Winds will be about 10 mph on Friday and Saturday, rising to 15 mph on Sunday.
The photo at right shows the Museum of the Moving Image which is now open Fridays, Saturdays and Sundays. They have an exhibit, Deepfake, that explores how peoples' views of the world can be manipulated by both truths and untruths that they see on the screen.
Things to do in Queens This Weekend
The third is the Bayside St. Patrick's Day Parade, which is a fairly new comer, now in its fifth year. This parade begins on Saturday, March 26th at 1 pm and marches down Bell Blvd between 35th and 42nd Avenues. www.baysidesaintpatricksdayparade.org. Their Facebook page is more up to date - www.facebook.com/baysidestpatricksdayparade
The Bangla New Year, Pohela Boishakh literally means the first day of the first month, begins on Sunday. The Bangladesh Students Association of the City College of NY is hosting a celebration from 12 noon - 5 pm at the Joya Hall at 63-108 Woodhaven Blvd in Flushing. Admittance is $30 and women are encouraged to dress in sarees and men in traditional Punjabi dress. Rsvp required at bsa@gtest.ccny.cuny.edu. Be advised that this may be for CCNY students only.
The LaGuardia Performing Arts Center located at 31-10 Thomson Ave in LIC is hosting a Carnegie Hall Citywide musical performance by Soh Daiko beginning from 3 - 5 pm. It's free, but you must rsvp at www.lpac.nyc. I believe CoVid protocols remain in effect.
The Museum of the Moving Image is hosting an exhibit that began December 18, 2021 and runs through May 15, 2022 entitled Deepfake: Unstable Evidence on Screen. The exhibit explores how fact becomes distorted and fictionalized via the moving image screen. At the centerpiece of it all is the distortion of the Apollo 11 moon mission. The museum is open Friday from 2 - 8 pm and Saturdays and Sundays from 12 noon - 6 pm. For details and tickets see www.movingimage.us. Admission $15 / $11 / $9.
The Queens World Film Festival, which usually runs in late Winter / early Spring, has scheduled the festival for early November.
See Rachel Wren's [of LIC] art on exhibit in Manhattan until April 2nd, below
---
Things to do in Manhattan This Weekend
The Affordable Art Fair began Wednesday and ends Sunday at the Metropolitan Pavilion at 125 West 18th Street in Manhattan. The fair showcases art by local, national and international artists that sells for between $100 and $10,000. Admission is $30 - $80.
The Macy's Flower Show starts Sunday, March 27th and runs through April 10th. See photo below showing how last year they expanded the show to the adjacent parks and decorated their outer veneer.
The photo at right shows some of the Macy's Flower show in 2021.
The Rick Wester Fine Art Gallery at 526 West 26th Street, Suite 417, is hosting a few exhibits including Rachel Wren's 'Still It Grows' and Wendi Schneider's 'Into The Mist' until April 2nd. The gallery is open until 6 pm Wednesday through Saturday, and closed Sundays.
There's an exhibit by African American photographer, Micaiah Carter, entitled Black Beauty Vol. 1, which opened on February 11 and runs through March 27th [from 12 noon - 8 pm Wednesdays through Sundays] in the gallery of SN37 at 204 Front Street in the South Street Seaport. The exhibit is intended to broaden the spectrum of images that Americans have of African Americans.
As far as I can tell, the date for the Greek Independence Day Parade has been moved from its usual slot of the weekend nearest to - or before - March 25th; to June 5th. We'll keep you posted as we learn more.
Things to do in Brooklyn This Weekend
Sunday, March 27, 2022 assembly begins at 12.30 pm and the Bay Ridge Brooklyn Saint Patrick's Parade kicks off at 1 pm on 3rd Avenue at Marine Avenue and marches south to 67th Street in Bayridge.
The Brooklyn Museum at 200 Eastern Parkway has about a dozen exhibits running at present. The two featured exhibits focus on Andy Warhol's Revelation print which explores the artist's religious faith [closes June 2022]. The other is one entitled A Crack in the Hourglass, An Ongoing COVID-19 Memorial which grapples with the incredible loss of life during the pandemic. Admission is $25 / $16 / $10 and CoVid protocols remain in effect. Details and tickets at www.brooklynmuseum.org.
The 10th Annual Winter Festival in Bay Ridge continues along Third Avenue. It's a collaboration of the Bay Ridge Arts & Cultural Alliance and the Merchants of Third Avenue in Bay Ridge. Participating merchants have provided wall / display space for local artists to exhibit their work. This runs through March 27th.
In the Peter Jay Sharp Building at the Brooklyn Academy of Music aka BAM at 30 Lafayette Avenue in Brooklyn, they will be showing various films all weekend starting at 1.15 pm, with the last showtime at 9.40 pm. CoVid protocols remain in effect and tickets [$16 / $11] may be purchased online at www.bam.org.
Things to do in the Bronx This Weekend
The Orchid Show began at the NY Botanical Garden at 2900 Southern Blvd in the Bronx in late February and continues through May 1.
The photo at right shows the Enid A. Haupt Conservatory at the New York Botanical Garden in the evening.
There's a panel discussion entitled Fotos Femininas in Conversation at the Bronx Doc Film Center at 614 Courtlandt Avenue in the Bronx on Friday, March 25th. The discussion will "... focus on the work of photographers Ana Espinal and Erika Morillo, and on Foto Féminas, a platform dedicated to improving the worldwide representation of women photographers in Latin America and the Caribbean..." At the Bronx Doc Film Center beginning at 6 pm. See www.bronxdoc.org for details and tickets.
Things to do on Staten Island This Weekend
At the Staten Island Museum located in the Snug Harbor Cultural Center in the Randall Manor neighborhood is an exhibit entitled Magicicada by Jennifer Angus. The work explores shapes inspired by the Staten Island Museum's cicada collection, which we are told is one of the largest in the world. Cicadas emerge from the ground in large numbers every 13 and 17 years. They cite E.O. Wilson's description of insects as "the little things that run the world". They are open Friday - Sunday from 11 am - 5 pm. Details and $8 tickets at www.statenislandmuseum.org.
Have a nice weekend.
---