Things To Do in NYC This Weekend
Mothers Day Weekend, Cannabis Parade, Indian Film Festival Begins, AIDS Walk in Central Park, TEFAF Show at the Armory, Municipal Art Society Janes Walk in all 5 Boros, Bronx Week & Piazza Belmont Returns, Arts & Craft Show & Carnival on Staten Island & Spring Festival at the LeFrak Center in Brooklyn, Mothers Day Stroll & Jackson Heights Orchestra in Queens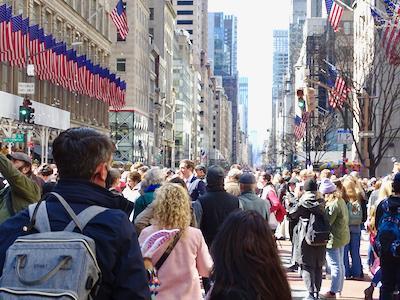 May 6, 2022 / Things To Do NYC / NYC Neighborhoods / Gotham Buzz NYC.
Weather NYC. Cool with some rain and high winds on Saturday and both diminishing over Sunday. Details coming Shortly.
The photo at right was taken along 5th Avenue at about 50th Street during the Easter Bonnet Parade in Manhattan a couple of weeks ago. This week the Cannabis Parade marches down Broadway to Union Square Park.
Details on these and other events coming later today. It's 5.30 pm. I expect to have this completed by about 12 noon Saturday, hopefully sooner.
NYC Things To Do - All Boros
Mothers Day - scroll down for restaurant suggestions.
Saturday & Sunday, May 6 - 8, 2022 - Janes Walk - Various art, culture, history and architectural tours throughout all five boros of NYC. Organized by the Municipal Art Society. See https://www.mas.org/events/ for details.
Manhattan Things To Do
On Saturday, May 7, 2022 - parade from 11 am to 1 pm and after party from 1 pm - 5 pm. The Cannabis Parade festivities begin at 11 am at 32nd Street and Broadway. The parade begins at 12.30 pm from that location, marching south along Broadway to Union Square Park. Then, from 1 - 5 pm, there are performances and talks held in Union Square Park.
Friday - Tuesday, May 6 - 10, 2022 from 12 noon - 8 pm, except May 8 & 10 when it closes at 6 pm - TEFAF - The European Fine Art Foundation - Fine Art Show at the Park Avenue Armory at 643 Park Avenue in the Upper East Side of Manhattan.
Sunday, May 8, 2022 beginning at 10 am - AIDS Walk in Central Park. Their website doesn't give clear guidance on the route [they show a San Francisco map], but it seems to start at the 72nd east side entrance by Summer Stage and end at Rumsey Playfield. It's a four mile walk and you can sign up to run. Donations go to support the Gay Men's Health Crisis [GMHC].
Saturday - Saturday, May 7 - 14, 2022 - Indian Film Festival - At various times, mostly virtually, except the finale. For details see www.nyiff.us/
Janes Walk - see above. For fairs and farmers markets, see below.
---
Brooklyn Things To Do
Saturday, May 7, 2022 from 12 noon - 10 pm - Spring Fest. Food, music and entertainment. At the LeFrak Center in Prospect Park.
Janes Walk - see above. For fairs and farmers markets, see below.
Queens Things To Do
On Sunday from 11 am - 1 pm there's a Mothers Day Stroll on the 34th Avenue Promenade between 77th and 82nd Streets in Jackson Heights in Queens. Free. Organized by the Jackson Heights Beautification Group in conjunction with local government officials.
The Chocolate Factory theater has reopened at their new location at 38-33 24th Street in Long Island City in Queens. There are performances of Wings of Iron from May 18 - 21 and also of Diptych from May 19 - 21. Tickets are $25 and $20 respectively.
Jackson Heights Orchestra performs on Wednesday, May 11 beginning at 7.30 pm at St. Marks Episcopal Church in Jackson Heights, Queens. Tickets are a suggested donation of $20 / $10. For details see jhbg.org.
Janes Walk - see above. For fairs and farmers markets, see below.
Bronx Things To Do
Friday, May 5 - Sunday May 15, 2022 - Bronx Week - Multiple events at various locations in the Bronx. Details coming, but in the meantime see their website at www.bronxboropres.nyc.
The Stadium Fair usually held in May was moved to later in the season.
May 2022 EVERY weekend from 6pm to 10pm on Fridays and Saturdays, and 1pm to 9pm on Sundays - Piazza di Belmont - Outdoor dining on Arthur Avenue which will be closed to vehicular traffic from East 188th Street to Crescent Avenue during the above mentioned times.
Janes Walk - see above. For fairs and farmers markets, see below.
Staten Island Things To Do
Wednesday - Sunday, May 4 - 8, 2022 there's an Arts & Crafts Show at the Staten Island Mall at 2655 Richmond Avenue in the Heartland Village neighborhood. The show includes ceramics, glass, metal work, wood, jewelry, painting and photos. Current Mall Hours are Monday-Thursday 11am-7pm, Friday-Saturday 10am-8pm, Sunday 11am-6pm - but vendor times will likely vary.
The Heritage Farm Stand Farmers Market opens Saturday, May 7 from 9 am - 3.30 pm near the Botanical Garden at the Snug Harbor Cultural Center in Randall Manor on Staten Island.
Janes Walk - see above. For fairs and farmers markets, see links below.
Scroll down to April 26th story for some restaurant suggestions for Mothers Day brunch or dinner. And some of the seasonal farmers markets reopen this month, so you use these links to find one in your neighborhood - Bronx Farmers Markets NYC, Brooklyn Farmers Markets NYC, Manhattan Farmers Markets NYC, Queens Farmers Markets NYC, Staten Island Farmers Markets NYC. And we'll have the weekend street fairs updated sometime tonight - Manhattan street fairs, Queens street fairs, Brooklyn street fairs, Bronx street fairs, Staten Island street fairs.
Have a happy and healthy Mothers Day weekend.
---
---
---