Things To Do in NYC This Weekend
Nice Weather Weekend for the 5 Boro Bike Ride NYC, Yankee Peddler Day at Historic Richmond Town Staten Island, Night Food Market & Orchid Show in the Bronx, May Day Festival & BAM Queer Film Weekend in Brooklyn, International Cultural Festival Queens & Dance Fest at Wolman Rink & Met Gala Monday in Manhattan ... and more ...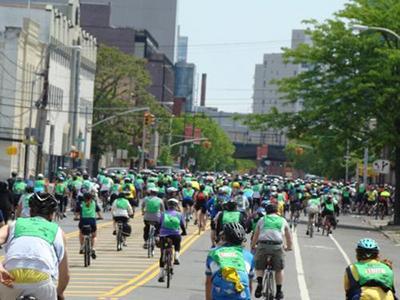 April 29, 2022 / Things To Do NYC / NYC Neighborhoods / Gotham Buzz NYC.
Weather NYC. The temperature highs will rise from the low 60's on Friday to the high 60's on Saturday and Sunday. The temperature lows will rise from the low 40's on Friday, to the high 40's on Saturday to about 50 on Sunday. The humidity will be very low on Friday, ranging from 10% to 40%, rising to 30% - 45% on Saturday and then 35% to 55% on Sunday. The wind will finally settle down to 5 - 10 mph throughout the weekend. No rain is expected this weekend.
In the photo at right are cyclists participating in the 5 Boro Bike Ride as they make their way through Queens in a prior year. The cycling event returns Sunday. See details below.
Manhattan Things To Do This Weekend NYC
There's a Coney Island Polar Bear Club event on Saturday & Sunday at Wolman Rink in Central Park from 2 pm - 10 pm. It's a charity event and tickets aren't cheap at $191 / person. See www.wolmanrinknyc.com for details.
The 5 Boro Bike Ride returns to all five boroughs of NYC on Sunday. Details in Manhattan street fairs.
The Met Gala returns to the Metropolitan Museum on Monday.
Click here for Manhattan Farmers Markets.
---
Queens Things To Do This Weekend NYC
Sunday, May 1, 2022 from 12 noon - 6 pm - Steinway Street Cultural Festival along Steinway Street from 28th to 34th Avenue. Sponsored by Central Astoria LDC.
The art show entitled "Blood is Thicker than the Water that Separated U.S.," will be on exhibit at the Lewis Latimer House Museum, 34-41 137th Street in Flushing until July 3rd. Free tickets are available to the public at www.lewislatimerhouse.eventbrite.com.
Click here for Queens street fairs and here for Queens Farmers Markets.
The photo below right was taken on the Upper West Side of Manhattan this week. Folks were wearing coats, as the wind was blustery most of the week, and the temperatures were a bit below normal. Better weather is on the way this weekend.
Brooklyn Things To Do This Weekend NYC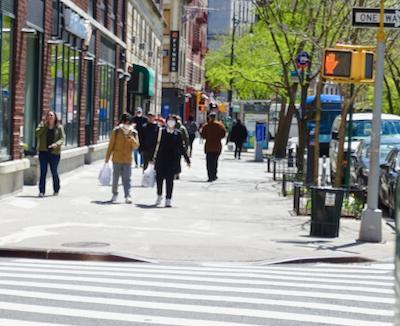 There's a May Day Festival of Resistance is being held in Maria Hernandez Park at Knickerbocker Avenue and Suydam Street on Sunday from 1 - 7 pm by MayDaySpace.org of Bushwick. I think it's free.
In the Peter Jay Sharp Building at the Brooklyn Academy of Music aka BAM at 30 Lafayette Avenue in Brooklyn, they will be showing various films with a queer theme all weekend. Tickets [$16 / $11] may be purchased online at www.bam.org.
Luna Park Amusement Park at Coney Island opened on April 2nd, for the 2022 season.
The Greenpoint Terminal market opens Sunday, as does the Bat Haus CoWorking Space Spring Market - Click here for details - Brooklyn street fairs .
Click here for Brooklyn Farmers Markets.
Bronx Things To Do This Weekend NYC
The Bronx Night Market, an outdoor food court, returns Saturday evening. See details in Bronx street fairs.
The Orchid Show at the NY Botanical Garden at 2900 Southern Blvd in the Bronx began in late February and continues through May 1.
Click here for Bronx Farmers Markets.
Staten Island Things To Do This Weekend NYC
Yankee Peddler Day returns to Historic Richmond Town on Sunday from 9.30 am - 3.30 pm. The market generally invites sellers to display goods from early America, as well as other items. See details in Staten Island street fairs.
The Conference House in Tottenville opened for the season on April 23rd and will be open Saturdays and Sundays for tours from 12 noon - 4 pm. They're located at 298 Satterlee Street on Staten Island.
Click here for Staten Island Farmers Markets.
Have a nice weekend.
---
---
---