How Would a Mayor Eric Adams Govern?
He Seems to Favor Charter Schools & They Seem to Favor Him, He's Pulled in the Most Real Estate Cash & He has Indicated He'll Reverse Course a bit on Police Reform
Included in this Report is a Look at the Impact of Gun Sales on NYC Violent Crime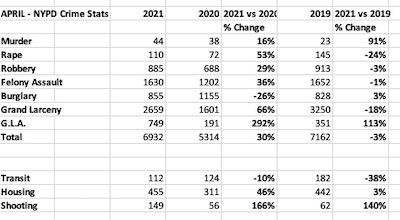 May 17, 2021 / NYC Neighborhoods / NYC Politics / News Analysis & Opinion / Gotham Buzz NYC.
Eric Adams isn't Scott Stringer
We recently did a report showing how Scott Stringer has repeatedly appeared to have traded the community interest for his personal interest and career ambitions.
In that report we showed how Stringer takes big public stands, on what I would call generic Democratic issues over which he has little influence, such as gender equality, race and climate change. And yet on issues over which he has considerable influence that significantly impact the local communities, neighborhoods and unions - like real estate developments, local education, public libraries and the pension fund investments - he has taken big public stands in one direction, while appearing to do just the opposite with his actions.
In that report I also noted how Stringer seems opportunistic in compromising his stances [for example in education and the public library system] in order to capitalize on what he seems to think are self enhancing career opportunities. Stringer also seems to have used the power and authority of government positions entrusted to him by the people, to aid those who fund his campaigns, possibly trading what's good for the people, in exchange for what's good for Scott Stringer.
Stringer hit my radar nearly a decade ago, while Eric Adams only hit my radar a couple of years ago. So I'm less familiar with Adams' career than Stringer's. But in doing the research, I found that Eric Adams appears to be a slow steady hand, whose positions have evolved over time ... and I would add that generally they appear to have evolved carefully.
1. Eric Adams - Public Schools & Education
Pro Charter Schools & What that Means
In my reporting I have found that FOR PROFIT Charter Schools, don't seem to solve the failing schools problem, but rather split and shift the problem burdens, while privatizing and gutting a significant portion of the public school system.
I began reporting on education during the Bloomberg era, wherein Bloomberg's Administration seemed to split public schools into two smaller entities, and then parcel out the achieving students / families via charter recruitment to the privately run for profit charters, while leaving the lower performing students / families in the care of unions and the general public. It seemed to me they didn't really solve anything, and sucked needed capital out of the public school system, putting it in the hands of the venture capitalists who were funding the for profit charter schools.
This situation appeared to me not unlike what the insurance industry had done prior to Obamacare - whereby the insurance companies recruited healthy people for health insurance, and avoided signing those who weren't healthy in order to enhance their economic performance. To me this goes against the grain of what America is all about - which is equal opportunity for all. The privatization of the public schools by the predatory for profit charters would turn the public education system into the haves and have nots.
*** It's worth noting that NON-PROFIT CHARTERS evolved for different reasons and provided a healthy challenge to the union run public education system and thus non-profit charters appear to have a more more beneficial impact than the for-profit charters.
---
Eric Adams is Receiving Significant Pro Charter Campaign Support
I found that Eric Adams has been a supporter of charter schools for many years of his political career. According to a May 6, 2021 report in Politico,
" ... An executive at an organization that lobbies on behalf of charter schools is launching a fundraising effort to boost the mayoral candidacy of Brooklyn Borough President Eric Adams -- the latest push by special interests to influence the upcoming Democratic primary contest ... Jenny Sedlis, executive director of pro-charter group StudentsFirstNY, has taken a leave of absence to lead a political action committee on Adams' behalf ... "
During his career, Adams has supported charter schools and expansion.
2. Eric Adams - Real Estate Developers / Affordable Housing
Eric Adams is Receiving Significant Real Estate Developer Support
According to an April 20, 2021 report in City Limits, a non-profit journalism website,
" ... Eric Adams has received more campaign contributions from the real-estate sector than any other candidate for mayor. The Brooklyn borough president has booked at least $283,000 from donors who identified themselves as working in real estate, construction, land development or property management--nearly twice as much as financier Ray McGuire, the next biggest recipient of real-estate generosity, and more than five times as much as frontrunner Andrew Yang ... "
Thus, Adams has received more real estate developer donations than any other candidate and real estate developers are generally known to be tight with a buck and rarely - if ever - give something for nothing.
It's also worth pointing out who some of the people are, who are working for or in support of the Adams' campaign. According to a May 6, 2021 report in Politico,
" ... Sedlis is working with Jason Ortiz, a political consultant who used to work for the Hotel Trades Council, which endorsed Adams' bid in March. Katie Moore, who succeeded Ortiz as the union's political director, is managing the Adams campaign..."
As mentioned above, Sedlis is a for profit charter school lobbyist, who has taken time off to manage a PAC for Adams.
Eric Adams Track Record with the Real Estate Development Community
According to the City Limits report noted above, Adams approved 86% of the proposed developments or rezonings associated with the Uniform Land Use Review Procedure [ULURP], while Manhattan Borough President Gale Brewer, a progressive, approved 78%. It's not just the percent approvals that matter, but in how hard the borough president negotiates before the final approval. As mentioned in the report I posted on Stringer last week, Stringer signed off on several massive real estate developments that were strongly opposed by the communities he was elected to represent. In one of them, the Midtown East development, after Stringer signed off on it, the proposal was scuttled and redone by the incoming Manhattan Borough President Gale Brewer with the help of NYC Councilmember Garodnick.
In one telling sign, Adams veered away from supporting Mayor de Blasio's push for Mandatory Inclusionary Housing. The City Limits report tells us,
" ... in 2015, the Manhattan and Queens borough presidents testified and the Bronx BP submitted testimony but Adams did not [about the Mandatory Inclusionary Housing program]; he did vote earlier to oppose the measure when the Brooklyn Borough Board considered it..."
According to the NYC Council website,
" ... Mandatory Inclusionary Housing (MIH) is a zoning tool developed by the Department of City Planning and the Department of Housing Preservation and Development, which requires developers to include affordable housing in areas that are rezoned to allow for more housing development..."
That seems straight forward enough. Why wouldn't Brooklyn Borough President Adams support this program and what does that tell us about how he would approach affordable housing going forward?
3. Eric Adams History with the Police
Reportedly Having Been Beaten by a Policeman as a Kid, Adams Joins the NYPD & Rises to Captain as an Adult, Forms Group Called '100 Blacks in Law Enforcement Who Care' & Advocates for Change
Adams had voiced concerns about abusive policing while still on the force over two decades ago. Adams joined with about 100 other Black police officers to advocate for an investigation into the abuse of Haitian immigrant Abner Louima. In 1997 Louima was sodomized and so severely beaten while in police custody, that he had to undergo three surgeries. Louima won a lawsuit against the NYPD and the NYPBA [the police union] worth $8.7 million.
Eric Adams and the NYPD Budget
In June of 2020, in the wake of the George Floyd protests, Eric Adams called for a reduction in the police budget by over $1 billion. According to a June 22, 2020 report in the NY Daily News,
" ... recommends the city drastically convert some NYPD units to an 80% civilian workforce, conduct forensic audits of the department's "notoriously opaque" budget and reduce overtime. Such efforts would result in reducing the budget by $1 billion or more... "
Today it's a bit unclear what Adams would do with the NYPD budget as he has called for adding back the plainsclothes unit [see below].
Eric Adams Advocates for a Return of Plainsclothes Policing Which is the Unit That Had Attracted a Great Number of Civilian Complaints of Abuse of Police Power
Eric Adams has said that he will reinstitute plainclothes policing to add teeth to the NYPD's policing effort. According to a May 9, 2021 report by Streets Blog NYC, a local blog that is part of a multi-city web group working for transportation reform,
" ... The NYPD's Anti-Crime unit was disbanded last June; its officers garnered a substantial number of complaints from New Yorkers for harassment and unlawful searches. The officers were also involved in a disproportionate amount of fatal police shootings..."
Streets Blog had sourced the above information from the Gothamist and the Intercept.
A Brief & Proper Look at NYC Current Crime Statistics
Be Wary of Reporting by the Manipulative Murdoch Media Outlets & the Sometimes Clueless Corporate Media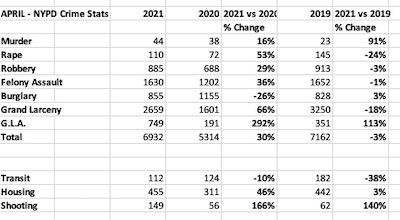 So we all keep seeing these reports about how out of control the crime is in our fair city, but that broadbrush news reporting doesn't accurately describe what's happening, providing no insight nor understanding as to what's really going on.
Yes, violent / gun crimes are up, but it's important to understand why they are up, and who is empowered to make the changes required to rein those crimes back in.
Comparing the crime statistics versus a year ago doesn't seem to provide much insight about what's really happening, any more than comparing year to year inflation figures does - as we saw last week. Last year was an anomaly because of the pandemic, which skewed many statistics way out of focus - including on the economy and crime.
I think it's more meaningful to compare the April 2021 NYPD crime statistics versus April of 2019 crime statistics. TWO YEARS AGO crime was near all time lows and before the pandemic began. When you make that comparison, NYC crime is down in all major categories except gun related shootings and murders, and grand larceny auto theft which the NYPD calls GLA for brevity [see chart]. This provides a much more intelligent look at what's going on. In summary shootings and murders are up, as is grand larceny auto theft while everything else - including the transit crimes that everyone is talking about - is down [see chart].
So I'll dispense with grand larceny auto first and say that - in a nutshell - the pandemic hit the lower classes hardest and many of them are financially strapped. So I theorize that some of these people, who might have been gainfully employed two years ago, and may have had a small financial cushion, might have lost everything and may be facing eviction and thus may have decided to steal their way back to normal. My grandmother used to say,
"Idle hands are the work of the devil."
Once these folks are back to work and making a decent living, they're not likely to be out committing crimes. And that white collar workers have left the city to telecommute during the pandemic, may also factor into things, as their cars might be sitting idle and the observant criminal takes note of that.
3.a. Guns & Shootings & Need for National Gun Legislation
NYC Shootings, Murders & GUN SALES are up in 2020
There were 8.5 Million First Time American Gun Buyers in 2020
Gun Sales Continued in 2021 - January Gun Sales Up 60 - 80%
Gun sales soared in 2020 to a full year record of over 40 million, as fear spread throughout the land because of the pandemic and some of the social unrest that followed. Of those sales, 8.5 million of them were reportedly to first time gun owners. There are about 330 million people living in the U.S. and about 20% or 66 million are children, so that's a huge number of guns IN ONE YEAR for the remaining 264 million adults.
In the tristate area, New York, New Jersey and Connecticut saw an increase in gun sales from the year 2000 to 2020 of between 250% - 300%. With more guns on the streets, more first time buyers / users, why would anyone doubt that there's going to be more gun violence / crime? This is a social / criminal problem that needs to be fixed legislatively by reducing the guns on the streets.
Americans own 120 guns per 100 residents. That's far more than one gun per person. Wikipedia tells us that according to a Small Arms Survey taken in 2018, Americans own 46% of all the civilian owned guns [393 million guns] in the world, while we represent between 4% - 5% of the world's population. That means Americans, ON AVERAGE, own TEN TIMES more guns per person than the people in the rest of the world. But the numbers look even more skewed, when you factor in that only about 32% of Americans actually own a gun according to an August 14, 2019 report by Gallup, a polling company.
Republicans & Murdoch's Fox New / NY Post Seem NOT True Friends of the Police
Billionaire propagandist, Rupert Murdoch and Republicans like Mitch McConnell and Kevin McCarthy can't claim themselves to be friends of the police, yet they continue to thwart efforts at meaningful gun control legislation. Police die on our streets because guns are freely available to those who aren't qualified nor fit to responsibly use them.
An August 12, 2019 report by the Center for American Progress, a non-profit tells us the following,
" ... A 2017 study found that guns equipped with high-capacity magazines made up between 22 percent and 36 percent of crime guns in the United States. A 2010 report from the Police Executive Research Forum noted that more than one-third of U.S. police agencies reported increased use of assault weapons following the expiration of the federal ban. In 2018, Baltimore Interim Police Commissioner Gary Tuggle stated that one-third of guns recovered in criminal investigations were equipped with high-capacity magazines... "
So when Murdoch and the Republicans say they care about the police, you ask them what they're doing about getting assault weapons off the street.
SHOW 2ND AMENDMENT
Understanding the Role of the Second Amendment
I support the Second Amendment and believe that homeowners should be allowed to keep a firearm in their home to use in the event someone makes an unlawful entry. I also believe that hunters and sportsmen should be able to own guns for recreational purposes like hunting. Every year about 15 million Americans, mostly men, go out into the woods to stalk through the forest to bring home some game while keeping the deer population under control.
But the Second Amendment doesn't give citizens the right to own weapons of mass destruction and weapons of war. Citizens aren't allowed to possess bombs, grenades, bazookas, cannons and rocket launchers except when used in a theater of war under the training, direction and supervision of the U.S. Armed Forces.
I believe the Founders made freedom of Speech the First Amendment for the same reason they made right to bear arms the Second Amendment, which it to hold the rich and powerful in check, to prevent the exploitation of the commoners as was done by kings and royalty in the past. Any weapon of mass destruction could be creatively configured to fit the definition of gun, so it's time for us to use our collective common sense to try to stay true to the intent of the Second Amendment, without significantly compromising public safety, by managing gun control to stay abreast of the changing technology and changing times. That is the point of the elastic clause.
Nations like Russia and China are still struggling with their significantly skewed distribution of wealth and their exploitation of the working classes, by treating them like Russian serfs and Chinese peasants. This helps explain why both of these autocratically controlled states have limited gun ownership - especially in China. In 2014 Putin relaxed some of the gun ownership rules.
Are Assault Weapons Really Guns - Or are they Weapons of War?
So why should they be allowed to own assault rifles, like the AR 15 or the AK 47, capable of firing 600 rounds in a minute? Editor's Note - the assault weapons are modified to dispense one bullet per trigger pull prior to civilian sale. What common good or national purpose does permitting these weapons to be sold to anyone 18 years or older serve? The AK stands for automatic Kalashnikov, which is a SOVIET assault weapon that has killed more humans than the nuclear bomb, or any other weapon.
Think about that.
An August 12, 2020 story by Insider tells us that,
"... The AK-47 is the deadliest weapon ever built, on the whole. Its kill count even tops nuclear weapons in sheer numbers... The worldwide availability and durability of the AK-47 also makes it an attractive weapon for terrorists, militias and other illegal paramilitary organizations. Whether they're trying to take over a military base ... or overthrowing a government ... the AK-47 works really well in every environment, is always available (usually at a steep discount) and will still work even if it falls into water, mud, sand or some other muck ... The average lifespan of a terrorist in a gunfight isn't very long, so that rifle is likely going to hit the ground, and someone is going to need it to work when they pick it up. The terrorist group is definitely going to need a cheap replacement ..."
FYI - The AR of AR 15 stands for Armalite Rifle. Armalite is the manufacturer of the weapon.
According to an August 12, 2019 report by the Center for American Progress, a non-profit,
" ... Following the expiration of the ban in 2004, assault weapons and high-capacity magazines once again became legal to manufacture and purchase, and the gun industry responded with renewed fervor, flooding the civilian consumer market with these guns. Since the expiration of the federal ban, assault weapons and high-capacity magazines have been used to perpetrate some of the deadliest public mass shootings in modern U.S. history:
On August 3, 2019, in El Paso, Texas, 46 people were shot, 22 fatally.
On February 14, 2018, in Parkland, Florida, 34 people were shot, 17 fatally.
On November 5, 2017, in Sutherland Springs, Texas, 46 people were shot, 26 fatally.
On October 1, 2017, in Las Vegas, 480 people were shot, 58 fatally.
On June 12, 2016, in Orlando, Florida, 102 people were shot, 49 fatally.
On December 14, 2012, in Newtown, Connecticut, 28 people were shot, 26 fatally.
On July 20, 2012, in Aurora, Colorado, 70 people were shot, 12 fatally. "
SHOW PUTIN W/ KALASHNIKOV
Majority of Americans Support Federal Gun Control Legislation that Includes Background Checks & Assault Weapons Ban
The Mayor [ANY MAYOR] and the NYPD Can't Fix what the NRA, the Repubican Party & Rupert Murdoch's Manipulative Mass Media have Mucked up
According to a report by Vox, Americans are four times more likely to be the victim of gun violence than people living in other industrialized nations. And assaults in America are three times more likely to involve guns than in most of the other industrialized nations around the world. If you want to know why shootings and murders are up in NYC - look at the flow of guns into the city.
And yet in spite of that NYC's murder rate rise in 2020, it was still below the national average on a per capita basis. The USA nationally had a murder rate that rose from 5 per 1000 to 6.2 per 1000 in 2020, while NYC's murder rate rose from 3.8 per 1000 in 2019 to 5 per 1000 in 2020. And yet while NYC's murder rate was well below the national average, the murder rates in Republican governed states rank among the highest.
Manipulated & Divisive Reality by Murdoch's Fox News & NY Post
They Accuse Urban Democrats of being the Cause of Violence & Crime
But FAIL to Mention Gun Control & that Republican States have the Highest Murder Rates
Seven of the ten states with the highest murder rates are run by Republican governors and generally have more lax restrictions on guns than those with the lower murder rates. The top ten states for murder in 2017 included red states like Missouri, Maryland, Arkansas, Alaska, Alabama, Mississippi and South Carolina. The Democrat run states included Louisiana, Nevada and Illinois. Which party runs a state changes with time, so I don't see this as a meaningful way to look at violence and crime. But what laws are on the books, do matter as they remain regardless of which party is in power.
I'm just pointing it out because dishonest Rupert Murdoch's Fox and NY Post periodically distort the facts to tell yet another false Murdoch narrative. Murdoch's NY Post and Fox News blame the Democrats for violence and crime - not the Republicans, nor gun control legislation, nor the guns that are used for violent crime. Why? Likely, so Murdoch can pull the strings of those he helps elect, once they've come to power, by twisting the facts about guns and violent crime so he can convince his audience to vote for those who will serve the Australian born billionaire.
Murdoch's manipulative mass media provides media protection for Republicans and the NRA, who say that guns aren't the problem. And yet in study after study it has been shown that there is a striking correlation between guns availability and gun violence. That should come as no surprise, and yet Senator John Kennedy of Louisianna says that people are the problem - not the guns. If we applied that same logic to everything, then why isn't heroin sold in candy stores? It's not the heroin that's the problem, but the people who use it.
Murdoch's Mendacious Media ONLY MUTEDLY Mentions that the Vast Majority of Americans' Favor Some Gun Control Legislation
Most Notedly are Background Checks & Actions & an Assault Weapons Ban
A March 2021 poll by USA Today and Ipsos showed that two thirds of Americans favor stricter gun control, including half of all gun owners. Democrats favor it by 90%, while Independents favor it by 66% and 35% of Republicans. Overwhelmingly, Americans favor instituting background checks for purchasers of firearms, with 55% of gun owners favoring such action including 82% of Democrats, 62% of Independents and 40% of Republicans [versus 41% who say no].
With respect to assault weapons bans, according to an August 17, 2019 report in Politico, a Politico / Morning Consult Poll showed that even a majority of Republicans support an assault weapons ban. They tell us,
" ... The poll found that nearly 70 percent of all voters would back such a ban. Support ... was higher, at 86 percent, among Democrats ... the poll found that 55 percent of GOP voters were comfortable with banning assault weapons ... 89 percent of voters want to block gun sales to people who have been reported as dangerous to law enforcement by mental health providers ... Eighty-four percent of voters want to prevent people convicted of violent misdemeanors from purchasing guns. A similar percentage, 83 percent, support limiting gun purchases to those 21 and older. Eighty percent think there should be a mandatory three-day waiting period before someone can take home a gun. And 72 percent support banning high-capacity magazines ..."
It seems there is NO GOOD REASON for Biden and the Democrats not to pass legislation with these key provisions. They are by far and away supported overwhelmingly by the majority of Americans. So to hell with Rupert Murdoch, his Fox Nation Republicans and the NRA. This sort of legislation wouldn't take away their guns, only ensure that those who do own them are responsible and deserve the privilege, and it would save not just the lives of policemen and women around the nation, but the lives of all Americans.
POLL GRAPH
STUDY RESULTS OF GUN RESTRICTION / VIOLENCE
We CANNOT Expect Any NYC Mayor & the NYPD to Fix on Their Own, What is a LEGISLATIVE Out of Control Gun Problem
While Mayor de Blasio, Commissioner Shea and the NYPD will likely do all that they can to remove guns from the streets, they really can't be expected to solve this problem themselves. And neither would Eric Adams, were he elected Mayor. The tristate area governors could help by coordinating and possibly standardizing their statewide gun policies based on best practices, to help law enforcement rein in the free flow of weapons to people who may not be fit to use them in a responsible manner.
But ultimately it rests with the Congress, the Senate and the President to pass meaningful gun control legislation to ensure that laws stay abreast of the times. It's important that we not allow the NRA and Senate Republicans like Mitch McConnell and Congressional Republicans like Kevin McCarthy, hold the nation at gunpoint to keep the flow of guns running up and down our nation's streets.
I think the points outlined in the last paragraph of the previous section would be a solid, meaningful step in the right direction. Both sides can then take a breath and see how things play out.
But in the meantime, crime statistics and comparisons to last year aren't likely to be meaningful, so the comparisons should be against 2019. That said, most crime is down, except for the gun related shootings and murders, and fixing that is going to take time because gun sales have run rampant during the pandemic. An intelligent, compromising, national gun control based on most Americans' wishes seems within reach? And would go either a long way or at least some of the way in fixing violent, gun related shootings and murders in our fair city and the nation.
Australian Billionaire Propagandist Endorses Adams via His NY Post
Rupert Murdoch, the crusty 90 year old billionaire, who appears to use his media outlets as one big propaganda machine, endorsed Eric Adams candidacy for Mayor this past week. In the Democratic primary in NYC, Eric Adams - once a Republican [1990's] and a former police officer - is likely the most conservative / moderate candidate in the viable field of Democratic candidates, which is likely why Murdoch endorsed him via the NY Post, as nobody else seems to come close.
Setting aside the Adams candidacy for the moment, it's worth pointing out that Murdoch generally endorses candidates who will bow to his will, or minimally, will refrain from taxing the mega billionaire any further. That said, Murdoch appears a thankless man who will relentlessly attack whomever is elected, unless that person is a Murdoch patsy, like so many in the Republican Party here in America, the Conservative Party in Britain, and the right leaning Liberal Party in Australia [see our special report Murdoch Media Madness - Fox Fakes the News]. When pols bow to Murdoch's will they appear to get his 'media protection', which is oftentimes why weak government officials / pols seem to strike a deal with the dark lord, Darth Murdoch.
Conclusion - It's Not Exactly Clear What an Adams Mayoralty Would be but ...
An Eric Adams Mayoralty Would Likely Roll Back Some of de Blasio's Progressivism in Housing, Police Reform and Education
It's difficult to truly assess what kind of Mayor Eric Adams will be at this point in his career and the campaign. He's one of the most conservative candidates running in the Democratic Primary.
The big questions about an Adams mayoralty don't center around his integrity and character, like they do with Scott Stringer, but rather around how dramatically he will alter the progressive course of action pursued during the de Blasio Administration. Most notably in education vis a vis the possible expansion of for profit charter schools, and in policing vis a vis reform and funding. Lastly, the fact that Eric Adams is the favored choice of real estate developer funding as of late Spring and endorsed by the NY Post, are both of great concern because these sorts of people generally don't give something for nothing.
Thanks for taking the time to learn more about who's running for Mayor. There's more to come as we near the election. I'll add photos and clean up any errors at a later date.
Have a good week.
---
---