* Black History Month in NYC
This is a Look at Some of the Black History Events We've Covered Over the Years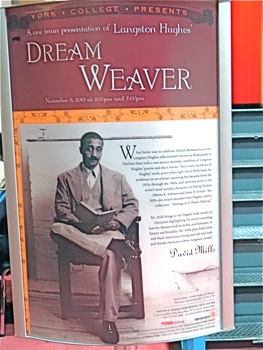 February 17, 2023 / NYC Neighborhoods / NYC Things To Do Events / Gotham Buzz NYC.
NYC Weather. The temperature high hit 61 degrees on Monday, and will fall to the mid to high 40's for the rest of the week. The temperature lows will range from the mid 30's to the low 40's until Friday, when the temperature drops into the mid 20's. The winds will range from 5 - 10 mph until Friday, when we'll experience a gusty 15 - 20 mph. The humidity will range between 60% - 70% through the week, before dropping to 40% on Friday. Less than a quarter inch of rain is expected on Tuesday, Wednesday and Thursday.
The image at right is of Langston Hughes, a writer in the 1920's and 1930's of the Harlem Renaissance. It seems like African Americans are continuing the process of asserting their influence in American culture, a process that began going mainstream in the 1920's / 1930's.
Highlighting Black History Month in the Bronx, Brooklyn, Manhattan, Queens & Staten Island NYC with Reports about African American History and Culture
We've covered a number of interesting theatrical performances and art exhibits exploring African American history and the African American experience in the five boroughs over the years. Some of them feature the African American experience front and center, while others include or reference the African American experience. This is a compendium of most of them, with links to the full stories. Think of this as a work in progress as it is far from complete, and in some measure, reflects how long each of our web magazines has been open / covering events in each of the boroughs. At this time I have not included many of the black and brown events reflecting immigrants' cultures, vis a vis the African American cultural experience.
---
Black History Month in NYC
This is a Look at Some of the Black History Events We've Covered Over the Years
February 17, 2023 / NYC Neighborhoods / NYC Things To Do Events / Gotham Buzz NYC. Continued.
Paying Tribute to Black History in Queens NYC
Flushing / Corona Historic Houses. The next few links are short stories we did based on taking the Flushing historic house tour which occurs every December in Queens. The Louis Latimer House is dedicated to one of the first African American scientists who worked with Thomas Edison. The Louis Armstrong House is also on that tour, and does quite a bit of their cultural programming during the summer. King Manor is also an historic house in Jamaica, owned by a white Founding Father, who was an ardent abolitionist. It's no surprise that African Americans congregated in the area, given what this Founding Father and former NYS Senator stood for.
LaGuardia College Performing Arts Center / Modern Theater in LIC. This story is about a theatrical experience at the LaGuardia Performing Arts Center in Long Island City. It's an original play and it's entitle Unpacking American Identity which brought home the reality of what it's like to live in America as an African American today, facing discrimination daily.
Queens & African American Music. Queens is called the Home of Jazz because at one time there were literally dozens and more of African Americans living in Queens during the heyday of jazz in the 1930's. Dizzy Gillespie, Louis Armstrong, Billie Holiday and Ella Fitzgerald are just a few who enjoyed living in Queens because it was a melting pot of black, brown and white folks living together in a generally peaceful and respectful manner.
York College Bassin Performing Arts Center / Theater in Jamaica. In the past the Bassin Center for the Performing Arts at York College used to stage a number of productions each season. One of the most interesting performances was the 2013 production of Black Wall Street which opened my eyes to a story of which I had never previously heard. They also hosted a one man performance of Langston Hughes which recaptured the life and times of a Harlem Renaissance writer and playwright. In addition to productions they helped choreograph, the Bassin Center for the PAC would host performances by local theater groups, including one by a local church that packed a message in the play. And in 2015 the Liberian President speaks at York College. It's worth mentioning that Liberia is a nation on the coast of West Africa that was started by Americans who helped freed and free born African Americans migrate to Liberia, to carve out a non-discriminatory life for themselves.
Jamaica Queens Music Festivals. There are a number of food and music festivals held annually in the Jamaica neighborhood of Queens. At least one of them have moved to another locale, but new ones pop up to take their place. The Irie Jamboree was a reggae music festival, celebrating reggae music, which is more Afro-Caribbean than Afro American. The Jamaica Jerk Festival is held in Roy Wilkins Park every year. It's generally an Afro-Caribbean food and musical experience.
African American Fashion Shows. I have attended a number of African American organized fashions shows in the Jamaica section of Queens. The first was the Come to Fashion Show in 2012, the second was the Jamaica Collection in 2013, the third was the Jamaica Just My Style Fashion Show in 2016, where I also covered the JJMS Fashion Show preview, which included some video.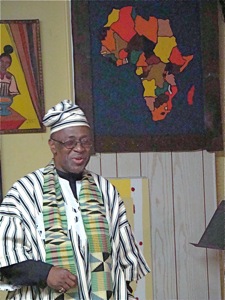 Jamaica JAMS. Jamaica JAMS is one of the largest events in Queens generally the first weekend of August. The event spans a couple of days and includes a concert on Friday evening in King Park, followed by a food and shopping festival the next day. The Jamaica JAMS food and shopping festival in 2011 and the Jamaica JAMS Festival concert including video in 2015.
African American Dance, Theater & Culture. In recent years there's been a robust Jamaica Performing Arts Center dance festival. It seems to continue morphing, but is always worth attending. And a number of years ago I used to visit John Watusi, Founder of the Afrikan Poetry Theater. It was in attending one of his programs that I first learned about Kwanzaa in December / January 2010, and I had the privilege of watching the first Obama Inauguration with him on January 20, 2009. Unfortunately, John Watusi died on December 29, 2013 of a heart attack [see photo at right], but his Afrikan Poetry Society lives on. As a matter of fact there's a Black History Film Festival at the Museum of the Moving Image on Saturday and Sunday, February 25th & 26th.
Paying Tribute to Black History Month in the Bronx NYC
Bronx Art Space. An art exhibit at Bronx Art Space about Rikers incarceration, which also showcased local talent in a video.
Bronx Zoo. There's a terrible, seemingly racist, story associated with one of the early founders of the Bronx Zoo. The story demonstrates two things: 1) it highlights the discriminatory, disrespectful and racist attitude of the times, and 2) it also demonstrates that there are people in our society who do have a proper moral compass, and who have stood up for righteous causes when they became aware of abuses. It's one incident initiated by one person, that happened over a century ago. Otherwise, the Bronx Zoo, as an institution, has done a lot of good.
The Universal Hip Hop Museum is set to open in 2023 in its new home at 610 Exterior Street in the Concourse neighborhood of the Bronx.
Inwood Fashion Show. We did a short report on an Inwood Fashion Show that attracted a lot Bronx contestants that didn't return during the pandemic. We'll keep an eye out for its return or its replacement this year.
Paying Tribute to Black History Month in Brooklyn NYC
Jackie Robinson & the Brooklyn Dodgers. This is the story about the Brooklyn Dodgers and why they departed for Los Angeles instead of continuing to do battle with Robert Moses over access to a stadium. Embedded in this story, is the story of Jackie Robinson who with the Brooklyn Dodgers, broke the color line in Major League Baseball.
The photo at right shows Ebbetts Field in Brooklyn, which at the time was the home of the Brooklyn Dodgers. Jackie Robinson and the Brooklyn Dodgers broke the color line, opening up major league baseball to people of all skin colors. It wasn't too long before all major league sports started recruiting athletes based on talent - not skin color.
George Floyd Protests. This is a story about a peaceful George Floyd protest in the Greenpoint neighborhood of Brooklyn. The second story includes a couple of videos of George Floyd protests in both Brooklyn and Manhattan NYC.
Paying Tribute to Black History in Manhattan NYC
African American Parade Harlem. The African American Parade happens every September in Harlem. It's the largest African American parade in the nation arising out of the 1968 Civil Rights struggle and celebrates African American contributions to American culture. Manhattan was home to the Harlem Renaissance of the 1920's and 1930's when writers like E.B. Dubois and Langston Hughes began to forge their way onto the American literary stage, while musicians like Louis Armstrong, Duke Ellington, Billie Holiday and Ella Fitzgerald became mainstream musical stars.
The photo at right was taken at the African American Parade in Harlem a few years ago.
Charlie Parker Jazz Fest. There's the Charlie Parker Jazz Festival which takes place every year, splitting the events between Harlem and the East Village, as Charlie spent a lot of his time in both places. Charlie Parker, a saxaphonist, is credited with inventing bebop, which evolved jazz from a dance music to an acoustical performance and we celebrate his contributions annually.
There's an African American burial ground in lower Manhattan on Duane Street at Elk Street, two blocks directly north of City Hall. About 490 African Americans were buried there in the late 17th and 18th centuries when New York was a very small town by the standards of today.
The Affordable Care Act, which provides for affordable healthcare insurance for all Americans, was nicknamed Obamacare, after our first African American President, Barack Obama, who pushed for and signed the legislation into law. President Biden, since becoming president himself, has increased enrollments by 50% according to a January 2023 report in Yahoo News.
The Apollo Theater in Harlem. Former Mayor de Blasio gave his 2017 State of the City Address at the Apollo theater in Harlem. This link will take you to a report of what he said, but it also includes a few photos of the legendary theater which turns 89 in September of this year. The theater was the springboard for the careers of James Brown and Jimi Hendrix [among others] and was the locale of the last live performance by Michael Jackson.
Mayor Eric Adams is the second African American Mayor of NYC. We covered him in a meeting earlier this year. Scroll down to January 13, 2023 report for photo and caption. His Administration also regularly sends us the Mayor's OpEds, which we generally publish. See the OpEd section, which is a drop down from the top tool bar, for details.
Paying Tribute to Black History on Staten Island NYC
The Sandy Ground Underground Railroad. We're in the process of researching a Staten Island site which was reportedly the first non-slave African American land purchase in the state of New York, shortly after NYS outlawed slavery in 1828. This area, called Sandy Ground, is located in the Rossville neighborhood of Staten Island. It reportedly, later became a part of the underground railroad on Staten Island, where escaping slaves crossed over from Perth Amboy, New Jersey - where many slave traders lurked - hoping to capture the escaped slaves before they became freemen by arriving on Staten Island. There was a home / museum in this same area [Rossville on the southern end of the island], which recently closed [2022] due to funding issues. This is an opportunity to reclaim some of our African American history.
You can also scroll down to our MLK Day Weekend reports to find other venues that contain relevant programs pertaining to African American history, particularly in their struggle for equality and Civil Rights.
Epilogue
No other ethnic group has worked harder to ensure that America lives up to the ideals set forth in the U.S. Constitution by the white Founding Fathers than African Americans. I am very proud to be an American, in large part because of the ideals set forth in the Constitution, which have in large part enabled our intellectual, spiritual and economic evolution.
Martin Luther King challenged America to live up to the universal humanist ideals embedded in the U.S. Constitution in his 'I Have a Dream' speech when he said, " ... I have a dream that [my children will] ... one day live in a nation where they will not be judged by the color of their skin, but by the content of their character ...". And Senator Teddy Kennedy, in his 1980 'The Dream Shall Never Die' concession speech, said that " ... For all those whose cares have been our concern, the work goes on, the cause endures, the hope still lives, and the dream shall never die ...".
As we're still a democracy, the responsibility to live up to those ideals and make the dream come true, is incumbent upon of all of us.
Have a good week.
---