CoVid Testing Now Widespread, Growth Continues but doesn't Accelerate, Severe Cases Appear to be Levelling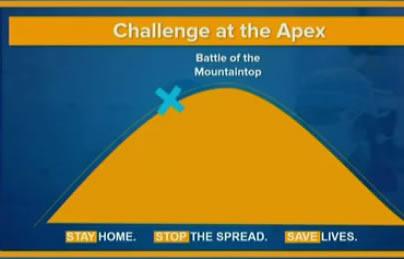 April 4, 2020 / Corona Virus in NYC & NYS CoVid 19 / NYC Neighborhoods / News Analysis & Opinion / Gotham Buzz NYC.
It's been a while since we've had much good news. At right is a graph shown by Governor Cuomo at a press conference today. Over the past week or so, Andrew Cuomo appears to be moving toward one of the more optimistic scenarios. He expects that we may POSSIBLY hit the Apex sometime next week.
Mayor de Blasio also seemed focused on the immediate needs of next week, but the Mayor has not yet adjusted his long term view of what's needed. Perhaps the Mayor hasn't yet received 'the memo'.
New Daily Discharges Exceed New Daily Hospitalizations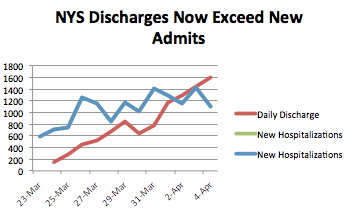 As you can see from the graph presented at right, the daily discharges at hospitals now exceeds the number of new daily admissions to the hospitals. Obviously that's a good sign, as more capacity is being freed up, as is being committed, providing breathing room for the entire system, which has been under some significant stress the past week or so.
Now be advised, the Network TV personalities are paid on the basis of their ratings performance - not keeping you properly and contextually informed - which is why you've been hearing that the sky is falling these past couple ofweeks.
To be sure, some hospitals that are under great duress. Elmhurst Hospital in Queens has been one of them, and I've heard, but haven't visited, Mount Sinai in Queens and Jacobi in the Bronx. But other hospitals aren't making the news because they're operating just fine. So bear in mind when you watch TV news you aren't necessarily getting the full picture - you're getting the ratings driven network TV news picture.
The bubbleheads on TV news seem to be paid on how well they read teleprompters, not on their intellectual or journalistic acumen.
---
CoVid Testing Now Widespread, Growth Continues but doesn't Accelerate, Severe Cases Appear to be Levelling
April 4, 2020 / Corona Virus in NYC & NYS CoVid 19 / NYC Neighborhoods / News Analysis & Opinion / Gotham Buzz NYC.
Total Testing vs Testing Positive NYC
The Corona Virus is going to be a rolling / spreading problem. That should already be obvious by the fact that it began in China, spread to South Korea, Singapore and Japan, crossed Asia into Europe hitting Italy, Spain, Germany and most recently the U.K. Meanwhile it also crossed the Pacific to the U.S. and has also been spreading through Latin America and Africa.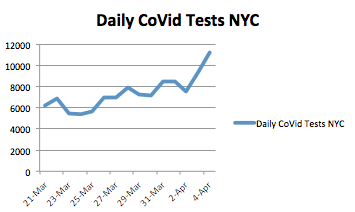 We're seeing a microcosm of that here in NYS and the tristate area. NYC was hit first and the hardest. We're still 'taking on water' so-to-speak, but as you can see from the chart while there's been a sharp rise in the number of tests administered, there's not been an attendant rise in the number of those who tested positive.
So that indicates that the curve is flattening, but that only means we can now begin to calibrate how much longer we have to go, not that it is by any means over. This also assumes we continue to discipline ourselves with respect to the same social distancing, hands washing and general enhanced cleanliness regimens.
Masks - To Wear or Not to Wear - that is the Question
The most intelligent report I found on this subject was done by the Atlantic Magazine - which by the way has been doing some great reporting on this pandemic and also on the 2020 campaign. In it the reporter investigated the airborne characteristics of the virus vis a vis masks and the studies which advised not to wear a mask. He also took a look at the one on the fly study that has turned conventional wisdom / guidance on its head.
He doesn't directly accuse government officials for reacting by the seat of their pants in a sort of unscientific political panic. But like some of the best writers, he seems to hint at it. It's worth a read, if for no other reason than to understand the airborne characteristics of the virus so you can decide for yourself how best to manage the issue.
https://www.theatlantic.com/health/archive/2020/04/coronavirus-pandemic-airborne-go-outside-masks/609235/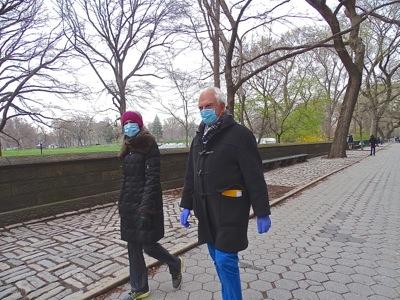 Thankfully the LA Mayor, the NYC Mayor and the Donald-in-Chief all said it was suggested guidance - not a requirement. The Trump CDC changed its guidance too, while NYS Commissioner of Health, Zucker stuck to the original guidance of recommending only those that are ill wear the mask to keep their germs to themselves.
The problem I've noted with the masks is as follows: The primary means of catching the disease is said to be people touching a surface with the germ, and then touching their face. Most people get the disease that way.
So last week while riding the subway I entered a car that one would consider near empty in normal times, but felt crowded given the situation. Everyone had a mask on, so for the first time I donned a mask that I had with me. What I noticed is that I had to fiddle with it [with my dirty hands?] and once off the train, I took it off with my [dirty?] hands. I decided not to use it again because I could have already contaminated it without knowing.
Surgeons and those in the medical community change them at the drop of a hat to maintain sanitary environment. And yet we see people of the TV news giving their report with their surgical mask dropped down. I saw many people drop their mask to talk and then put it back on. And so forth. I think they should have continued with the WHO guidance pending better information which they didn't have at the time.
We're #1 in the World with Corona Virus Infections & Yet Somehow the Donald in Chief Says He's Doing a Great Job?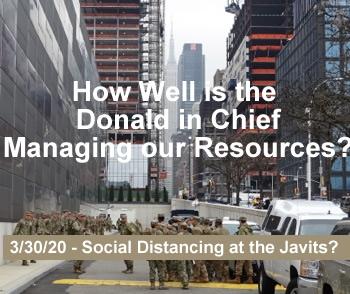 The photo at right was taken of the National Guardsmen congregating outside of the Jacob Javits Center in West Midtown on Monday, March 30th. They do not appear to be practicing social distancing.
The Donald in Chief's 'ACTING' Secretary of the Navy Thomas Modly fired career Navy man, Brett Crozier, Captain of the USS Theodore Roosevelt because the Captain had pleaded for help to be able to quickly quarantine the 137 members of his nuclear powered aircraft carrier who tested positive. There are about 5,000 crew members on the nuclear powered aircraft carrier, and as of this writing just over half had been tested. The Trump Administration said they had fired the career Navy Captain because he had not gone through proper channels in making his request.
You can view the USS Theodore Roosevelt crew cheer Captain Crozier as he departed the nuclear powered aircraft carrier for the last time late this week.
https://www.youtube.com/watch?v=zUosuzrY8gg
---
---