Countdown to NYC Christmas as Hanukkah ends
Winter Solstice in Elizabeth Garden, Bike NYC Holiday Rides, Good Riddance Day Ten Days Away, Threats of 2nd 'Pause' NYS Lockdown Persist, Why [is?] Indoor Dining Shuttered Indefinitely, Some NYC Hospitals Near ICU Capacity Overload, CoVid Vaccination Devil in the Details, Trump Pardons & Epithets
December 18, 2020 / NYC Neighborhoods / News Analysis & Opinion / Gotham Buzz NYC.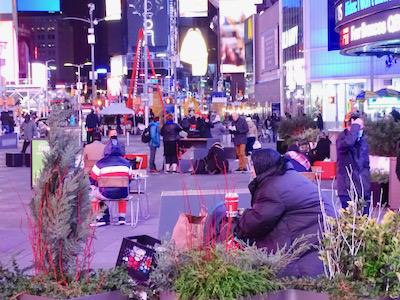 NYC Weekend Weather. The temperature highs will rise from the low 30's Friday & Saturday to the high 30's on Sunday. The temperature lows will rise from the mid teens early Friday morning to the mid 20's Saturday and then the mid 30's on Sunday. No precipitation is forecast for Friday and Saturday and possibly less than 1/10th of an inch later [after 3 pm] on Sunday. Humidity will rise from the 60% range on Friday, to the 70% range Saturday and near 80% on Sunday.
Things To Do Between Now & New Years - Elizabeth Street Garden Winter Solstice, Bike NYC Holiday Rides, Good Riddance Day in Times Square
On Sunday, December 20th between 6 and 7 pm, the Elizabeth Street Garden at 209 Elizabeth Street in SoHo between Prince and Spring Streets in Manhattan is hosting a Winter Solstice celebration. It's free, but you must wear a mask even though it's outdoors, and there's limited capacity.
But on Monday, December 28th, beginnning at 12 noon, there's Good Riddance Day. This was inspired by a Latin American tradition, where bad memories of the year are stuffed in dolls which are then burned. While the Times Square event won't include fire, they say the bad memories of 2020 can be tossed, shredded and smashed.
Also on Monday, there's a Manhattan holiday lights ride that begins at Columbus Circle at 3 pm and ends at the South Street Seaport around 7 pm. It costs $10 and you can register at www.bike.nyc.
On Wednesday, December 23rd, there's a Bronx holiday lights ride that begins at Van Cortlandt Park at 242nd Street and Broadway at 3 pm and ends at the South Street Seaport around 7 pm. It costs $10 and you can register at www.bike.nyc. The Brooklyn Holiday Lights ride was on Saturday, December 12th.
Like most things this year, the New Years Eve ball drop in Times Square is going to be a virtual event.
---
Countdown to NYC Christmas as Hanukkah ends
Winter Solstice in Elizabeth Garden, Bike NYC Holiday Rides, Good Riddance Day Ten Days Away, Threats of 2nd 'Pause' NYS Lockdown Persist, Why [is?] Indoor Dining Shuttered Indefinitely, Some NYC Hospitals Near ICU Capacity Overload, CoVid Vaccination Devil in the Details, Trump Pardons & Epithets
December 18, 2020 / NYC Neighborhoods / News Analysis & Opinion / Gotham Buzz NYC.
Continued
.
CoVid Taps ICU Capacity at Some NYC Hospitals
Speaking of suck, CoVid has decided to stay for the holidays. NYC and NYS are actually doing fairly well in managing the pandemic - relative to the rest of the nation - but the rest of the nation isn't doing so well. We're between 5% - 6% testing positive.
But that said, some Intensive Care Units around the city are near capacity as CoVid patients contribute to high demand for the ICU. This week The Patch, an online news site, noted that some NYC hospitals including Flushing Hospital in Queens, Mount Sinai and NY Presbyterian on the UES of Manhattan, Brooklyn Methodist [also run by NY Presbyterian] and Kingsbrook Jewish Medical Center in Brooklyn are nearing capacity in their Intensive Care Units. They also noted that an unnamed Staten Island hospital and a second Queens hospital [possibly Elmhurst as its adjacent to one of the city CoVid hotspots] were nearing total usage of ICU capacity. The City, an online news site, has been tracking the impact on local healthcare facitilies and shows that at present 83% of hospital beds and 78% of all ICU beds are occupied.
Part of the Problem is NYC and NYS have limited Hospital ICU Capacity. After at least a decade of cutting hospital facility capacity, it seems we're back in need of this critical infrastructure again - or at least a re-thinking of how to move forward without having the shut down the economy everytime there's a surge in the pandemic spread.
I recommend that government officials create a task force led by a smart problem solver, who can manage inputs from medical professionals, restaurateurs, teachers and other essential and non-essential representatives to help figure out how to balance public health with economic health for the long term.
The photo above shows an NYC snow plow out on Wednesday night cleaning up the city streets which seem to be in pretty fair shape as of this writing.
Indoor Dining on Hiatus at NYC Restaurants, Even Though Thus Far, Restaurants Account for Less Than 2% of the Spread Rate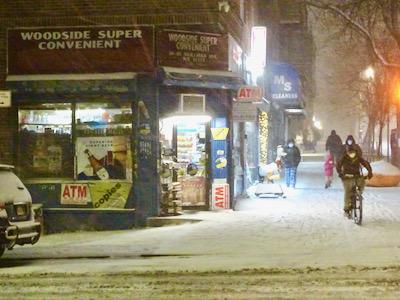 The surging demand for ICU care at local hospitals is why the Governor and Mayor are threatening a second shutdown. They have already pulled back on indoor dining, even though by Governor Cuomo's own numbers, restaurant dining represents less than 2% of cause of the spread. And the cold weather and snow aren't helping these indefatigable entrepreneurs.
Update 12.19.20. While Cuomo's numbers indicate NYS restaurants represent only 1.4% of the spread of CoVid, a December 8, 2020 PolitiFact report did a quick survey of some of the CoVid transmission studies done since the pandemic began. In their report, PolitiFact states that restaurants represent the types of places where CoVid 'could be spread, but the actual transmission rates varied from locale to locale - likely because of differing regional responses to the pandemic. This is likely why the Governor and Mayor have put restaurants on hiatus - but it seems to punish / not reward what appears NYC and NYS restaurateurs' good behavior.
The photo at right shows a small neighborhood store, lights burning brightly, amidst the snow storm. Restaurants, neighborhood stores and other small businesses collectively are sizeable employers and an important part of the community fabric.
Hurting NYC restaurateurs rallied in Times Square on Tuesday 12/15/20 in support of government relief, including the proposed $114 billion of federal economic stimulus for restaurants, where a spokesperson at the rally noted that the restaurant industry employs 11 million in the nation. According to a December 7, 2020 Bloomberg report, already a reported 110,000 restaurants nationwide have closed their doors. This is according to a National Restaurant Association report, which calculated in September that 100,000 restaurants had closed. This would indicate that the restaurant shutdowns have slowed, but by no means stopped.
CoVid Vaccinations - Two Candidates & Delayed Action Immunity
So as of this week, we have two VACCINATION therapies approved by the FDA Advisory Panel. One has been given FDA approval for use, with the second soon to follow. The first vaccinations began this week, which is the start of at least a half year to full year effort, to vaccinate enough people in the population to return to some kind of post pandemic normal. I don't think post pandemic normal is going to be the same as it was before this all happened in a manner not unlike what happened following 911, when things returned to normal - but traveling by air was very different.
Delayed Reaction Vaccination. WBGO, a jazz radio station out of Newark, NJ, had a talk program where one of the experts noted that between the two vaccination doses, a patient can actually contract CoVid because at that point the patient - is at best - 50% protected. What I found most interesting though, was that the patient doesn't become fully immune until about a month after the second dose, as the body requires time to build / complete the immunity.
A couple of patients using the Pfizer vaccine, who had pre-existing conditions concerning allergies, caused Pfizer to warn folks with such conditions, to carefully consider whether to proceed with taking the Pfizer vaccine. I imagine, as with the virus, we'll continue to learn new things as the science unfolds.
CoVid Back Pain Symptom? Celebrity talk show host, Ellen DeGeneres, caught CoVid just over a week ago. This week she noted she was feeling fine, but told us she experienced some agonizing back pain. This symptom, which she said others who had contracted CoVid confirmed, has not been previously mentioned.
KEEPING SAFE - Simple CoVid Rules to Remember. The 80 / 50 Rule. I understand that 80% of the spread of CoVid is done via air [aka breathing too close to someone] and that 50% of the spread is done by people who show no symptoms [asymptomatic]. This is a cautionary tale, but it's easy to remember,. The lesson is that if you stay disciplined, you should also be able to stay safe by distancing and wearing a mask. And, of course, pandemic or no pandemic, wash your hands before touching your face or preparing / eating food.
---