Cuomo, de Blasio & YOU have been doing Great
New Yorkers Appear to Turn Corner on the Corona Virus Crisis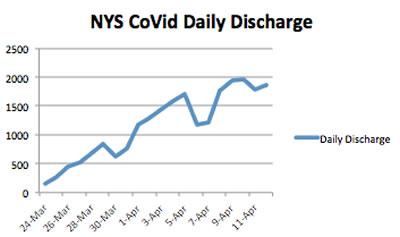 April 12, 2020 / Corona Virus in NYC & NYS CoVid 19 / NYC Neighborhoods / News Analysis & Opinion / Gotham Buzz NYC.
I hope you had a good Easter / Passover weekend.
Based on what I observed, albeit with very limited movement and anecdotally, New Yorkers appeared to stay at home, self isolating over the holiday weekend.
This sort of compliance with government guidance is what has enabled us to stem the spread of the - at times lethal - Corona Virus. And the levelling happened none too soon, as parts of the NYC hospital system were operating at full capacity - and in some cases over capacity.
Most of the metrics for the virus have been levelling off or even going down, while the only positive metric - daily discharges - continues to rise.
We appear to be transitioning from emergency management, to crisis management, and government officials are now even beginnning to look ahead at transitioning us back to what will be the new normal.
NYS & NYC New CoVid 19 Cases Level - Even Show Signs of Falling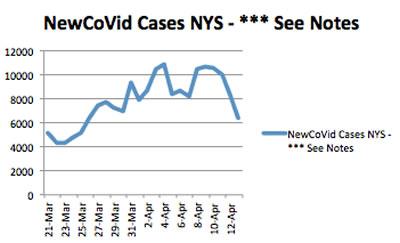 New CoVid 19 cases in NYS were down fairly sharply yesterday, based on the numbers presented by Governor Cuomo. But the drop may be due to weekend reporting discrepancies. In any case the number of new cases appears to have levelled off in both New York state and in New York City.
The key statistics that the Governor and the Mayor have been closely monitoring include new and net hospitalizations, new and net admissions to the Intensive Care Unit, and new and net intubations aka use of respirators. As you can see from the graphs, all have been falling. This data was collected from the Governor's daily press briefing, as well as from other media outlets such as the New York Times, on the days when the Governor didn't present all of the key metrics in his press briefing.
---
Cuomo, de Blasio & YOU have been doing Great
New Yorkers Appear to Turn Corner on the Corona Virus Crisis
April 12, 2020 / Corona Virus in NYC & NYS CoVid 19 / NYC Neighborhoods / News Analysis & Opinion / Gotham Buzz NYC. Continued.
Hospitalizations, Intensive Care Admissions & Intubations Data Definition Change?
Although the Governor did not say so, it seems some of definitions for the data changed, as the Governor and his troops tried to keep the public informed while managing the crisis. As things have been settling down, they appear to have tightened their grip on the quality of the data collected. Hence there was a significant drop in several of the key charts including hospitalizations, intensive care admissions and intubations about a week ago.
I haven't been able to confirm this, but I believe it's because around this time the tide began to turn. Thus, while at first they were tracking new admissions to the hospital, the intensive care unit [ICU] and intubations, they did not have any people being discharged, nor dying in any meaningful numbers, so these were the only metrics that mattered.
But eventually discharges and deaths, began to free up hospital beds, ICU beds and respirator capacity [intubations]. Hence they moved to providing net numbers to provide a contextual view of the situation, as without the discharges / deaths subtractions, the numbers didn't give them a clear picture of hospital capacity, which was the key crisis management issue.
Looking Ahead - When is it Over?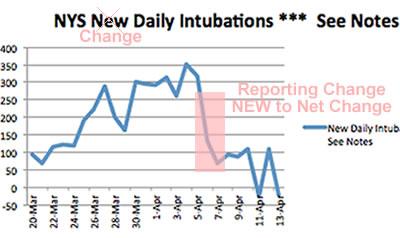 The Governor, the Mayor and other government officials, healthcare experts and pundits are all trying to assess when and how we get back to work. My general impression, based on what I hear them all saying, is we're 30 to 60 days out from some sort of new normal. This is my guesstimate and it assumes that there's not an unexpected CoVid 19 flare up.
Mayor de Blasio and Governor Cuomo seem to be sparring over whether the NYC public school system will reopen this school year. It seems unlikely, given the givens. I think it's going to be harder to restart things, than it was to stop them. And unfortunately there's likely to be a measure of caution that hangs over all of us as we move forward - but rightfully so.
Tri State Governors Meet to Discuss How to Reopen
Governor Cuomo said he's meeting today with New Jersy Governor Phil Murphy and Connecticut Governor Ned Lamont to discuss how to approach reopening because there's a lot of movement between the three states from a residential and work perspective.
Governor Cuomo also said that restarting things is going to be a process that involves easing isolation, increasing economic activity, recalibration of essential workers and testing / precautions. He said there would be a coordinated approach that addresses the increase in economic activity, the use of public transit and schools.
I'll have more on this as the situation become better defined.
Bear in mind, as you can see from the chart, we're not out of the woods yet, but things are looking up.
Footnote. A number of the deceased are being buried in a potter's field on Hart Island. A potter's field is a mass burial site for unclaimed or indigent people. And Hart Island is located a bit east of City Island which is located in the southeast Bronx.
---
---