Riding the Rails During the CoVid Pandemic in NYC
Observations of a Blogger While Covering the CoVid Story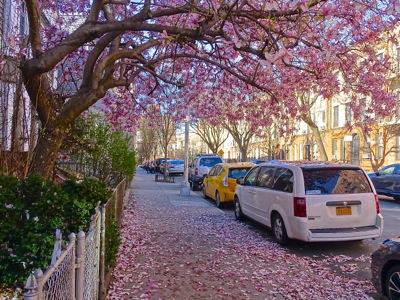 April 9, 2020 / Corona Virus in NYC & NYS CoVid 19 / NYC Neighborhoods / News Analysis & Opinion / Gotham Buzz NYC.
I've been covering the CoVid Pandemic since it began in NYC, starting in the first half of March. At first my attention was focused on the closures by the Governor and Mayor as they began shuttering social events, social interactions and ultimately the economy.
It wasn't long before I shifted my attention to the growing numbers of people testing positive for the Corona Virus in NYC and NYS. This was followed by photographing the efforts by the NYC Mayor and the NYS Governor to build out additional healthcare capacity, to accommodate the projected growth of sick people, resulting from the spreading pandemic. They had a very limited time frame to complete this build out, before the influx of new Corona Virus patients overwhelmed the existing NYC and NYS healthcare capacity.
Most recently I've turned my attention to the economic hardships currently being borne by New Yorkers, particularly in small businesses and the folks working in essential services.
I've witnessed many people thanking the folks working in essential services - including healthcare, public transit, grocery and pharmacy outlets, and first responders - and I want to add my own thanks for all of the work they do, to keep the rest of us moving.
The photo above was taken about a week ago. A little bit of natural beauty helps keep things in perspective.
Reporter Travelogue - Startling Beginning With Closures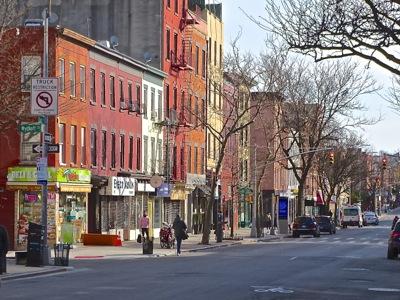 This is a travelogue about riding the MTA rails, along with essential workers, to do my part by providing independent first hand reports and context regarding what's happening here in NYC vis a vis the Corona Virus pandemic. Most of what I report is either not reported by the sensationalist, ratings-driven TV network news, or it's diminished in their reported accounts because it's contextual - not shocking.
The pandemic first hit my radar while I was covering a theater event at the LaGuardia Performing Arts Center. At that time I first heard that the Governor had started instituting surprising - and what at the time seemed draconian - measures designed to stymie the growing tide of CoVid 19 infections. In short order these actions were followed by the Mayor and it included shutting down restaurants and non-essential services.
The photo at right shows shuttered businesses along Court Avenue in Brooklyn during the NYC CoVid lockdown.
At the moment these governmental measures appear to be working, but I suspect maintaining discipline during the Passover and Easter holidays will be challenging. Afterall we have now spent over a month in communal isolation. But if people don't comply with the guidance provided by government officials, the pandemic will quickly resurge, and lengthen the time before we can all get back to the new normal. The Governor cited several examples from around the world including Italy, Hong Kong, Singapore and the Influenza pandemic of 1918 in the U.S..
---
Riding the Rails During the CoVid Pandemic in NYC
Observations of a Blogger While Covering the CoVid Story
April 9, 2020 / Corona Virus in NYC & NYS CoVid 19 / NYC Neighborhoods / News Analysis & Opinion / Gotham Buzz NYC. Continued.
Governor's & Mayor's Abrupt Closures Startle Most Everyone
As mentioned above, the societal closures began with the Governor's announcement that he was closing the CUNY and SUNY school systems for the remainder of the term on March 11th. Quite frankly, I didn't know what to make of it at the time. My first reaction was that it was an overreaction. But it wasn't long before I began adjusting that particular perspective, as new information became available, and I learned more about the evolving pandemic. It was on that same day that the World Health Organization declared the CoVid Virus a pandemic.
Empty Store Shelves & Empty Streets & Preparing for the Storm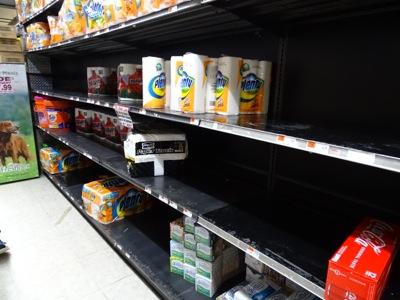 I didn't venture out for reporting purposes for another ten days. That first weekend of March 14th & 15th, I stocked up a bit on essentials. I was amazed to see how whole sections of the grocery store were emptied. The canned food section, the rice and pasta sections, and the bread and baked goods sections were all pretty well cleaned out.
And then there was the huge run on toilet paper. Who would have thought?
In the photo at right you can see the paper products section of a local grocery store. I've been monitoring the situation and it continues to look more or less like that even to this day. But that said, the grocer has managed to obtain toilet paper shipments from some of the non-branded suppliers, so that some toilet paper has always been in stock since the CoVid crisis began.
The Old West, the Ghost Town & the Cavalry?
Finally on Saturday, March 21st, I headed into Manhattan to photograph the closed stores and empty streets. I visited Times Square, Lincoln Center, Midtown and Grand Central Station - all had become surrounded by an empty quiet. Back in Queens, I photographed empty store shelves, which had been rampaged through in the prior week, as people seemed to be digging in for 'the impending storm'. At the time I thought this whole situation would soon enough disappear into the history books.
It was around this time that I started tuning into Governor Cuomo's daily CoVid press briefings. Cuomo came with a slew of charts which provided us, the community, with a solid view of what was happening around us. I was not alone, as in the course of the coming week, some five million viewers would tune in to the Governor's briefing.
On Monday, March 23rd, I headed into Manhattan again. This time to visit the Javits Center which was to be the site of a federal pop up hospital. The purpose, we were told, was for the Javits Center to accommodate the expected overflow of patients from NYC hospitals, as the growing surge in CoVid patients was expected to displace the patients in the existing beds at local hospitals.
The photo at right shows the Javits Center in the process of being transformed from a convention center into a pop up hospital.
I started listening to the radio during the day. Alicia Keys' hit single Underdog started making its way into my rhythm, and the lyrics started entering my consciousness. It's about risin' up and keepin' on and it seemed to well fit our current situation. You might enjoy it [cut & paste the link below].
https://www.youtube.com/watch?v=izyZLKIWGiA
Meanwhile, the propaganda machine of the Australian born billionaire, Rupert Murdoch, did a 180 degree turn without so much as flinching in their dishonesty and audience deceit [cut and paste the link below to view the video]. This time they even threw Trish Regan under the bus - for doing what she and the rest of the propaganda Pinocchios on that network seem to do daily. Thankfully the Washington Post caught them and put it together in a minutes long video montage, which you can watch by cutting and pasting the link below.
https://www.youtube.com/watch?v=ifKbwDf51bA
People in the Fox News audience are among some of the most ignorant in the nation, due in large part because they are suckers to the Australian bred demagogue's pretentious posts patronizing their religion, their patriotism and perhaps most importantly, their other prejudices. Joseph Goebbels would likely be amazed and proud of Rupert Murdoch for how far he has taken the dark art of mass deceit.
The CoVid Surge Hits Elmhurst Hospital in Queens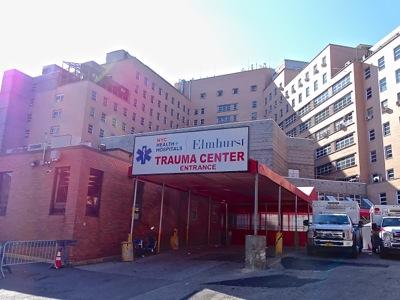 On Thursday, March 26th I took the #7 subway to visit Jackson Heights and Flushing. The subway platform and cars were sparsely populated by what was likely, essential workers - many of whom were now wearing masks and gloves.
My first stop was Elmhurst Hospital, where the day before 13 patients had died and the hospital morgue was so full, that they had to move some of the bodies into a mobile morgue, which was a refrigerated trailer. I spoke to one hospital employee who confirmed they were operating in a stressful environment, but this employee remained stoically calm. I thanked them for their courage and service to the community.
The photo at right shows the Elmhurst Emergency receiving area just a day after 13 people died of CoVid 19 at the hospital.
Before heading to Flushing, I walked the surrounding Jackson Heights / Elmhurst business district, where most businesses, about two thirds of them, had closed.
Most Local Shops Close Their Doors Before the End of March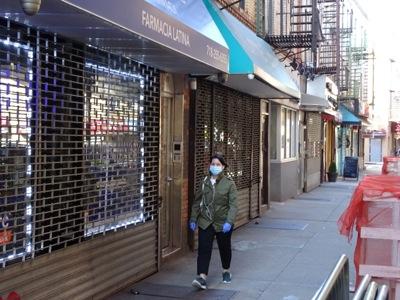 During this time I had continued frequenting a local cigar shop, which had recently cut back from its 24 / 7 business hours - closing overnight. Also, one of the local shops where I regularly stopped for beer and chips had decided to close too. And during the coming week, several other small stores where I periodically purchase small treats, closed too.
The supply chain noose seemed to be tightening, which is likely why so many people had been heavily stocking up. I maintained a larger inventory of things than usual, but I didn't want to load up my cupboard with things that would spoil or that I would regret purchasing once the crisis had passed.
Meanwhile the gossips on TV news were beginning to wear on me. These millionaire TV broadcasters patronize us with their phony statements that "We're all in this together", which is at odds with what I saw.
The low pay essential workers were risking their lives on the streets, while the multimillionaire personalities on broadcast TV like Fox News were staying at home or working in the cushy TV studios. I saw essential workers riding the subway, interacting with the general public - all for modest wages - and many members of the community are no longer taking home a paycheck, and are uncertain as to whether they will have a job to return to, they can't pay their rent so they don't even know if they'll have a place to call home by the end of the year.
So, sorry Network TV News, it doesn't even seem remotely like "we're all in this together". You're trying to convince yourselves of that, while those of you with either a conscience or a brain, know full well it's simply not true.
So many of these TV news people seem to talk so much and say so little of any value. If you want to know what's really going on you have to use the web.
******
NYC, NYS & U.S. Pop Up Field Hospitals are Put in Place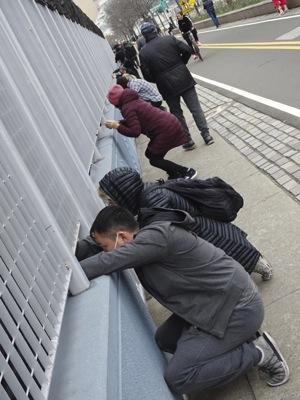 On Monday, March 30th I headed back into Manhattan to shoot photos of the Javits Center Hospital, as it had been reportedly been set up. I came after Governor Cuomo had given his CoVid update. They had closed the facility to the press, so I couldn't get in, but I noticed that the arriving National Guardsmen were not yet in the habit of practicing social distancing. Some soldiers did and some soldiers did not. That the National Guardsmen weren't social distancing didn't dawn on me until after I had arrived home and looked at the photos I had taken.
The USNS Comfort had arrived on the West Side earlier on this day, so I headed up along the Hudson River waterfront, to where the USNS Comfort had docked. Nobody was allowed into the docking area as the Navy was making preparations to receive patients.
The photo at right shows a number of photographers and onlookers taking photos of the USNS Comfort, through an opening under the tarp hanging from the Pier 90 fence, on the Hudson River in West Midtown Manhattan.
Just a week ago, Midtown Manhattan had an emptiness to it, but today it was near desolate. One of the photos I took showed roads leading into the Lincoln Tunnel area, during rush hour on a Monday, and it was completely empty.
I started receiving telephone calls and emails from people from whom I had not heard in quite a long while.
A 'Real Cleaning Regimen' for NYC Subways is Absolutely Necessary
I was riding the rails of the MTA subway, of which I am generally a great fan, as the MTA is the great enabler of our fair city, providing safe, affordable and reasonably quick mass transit to / from about 60% or more of the city. But today, I found myself a bit disappointed, as I had expected the cleaning regimen combined with the reduced ridership, to produce a sparkling clean ride. This was not to be the case, and it wouldn't be until Tuesday, April 7th that I encountered the first subway car that smelled of disinfectant - the N train which I embarked upon from Queens Plaza.
The photo at right shows the floor of a #5 subway car with spilled liquid and a bottle cap on the floor during rush hour on a weekday of light traffic. According to one TV News report ridership was down over 90% on most public transit. I found a number of subway cars to be dirty, in spite of the significantly reduced ridership and a reportedly intensified cleaning regimen.
NYC Hospitals hit Unevenly by CoVid & Field Hospitals Erected to Increase Capacity to Forecasts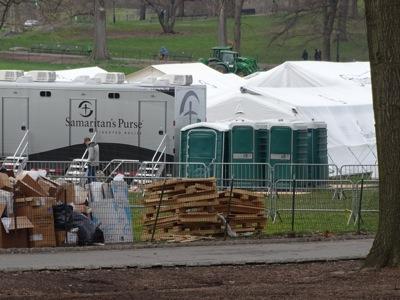 I arrived on the Upper East Side where I took photos of the Samaritan Field Hospital in Central Park, just across from Mount Sinai Hospital Manhattan. The field hospital in Central Park looked well on its way to being completed. On my return trip I met one of the professionals who works at Mount Sinai in Manhattan, who told me things there were operating pretty normally. I met another healthcare professional who works at Memorial Sloan Kettering and this person also said things at their hospital were functioning fairly normally.
The photo at right shows the pop up Samaritan Hospital in Central Park across from Mount Sinai Hospital on the Upper East Side of Manhattan.
This seemed at odds with what I've come to view as the ratings-driven gossips on the alarmist TV News, who these days seem to be paid to generate profitable sensationalist ratings, rather than to report the news in an informative, contextual manner.
So I began processing what I had just learned about the situation at a couple of privately run hospitals in Manhattan with what I had picked up during my visit to Elmhurst Hospital in Queens the week before. Elmhurst Hospital is a member of the NYC Health and Hospitals, which operates in a manner similar to a city agency. As mentioned above, I had spoken to someone who worked there, who told me they were operating under great duress. So the burden of caring for CoVid patients, appears to have been unevenly distributed, with the hospitals in the NYC Health Hospital Network carrying the greatest load.
Hats Off to Grocery Store Employees and Pharmacy Clerks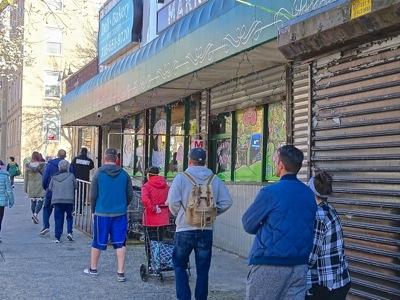 Back on the subway, even more people were wearing masks. I was not, as the World Health Organization recommended that only people who already had the virus wear them to keep the CoVid droplets to themselves.
On Friday, April 6th I ventured out again. People were standing in long lines to do their grocery store shopping - made long by having to stand six feet apart. I have never appreciated the service provided by the local grocery stores and pharmacies and their employees, as much as I do these days. They have been going into work every day to make it possible for the rest of us to shelter in place now, and they have made it possible for us to keep on, keeping on, every day before this happened. And they will continue to do so when it's over. So a special thank you to a group of essential workers that are often overlooked and who still haven't received as much recognition as some of the other essential workers.
The photo at right shows folks lining up outside a local grocery store to purchase some of their essentials and likely a few self indulgent treats.
I couldn't help but notice a beautiful tree blossoming in springtime on a quiet lonely street. I suppose I might not have appreciated it as much during normal times. The photo was posted above at the beginning of this story.
I walked down Roosevelt Avenue in Woodside Queens. Only a week ago about a quarter of the small shops still had their doors open - but by now there were only about one in ten shops open - or less. It was as - or even more - closed up during rush hour this day, than it was at 3 am in the morning prior to the CoVid pandemic.
Because these small shops had closed, I had to purchase these small treats in larger quantities. And because I was making these treats more available to myself, I started consuming greater quantities of them. And because I was consuming more of them, I had added five pounds in about a week or two. I wondered how many other New Yorkers were gaining weight that fast. I had to find a way to better manage my personal consumption.
Additional Surge Hospital Capacity Put in Place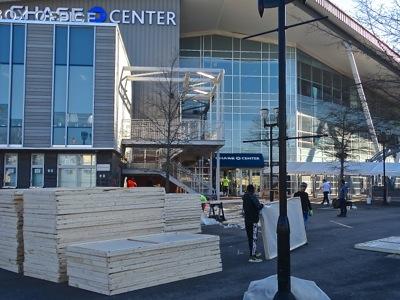 I headed to Flushing Meadows Corona Park where they were preparing to open one of the buildings in the USTA Center as a patient overflow facility. There I saw folks from the NYC DDC, Department of Design and Construction, in the process of building out the pop up hospital in a manner similar to what was being done at the Javits by the feds, and in Central Park by Samaritan in front of Mount Sinai Hospital Manhattan.
The photo at right shows the DDC at work building a pop up hospital at the USTA in Flushing Meadows Corona Park.
As I traversed the bridge connecting the subway platform to Flushing Meadows Corona Park, I noticed all of the subway cars sitting idle in the MTA yard. When I returned, I met an MTA employee on the subway platform, and was told that about a third of the MTA workforce was out of commission. Not that they were all sick, I was told, but any MTA employee who had come in contact with someone who had the virus was asked to stay home until a certain amount of time passed without symptons or they were tested. The subway schedule on the #7 subway line the prior week had fallen to about 10 - 15 minutes between trains, but this week it was back up to a weekend schedule of about one train every 8 minutes.
As I boarded the train, I noticed that again the cars were sparsely populated. And even more people were now wearing masks.
All is Quiet in One of the Busiest Asian American Communities in NYC & U.S.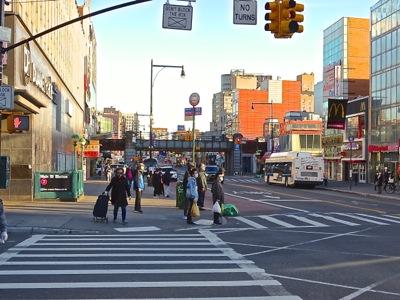 I headed into Flushing which is likely the largest, or one of the largest, Asian communities in New York City, if not the entire U.S.A. As the intersection of Main Street and Roosevelt Avenue is one of the busiest pedestrian and transportation hubs in Queens and the city, I expected to see more activity than what I saw. It was around 6 pm and the area was as quiet and as empty as the rest of the city.
The photo at right shows an empty Flushing at Main Street and Roosevelt Avenue. This is one of the busiest Asian community street corners in Queens and NYC.
When I returned to my neighborhood I stopped at the grocery store and purchased a few items. The toilet paper section was still somewhat empty, but the local grocer - Key Food - somehow managed to keep finding various TP suppliers, so there were always rolls available. I started picking up a couple of rolls each week in order to maintain my two week cushion of supply. But I wasn't worried, because as we all know, if push comes to shove, we can always re-use toilet paper.
That last line was intended to amuse.
Anyhow by this time I had gained between five and seven lbs, owing in large part to the fact that I was buying more than I needed. I was also trying to keep up with the expiration dates of things I had purchased 'just in case' and found myself trying to balance between minimizing waste and not adding too many more lbs.
Bronx Screening & Testing Centers Quiet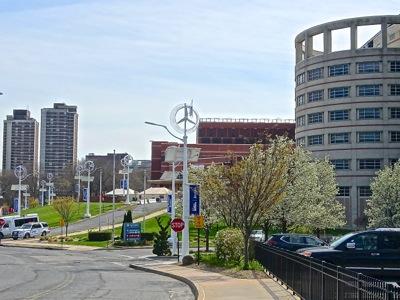 On Tuesday, April 7th I set out for the Bronx and Brooklyn. My mission, should I choose to accept, was to photograph what was going on at Jacobi Hospital in Morris Park and the Bay Plaza Shopping Center in Pelham Bay where they had set up a testing center.
The N train had the smell of disinfectant as I boarded. I considered that a positive. On the number 5 train someone had opened one of those slit windows in the car I was in. While it made the car more noisy, I thought this was a good way to keep refreshing the air.
When I arrived at Jacobi Hospital I found a tented screening area - not a testing center. The purpose of the screening area is determine if someone has CoVid symptoms, which would make them eligible for a CoVid test. It was mid afternoon and things were very quiet. The tent was staffed by a visiting / volunteering healthcare professional from another state.
I felt heartened hearing this, as it corroborated what the Mayor and the Governor had been telling us about help coming from healthcare professionals arriving here from other states. The photo above right shows the screening center outside of the Jacobi Hospital Emergency area in the Morris neighborhood of the Bronx.
The streets were mostly empty as I made my way down to the Bay Plaza Mall near Coop City. Once there, and this was mid afternoon on a weekday, the entire Bay Plaza Mall was empty - save for a car queue lined up all around a Starbucks for window service. A police officer gave me directions to the CoVid testing area, which was on the north side of the Bay Plaza Mall along Bartow Avenue. The officer remarked that the emptiness was 'eerie'.
Flattening the Curve Seems Validated by Bronx Visits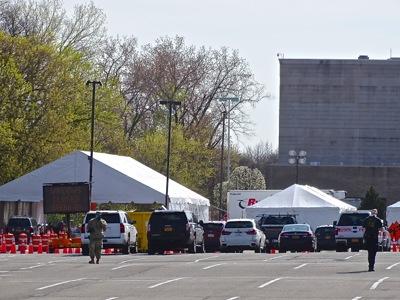 At the testing center a State Trooper told me I could go into the first parking area, but not beyond it. There I photographed a small number of cars with people in them who had made appointments to be tested. It wasn't much to see or photograph, but like the screening facility at Jacobi, it wasn't mobbed like the TV News had shown a week or two ago, thus indicating that - at least for the moment - things were settling down.
The photo at right shows the Bay Plaza Mall testing center in the late afternoon of a weekday. Like the Jacobi screening area it was also fairly quiet, validating the assumptions that the Corona Virus spread may be slowing down.
One of my first post graduate school jobs was financial modeling and forecasting. During this CoVid crisis I put those old modeling skills to good use, by taking the Governor's data beginning around March 23rd, to begin making my own assessments / forecasts of where we were 'on the curve'.
Forecasting Models are Essentially Educated Guesses at the Future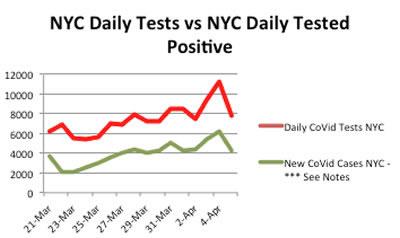 Forecasting models are essentially a well educated guess. All of these models are based on assumptions, and the two assumptive miscalculations I thought the people advising the Governor were making were: 1) that they had not separated out how the increase in the number of people tested was fueling the growth in numbers of those who tested positive for CoVid, and 2) that they had underestimated the effectiveness of the actions taken by the Governor and Mayor [to shut businesses, social distance and wash hands] to dampen the spread of CoVid. So I made my own assessment - as you can see from my prior reports - the results of which seem to have been corroborated by recent trends.
But as the Governor has said, our behavior drives these numbers, and if people congregate over the Passover and Easter holidays, you can expect the tested positive CoVid numbers to begin trending up again and increase pressure on an already stressed healthcare system.
The graph at right shows how the numbers of tests appeared to drive up the tested positives in NYC. This might have been misinterpreted as an exponential growth rate for the spreading of the virus, leading to the higher estimations for hospitalizations and deaths. But given how many people in this nation have been infected, a loosening of the social distancing measures could result in an exponential explosion of cases, and still potentially overwhelm the healthcare infrastructure.
Bay Plaza Mall Testing Center in the Bronx was Quiet & the Mall was Literally Empty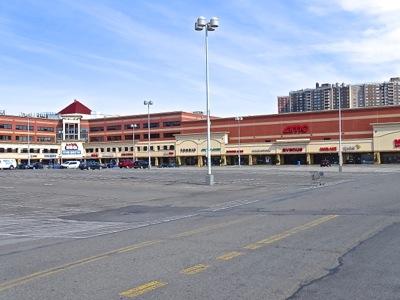 On my way back toward the subway, on two separate occasions, I saw older men lash out at other people for what seemed trivial - if not nothing. It brought home the feeling of frustration, anger and helplessness that many must be feeling. There are reports that domestic violence is up.
Loss of income, loss of purpose and a sense of helplessness isn't a recipe for happiness. This may be heightened by isolation during the holidays.
The photo above shows the Bay Plaza Mall parking lot in the Bronx in the middle of a weekday. As the policeman said, it was 'eerie'.
It's uncertain how we go about returning to the new normal at this point as the threat of a resurgence of the spread of the virus remains real.
The MTA has Lost 41 Employees - Subway Cars Seem in Need of a Better Cleaning Regimen
I hopped the #5 subway in the Allerton neighborhood in the Bronx and headed south to Brooklyn. I found this subway to particularly unclean, as it smelled of urine. I know the MTA has a difficult job, and I understand that 41 MTA employees have lost their lives to CoVid, but I think that cleanliness on the MTA - which depends mostly on the MTA employees but also on the behavior of all of us - is an essential ingredient to forging our way back to some sort of new normal.
I would like to smell a slight whiff of disinfectant in every subway car I enter, not just in an isolated one or two cars. I think MTA cleanliness would go a long way toward slowing the viral spread, as on a normal day, millions of New Yorkers use the MTA subway. And it's important to recognize the phenomenal job done by the MTA and its employees every day to keep the subways and buses running - enabling millions of us to quickly, easily and inexpensively get around the city.
The photo at right shows the G train between Brooklyn and Queens around 6 pm during a weekday after light passenger traffic.
Two Lines of Questioning: Minorities Appear to be Afflicted Disproportionately to their Representation in the General Population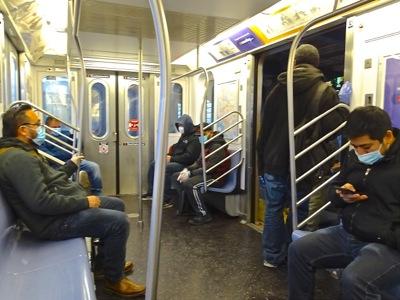 I also noticed while riding the subways today, that nearly all of the people riding with me were minorities. I wondered if they were all essential workers, braving the CoVid pandemic, in order to keep New York City operating, albeit in a sort of inactive 'sleep mode'.
The photo above right shows riders on one of the subways I recently rode. I assume they were essential workers and noticed that they appear to be predominantly ethnic.
When I returned home I learned that demographically minorities were taking a bigger CoVid hit than their representation in the population would suggest. One of the variables contributing to this may be that they represent a larger percent of essential workers. Another variable may be that ethnic minorities predominantly live in urban areas.
I didn't capture the NYC numbers of percent of minorities afflicted with CoVid versus percent of minority representation in the general population, but the disparities in the city numbers looked a lot closer than the disparities in the state numbers. I got the same impression from the Detroit versus Michigan state numbers. So it may be that at least one of the contributing variables may be that ethnic minorities represent a larger percent of the urban population than the state population. And the urban areas have been harder hit because more people pass through them and people are in closer quarters than in suburban and rural settings.
Brooklyn Cruise Terminal Pop Up Hospital Seems to be on Hold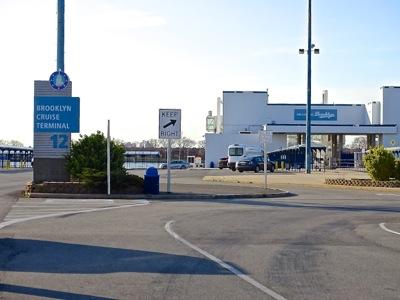 I arrived in downtown Brooklyn at Borough Hall. Like the rest of the city, it was empty and it was around rush hour. I took a few photos and started making my way down Court Avenue toward the Brooklyn Cruise Terminal in Carroll Gardens.
Along the way I met a jogger. He told me he had already lost two friends to CoVid 19. This was the first time I met someone who lost someone. It kind of brought home the tragedy of it all. Both of those who died were older - one in his sixties and another in his seventies.
We talked for a while, and I could see that this man was feeling the loneliness caused by having to isolate and social distance. He had a job that is social / communal in nature and he was missing the sense of community in a way that online just can't replicate.
Carroll Gardens was very quiet - far more than usual. The dockside was quiet. Other than a sparse number of joggers, cyclists, pedestrians and cars - there was little activity. I took a few photos and asked folks along the way if they knew where the pop up CoVid testing center was, that I had heard was going to be erected here.
After a half dozen inquiries I found that not a soul had heard about it and nobody had seen any activity related to the erection of it. When I arrived at the Brooklyn Cruise Terminal I found nothing, and again nobody I spoke to there could tell me anything about it.
The photo above right was taken at the Brooklyn Cruise Terminal earlier this week.
I took the G subway line, which was also dirty, and headed home.
Perspective - It's the Little Things that Count
As I was walking home I looked up in the sky and saw a big luminous moon shining brightly upon us. I stopped at one of the few small shops still open. After going for a short while without cigars, I found that this shop had just starting stocking them. Aahh. It's the little things that count.
Have a Happy Passover, Happy Easter and nice weekend.
Jogging by the Light of the Silvery Moon. The photo at right shows the luminous moon that's been shining brightly on us, as a jogger makes her way up along a bike path.
---
---