Update: LaGuardia Airport Development Project
First Phase Moving Along with Second & Third Phases About to Begin
April 24, 2017 / Astoria Neighborhood / Queens Real Estate / Gotham Buzz NYC.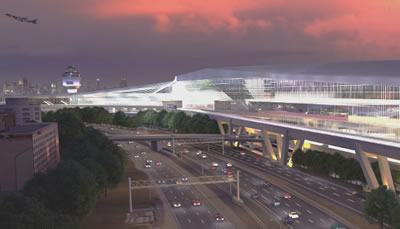 I attended a Community Board One meeting at the Astoria World Manor on Wednesday, April 19th. People representing the LaGuardia Airport development project were scheduled to provide the community with an update regarding several of the multi-billion dollar renovation projects associated with LaGuardia Airport, that are either currently in the works or nearing the end of the planning process.
The presentation was split into three parts: 1) LaGuardia Airport development project construction updates, 2) traffic mitigation efforts and 3) community outreach including job opportunities related to the projects.
Click here to read our report on the LaGuardia Airport development project & expansion, related job opportunities, its possible impact on travel times to the airport and the public hearing details on May 3rd, 2017 in Flushing. We have also included a small bit of history about the airport and the fight over the property and development in Flushing Meadows Corona Park. The graphic at right was created as part of the LaGuardia Airport development project.
---
Update: LaGuardia Airport Development Project
First Phase Moving Along with Second & Third Phases About to Begin
April 24, 2017 / Astoria Neighborhood / Queens Real Estate / Queens Buzz. Continued.
I. LaGuardia Airport Development Project: Construction
Changes to the LaGuardia Airport Main Terminal - Terminal B
Richard Smyth gave the first presentation regarding the construction project updates. Smyth is the Project Executive for LaGuardia Airport. The graphics shown in this report were taken at the Astoria Community Board One presentation and / or taken from the Port Authority of New York / New Jersey or LaGuardia Airport websites.
Smyth told us that the first project is the remodeling and replacement of Terminal B, which is well underway. The project was approved on June 1, 2016 and also includes the replacement of the current parking garage and the two adjacent surface parking lots along the Grand Central Parkway, where a new 3,200 parking space garage will be erected along with a new head house.
I did some research after the meeting to supplement the information I obtained in the presentation. I found that a head house is the main entrance to an airport, which is something that LaGuardia does not currently have. LaGuardia has four terminals, which are adjacent to one another, and located along the incoming airport roadways.
LaGuardia Airport History NYC & Queens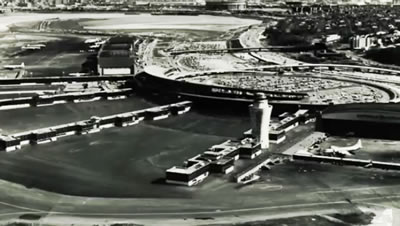 Terminal A [aka Marine Terminal] was erected in 1940, just a year after LaGuardia Airport opened in 1939. The terminal accommodated seaplanes, and currently accommodates 1 million of the 13 - 14 millon passengers who travel through LaGuardia Airport each year.
Terminal B is what most of us today probably view as the main terminal, which was built in 1964, and located just off the Grand Central Parkway. Terminal B is one of the main focuses of the first project. According to the website of Skanska, the design firm handling the project, when Terminal B was erected in 1964 it was designed to accommodate 8 million passengers annually. They also reported that today 14 million passengers use the airport [which is not the same as the terminal] each year.
Modernizing LGA Infrastructure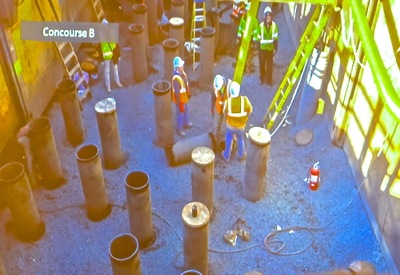 Smyth told us that part of the project also includes modernizing the underlying infrastructure supporting LaGuardia Airport. To that end, he reported that the construction of a new heating and cooling plant is underway. He noted that the public wouldn't likely see much by way of construction as the current phase of the work is below the surface having to do with the power grid and other utility connections.
When I did follow up research, this seemed to be more related to the second phase of the project, but I conjecture that both terminal replacements may require the same sort of underlying infrastructure upgrades.
LaGuardia Airport Design Firm Skanska: Pedestrian Bridges over Taxiing Planes
According to Skanska, the plan also includes two pedestrian bridges, which enable passengers to walk over taxiing airplanes. The LaGuardia Airport pedestrian bridges will enhance pedestrian connectivity between departure gates, while simultaneously freeing up space on the airfield, which should improve maneuverability and gate access by taxiing planes.
Lastly, the project locates the head house closer to the Grand Central Parkway, which, like the pedestrian bridges, will free up added space, and increase capacity at LaGuardia Airport to accommodate more airplanes.
I found the image at right of a LaGuardia Airport map on the LaGuardiaAirport.com website. It shows the current LaGuardia Airport configuration. A bit further below I have provided an image I found of a map of the reconfigured LaGuardia Airport on the Port Authority of New York / New Jersey website. Together these maps represent a BEFORE and AFTER and should help the viewer visualize the changes discussed herin.
LaGuardia Airport Construction Projects: Terminals C &D Replacement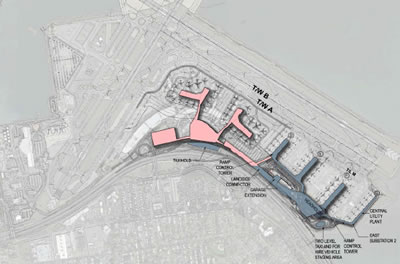 The next phase of the LaGuardia Airport development project is to replace Terminals C & D at the eastern end [toward Long Island] of LaGuardia airport. The graphic at right shows what the newly configured airport will look like, and the grey terminals in the lower right corner are Terminals C &D.
Included in the report of the planned changes was a bit of history, indicating that the East Concourse of Terminal C was erected in the early 1980's to accommodate the growth in LaGuardia traffic. In 1983 Terminal D was erected and in 1992 the West Concourse of Terminal C was built.
LaGuardia Airport Renovations Leave Airstrips Largely Unchanged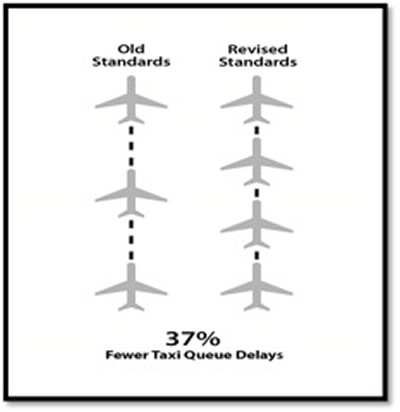 Essentially both plans call for little if any changes to the two airstrips used by LaGuardia Airport planes. It was noted that this would be too disruptive to the air traffic at one of the nation's busiest airports. But, as previously mentioned, the three terminal buildings included in the redesign - Terminals B, C & D - will all be moved closer to the Grand Central Parkway in order to free up more space off the runways to facilitate planes taxiing and maneuvering.
I'm awaiting confirmation of this, but I believe they are adding passenger gates to facilitate movement for passenger boarding and exiting and that this new configuration will also enable LaGuardia to accommodate more plane traffic.
In a prior report we did about LaGuardia, we noted that the FAA appears to be enabling capacity additions at LaGuardia and other U.S. airports by reconfiguring the air traffic control technology and landing / takeoff patterns used to direct incoming and outgoing plane traffic. The goal appears to be to squeeze more planes into the takeoff and landing sequencesto by more precisely controlling the plane traffic pattern. Click here to read our report about LaGuardia Airport airplane noise in Queens & NYC. This is also being done on some of the NYC subway lines.
Upcoming Development & Construction Projects: LaGuardia Airport Terminals C & D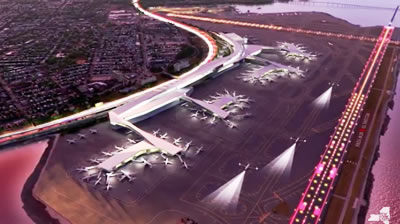 Smyth told us that at present the basics of the deal for the Terminal C &D replacements have largely been completed [drafted?] in collaboration with mostly state and federal government authorities and Delta Airlines.
They are currently in the process of finishing the environmental assessment and reviewing the plans with the Federal Aviation Agency or FAA. The FAA presides over the nation's airports and airways.
Smyth told us that the plans are available for review in the public libraries. I also found it on the Port Authority of New York / New Jersey website which you can view yourself by copying and pasting this web address into your browser - https://www.panynj.gov/about/studies-reports.html - it's the first link under current studies and is a 183 page report.
Public Hearing: LaGuardia Airport Development - Wednesday, May 3rd
If you're interested in learning more about these significant changes and commenting on their potential impact on the community, you don't want to miss the following meeting because they appear to be moving very quickly.
We were told that there's a Public Hearing on LaGuardia Airport Development scheduled for Wednesday, May 3rd at the Sheraton LaGuardia East at 135-20 39th Avenue in Flushing.
A Port Authority of New York / New Jersey / LaGuardia Airport spokesperson told me that the information session runs from 3 to 6 pm, and the public hearing runs from 7 to 9 pm.
In June, following the public comments in Flushing, Smyth told us that they expect a decision on the second phase of the multi-phase project. The Terminal C & D projects are one year behind the Terminal B project [the main head house].
Willets Point: LaGuardia Air Train Destination?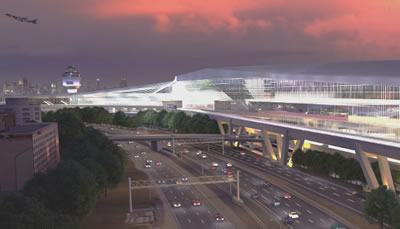 The third phase of the project is the possibility of developing an Air Train to LaGuardia like the one for JFK Airport. At present they are talking about running the line from LaGuardia Airport to Willets Point.
Former Mayor Bloomberg Sold NYC Property to Katz, Wilpon & Ross for $1
Why did Former Mayor Bloomberg use Imminent Domain to Forcibly Remove Owners from their Land at Willets Point?
Willets Point is where former Mayor Bloomberg used imminent domain to take Willets Point land away from the owners of it. Former Mayor Bloomberg then 'sold' for $1 to the Queens Development Group, which is owned by billionaire real estate developer Stephen Ross of Related Companies, and the owners of the NY Mets, Fred Wilpon & Saul Katz of Sterling Equities.
Given these development plans, one might ask if those forced to sell their lands by former Mayor Bloomberg might have been cheated out of a real estate bonanza - and they may be in a position to argue that they were not paid a fair price. Less than a decade later, what is the current value of the land they were forced to give up at Willets Point? Likely multiples of what they were paid.
Saul Katz, Fred Wilpon & Stephen Ross: To the Very Rich Go the Spoils?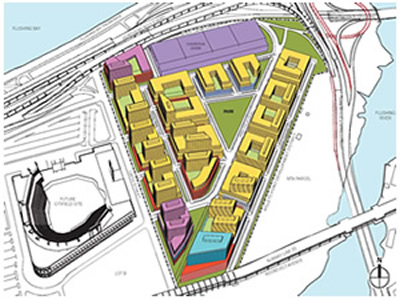 Ross and Related Companies appears to have been HUGE beneficiaries of the Bloomberg Administration's generosity with New York City public land. Ross and Related Companies were involved in deals on several large parcels of very valuable NYC public land, at prices ranging from deep discounts to near giveaways. Tax breaks, low interest government loans and infrastructure funded by NYC were added to an already sweet pot.
The deals with Ross and Related Companies include Hunters Point South in LIC [in partnership with Phipps a non-profit]; where some of the housing units that Bloomberg called ''affordable' rented for nearly $50,000 per year at a time when the NYC median income was around $55,000. The land here was also 'sold' by the Bloomberg Administration for $1 to Stephen Ross's Related Companies and their partners.
The Willets Point development is the site where the Air Train station is under consideration. Bloomberg used the city government power and imminent domain to forcibly take away land from its rightful owners.
And the Hudson Yards, is where Bloomberg used between $2.5 and 3 billion dollars of NYC public money to build a #7 subway line extension to accommodate Ross & Related Companies Hudson Yards development, while the rest of the #7 subway line was operating near maximum capacity. The #7 subway line is likely to continue to have capacity issues for the forseeable future, as numerous large Long Island City residential developments that had been approved by the Bloomberg Administration, were done without making provisions to develop the underlying transit infrastructure to support the private investments.
NY Mets Owners & Sterling Partners, Fred Wilpon & Saul Katz. Meanwhile, according to a February 6, 2011 NY Post report, members of the Wilpon and Katz families made over a QUARTER of a BILLION DOLLARS on numerous Bernie Madoff accounts held by them and members of their families.
This year Katz and Wilpon are expected to pay off an estimated $61 million settlement, in what the NY Times described as the Madoff fraud case. The settlement was made by Wilpon and Katz, with Madoff trustee, Irving H. Picard.
Court Battle in Progress over Propriety of Willets Point Development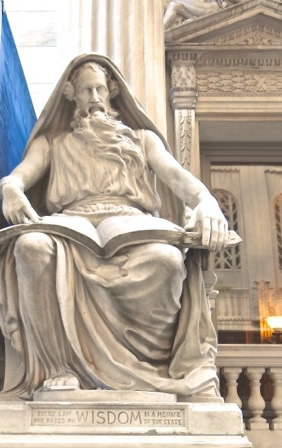 At present that there is still a court battle in progress regarding the erection of a shopping mall / hotel development at Willets Point which is located in Flushing Meadows Corona Park.
Local citizens are trying to have the Queens Development Group, owned / controlled by Fred Wilpon, Saul Katz and Stephen Ross, go through the NYC Uniform Land Use Review Procedure [ULURP], before allowing the development to proceed.
The community group argues that the development represents a change to the Flushing Meadows Corona Park, which also has wildlife and environmental protections. I learned quite a bit about the environmental aspects of Flushing Meadows Corona Park, while covering NYS Senator Jose Peralta's [D - Jackson Heights / Elmhurst / Corona] push to build a huge soccer stadium in the middle of the park.
The developers [Queens Development Group aka Wilpon, Katz & Related Companies Ross] are claiming that they don't need to go through the ULURP. They argue that a shopping development was approved about 50 years ago, when Shea Stadium was first erected in the early 1960's, and that that fifty-year-old-plus approval gives them the right to move forward with developing a shopping mall on the parkland today.
What About Statute of Limitations & Adverse Possession? It would seem there's a statute of limitation on such approvals / authorizations. Fifty years represents two and a half generations of time, and it would seem reasonable that a statute of limitations may apply here. One might also argue that the public has a right to assert its adverse possession over the use of the parkland, given that the shopping mall option has not been exercised in over 50 years.
LaGuardia Air Train Connections LIRR & MTA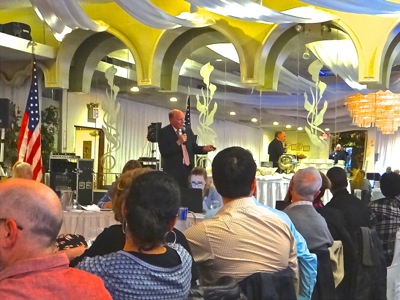 Currently there's a ridership and feasibility study underway on the LGA Airtrain project. We were told that the Willets Point destination was chosen because it's where both the #7 subway and the LIRR meet.
It's worth pointing out that the #7 and LIRR also meet in Woodside, which is closer to the city - and again reminding people that the #7 subway line is running near capacity. Lastly, it's worth mentioning that there's an additional 10,000 housing units expected to come online in Long Island City over the next two years.
Smyth also talked about the consolidation of car rental facilities serving LaGuardia Airport. He told us that currently there are ten car rental facilities serving the airport, of which only two are on the airport premises. The other eight are located in nearby neighborhoods.
All in all it was a good presentation about some exciting developments at LaGuardia Airport. If you're interested, be sure to attend the meeting at the LaGuardia Sheraton East in Flushing next Wednesday, May 3rd between 3 and 9 pm [scroll up for details].
II. Traffic Mitigation Efforts During LGA Construction
Re-Writing Roadway Signage, Rerouting Taxis, Private Car Services, Car Rentals, Parking & Public Transit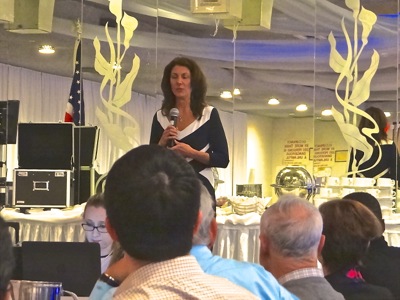 Lysa Scully, LaGuardia Airport General Manager, was next up to provide the community with an update on how they're managing the traffic around LaGuardia Airport with all the construction and roadway changes currently underway. Scully informed us that 100,000 vehicles per day travel through LaGuardia Airport, and reminded us that she had visited Community Board One in Astoria in November of 2016 to provide the first update of such changes.
One of the goals of her team was to do as much as possible to make sure the traffic did not back up into the surrounding neighborhoods. She suggested that people plan extra time for possible unexpected delays when traveling to LaGuardia Airport during the construction period, which is always common sense.
But, given the chaos that ensues any large set of changes, it sounded like Scully's team was doing quite a good job. She noted that they have a team monitoring the fifteen airport roadway cameras, as well as a slew of other traffic management / monitoring devices. The LaGuardia Police are prepared to move in quickly if or when a traffic snarl occurs.
Roadway Signage Upgrades & Rerouting Traffic
Scully's team also worked with the NYC and NYS Departments of Transportation to modify the airport road signage to make it user-friendly. An example of the name change was that parking lots once labeled with letters [A, B, C] are now labeled waiting, short term parking and long term parking. This enables motorists to make the right choices.
There was some conversation about exiting at 94th Street and allowing vehicles to get onto the Grand Central Parkway earlier than was once possible. This was accomplished by opening up a parking lot to exit eastward onto the Grand Central Parkway. She noted that 60% of the LaGuardia Airport exiting traffic heads east into Queens, Connecticut & Long Island]. I believe because of this change she noted that this has positively impacted the movement of 200 to 600 vehicles per hour. And that this, along with other changes, has freed up the Grand Central Parkway backups that used to occur around LaGuardia Airport.
Rationalizing Taxi Pickups, Parking Lots & Private For Hire Car Services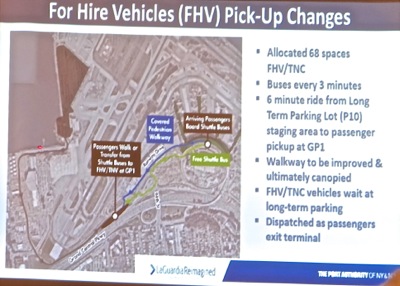 Taxis [TLC] can only ride in for departures, not arrivals / pick ups. Taxis must go to the waiting lot for pick ups. She noted that some of the changes have freed up traffic on arrivals area.
Some of the changes her team has made include the rerouting of taxis to one pick up location. This prevents them from picking up passengers illegally in forbidden zones and makes it easier for LGA Police to spot them.
Passenger pick ups can only be done from C & D [see photo]. And something about passenger pick ups / access to Terminal B being done only by use of the free three hour waiting lot.
Re-Arranging Car Rental Pickups, Public Buses & Terminal Buses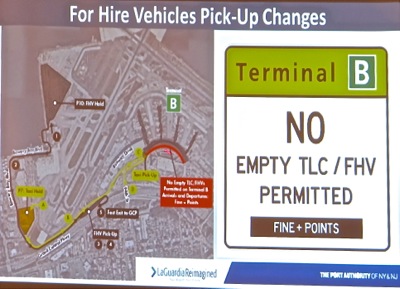 Just this month, on 4/5/16, they eliminated car rental buses from using the Arrivals and Departures roadways. Now there are LaGuardia Airport buses that run through the airport and drop off car renters at a pickup point on the west end of the airport where they are then taken by the car rental buses to their cars. Since they made this change, only a few short weeks ago, Scully told us that 60,000 people have been bused.
Having consolidated passenger pickups, they are working with the legal carriers, like Carmel, Dial 7 and Uber, to facilitate them. She noted that only five airports in the nation have been successful in managing legal pickups, and that apparently LaGuardia is now one of them.
Her team also increased the LaGuardia Airport bus fleet from eight buses to thirty. Shuttle buses now only originate at the Marine Air Terminal [Terminal A] at the west end of the airport [closest to Manhattan].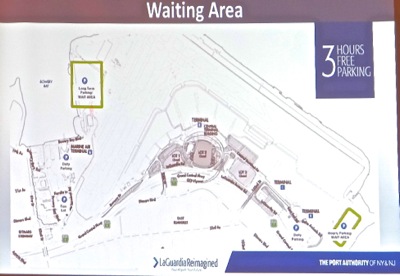 As for public transit connections to the airport, the Q70 has now become what they are calling the LaGuardia Link. Currently it's free to use for employees and passengers, and is also environmentally beneficial, as it cuts down on vehicular traffic at the airport.
It sounded like Scully and her team are doing quite a job of cleaning up and rationalizing the traffic mayhem at LaGuardia Airport, which we'll all find out the next time we travel there.
Community Job Opportunities: Community Relations
Shanel Thomas, Community Outreach Manager, told us that there are a lot of jobs associated with the LaGuardia Airport change projects, including for certain types of small businesses. She encouraged residents to apply for opportunities that are 30 / 60 / 90 days out.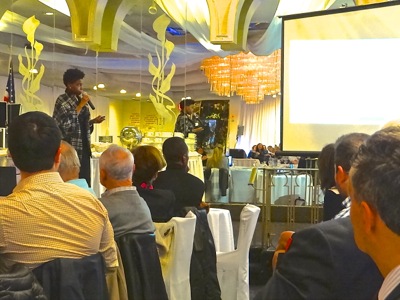 Thomas said that small businesses are welcome to bid on select jobs. She said that to date 188 MBWE contracts [Minority B Women E] have been awarded, and that they were worth $218 million.
She mentioned that next Tuesday, April 25, 2017 there's a job fair at Vaughn College in Jackson Heights / Elmhurst.
She also said that every Wednesday from 9 am to 5 pm at the Marine Air Terminal people are welcome to apply for jobs associated with the ongoing construction and airport development.
LaGuardia Airport Development Project: Q & A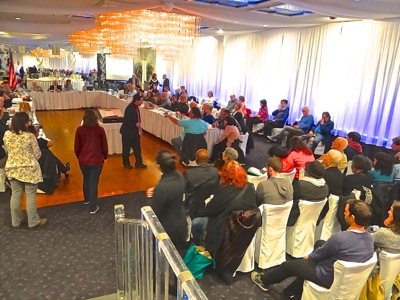 One audience member asked about ferry service to LGA?
We were told that the feasibility and technical aspects are being looked at, but is not an active priority at this time. Longer term it will be studied.
Marie Poveromo of the UCCA said she wanted to thank Delta Airlines for upgrading its fleet to quieter and less polluting aircraft.
A local historian asked about the inclusion of some of the airport history in the new terminals, while someone else asked about the inclusion of local art in the new terminals. We were told that both suggestions are being considered.
The project is being run by LaGuardia Gateway Partners.
Thanks to Richard Smyth, Lysa Scully and Shanel Thomas for taking time from their busy schedules to keep the community informed.
---
Manhattan NYC - Related Links
$element(bwcore,insert_search,N)$
Click for NYC Weather & Horoscope.
---
$element(adman,groupad,Sectional Ad)$
---
$element(adman,groupad,Catgry Realestate)$
Site Search Tips. 1) For best results, when typing in more than one word, use quotation marks - eg "Midtown Neighborhood". 2) Also try either singular or plural words when searching for a specific item such as "gym" or "gyms".
$element(bwcore,insert_search,N)$
Click this link to the Gotham Buzz front page.
---
NYC Related Links
Click for NYC Restaurants NYC.
---
$element(adman,groupads,Sectional2 Ad)$
---
NYC Holidays & Hotels in NYC
NYC Holidays & Hotels Related Info
$element(adman,groupad,Catgry Rest)$
Click this link for promotions, discounts and coupons in New York City.
Click these links for promotions by advertisers in NYC.
Click this link to go to the NYC Neighborhoods section.
---
Click the log in link below to create an ID and post an opinion.
Or send this story to a friend by filling in the appropriate box below.
---