Is Donald Trump a Hostage of Russian Murderers, Capitalists & Thieves?
Is the Trump & 'Bambino' Family so Criminally or Financially Compromised, that They are Betraying America?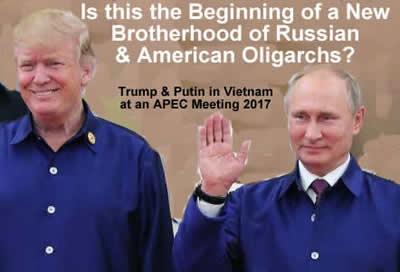 Updated August 27 - August 23, 2018 / NYC Neighborhoods / NYC Politics / News Analysis & Opinion / Gotham Buzz NYC.
The first part of this report will show you some of the many known Trump family 'social' interactions with key Russian Oligarchs [Kleptocrats?] close to Putin, and of the Trump campaign officials and consultants known meetings with Czarist President Vladimir Putin's government officials.
Do Americans really think all of the following interactions were just coincidence? Just a couple of billionaire women and campaign officials just have a little old fashioned czarist fun?
Part I: Trump Family & Campaign Interactions w/ Russia 2016
I can't help wonder whether Ivanka Trump and her Russian-Oligarch-loving friend Wendi Deng Murdoch [Rupert Murdoch's ex-wife rumored in March of 2016 to be Putin's girlfriend (denied much later by Deng)], weren't conduits through which information passed between then candidate Donald J. Trump and Russian czarist President, Vladimir Putin?
Why hasn't the FBI called them in for interrogations about what they may know, based on their numerous interactions with the Oligarchs throughout the presidential campaign season of 2016?
Why haven't they called in billionaire propagandist Rupert Murdoch who controls Fox Fake New, the Wall Street Journal and the NY Post - all of which unabashedly promoted the Trump candidacy with distorted, and at times false news reporting, as well as the suppression of stories relevant to the election? Murdoch was reported to speak somewhere between daily and weekly to Trump, following the election, as was his surrogate pseudo anchorman Sean Hannity. Both had business with the federal government and - as far as I know - neither has registered as a lobbyist, even though both men appear to have profited handsomely since the election of Trump as a result of Trump policies, FCC rules changes and for Hannity a new multi-million loan agreement with far more generous terms.
Trump Family & Campaign Officials Hold Over a Half Dozen Meetings with Russians Close to Putin Throughout 2016
On March 2, 2016 Rupert Murdoch, who controls two of America's six largest media content companies, tweeted that the GOP "would be mad not to unify" around Trump, if he's the Republican nominee. Murdoch controls the Fox News, WSJ & NY Post propaganda machine that catapulted Trump into the Oval Office in November 2016, along with the help of the Russians.
Some of Known 2016 Interactions of Trump Family & Campaign w/ Putin's Russia
1. On March 14, 2016, George Papadopolous, one of five foreign policy consultants, recruited by Trump co-Campaign Chairman Clovis, met with Joseph Mifsud. Mifsud is reported to be a British university professor with connections to high ranking Russian officials. Papadopolous met with Mifsud again on March 24, 2016 at a London Hotel and again in late April of 2016 when Mifsud was accompanied by a Russian woman who told him that they had dirt in Clinton in the form of thousands of emails. Mifsud attends the Valdai Discussion Club in Sochi, Russia which is a conference periodically attended by Putin himself.
Are Ivanka Trump & Wendi Deng Murdoch Shills for Billionaires / Oligarchs?
2.a. Less than a month later, on March 31, 2016 US Weekly, a gossip magazine, reported that the former wife of Rupert Murdoch, Wendi Deng Murdoch, was dating Vladimir Putin. Two days later, on April 2, 2016 Murdoch's former wife, Wendi Deng Murdoch, was seen on a boat associated with the yacht of Roman Abramovich, a Russian Oligarch considered among Putin's closest 'friends'. Abramovich's wife, introduced to Ivanka years earlier by Deng, is reported to be a friend of Ivanka's.
2.b. A month later, on May 2, 2016, Wendi Deng Murdoch was seen at the Met Gala along with her close friend Ivanka Trump. Wendi Deng Murdoch was, at the time, rumored to be Putin's girlfriend, and she had named Ivanka Trump as the trustee for Wendi Deng Murdoch's children's $300 million trust, which was reported in 2015 to hold numerous shares in Rupert Murdoch's 21st Century Fox. Ivanka served as a trustee for Deng until December of 2016 when she stepped down.
In 2014, following the Murdoch's divorce, Rupert Murdoch reportedly accused his ex-wife Wendi Deng Murdoch of being a Chinese spy. This appears to have been corroborated by U.S. Intelligence, which warned Ivanka Trump and Jared Kushner that Deng was a spy, following Trump's Electoral College victory in December of 2016.
3. In May of 2016 Roger Stone, a long time friend of Donald Trump [attended two of three weddings], who had worked for him on prior occasions, met with a Russian who offerred him dirt on Clinton. Stone initially denied the meeting took place, before admitting it. According to Wikipedia, two Stone associates claim he collaborated with Julian Assange of Wiki Leaks to release dirt on Clinton. In August of 2015, Roger Stone stepped down from his official role in the Trump campaign.
4. On June 9, 2016 Don Trump Jr. and Ivanka's husband Jared Kushner met with a Russian spy, Natalai Veselnetskya, at Trump Tower in Manhattan to get dirt on Clinton. At first Donald Trump Jr. lied to Americans about the real purpose of the meeting claiming it was about adoption, before admitting it was to get dirt from the Russians on Clinton.
The Trump / Murdoch Mob? The Donald Publicly Invites Russian Interference
Murdoch's ex-wife, Wendi Deng Murdoch, waited until July 25, 2016 - nearly four months after the reports broke - to deny that she was dating Vladimir Putin.
On July 27, 2016, two days after Wendi Deng Murdoch's denial of a relationship with Putin [she was reportedly never seen with him, but seen on Russian Oligarch yacht(s)], Trump publicly invited Russia to hack and release Clinton's emails, when he stated the following at a nationally televised press conference in Florida.
"I will tell you this: Russia, if you're listening, I hope you're able to find the 30,000 emails that are missing. I think you will probably be rewarded mightily by our press."
Did he mean they will be rewarded by the propaganda press of unrelenting Trump supporter, multi-billionaire Rupert Murdoch, or by the entire American press?
The Trump Family & Campaign Meetings with Russia Continue
5. In July 2016, Carter Page, a financial and oil man, who spent years in Russia and was reportedly sympathetic to Russia, traveled to Moscow to give a speech. He met with a former cabinet member of ex-president of Russia, Dmitry Medvedev. Page initially denied this meeting took place and later his 'memory came back to him'. Page was the Trump Campaign Foreign Policy Advisor from March 21, 2016 until September 2016, when it was disclosed that Page had allegedly met with at least one U.S. sanctioned Russian Oligarch, Igor Sechin of Russian conglomerate Rosneft.
6. On August 14, 2016 Wendi Deng Murdoch, Ivanka Trump and her husband Jared Kushner vacationed together in Dubrovnik, Croatia. Likely not coincidently, Russian Oligarch, Rybolovlev's yacht was reportedly moored there at the same time, and his private plane was reported to have landed there too.
Seven years earlier, following the real estate bubble crash in 2008 / 2009, Russian Oligarch Rybolovlev paid Donald Trump $95 million for a house Trump had purchased for $41 million only four years earlier. Rybolovlev, a member of Putin's inner circle, eventually demolished the home, leading people to question whether Rybolovlev had financially bailed Trump out during the real estate and stock market crash of 2008. At the time Trump was again allegedly in serious financial straits, following a string of six bankruptcies that began in the 1990's and bled into the 2000's.
Around that same time in 2008, while the American real estate bubble was bursting, Elena Baronoff, a former Russian 'attaché of cultural affairs' [spy?], began helping Trump sell property in Sunny Isle, Florida. She sold nearly $100 million of Trump real estate to Russians, reportedly at top dollar [inflated?] prices, which led some pundits to question whether the Trump's were laundering money via real estate sales. In 2007 Ivanka got her start with her father's company, also working on a project in Panama, which reportedly was suspected of laundering what was believed to be Russian and drug cartel money.
Trump sales agent Baronoff reportedly contracted leukemia in 2014 and conveniently died in 2015, right around the time Donald Trump began testing the waters for his presidential candidacy.
7. On September 12, 2016 Ivanka Trump, Wendi Deng Murdoch and Oligarch Abramovich's wife Dasha Zhukova were photographed attending the U.S. Open together. One report credits Wendi Deng Murdoch with introducing Ivanka Trump to Dasha Zhukova, billionaire Russian Oligarch Abramovich's wife, and there are reports that the two have been friendly for nearly a decade.
Was the Murdoch Propaganda Machine Colluding with Russia & Trump?
Murdoch's WSJ was reported to have held a story in the fall of 2016 about the Donald and his mob connected past - allegedly for editorial reasons. But if I recall correctly, the WSJ Editor, Paul Gigot, also said something along the lines of holding it to stave off a Clinton victory. I NEED TO VERIFY THIS.
Eleven days prior to the election, on October 28, 2016, the case involving Clinton's emails was reopened, because some of them were found on Anthony Weiner's laptop. Rupert Murdoch's Wall Street Journal had issued related reports about them a couple of months earlier, and Murdoch Fox News regular Rudy Giuliani [now Trump's lawyer] foreshadowed the timely release of the news - that there were more Clinton emails - on Fox News. Giuliani is reportedly paid over a half million dollars to be a paid contributor on Fox Fake News.
Within days the FBI had sifted through them, informing the public that there wasn't anything new.
7. Russian Oligarch Rybolovlev was tracked to North Carolina by the Daily Kos, just five days before election day 2016 at the same airport where candidate Donald Trump had landed only 20 minutes earlier to make a campaign stop. Rybolovlev reportedly paid $95 million to Trump for a mansion he demolished, and for which Trump had paid $45 million only four years earlier. It was reported to be worth about $25 - $30 million less at the time.
I found it interesting that Rybolovlev's battery company in America was reported to build batteries in what look like storage containers, and upper management is mostly comprised of ex-Russian government people [agents?]. Rybolovlev recently closed down the company and Russia is reportedly withdrawing money from America, as Mueller probe gets closer to closing in on Trump. I can't help wonder whether the Russians were planning to use these 'batteries in containers' to ship other things - like say weapons technology, people, drugs - in and out of our country?
666. On November 8, 2016, Devilish Donald Trump was elected president. Numerous Oligarchs planned to attend Trump's Inauguration. Even Putin was rumored to be planning to attend.
Going into the voting booths, most Americans were not fully aware of Trump's mobster ties dating back into the 20th century, nor even remotely aware of all of the ties Trump has had with what appears Russian-like mobsters over the past 20 to 30 years.
The Inauguration of Benedict Donald - J. Trump
Several Oligarchs showed at Trump's Inauguration [and helped fund it?] including Vekselberg and Maskevitch. Reports said they were expecting great things during the Trump years. Are / were they expecting to convert American democracy into a Putin kleptocracy, Russian style?
PRIME COLLUSION PARTICIPANTS? Ivanka Trump, Wendi Deng Murdoch, Rupert Murdoch & Sean Hannity
Is Wendi Deng Murdoch, the ex-wife of the powerful, multi-billionaire Rupert Murdoch who controls the Fox Fake News propaganda machine above the law? Is the President's daughter, Ivanka Trump Kushner, who appears to be a shill for the Trump Organization above the law?
Is Rupert Murdoch, whose WSJ buried a negative Trump story before election above the law? Is pseudo anchorman Sean Hannity, who Michael Cohen advised on real estate & who famously ordered Trump to fire ALL U.S. Attorneys - which Trump did the next day - immune from questioning? Murdoch's Fox Fake News & Hannity went on to do a very sympathetic, propagandistic interview with Assange in captivity in the Ecuadorian Embassy in London following the election. Both men have, during the Trump presidency, been reported to be in constant contact with Trump [daily to weekly phone calls].
CLICK here to read the rest of our report about whether a financially compromised president who appears a hostage of the Russian mob-like kleptocrats who appear to be possible murderers and thieves of the Russian people's wealth.
---
Is Donald Trump a Hostage of the Russian Kleptocracy?
Is the Trump & 'Bambino' Family so Criminally or Financially Compromised, that They are Betraying America?
Updated August 27 - August 22, 2018 / NYC Neighborhoods / NYC Politics / News Analysis & Opinion / Gotham Buzz NYC. Continued.
One might say that there was an American media malfunction, because the corporate media spent so much time covering Trump's Apprentice-like shock jock presidential campaign, that they didn't bother to fully do their homework on the man and his past. And thus, the entire American public, was caught off guard.
In some measure, this same sort of superfluous, gossip-like, soft news reporting continues to this day. The corporate media still appears to be spending a disproportionate amount of time amplifying Trump's shock jock tweets - which anyone who's interested may access themselvs - and his disgraceful comments, while investing far too little time and energy investigating what Trump, his seemingly bambino crime family and his Mob-like Administration has done and continue to do to cheat the American public and destroy our democratic institutions.
Part II: Benedict Donald Betrays America & Democracy?
Has the Trump Administration Become One that Only Red Commie / Red Republican Dictators Can Love?
Examples of Trump failing the American public include:
1) Financially - Trump and the Red Commie Republicans passed an irresponsible tax cut, that disproportionately favors the super wealthy, while dumping the debt burden on America's children. This compromises America's strength in the future and was passed at a time when fiscal stimulus was not needed. Furthermore the projected deficit for the 2019 fiscal year is expected to top $1 trillion which is an unsustainable level of deficit spending.
2) Security - Trump has doled out security clearances for non-professionals (like his son-in-law Jared Kushner) whose roles are questionable at best and appear not to have good reason for them. Furthermore, Trump's attacks on our allies and embrace of the world's most notoriously anti-democratic dictators like Putin [Crimea], the Saudi Prince [Yemen], Duterte [Phillippinnes] and Kim Jong-Un of North Korea compromises our ability to influence events around the world going forward.
3) Trade - Trump's chaotic dismantling of trade deals made by prior presidents may or may not result in some wins, but it positions us as a less reliable trading partner, and thus hurts us in the long haul. Furthermore, Trump continues to fail to address the largest imbalances in America's trade like he said he would on the campaign trail, related to the under valued currencies of China and Japan.
4) Immigration - In spite of Trump's hyperbolic, false rhetoric about immigration - not much has substantively changed since Trump took office - except that he has instilled a sense of fear in millions of immigrants living and working here.
5) Healthcare - Trump has failed to repeal and replace Obamacare, so he's undermining the law instead, leaving tens of millions of Americans in an uncertain place.
6) Environmental Deregulation - Trump made America either the only or one of the only nations in the world to exit the Paris Climate Accords which were designed to rollback air and water pollution and environmental safety standards.
7) Financial Deregulation - Trump is working to rollback consumer financial protections and legislation of separation of lending and investing by big banks. The last time this legislation was rolled back, it resulted int he meltdown of 2008, and easily cost the American taxpayer TRILLIONS of dollars.
8) Media Monopoly Deregulation - Perhaps the most significant and long lasting damage is being done by FCC Chairman Ajit Pai [pronounce 'a shit pie' by detractors] - FCC Rule Changes and the allowance of huge media mergers are favoring Trump propaganda patron Rupert Murdoch, who will control about half of the nation's media following Murdoch's inverted acquisition of Disney / ABC.
The Donald is a Democracy Detroyer and a Deal Breaker - not a deal maker.
PART III. Russian Czar Putin & the Oligarchs: A State Sanctioned Mob?
VLADIMIR PUTIN - Head of a State Sanctioned Mob?
A 21st Century Russia Czar Who Lives in Luxury & Betrays the Ideals of the Russian Revolution
Seems a gangster from the start. Reportedly steals from office in the early 1990's. Then again in the late 1990's. Reportedly has a good relationship with the Russian mob, which is an organization reported to have 300,000 members worldwide.
Russia is reported to have lost its status as a democracy under Putin as he appears to jail, lock up or bully out political foes, journalists or anyone else who opposes him.
Reportedly FRIENDS OF RUSSIAN MAFIA. Russia has morphed into what seems a ROGUE STATE runs by criminals. Hitler would be proud.
Putin is 'President' in Name Only. Is the new Russian Czar Putin a Murderer?
Add Vladimir's alleged murders. A March 11, 2016 Business Insider report listed tens murders suspected to be carried out by former KGB operative at the direction of Russia's czarist President, Vladimir [RAS] Putin. Their story began with this breaking report from Reuters,
"The Washington DC medical examiner's office has just confirmed that former Russian press minister Mikhail Lesin died of "blunt force trauma to the head." Lesin, who founded the English-language television network Russia Today (RT) was found dead in a Washington, DC, hotel room in November 2015. The Daily Beast reports that before his death, Lesin was considering making a deal with the FBI to protect himself from corruption charges. For years, Lesin had been at the heart of political life in Russia and would have known a lot about the inner workings of the rich and powerful. Lesin isn't the only person linked to Putin's government that has died in violent or mysterious circumstances. Here are some of the other people Putin -- a former lieutenant colonel of the KGB, and ex-head of the FSB -- is suspected of assassinating: ... "
[EDITOR'S NOTE: For those who pay attention to coincidence. It's worth noting that disgraced, former Fox News Chief Executive Roger Ailes died on May 18, 2017, a week after a blow to his head, which he reportedly got from hitting his head on a piece of furniture when he fell. Police noted that there was no evidence of foul play.]
The alleged czarist Russian President Putin connected murders / assassinations include:
1) Alexander Litvinenko, a former KGB agent, who died three weeks after drinking a cup of tea with deadly polonium-210. Litvinenko had been critical of Putin and was in exile in Britain.
2) Anna Politkovskaya, the Russian journalist, who wrote the book Putin's Russia detailing how Putin turned Russia back into a police state, was shot by contract killers outside of her apartment.
3) Natalia Estemirova, a journalist who detailed Russian human rights abuses in Chechnya and sometimes worked with Politkovskya, was abducted, shot and left in some woods. Nobody has been charged in the murder.
4 & 5) Stanislav Markelov and Anastasia Baburova, a human rights lawyer and journalist respectively, both of whom also worked with Politkovskya, were shot near the Kremlin.
6) Boris Nemtsov, former Prime Minister of Russia under Russian President Boris Yeltsin, was a critic of Putin alleging that he had been corrupted by the Russian Oligarchs, was shot in the back four times near the Kremlin. Putin took personal responsibility for the investigation and voila - nobody has been charged.
7) Boris Berezovsky, a former Russian Oligarch and business associate of Rupert Murdoch, was found dead in his home of 'attempted suicide' because he was found hanged in side a locked bathroom. The case has been left open, as there had reportedly been multiple attempts on his life.
8) Paul Klebnikov, a Moscow bureau Forbes journalist, was shot in a contract killing. Klebnikov had done exposes on the corruption of the alleged kleptocracy carried out by the Russian Czarist Oligarchs and Russian Czarist President [RAS] Putin.
9) Sergei Yushenkov was shot just hours after his opposition political party, Liberal Russia, was given official political party status by the Justice Ministry.
10) Business Insider left out one of the most important suspected murders - that of Sergei Magnitsky, a journalist, who uncovered what appeared to be Russian Oligarchs laundering their money through a Cypress Bank. The Cypriot government is one of those rumored to turn a blind eye to money laundering. This ties into Paul Manafort's laundering his international cash for political operative services [he worked for Putin], also to Russian Oligarch Rybolovlev.
11) In 2018 there was an attempted assassination of former spy Sergei Skripal, using a nerve gas chemical weapon. The assassination was allegedly ordered by Putin, and Specialist Hamish de Bretton-Gordon told CBS in an August 27, 2018 report that it was the first time in a century that a sovereign state had violated a century old ban on the use of chemical weapons. The European Union and the United States, imposed further sanctions on Russia, but there wasn't any real outrage coming from Donald Trump. And I'm guessing you didn't hear any outrage about it from Scammer Sean Hannity on Fox Fake News either? Wonder why?
I. BORIS BEREZOVSKY - Russian Kleptocrats or Oligarchs?
Rupert Murdoch's Friend Loses His Oligarchic Spot & Murdoch Appears to Pivot out of Greed & Lust for Power
In the 1990's billionaire media mogul and global propagandist, Rupert Murdoch, was also trying to gain an opening into Russia. In 1998 Murdoch aligned with Russian Oligarch Boris Berezovsky, in a deal where Murdoch's Newscorp obtained the rights to sell advertising on a 36,000 unit billboard company in the former Soviet Union. Boris Berezovsky was opposed to Vladmir Putin, and after Putin came to power in 2000, Putin's legal team sought to question Berezovsky. Russian Oligarch Berezovsky sought asylum in Britain, which he received in 2003.
It seems that Rupert Murdoch, throughout his life, has shown that loyalties and ideals are easily dispensed with, when exchanged in favor of enriching and empowering himself.
In 2001 Berezovsky sold his holdings ORT a TV network to Abramovich at distressed prices, as under Putin, the government started retaking control of the media. Abramovich reportedly ceded editorial control to Czar President (RAS) Putin and the Kremlin. Alarmed that Putin was undermining democratic rule [empowering the president to replace elected governors], and after being charged with criminal misdoings related to Aeroflot, Berezovsky didn't return to Russia.
Berezovsky also sold his holdings in Russia's largest oil company in 2001 at distressed prices - also to Abramovich. In 2007 in Moscow, Berezovsky was found guilty of embezzling 215 million rubles from Aeroflot [it's less than $10 million and the guy was a billionaire] and in 2009 another sentence for a larger amount.
Was this a case of criminals trying criminals? Pay attention America, because this is what happens when there is no rule of law. The criminals and mobsters get rich and everyone else in society suffers. It's a return to feudal times where no good gets done.
Berezovsky fought and won some legal battles regarding libelous accounts on his reputation. He lost a court battle regarding the distressed sale of his stake in the oil company to Abramovich. Several of his friends were reportedly murdered by Putin, including Litvenko, who was given a radioactive isotope which causes a painful death. Putin also got involved in a court case in Britain with Berezovsky, so much so that the judge asked one of the attorneys who was taking calls in the courtroom whether that was Putin on the phone again.
Georgia TV station / Murdoch vacates - involved. Ukranian / Eastern Europe / Crimea. Turkey.
II. ROMAN ABRAMOVICH - Russian Kleptocrats or Oligarchs?
Abramovich Reportedly Admits to Kleptocracy - Stealing from Russian Public - Befriends Ivanka & Deng Murdoch
Roman Abramovich, whose wife Dasha is reported to be a friend of Ivanka Trump and Wendi Deng Murdoch, was an entrepreneur in the years of Russian privatization. Abramovich was imprisoned in 1992 for stealing government property, diesel fuel worth 3.8 million rubles.
In 1995 Abramovich teamed up with Russian Oligarch Boris Berezovsky, who was an associate of Russian President Yeltsin, to buy an oil company in a loans for shares program where for $200 million they acquired an oil company worth billions. Hence the name Russian kleptocracy - which means "government by those who seek chiefly status and personal gain at the expense of the governed". It wasn't long before Abramovich became a billionaire Russian Oligarch too.
Wikipedia says that, "Abramovich later admitted in court that he paid huge bribes (in billions) to government officials and obtained protection from gangsters to acquire these and other assets (including aluminium assets during the aluminium wars)."
Abramovich became close to Yeltsin through Berezovsky and was the first to recommend that he support former KGB officer Vladimir Putin for President in 2000. Was this an example of the corrupt promoting the corrupt?
Ivanka Trump's friend, Roman Abramovich has been alleged to be involved in various wrongdoings. According to Wikipedia,
"The Times said that Abramovich "famously emerged triumphant after the 'aluminium wars', in which more than 100 people are believed to have been killed in gangland feuds over control of the lucrative smelters." And
"In 2008, The Times reported that Abramovich admitted that he paid billions of dollars for political favours and protection fees to obtain a big share of Russia's oil and aluminium assets as was shown by court papers obtained by The Times." And,
"Yugraneft, an affiliate of Sibir Energy, is seeking billions of dollars in damages in a lawsuit in London against Roman Abramovich and his investment company Millhouse Capital, alleging that it was cheated out of its Russian assets. The proceedings "involve substantial claims to recover the proceeds of the diluted interest", said Sibir Energy, a company co-owned by the billionaire Shalva Chigirinsky."
Wikipedia, later in the report, states the following,
"In September 2012, the [British] High Court Judge Elizabeth Gloster, said that Abramovich's influence on Putin was limited: "There was no evidential basis supporting the contention that Mr Abramovich was in a position to manipulate, or otherwise influence, President Putin, or officers in his administration, to exercise their powers in such a way as to enable Mr Abramovich to achieve his own commercial goals."
Yeah, right. If you say so.
Shortly after becoming president Trump insisted that the Keystone Pipeline be made "only with American steel or it wouldn't be made at all". Trump nearly immediately reversed his "America First" position when it is believed he leared that about half the steel for the Keystone pipeline was being supplied by a company in which Abramovich is a key stakeholder. A Russian company owns the Canadian company that is supplying the steel for the Keystone Pipeline.
In a famous interview with CBS newsman Scott Pelly in the Spring of 2017, Trump said "... I don't stand by anything ...". While he was referring to his false accusations of Obama bugging him - we all now know it seems he doesn't stand by anything he says.
* Abramovich - Trump completely reverses self that Keystone Pipeline Steel must be American made - believed soon after he found out that the Russian Oligarch's Canadian company was supplying the steel.
* Ivanka - friendly with Abramovich & Rybolovlev at U.S. Open & in Croatia. David Geffen [yacht] in both places / both times.
* Ivanka & Wendi Deng Murdoch - met on numerous 'social occasions' after Deng rumored to be Putin's girlfriend in March of 2016.
III. DMITRY RYBOLOVLEV - Russian Kleptocrats or Oligarchs?
Rybolovlev Appears to have Significant Stake in Money Laundering Bank
Dmitry Rybolovlev appears to have laid claim to his wealth by taking control of a large potash company. Like Abramovich, Rybolovlev's ascent to wealth is not without its own controversy as the potash mining he controlled is believed to have created huge sinkholes causing 12,000 people or more to flee their homes. The courts ruled in favor of ... drum roll please ... the Russian Oligarch. The people investigating and ruling on the case were government officials and pols reportedly funded in part by Rybolovlev.
In 1995 a partner of Rybolovlev was murdered at his own home reportedly by someone using Rybolovlev's guns. In 1996 Rybolovlev was convicted of murder, but let off after less than a year, because of a different ruling in Rybolovlev's favor by government officials and pols who Rybolovlev had previously supported.
In 2010 Rybolovlev took a major stake in the Bank of Cyprus, which according to Wikipedia, is also held by Wilbur Ross, Trump's current U.S. Commerce Secretary.
"An investigation by Forbes found that Ross, while secretary of commerce, owned for most of 2017 "stakes in companies co-owned by the Chinese government, a shipping firm tied to Vladimir Putin's inner circle, a Cypriot bank reportedly caught up in the Robert Mueller investigation and a huge player in an industry Ross is now investigating." Rather than divest from all the financial holdings, he put some of them in a trust for his family members. These holdings posed a conflict of interest for Ross, as the Trump administration was in a position to affect the value of the holdings."
And they had this to say about Wilbur Ross.
"In the 1980s, Donald Trump was in financial trouble. His three casinos in Atlantic City were under foreclosure threat from lenders. Wilbur Ross, Trump's Commerce Secretary, who was then the senior managing director of Rothschild Inc. [ran the bankruptcy-restructuring advisory practice], represented investors in the Trump casino. Along with Carl Icahn, Ross convinced bondholders to strike a deal with Trump that allowed Trump to keep control of the casinos."
Russia sounds like a gangster-run nation, doesn't it? Pay attention America, as Donald Trump, who has reportedly been associating with mobsters, both Russian and American, looks to be selling us out, and for very cheap.
In March 2017, Russian Oligarch Rybolovlev's was yacht was in Palm Beach next to the yacht of Trump's largest donor, Bob Mercer. Bob Mercer, a hedge fund billionaire, is the publisher of the National Enquirer, which allegedly bought and then suppressed a story about a Trump affair with a Playboy model just prior to the election, and was also an investor in Cambridge Analytica, a firm which was alleged to have collected psychographic data from Facebook users, which was used by Russia (?) and the Trump campaign. While neither man was confirmed on the yachts, the question remains, did Mercer meet with Rybolovlev on behalf of Trump?
* Rybolovlev - touches down five days before election day in same North Carolina Airport as Trump within 20 minutes of each other. Rybolovlev says he was visiting his battery [container?] company.
* Trump's trip to Kazhakstan related to Cyprus bank and $4 billion scam on people of that nation. [NEED TO CONFIRM & DATES].
IV. OLEG DERISPASKA - Russian Kleptocrats or Oligarchs?
Deripaska is Alleged to have Ties to the Russian Mob
Oleg Deripaska, like many of the Russian Oligarchs, seems to have become wealthy in part by virtue of his connection to power, which in this case appears through his marriage to Yeltsin's step grand daughter, Polina Yumasheva. Oleg started out trading in metals, before expanding into energy and other businesses. In 2000 he partnered with Yeltsin backer, Roman Abramovich's Millhouse Capital to form Rusal, a large aluminum corporation.
In 2010, Deripaska's Rusal, which at the time was the world's largest aluminum company, became the first Russian company to be listed on the Hong Kong stock exchange. Deripaska has diversified into numerous other industries in Russia, one of which owns the Sochi Airport. Sochi will be mentioned earlier, as the site of a regular conference, which a George Papadopolous contact with the Russians, attends - as does Putin on occasion.
Tariff Fixing, Money Laundering, Russian Mob & Mobsters? Deripaska's resume includes plenty of unflattering accusations, including holding a private meeting in 2008 on his yacht, with a high ranking British government official, to reduce aluminum tariffs which would favor Deripaska's company. In Spain in 2011, Deripaska was accused of money laundering, but the case was dismissed because the root of the crime appeared to be in Russia.
Deripaska's is reported to have relations with Sergei Popov and Anton Malevsky, believed to be the heads of the Russian Mob - the Izmailovskaya syndicate. A Slate magazine story on May 9, 2018 reports that,
"The Treasury Department cited allegations that Deripaska ordered the murder of a businessman and had links to a Russian organized crime group."
Putin is also reported to be friendly with the Russian mob. Perhaps they have colluded in some of the murders mentioned above?
Paul Manafort reportedly worked for Oleg Deripaska who, Wikipedia reports, he "... employed from at least 2005 to 2009". An Associated Press report says the contract with Manafort was worth $10 million [per year?], in exchange for Manafort promoting Russian interests in politics, business and in media coverage.
I wonder whether - and if so how much - the Russians pay Rupert Murdoch, Fox News and Sean Hannity for their collectively favorable coverage of Russia, Putin and hacker Julian Assange, while tey collectively bash the United States Intelligence Services and the FBI?
During the Trump campaign, Manafort was alleged to have contacted Deripaska about keeping Derepaska up to date on Trump. A video surfaced in February 2018 showing Deripaska to have met with a high ranking Russian government official, Russian Deputy Prime Minister Sergei Prikhodko, on a boat off the coast of Norway. This tape, and others like it, allegedly prove that Deripaska was the middle man between Putin's Russia and the Trump campaign.
In 2017 Deripaska reportedly acquired Cypriot citizenship. Cypress is reported to be the home of a lax banking regulatory, which for purposes of this story, appears to translate into laundering Russian Billionaire's seemingly kleptocratic gains.
* Deripaska - Manafort, former Trump Campaign Manager, had previously done work for him / seen on yacht near Norway with Russian government officials - video of Feb 2018.
WORK IN PROGRESS. CONSIDER EVERYTHING BELOW OPINION - NOT YET FACT CHECKED.
V. YURI MILNER - Russian Kleptocrats or Oligarchs?
Russian Firm Invests Big in Kushner Company Cadre, Facebook & Twitter
A report in Britannica.com in November / December of 2017 states,
"The revelation of Gazprom Investholding's and VTB Bank's involvement in Milner's social media investments [9% of Facebook and Twitter] was part of the so-called Paradise Papers, a trove of more than 13 million leaked documents dating from 1950 to 2016 that focused on Appleby, a Bermuda-based law firm that helped its clients hide their assets in offshore tax havens. Like the Panama Papers published in 2016, the documents came to light through the International Consortium of Investigative Journalists. Milner argued that VTB Bank's [Russian czar-like President Putin] backing had not won it any influence at Twitter, and he claimed to be unaware of Gazprom's [Russian czar-like President Putin] role in the Facebook deal. The Paradise Papers also pointed to Milner's financial involvement in Cadre, a company that had been founded by Trump's son-in-law Jared Kushner, though there was no implication that this link was related to the Russian government's investments in Facebook and Twitter."
Yeah, but what about buying Kushner influence or Trump collusion? The Guardian in a November 5, 2017 report states that,
"Kushner initially failed to disclose his own holding in the startup, Cadre, when he joined Trump's White House. A spokesman for Kushner declined to comment."
In the same report, the Guardian says,
"In a series of interviews, [Russian Oligarch] Yuri Milner said VTB's [Russian / RAS Putin] funding did not buy it influence at Twitter. He said he was not aware that Gazprom Investholding [Russian / RAS Putin] had backed the stake in Facebook."
This statement seems unlikely to be fully accurate, given that in 2009 VTB was quoted as saying the bank was "pivotal in managing the state's interests", and that the bank is managed by a foreign KGB Intelligence operative [which the bank denies] and has close ties to Putin's Intel agency FSB.
According to the same Guardian report in the early 21st century, Putin's Russia started using its financial muscle, by creating all sorts of offshore companies, to obfuscate the state's role in the financial dealings.
According to a May 11, 2018 report in Wired Magazine, creating all sorts of companies, is a mechanism through which criminals launder ill-gotten gains. KEEP THIS IN MIND WHEN WE GET TO HANNITY.
* Yuri Milner - Facebook & Twitter investments w/ Gazprom / Putin backing
* Yuri Milner - invest in FB & TWTR, $50 mil in Cadre founded by the Kushners. Met w/ Kushners in 2016 / 2017 / 2018?
VI. VICTOR VEKSELBERG - Russian Kleptocrats or Oligarchs?
Renova. American citizen son helps fund Trump campaign.
Helps fund Trump's Inauguration failure?
Makes $500K payment to Cohen for access?
* Victor Vekselberg - Renova Corporation made Inauguration donations and made payments to Trump Fixer Michael Cohen? [NEED TO CONFIRM]
PART IV. Compromised or Traitors?
Have Trump Family & Campaign Members Been Flipped by the Russian State Kleptocrats?
How Many Members of the Trump Family, Officials of the Trump Campaign & Ranking Members of the Trump Administration Received Payments by Rich Russians to Betray the American People?
It appears that many Trump operatives, including Trump campaign manager Paul Manafort, NY campaign manager Michael Caputo, Trump Commerce Secretary Wilbur Ross, National Security Advisor John Bolton, Trump Attorney / Fix Michael Cohen, Trump Friend & Campaign Consultant Roger Stone, and Trump Campaign Foreign Policy Advisor George Papadopolous have had contact with - and in most cases - have histories with the Russian Oligarchs or other Russians linked to the Russian government, where they received significant payments from them.
In the wake of the collapse of the former Soviet Union, many western individuals and companies traveled to the Eastern European states, and the Central Asian states and Russia in search of huge profits. They seemed a lot like the carpet baggers of the north, following the defeat of the Confederacy in the mid 1800's.
1. Billionaire Fox Fake News propagandist Rupert Murdoch was one of those arriving on the scene. Murdoch made inroads, securing what seemed an exclusive deal regarding billboard advertising, which was cut in association with Boris Berezovsky. Murdoch met with Putin at least once on the public record in 2008 at an international conference where the two men were photographed together. Murdoch's ex-wife Wendi Deng Murdoch was rumored to be dating Putin in March of 2016 by US Weekly a gossip magazine [Deng was photographed on Russian Oligarch Abramovich's yacht two days later]. And Deng Murdoch was also believed to have made the introduction of Ivanka to Dasha Abramovich wife of the Russian Oligarch years ago, when they are reported to have become friends, which was on display in 2016 at the U.S. Open when they were seen 'socializing' together.
Murdoch sold his stake in the Russian company in 2007, near the end of Vladimir Putin's second term as president. I believe Russian presidents were two term limited, until czar-like president Putin is alleged to have changed the Russian Constitution, so he could be czar president for life? Murdoch likely saw the czarist Putin consolidating his grip on power and cut his losses. But Murdoch is a flexible businessman who seems to pivot as necessary to get what he wants.
2. In 1994 Michael Caputo moved to Russia to help Boris Yeltsin win re-election. Caputo stayed on, working at Gazprom Media, which is a large Russian state controlled corporation where high ranking staff appointments are believed to be approved by Russian Czar, acting like a president, Vladimir Putin. In 2000 Caputo is reported to have worked on efforts to rejuvenate the image of Vladimir Putin with Americans, as Prime Putin won his first presidential election in Russia in 2000. Caputo returned to the U.S. after the election where his mentor, Roger Stone, reportedly convinced him to move to Miami, Florida.
In 2007 Caputo moved to the Ukraine to work on an election there. Following that stint, until 2016, Caputo appeared to do public relations work on various campaigns. Caputo took the job as Trump New York campaign manager in 2016.
3. Roger Stone was a political operative in the 1970's, and a lobbyist in the 1980's and 1990's and beyond. The public relations / lobbying firm he ran listed the casinos of Donald Trump as one of his clients in the 1990's. Stone is quoted as saying he attended two of three of the Donald's weddings, Donald's father's funeral and that he's known Trump for 40 years. Stone became an adviser to the Trump campaign and according to a Washington Post story on June 17, 2018, he admitted meeting with the Russians in May of 2016 about obtaining dirt on Hillary Clinton.
4. Paul Manafort worked for Russian Oligarch, Oleg Deripaska, from 2005 to at least 2009, according to the Associated Press. What's less clear is how much Manafort was paid and when, if at all, their financial relationship ended. Manafort was alleged to have communicated with Deripaska, assuring the Russian Oligarch that Manafort would keep him informed.
5. Wilbur Ross and Trump have a relationship that goes back to the early 1990's when Trump declared his first of six bankruptcies. Ross is also reported to have had relations with Russian Oligarch, Dmitry Rybolovlev, as both men were investors / involved with the management of a Cypress Bank. Cypress is believed to have lax banking standards that allow money launders to 'clean their ill-gotten cash".
6. Carter Page, the Trump Campaign's former Foreign Policy Advisor, in a 2013 letter bragged of his close ties to the Kremlin. According to a February 4, 2018 Time report, Page wrote,
"Over the past half year, I have had the privilege to serve as an informal advisor to the staff of the Kremlin in preparation for their Presidency of the G-20 Summit next month, where energy issues will be a prominent point on the agenda,"
In July 2016 Page allegedly met with a U.S. sanctioned Russian Oligarch, Igor Sechin, in a meeting Page first denied.
7. Michael Cohen, Trump's Lawyer and 'Fixer', was involved in an effort by Trump to develop a hotel in Moscow in 2015. Cohen reportedly had numerous exchanges with the Russian government, including the equivalent of Putin's Press Secretary. A non-profit tracking what appears the Trump betrayal reports the following,
"January, 2016: Cohen emailed Vladimir Putin's top spokesperson Dmitry Peskov (the equivalent of the White House Press Secretary) at the Kremlin asking for assistance with regards to a stalled attempt to build a Trump Tower in Moscow. The Kremlin has confirmed that it received the email but stated that it did not reply."
They also note that one Russian official copied Ivanka Trump on one of the emails when things weren't going the Russian's way.
8. *Rex Tillerson was appointed Secretary of State in 2017. Tillerson was the Chief Executive of Exxon at a time when the company expanded operations in Russia, so much so, that they owned more exploration rights in Russia than in the U.S. In 2013 Tillerson received an honorary from the Russian Federation with Putin in attendance. That said, Tillerson's loyalties, unlike those above, never seemed to be compromised - like the loyalties of those above and those below seem to be.
The Trump Bambino Crime Family & Friends?
Rupert Murdoch - who I sometimes think of as Public Enemy - see #1 above - could also be included here. Rupert Murdoch lives in a building sometimes referred to as Trump Park Avenue at 57th Street in what was rumored to be a $57 million apartment. Since Murdoch arrived on our shores in the late 1970's, the public discourse has degenerated significantly, due in large part, to what appears to be Murdoch's propaganda machine news reporting distortions and sometimes outright lies.
9. Wendi Deng Murdoch, who her former husband Rupert Murdoch reportedly called a Chinese spy, was reported to have been Putin's girlfriend in March of 2016. It took her three months to deny it. And she was seen on Abramovich's yacht, two days after the rumor broke. She also reportedly introduced Abramovich's wife Dasha to Ivanka, who are now friends? And was with Ivanka and husband Kushner in Croatia while Russian Oligarch Rybolovlev's plane and yacht were parked in the same Croatian town [Daily Kos report].
10.a. Ivanka of the Trump Bambino Crime Family? Ivanka, as noted above was friendly with Abramovich's wife Dasha through Wendi Deng Murdoch. She met with Abramovich's wife at the U.S. Open in September of 2016. She met with Deng Murdoch at the Met Gala in May of 2016 and also in Croatia with her husand Jared Kushner while Russian Oligarch Rybolovlev's yacht and airplane were parked in the same Croatian town. Russian Oligarch Rybolovlev paid Donald Trump $96 million for a house for which Trump had paid $41 million four years prior. COINCIDENCE? When Trump announced his campaign, he said he would probably spent $50 million to see if he could win.
10.b. Jared Kushner of the Trump Bambino Crime Family? Russian Oligarch Yuri Milner made a $50 million investment in the Kushner's company Cadre. Jared Kushner met with the Russian government bank VTB following the election looking for cash to refinance his 666 Fifth Avenue building. Jared also reportedly went to Deustche Bank and around the world, including the oil rich nations of the Middle East, in search of funding while working in an 'unofficial' capacity where he had access - until revoked and restored - to American security briefings.
10.c. Don Jr. of the Trump Bambino Crime Family? Met Russian alleged agent Natalya Veselnitskya to remove Magnitsky Act which bars Oligarchs from laundering their filthy cash here. Don Jr originally said it was about Russian adoption.
Institutional Betrayals for Cash?
* DEUSTCHE BANK - was found guilty of laundering money and agreed to pay a mega fine. They've done business with Trump while other banks have stopped.
Met with Jared Kushner.
Paid Trump's National Security Advisor John Bolton huge speaking fee in 2017. We need to close that speaking fee and other such loophole around campaign finance and government bribes.
PART V. Trump & the Russians Needed Massive Propaganda 'News' Coverage by Murdoch's Fox, Hannity, WSJ & NY Post
It's worth noting that Fox News propagandist, Sean Hannity, was previously reported in this web magazine [I believe from a Guardian report], as having created several companies through which he acquired real estate. Trump lawyer Michael Cohen apparently 'advised' Hannity regarding his real estate. Cohen just cut a plea deal with the FBI and has been alleged to have, among other things, laundered money through real estate transactions. When the news first broke regarding Hannity's relationship to Cohen, and that Hannity owns several real estate LLC's that have been doing transactions with someone alleged to be fixing property auctions, Hannity insisted there was no wrong-doing.
When the news broke regarding Cohen's guilty plea, Hannity - the Fox Fake News Teleprompter Actor went even more bananas than he usually does bouncing up and down on his fake anchorman rocking chair. Fox Fake News controller, billionaire Rupert Murdoch also seems to be scarfing it up during the Trump presidency, having gained numerous beneficial tax breaks, FCC rules rollbacks, a lenient FCC and Justice Department overview of his pending takeover of Disney / ABC and believe it or not - there's more, but that's not the point in this one.
Click here to become better acquainted with the billionaire who's been hacking our democracy for decades and was key to Russia's and Trump's success in winning this election.
Click here to read the report containing more details about Hannity's real estate holdings.
Did the Trumps, Murdochs & Foxi Friends Conspire with the Russians to Steal the Election of 2016?
NEXT - PART VI - Is the Donald an Immoral, Financially Compromised, Compulsive Gambling Loser?
Has the Flim Flamming Phony Con Man Compromised his Children by Enlisting them in his Betrayal of America?
Is Putin Holding Trump Hostage by Threatening to Release Compromising Material on his Children's Betrayal of America?
In this next section we explore the Donald's dubious, Italian and Russian mob rich past.
Benedict Donald: The Trump Betrayal of America & Democracy
---
$element(adman,groupad,Catgry Realestate)$
NYC Boroughs - New York City
NYC Neighborhoods - New York City Related Info
$element(adman,groupad,Catgry ManWmn)$
Click this link for promotions, discounts and coupons in New York City.
Click here to go to the NYC Arts & Culture section of this site.
Click these links for promotions by advertisers in Manhattan.
Click this link to go to the NYC Neighborhoods section.
---
$element(adman,groupad,Catgry Foodwine)$
Site Search Tips. 1) For best results, when typing in more than one word, use quotation marks - eg "Midtown Neighborhood". 2) Also try either singular or plural words when searching for a specific item such as "gym" or "gyms".
$element(bwcore,insert_search,N)$
Click this link to the Gotham Buzz front page.
---
$element(adman,groupads,Sectional2 Ad)$
---
Click the log in link below to create an ID and post an opinion.
Or send this story to a friend by filling in the appropriate box below.
---
NYC Related Links
Click for NYC Restaurants NYC.
Click for NYC Shopping NYC.
Click for Things To Do NYC - Holidays in NYC.
Click for NYC Neighborhoods NYC.
---