Michael Moore's Fahrenheit 11/9
New Documentary Film by the Only Pundit in America to Predict that Trump Would Win the Presidency in 2016
September 21, 2018 / NYC Neighborhoods / NYC Politics & Government / News Analysis & Opinion / Gotham Buzz NYC.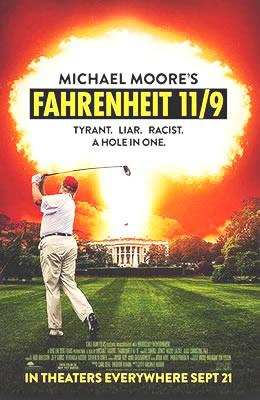 When Michael Moore talks, I tend to listen.
Why?
Because he's the only national pundit in America who predicted Trump would win the presidency in 2016.
In a July 2016 editorial, independent filmmaker Michael Moore explained the contributing psychological and cultural factors upon which his predictions for a Trump victory were based. The tenets for much of his underlying political analysis, still hold true today, and is explored more fully in his new film.
Moore, a Working Class Journalist, Probes the Psychology of Trump, Trump's Followers, and the Mainstream Media Folks
Michael Moore is sometimes typecast as a liberal, but his working class credentials have never been challenged. The liberal label may have arisen because one of his earlier films, Roger & Me, called out the CEO of General Motors for exporting American jobs, thus shafting of the American working class, of which Moore was a member back in the 1990's. And another of Moore's films, Fahrenheit 9/11, attacked George W. Bush and the American corporate media for their inept response to the 911 attacks. But labels these days, are used a means by which those who wish to discredit, to shout down people who offer alternative narratives that differ from their own.
Moore shows little tolerance for both conservatives and liberals, as he believes those in charge of the both the liberal and conservative media and political apparatus are living in insulated seclusion from the rest of us. Moore brought this point home in the DemocracyNow.org interview, by talking about mundane TV shows watched by Trump supporters, that he said are not watched by most of the people delivering the corporate media news. He used the TV shows people watch, as a means to exemplify the cultural disconnect, between those who present the news and those who watch it.
The example he used was the importance of the TV show The Apprentice, in creating Donald Trump. He told us that every week the Donald would fire someone from the staff that was nearly universally despised, elating the audience, who Moore opined, worked with similar characters at their own jobs.
Moore doesn't work for a corporation, nor is he sponsored by big corporate money, so he seems about as independent these days, as we're going to get, because nobody owns him.
---
Michael Moore's Fahrenheit 11/9
New Documentary Film by the Only Pundit in America to Predict that Trump Would Win the Presidency in 2016
September 21, 2018 / NYC Neighborhoods / NYC Politics & Government / News Analysis & Opinion / Gotham Buzz NYC.
Continued.
Moore Appears to Produce Documentary Films to Inform
Michael Moore dresses like a guy who came in off the street. He seems to forgo the celebrity narcissism of TV news in favor of spending his time gathering, thinking about, and processing the information he collects. By contrast, Rupert Murdoch's mouthpieces of Fox News, Sean Hannity and Tucker Carlson, exhibit an almost feminine broadcast appearance, and they appear to promote the pols the billionaire favors [who it seems will 'work with Murdoch' aka do his bidding], while shouting down those pols who won't do what Murdoch wants. This leads me to wonder whether these two obsequios Murdochian pundits spend more time in primping themselves in makeup - than they spend time trying to get their facts straight.
This comparison is a metaphor for where we are today in terms of news and politics. The news of today seems more like a celebrity shock jock ratings contest, rather than what it should be - a contest to become the most trustworthy, research driven, investigative, fact finding, fact checking information source available. Similarly the politicians in government today seem more interested in playing roles in politically polarized public theater performances, like the Donald did throughout the 2016 campaign, than in devising and negotiating public policy for the good of the people and the nation.
As for Moore, he seems a bit old school, like one of the American newsmen of the past, who is interested in afflicting the comfortable, and in comforting the afflicted.
DemocracyNow.Org Interviews Moore about Fahrenheit 11/9
On Friday afternoon I tuned in to DemocracyNow.org and found Michael Moore, in all of his unorthodoxy, talking about his new movie: Fahrenheit 11/9. As previously mentioned, in 2004 Moore created a film Fahrenheit 9/11 about George W. Bush - so the title for this new film, Fahrenheit 11/9, flips the digits of the numerical date, to reflect the day after the Trump election victory on November 9th [11/9] 2016.
The news analysis and insight that Michael Moore delivers may not be all encompassing [nothing ever is], but based on his DemocracyNow.org interview, the new film seems to provide a fresh, insightful perspective. Moore seems to probe beyond the superficial, into the use of personal and mass psychology by Donald Trump, who over the past couple of decades, Moore has personally encountered multiple times on the talk show circuit. Moore also probes the psychological and cultural yearnings of Trump's American supporters, and makes startling analogies to other nations and other periods in history. Moore intimated in the interview that he's warning people how fragile a government with a just and fair democratic system really is, especially in the hands of a celebrity salesman.
You can view the Moore interview about his new movie, Fahrenheit 11/9, on DemocracyNow.org. Moore's documentary film opened in thousands of theaters across the nation on Friday, September 21, 2018. It only grossed $3 million the first weekend [it was #8], so you might want to see it sooner, rather than later, as it may not be in theaters very long.
---
$element(adman,groupad,Catgry Realestate)$
NYC Boroughs - New York City
NYC Neighborhoods - New York City Related Info
$element(adman,groupad,Catgry ManWmn)$
Click this link for promotions, discounts and coupons in New York City.
Click here to go to the NYC Arts & Culture section of this site.
Click these links for promotions by advertisers in Manhattan.
Click this link to go to the NYC Neighborhoods section.
---
$element(adman,groupad,Catgry Foodwine)$
Site Search Tips. 1) For best results, when typing in more than one word, use quotation marks - eg "Midtown Neighborhood". 2) Also try either singular or plural words when searching for a specific item such as "gym" or "gyms".
$element(bwcore,insert_search,N)$
Click this link to the Gotham Buzz front page.
---
$element(adman,groupads,Sectional2 Ad)$
---
Click the log in link below to create an ID and post an opinion.
Or send this story to a friend by filling in the appropriate box below.
---
NYC Related Links
Click for NYC Restaurants NYC.
Click for NYC Shopping NYC.
Click for Things To Do NYC - Holidays in NYC.
Click for NYC Neighborhoods NYC.
---