Law Enforcement, the Economy, but First Home Sweet Home?
Is Home is Where the Heart is or Where We Sleep?
July 20, 2020 / NYC Neighborhoods / NYC CoVid 19 Special Section / News Analysis & Opinion / Gotham Buzz NYC.
Casino Royale: Will the Donald Bankrupt America with Trillions in Spending?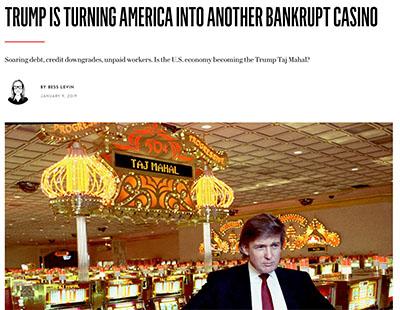 The Administration, meanwhile, seems terribly out of touch with reality. Their retarded response to the CoVid pandemic paved the way for the viral explosion. One of their greatest mistakes was that they politicized Americans' choice to defend themselves from the virus by wearing a mask, and they squandered away trillions of the public's money - with the enabling help of the Democrats - to keep businesses functioning, without obtaining much in the way of concessions from them.
If the Donald is a great negotiator, then he's negotiating away American's future, in exchange for a junkie boost to his reelection prospects, and self-enrichment [there was a $160 billion tax break given to real estate developers like Trump and his son-in-law Jared Kushner and he fired five Inspector Generals within the six weeks that the largest spending bills in American history were passed totallying $3 trillion].
In Germany, Chancellor Angela Merkel obtained an equity stake of 20% - 25% from Lufthansa, in exchange for the German government bailout of that airline. And now the Donald and Republican Senate Majority Leader Mitch McConnell are in discussions to throw away another trillion or more in added stimulus - again without obtaining any concessions from those who will receive it.
The image at right shows the headline of a January 9, 2019 report in Vanity Fair. This report was published over a year before the $3 trillion in stimulus spending done in March / April of 2020.
Bread Crumbs for the Masses & Melania's "I Don't Care Do U?"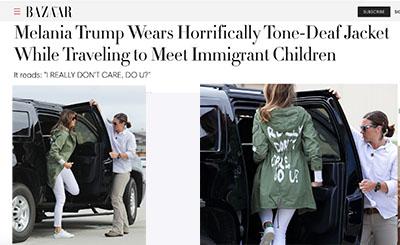 There was $3 trillion in stimulus spending bills passed in late March and early April of 2020. But the money that working class Americans [161 million people] received in the form of U.S. Treasury $1,200 checks amounts to only $193 million [161 x $1,200] of the $3 trillion stimulus spending done to date. And then there was the extra $600 per week in added stimulus payments - which paid many unemployed workers more than they had been making and reportedly cost the American taxpayer over $15 billion per week according to a July 17, 2020 CNBC report.
The CNBC report noted that 25.6 million were on this $600 per week government payout program. According to the report the reason the total pandemic relief recipients are higher than the unemployed is because the package includes people who are,
"... business owners, self-employed Americans, gig workers and independent contractors who are not typically eligible for unemployment."
So a rough estimate of the cost of this $600 per week program is 13 weeks x $600 per person per week x 26 million = $203 million. If you add the payments from these two payout programs together then the total payout to working Americans was [$203 billion plus $193 billion] was $396 billion or 13% of the stimulus spending. Thus it seems - a relatively small number of mega millionaire and billionaire real estate developers like Donald Trump, son-in-law Jared Kushner and their [industry segment] friends - collected over a third as much as what all working classs Americans collectively received in stimulus handouts.
This self dealing doesn't seem to be anything new for the Trumps. And the Trump insensitivity to those who less fortunate than they are, appears equally legendary. As you can see in the June of 2018 Bazaar report above, Melania Trump demonstrated an incredible insensitivity during a visit to the Texas border detention centers for immigrant children, when she wore a jacket that had the words "I don't care do u" on it.
---
Law Enforcement, the Economy, but First Home Sweet Home?
Is Home is Where the Heart is or Where We Sleep?
July 20, 2020 / NYC Neighborhoods / NYC CoVid 19 Special Section / News Analysis & Opinion / Gotham Buzz NYC. Continued.
Did a Seemingly Corrupt President Enrich his Industry Friends?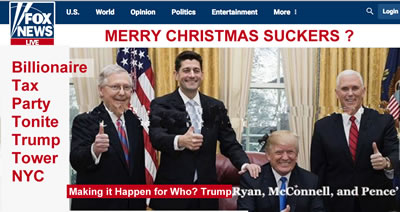 There was an estimated $160 billion in tax breaks for real estate developers reportedly hidden in the $2.2 trillion CARES Act passed in March 2020 [more details coming below]. A relatively tiny number of real estate developers get more than 5% of the CARES Act, while - as noted above - the entire rest of the nation's working class collectively received a bit more than double that (13%).
What's most disturbing about this most recent blatant effort by Trump to enrich himself and his friends is that there's a huge segment of the American populace that will either never hear this because they are media ignorant [Fox News, Wall Street Journal, NY Post and in time ABC] or they will hear of it and ignore it as 'fake news' about their Republican lord and saviour.
In the photo at right you can see McConnell, Ryan, Trump and Pence celebrating the tax cut package they passed in December 2017 which borrowed $1 - $2 trillion on the backs of America's children in exchange for an estimated 0.5% - 1% of extra growth at a time when the U.S. was already operating at what economists categorize as full employment [5% or less of unemployment].
Like the Republicans, so too the Timid & Naive Democrats?
According to a May 19, 2020 Time Magazine report,
"House Democrats passed a largely symbolic bill on May 15 rolling back two controversial tax provisions that had been slipped into the CARES Act, the $2 trillion stimulus law that Congress passed in March with overwhelmingly bipartisan support. The two tax provisions, which remove caps on individuals' and businesses' ability to write off net operating losses, are expected to deliver a $160 billion windfall to the wealthiest Americans, disproportionately benefiting hedge fund and real estate investors."
The report goes on to note that this benefits the least needy in our society. The Time Magazine report also noted that the Democrats said it was "a Republican provision" and that the Democrats "failed to appreciate its significance".
So why don't the Democrats include the repeal of those provisions for real estate developers in the stimulus bill upon which they're currently working? By inserting a clause removing the gift to the Donald's cronies in the new bill - it would at the very least - make Americans aware of what seems to be Trump, McConnell and the Republican party's corruption. The Republican 'fiscal conservatives' who complain about welfare mothers - who get scraps, - say nary a word about these huge payouts to the richest people in the nation / world.
The Donald Gasses the American People, but Stands up for Confederate Statues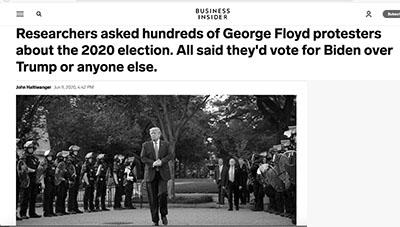 We not only live in an unusual time, but we live in a twisted one. On Monday, June 1st the Donald gassed protesters as he and Attorney General William Barr, the top law enforcement official in the nation, walked across the Washington mall so Trump could wave an upside down bible in front of the cameras. The Minister of the Church was not present, and was horrified that Trump would prostitute the Bible and her Church for a campaign like photo op event.
On June 23rd Trump signed yet another Executive Order authorizing Homeland Security to step in to 'protect' our national monuments. Two and half weeks later, on July 10th Trump confirmed he had sent Homeland Security to Portland, Oregon to 'protect' the national statues there. He was not asked by the Mayor of Portland nor the Governor of Oregon for any law enforcement help and the only damage done there to national statues was a bit of graffiti which can be cleaned up.
I. Doesn't the Trump Administration have more Pressing Things to do?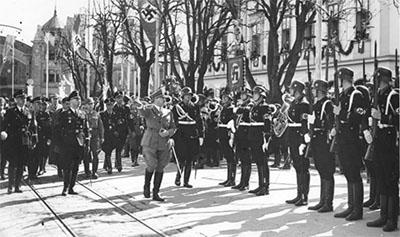 Protecting statues from graffiti, would seem to fall under the purview of municipal policing or state policing. I would think the federal government is facing bigger issues, than getting involved in apprehending people for illegal graffiti. Doesn't the federal government / Trump Administration have more pressing things to do like:
Bringing the raging CoVid pandemic under control?
Taming the record breaking, out-of-control federal budget deficit / spending / borrowing?
Addressing the double digit unemployment rate that spiked this year in the Trump economy?
Halting or turning around the loss of affordable healthcare by millions of Americans since Trump took office?
Addressing the declining reading and math scores achieved by the nation's schools since Trump took office?
Addressing the U.S. immigration crisis? As of 2016 there were 10.7 million illegal immigrants living in the U.S. Of them, there are about 700,000 to 800,000 children who were brought here by their parents, who grew up in the U.S., and who know no other country, and yet do not have citizenship rights.
And then there's Climate Change for which the Donald has let four more years pass, while seeming to enable the fossil fuel industry, stifle scientific reports and ignore the realities in the same manner as he's done with CoVid.
It seems the Donald has screwed up just about everything at the national level. Perhaps he won't be satisfied until he throws the entire nation, including states and cities, into chaos.
II. Inexperienced, Uneducated & Incompetent?
The Donald never held public office prior to becoming president. So he has no government EXPERIENCE.
The Donald doesn't hold any higher education degrees related to governance. He threatens to sue anyone who releases his transcripts. His niece tells us that he paid someone to take his SAT test so he could get into the University of Pennsylvania / Wharton. So we know he wasn't prepared for the office of president via his EDUCATION.
The INCOMPETENCY is cited in the bankruptcies and money laudering below.
III. Trump Disregard for the Law is Legendary - Bankruptcies & Money Laundering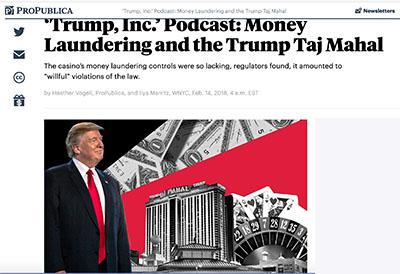 The Donald has been a real estate developer all of his life. He reportedly established ties to Italian mob figures early in life, and his alleged association with Russian mob figures continued not long before he began his run for the presidency.
Trump's competency in managing developments is highly questionable given he's been associated with six bankruptcies. A September 26, 2016 report in the Washington Post tells us the following,
".. PolitiFact uncovered two more bankruptcies filed after 1992, totaling six. Trump Hotels and Casinos Resorts filed for bankruptcy again in 2004, after accruing about $1.8 billion in debt. Trump Entertainment Resorts also declared bankruptcy in 2009, after being hit hard during the 2008 recession..."
A September 26, 2016 report in Mother Jones tells us that in 1990 Trump's father, Fred, reportedly helped him navigate through his financial troubles including with a $3.3 million chip buying bailout that was used to circumvent the law and / or legal covenants. A July 13, 2017 report by the New Republic informs us that in the early 2000's the Donald was selling condos and taking in loads of Russian cash, including from reportedly shadowy companies, as another part of his holdings declared bankruptcy. And according to a December 14, 2018 report in the San Francisco Chronicle, in July 2008 a Russian Oligarch, Dmitry Rybolovlev paid $95 million for a mansion for which Trump had recently paid $42 million - netting Trump $53 million and bailing him out again?
I think it's also important to remind readers that according to a February 11, 2015 report by Reuters that,
"... Trump Taj Mahal casino settles U.S. money laundering claims ... Trump Taj Mahal admitted to have willfully violated reporting and record-keeping requirements under the federal Bank Secrecy Act from 2010 to 2012 ..."
Trump Seems Not Just Corrupt, but Clever at Concealing his Scams
A May 19, 2020 report by CBS News tells us,
"... In a span of six weeks, Mr. Trump has removed five officials from posts leading their respective agencies' inspector general offices, three of whom were working in an acting capacity..."
These included Michael Atkinson of the Intelligence Committee, Mitch Behm of the Transportation Department, Glenn Fine of the Defense Department, Christi Grimm of Health and Human Services and Steve Linick of the State Department.
IV. Trump's True Talent: One of the Greatest Con Men in History?
Trump appears to be a legendary con man. In addition to not paying his debts, and laundering money for alleged criminals, Trump has a long history of a number of other wide ranging cheap and clever cons such as the following.
STIFFING EMPLOYEES & CONTRACTORS? His repertoire seems to range from cheap tricks like not paying his employees to stiffing contractors telling them their work was subpar. According to Wikipedia,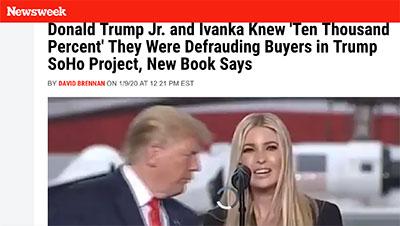 " ... An analysis by USA Today published in June 2016 found that over the previous three decades, Donald Trump and his businesses have been involved in 3,500 legal cases in U.S. federal courts and state court, an unprecedented number for a U.S. president ..."
REAL ESTATE FRAUD? Trump is alleged to have defrauded people who enrolled in Trump University, paying $25 million to settle. An April 9, 2018 ABC News report provides the following statement from former Attorney General Schneiderman saying,
" ... This settlement marked a stunning reversal by President Trump, who for years refused to compensate the victims of his sham university..."
IN HIS ALLEGED CONS ENLISTING HIS CHILDREN? An August 2017 report in Intelligencer tells us that after the 2008 market crash,
" ... condo sales at Trump Soho dried up, although Ivanka and Don Jr. continued to boast, falsely, that a majority of the buildings units had been sold ... "
MOBSTER STYLE CORRUPTION? Trump closed down a charity after being sued for using it to further his own business interests and for his 2016 election campaign. According to a December 10, 2019 report by AP News, bout $2 million was paid in fines and another $1.8 million distributed to other [more legitiimate?] non profits.
An October 4, 2017 report by Business Insider tells us that the Manhattan District Attorney Cyrus Vance dropped the fraud charges against Ivanka and Don Jr. after receiving a $25,000 campaign donation from a Trump lawyer, Marc Kasowitz in the 2011 / 2012 time frame. Vance returned it, and Kasowitz reportedly make another $50,000 donation just six months later. The report also discussed whether it would be possible for the Manhattan DA to win the case.
The Business Insider report also informs us,
" ... Bayrock was co-founded by Felix Sater, a Russia-born businessman who advised the Trump Organization on real estate deals from the early 2000's and into late 2015 ... A lawsuit brought in 2010 against Sater and his partner, Tevfik Arik, alleged that "for most of its existence [Bayrock] was substantially and covertly [Russian] mob-owned and operated," engaging "in a pattern of continuous, related crimes, including mail, wire, and bank fraud; tax evasion; money laundering; conspiracy; bribery; extortion; and embezzlement."
Birds of a feather flock together?
PETTY THIEVERY? A July 25, 2020 report in The Hill tells us that the 2020 Trump campaign and Republican National Committee has been asked by the Reagan Foundation to cease and desist in using Reagan's name and image for Trump campaign trinkets. The campaign appears to have been in the process of using Reagan's image and name without obtaining their authorization.
And a June 28, 2020 report in Forbes Magazine tells us that The Rolling Stones, The Beatles, Aerosmith, Elton John, Neil Young, Queen, Earth Wind and Fire, Twisted Sister, Pharrell Williams, Rihanna Williams, Guns & Roses, R.E.M., Tom Petty and Prince or heirs thereof, have either sent cease and desist letters to the Trump campaign, or asked them not to use their music at Trump or Republican Party events. It seems the Trump campaign, which has raised over a billion dollars, won't pay the musicians for the use of their music in campaign events. This seems very much like how Trump seemed to stiff employees and contractors as noted above.
My point in giving you a brief and incomplete history of what appears to be the Donald's mob associations, shady deals and near total disregard for the law, is to use this historical context to help you evaluate whether he is abusing the power of the presidency in order to serve his own ends, in a manner not unlike how he appears to have betrayed the trust of so many others previously - as documented above - in order to enrich himself.
Trump Violating the Constitution: Not Preserving & Protecting it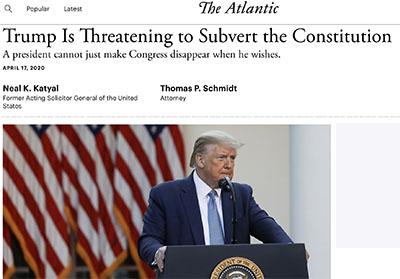 The legality of the Trump directive to the Department of Homeland Security to essentially police an area within Portland is a highly questionable use of federal police power. The Fourth and Tenth Amendments are the most relevant articles [of impeachment] here. The Fourth Amendment states,
"The right of the people to be secure in their persons, houses, papers, and effects, against unreasonable searches and seizures, shall not be violated, and no Warrants shall issue, but upon probable cause, supported by Oath or affirmation, and particularly describing the place to be searched, and the persons or things to be seized."
And the Tenth Amendment states,
"The powers not delegated to the United States by the Constitution, nor prohibited by it to the States, are reserved to the States respectively, or to the people."
The U.S. Constitution and these Amendments are written so as to guide us away from the usurpation, centralization and abuse of government power. The U.S. Constitution is predicated on the will of the people, meaning a majority of us or our representatives, have to agree on something in order for it to move forward. And it specifically protects us from the government, by outlining the conditions which must be present, in order for the government power to be used. So in the FOURTH AMENDMENT no searches and seizures without probable cause - keep that in mind as we move forward.
Also, no domestic police powers are granted to the federal government in the Constitution, and by the omission are granted to the states in the TENTH AMENDMENT. The only state level powers granted to the federal government are in the Constitution are the use of the state militias, which are by definition, supplements to the regular army.
At right the Department of Homeland Security is shown marching in Portland, Oregon the week ending July 24, 2020. The U.S. Constitution generally assigns general police powers to the states with the exceptions primarily being: 1) helping localities at their request (not the case in Portland as both the Mayor and Governor have asked the DHS to leave), 2) collaborating with state / local officials in cases involving criminal activity that moves things across state lines [an example is drugs and this does not apply here], and 3) enforcing federal laws when the states fail to [an example is in allowing African Americans to attend college in the 1960's]. The Donald seems to have stretched the truth on the last one, using graffiti on a federal building as the pretext for sending in the Department of Homeland Security.
The Checks & Balances of the U.S. Democratic Republic are Under Siege
The Founding Fathers wisely ensured that the federal government did NOT have control of a domestic police force, as part of their checks and balances approach to governing. By dispersing power among the legislative, judicial and executive branches - they hoped to preserve the power of the people, by making it difficult for anyone or any group of people to take control of the government and personalize government power, as had been done by tyrannical royals in the past.
Personalization of Power: Donald the Duplicitous
The Donald seems to have made great strides in personalizing the power of the U.S. federal government since he taking office just three and a half years ago. Click this link to read more our report about Trump and the Personalization of the U.S. Government Power. Adolph Hitler had pursued the same course toward personalizing the power of the government beginning in the early 1930's. Let's see how they compare.
The Evolution of Federal Police Powers in the U.S.
Since the Constitution became law of the land in 1788 - 1789, the nation has grown and its institutions have evolved. The federal government does control a number of law enforcement agencies including,
The Federal Bureau of Investigation aka FBI
The U.S. Marshal's Service
The U.S. Customs Service
The Bureau of Alcohol, Firearms and Tobacco
The Drug Enforcement Agency
The U.S. Customs Service
All of these agencies are supplemental to the municipal and state police forces which collectively are far larger than any of these agencies.
Usurpation of Police Power by the Trump Administration & DHS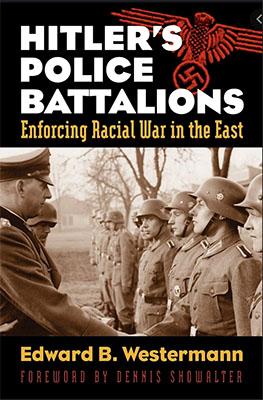 Wikipedia does a good job of drawing the distinction between federal and state police powers, stating the following.
"... the national (federal) government is not authorized to execute general police powers by the Constitution of the United States of America. The power to have a police force is given to each of the United States' 50 federated states. The US Constitution gives the federal government the power to deal with foreign affairs and interstate affairs (affairs between the states). For police, this means that if a non-federal crime is committed in a US state and the fugitive does not flee the state, the federal government has no jurisdiction. However, once the fugitive crosses a state line, he violates the federal law of interstate flight and is subject to federal jurisdiction, at which time federal law enforcement agencies may become involved... "
So it seems, the president's use of the Department of Homeland Security to address a low level property destruction crime, is yet another Trump abuse of power. Comparisons have been made of Trump's use of the DHS to the Gestapo in Nazi Germany in 1933.
Wikipedia informs us,
" ... Göring took over the Gestapo in 1934 and urged Hitler to extend the agency's authority throughout Germany. This represented a radical departure from German tradition, which held that law enforcement was (mostly) a Land (state) and local matter... "
REICHSTAGE FIRE
Lobbyist Turned Lackey: Is Chad Wolf a Legitimate Acting DHS Secretary?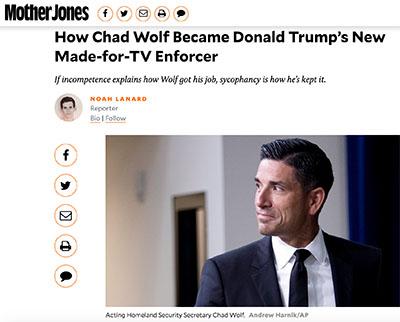 In November 2019, Chad Wolf became the FIFTH Secretary of Homeland Security since the Donald took office in 2017. Wolf is a staunch Trump supporter, which seems to be the most important requirement for any Trump appointee.
Wolf is Trump's fifth DHS secretary and Trump's third 'acting' Secretary - meaning he hasn't been confirmed for this position by Mitch McConnell's Republican dominated Senate. He had been confirmed by the Senate for the DHS position he had previously held.
Chad Wolf was formerly a lobbyist for the now defunct Washington, D.C. lobbying firm of Wexler | Walker.
Chad Wolf was appointed acting Secretary of Homeland Security on November 13, 2019. A vacancy may be filled by an Acting Secretary for 210 days, so Chad Wolf has been illegitimately holding that post since about June 10, 2020. The Senate is responsible for confirming executive level appointees. So this begs the question, what is Senate Minority Leader Chuck Schumer and his staff doing with their time? Are they not paying attention while the nation burns?
Department of Homeland Security Mission & Departments Not for Domestic Policing
According to the DHS.gov website, the mission of the Department of Homeland Security is defined as follows,
"... With honor and integrity, we will safeguard the American people, our Homeland, and our Values ..."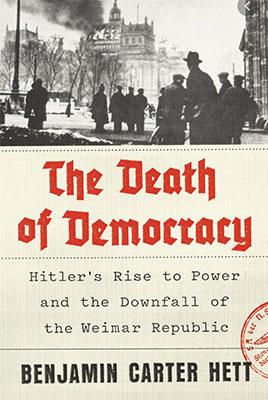 'Safeguarding our homeland' is not the same as municipal policing. This is particularly true when the police actions are directed at generally peaceful Portland residents who are American citizens. And as noted above - per the U.S. Constitution - using the Department of Homeland Security for domestic police action is illegal. But the Donald has neither the education, experience nor disposition to listen to the advice of those more knowledgeable than him, because he generally doesn't operate within the legal or moral framework of our society, as I pointed out above.
There are fourteen departments within the Department of Homeland Security. Let's see if any of them seem directed toward municipal policing. They are:
U.S. Citizenship and Immigration Services - administers the nation's lawful immigration system, safeguarding its integrity and promise by efficiently and fairly adjudicating requests for immigration benefits while protecting Americans, securing the homeland, and honoring our values.
United States Coast Guard (USCG) - protects maritime trade and borders. Becomes a part of the Defense Department in wartime.
United States Customs and Border Protection - one of the Department of Homeland Security's largest and most complex components, with a priority mission of keeping terrorists and their weapons out of the U.S. It also has a responsibility for securing and facilitating trade and travel while enforcing hundreds of U.S. regulations, including immigration and drug laws.
Security and Infrastructure Security Agency - protect and enhance cyber security.
Federal Emergency Management Agency - (FEMA) supports our citizens and first responders to ensure that as a nation we work together to build, sustain, and improve our capability to prepare for, protect against, respond to, recover from, and mitigate all hazards
Federal Law Enforcement Training Center - training.
United States Immigration and Customs Enforcement (ICE) - "(ICE) promotes homeland security and public safety through the criminal and civil enforcement of federal laws governing border control, customs, trade, and immigration.
United States Secret Service (USSS) - protection of leaders, dignitaries & financial system.
Transportation Security Administration (TSA) - focus on transportation conduits.
Management Directorate - budget & procurement.
Science and Technology Directorate - R&D and technology.
Countering Weapons of Mass Destruction Office - focus on WMD.
Office of Intelligence and Analysis - staying abreast of events.
Office of Operations Coordination - internal communications.
It would seem all of these departments are designed to address policing actions that primarily involve the illegal crossing of our national borders. The protesters in Portland are generally reported to be Portland and Oregon residents, which would indicate that the DHS has lost its way.
Trump Purges DHS & Uses Protests to Exercise Police Powers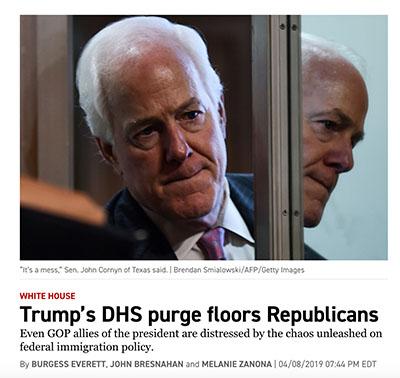 MORE COMING ON THE Scourge of the DHS by Trump. This is currently being investigated by the House - but these investigations seem so lame in asserting the only real power the Congress has - the power of the purse.
Why aren't the Democrats using their majority position in the House to hold up bills [like Mitch McConnell does] until they get some satisfaction on Trump's tax records; his purge of the DHS, use of it as a federal police force and for re-election campaign theater; his inclusion of the real estate developer tax break in the $3 trillion stimulus bills passed in March / April 2020? It would seem that Trump and the Republicans need that stimulus bill for the November election far more than the Democrats.
Which makes me ask why the Democrats aren't taking more of a stand on these issues - if for no other reason than to bring them to the attention of the American public?
Trump sent the Department of Homeland Security to Portland, Oregon - without invitation by either the Portland Mayor or the Oregon Governor. In fact both the mayor and the governor have filed lawsuits - along with the American Civil Liberties Union or ACLU - to get Trump's Department of Homeland Security out of the public spaces - as they are reportedly only making things worse by escalating tensions between law enforcement and the community.
In the ten days that the Department of Homeland Security has 'occupied Portland' a number of disturbing reports have come from the city describing events that seem too closely to resemble the early use of police power by Adolph Hitler during his ascendance to dictatorial control in Germany in the 1930's.
Comparison of Early use of Police in Germany 1933 - 1934
Hitler didn't become Hitler overnight. Time Magazine did a number of stories pondering Hitler's intentions before they became crystal clear - but by then it was too late. Hitler repeatedly lied and deceived the German nation, while grabbing power through police force and mass media manipulation, eventually silencing critics by labeling them traitors accompanied by police force. This latest move by Trump to use the Department of Homeland Security as a national police force is not unlike what Hitler did as he consolidated power after becoming Chancellor, following the Reichstag fire of 1933.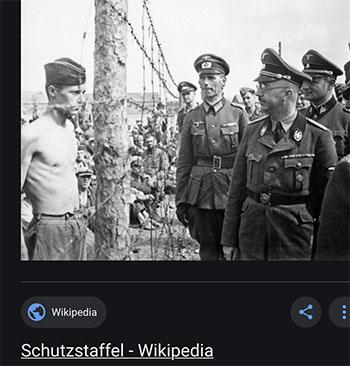 According to an April 10, 2019 History report,
"... The Reichstag Fire was a dramatic arson attack occurring on February 27, 1933, which burned the building that housed the Reichstag (German parliament) in Berlin. Claiming the fire was part of a Communist attempt to overthrow the government, the newly named Reich Chancellor Adolf Hitler used the fire as an excuse to seize absolute power in Germany, paving the way for the rise of his Nazi regime..."
In addition to using a pretext for sending in the Department of Homeland Security forces, Trump also appears to be illegally morphing the role of the DHS as a police force, in a manner that has striking similarities to the early moves taken by Heinrich Goring and Hermann Himmler who morphed the Gestapo and SS from a small police force when Hitler came to power, into an invasive ubiquitous force throughout Germany by the end of the war.
The comparisons here include not just the Gestapo [an abbreviation for Secret State Police], but also the Schutzstaffel which evolved into the umbrella for most of the policing in Germany including the Gestapo. Wikipedia tells us,
"... The Allgemeine SS was responsible for enforcing the racial policy of Nazi Germany and general policing, whereas the Waffen-SS consisted of combat units within Nazi Germany's military. A third component of the SS, the SS-Totenkopfverbände (SS-TV; literally "Death's Head Units"[2]), ran the concentration camps and extermination camps..."
Is the DHS Becoming a Racial Enforcement Agency like the Gestapo?
Let's compare this to the Department of Homeland Security was created during the Bush Administration.
It is the youngest agency and therefore has the least in traditions and thus least amount of American Constitutional culture as to its role in our government. The Department of Homeland Security has run 'immigration detention centers' on our southern border, where they keep illegal immigrants. So it's not a stretch to think that Trump is transforming the agency into one that enforces 'racial policy' not unlike what the SS did in Nazi Germany.
Since Trump took office the Department of Homeland Security separated children from their parents in an act not much different from what we saw in the movie 'Sophie's Choice' wherein Jewish children were separated from their parents. And then, under the supervision of the Department of Homeland Security, six plus immigrant children and another 18 adults have died in their custody.
Murdoch's Fox News Propaganda Support for Trump's Inhumanity
In 2018, Fox News Laura Ingraham provided media cover for the DHS, comparing their detention centers to summer camp.
This is why there is a divide in American society on important issues. Australian born, Rupert Murdoch controls about half of the large news media brands in this nation [Fox News, Wall St Journal, NY Post and he's now the largest shareholder of ABC News] and he appears to use his media outlets to disinform voters about policies and pols. He seems to do this to get 'his pols' elected, so they will give Murdoch what he wants, and he seems not to care what else they do.
More coming including images and video later today / this week.
---
$element(adman,groupad,Sectional2 Ad)$
---
---