The Battle for the Soul of America Begins
Democrat Joe Biden Puts Forth a Bipartisan Convention & Makes a Strong Case for Uniting America Again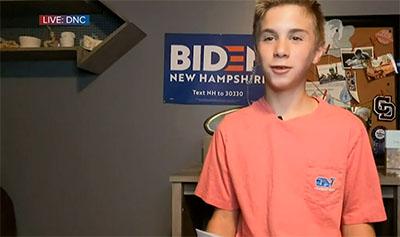 August 21, 2020 / NYC Neighborhoods / Dysfunctional Presidency of Donald J Trump / News Analysis & Opinion / Gotham Buzz NYC.
This week the virtual Democratic Convention took place across the nation beginning Monday and ending Thursday. I tuned in for a look / see on Monday, and found the convention of greater interest than I had expected. Each night I tuned in a bit more, ending last night watching most of the show.
Missing were the bells and whistles of major party conventions of prior years. The theatrical embellishments, large audiences and drama were also missing. But what came forth were four days of a well choreographed presentation for why the American people need to make a change in November.
In the photo at right is Braydon Harrington, a 13 year old stutterer featured in the Democratic National Convention. Harrington, like Biden, has a stutter handicap which is a neurological disorder that makes it difficult to get out certain words. Biden's father told Joe not to let his handicap define him.
Monday - Republican Governors, Bernie Sanders & Michelle Obama
The first night was hosted by Eva Longoria one of the stars of Suburban Housewives.
The program started on Monday and included New Yorkers Governor Cuomo and former Republican Congresswoman Susan Molinari. Molinari wasn't the only Republican to participate in the first night of the Democratic Convention. Two former Republican Governors - Christie Todd Whitman of New Jersey and John Kasich of Ohio - also participated, giving speechs at the Democratic virtual Convention.
One might ask why are Republicans giving speeches at the Democratic Convention. Both former Governors answered that question very clearly - they are concerned about the future of the American Democratic Republic if Trump's presidency doesn't end this year. Former New Jersey Republican Governor Whitman, a self described lifelong Republican, made the following statement which was published in an August 18, 2020 report by the New Jersey News Network,
"This isn't about a Republican or a Democrat. It's about a person ... A person decent enough, stable enough, strong enough, to get our economy back on track. A person who can work with everyone, Democrats and Republicans, to get things done. Donald Trump isn't that person Joe Biden is."
According to an August 17, 2020 report on Cleveland.com former Ohio Republican Governor Kasich, said he was proud of his Republican heritage, citing his party as the party of Lincoln, of unity and of a higher purpose. The Cleveland.com report said that,
"... Kasich ... [has] known Biden for 30 years, calling Biden a man of integrity"
They continued quoting Governor Kasich as follows,
" ... Yes, there are areas where Joe and I absolutely disagree. But that's OK because that's America ... Because whatever our differences, we respect one another ... no one person or party has all the answers ... But ... we know ... we can do better than what we've been seeing today for sure."
First Lady Michelle Obama advocated for Joe Biden's candidacy recommending that the American people replace a president "who is in over his head".
Senator Bernie Sanders delivered the most damning assessment of the Donald's four years in office, citing the CoVid pandemic infection and death rates, the pandemic economic fallout, and Trump's mismanagement of racial tensions which erupted in the wake of George Floyd's death. Sanders went on to call Trump a fraud citing Trump's promise to stand with working families before he won the office, and who after taking office gave huge tax breaks to the wealthy, tried removing discriminatory protections currently in place for people with pre-existing health conditions, and proposed massive cuts to Social Security, Medicare and Medicaid.
Likely many of Trump's supporters aren't aware of the issues discussed in Sanders remarks, because information that doesn't portray the president in a positive light seems rarely [ever?] reported on Rupert Murdoch's Fox News, NY Post and Wall Street Journal.
---
The Battle for the Soul of America Begins
Democrat Joe Biden Puts Forth a Bipartisan Convention & Makes a Strong Case for Uniting America Again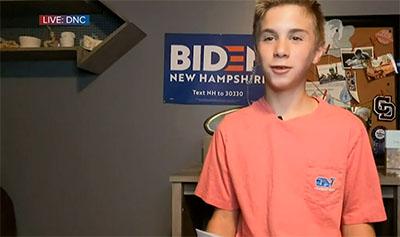 August 21, 2020 / NYC Neighborhoods / Dysfunctional Presidency of Donald J Trump / News Analysis & Opinion / Gotham Buzz NYC. Continued.
Tuesday - Republicans John McCain & Colin Powell, Bill Clinton & Dr. Jill Biden
On Tuesday night, actress Kerry Washington, one of the stars of Scandal, hosted the DNC virtual convention.
Cindy McCain, the wife of the late Republican Senator John McCain, provided footage of her husband for a video which showed how McCain and Joe Biden - although from opposite sides of the political aisle in Washington - were also good friends. This seems not unlike what former Governor John Kasich was saying - that there was a time when Americans could agree to disagree and remain respectful of one another and thus could keep moving the nation forward through compromise.
Former Bush Secretary of State and Four Star General, Republican Colin Powell also came out in support of Joe Biden, saying,
" ... Our country needs a commander in chief who takes care of our troops in the same way he would his own family. For Joe Biden, that doesn't need teaching. It comes from the experience he shares with millions of military families--sending his beloved son off to war and praying to God he would come home safe ..."
Powell continued,
" ... Today, we are a country divided, and we have a president doing everything in his power to make it that way and keep us that way. What a difference it will make to have a president who unites us ... "
On Tuesday there was another full schedule, this night was comprised of a speech by former Republican Secretary of State Colin Powell, and a video done with permission of the wife of the late Republican Senator John McCain. There were Democrats there too [: ) ]including Senator Schumer and Congresswoman Ocasio-Cortez of New York, former Secretary of State John Kerry and former Attorney General Sally Yates of the Obama Administration, former President Bill Clinton and Joe Biden's wife, Dr. Jill Biden.
I enjoyed Dr. Biden's talk. She's a teacher and talked about how much our lives have changed since CoVid arrived. She then talked about her relationship with Biden and their family history. It was a warm, human look into their lives that began to pull the layers back on the personal life of the Democratic party nominee. She talked about how Joe Biden was an involved family man, a good father and husband, who took an active interest in his children's and grandchildren's lives. She talked about the two biggest tragedies of Joe Biden's life, when he lost his first wife and a child in a car accident, and then decades later lost his son Beau, an Iraqi war veteran, to cancer. She told us how her husband kept moving forward, because he was dedicated in his calling in life ... and interested in fighting for the people he served. Overall it was a touching presentation, and Jill Biden succeeded in not only making a strong case for her husband, but for herself as well as the nation's next First Lady.
Wednesday - Hillary, Warren, Obama & Kamala Harris
On Wednesday, actress Tracee Ellis Ross of Girlfriends and Black'ish was the host.
The big names on Wednesday included Massachusetts Senator Elizabeth Warren, former Secretary of State Hillary Clinton, former president Barack Obama and Biden's choice for Vice President Kamala Harris.
Hillary Clinton reminded people that their votes do make a difference. Clinton lost three electoral college states - and thus the election - by a total of 77,000 votes.
Senator Warren talked about some of the plans put forth by Biden for the Democratic party including creating decent paying union jobs and clean energy, rebuilding our infrastructure, making the wealthy pay more [by repealing Trump tax breaks for the rich], and investing in the people of the nation - including childcare.
And former president Obama levelled a pretty damning critique of the Trump presidency saying,
"... Donald Trump hasn't grown into the job because he can't, and the consequences of that failure are severe. 170,000 Americans dead. Millions of jobs gone, while those at the top take in more than ever. Our worst impulses unleashed, our proud reputation around the world badly diminished, and our democratic institutions threatened like never before..."
Obama endorsed Joe Biden and Biden's choice for Vice President Kamala Harris, telling us that they care about the nation and the principles upon which America was founded, including voting rights and rule of law.
And the night ended with Democratic Vice Presidential candidate Kamala Harris giving her acceptance speech. Harris is the first woman of color and Asian to run on the ticket of a major party, And she's the third woman to run for vice president on the ticket of a major party [Geraldine Ferraro and Sarah Palin were the other two / Hillary Clinton was at the top of the ticket in 2016]. Harris talked about growing up as the daughter of immigrants in California, the importance of family and her work as an attorney in California.
Add in piece where Kamala talks about the women who came before her like Shirley Chisholm.
Two African American Mayors were also featured. Lori Lightfoot of Chicago and Muriel Bowser of Washington, D.C.
Thursday - Headlines, Bloomberg & Stutterers Braydon Harrington & Joe Biden
The last night was hosted by Julia Louis-Dreyfus of Seinfeld.
Add in piece with former Democratic presidential nominees talking about Biden.
The last night, to my surprise, was the best. Actually the whole Democratic convention was a pleasant surprise. It was nice to see real Republicans and real Democrats come together respectfully - not sensationally. There's an old saying that says that,
"Good government makes terrible headlines."
I think Trump has proven the corollary to that, which is that,
"Horrific governance makes daily headlines."
Global propagandist, Keith Rupert Murdoch, has been cashing in on the Trump headlines via his Fox News, NY Post, Wall Street Journal, the Sun [UK], the London Times [UK] and the Australian.
Former NYC Mayor Michael Bloomberg did a good job of doing what Trump used to do on his reality TV show. He told the Donald why the American people were going to fire him. Bloomberg framed the reasons for his coming dismissal in a job review like fashion.
Bloomberg said, would you rehire someone who ran your company into the ground? Would you rehire someone who always does what's best for him, even if it's bad for the company? Would you rehire someone who puts your life in danger? Would you rehire someone who spends all their time tweeting instead of doing their work? If the answer is no, Bloomberg queried, why would you vote for Donald Trump this November?
Bloomberg also talked about Trump's six bankruptcies which left a lot of contractors and creditors high and dry, and did some other economic comparisons of the 'Trump economy' versus the Obama / Biden economy and it shouldn't be hard to figure who came out on top.
One of the most touching pieces of the show was a small vignette about a young lad from New Hampshire, who like Joe Biden, has a neurological disorder - they're both stutterers. Braydon Harrington is a 13 year old who met Biden at a campaign event in Concord last February. Biden told Harrington that they were members of the same club - the club of stutterers. Braydon made a touching pitch for Biden, who reached out to him while campaigning in New Hampshire and encouraged Harrington not to let the stutter define him. That's advice Joe's father had given him many years ago. Harrington said we need someone we can look up to.
'Joe Time' - Biden is a Stutterer who didn't let his Handicap Define Him
And then it was "Joe time" [someone else used that phrase during the convention].
What followed was a video encapsulating some of Biden's life as a son, a brother, a father, husband, lawyer, Senator and Vice President. It succeeded in doing what it was likely intended to do - it left me with the impression that Joe Biden is a good, solid experienced government official who cares. They didn't mention Donald Trump even once in the video, but the contrast was clear.
In the video they tell the story of Biden's son Beau, an Iraqi war veteran, who passed away with cancer a few years ago. You can tell the whole Biden family still misses him.
And then came Biden's acceptance speech which was pre-recorded, possibly to avoid the stutters that have afflicted him in public speaking events all of his life. It was the best speech I've ever heard Joe Biden give.
A few of the notable points he made were as follows, which I have paraphrased.
"His dad has told him that he didn't expect the government to solve his problems - but he sure as hell expected those in government to understand them."
"The tax code shouldn't reward wealth more than it rewards hard work."
It became clear to Biden that,
"... the next election was going to be a battle for the soul of the nation, after Trump said there were good people on both sides at the Charlottesville rally of white supremacists ..."
And he said that,
"America has always been about possibilities."
Battle for the Soul of the Nation
Joe Biden took his father's advice seriously, because what person with a stutter would choose to go into law and politics and succeed? Public speaking is such an important part of these two professions, and yet somehow Joe Biden has won so many elections - not on his speaking ability - but on his accomplishments, his character and his earned personal references - all of which were present at the Democratic virtual Convention this week.
By contrast, Donald Trump is a rich boy who inherited his wealth, allegedly hired someone to take his SATs, threatens anyone who would release his academic transcripts, has been involved in six bankruptcies, allegedly cheated numerous employees and contractors, reportedly has had mob ties throughout most of his life, allegedly cheats on his wives and lies to the public at a rate never seen in American history. And after promising to release his tax returns on the 2016 campaign trail, Trump has spent the past four years fighting tooth and nail to keep his taxes from being revealed to the American public. What's he hiding? The Russia hoax?
Think about this - Trump wants you to give him the power to send you to war / your death - and yet he won't let you see his tax returns.
Joe Biden seems to have very clearly articulated what this election is about and the choice couldn't be more clear.
It's a battle for the soul of the nation. And the battle has begun.
---
---