Things To Do Labor Day Weekend
NYC Schools to Re-Open Monday 9/21, MTA Resumes Collecting Bus Fares, Theaters Open, Museums Open, Swimming Pools Open thru Labor Day 9/7, Shopping, Outdoor Dining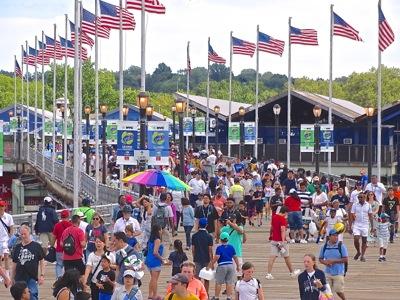 September 1, 2020 / NYC Neighborhoods / Things To Do NYC / Gotham Buzz NYC.
Weather. The temperatures highs will be in the low to mid 80's, while the lows will be in the mid to high 60's all weekend. There's a 20% chance of rain on Friday and Monday, and less than that on Saturday and Sunday. Winds will be 5 - 10 mph all weekend. Humidity will be in the 50% - 70% range.
The photo at right was taken at the U.S. Open in a prior year.
New Yorker CoVid Tests, Deaths & Requirements to Visit Public & Private Places
We've come a long way since NYS and NYC went into a lockdown in March of 2020. For over three weeks NYS has had less than 1% of CoVid positive tests, while testing a record number of people. Deaths have also dropped below ten a day. To date 439,000 New Yorkers tested positive, so over two percent of us. And 32,541 New Yorkers have died from CoVid, so 7% of those who tested positive died.
Attendance to NYC Public Schools will require some testing and masks. Masks and hand sanitizer will be available but try to bring your own. Call 311 or visit the schools.NYC.gov website for full CoVid school details.
Masks and social distancing are also required to ride the MTA buses, subways and to enter any business. If you forget your mask, you might be able to secure one through an MTA booth or a nearby business. The museums generally ask visitors to secure tickets in advance, as capacity threshholds have been lowered, so the ticketing is a way to ensure you'll be admitted. Sick people may be barred from entry.
NYC Postpones Schools Reopening to Monday 9/21 & MTA Buses Resume Fare Collection
Mayor de Blasio, in an effort to avert a teachers' strike, has postponed the reopening the NYC public schools until Monday, September 21st in order to address outstanding teacher work safety concerns.
The MTA buses discontinued charging fares on March 23rd, boarding passengers through the back door to protect drivers. Effective Monday, August 31st the MTA began collecting fares again.
NYC Beaches Open in Four Boroughs
The NYC public park beaches at Coney Island in Brooklyn, in the Rockaways in Queens, Orchard Beach in the Bronx and South Beach and Midland Beach on Staten Island are all open this weekend.
---
Things To Do Labor Day Weekend
NYC Schools to Re-Open Monday 9/21, MTA Resumes Collecting Bus Fares, Theaters Open, Museums Open, Swimming Pools Open thru Labor Day 9/7, Shopping, Outdoor Dining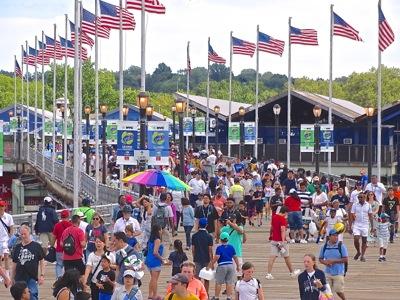 September 1, 2020 / NYC Neighborhoods / Things To Do NYC / Gotham Buzz NYC. Continued.
Some Swimming Pools Open in Each Borough
In Brooklyn the Betsy Head Pool, the Kosciuszko Pool and the Sunset Park pools are open. In the Bronx the Mullaly, Crotona and Haffen pools are open. In Manhattan the Wagner pool, Hamilton Fish Pond, Highbridge, Jackie Robinson and Marcus Garvey pools are open. In Queens the Astoria, Liberty and Fisher pools are open. And on Staten Island the Lyons and Tottenville pools are open. NYC public park pools are tentatively set to close at the end of the day on Monday, September 7th - but given the recent postponement of the opening of the NYC public schools - the closing might be postponed.
I believe this is the last weekend that beaches are open for swimming.
Tennis courts, basketball courts and dog walks are also open in NYC parks.
The Highline Park reopened Thursday, July 16 in Chelsea at Gansevoort Street with one way walking up to 23rd Street. It's capacity limited and will be open from 12 noon to 8 pm and you're encouraged to reserve a spot.
The New York Botanical Garden reopened to the general public on Tuesday, July 28th.
The Wildlife Conservation Society reopened the Bronx Zoo, Central Park Zoo, Prospect Park Zoo and Queens Zoo to the general public on Friday, July 24th. The New York Aquarium opened Thursday, August 27th.
Public Golf Courses Open in Each Borough
On Staten Island there are three golf courses including Silver Lake, La Tourette and South Shore. In the Bronx the gofl courses include Van Cortlandt Park and Mosholu in Van Cortlandt Park and Pelham Bay / Split Rock in Pelham Bay Park. In Manhattan there's a driving range at Chelsea Pier. In Queens there are four courses including Kissena in Flushing Meadows Corona Park, Forest Park, Clearview and Douglaston. And in Brooklyn there's Marine Park, Dyker Beach golf courses.
NYC Stores & Long Island & New Jersey Shopping Malls Open
Most NYC stores are open albeit at lower capacities or curbside pickup. Most, if not all, of the Long Island and New Jersy shopping malls have been open for a while.
Art, History and Natural History Museums
The Museum of Modern Art reopened Thursday, August 27th, and the Met Museum reopened Saturday, August 29th. MoMA is free through 9/27, but you must rsvp. They may have shortened hours, so check their website.
The Whitney Museum is reopening Thursday, September 3rd and offering pay what you wish admission through 9/28, but you must rsvp. They seem to have shortened hours, so check their website.
The 911 Memorial waterfall which reopened Sunday, July 5th to the public between the hours of 1 and 8 pm.
The 911 Museum will reopen for for the anniversary of the event and then remain open thereafter.
The American Museum of Natural History reopens on Wednesday, September 9th.
As mentioned in prior posts, most of the major performing arts centers like Lincoln Center and Carnegie Hall have cancelled their fall seasons.
Restaurants, Major League Sports & Movie Theaters
NYC restaurants appear to be doing fairly well with the piazza style dining that began earlier this summer. This will continue through October and NYS is looking at how to open dining inside restaurants as the colder weather approaches.
The U.S. Open began Monday at the Billie Jean USTA Center in Flushing Queens, but is not be open to the general public.
The NBA, NHL, MLB and MLS are all back in session, the former two trying to complete their seasons with playoff / championship tournaments, while the latter two are trying to maintain some level of play to actually have a 2020 season. The NFL season is scheduled to begin Thursday, September 10.
Movie theaters have reopened in other parts of the nation in mid to late August, operating at 50% of capacity, but not NYC. Stay tuned, as within a few weeks we should have some measure of understanding what measure of risk vis a vis CoVid theaters represent.
Many NYC Public Libraries Open for Curbside Pickup
On Monday, July 13th twenty-two of the public libraries in all five boroughs reopened. You can order materials online and pick them up at the library. The open libraries include:
Queens - Bayside Library, Bellerose Library, East Elmhurst Library, Kew Gardens Hills Library, Laurelton Library, Long Island City Library and Peninsula Library.
Brooklyn - Bay Ridge Library, Bushwick Library, Kings Highway Library, Central Library, New Lots Library, Flatbush Library and the Red Hook Library.
Manhattan - George Bruce Library, Epiphany Library and the Mid-Manhattan Library which has been renamed to Stavros Niarchos Foundation Library (SNFL).
Bronx - Belmont Library, Francis Martin Library and the Parkchester Library.
Staten Island - Richmondtown Library and the Todt Hill-Westerleigh Library.
Special Requests - A Few Unique Events
Saturday, September 5. A Durational Performance with the Sea at Hallets Cove in Long Island City, Queens from 6:43 am to 7:09 pm, as the artist stands in a tidal area for a full tide cycle so the water can slowly engulf her body and then reveal it again.
Now through September 7th. Dwelling is a window art exhibit at 3009 35th Avenue in Astoria from 10 am - 8 pm. On Saturday the artist will be there in person from 10 am - 12 noon.
Things are slowly returning to normal.
Have a nice Labor Day weekend.
---
---