The Mirage of the 'Trump Economy' Part II
Australian born Billionaire, Rupert Murdoch Seems to use the Wall St Journal, NY Post & Fox News to Create the Illusion that Trump has Some Sort of Economic Magic Touch, but the Truth is $6 Trillion in New Debt & $3 Trillion in Federal Reserve Bond Purchases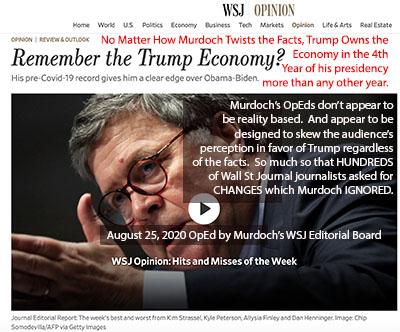 September 21, 2020 / NYC Neighborhoods / Things To Do NYC / News Analysis & Opinion / Gotham Buzz NYC.
Few real journalists - if any - have ever honestly accused Rupert Murdoch and most of the large media brands he controls in our nation, of being bastions of truth. In fact, it would seem, quite the opposite - including by some of the people who work for him.
When Murdoch purchased the Wall Street Journal in 2007 [fact check], there were concerns that he would turn it into another one of his propaganda rags. Shortly after the acquisition, a number of Wall Street Journal reporters fled to Bloomberg News. In fact dozens of them. Those journalists that remained at the Wall Street Journal, had to learn how to operate for an Australian born billionaire who seems to delight in misleading the masses - rather than informing them - in order to profit from the audience's ignorance, to which Murdoch media appear to contribute greatly. Murdoch is kind of like a street hustler whose propagandists do sleight of tongue [hand] tricks, while his political accomplices [puppets like Trump & McConnell] pick the pockets of the audience [Americans].
Not Your Father's Wall Street Journal - A Murdoch Propaganda Rag?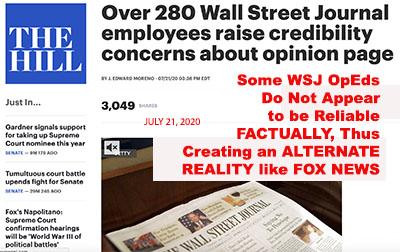 This summer over 280 journalists at the Wall Street Journal, became concerned that Herr Murdoch - like Nazi propagandist Herr Goebbels before him - was corrupting the Wall Street Journal into a propaganda outlet, in advance of the election this November. While Murdoch's distortion of the truth in the Wall Street Journal appears to have been going on for years, the event that immediately precipitated the letter, was a misleading - even deceptive - Op Ed by Vice Presidential candidate Mike Pence.
In the letter they had a few simple requests. A July 21, 2020 report in the Wall St Journal states,
"... [The WSJ's] Opinion's lack of fact-checking and transparency, and its apparent disregard for evidence, undermine our readers' trust and our ability to gain credibility with sources ..."
" ... The letter cites several examples of concern, including a recent essay by Vice President Mike Pence about coronavirus infections ... "
".. [and that] WSJ journalists should not be reprimanded for writing about errors published in Opinion ..."
"... suggests removing opinion pieces from the "Most Popular Articles" and "Recommended Videos" lists on the website, and creating a separate "Most Popular in Opinion" list..."
" ... letter highlighted was an opinion article titled "The Myth of Systemic Police Racism," which the letter's authors said was one of the paper's most read articles in June. The article argued that the "charge of systemic police bias was wrong during the Obama years and remains so today." The letter says the piece "selectively presented facts and drew an erroneous conclusion from the underlying data..."
i have reported on similar truth distortions by Rupert Murdoch's media, including Fox News, the NY Post and many other media outlets controlled by him in our section about Rupert Murdoch and the Rise of the 21st Century Propaganda Press, which you can find by clicking this link.
---
The Mirage of the 'Trump Economy' Part II
Australian born Billionaire, Rupert Murdoch Seems to use the Wall St Journal, NY Post & Fox News to Create the Illusion that Trump has Some Sort of Economic Magic Touch, but the Truth is $6 Trillion in New Debt & $3 Trillion in Federal Reserve Bond Purchases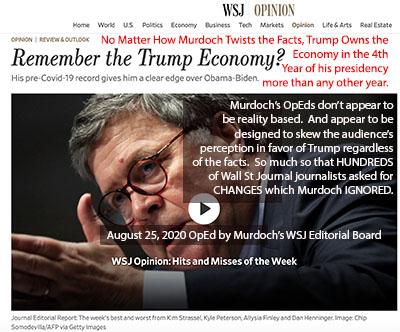 September 21, 2020 / NYC Neighborhoods / Things To Do NYC / News Analysis & Opinion / Gotham Buzz NYC. Continued.
Murdoch's Propaganda for Profit Machine
A Stateless Hostile Foreign Power Operating in Our Midst
Their concerns were ignored at best or beaten back. But apparently they were justified, as the Wall St Journal seems to have become another Murdoch mass media manipulation machine, albeit the propaganda is proffered in a slightly more insidious manner than the demagogic sledge hammer that Fox News and the NY Post use.
The Wall St Journal Op Ed letters written by well known and respected experts appear to be fact based - while those provided by what seems the Murdoch's anti-truth squad [aka the WSJ Editorial Board], appear to be written in pursuit of an Australian born billionaire's agenda, which is frequently either in support of a Murdoch propaganda asset, or to attack or undermine a challenger to a Murdoch supported propaganda asset. I've come to think of Rupert Murdoch as a stateless hostile foreign power. Will Bill Barr consider Murdoch for charges of sedition, because undermining our political system seems to be what he's doing.
Murdoch's media have long labeled the American economy the 'Trump Economy' and the NYSE, NASDAQ and S&P 500 the 'Trump Stock Market' as they were rising, even though the real reasons behind the economic growth have as much to do with the $3 trillion plus that the Federal Reserve has splashed into the economy, and the $5 trillion in BORROWED tax cut funds and federal stimulus payments that were also splashed into the economy. That's $8 trillion in stimulus [for those who keep track of these things I know the $2.5 trillion in tax cuts was for ten years, but I'm not adding the $2 trillion in deficits racked up in the first three years of the Trump presidency so this should cancel out]. This is the largest single set of transfer payments made by a president from American children to some of the richest people on the planet, in such a short period of time.
Reality by the Numbers - Wasted Trillions?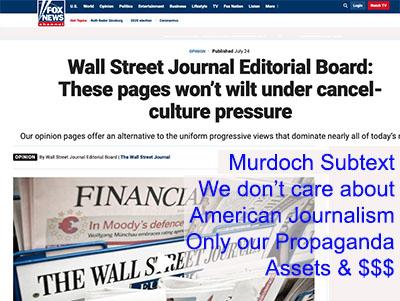 The U.S. economy averaged $20.5 trillion the past three years and is on track to be smaller this year at $19.5 trillion. So if you divide the amount of stimulus payments, tax cuts and Federal Reserve corporate bond purchases [$2.5 + $2.5 +$3=$8] into $81 trillion for the full four years, get about 10%. So if Americans got full bang for the buck, the U.S. economy should have been up 10% per year - not about flat with what is was the first year Trump took office.
What did we, America, get for all of that debt and Federal Reserve increase in liabilities? Little to nothing it seems. German Chancellor Angela Merkel negotiated for equity in the Lufthansa for the bailout of the German airline, and yet Trump - who appears to claim to be one of the world's greatest deal makers - apparently got nothing for taxpaying Americans in return for all those trillions in cash.
Does Rupert Murdoch Fool Some of the People All of the Time?
The whole thing seems one big con, where billionaires like Rupert Murdoch and Donald Trump walk away far richer, while the rest of the nation finds itself deeper in debt. Have Murdoch's Wall Street Journal readers, combined with his Fox News, NY Post, Barron's and MarketWatch audiences, been misled into thinking that Trump is some kind of economic genius, when in reality it seems that he - like Murdoch himself - are just very good con men?
The following quote is attributed to Lincoln, who reportedly included it in a speech, but according to Quote Investigator it was first published in 1684 by Jacques Abbadie, a French author.
"You can fool some of the people all of the time, and all of the people some of the time. But you can't fool all of the people all of the time."
In which group do you think the believers of Murdoch's Wall St Journal, Fox News, NY Post & the fans of Donald Trump best fit?
---
---