The Sexual Harassment Allegations Against Cuomo
The Sheer Number of Allegations Appears to Indicate Something is Not Right
But This Report is Not About Judging Cuomo, Either Way, but Urging People to Let Due Process Play Out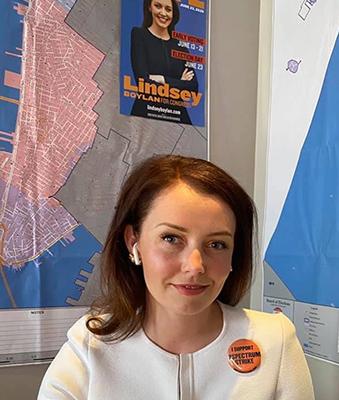 March 15, 2021 / US Politics / NYC Neighborhoods / News Analysis & Opinion / Gotham Buzz NYC. Part II.
I'm going to explore each accuser's allegations while providing a bit of background on each of them. I have found some of Cuomo's accusers more credible than others, in what I would call the integrity of the whole situation. That said, the sheer number of allegations certainly lends credence to the notion that something is not right in how Cuomo is managing his staff at the Capitol and in the Governor's mansion.
One's attractiveness to the opposite sex, can cut both ways. It can be used: 1) as a powerful tool to obtain special favors, wage increases and promotions one didn't earn, or 2) it can attract unwanted advances that feel threatening to one's person and livelihood. In the former case (#1), one's co-workers or competitors are often the victims by being passed over for promotions, travel and other opportunities. In the latter case (#2), one is a victim / target of unwanted sexual advances by virtue of their god given beauty.
While in Business School, one of my very best friends - who coincidentally was named Murdoch [but no relation to Rupert] - told me that his father had told him that
"... it was more important to be respected, than liked ..."
We both had to seriously contemplate this advice, as this friend was immensely popular. He had asked me to help him unravel what seemed his father's riddle. Ultimately In due time I concluded that my friend's father was right - it is more important to be respected than liked.
I think that is also good advice for women in the workforce, and provides a compass for how one should conduct oneself. Not every man out there is a gentleman, and oftentimes successful men are also the badly behaved men, some can even be assholes like - let's say - Donald Trump. And as we've seen over the past four year presidency, both the men and women who reported into him were certainly psychologically abused. And I won't even begin to contemplate Melania's situation.
So with that in mind, let's take a brief look at each of Cuomo's accusers and their allegations regarding the Governor.
I. Lindsey Boylan (36) - Deputy Secretary for Economic Development & Special Advisor to the Governor
Lindsay Boylan was the first woman to come forward and charge Andrew Cuomo with sexual harrassment in a tweet in December of 2020. She worked for Cuomo from 2015 - 2018 as the Governor's Deputy Secretary and Advisor, during which time she alleges she was continually harassed. Boylan is now running for Manhattan Borough President.
In the accounts of Boylan's claims I've seen published she indicated Cuomo would touch or brush against her arm or leg, compare her to an ex-girlfriend, make unwanted sexually charged statements or inquiries, and on one occasion kissed her on the lips without her permission following the award of a promotion.
Boylan first went public with her claims in December 2020, telling the world that she was speaking out now, because she felt that the public should know this, as Andrew Cuomo was up for consideration for the position of the U.S. Attorney General. This seemed reminiscent of Christine Blasey Ford stepping forth in 2018 with allegations of attempted rape by Supreme Court nominee Brett Kavanaugh. But attempted rape is a far more serious allegation than harassment / inappropriate workplace behavior.
At the time Boylan said she didn't want to speak to any journalists about the explosive claims. This set off my spidey sense, because it seems unfair to think that you can make such explosive, career busting allegations without expecting reporters to want to dig deeper for the full context of the story.
Cuomo denied the allegations.
Last year [2020] Boylan was beaten in the Democratic congressional primary. It would seem to be a fair question to ask whether she is angry / blames Cuomo for her loss, believing that perhaps he did not help her enough? One might also ponder whether she is she using the explosive claims of sexual harassment against Cuomo to gain publicity for her current campaign for Manhattan Borough President, while simultaniously by capitalizing on / reaching out to the #MeToo movement?
In what appeared Cuomo pushback, some of Boylan's personnel files were disclosed to the press, indicating there may have been some issues surrounding to her departure from the Cuomo Administration, regarding her management of employees working for her. Boylan says this is part of a Cuomo intimidation / smear campaign.
Boylan said she was harrassed most or many of the nearly four years she worked for Cuomo [2015 - 2018]. Like many women, she hesitated and waited until [two] years after her departure before going public.
The #MeToo movement advocates that all women's sexual harassment claims should be believed, as for centuries women's sexual harrassment claims have been discredited and ignored.
Yet not long after she went public, she threatened to start a women's PAC to torch Schumer and other New York politicians who did not come out to support her in her allegations sooner. The gap in her announcement and in Schumer and other politicians' speaking out in her favor, was about two and a half months [late Dec 2020 to early Mar 2021]. Boylan also published a threatening tweet castigating both President Biden & Vice President Kamala Harris for withholding judgment as well, before she deleted it.
Boylan's vehement 'PAC fundraising' response, caused me to stop to ponder the full nature of Boylan's nearly four relationship with Cuomo, which seems to have greatly benefitted her with promotions and travel, until it did not. I was also reminded of how Donald Trump and Senators Josh Hawley and Ted Cruz opportunistically used 'Stop the Steal' to fundraise PAC money for themselves off of an emotional, voter 'patriotism' hot button issue.
As with Janice Dean's allegations / crusade / soft gubernatiorial campaign launch, where Shakespeare's quote in Hamlet "The lady doth protest too much me thinks" seemed to resonate, as I again found myself asking if this quote also has some relevance to Boylan's case. See prior report for full explanation regarding Janice Dean.
Boylan's allegations would be given due consideration in an investigation. And we may learn much more about hers and Cuomo's relationship ... and it's possible that it could be highly toxic to both of them.
---
The Sexual Harassment Allegations Against Cuomo
The Sheer Number of Allegations Appears to Indicate Something is Not Right
But This Report is Not About Judging Cuomo, Either Way, but Urging People to Let Due Process Play Out
March 15, 2021 / US Politics / NYC Neighborhoods / News Analysis & Opinion / Gotham Buzz NYC. Part II - Continued.
II. Charlotte Bennett (25) - Executive Assistant & Health Policy Advisor
Charlotte Bennett's allegations center around conversations with Cuomo, where he probed into her personal life and sex life and allegedly hinted at being open to having a sexual relationship with her [a proposition?]. Bennett met today, Monday 3/15/ 21 with investigators for four hours, providing them with 120 pages of documents that reportedly documented a hostile culture in the Governor's office. As near as I can tell, Bennett, who is a fairly recent college graduate [a few years ago], worked for the Governor's office for a couple of years ending in November 2020.
Governor Cuomo says that he was making jokes that were misinterpreted by Bennett as unwanted flirtations, and that he never acted inappropriately. If Bennett's allegations are true, then it seems Cuomo did act inappropriately.
I was always told these situations should be reported to Human Resources aka HR, but I also understand that oftentimes HR is seen as too tightly aligned with senior management. So what is a young woman to do? Bennett decided to speak to the press and the people, after someone else came forth.
III. Anna Ruch (33) - Didn't Work for Cuomo but Met him at a Wedding
Ruch is a former Biden campaign worker who said that Cuomo placed an unwanted kiss on her cheek, even though she pulled away from him, and a friend captured the encounter in a photo.
Given the photo this seems true, and is an aggressive social gesture on Cuomo's behalf. But she didn't work for him, so what's the proper remedy - for guys or for that matter women - acting inappropriately, to this degree, after a couple of drinks? Let's call this a key discussion point surrounding many - but not all - of these allegations. When does inappropriate behavior cross the line into something else requiring more than an on-the-spot rebuke or reprimand? And did Governor Cuomo cross that line and with whom?
An investigation will provide us with more detail and visibility into the situations brought to light with the allegations. And then we can make a better informed decision.
IV. Anna Liss - Policy & Operations Aide
According to Wikipedia,
" ... On March 6, 2021, Ana Liss, a policy and operations aide to Cuomo from 2013 to 2015, became the third former aide to accuse Cuomo of sexual harassment. Liss said Cuomo called her "sweetheart," touched her on her lower back, and also kissed her on the forehead when standing up behind her desk ... "
Charlotte Bennett said that Cuomo had someone else sit in for him to attend the state mandated harassment training. If true, given the numerous allegations reported since December, this seems to have been one of a string of errors in judgment on his part.
V. Karen Hinton (63) - Former Press Aide While Cuomo was Secretary of HUD
Someone who is currently a person working in the de Blasio's administration, made allegations which indicated inappropriate behavior on Cuomo's behalf in a hotel room on a 2004 business trip .
CHECK / ADD DETAILS.
VI. Anonymous - Executive Mansion Aide ***
According to Wikipedia,
" ... On March 9, 2021, The Times Union reported an anonymous Executive Mansion aide had accused Cuomo of calling her into his office, reaching under her dress, and fondling her. Cuomo denied the allegations ... "
If true, this action rises to the level of criminality. The Albany police department is investigating. So far the anonymous person doesn't want to file a complaint. Apparently the woman still works in the Capitol, so if true, Cuomo certainly knows who she is.
Why doesn't she want to come forward? Well, for starters an incredible amount of scrutiny will be put upon her and her personal life. This will put pressure on her and everyone around her. She could be ostracized by those she works with. She could even be threatened by outside nuts and possibly lose her job.
Or, if you believe Cuomo's denials, she doesn't want to come forward because it's not true. Since it happened at the Executive Mansion, one should be able to check the visitor / employee logs.
Allowing an investigation to be completed would give us all answers as to what happened here and what the right corrective action might be.
VII. Jessica Bakeman (about 34) - Didn't Work For Cuomo but Covered him for Politico
Jessica Bakeman was the seventh woman to come forward with allegations of harassment. She never worked for Cuomo and says he never intimated he wanted to sleep with her, but inappropriately touched her [touched her without her permission] in 2012 and in 2014. In the 2014 incident she said that he held her arm tightly in a social situation, that made her feel uncomfortable.
People who wield power sometimes do these things - not just to women - but to men too. It's not appropriate, but every uncomfortable situation doesn't need to rise to the level of a 'federal case' which is an expression that the free dictionary defines as,
" ... [to make] federal case (out) of (something) [means] To exaggerate or build up the importance of something; to make a big deal out of something. The phrase is often used to complain that someone is exaggerating a problem or alleged wrongdoing. So I ate your leftovers. Geez, don't make a federal case out of it! "
If this complaint weren't accompanied by the six prior ones, it would likely have been easily be dismissed, which may explain why prior to now, Bakeman didn't mention it. But now that there are six other women who feel, in some way, that Governor Cuomo has mistreated them, Bakeman's allegations lend credence to the other claims.
Rupert Murdoch's Mendacious Media's Distorted Narratives & Character Assassination
Rupert Murdoch's mendacity machine - including Fox News, the NY Post and far less so, the Wall Street Journal - has been on a non stop assault of its own vis a vis Governor Cuomo's reputation with respect to his handling of the Corona Virus pandemic [see prior story about Janice Dean], as well as about these harassment allegations. It seems that nearly daily there are about a half dozen negative reports attacking Cuomo about the allegations made by the women listed above, as well as allegations and attacks made by Murdoch's Fox News Janice Dean regarding Cuomo's handling of the Corona Virus pandemic.
Naturally, the Australian born billionaire propagandist, doesn't incite mobs to commit vigilante justice, only to see the mob pause to deliberate over ALL of the facts. Murdoch style vigilante justice seems akin to what the Old South hangings were all about. Deprive the towns people of the whole truth, in order to get your hanging, and bury the truth with the hanged.
That's also what the death penalty does. It deprives the denizens of cities, states and nations of - the truth. Because oftentimes the truth - like justice - sometimes takes a long while to come out. For example, a couple of decades ago Murdoch's NY Post seemed to rush the Central Park Five to 'justice'. Many years later, after the DNA technology improved, law enforcement and the District Attorney's Office were able to acquit all of the Central Park Five for a crime they did not commit. And I'm pretty sure Murdoch's NY Post didn't ever apologize to these men.
When is Somebody Going to Start Challenging Rupert Murdoch's Fox News FCC TV Licenses?
When is somebody going to start challenging the FCC licenses of the Australian born billionaire vigilante, Rupert Murdoch, and his Fox News propaganda press?
Cuomo Harassment Conclusion - Given the Allegations Date Back Years, Why Not Wait a bit Longer to Allow the Attorneys & Law Enforcement do their Work to get ALL the Facts, so the Electorate can Make an Informed Decision?
I think all of these women are due their day in court, but so is Andrew Cuomo.
Is Cuomo guilty of the sexual harassment charges? Maybe and maybe not.
Are the charges criminal? So far it appears that only the anonymous allegation seems to rise to the threshhold of criminality, but so far that accuser is unwilling to come forth and file a complaint.
The investigation and due process will give us all a chance to see what's what and who is who, and then we can all make a better informed decision about how to proceed.
What angers me - and motivated me to write these reports - is how all of these Democratic lawmakers fell prey to Murdoch's mendacity machine, and were so dismissive of two of our most basic constitutional rights [5th & 6th Amendments - see March 12th report] which include due process, innocent until proven guilty, and the right to face one's accusers.
I'm withholding judgment of Cuomo pending a full review of the facts, and hope you will do the same.
Have a Happy St. Pat's Day
Enjoy your week. Scroll down to the March 8th report where you'll find a report on St. Patrick's Day pubs and restaurants in all five boroughs.
---
---