U.S. Federal Government & Politics - Nation
This is a Look at What's Going on in the U.S. Federal Government in Washington, D.C. Including Following Various Federal Office Seeking Candidates & Campaigns on an Ad Hoc Basis
November 29, 2021 / NYC Neighborhoods / NYC Politics & Government / News Analysis & Opinion / Gotham Buzz NYC.
The policies and programs established by the U.S. federal government affect all of us directly and indirectly. This is an attempt, within the limitations of our resources, to keep our audience apprised of some of the key players, programs, policies and with an eye toward calling out the self-interested, profiteer influenced puppet pols who are working for the few - including themselves - not the people.
Oftentimes the bad ones are clever showmen or women, who know how to manipulate the weak-minded and / or the ignorant, uninformed or low information voters' perception of events. The deceitful profiteers and their puppet pols do this to fill their already full pockets, by convincing the culturally ignorants of our electorate, to vote against their own self interests - and those of the nation - by pandering and exploiting these people's biases.
---
U.S. Federal Government & Politics - Nation
This is a Look at What's Going on in the U.S. Federal Government in Washington, D.C. Including Following Various Federal Office Seeking Candidates & Campaigns on an Ad Hoc Basis
September 16, 2020 / NYC Neighborhoods / NYC Politics & Government / News Analysis & Opinion / Gotham Buzz NYC.
The policies and programs established by the U.S. federal government affect all of us directly and indirectly. This is an attempt, within the limitations of our resources, to keep our audience apprised of some of the key players, programs, policies and with an eye toward calling out the self-interested, profiteer influenced puppet pols who are working for the few - including themselves - not the people.
Oftentimes the bad ones are clever showmen or women, who know how to manipulate the weak-minded and / or the ignorant, uninformed or low information voters' perception of events. The deceitful profiteers and their puppet pols do this to fill their already full pockets, by convincing the culturally ignorants of our electorate, to vote against their own self interests - and those of the nation - by pandering and exploiting these people's biases.
---
1667
Giving Thanks on Thanksgiving Day
My Top Five Thanks of Things that Happened in NYC & the USA
November 24, 2021 / NYC Neighborhoods / NYC Holidays / Gotham Buzz NYC.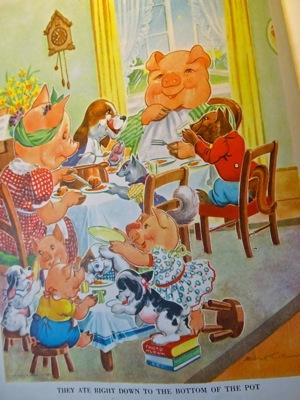 Well, it's been some year thus far. And the good news is that there is much for which to be thankful.
Thanks #1 - We're Still a Democracy
A lame effort to overthrow our democracy failed. This is in spite of seeming to have the support of the best propagandists on Fox News, in tandem with what appears to be the involvement of some of the key players of what seems to be an emerging ideology I'd describe as American Fascism or the 'New Trump Republicans'.
The key players of this new brand of Republican ideology seemed to include the likes of Steve Bannon, Rudy Giuliani who Murdoch's Fox News labels as America's Mayor, Sydney Powell, as well as Trump wannabee's - Senators Ted Cruz and Josh Hawley. This attempted coup, appeared to be incited by none other than former President Donald Trump, who seemed to be aided and abetted by Rupert Murdoch's Fox News propaganda coverage, in what I can only hope will be their final swan songs. But that's a super optimistic wish.
In any event, members of the House and Senate, did not allow themselves to be intimidated and continued to finalize the electoral process, with the final tabulation of the Electoral College vote count, certifying Joe Biden as the 46th president of the United States.
CoVid Vaccinations, Emergence of the Delta Variant, & as goes CoVid, so goes the Economy
The next crises to be dealt with, included a languid economy, handicapped by a vividly voracious virus. Thus the vaccines, created to address these microscopic monsters, did a fairly good Julius Caesar imitation of "veni, vidi, vici" which means "I came, I saw, I conquered".
But the Corona Virus, ever the able and nimble survivor, said "not so fast", and proceeded to spin out numerous variants - one of which was called the Delta variant. Delta is the fourth letter of the Greek alphabet which carries a number of meanings, one of which is about 'change'. And change it did. During the Spring CoVid was on the run as more and more Americans were inoculated. But by early Summer, CoVid was once again on the rise, driven by the Delta variant.
Naturally, as goes CoVid, so goes the economy. And thus the economy, strongly on the mend in the Spring, started to stall by late Summer, as the CoVid Delta rise took hold. I'll come back to this in a minute.
---
1661
The Nature of Democracy is Compromise
How Else Would a Majority of 330 Million People Get Agreement on Anything?
September 30, 2021 / NYC Neighborhoods / NYC Politics & Government / News Analysis & Opinion / Gotham Buzz NYC.
There are a couple of important legislative bills being debated in the House and Senate. On the one hand you have the Progressive Caucus threatening to hold, or even kill, the $1 trillion bipartisan infrastructure bill passed in the Senate. And on the other you have a couple of Democratic Senators withholding their votes on passing the $3.5 trillion Build Back Better bill.
Trump left office leaving a multi-trillion dollar deficit in 2020, and the same is expected to occur this year, regardless of the votes on the pending bills. If both bills pass, these huge deficits could spell significant trouble for American business, the economy and the people employed by them by virtue of impacting the trading rate for our currency vis a vis other currencies around the world. The combination of these bills could significantly devalue the purchasing power of the dollar.
If neither bill passes, Biden along with EVERY OTHER Democrat, would be negatively impacted. By possibly failing to pass at least one of the measures, while holding majorities in both chambers, the Democrats would leave themselves wide open to the opposition labeling them "Do Nothing Democrats". And you can be sure that Rupert Murdoch's Fox News, NY Post, Wall St Journal and ABC News would not let that opportunity slip by unheralded, unhyped and unsensationalized by his plethora of putrid propagandists.
There comes a time when one must step back and see the bigger picture. And at present, the bigger picture is that the Democrats can score a BIG WIN, by passing the INFRASTRUCTURE BILL - as that can be a rallying cry for them in the 2022 midterms and beyond. In passing the INFRASTRUCTURE BILL, Biden and the Democrats would have accomplished something that PRESIDENT TRUMP AND THE REPUBLICANS FAILED TO DO, with even bigger majorities in both chambers.
It would be very sad, to see the Democrats let this opportunity slip away, because they fail to do what American legislators have done beginning with the inception of the republic - which is to compromise in order to get something done. We are at an important inflection point, voters, so pay heed to who votes which way, so that in 2022 and beyond, you'll know who is so uncompromising, that they will never get anything done.
Senator Bernie Sanders' legislative record is a case in point. In March of 2020, I did a story that, in part, focused on Sanders' legislative record, which was abysmal. Click here for our report on Senator Sanders' legislative record where no legislation of any significance was passed.
I like Bernie, and in 2016 found his candidacy to be of great interest. I think he's an important player in politics in our day, and continues to play an important role in the national conversation. But that said, the reason Biden won out for the presidency, is that Sanders he has never achieved anything legislatively. Click here for our report on Senator Sanders' candidacy for president in 2016.
---
1618
Things To Do & News Updates NYC
Movie Theaters, Taxi Drivers, Gun Arrests, the NRA Russia & Trump, Central Park & Bronx Golf Course Concessions Bidding Deadline March 19, 2021, CoVid Testing, Vaccination Stats & Daylight Savings Time Two Weeks Away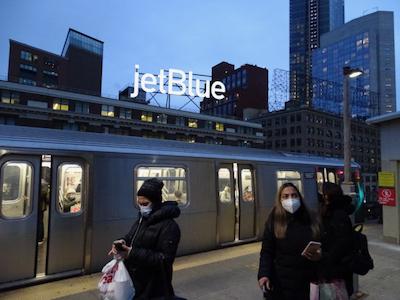 February 26, 2021 / NYC Neighborhoods / Things To Do NYC / News Analysis & Opinion / Gotham Buzz NYC.
Weather. Friday won't see any rain, but on Saturday there's nearly a 100% chance of a small amount [a quarter inch] of rain in the morning. Saturday afternoon should be clear. On Sunday there's also a high probabilty of a half inch of rain, most likely to fall around midday, with a lingering probability lasting the rest of the day [40% - 60%]. Temperature highs will be in the mid 40's to low 50's throughout the weekend and the temperature lows will be in the mid 30's on Friday and hovering around 40 the rest of the weekend. Humidity will rise from the 40% range to near the 70% range on Friday and then stay between the 70% - 80% range the rest of the weekend. Winds will be 50 - 10 mph all weekend.
Things To Do, News Briefs & Updates
- NYC Movie Theaters Can Reopen March 5, 2021
Governor Cuomo announced that movie theaters will be able to reopen at 25% capacity March 5th, 2021.
-Taxi Driver Blockade Brooklyn Bridge in Support of Medallion Debt Restructuring
One story that seemed to receive little attention was a taxi driver blockade of the Brooklyn Bridge on Wednesday afternoon on February 10th. They were making a statement, following a City Council hearing on loan forgiveness / restructuring for taxi driver medallion debt, earlier in the day. The 25,000 member taxi driver union was supportive of the action. NYC government officials are trying to find a way to help taxi drivers, but are constrained by the current fiscal challenges arising from the CoVid crisis.
- January Gun Arrests Up 75% & Full Year 2020 were Up 29%
At the end of January, NYC Police Commissioner Demot Shea said that 417 gun arrests had been made that month, up 75% versus a year ago. He also noted that last year gun arrests were up 29% versus 2018. He rhetorically asked the question, "what's changed that there are so many guns making their way into NYC?"
- The NRA, Guns, Russian Cash & the Trump Money Laundromat
According to an April 2, 2018 report in Rolling Stone, the NRA President, David Keene, was an honored guest in Moscow at a 2013 event hosted by The Right to Bear Arms group. Prior to and during the 2016 presidential campaign, Russia courted the NRA, including hosting members at all expense paid events.
According to the report, the Russian group was deceitfully presented as 'grassroots' organization, led in part by Maria Butina, seeking comraderie with like minded gun enthusiasts. The reality appears to be that they were working under the influence of the Russian government, in an effort to infiltrate politically conservative groups in the U.S., to become what was alleged to be money laundering conduits for campaign cash to the Trump and other Republican political campaigns.
The NRA was founded in 1871 in New York and recently moved its headquarters to Texas. In February 2019 NYS Attorney General Tisch James filed a lawsuit against the NRA seeking to dissolve it because, the brief contended, it had become so corrupt and self serving and had failed to comply with numerous laws.
In August 2019 the two Republican members of the Federal Election Commission [Caroline Hunter & Matthew Petersen] blocked an investigation into whether Russia had used the NRA as a money laundering machine to funnel [$30 million] cash to Trump and Republicans in the 2016 election. In the 2016 election NRA donations spiked $35 million which was believed to have come from Russian government influenced agents, like the Russian oligarchs. According to an August 20, 2019 report,
" ... The [FEC] split 2-2 vote fell along partisan lines, with the FEC's two Republicans voting against any further inquiry into whether Alexander Torshin, a sanctioned Russian official, and Maria Butina, a convicted Russian agent, grew close to the NRA in order to help direct the group's 2016 political donations...."
See earlier reports we did on Mitch McConnell which identify Russian oligarch funding he, Lindsey Graham, Marco Rubio and other top Republicans received from the Russian oligarchs in 2016 as reported by Open Secrets which is a non-profit group that 'follows the money' of election campaign contributions.
---
1611
As Trump's Impeachment Trial Looms, It's Important to Put Things in Context ...
Trump's Russian Mobster Ties, Trump's Taj Casino Violation of Money Laundering Laws & Russian Interference in Favor of Donald Trump in the 2016 Election
Did Trump's Apparent Hedonism & Amoral Proclivity Toward Racism & Violence and Financial Mismanagement, Attract Russia to Using Him to Sow Social & Political Discord in America?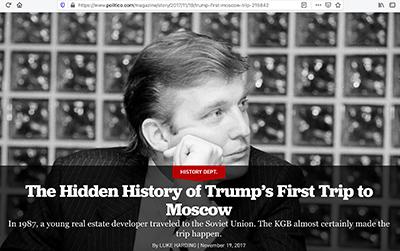 February 2, 2021 / US Politics / NYC Neighborhoods / News Analysis & Opinion / Gotham Buzz NYC.
The photo at right shows the headline title and photo of a Politico story about Trump's first trip to Russia in 1987, where all expense were paid and he was a guest of the Russian government.
According to Wikipedia's report on Russian Interference in the 2016 Presidential Election,
" ... According to the special counsel investigation's Mueller Report (officially named "Report on the Investigation into Russian Interference in the 2016 Presidential Election"), the first method of Russian interference used the Internet Research Agency (IRA), a Kremlin-linked troll farm, to wage "a social media campaign that favored presidential candidate Donald J. Trump and disparaged presidential candidate Hillary Clinton". The Internet Research Agency also sought to "provoke and amplify political and social discord in the United States" ..."
Mobster Don? A Russian Mobster Con? A Russian Asset?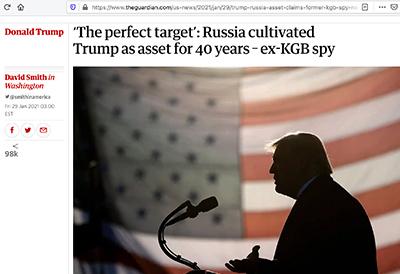 Russia's aiding of Donald Trump's 2016 campaign was certainly successful in amplifying political and social discord in the United States.
The photo at right is from a Guardian story on January 29, 2021 about how Trump appears to have been long cultivated as a Russian asset to incite social and political unrest in the United States of America. Russia has used race and ethnicity in its efforts to stir social unrest in the U.S., as well as discredit the United States abroad, since the Cold War began in the 1950's.
And one has to wonder if Russia is still not holding the Donald's feet to the fire, as Putin is believed to operate an Assassination Bureau, using the Russian mob, through which Trump had done business with via Felix Slater. The Wikipedia report on Slater describes him as,
" ... is a Russian-American mobster, convicted felon, real estate developer and former managing director of Bayrock Group LLC, a real estate conglomerate based out of New York City. ... In 1998, Sater pleaded guilty to his involvement in a $40 million stock fraud scheme orchestrated by the Russian Mafia, and became an informant for the Federal Bureau of Investigation (FBI) ... During Donald Trump's 2016 presidential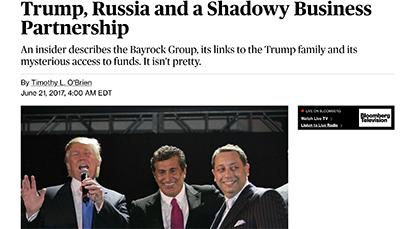 campaign, Sater worked with Michael Cohen, former attorney for The Trump Organization, to broker a deal to build a Trump Tower Moscow, asserting to Cohen that he could boost Trump's election prospects through his Russian contacts. ... On July 9, 2019, Sater appeared before the House Intelligence Committee, but repeatedly withheld testimony and documents concerning the details of a false joint defense agreement and thus remains under subpoena..."
The photo at right shows real estate developer Donald Trump with Felix Slater and one of the principals of Bayrock, a real estate development firm. Bayrock has offices in Trump Tower and Slater was convicted of stock fraud and is believed to have been a Russian mobster. The photo was taken in the first decade of 2000.
CLICK here to read the rest of our report about the Trump Impeachment Trial context including information about his Italian and Russian Mobster Ties, Money Laundering, Hedonism, Racism, Proclivity Toward Violence & possible role as an American Traitor?
---
1609
Donald Trump Accomplishments / Failures
What did Trump Really do While President? Was the Slogan - Make America Great Again - Just Another Big Lie?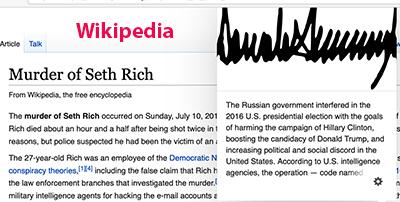 January 25, 2021 / US Politics / NYC Neighborhoods / News Analysis & Opinion / Gotham Buzz NYC.
There's an old saying from about a century ago, that goes something like this,
"Good government doesn't make good headlines."
After watching the Trump Administration, I've come to believe there's an apt corollary, which goes something like this,
"Bad government makes great headlines."
Did Bad Government Make Great Headlines & Drive Murdoch's Fox TV Ratings and Profit?
And Australian born billionaire and propagandist media mogul Rupert Murdoch - the silent hand who pulls the strings on the people and the pols on three continents - should know. Because he appears to have been profiting by exploiting that knowledge and the truth for decades.
But we've entered a new era since Trump won the presidency in 2016 because both men were born rich and behave as if the rules don't apply to them. And unfortunately, they mostly don't.
Above the Law?
Billionaires Murdoch & Trump Seem to Pummel Those Who Stand up to Them, Sharing Similarities to What Hitler & Goebbels did in Germany in the Early 1930's, at the Dawn of the Rise of the Nazis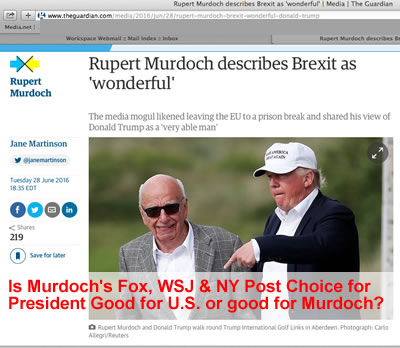 Trump has reportedly financially screwed numerous small contractors, employees, investors and lenders - not to mention the American people - as during his Administration the federal government took on an additional $6 trillion in debt to provide fiscal stimulus and tax breaks to billionaires like Murdoch and himself, as well as to mega millionaires like Sean Hannity of Murdoch's Fox News propaganda outlet.
Murdoch, in a similar fashion, has publicly abused hundreds, thousands and possibly millions of people by famously hacking their phones for headlines in Britain through his Newscorp, indirectly yanking Britain out of the EU through his Brexit campaign, and indirectly sending troops from his native Australia, as well as Britain and the U.S., to Iraq - by virtue of his media influence in those nations and by cajoling his current business partner, former Vice President Dick Cheney, and one time friend, former British Prime Minister Tony Blair.
---
1604
Was Trump's Administration Defined by Racism & Violence?
Trump Reportedly Committed a Violent Act at an Early Age & Appears to have Embraced Racism & Incited Violence Numerous Times Since ...
January 19, 2021 / US Politics / NYC Neighborhoods / News Analysis & Opinion / Gotham Buzz NYC.
Trump Condemns Violence - The Empty Words of a Spiteful Man?
A full week after there was a riot at the Capitol - that Donald Trump helped promote, spoke at along with his small coterie of family and friends, and then departed to watch on TV - he made the following statement, as he was being impeached for the second time by Congress.
"I unequivocally condemn the violence that we saw last week ... Mob violence goes against everything I believe in and everything our movement stands for. No true supporter of mine could ever endorse political violence."
One thing we know for certain is that Donald Trump is one of the world's most prolific liars, and so it was that on January 13th, 2021 - just a week before his presidency was to end - he told one of his most unbelieveable lies - that he's against violence. The hollow ring in his words was heard round the world.
It's a well known adage that it's best to measure a man by his deeds - not his words. And with Donald Trump that advice is especially relevant. Donald Trump's life is a scatter book of a bit of violence he committed himself, but mostly which he appears to have incited others to do.
---
1602
Capitol Riot Fallout: Is Donald Trump a Real Made-for-TV Loser?
Following Voters' Firing of Trump [Unemployed], he goes on a Rampage which Culminates in Supporters' Violence [Criminals], he is Subsequently Banned from Social Media [Loser] & will be Tossed from his Residence [Eviction] within the Week
January 15, 2021 / US Politics / NYC Neighborhoods / News Analysis & Opinion / Gotham Buzz NYC.
After being fired from his job by the American people in November, Trump's rampage resulted in a riot at the Capitol last week, where five people - including two in law enforcement and one ex-military gone wild - lost their lives. Yesterday Trump put out a video where he said he didn't condone violence, but that doesn't fit into the reality of all of the things he's been saying these past five years. So like shock jock Alex Jones similar phony act of contrition, Trump's statement had a hollow ring to it, as did wife Melania's public statement, where she doesn't acknowledge the Donald's role in inciting the riot. And neither of them acknowledged President-elect Biden's win.
So, it's time for the White House staff to take out the white trash. Only five more days of the disastrous presidential hoax, that Trump would 'Make America Great Again'. He may have been a terrible president, but he's sure seems like a super con man.
Trump Loses Social Media Platforms to Spew his Venom
Due to the Capitol Riot violence, Donald Trump's Twitter and Facebook and YouTube accounts were closed. The Twitter account is closed permanently, after Trump had tweeted 57,000 times. They posted a public explanation for the decision which you can read by copying and pasting this link.
https://blog.twitter.com/en_us/topics/company/2020/suspension.html
---
1601
How the President, a Former NYC Mayor and Murdoch's Fox News Seemed to Incite the Capitol Insurrectionists
Rudy Giuliani, Nicknamed America's Mayor by Murdoch's Fox News, Appears to have Helped Incite the Band of Simpleminded Trumpsters to Insurrection
Updated January 11, 2021 from 1.8.21 / US Politics / NYC Neighborhoods / News Analysis & Opinion / Gotham Buzz NYC.
Rising Film Star [Barat2] and Former NYC Mayor, Rudy Giuliani, appears to have devolved into something of a national freak show or farce over the past five years. Perhaps longer. But in the past few months, he's become something of a national disgrace.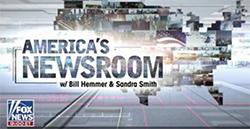 Fox News seems to use nicknames for their propaganda assets, like referring to British Prime Minister Margaret Thatcher as the 'Iron Lady' and President Ronald Reagan as the 'Gipper'. Rudy Giuliani seems to be yet another Fox propaganda asset and, as such, is oftentimes referred to as America's Mayor by Fox pundits.
This is not unlike how Murdoch's Fox News nicknames themselves America's Newsroom. This was a trick used by Hitler and Goebbels, using words and images to create the illusion that they, the Nazi Party [in this cae the Fox Nation with red, white and blue colors] was the same as the state - and thus represented all that was right and just. But remember - just because Murdoch's Fox News says it's so - doesn't make it so [like they used to call themselves 'Fair & Balanced' before they started fearing a lawsuit for false advertising]. But, the Australian born billionaire's overwhelming control and / or ownership of America's television media [see our special section on Murdoch and the 21st Propaganda Press on Gotham Buzz] does give him a leg up in attaching and making both good and bad labels stick to people, places and things.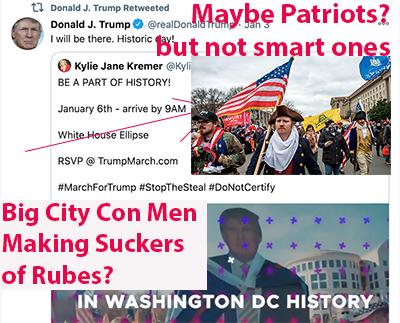 On Wednesday, January 6, 2021, Rudy Giuliani joined Donald Trump and Donny junior at a Trump rally in Washington, D.C. near the White House. The Donald had promoted this gathering as something 'wild' and related to his seemingly phony stop the steal / election fraud fundraising claims. At the rally Trump told his supporters, numbering about 5,000 [per the park permit] to march down to the Capitol and that he'd be there with them.
I think it's safe to say that the Trump supporters who came to this event came prepared to continue to be misinformed and misled by the con men standing on the stage in front of them. After the speeches the audience mindlessly did as Trump had instructed them, and began marching toward the Capitol - but without their fearful leader [bonespurs acting up again?]. The Trumps and Giuliani were not to be found when the group arrived at the Capitol. What a surprise!
When the Trumpsters reached the barricades in front of the Capitol, the police in charge of protecting it, seemed to give way. What exactly transpired at this juncture we'll find out eventually, but one thing we do know for certain is that Trump didn't deploy as many of the National Guardsmen as he did for his tear gassing photo op with the Bible last summer. So Vice President Mike Pence had to step in to call up more National Guardsmen who eventually secured the Capitol - but not until after it had been ransacked [including one report of defecation].
---
1598
Honestly, Just How Simple-minded are Trump Republicans?
Donald J. Trump Raises $200 Million in one Month Based on Unsubstantiated Election Fraud Claims
So Senators Ted Cruz & Josh Hawley - Not Wanting to be Kept out of What Seems a Great Scam - Are Fundraising Based on Their Bid for an Unnecessary Election Audit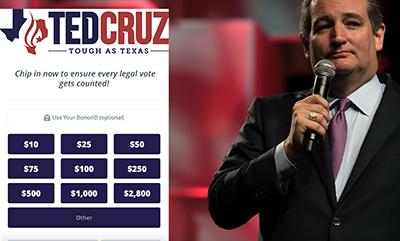 January 5, 2021 / US Politics / NYC Neighborhoods / News Analysis & Opinion / Gotham Buzz NYC.
Classic con men like Donald J. Trump, Ted Cruz and Josh Hawley appeal to certain kinds of people. Too many of them appear to be complete rubes, right out of the old W.C. Fields films ["never give a sucker an even break"].
Most of Trump's, Hawley's and Cruz's 'stop the steal' supporters seem as likely to be sincere in their 'patriotic' Trump / Cruz / Fox News media manipulated intentions, as they are likely to be just plain stupid.
This may help explain why Missouri Senator Josh Hawley and Texas Senator Ted Cruz were so quick to take up the seemingly fraudulent torch of Trump's 'Stop the Steal' campaign. They appear to be staging a phony 'patriotic' effort by objecting to one or more of the contested swing states list of electoral college delegates. The Cruz / Hawley motivation appears to be to put on a show of political theater for an unneeded election audit, in order to fill the Cruz / Hawley campaign coffers with the money of incredibly naive full grown American white men and miscellaneous other Trump Republican donors.
---
1597
Republicans Abandon the Traditional American Conservative Values for which they Once Stood
Have the New Republicans Become a Party of Treasury Plundering, Pussy Grabbing & Self-Serving Seditionist Sycophants?
January 4, 2021 / US Politics / NYC Neighborhoods / News Analysis & Opinion / Gotham Buzz NYC.
My experience and interactions with Republicans during my childhood and up until sometime between the late 1980's and mid 1990's was generally positive. I was actually a card-carrying Republican for a few years, as was one of my grandfathers, and I share many of what once were Republican values. But the Republicans of today, particularly the Trump Republicans, appear to have abandoned nearly all the values for which they once stood. Let's take a quick look.
What Republicans Once Stood For & How They Lost Their Way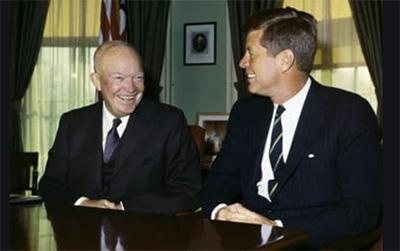 I. States' Rights. Republicans once stood for values that I still believe in. They stood for states' rights, which were originally embedded in the U.S. Constitution as a means of providing checks and balances in the system. And I believe in the wisdom of the checks and balances.
Republican Distortion of States' Rights - Enabling Ongoing Legalized Racism. But states' rights morphed into a racist rallying cry, in the wake of the Civil War, as the southern states were embittered by the loss of the Civil War. States' rights were a means of obstructing the northern states from imposing the U.S. Constitutional value of treating all humans with respect on the former slave states. when the federal government imposed its will upon the southern states vis a vis ending slavery of African Americans
II. Smaller Government, Fiscal Conservatism & Less Taxes. An implication of the claim to states' rights implied a smaller, less intrusive federal government. This mantra of smaller government also gained some of its impetus, again particularly in the south after the Civil War, as a means to limiting federal government oversight.
Smaller government also implied some measure of fiscal conservatism - or at the least - fiscal responsibility. Out of this came lower taxes, a move which was generally done by lowering government spending - until Ronald Reagan came along.
Republican Distortion of Smaller Government, Fiscal Conservatism & Less Taxes - Borrow & Spend. That's when Republicans started lowering taxes by adding debt to the federal government balance sheet in order to further enrich the rich. I'm all for lower taxes, when it can be done responsibly, but I'm not for lower taxes when most of the proceeds go to some of the wealthiest people on the planet, while the children and the unborn are burdened with the nation's debt.
Adding about $6 trillion to the nation's debt, while building nothing, is one of Republican president Donald J. Trump's greatest legacies.
---
1588
Trump Bid to Destroy U.S. Democracy Blocked by Supreme Court
But his Deceit of Ignorant Trumpsters & Republicans Continues
December 11, 2020 / NYC Neighborhoods / Things To Do NYC / News Analysis & Opinion / Gotham Buzz NYC.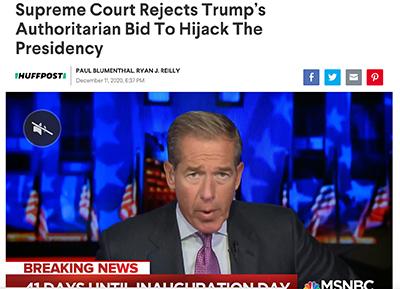 This just in. The Supreme Court again denied Trump his bid to overturn our democracy and transform it into a racist, Nazi-like dictatorship where he has all the power and 'We The People' have none. The way things used to be ... again.
The Seemingly Corrupt Texas Attorney General Who Filed the Trump Brief is Rumored to be Angling for a Presidential Pardon
The Texas Attorney General, Ken Paxton, who has been under indictment since 2015 for securities fraud, and who in October 2020 was accused of corruption, including - bribery, abuse of office and other crimes - by a number of his subordinates took the lead in the lawsuit.
Paxton is believed to have done this last ditch bid for Trump in exchange for a presidential pardon. But, while I'm not a lawyer, I believe some of Paxton's alleged crimes cannot be pardoned by Trump. This is yet another example of how rotten and corrupt the Republican party has become. Criminals and con men aiding and abetting each other, while lying and deceiving millions of incredibly ignorant Americans, who are the New Republican Red Rubes.
Mitch McConnell Remains Silent as Trump Nominates his Wife for Another Plum Government Paid Position, After Failure vis a vis the Chinese Navy While Transportation Secretary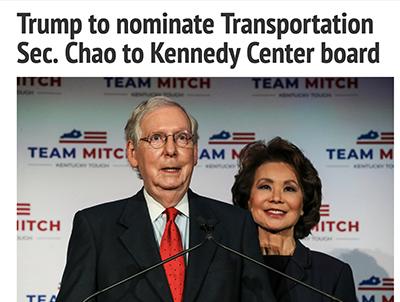 Senate Republican Mouse Majority Leader Mitch McConnell also aided and abetted Trump in what seems a fundraising scam [see November 2020 story]. It seems McConnell will be rewarded by Trump's appointment of McConnell's wife, Taiwanese born Elaine Chao - who was the Transportation Secretary as the U.S. fell behind China in the number of naval battleships [in 2019].
McConnell's wife's father is a rich businessman who is well connected to the top members of the Chinese Communist party. And what a surprise, he runs a large shipping company, whose ships the Chinese help fund and build [see our October 2020 report on what appears McConnell corruption].
Australian born billionaire Rupert Murdoch has been using Fox News, the NY Post and the Wall Street Journal to attack a U.S. Congressman for something to do with the Chinese, while failing to identify Senate Majority Leader Mitch McConnell and his wife for what seems their very cozy ties to the top echelons of the Chinese Communist Party.
Why does Murdoch leave McConnell out of the story? Because like Trump, McConnell appears to be a Murdoch propaganda machine asset, and he's working with Trump to set up roadblocks to Biden overseeing the FCC which makes all the difference to a lot of Murdoch's net worth. Prior to Chao's appointment to Transportation Secretary, Murdoch had appointed Chao to the 20th Century Fox [News] Board. See November 30, 2020 story for details.
---
1586
You're Looking at the Real Election Fraud ... Straight in the Eyes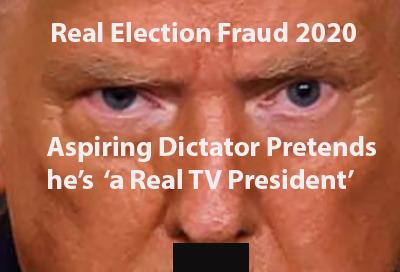 November 30, 2020 / NYC Neighborhoods / NYC Politics / News Analysis & Opinion / Gotham Buzz NYC.
Four years ago Donald Trump achieved one of his dreams and became the President of the United States. Now, four years later, we're witnesses to the Donald failing at his ultimate dream - becoming Dictator of the United States - like his buddies Kim Jong Un is in North Korea, Vladimir Putin is in Russia, and his nemesis Xi Jin Ping is in China.
But it hasn't been for lack of trying.
Trump Uses Federal Government Apparatus Like a Dictator, NOT an American President
Trump appeared to use the federal government bureaucracy in its most corrupt rendition since the birth of the republic 230 years ago - to lie, cheat and steal his way to victory.
trump tries to steal the election even though AG bill barr & DHS Krebs says it was a fair electionTrump called on Bill Barr's Department of Justice to 'investigate voter fraud' when there was none. On December 1, 2020 - a full four weeks after the election Barr finally spoke the truth - that there wasn't any widespread fraud.
Trump seemed to use Chad Wolfe's Department of Homeland Security to fund and operate campaign style food giveaways which included promotional style letters with his name on it, even though it was a federal operation using the American taxpayers' money.
He seemed on numerous occasions to try to bend Republicans in local and state government positions and the courts to go along with his fictional voter fraud claims. As of this writing 27 of the 41 lawsuits filed by Trump / Republicans were either dismissed or lost.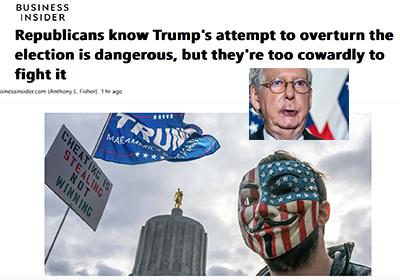 Trump appeared to have one of his lackeys, Louis DeJoy, gerry rig the U.S. Post Office, so the postal organization would be challenged to fulfill its role in delivering mail and absentee ballots to the Boards of Elections. This was identified in August and Congress halted it.
He seemed to use Mike Pompeo's State Department as a campaign promotional tool with part real and part fictional peace deals, as well as using the State Department as a dirt digging operation - again using taxpayers' money - to extort dirt or allegations of dirt, on rival Joe Biden. In late 2019 Trump was impeached for using the government as a campaign tool.
Trump seemed to try to use Chad Wolfe's Department of Homeland Security to foment violence in American cities this summer, so he could run as the 'law and order president'. There was an uproar in Congress about this misuse of the DHS and it was halted.
And Trump even called up the U.S. Military to provide air support for a photo op, where he held up a Bible he had never read, as a symbol of his phoniness.
See below for other enablers in the Senate and Congress, like Mitch McConnell.
---
1581
Is Trump Using the Federal Government to Enable a Scam?
Secretary of State Mike Pompeo, Attorney General William Barr, Press Secretary Kayleigh MacEnany & Republican Senate Majority Leader McConnell Appear to Enable a Trump Fundraising Scam - using False Claims of Election Fraud - to Motivate Donations he can use to Pay off his Debts
Emoluments Clause: Using False Claims of Voter Fraud & Government Offices to Raise Money to Pay off Trump Debts?
November 10, 2020 / NYC Neighborhoods / U.S. Politics / News Analysis & Opinion / Gotham Buzz NYC.
I'm relieved that the Donald lost the election. I'm not relieved, knowing that there are 71 million people who voted for him. They obviously don't know what a super slick con man looks, talks and walks like.
A Presidential Con Man to the End
The Art of the Con should have been the name of Trump's book. And it appears, with only two months left to his presidency, that he's using the Executive branch of government and all the president's lackeys to commit one last Trump scam.
Secretary of State Pompeo Uses Office to Support What Seems a Trump's Scam of Republican Donors
In the photo at right, Secretary of State Mike Pompeo, appears to enable what seems like a scam by Donald Trump to bilk his supporters of millions of dollars in donations by seemingly supporting Trump's claims that there was election fraud - a claim which appears unfounded according to both Democratic and Republican state government officials.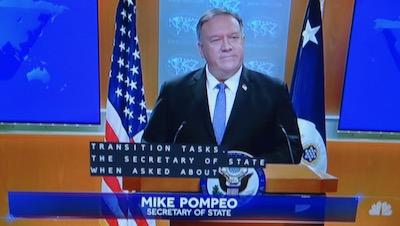 According to CNBC, on November 10, 2020 Pompeo said that there would be
"... a smooth transition to a second Trump Administration ... "
That statement, by a cabinet level member of the Executive branch of the U.S. government, appears more like a propagandistic statement of an authoritarian's sycophant. This corruption of the Office of the Secretary of State was done previously, during the RNC Convention, when Pompeo was videocast from Israel while on taxpayer funded official business.
Are Taxpayers Paying a Trump Campaign Propagandist to Facilitate a Fundraising Scam on Ignorant Trump Republicans?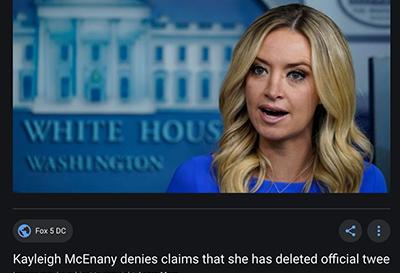 So Kayleigh Mc Inaney [it's not her real name, but a play on it], who is supposed to be the White House Spokesperson - not a Trump campaign PR person - said on November 3, 2020 that a "Landslide is afoot". Yesterday, November 9, 2020, even the Fox propaganda channel couldn't bear to allow McEnany to continue spewing it's Nazi-like propaganda of voter fraud, so they cut away from her.
Is McEnany, a federal government employee, enabling the Donald's efforts to raise [scam?] millions from his supporters under seemingly false pretenses to pay off some of his debts?
Why are the American people paying the salary of a Trump campaign propagandist? This is one of many such personalizations of power - aka corrupt use of government resources for private purposes - done by the corrupt 'Drain the Swamp' Trump Administration. McEnany is allegedly 'cleaning up' her Twitter feed instead, which is also a record of the corrupt Trump Administration lies put forth by the inane McEnany.
---
1580
Election 2020: When Will it be Over?
The Presidential Polls Were Mostly Right - The Race was Not Too Tight - the Donald Shows no Grace so the End is not Yet in Sight - Progressives & Moderates Need Learn how to Cooperate - Not Fight, Write?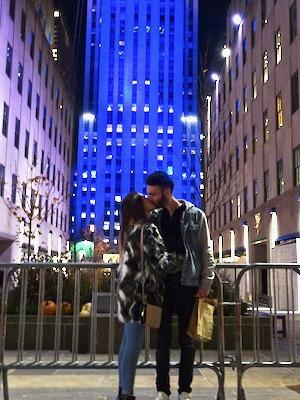 November 9, 2020 / NYC Neighborhoods / U.S. Politics / News Analysis & Opinion / Gotham Buzz NYC.
This past Saturday I went into Manhattan following the announcement that Joe Biden had won the presidency, wresting it away from a very handsy, clutching Donald Trump. I had seen and heard of partying in the city that afternoon, as folks celebrated the end of the Trump presidency.
But when I arrived in the evening, it seems things had calmed down, and it was a mostly low key Saturday evening, at least on the Upper West Side and north Midtown. More people were out than I had seen in a while, and many folks seemed somewhat cheerful, but since the pandemic began, I've yet to see any sort of real frothiness.
In the photo at right I met a couple out on election night in front of Rockefeller Center. She's from Italy and he's from Philadephia ... Story?
The Presidential Polls Were Mostly Correct - Biden Won & He Won Most of the Swing States They Predicted He Would
Following the election, as early results came in, many news outlets proclaimed that the pollsters got it wrong. But over the weekend I checked the Real Clear Poll of Polls and found that mostly what they had predicted, came true, especially when you factor in the margin of error.
Biden won the presidency, winning a popular vote of over 75 million, to Trump's 71 million. And Biden won the swing states the polls forecast he would, including Wisconsin, Michigan, Pennsylvania, Arizona, Nevada, Minnesota, Maine, New Mexico, Colorado, Virginia, New Hampshire and Maine. Trump won Florida, North Carolina, Ohio, Iowa and Texas - also in line with the poll of polls forecasts. Only Georgia didn't end up as the polls forecast it would and I'm going to call that the Stacey Abrams effect.
---
1579
Rigged Election: Who's Trying to Steal it?
Trump is Battling the Election Results Like He's Battled CoVid, his Trump-Sized Budget Deficit & Climate Change - Ignore the Facts & Change the Perception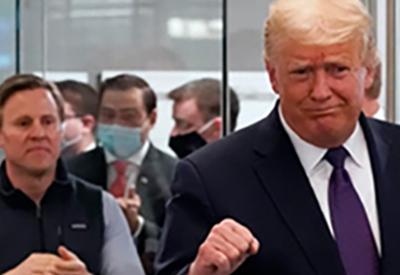 November 6, 2020 / NYC Neighborhoods / U.S. Politics / News Analysis & Opinion / Gotham Buzz NYC.
A Sore Loser, Poor Sport & a Rich Old Man's Tantrum?
Donald Trump has never comported himself with any dignity or decency befitting the presidency - so why would anyone expect his presidency to end with it?
Except the low information, no information and disinformation voters who cling to him like he's some sort of savior.
We saw this same sort of phenomena occur in the 1930's and 1940's in Germany. That was a story that didn't end well for that nation - and it would have been far, far worse - were it not for the decency and generosity of the American people.
By all accounts, Biden is the likely victor of the 2020 presidential race. He leads in electoral college votes and it appears he needs to close only one or two more states to finish the race, which in most remaining states and by most accounts, seem to be trending in his favor.
America's Top Fixer, Rudy Schmooliani, Fresh Out of Improv Role in Borat2, Returns to Star Role in the TV Presidency of DJT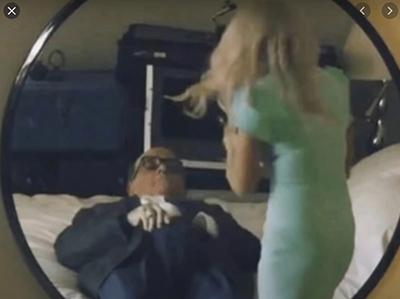 The Trump Campaign began pulling out all stops to halt the fair part of the American electoral process, by summoning America's Fixer, Rudy Giuliani, to lead the litigation publicity program.
Schmooliani had just finished filming his cameo role in Borat 2, but wasted no time in zipping up his pants again, before departing for Philadelphia to make an important stage appearance in the Epilogue segment of the TV Presidency of DJT.
In the photo at right, a still shot taken from the film Borat 2, shows Rudy Giuliani making 'an adjustment to his microphone'. I do hope Rudy washed his hands after tampering with his 'microphone', as these days one can never be sure of what kind of bacterial or viral germs one might be exposed to by touching things.
---