This Weekend Things To Do NYC & News Updates
Perfect Weather Weekend, NYC Institutions doing more Blended Virtual & Live Programming, Lincoln Center ReAwakens, Bronx Week Ending, Bike Blvds Coming This Summer, Some Open Streets to Continue, Kids 12 - 15 Now Eligible for Vaccinations, Some Subway Stations Giving Free Vaccinations, Tourism Coming Back, Subway Safety & Resumption of 24/7 Service & Economic Snapshot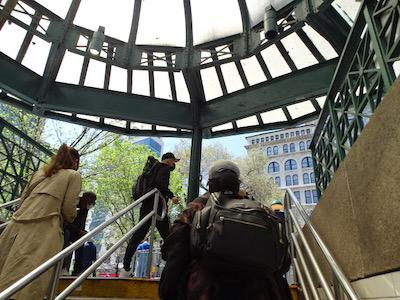 May 14, 2021 / NYC Neighborhoods /NYC Things To Do Events / News Analysis & Opinion / Gotham Buzz NYC.
Weather. The temperature highs will be in the mid 70's, while the temperatures lows will be in the mid 50's all weekend. No rain is in the forecast. The humidity will range between 40% and 60%, rising as the weekend progresses. Winds will be 5 - 10 mph.
In the photo at right you can see folks emerging from the subway station near Union Square in Manhattan. The photo seems a metaphor for where we're at in the pandemic, emerging, but not quite there.
---
Lincoln Center goes Green
So, on this first weekend of the newly 'greened' Lincoln Center pavilion, there are a couple of live performances on Saturday which are open to the public for free via a ticket lottery in order to maintain some sort of CoVid discipline. The first performance is at 11 am for kids and the second is at 7.30 pm but unfortunately has been sold out. They're going to continue this live programming through May, so if you're interested cut and paste this link to their website for future shows - https://www.lincolncenter.org/lincoln-center-at-home . They're also providing some virtually streamed videos which are a mix of documentaries and performance. Free.
Bronx Week Ends This Weekend at Orchard Beach
On Saturday Bronx Week will host two live events as it winds down. The first is the Walk of Fame event at 10 am the whereabouts of which, remains unclear. If I hear back from the Bronx Borough President's Office in time, I will post the location. The second event begins at 12 noon at Orchard Beach and it's a Drive-In Grand Finale Concert. I believe it's a first come - first serve parking spot event. Free.
Mayor de Blasio Announces Plans for Bike Boulevards Bike Lanes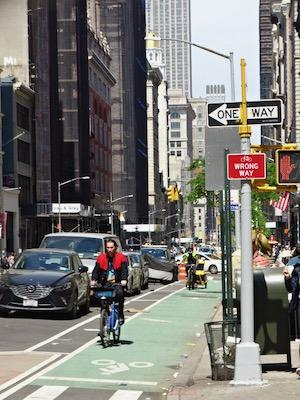 The Mayor announced plans for more bike lanes in 2021, including one bike boulevard in each borough. The proposals must go through the community vetting process, so it's not a done deal. Here are where the proposed bike boulevards are slated to take place - BUT will only include a segment of each street / avenue - NOT the entire road.
21st Street (South Slope, Brooklyn)
39th Avenue (Sunnyside, Queens)
Jackson Avenue (Mott Haven, Bronx)
University Place (Greenwich Village)
Netherland Avenue (Mariners Harbor, Staten Island)
The NYC.gov website tells us that,
"... In coming weeks, DOT Borough Commissioners and planners will present proposed plans to elected officials and community boards, with the expectation that they will be completed this year... "
In 2020 the de Blasio Administration expanded bike lanes in all five boroughs by a total of over 20 miles, and he expanded priority bus lanes by 16 miles.
De Blasio Announces Open Boulevards Effort to Jump Start Cultural Activities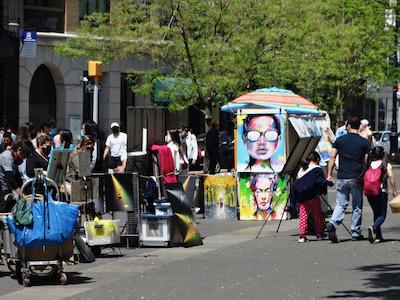 Last summer the open restaurants / open streets program provided relief to restaurant owners and communities during the CoVid pandemic. In an effort to build on that success, Mayor de Blasio announced plans for Open Boulevards in an effort to provide relief / kick start cultural activities in NYC this summer.
The program has thus far identified ten boulevards, spanning all five boroughs, wherein it is planning to cordon off some segment of each major street - likely over the weekend - and use the space to enable the artists, musicians, actors and dancers of NYC to show their stuff.
The ten boulevards include: a) BRONX - 1) Alexander Avenue near East 134th Street and 2) Arthur Avenue near Cresent Street, b) BROOKLYN - 3) Fifth Avenue in Park Slope and 4) Fifth Avenue in Sunset Park, c) MANHATTAN - 5) Amsterdam Avenue at 110th and 6) Columbus Avenue at 106th, d) QUEENS - 7) Ditmars Avenue at 33rd Street and 8) Woodside Avenue at 78th Street, and e) STATEN ISLAND - 9) Minthrone Street at Victory Blvd. I don't yet know what the tenth street is.
CoVid Vaccination Approval for Pfizer in Kids 12 - 15 & Changing Mask Guidance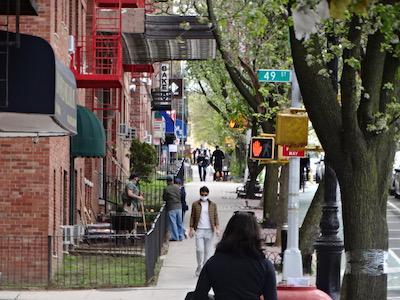 The Pfizer vaccine was approved for use in children ages 12 - 15 by the FDA on Monday. May 10, 2021. The Federal Advisory Board must also approve the vaccine, and is likely to do so as early as this weekend. Governor Cuomo has indicated once the vaccine passes muster with these two scientific groups, the state will approve it as well and begin administering it, which could be as early as next week. The Moderna vaccine isn't far behind Pfizer in the data collection and scientific approval process, but it likely will be weeks to more than a month, before it's in the market.
On Thursday, May 13, 2021 the CDC surprised us, when they announced changing mask and social distancing guidelines for vaccinated people. They told us that for people who are not immuno-compromised, and who have received the full vaccination dose [one shot for J&J and two shots for Pfizer and Moderna] over two weeks ago [takes two weeks for your immune system to fully ramp up], they no longer are advising these people to wear masks indoors or outdoors and they don't have to social distance.
People were surprised because this creates a bit of confusion, as anyone traveling on mass transit like buses, trains, planes and the like are still required to mask up, regardless of vaccination status. And the ultimate guidance on masks is essentially up to state lawmakers, municipalities and local businesses.
The reason the CDC made the announcement isthat they have found the vaccines to be very effective against CoVid hospitalizations and deaths.
NYC Tourism Back on the Rise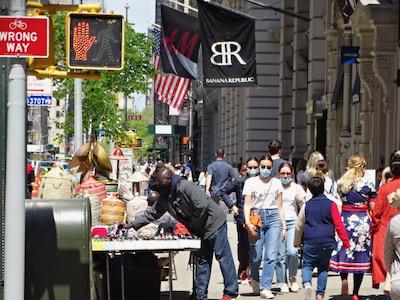 One of NYC's most significant revenue and employment economic categories is tourism. Prior to the pandemic NYC had hosted 67 million tourists in a single year. These visitors spent some $70 billion while here on entertainment, hotels, dining, shopping and the like. That kind of economic activity helped fuel employment of about 300 - 400 thousand workers.
During the pandemic, the entire planet seemed to nearly close shop on recreational tourism. In NYC, the city welcomed 22 million visitors - most of whom came prior to the pandemic. Because of the downturn, some hotels closed, reducing the available rooms by 36,000 to 88,000 rooms. Hundreds of thousands of hotel, restaurant and retail workers were either dismissed or furloughed due to the inactivity.
While this year won't be a banner year, there are signs of tourism coming back to life. The Met Museum has seen its visits rise from 4,000 per day last summer to 7,000 per day in recent weeks and as high as 9,000 in a single day. This is still well below the 25,000 the museum used to accommodate pre-pandemic, but a significant improvement nonetheless. And even though the Statue of Liberty is still closed, 33% more tourists took the ride to view the Lady than did just a few months ago. NYC expects about 31 million tourists to visit NYC this year, but we could overshoot that if the vaccinations continue to progress and chase the virus away.
Economic Snapshot - Unemployment Likely to Keep Falling as Hiring Resumes
The U.S. unemployment rate was about 6% in March, while the NYS unemployment rate was about 8.5%, dragged down in part by NYC's performance which had an unemployment rate of 11.2%. One of the primary reasons NYC is lagging the state and nation is because of the loss of tourism, as noted above. As mentioned, tourism declines lead to a loss of hundreds of thousands of hospitality and retail jobs in the city. That's the bad news.
The good news is that it appears to be coming back. While a great deal of NYC tourism is from abroad, even more originates domestically. And with CoVid rates declining, restaurants opening longer hours, office workers returning to their desks beginning this month through September, the MTA to resume 24/7 service before the end of this month, the Mayor said he expects the city to be fully reopened by July 2021.
Economic Snapshot - Inflation & the Stock Market
The stock markets were spooked this past week by a report showing inflation was 4.2%. They calmed down by the end of the week, as a major contributor to the spike, were the low Consumer Price Index numbers of a year ago. Nonetheless, folks should beware, as if inflation returns, the cost of borrowing will rise, and economic activity will slow because the costs associated with big ticket purchases will rise.
The fact that the markets calmed, indicates they believe the spike may be temporary, fueled in part by the multi-trillion dollar stimulus package and the resumption of economic activity compared to a depressed base. But it's key to stay vigilant on both the healthcare front and one's finances, as caution is the better part of valor.
Have a nice weekend.
---
---