The Evolution of an Interesting Year
Interesting Doesn't Connote Good or Bad, but Rather One About which the Grandkids will Inquire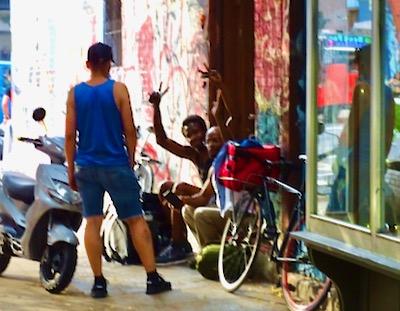 July 28, 2020 / NYC Neighborhoods / NYC CoVid 19 Special Section / News Analysis & Opinion / Gotham Buzz NYC.
The CoVid pandemic for most of us began just over four months ago in mid March. In the early stages the Governor and Mayor seemed a bit alarmist, but as events unfolded, they began to appear wise.
New York City is one of the world's great cities and thus one of the great global gathering places. So it's not surprising that NYC was one of the first American cities hit, and because of the city population density, we were hit hard.
The photo at right shows a few guys relaxing at the end of the day in Greenpoint Brooklyn.
But here we are four months out and - knock on wood - we seem to be operating at one of the higher functional levels, vis a vis other states and other nations. But as both the Mayor and Governor caution us - the pandemic is still alive and well and still being transmitted - and not likely to depart anytime soon. It will remain a threat for some time, for the same reasons it first arrived here, which is that we are a national and global destination / gathering place. And so we must continue to manage the viral threat by continuing to take the same precautionary steps we did to flatten the curve and beat the virus back.
George Floyd Protests, the Police, CoVid & the Economy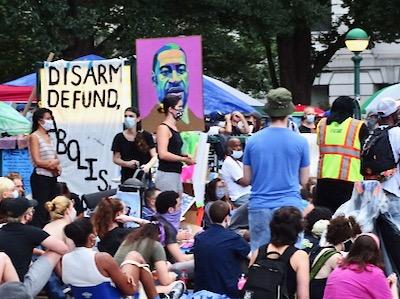 The year was further discombobulated by the death of George Floyd in the hands of the Minneapolis Police. The video of what could be a murder, went viral and caused a national outrage at the use of excessive force in a situation that didn't appear to necessitate it. A single incident of this nature likely wouldn't have caused a national outrage on its own. But because Floyd's untimely death seems to reflect a pattern of use of excessive force by individual policemen [repeated many times over the past couple of decades, in multiple locales, and captured and disseminated on video] that the death of George Floyd was the spark that ignited what seems to be national outrage at this sort of abuse of power by individual members of police forces around the nation.
The good news is that the demonstrations were generally peaceful, in recognition that it's not the police departments per se, but rather bad actors within the police departments around the nation - who time and again seem to be protected by the police unions. Many of the policemen involved in these sorts of incidents, are reported to have histories of repeated failures to perform their fiduciary responsibilities in a proper manner, and yet are kept on the police force. This makes it possible for these bad actors to become repeat offenders.
The photo at right was taken of the protesters encamped outside of City Hall earlier this month, not long before the Mayor moved them out.
So I keep asking myself where are we now?
We're in the midst of a raging pandemic, with social unrest vis a vis law enforcement, and then the Donald seems to exacerbate the situation by deploying the Department of Homeland Security to Portland, Oregon in what seems an effort to provoke protesters, not de-escalate the situation. The Donald has been accused of trying to inflame the situation in an effort to land bigger headlines and create the perception - with the help of mass media manipulator Rupert Murdoch's Fox News, Wall St Journal and NY Post - that the world is on fire and America needs an authoritarian strong man who will use decisive force to quell the masses.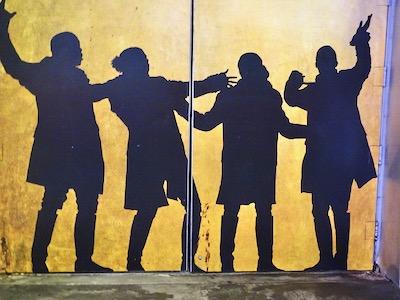 Trump has also been accused of attempting to use the DHS deployment to Portland as a distraction from the Administration's failed response to the pandemic, his failure to respond to reports that Russian President Vladimir Putin has paid bounties for the heads of U.S. G.I's in Afghanistan and a rallying cry to get the Donald (aka Rupert Murdoch's choice) re-elected in November - in spite of what can only be described as the Administration's horrific record of dysfunctionality over the past four years.
The photo at right is a mural on the Richard Rodgers Theater near Times Square in Midtown Manhattan.
What Trump Administration dysfunctionality am I talking about? In addition to the colossal failed response to the CoVid pandemic, there's a near record of unemployment which the BLS appears to be consistently understating (the BLS says 12% unemployment, but that doesn't jibe with the fact that some 30 million are collecting unemployment insurance out of a labor force of 160 million aka 19% unemployment), America's worst deficit ever by a country mile [in the month of June alone Trump racked up an $864 BILLION federal deficit], failure to effect any meaningful healthcare reform, stagnating or worsening reading and math scores by America's students, the alienation of our closest trading and military allies, and the list could go on. Those are the failures of the Trump Administration and unfortunately for both Trump and America there's little to offset their failures with any meaningful accomplishments.
But despite these enormous failures at the federal level, life does go on. Thanks in part to the leadership of local government officials.
---
The Evolution of an Interesting Year
Interesting Doesn't Connote Good or Bad, but Rather One About which the Grandkids will Inquire
July 28, 2020 / NYC Neighborhoods / NYC CoVid 19 Special Section / News Analysis & Opinion / Gotham Buzz NYC. Continued.
Re-Openings in NYC in Phase IV aren't Complete, but Evolving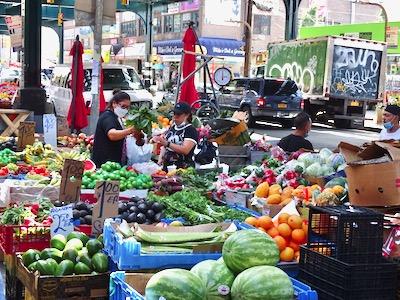 NYS Phase IV re-openings began last week and continue. This phase included the zoos which re-opened, albeit not completely [indoor exhibits off limits] but enough for a satisfactory visit. The Botanical Gardens are in various stages of reopening. The Aquarium hasn't yet opened, but they're still working on it. NYC film production also resumed. This industry employs a fair number of people.
Small outside arts and cultural events are also allowed, but with social distancing, masks and possibly other CoVid prevention protocols in place.
The photo at right shows some entrepreneurial food selling in Corona Queens.
Gyms, malls, museums and movie theaters have not yet received the greenlight to reopen. The Metropolitan Museum had planned to reopen at the end of August, but that's not a timeframe set in stone as they're still trying to figure out how to make that work safely. Theres concern that some of the airconditioning / ventillation systems may spread the disease indoors, so they're looking at the filtration component of these systems to determine whether that's true, and if it's true, how to remedy it.
A limited number of swimming pools opened last weekend in each borough. They include the Wagner pool, Liberty pool, Kociuzsko pool, Sunset pool, Mullaly pool, Fisher pool, Tottenville and Lyons pool on Staten Island are set to open Saturday, August 1st. Astoria pool in Queens is also set to reopen on August 1st. A number of safety protocols are in place so visit the NYC Parks website for details before going. And be aware because of social distancing, capacity will be limited compared to prior years.
The Empire State Building Deck reopened. This is a great tourist attraction, but not a bad option for locals either, especially given the lines are likely to be far shorter.
Courts Remain Mostly Closed, as Public Cries for their Reopening
The NYS Civil Courts continue to remain mostly closed. This is one of the reasons cited as contributing to the gun violence problem in NYC as after the NYPD apprehends an alleged criminal, they are set free oftentimes without bail due to recent legislative changes made in the criminal justice system. Hence the processing of the alleged criminals is put on hold, pending the full reopening of the courts. The recent social unrest and some of the changes made to law enforcement protocols are also mentioned as contributors, but until the former contributors are again working properly it will be difficult to make a fair assessment of those recent changes.
Economically Speaking, A Little Good News, but Mostly Bad News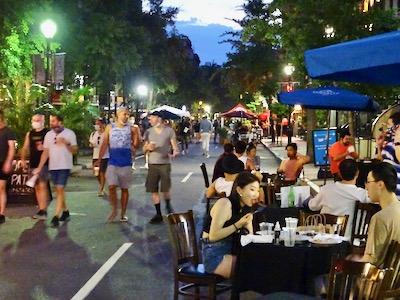 The good news is that 8,600 restaurants were reported to be participating in the curbside dining. As I travel around the boroughs, this effort to revive the restaurant business in the midst of the pandemic, seems to be working as it adds a lot of life to the city and appears to be a lifeline to cash strapped restaurateurs.
The photo at right shows Restaurant Row on 46th Street off Broadway in Midtown Manhattan.
The weekly jobless claims actually started climbing back up this past week, due to the raging CoVid pandemic in the southern and western states [Trump maskless country].
The national eviction moratorium and the added $600 stimulus payments expire at the end of July. What happens next is anyone's guess, but it's likely not pretty. I overheard a report that noted that 338,000 cell phone users are behind in paying their bills. The only reason I note this, is that in the current environment many people are faced with having to juggle their bills. So it's not just the rent.
Nieman Marcus announced that it would be closing its store in the Hudson Yards. Bloomberg Business reported that an estimated 400,000 airline employees would lose their jobs fairly soon as airline travel is about 80% below prior years, and the U.S. is currently banned from visiting Europe because Trump appears to have succeeded, through his negligence, in making America first in CoVid infections and deaths.
As noted below in the Real Estate section, Bloomberg News noted that only about 5% - 30% of white collar workers have returned to their jobs. This will continue to depress restaurant and retail sales here and around the nation. And Google extended its estimated return to office date for its workers from December 2020, to July 2021, which might provide a benchmark in terms of expectations.
NYC Real Estate - Prices Up, Inventory & Sales Activity Down
According to a July 14, 2020 Property Shark report, the NYC real estate market has had a rough first half with overall sales down 42%, driven by tight inventory. But because of the tight inventory, prices were up 3% versus a year ago, as buyers competed for the available stock. There was significant variability among the boroughs.
Manhattan took the biggest price hit, down 13% versus year ago, and while sales were also down (-31%), that was better than the NYC average of down 42%. Queens and the Bronx did relatively well, as prices were up 10% and 8% respectively, while sales were down 22% and 25% respectively. Both of these boroughs are undergoing significant development, which is likely driving the price increases. Brooklyn prices were down 3% for the first half and sales were down 21%. According to a July 11, 2020 SI Live report [note these are not apples to apples vis a vis the numbers reported for the other boroughs] the prices in June for residential real estate on Staten Island rose 7%, while inventory for sale dropped about 26%.
Commercial real estate is taking the biggest hit a result of the pandemic. A July 22, 2020 Bloomberg report said that commercial real estate rents were expected to fall 26%, but Mary Tighe, CBRE NY Tristate Region CEO, said that so far they're only down 6%. She also noted that in downtown Manhattan white collar workers were showing up in the office at levels of 6% of pre-pandemic levels [that's down 94%], and at levels of 7% in Midtown [down 93%), and at about 30% in surrounding boroughs / suburbs [down 70%].

Testing & CoVid Therapies Update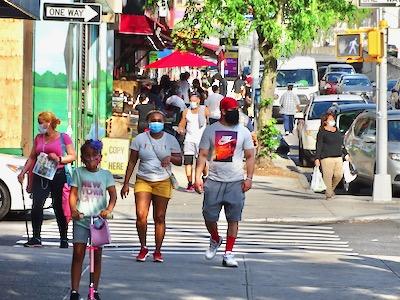 NYC has a 2 - 3 day turnaround for CoVid testing results. It's one of the best turnaround times in the nation. See the ad below this report to find a testing center near you. This ad expires at the end of the month, so you might want to check out website now for current use or future reference.
The Moderna vaccination goes to Phase 3 trials, as does a Pfizer and BioNTECH [a German biotech] vaccine, which may has also begun Phase 3 trials. Phase 3 studies are done to gain a better gauge of how a vaccine will function in a large population, after completing a Phase I study for safety and a Phase II study for efficacy.
Some symptoms seem to linger for weeks after infection for those with 'light' symptoms. And as we mentioned previously, it's unclear how long the anti-bodies / immunity lingers, as in one study only about 5% still had anti-bodies after three months - but there seems to be some issue with the testing quality.
The photo at right was taken in the Belmont neighborhood of the Bronx.
The Reopening of Schools is being Hotly Debated
Governor Cuomo said any region in Phase IV with an infection rate below 5% can reopen. If the infection rate in that region rises to above 9%, then the schools will close. Generally the NYC schools opening game plan involves staggered schedules, as well as blended on / off days and remote learning, coupled with CoVid safety protocols of masks and social distancing and a higher standard of cleanliness as schools. The American Federation of Teachers or AFT, the largest union of teachers in the nation, authorized their teachers at any school to go on strike if certain safety protocols aren't in place when the schools reopen.
Universities seem to be all over the map on reopening and it changes, so stay tuned.
Pro Sports
Major League Baseball was the first league to begin play post CoVid outbreak in America. The Yankees and Mets began play last weekend with a subway series. This week about 15 players on the Miami Marlins tested positive for CoVid. As a result their game with the Yankees was cancelled [to be rescheduled?], and it had a domino effect, reportedly affecting 15 other games. The Marlins had just played the Phillies who cancelled their next game pending new tests. And the Yankees called off their home opener against the Phillies this week, as they headed to Baltimore. The Yankees home opener is Friday night, July 31st.
The National Hockey League had zero positive CoVid tests of 4,200 players which bodes well for the league to complete its abbreviated 2020 season.
The National Basketball Association, which is also planning to complete its abbreviated 2020 season, had no positive tests for the players living in the 'bubble' in Orlando. Play resumes Thursday, July 30th.
A couple of players out of 800 total in the National Football League tested positive. The NFL announced this week that they had cancelled all preseason games and I know at least one franchise [the Green Bay Packers] has offered recurring ticket holders the option to opt out of their season tickets for this year. This is in recognition that there may not be any fans, or a reduced number of fans, in the stands this year.
The photo at right shows the Empire Outlets shopping center along the northwest coast of St. George on Staten Island. The shopping center is adjacent to the ferry station and had opened in May of 2019.
Life During CoVid
The hot summer of CoVid in the city hasn't been fun. Normally there's so many enjoyable cultural things to do, that the hardest part of the summer is deciding what you can't find the time to do. There are concerts, movies and theater in the parks. Add to that food festivals, street fairs, religious and cultural events and the normal menu of arts, theater, museum exhibits and film and ... well ... you get the picture.
This is the year of wearing masks which fog up the glasses, cabin fever and a growing waistline due to inactivity and being cooped up. But there's an increasing number of things to do. The beaches are open even if capacity limited. A number of pools just opened, which should help. The zoos are open, as are the botanical gardens, as well as special locales like the 911 Memorial and the Empire State Building. And the curbside dining, while perhaps not ideal, does seem to be working and adds a sort of lively, festive feeling to the streets in the absence of so many other activities. And the tourists aren't due back anytime soon. because of the incredible mismanagement of America's CoVid pandemic.
So like life itself, some good, some bad - but there's always a silver lining in the events we think are terrible. But you have to be open to the good, and pay attention to it, or you'll miss it like a passing train. And that's the news from Lake Wobegon NYC.
---