NYC Life: Juneteenth, Summer Begins, Fathers Day, NYC Phase II, Atlanta Shooting & Election
The NYC Boroughs Showing Increasing Signs of Economic Life, but ...
June 19, 2020 / NYC Neighborhoods / News Analysis & Opinion / Gotham Buzz NYC.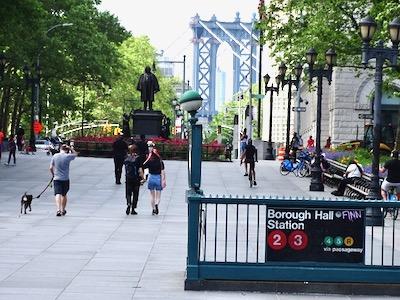 The Mayor announced we're moving to Phase II of the economic reopening beginning Monday. According to a missive by Councilmember Van Bramer, Phase II means that restaurants can resume serving people on sidewalks, at curbside, in opens streets and plazas and in backyard seating - but they need permits which may be obtained at nyc.gov and he notes that restaurateurs do not need to apply separately for the liquor permit.
Retailers can now serve people in their shops by limiting capacity, while following mask, [barrier?] and cleaning protocols. The same is true for hair salons and barber shops. And realtors and auto dealers can resume working with clients, as can commercial building operations and offices on a case by case basis.
The photo at right was taken near Borough Hall in Brooklyn earlier this month.
On June 19, 1865 the Last Texas Slaves Were Freed
Juneteenth Celebrates the End of Slavery in the U.S.
Juneteenth is the date when the Union Army arrived in Galveston, Texas and informed all of the slaves there, that they were free. Abraham Lincoln had issued the Emancipation Proclamation in January 1, 1863 - but rumor has it that word didn't reach Texas slaves until two and a half years later.
On Wednesday, June 17th, Governor Cuomo signed an Executive Order making today a holiday for NYS employees. There are also a number of marches and rallies to celebrate Juneteenth in all five boroughs, most beginning between 12 noon and 4 pm, which you can find by doing a search for 'juneteenth nyc'.
---
NYC Life: Juneteenth, Summer Begins, Fathers Day, NYC Phase II, Atlanta Shooting & Election
The NYC Boroughs Showing Increasing Signs of Economic Life, but ...
June 19, 2020 / NYC Neighborhoods / News Analysis & Opinion / Gotham Buzz NYC. Continued.
First the CoVid Pandemic, then George Floyd Protests & Soon an Economic Housing Crisis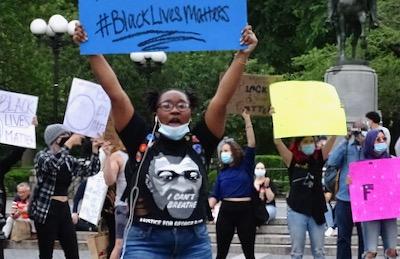 In May 2020 the Governor extended an eviction moratorium through August 20th, but from June 20 through August 20, the moratorium only applied to those who could prove they had been financially impacted by the CoVid pandemic or qualified for unemployment. According to a June 15, 2020 report in the Patch,
"... About 50,000 new eviction cases are predicted to be filed after the moratorium lifts on June 20 and, according to The Right to Counsel NYC Coalition's annual list of New York City's worst evictors, those evictions are most likely to occur in communities of color.
"I have not seen anyone else except Black and brown people being evicted," said Randy Dillard of CASA. "Most evictions happen in Black and brown neighborhoods. Half are in The Bronx...""
The photo at right shows a woman at a George Floyd protest in Union Square Park in Manhattan on June 1, 2020. Photo by Michael Wood.
First Day of Summer & Fathers Day NYC 2020
The first day of Summer is Saturday, June 20th, which is also the longest day of the year. The day begins with sunrise at 5.24 am and ends at sunset at 8.30 pm. The temperature highs are in the 80's and the lows in the 60's this weekend. There's a small chance (24%) of a tiny amount of rain Saturday and the humidity will be between 80% - 90%, so warm.
And Fathers Day is Sunday, June 21st. Thank the old man for all he's done for you in the best way you can. Rearing children is a satisfying but challenging job, as any parent can tell you. Good parents make all the difference in life and make the world better.
Neglectful parents, and those who are not so good at parenting, are likely in part responsible for what's wrong in the world. But part of what contributes to good and bad parenting - like everything - is circumstances. Social status, economic and health conditions, education and community are all ingredients to a favorable or unfavorable outcome. And what we reap is what we sow.
CoVid Casualties, Summer & Fall Season Cancellations
There were a couple of CoVid economic casualties that caught my attention recently - the Secret Theatre in LIC Queens is said to have closed its doors, as did Gotham Bar & Grill in Midtown Manhattan.
Also Lincoln Center and Carnegie Hall announced there won't be a Fall season. What got the most attention was that there wouldn't be a Nutcracker during the holidays. The NY Auto Show, which had originally rescheduled for August at the Javits Center but has since cancelled the NY Auto Show for this year and will return in April 2021.
Resumption of National Sports League Play Still Up in the Air
The professional sports world is still grappling with its near term future. The National Basketball Association suspended play in March 2020, and is now hoping to finish the regular season beginning on July 31st. But this arrangement must be approved by the players.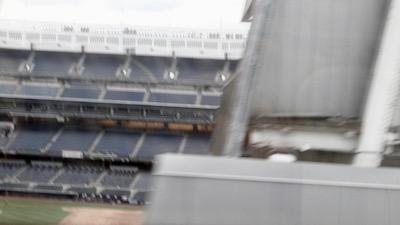 The National Hockey League agreed to go directly to the Stanley Cup Playoffs, ending regular season play. Training sessions may begin as early as July 10th, and the competitions will be held in two hub cities [not yet selected] - one for the eastern conference and one for the western conference. No date for the playoffs has been set.
The Major League Baseball season for 2020 was delayed, originally until July 4th, but that's not going to happen. There's been a lot of wrangling between the Owners and Players union, and whether there's going to be a season at all, still remains open.
The photo at right shows Yankee Stadium in the Concourse section of the Bronx earlier this month.
The National Football League has been seen as the best shot for the resumption of a full schedule season by a major sports league - but as we near the beginning of the 2020 - 2021 season which begins September 10th - one has to wonder what to expect.
Unemployment Estimated to be About 13% with Net Job Add Backs Slowing
About 45 million people filed unemployment claims since the CoVid pandemic began. As of the last unemployment report, about 20 million of the unemployed were still idle. Given the American workforce is estimated to be about 155 - 160 million, this translates into about a 13% unemployment rate.
There were 1.5 million new unemployment claims, which was a reduction of 58,000 versus the prior week, which shows the economy isn't rehiring workers that quickly. Based on what I see and hear - anecdotally - the forecasters who predict a gradual recovery likely have it right. California and Florida, both recently hit their highest daily totals for new CoVid infections, and CoVid has also been reportedly rising in Texas, and 18 other states. This is 40% of the nation, and several of these states - like those mentioned above - are huge contributors to the overall U.S. economy.
Another African American Shooting by Police in Atlanta
On top of all the existing racial tension, there was yet another police shooting of an African American - this time in Atlanta on Saturday, June 13th. The cop shot the man in the back twice, as he was running away. The police reportedly had the victim's identification and his car, as he allegedly was 'caught' sleeping off some booze in a Wendy's parking lot, before a scuffle ensued wherein the victim took off with the policeman's taser.
Murdoch's Fox: Is Carlson a Racist Tucker?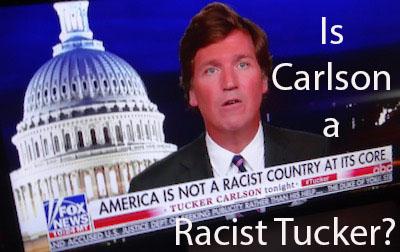 Tucker Carlson, on the Fascist leaning Fox Network, failed to report that the African American killed in Atlanta was shot twice in the back while running away. And Carlson conveniently didn't show the video documenting the victim being shot in the back by the Atlanta policeman, as the victim fled.
Fascism is defined as,
"... a form of far-right, authoritarian ultranationalism characterized by dictatorial power, forcible suppression of opposition, as well as strong regimentation of society and of the economy ..."
The Fox Network is controlled by the elite Australian born billionaire Rupert Murdoch, who also controls the Wall St Journal and the NY Post. Murdoch's media seem to leave out important key points like this, and in doing so they leave their audience more disinformed than informed - with the bonus for Murdoch being that these people are convinced they know what's going on because they saw it on Fox News.
When I see things on Fox News that I've not seen reported elsewhere - I fact check them. I oftentimes find that Fox seems to have distorted the news to serve its Master Murdoch's seemingly insatiable appetite for even more money and even more political power vis a vis his propaganda promoted puppet pols.
The Chinese Curse - May You Live in Interesting Times
According to Quora this isn't really an ancient Chinese saying, but rather attributable to a British speaker in 1939. Robert Kennedy popularized the phrase in a speech in Cape Town, South Africa in 1966 when he said,
" ... There is a Chinese curse which says 'May he live in interesting times.' Like it or not we live in interesting times. They are times of danger and uncertainty; but they are also more open to the creative energy of men than any other time in history ... "
I have long found silver linings in almost every 'misfortune' I have endured. I hope you can do the same. Have a nice weekend and Happy Fathers Day.
Some election info coming later this weekend for Queens and Monday for everyone else.
---
---