Weekend Update & NYC Things To Do
NYC Restaurants Move to 50% of Indoor Capacity Today, Large Entertainment Venues Like Baseball Stadiums Open to 20% Capacity Outdoors & 10% Indoors, Stronger Mutant CoVid Now over 50% of New Cases, Vaccine Eligibility Continues to Widen, Airline Travel Up Significantly, Spring Starts Saturday & NYC High Schools to Open Monday 3/22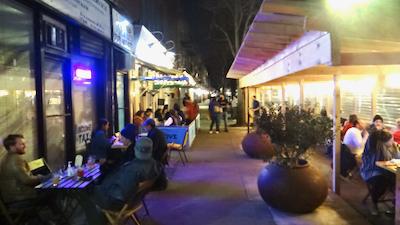 March 19, 2021 / NYC Neighborhoods / NYC Things To Do / Gotham Buzz NYC.
Weather. No precipitation is in the forecast for the weekend. Temperature highs will go from the low 40's today to the high 50's on Saturday and Sunday. The temperature lows will rise from about 30 to the high 30's on Saturday and Sunday. Humidity will go from 30% - 40% on Friday, to 30% - 50% on Saturday and then 40% - 60% on Sunday. Winds will fall from 10 - 20 mph Friday to about 5 mph the rest of the weekend.
The first day of Spring is Saturday. Spring doesn't arrive on the same date every year. Easter arrives on April 4th this year.
Things To Do in NYC - This Weekend & Coming Soon
NYC Restaurants can use 50% of their indoor capacity beginning Friday, March 19th, while NYS restaurants outside of NYC can use up to 75% of their capacity. Since mid February NYC restaurants have been able to use 35% of their capacity, while NYS restaurants outside of NYC have been operating at 50% capacity. on April 4th?
Events, arts and entertainment venues can open at 33% capacity beginning April 2nd, with limits of 100 people inside and 200 people outside - and with testing those caps can rise to 150 inside and 500 outside.
The Yankees home opener is April 1, 2021 against the Toronto Blue Jays and they will be able to host about 9,000 fans in the 46,000 seating capacity stadium [20% because outdoors], with immunization or testing proof, and the following of other CoVid safety measures like social distancing, masks and temperature checks. The Mets home opener is April 8, 2021 against the Miami Marlins, and they are subject to the same rules mentioned above.
The Central Park Boat House will reopen Wednesday, March 31st, 2021.
Shakespeare in the Park returns to Delacorte Theater on July 5th.
---
Weekend Update & NYC Things To Do
NYC Restaurants Move to 50% of Indoor Capacity Today, Large Entertainment Venues Like Baseball Stadiums Open to 20% Capacity Outdoors & 10% Indoors, Stronger Mutant CoVid Now over 50% of New Cases, Vaccine Eligibility Continues to Widen, Airline Travel Up Significantly, Spring Starts Saturday & NYC High Schools to Open Monday 3/22
March 19, 2021 / NYC Neighborhoods / NYC Things To Do / Gotham Buzz NYC. Continued.
Governor Cuomo Loosens Travel Restrictions - Air Travel Growing
Earlier this month [3/3/21], Governor Cuomo normalized the travel restrictions for folks who travel to New York within 90 days of their full vaccination. Everyone else is required to test clear of the virus three days prior to arrival and to quarantine for ten days or less if tested after arrival.
Air travel has been rising and last weekend the airlines saw some of their highest throughput since the pandemic began at 2.57 million passengers. This is down versus 3.2 million in 2020 as the pandemic was just being recognized as an emerging problem, and down vs 4.9 million in 2019.
NYC High Schools to Reopen Monday, March 22nd
NYC elementary schools reopened in December, NYC middle schools opened in mid February and now NYC high schools will reopen effective Monday, March 22nd. While kids are far less susceptible to severe illness and death than adults regarding CoVid, their teachers were / are at risk, which is why the public schools had previously moved to virtual classrooms.
Those who opted for in-person learning can return to school on Monday and all NYC high schools will be open. Those who opted for blended learning are expected to be reinstalled by late March. Those who opted for all remote learning, which was about two thirds of the students, will remain in remote learning until further notice. Because only a third of kids opted for in-school or blended learning, it is expected that high schools will go back to a five days a week schedule.
The usual CoVid safety protocols will be in effect, and the NYC schools system will be implementing a CoVid testing program. For more information on testing and other NYC public school system protocols copy and paste the following link into your browser bar.
https://www.schools.nyc.gov/school-year-20-21/return-to-school-2020/health-and-safety/daily-covid-case-map
CoVid Pandemic News Update
In NYC over two million New Yorkers [24%] have already received one shot of the vaccine, while over one million [12%] are fully vaccinated. We're about even with the rest of the nation in ramping up the curve and hopefully putting the pandemic behind us .... BUT ...
The more contagious and more deadly strain of the Corona Virus has already grown to over 50% of new infections. This is why the CDC and Biden Administration are urging people to remain vigilante until more Americans are vaccinated.
Right now about 23% of Americans have received at least one vaccination shot according to Forbes and according to U.S. News about 12% have been fully vaccinated, so we're moving up the curve to some measure of collective immunity, but we need to have about 5x - 6x these numbers, before the risk subsides.
The eligibility requirements needed to obtain the vaccine are rapidly widening. On March 10, 2021 people aged 60 and older became eligible. On March 17th public-facing government and public employees, public-facing not-for-profit workers and essential public-facing building service workers became eligible.
To date the following groups are eligible to receive the vaccine in NYC / NYS - people with underlying health conditions, older adults, group living facility residents and staff, building services, corrections, first responders and support staff, food industry workers, government and not-for-profit workers, health care workers, hotels, public transit and TLC drivers, schools (prek-12), college, child care and early intervention workers.
President Biden said that he hoped that every adult would be eligible to receive the vaccine by May 1, 2021, so that by the 4th of July all Americans could celebrate Independence Day safely.
Stay Vigilante & Stay Safe
We're in what is increasingly feeling like a transition back to normal. But in some ways that increases the risks, as people let their guard down, and start moving / interacting again. Remember the mutant strains are out there, more contagious and deadly, growing quickly and the vaccines have not been tested against them, although early evidence suggests the vaccines help protect people against the mutant strains too.
So get vaccinated as soon as you're eligible or as soon as you can. The production of vaccine supplies is growing weekly.
And have a nice weekend. The weather is supposed to feel like Spring : )
---
---