Things To Do, NYC News Briefs & Weekend of Religious Holidays
While Overall CoVid Numbers Still Modest in NYC & NYS, CoVid New Cases up Significantly, as are Vaccinations; Cuomo Drops Some Restrictions 4/5 as well as Domestic Travel Quarantine on 4/1, Changes in White Collar Remote Working, CRIME STATS & NY Post Fox News 'Reporting' of them, Business & Economy Update, Passover Begins Saturday, Holi Begins Sunday, Palm Sunday is 3/28 & Open Streets Applications Began 3/25
March 26, 2021 / NYC Neighborhoods / NYC Corona Virus / News Analysis & Opinion / Gotham Buzz NYC.
Weather. On Friday, the temperature high could hit 80 degrees, falling to about 70 on Saturday and into the low 60's on Sunday when about an inch of RAIN is expected. The temperature lows will be around 50 on Friday and Saturday, falling to the low 40's on Sunday. The wind will be about 20 mph on Friday, falling to 5 - 10 mph Saturday and rising to 10 - 15 mph on Sunday. Humidity will be 40% to 70% Friday, 40% - 60% Saturday and 60% - 70% on Sunday.
Ethnic & Religious Holidays
Three holy days begin this weekend. On Saturday evening the Jewish celebration of Passover begins. Passover celebrates the Jews flight from Egypt. To Christians Sunday marks the celebration of Palm Sunday which is the first day of Holy Week, which culminates with Easter Sunday [next week]. And the Indian holiday of Holi begins Sunday evening. Holi is referred to as the festival of Spring, of Love and of Colors. I did my part by snapping the photo to your right which is certainly colorful. To all ethnic and religious groups, I wish you a safe celebration of your holidays.
---
Things To Do, NYC News Briefs & Weekend of Religious Holidays
While Overall CoVid Numbers Still Modest in NYC & NYS, CoVid New Cases up Significantly, as are Vaccinations; Cuomo Drops Some Restrictions 4/5 as well as Domestic Travel Quarantine on 4/1, Changes in White Collar Remote Working, CRIME STATS & NY Post Fox News 'Reporting' of them, Business & Economy Update, Passover Begins Saturday, Holi Begins Sunday, Palm Sunday is 3/28 & Open Streets Applications Began 3/25
March 26, 2021 / NYC Neighborhoods / NYC Corona Virus / News Analysis & Opinion / Gotham Buzz NYC. Continued.
Things To Do This Weekend and Next Week - The Intrepid, The Yankees & Open Streets
The Intrepid Air, Space and Sea Museum in west Midtown reopened on Thursday, March 25th and will remain open going forward. See their website for days, times and CoVid guidelines.
Baseball with fans in the stadium begins next week on Thursday, April 1 at Yankee Stadium in the Bronx and a week later 4/8 at CitiField in Queens.
Applications for the Open Streets program began Thursday, March 25th, 2021. Open Streets is a program started last year to provide neighborhoods with more room to stretch their legs, practice social distancing and have a bit of fun. Based on requests, some neigbhorhood streets are closed off from cars for many hours of the day.

New CoVid Variants are Spreading Fast in NYC & NYS, as New Cases are on the Rise Again, & we Race to get Vaccinated
New Yorkers must remain vigilant to thwart what seems a third major resurgence of CoVid, as the mutant CoVid variants are now said to be over 60% of new CoVid cases, up from 50% just a couple of weeks ago. According to a report in the New York Times today 3/26/21, new NYC CoVid cases are up 16% and up 13% in NYS on a 14 day rolling average. A chart provided by the NYC Department of Health shows CoVid surging at a 10 - 15% rate in some sections of all five boroughs in NYC.
That said the 'average' rate of infection in both NYC and NYS is between 4% - 5% according to a March 25, 2021 report in The City, a local website.
According to that same report about 1.9 million NYC residents [23% of the population] have been vaccinated with at least one shot. In NYS the fully vaccinated population is 14%, while the total number of people receiving at least one shot is 27%. So it seems we're in a race against growing impatience and diminishing discipline, as people - understandably - want to begin to pursue a more normal life. But as the saying goes, "Caution is the better part of valor." This means it's ok to be brave, but don't be stupid and take needless risks - especially when we could be close to the beginning of the end. I say could be, because we don't yet know the impact of the new variants on our ability to contain the spread of the pandemic.
People are moving again, and likely letting their guard down, as things 'appear' to be returning to normal. Reportedly, over two thirds of older people have been vaccinated, so they may now feel safe to resume a more normal existence.
Business & Economy - Spending, Unemployment, Airlines, Hotels, Restaurants, Taxis & the MTA
New unemployment claims dropped to 684,000 vs 781,000 the prior week. It was the lowest level of weekly U.S. jobless claims since the pandemic began. It's worth reminding folks that these are still very high new jobless claims, as about 300,000 new jobless claims are filed each week in a decent economy.
U.S. consumer spending is up, and appears to heading toward its highest year to year growth level [about 24%] for March since 1984. This may be in anticipation of the stimulus checks and a resurgent economy.
NYC is - among other things - a tourist town. According to the Bureau of Labor Statistics [BLS] the national U.S. hospitality industry added 355,000 jobs in February after losing 61,000 in January.
Airlines processed the highest number of passengers [well over one million] in multiple days, since the pandemic began this month. But airlines are still operating at just below 50% of what would be considered a normal year according to OAG. According to OAG, a global travel data provider, airlines could be operating at near 80% of prior 'normal' years as soon as May.
In NYS, on March 11, 2021, Governor Cuomo is suspending the rules surrounding travel testing before flying here, testing after arriving here, and / or quarantining on April 1, 2021. These rules had been in effect throughout the pandemic. Mayor de Blasio thinks the Governor may be acting hastily, and based on the spikes in CoVid cases in pockets around the city - the Mayor may be right.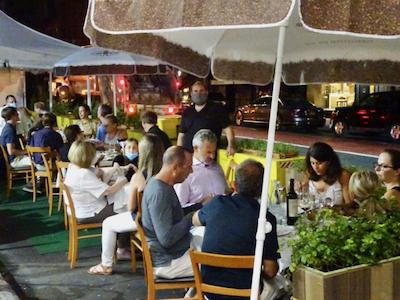 According to a report by the North Star Meetings Group, across the nation hotels are operating near 50% of their occupancy, but the performance by market or type varies widely. Resorts and gambling destinations have done well, while the big city business traveler destinations like New York and Washington, D.C. continue to lag the industry, pending a recovery of business travel. A Manhattan Lodging Report from Price Waters Coopers indicated that over half [58%] of Manhattan hotels remain closed. That same report indicated that about 5% of NYC's hotel rooms [about 3,000] were shuttered permanently.
On March 18, 2021 NYC restaurants were allowed to increase their capacity to 50% while NYS restaurants outside of NYC were allowed to increase their capacity to 75%. It's worth noting that NYC restaurants are more tightly configured, allowing less space per person than outside of the city, which is likely why the differential.
On April 5th the 11 pm curfews for casinos, movie theaters, bowling alleys, billiard halls, gyms and fitness centers will all be lifted. Again the Mayor weighed in questioning whether the Governor was doing this for political purposes. It does seem quite a sea change from Governor Cuomo's abundance of caution last year.
According to a March 9, 2021 report NYC Taxis continue to operate down 80% versus a year ago as of January 2021. Earlier this year we reported that taxi drivers staged a protest on the Brookln Bridge to draw attention to their plight. An NYC rescue package, worth $65 million is in the plans, based on the possibility of receiving and using stimulus funds. It will help reduce taxi drivers' debt by hundreds of millions. The taxi drivers say it doesn't go far enough.
The MTA daily passenger traffic figures. have improved considerably since I last checked in the Fall / early Winter. They're now down about 66% daily, versus about 80% in the Fall.
Demographic Shifts - White Collar Workers & Tele Commuting
De Blasio has ordered NYC white collar municipal workers back to work in the office by Monday, May 3, 2021. It's worth noting that that represents about 80,000 workers.
A study by The Partnership for New York City indicated that less than 50% of white collar office workers will be back in the office by September 2021. They said that the pandemic has caused employers to rethink their operations vis a vis white collar employees working remotely and some of the changes will be morphed and managed into new operational behavior, likely with numerous variations of some workers not back in the office at all, some not back in the office five days a week and of course, some in the office per usual. Apparently remote working has worked well. And this shift could be a positive trend for everyone, but particularly families with children, because it will provide more flexibility.
Overall NYC Crime is Down & Murdoch's NY Post Tells Readers What?
In both January and February 2021 crime was generally down, including murders, both months. Gun arrests have been driven up dramatically, as there were 400 in February alone which is up 156 a year ago. But you will be hard pressed to find this information in Rupert Murdoch's NY Post, Fox News or Wall St. Journal because it's not in line with what seem the Australian born billionaire's propaganda efforts to discredit Mayor de Blasio. Murdoch oftentimes appears to undermine government officials who won't bend to his will, while promoting stoolies who will, so Murdoch can get them to give him whatever he wants, out of the public pot.
So while overall crime is down, including murders, what does Rupert Murdoch's NY Post tell its readers? In classic Murdoch's Goebbels style deceit the NY Post headline was, "NYC Shootings Surge in February Despite Historic Snowfall". While true, it was about the only bad statistic in the report. As mentioned, gun arrests which numbered 400, were up 64% versus a year ago, and this was before the pandemic changed things. At the bottom of the Murdoch NY Post OpEd, it tells the reader in the last sentence of the OpEd that overall NYC crime was down. Last summer Murdoch's media went on a rampage of de Blasio, for the passing of a police reform budget, and the spike in crime that accompanied the pandemic and the George Floyd protests. Murdoch has shown non-democratic, fascist tendencies throughout his life, and what's troublesome is that he controls more media in the U.S., Britain and Australia than anyone else in each nation by a country mile. To learn more about the deceits of a man that a former Australian Prime Minister called a cancer on the nation - see our series on Murdoch's Fox News, NY Post and WSJ propaganda outlets.
Asian Hate Crime is Up & Murdoch's Fox News Tucker Says ...
While overall crime in NYC is down, there have been 12 Asian Hate crimes in the city this year. That's up from none a year ago. Earlier this week a protest was organized in response to what appeared to be a hate crime against Asian women in Georgia. Murdoch's Fox News propagandist, Carlson Tucker who has long been accused of being a die hard racist, appeared to challenge the notion that an attack at numerous different locations, of only Asian women, could be such a thing.
Last summer I witnessed Carlson's twisted presentation of a story so morally corrupt, and so indecently dishonest, that it made my head spin. The seemingly racist Tucker did a broadcast on the shooting in the back, of an unarmed African American [Rayshard Brooks], while the guy was fleeing, after being accosted in his car which was parked in a fast food lot, for a possible DUI. By the time Fox News Tucker was done with the story, he was inciting his viewers to be outraged that African Americans would protest this police shooting, because it was preventing Georgia restaurateurs from doing more business. It was a classic, Goebbels style, propaganda piece, that would have made even the accomplished propagandists of 1930's and 1940's Nazi Germany proud. If you're curious about the Tucker's report click to - Is Tucker Carlson a Racist? and see for yourself.
Separately. Former NYPD policeman Daniel Pantaleo lost his lawsuit against the NYPD for reinstatement of his job. If I recall correctly, the lawsuit was supported by NYPBA President, Patrick Lynch and the NYPBA union. Here's a report we filed about the seemingly dishonest OpEd filed by the NY Post at the time of Pantaleo's dismissal.
Prostitution Charges Dropped in Brooklyn & Queens
Within the past couple of weeks, prostitution charges have been dropped wholesale by the courts of Brooklyn and Queens at the urging of the District Attorney's offices. The idea is to try to de-criminalize prostitution and treat it as a social problem, where the prostitutes are recognized for what they are - poor women desperate to make an income. Prostitution is oftentimes accompanied by a host of other social issues like drugs, unwanted pregnancies and single motherhood, oftentimes with attendant poverty.
There's also an emerging health issue to deal with, that's associated with prostitution, and that is the spread of sexually transmitted diseases. I recall hearing some time ago, that many European nations including Germany, the Netherlands, Switzerland, Greece, Austria and others, have legalized and regulated prostitution, in order to better manage all of these issues in a more intelligent manner. I'm not sure how they're doing.
Have a nice weekend and best wishes for a Happy Passover, Happy Holi Hai and Happy Palm Sunday.
---
---