Things To Do This Weekend in NYC - Halloween is Over & the Holidays have Begun
NYC Marathon & Daylight Savings Time [2 am] Sunday, Holiday Ice Skating has Begun, coming Soon Big Apple Circus Returns to Lincoln Center 11/11 & Holiday Markets are beginning to Open
November 5, 2021 / NYC Neighborhoods / NYC Things To Do Events / Gotham Buzz NYC.
Weather. The temperature highs will be in the mid 50's all weekend, while the temperature lows will be around 40 all weekend. No rain is in the forecast. The humidity will rise from 40% - 60% on Friday to 50% - 60% the rest of the weekend. Winds will be around 5 mph. All in all a great NYC Marathon Weekend.
Daylight Savings Time. At 2 am Sunday we 'fall back' to 1 am as we make the switch to Daylight Savings Time. So remember Saturday night to make the switch, and enjoy the extra hour of the weekend.
Election Referendum Results in NYC
There were five referendums on the ballot Tuesday. They seemed to get little attention from the mainstream media. Here are the results.
The 1st Referendum was to change the way redistricting is done. This was voted down 1.5 million or 56% voting no, and 1.2 million or 44% voting yes.
The 2nd Referendum was whether citizens should be guaranteed the right to clean air and water. This was approved by 69% or 1.9 million voters, while 31% or .9 million voters didn't think we should have that right.
The 3rd Referendum was to do away with the 10 day advance voter registration period, enabling voters to register at the polls, the day of the election. About 1.6 million voters or 56% approved this, while 1.2 million voters or 44% didn't think it should be changed.
The 4th Referendum proposed doing away with the requirement that voters must attest to not being able to vote locally in order to qualify for an absentee ballot. About 1.7 million or 57% of voters wanted to keep this requirement in place, while 1.2 million or 43% of voters were ready to do away with that requirement.
The 5th Referendum proposed increasing the jurisdiction of the New York Civil Court to cases valued at up to $50,000, versus the current limitation of $25,000. About 1.7 million voters or 63% voted in favor of the change, while 1 million or 37% voted against the change.
The NYC Marathon Celebrates its 50th Year Following a Hiatus in 2020
The biggest event of the weekend is the NYC Marathon on Sunday. The race runs through all five boroughs, and for those driving that day, there will be numerous road closures as is normally the case.
Fewer runners will participate in order to keep the race socially distanced as CoVid is still traveling among us. About 27,000 are expected to compete in the race.
LINK - Click link to go to page with larger rendition of the map shown at right.
Here are some links [to copy and paste in your browser] of prior years coverage, showing the best places to view the NYC Marathon, as well as video and some other highlights from prior years.
Generally, the start and end times, and the NYC Marathon course, have not changed much in recent years, so the guidance contained in these prior reports is probably still pretty solid today. The Queens link is the most complete as it is the original site.
NYC Marathon Queens 2008 - 2013
NYC Marathon Bronx 2018 on Video
And still working on Staten Island.
---
Things To Do This Weekend in NYC - Halloween is Over & the Holidays have Begun
NYC Marathon & Daylight Savings Time [2 am] Sunday, Holiday Ice Skating has Begun, coming Soon Big Apple Circus Returns to Lincoln Center 11/11 & Holiday Markets are beginning to Open
November 5, 2021 / NYC Neighborhoods / NYC Things To Do Events / Gotham Buzz NYC. Continued.
Manhattan Holiday Skating Rinks Open

The Bryant Park and Rockefeller Center Skating rinks are both open effective Saturday. The Bryant Park rink opened a week ago. The Rockefeller rink is open from 9 am - 12 midnight, while the Bryant Park rink is open from 8 am - 11 pm. Bryant Park skating is free if you bring your own skates, but lockers run $5 - $15 and skate rentals run $15 - $45. The price of skating at Rockefeller runs from $20 - $54, but includes skate rental.
In both cases reserving a time slot online is recommended, especially during the holidays. Copy & paste the following links into your browser bar to make a reservation.
https://bryantpark.org/?/amenities/bank-of-america-winter-village-at-bryant-park
https://www.rockefellercenter.com/attractions/the-rink-at-rockefeller-center/
The Lasker Rink in Central Park at 110th Street will remain closed until 2024 as renovations are being made. It is usually open from 9 am - 4 pm.
The Wolman Rink at the southeast end of Central Park will open Monday, November 15th. Their hours are from 10 am - 12 midnight. Prices range from $5 to $23, depending on age and time of skating.
Holiday Markets are Beginning to Open & Supply Chain Update
The official holiday shopping season used to begin the day after Thanksgiving on Black Friday, but like so many things, that has changed.
Shoppers appear to have been scared by TV 'news' reports hyping the supply chain 'scarcities', so many shoppers have begun their shopping early. Perhaps the TV 'News' is creating the 'scare-cities' which seem to be resulting in shoppers paying higher prices because they are 'scared' they won't be able to buy what they want come Christmastime. Hanukkah is also very early this year [November 29th], which may be contributing to this early shopping.
Possibly not yet by Hanukkah, but by Christmastime it's possible retailers will have an overabundance of some goods that they'll want to move, possibly by discounting. This not necessarily a prediction, but based on what I've read, with the exception of semiconductors in automobiles, most the supply chain issues should be resolved by first quarter 2022, with lingering issues tailing off by the summer of 2022.
President Biden lengthened the operating hours of the LA and Long Beach Ports in California to 24/7 in mid October. Previously the ports had closed on weekends and also from 3 am to 8 am weekdays, because shippers didn't pick up at those hours. By the end of October, Port Authorities were authorized to fine shipping companies that let their containers linger too long at the ports, which contributed to the congestion at the ports.
The latest issue is a nationwide truck driver shortage of an estimated 50,000 - 60,000 drivers. That said, U.S. employment ticked up strongly in October, as there were over a half million jobs added [531,000]. So as we all get vaccinated and put CoVid behind us, there's a good chance a lot of those truck driver positions will be filled before or by the holidays.
Both the Port of Los Angeles and the White House appear to be paying attention to working down the backlog as you can see in the charts at right. Above right shows a chart I found on the White House site, shows that the ports are dealing with a significant upsurge in goods demand / traffic because of the pandemic. This pandemic goods upsurge is why the backlog was created, and why the bottlenecks popped up, and why changes to address them needed to be made.
In the Port of Los Angeles chart, you can see they appear to be making progress bringing down the backlog - BUT be advised this chart represents only a few days in November. That said, if this trend continues, then we're on our return to some sort of normalcy.
Both the LA Port Authority and the White House are doing regular updates on their websites, which you can access for more detail, if you're interested.
America is Steadily Moving Back on Track, as Vaccination Mandates Curb CoVid Infections & People Return to Work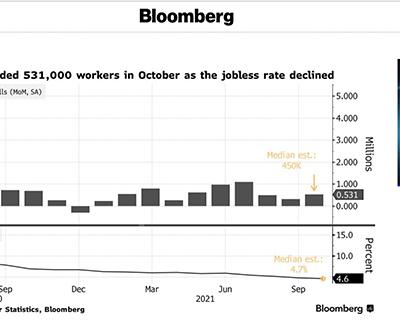 See chart at right showing the employment uptick, as we again put CoVid [Delta] variant behind us, because of the vaccination mandates. So the bottlenecks are being addressed as they are identified.
After enduring over a year of cabin fever which dampened services spending and thus increased savings [see White House chart above], coupled with the injection of trillions in stimulus checks by the government, many consumers have been spending their money buying more goods. Hence, demand for goods is expected to remain fairly strong for the coming year as consumers spend more of their savings. This continued demand for goods is expected to come particularly from the high end of income earners.
I'll have more on holiday markets in all five boroughs later today / over the weekend. At present the Bryant Park Winter Village is open, and most of the others will also open very soon.
Have a nice weekend.
---