5 Boro Bike Ride Returns Sunday
Bike New York Organizes NYC Bike Ride & Bike Expo New York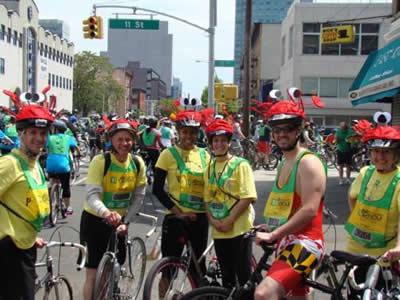 April 30, 2018 / Manhattan Neighborhoods / Bronx Neighborhoods / Queens Neighborhoods / Brooklyn Neighborhoods / Staten Island Neighborhoods / Gotham Buzz NYC.
This story includes information about the upcoming 5 Boro Bike Ride on Sunday, as well as the Bike Expo New York which precedes it on Friday & Saturday in Red Hook. As of this report, the temperatures are expected to be in the 60's and the chances of rain appear slim. But bear in mind that the forecast probability of 20% chance of rain last Friday, turned into rain on Saturday evening, so check the weather as we get closer in.
Bike New York 5 Boro Bike Ride Route
Since 1977, every first Sunday of May, Bike New York has organized and promoted the 5 Boro Bike Ride. The ride begins in lower Manhattan, sweeps northward across the Harlem River Bridge to the Bronx, circles back across the Third Avenue Bridge to Manhattan, where it begins its southward trek crossing the Queensboro Bridge into Queens, heading south to Brooklyn after a quick stop north to Astoria Park, and then comes down past the Brooklyn Navy Yards, continuing southward along the west side of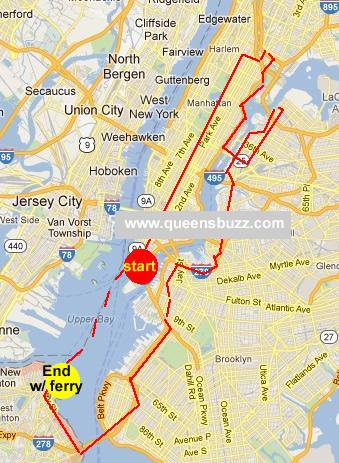 Brooklyn, to the Verrazano Narrows Bridge where it crosses over to the Fort Wadsworth neighborhood in Staten Island before terminating in the St. George neighborhood at the Staten Island Ferry.
Proceeds from Non-Profit New York Bike Ride go Toward Sustainable Transportation Efforts
The now famous bike ride was capped at 32,000 riders I believe sometime in the 1990's, where it still stands today. One report noted that the 5 Boro Bike ride is one of - if not the largest - non-profit bike rides in the nation. The proceeds go to Bike New York programs which are designed to teach people about sustainable transportation, most notably bicycle riding and bike maintenance and safety. Another report noted that the NYPD had considered [don't know the outcome] charging the organization $1 million for erecting, maintaining and terminating road closures during the New York 40 mile family-friendly bike ride.
Bike New York Bicyclist Outreach in all Five NYC Boroughs
Bike New York has offices in all five NYC boroughs. In 2015 their cyclist safety and bike maintenance programs reached 15,000 New Yorkers. And they are the organizers of the Bike Expo New York being held at Pier 12 in Brooklyn on Friday and Saturday [see details in rest of this story].
---
5 Boro Bike Ride Returns Sunday
Bike New York Organizes NYC Bike Ride & New York Bike Expo
April 30, 2018 / Manhattan Neighborhoods / Bronx Neighborhoods / Queens Neighborhoods / Brooklyn Neighborhoods / Staten Island Neighborhoods / Gotham Buzz NYC. Continued.
Bike Expo at Pier 12 in Brooklyn This Weekend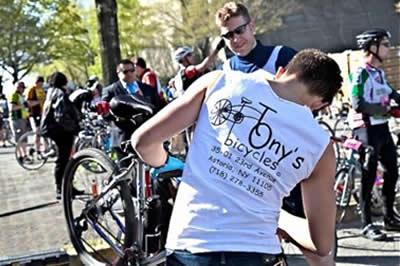 The Bike Expo New York moved to Pier 12 in Brooklyn this year after six years of being hosted at Basketball City. The Bike Expo New York will be open from 10 am to 8 pm on Friday and from 10 am to 6 pm on Saturday, May 4th & 5th respectively. The event includes the latest and greatest in bicycle technology, bikes, accessories, clothing, and related bike gear. It's also a great place to meet fellow cycling enthusiasts and volunteer for events.
The ride on Sunday will include four waves of cyclists that will depart Lower Manhattan between 7.30 and 9.20 am. The second and third waves leave at 8.10 and 8.45 am. There are a number of rules of the road, most notably to bring a SMALL pack, as large packs are not admissible. Also to ensure that you have your Rider ID visible so that the police may ensure a fun, uneventful ride. There are four rest stops - every ten miles or so - where riders can use the rest rooms, have repairs done free [but riders pay for parts] and there are always various types of healthy snacks and beverages which have been donated by supportive businesses.
Bike New York organizes other New York City bike rides, as well as New York State bike rides - mostly near NYC - in areas like Westchester, the Hudson Valley and Long Island. See their website at bike.nyc for additional info.
Enjoy.
---
NYC Neighborhoods Related Info
Click this link for promotions, discounts and coupons in NYC.
NYC Neighborhoods Related Links - NYC
Click for Manhattan Restaurants / Queens Restaurants / Bronx Restaurants.
Click for Bikes Bicycles Biking in Manhattan / Bikes Bicycles Biking in Queens / Bikes Bicycles Biking in the Bronx.
---
Archives - TBD
---
Site Search Tips. 1) For best results, when typing in more than one word, use quotation marks - eg "Astoria Park". 2) Also try either singular or plural words when searching for a specific item such as "gym" or "gyms".
---
---
Click the log in link below to create an ID and post an opinion.
Or send this story to a friend by filling in the appropriate box below.
---