Is Picking One of Two NYC Republican Billionaires Who Govern for the 1% Really a Choice?
Democrats Should Take a Hard Look at the Billionaire Republican Bloomberg's Record Before Casting Their Votes
Any American with Half a Brain should Know that Relying Soley on an Ad for all the Information You use to make a Decision is Not a Good Idea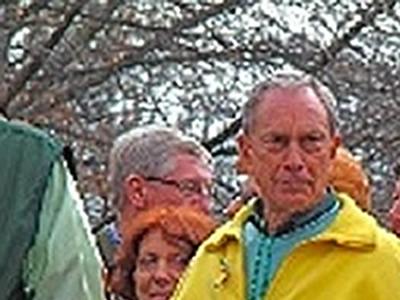 Cleaned up March 17, 2020 from 2/21/2020 / NYC Neighborhoods / National Politics & Government / News Analysis & Opinion / Gotham Buzz NYC.

Bloomberg's Ads Talk About his Recent Donations - NOT About his Record as Mayor
If you watch Bloomberg's commercials closely you'll notice that he doesn't talk much about his record as NYC Mayor, but rather talks mostly about the donations he has made over the past two or three years.
Most of these donations were made AFTER the Donald won the presidency, and showing Bloomberg - the other NYC Republican Billionaire seeking the presidency - that it's possible that super rich people can fool enough of the electorate to vote for someone who has little to no idea what it's really like living in the middle class or working class - let alone the poor.
Bloomberg's donations include addressing gun control or lack thereof, addressing climate change and donations to women's groups. Bloomberg's donations, while very laudable, also appear to be very politically calculated.
Bloomberg Donations to Republican Senators Help McConnell Keep a Majority
Bloomberg has given to a number of Democratic candidates over the past few years, even though Bloomberg governed as NYC Mayor mostly while calling himself a Republican. But it's important to note that the former NYC Mayor also gave to Republican candidates, including senators who supported the Trump / Mitch McConnell agenda, such as South Carolina Republican Lindsay Graham [$250,000] and Pennsylvania Republican Pat Toomey [$11,700,000].
According to a November 26, 2019 report in the New York Times,
"... The former mayor of New York poured in $11.7 million to help re-elect the Republican incumbent, Senator Pat Toomey ... Federal records show that political committees funded by Mr. Bloomberg have spent more than $86 million since 2012 -- the bulk devoted to promoting Democrats. Yet more than $17 million went to boost Republicans. In addition, Mr. Bloomberg has personally donated another $950,000 to Republican campaigns and political action committees ... "
Bloomberg claimed he supported Pennsylvanian Pro Lifer Toomey for Senator because he was an advocate for gun control. But according to NY Magazine, so was the Democratic challenger, Kate McGinty. McGinty was also an environmental policy expert, while Toomey was also a Pro Life advocate. Sources for this paragraph are NYT 11/26/2019 and NY Mag 2/18/2020.
Another political donation the former NYC Republican billionaire made was in 2014 when he supported the gubernatorial campaign of former Michigan Governor Rick Snyder with a $3 million contribution. According to a February 18, 2020 report in NY Magazine,
"In 2014, Bloomberg gave $3 million to Michigan governor Rick Snyder, the conservative Republican who presided over the mass poisoning of Flint's water supply. The supposedly "socially liberal" billionaire's rationale for backing a self-described "pro-life, pro-Second Amendment" Republican? Snyder was, in Bloomberg's words, a guy "who took on the unions to get Detroit and Michigan going in the right direction. And he was re-elected despite being attacked by the unions.""
How Many Voters Can Billionaires & Mass Media Deceive?
Are Billionaires Corrupting the One Man / One Vote Promise of Our Democracy?
Bloomberg said he spent this money to "get it done", essentially claiming he can buy his way into the democratic process. Americans need to take note, because when they relinquish their votes to the siren call of the billionaires, they are relinquishing their role in what has been the American democratic process.
Voters have come to the fork in the road where they must choose between that which is easy and that which is right. Voters can make a difference by donating small sums of money over the internet, and if they can't do that. they can do a search for candidates or government officials they like and help them make calls or sign up voters or canvass neighborhood getting the word out the old fashioned way - the human way.
---
Is Picking Between Two NYC Republican Billionaires Who Govern for the 1% Really a Choice?
Democrats Should Take a Hard Look at the Billionaire Republican Bloomberg's Record Before Casting Their Votes
Any American with Half a Brain should Know that Relying Soley on an Ad for all the Information You use to make a Decision is Not a Good Idea
Cleaned Up March 17, 2020 from 2/21/2020 / NYC Neighborhoods / National Politics & Government / News Analysis & Opinion / Gotham Buzz NYC. Continued.
Republicans Posing as Democrats
In New York State voters know what pols / government officials who run as Democrats, but who govern like Republicans, look like, as in the 2019 NYS election cycle about a half dozen Democrats in the Legislature, who had periodically or regulary enough voted with Republicans, were thrown out of office. Click here to read a report about the IDC or Independent Democrats which were essentially NYS Republicans running as Democrats.
Just because someone claims they are a Democrat - like Mike Bloomberg is now doing - doesn't mean they really are one. If I've learned nothing else these past four years, the one thing I have learned is that billionaires like Rupert Murdoch, Donald Trump and Mike Bloomberg narrate distorted versions of the truth in order to serve their own interests aka get what they want. That's likely one of the reasons they're billionaires. They tailor the stories they tell, to convince their audience of their version of the truth, in order to obtain something from the audience ... like their votes and all of the money, influence and power that comes with it.
The Bloomberg Smoke Screen
A Closer look at What Bloomberg Purchased by Supporting 2018 Democrats
As you may have heard, the company Mike Bloomberg founded has a history of alleged sexism in the workplace. Alleged mistreatment of women is one of the issues - as is the racist Stop N' Frisk policy Bloomberg championed as NYC Mayor - that have received some fair measure of media attention. But addressing voters concerns in those two areas appears to be the calculated mission driving Bloomberg's philanthropic efforts, as well as his donations to various Democrats, and their campaigns.
Bloomberg seems to have a bit of a problem with the female gender based on court filings, ongoing NDA's, and at least one booklet about the former NYC Mayor's misogynist comments, reportedly made while he was at the helm of the multi-billion dollar empire he founded. The booklet was made by an employee in 1990, and Bloomberg dismisses it as a joke.
According a February 20, 2020 ABC News report, Bloomberg and his company are alleged on numerous occasions, to have fostered a culture that has mistreated women. They report,
"Court records reviewed by ABC News indicate that at least 17 women have taken legal action against the company over the past three decades, with three of the cases specifically naming Bloomberg for his role in the company's culture. None of the cases made it to trial - four were either dismissed or withdrawn, while five were settled out of court. Three cases remain active."
So, in an effort that appears intended to mitigate Bloomberg's issues with both race and gender, Bloomberg donated generously to a number of female and African American congressional and mayoral candidates in the 2018 election. He donated $11 million to 24 Democratic candidates in 2018. Let's take a closer look.
Buying Endorsements from Female, Ethnic and Establishment Candidates?
How Much do Democratic Congressional & Mayoral Endorsements Cost?

A February 20, 2020 ABC News report states,
"The idea that a billionaire gives money to a candidate and doesn't expect something return is a fallacy. That's the problem with Mike Bloomberg entering this race," said Yvette Simpson, an ABC News political contributor and the progressive political action committee, Democracy for America CEO. "It's not just that Bloomberg has a lot of money. It's that he can use his money to influence people - and has."
"..."When candidates have a serious vulnerability, endorsements can be helpful to deflect attacks," said Matthew Dowd, an ABC News political contributor. "For Michael Bloomberg, the endorsements he's getting from African American leaders, women and prominent Democrats may very well bolster him."
Follow the Money?
Bloomberg Picks up a Number of Endorsements from Congressional Candidates & Over 100 Mayors
One of the Bloomberg donation recipients, Democratic Georgia Congresswoman Lucy McBath, endorsed Bloomberg without - as far as I know - any full disclosure of her receipt of the $4.3 million in funding that her campaign received from the Bloomberg founded Everytown Gun Safety PAC in 2018.
But the dishonesty of omission isn't new in politics. And there appeared to be a slew of others as well.
That same February 20, 2020 ABC News report stated that another Bloomberg non-profit, named Independence USA PAC donated 1) $2.2 million to help elect Congresswoman Mikie Sherrill of New Jersey, 2) $2.2 million to Haley Stevens Congresswoman of Michigan, 3) $4.5 million to Harley Rouda Congressman of California, 4) $5 million to a Stacey Abrams linked group [Abrams narrowly lost the Georgia governorship by about 55,000 votes in the 2018 election] and 5) over $11 million to various Democratic PACs.
Sherrill, Stevens and Rouda also endorsed Bloomberg, and like McBath - as far as I know - didn't disclose with that endorsement that Bloomberg had indirectly funded them.
Stacey Abrams, who narrowly lost the Georgia gubernatorial election in 2018, defended Bloomberg's massive spending effort to buy the 2020 presidential election - but as of this writing she hadn't yet endorsed him.
So four endorsements from three key female and one key male congressional representatives and a solid defense of Bloomberg's purchase of the election is what Bloomberg has reaped so far from his Congressional race spending of $43 million [the $86 million in 2018 includes other races].

Are Bloomberg Philanthropies a Foil for Buying Political Endorsements?
Did Bloomberg Use his Phlianthropies - like Trump Used his - to Buy Influence?
According to a February 15, 2020 NY Times report Bloomberg has given about $6 million in total over the years to Emily's List. Certainly the generous donations by Bloomberg's philanthropy helped him procure a speaking engagement in front of the members of this prominent women's group in September of 2018, in spite of Bloomberg and his company's alleged questionable treatment of women. At the September 2018 Emily's List event, Bloomberg he promised to donate $80 million to Democratic - primarily female - candidates.
Various Bloomberg philanthropies seem to have essentially courted America's mayors with cash. According to a February 17, 2020 report by the Washington Examiner, the Bloomberg philanthropies reached some 200 mayors in America's cities.
But like the Trump charities, there seems an ulterior motive - or as Kelly Anne Conway likes to say, an "alternate fact". The Washington Examiner report went to say,
"...Mayor Svante Myrick of Ithaca, New York, said Bloomberg's campaign reached out shortly after he announced his candidacy to ask for an endorsement. The city had previously received $100,000 in funding for a supervised injection facility. Myrick, who has yet to endorse a candidate, said it did not initially occur to him that Bloomberg's charitable donations could be linked to the endorsements."
The following six cases below were sourced, in part, from an ABC News report published on February 20, 2020.
A number of America's mayors ended up with grants from Bloomberg philanthropies and as the ones noted below all endorsed Bloomberg's run for president without - as far as I know - telling people during their endorsement that they had been recipients of Bloomberg funding.
San Francisco Mayor London Breed is an example, having graduated from a joint Bloomberg / Harvard University program for mayors in 2019, whose city has been a recipient of Bloomberg millions. According to an ABC News report Bloomberg has,
"... invested millions in San Francisco's arts, innovation and management program in recent years ..."
Another participant in the Bloomberg Mayor's program was Charlotte, North Carolina Mayor Vi Lyles who ABC News reports,
"... won his [Bloomberg's] American Cities Climate Challenge in 2018 ... [and is] set to receive financial assistance and training for city staffers -- all paid for by Bloomberg."
Out of seven mayors in Bloomberg's What Works Cities Certification, three of them - the mayors of Washington, D.C., Louisville, Kentucky, and Memphis, Tennessee - all endorsed Bloomberg.
Like so many other politicians accepting these donations that now seem to look a bit like political influence 'bribes', Washington, D.C. Mayor Muriel Bowser didn't mention the Bloomberg money, saying this instead,
"... I think Mike spoke very directly to the mistakes he made as mayor, but also spoke to the vision he has for helping young men, especially those who suffered during that time ... [Mike] is gaining a lot of traction with African American communities. One thing we know is that as a mayor, especially of the largest most complex cities in the country, gets it -- that's why over 100 mayors have endorsed him. I think the American people are focused on beating Donald Trump and Mike Bloomberg is best positioned to do that, ..."
In addition to funds received through that Bloomberg program, D.C. Mayor Muriel Bowser also received $4.3 million from a Bloomberg Philanthropy for public education in 2015.
It's worth noting that what's omitted from a statement, is oftentimes as important or more important than what is said.
The Washington Examiner report noted above says this about the Louisville mayor,
"...Mayor Greg Fischer of Louisville, Kentucky, has worked with Bloomberg's team since 2011. Since then, his city has received $4.7 million in grants, and Fischer is now helping Bloomberg reach out to other cities strapped for financial resources. Louisville was one of five cities to receive funding from Bloomberg's foundation for early childhood learning programs last year."
Bloomberg Associates helped Houston respond to Hurricane Harvey and, according to the ABC News report noted above, is also,
"... now working with Mayor Sylvester Turner and the Houston Health Department to advance the goals of My Brother's Keeper: improving early childhood education, building skills to contribute to the workforce, and reducing crime and violence... "

The Washington Examiner report of February 17, 2020 states,
"Bloomberg [appears] has used the grants to guide his campaign travel. One of his first campaign events was in Jackson, Mississippi, which received a $1 million grant as the winner of the foundation's public art challenge and whose mayor attended Bloomberg's Harvard program. He later visited Augusta, Georgia, to announce the endorsement of the city's mayor, who also benefited from Bloomberg's initiatives."

The Washington Examiner report also informs us,
"Stu Loeser, a Bloomberg spokesman, said the billionaire businessman had made the donations "with no expectations of anything in return."
Bloomberg managed to reportedly get the endorsement of some 100 American mayors, of which his philanthropy programs reached out to 200 of them. That's a 50% return on investment, which is pretty good for "Mike Getting it Done".
The Bottom Line - What's the ROI on Campaign Spending for the NYC Mayoralty or the U.S. Presidency?
Under Bloomberg, New York City sold choice public lands worth hundreds of millions or more to a friend of Mike Bloomberg for literally a dollar apiece. And Bloomberg sweetened the public largess by adding billions in infrastructure improvements to accommodate and subsequently enrich the real estate developments erected upon those lands.
One real estate developer, Stephen Ross, and one company [his] Related Companies, appeared to be the primary beneficiaries of the Bloomberg Administration's development and infrastructure investments. Ross is reportedly a good friend of a Bloomberg Administration top official, as well as Bloomberg himself.
So Mike did get it done - but not for New Yorkers - so much as for one special New Yorker. CLICK here to read our report on The Bloomberg Record: NYC Mayor Mike Bloomberg & Stephen Ross - the American Oligarchs & possible corruption.
Related is our series on Rupert Murdoch who appears to have gutted the Australian and British democracies - not by buying them per se - but by what seems mass media manipulation of voters and extortion of those nation's conservative parties. Click here for - Is Fox Fake News the First Fake News, the Biggest Fake News?
Bloomberg's Returns on his Mayoral Campaign Spending Appear to have had the Same High Return as Lobbyist Investments
Bloomberg's wealth is estimated to be about $60 billion, making him one of the richest people in the world. So while these are big numbers for you and me, they're almost peanuts to the former NYC Republican billionaire Mayor. In the past year alone, Bloomberg is reported to have donated $3.3 billion to various causes, which was more than the prior five years combined, according to a February 24, 2020 report in the NY Times.
The graphs in the NY Times report seemed to inflate his giving / donations as they depicted the CUMULATIVE spending each year - rather than the spending for that year alone.
Bloomberg's campaign spending and philanthropic efforts seem very much like Bloomberg's 'philanthropy' donations to NYC arts, cultural and educational institutions prior to his run for NYC Mayor. This kind of giving has a tendency to mute - if not silence - the groups most likely to identify and report the truth or potential downside of various candidates.
All in all, according to Wikipedia, Mike Bloomberg spent $74 million on his 2001 campaign to get himself 'elected' NYC Mayor. Bloomberg went on to spend an additional $78 million in 2005 to get himself 'elected', and Mike Bloomberg spent $103 million according to a November 28, 2009 New York Times report to get himself 'elected' in 2009. All in all Mike Bloomberg holds three of the top three records for spending on a campaign to get elected NYC Mayor. The NY Times reported that Bloomberg paid $174 per vote.
Bloomberg is Responsible in Part for a Republican Senate Majority Starting 2014
According to a November 26, 2019 NYT report,
In 2014, several vulnerable Democratic senators in conservative leaning states were defeated - enabling Republicans to take control of the Senate for the first time since 2006. Some party leaders believed Mr. Bloomberg made an inhospitable political climate even worse. He wrote a letter to some of the wealthiest contributors in the Democratic Party in New York, urging them not to donate to four Democrats who voted to block gun background check legislation. And his donations allegedly helped pay for ads that attacked them.
Bloomberg Appears to Defeat Key Democratic Senators Handing the Majority Over to Mitch McConnell
Mayors Against Illegal Guns, funded by Mr. Bloomberg, pushed attack ads against Democratic senators in key states. Three of the four [senators] -- Mark Pryor of Arkansas, Mark Begich of Alaska and Heidi Heitkamp of North Dakota -- eventually lost their seats. The fourth, Max Baucus of Montana, chose not to seek re-election and became President Barack Obama's ambassador to China.
In an interview with The New York Times in 2013, Mr. Bloomberg explained his logic, saying that if Democrats could not get senators on board with something as popular with the public as background checks, they should pay a political price. In that interview he said,
"What I would suggest is that they have all of their members vote for things that the public wants ... And if they don't do that, the voters should elect different senators who will listen to them.''

Bloomberg has other philanthropies that he used heavily in the last election to tilt the balance away from Republicans - who the billionaire Republican had supported in the past. In the 2018 election cycle Bloomberg's PAC and related charitable organizations spent heavily to support female congressional candidates - some of whom have endorsed his presidential bid in return as reported above.
Chapter & Verse on Bloomberg Donations to Mayors & Congress[wo]men

Is 'Buying' Endorsements the same as Buying the Presidency?
Bloomberg also gave quite a bit of money to cities to spend, which may help people better understand why a number of mayors have endorsed him. The most prominent is the Washington D.C. mayor who received millions for a pet project of hers in Washington D.C. I'm not sure whether or not he also donated to her campaign - but time permitting - when I determine that one way or the other, I'll report back here.
So when people accuse Bloomberg of trying to buy the presidency, they certainly seem to have a number of very strong data sets supporting that theory. We saw this in NYC as Bloomberg made a bid for Mayor, where he spent $267 million in donations to non-profits who might have opposed him but remained quiet, as well as spending heavily with the media who also seemed to give him a 'pass' in terms of really reporting what was going on.
Click here to read our report on the Bloomberg record as NYC Mayor.
This seems to be happening again, but this time on a national scale. In addition to buying heavily into the Democratic party last election cycle and buying what seems to be endorsements through his philanthropies, Bloomberg also seems to have bought an incredible amount of omission reporting, shallow or propagandistic reporting, and / or biased reporting from the national TV networks and possibly from some of the other media.
If you want to know how Bloomberg really governed you have to look for it, as it seems so many of the major media outlets have not reported it, or at best shallowly reported it.
The following is primarily a recap of the Bloomberg Record, with some additions.
Mike Bloomberg's Apparent Disdain for Democracy While NYC Mayor
Bloomberg Doesn't Seem to Respect Free Speech - Locks up Protesters at 2004 Republican Convention in NYC
In 2004, the Republicans held their Presidential Convention at Madison Square Garden in New York City. At the time Michael Bloomberg was claiming to be a Republican. Toward the end of his three-term administration, former Mayor Bloomberg claimed to be an independent. And today Michael Bloomberg is claiming to be a Democrat. You'll see why this matters in a minute.
As such, during the first day of the Convention there were a wide number of protests, which former Mayor Bloomberg quashed by arresting people, seemingly randomly, to snuff out these people's rights to free speech to protest the re-election Convention of a President [George W. Bush Jr.] who had taken America in to two wars - one of which was hyped using the pretense of fake news [Iraq and WMD - weapons of mass destruction] blared by the propaganda machine of Australian born and bred multi-billionaire Rupert Murdoch.
Here are a few excerpts from a follow up report on how former Mayor Michael Bloomberg handled hosting the Convention by the New York Times on December 23, 2013. Bear in mind that the New York Police Department Chief reports directly to the NYC Mayor.
"More than 1,800 people were arrested the week of the convention, mostly for minor violations ... many were put in a temporary detention center at a Hudson River pier ... they slept on floors covered by soot and grease, and some said they left with rashes or respiratory problems. Some were held for two days or more before seeing a judge -- exceeding the 24-hour limit set by the courts."
"The city had previously paid $2.1 million to settle 112 claims connected to the convention, according to the comptroller's office. A spokeswoman for the Law Department said the city had spent $16 million in lawyers' fees and expenses defending cases from the convention, which was held from Aug. 30 to Sept. 2, 2004."
"Last year, a Federal District Court judge ruled that the police had wrongly surrounded and arrested more than 200 marchers on a sidewalk in Lower Manhattan during the convention."
"Of those, about 400 cases were dismissed based on videotape evidence that contradicted the original charges."
So former Mayor Michael Bloomberg, was governing like a law and order Republican in 2004, by essentially taking away these people's rights to protest the Convention and a Republican President with whom they disagreed.
Bloomberg's Apparent Disdain for Democracy - Overturning a Plebiscite Limiting the Mayor to Two Terms
In 2008, just a year before former Mayor Michael Bloomberg was about to be term limited out of the Mayor's Office, he convinced the NYC City Council to essentially repeal the plebiscite term limiting the Mayor. And thus Michael Bloomberg sought and won a third term which he essentially bought by shelling out nearly $100 million of his own money to defeat an relatively unknown candidate, retiring City Comptroller Bill Thompson, who was not given much support by the Democratic Party. The final vote was 50.7% for Bloomberg and 46.3% for Thompson.
New York City Council Speaker Christine Quinn obliged the Mayor's request to extend term limits, possibly believing that by facilitating the billionaire's request, he might endorse her candidacy when he stepped down, and maybe even help fund her campaign [she was a suckered as he did neither]. In my mind that vote, to overturn the plebiscite, was a telling one for all those who participated in that roll call. Here's the roll call vote per the New York Times on October 23, 2008.
"Roll Call, 4:35 p.m., on Introduction 845-A, to extend term limits for New York City elected officials to three terms from two: 29 yes, 22 no.
Joseph P. Addabbo Jr. of Queens, no; Maria del Carmen Arroyo of the Bronx, yes; Tony Avella of Queens, no; Maria Baez of the Bronx, yes; Charles Barron of Brooklyn, no; Gale A. Brewer of Manhattan, no; Anthony Como of Queens, no; Leroy G. Comrie Jr. of Queens, yes; Bill de Blasio of Brooklyn, no; Inez E. Dickens of Manhattan, yes; Erik Martin Dilan of Brooklyn, yes; Mathieu Eugene of Brooklyn, no; Simcha Felder of Brooklyn, yes; Lewis A. Fidler of Brooklyn, yes; Helen D. Foster of the Bronx, yes; Daniel R. Garodnick of Manhattan, no; James F. Gennaro of Queens, no; Vincent J. Gentile of Brooklyn, no; Alan J. Gerson of Manhattan, yes; Eric N. Gioia of Queens, no; Sara M. Gonzalez of Brooklyn, yes; Vincent M. Ignizio of Staten Island, no; Robert Jackson of Manhattan, yes; Letitia James of Brooklyn, no; Melinda R. Katz of Queens, yes; G. Oliver Koppell of the Bronx, yes; Jessica S. Lappin of Manhattan, no; John C. Liu of Queens, no; Melissa Mark-Viverito of Manhattan, no; Miguel Martinez of Manhattan, yes; Michael E. McMahon of Staten Island, no; Darlene Mealy of Brooklyn, yes; Rosie Mendez of Manhattan, no; Hiram Monserrate of Queens, no; Michael C. Nelson of Brooklyn, yes; James S. Oddo of Staten Island, no; Annabel Palma of the Bronx, no; Christine C. Quinn of Manhattan; yes; Domenic M. Recchia Jr. of Brooklyn, yes; Diana Reyna of Brooklyn, yes; Joel Rivera of the Bronx, yes; James Sanders Jr. of Queens, yes; Larry B. Seabrook of the Bronx, yes; Helen Sears of Queens, yes; Kendall Stewart of Brooklyn, yes; James Vacca of the Bronx, yes; Peter F. Vallone Jr. of Queens, yes; Albert Vann of Brooklyn, yes; David I. Weprin of Queens, no; Thomas White Jr. of Queens, yes; David Yassky of Brooklyn, yes.
The city councilmembers who voted no, can be proud of this vote until the day they die. The City Councilmember who voted yes can spin it any which way they want, but it seems a clear vote in favor of their own career, in defiance of the will of the people. These are the people who don't represent you, the voter, but rather they represent themselves and their own interests. And Michael Bloomberg was clearly one of them, as he was the instigator of the vote. You'll see why he wanted a third term in a minute.
1. Billionaire Foreign Policy - Bloomberg Appears to Muzzle his own Media Organization and like Trump - Seems Willing to Accommodate Dictators
See recent story by a wife of a former Bloomberg employee in China / Hong Kong who talks about how Bloomberg deals with dictators, such as in China. Bloomberg seemed to accommodate the Chinese 'president', like Trump seems to accommodate other dictators around the world.
A February 18, 2020 Intercept report discusses claims made by the wife of a Bloomberg reporter. It states,
" ... Soon after Bloomberg published the article on Xi's family wealth in June 2012, my husband received death threats conveyed by a woman who told him she represented a relative of Xi. The woman conveying the threats specifically mentioned the danger to our whole family; our two children were 6 and 8 years old at the time. The New Yorker's Evan Osnos reports a similar encounter in his award-winning book, "Age of Ambition: Chasing Fortune, Truth and Faith in the New China," when the same woman told Osnos's wife: "He [Forsythe] and his family can't stay in China. It's no longer safe," she said. "Something will happen. It will look like an accident. Nobody will know what happened. He'll just be found dead ..."
" ... The experience was especially terrifying because it came just months after the murder of a British businessman, Neil Heywood, who was poisoned by the wife of a senior Chinese leader, Bo Xilai, according to Chinese state media. His body was reportedly discovered in a hotel in the southwestern Chinese city of Chongqing..."
Her husband was working on another story about Chinese President Xi's family alleged corruption. The Intercept report states,
"... Then Bloomberg killed the story at the last minute, and the company fired my husband in November after comments by Bloomberg News editor-in-chief Matt Winkler were leaked. "If we run the story, we'll be kicked out of China," Winkler reportedly said on a company call ..."
The report continues,
" ... Mike Bloomberg, then New York City mayor and majority owner of Bloomberg LP, was asked on November 12, 2013, about reports that his company had self-censored out of fear of offending the Chinese government and he dismissed the question. "Nobody thinks that we're wusses and not willing to stand up and write stories that are of interest to the public and that are factually correct," Bloomberg told a press conference."
" ... Yet, days after Bloomberg made those comments to reporters in New York, Bloomberg lawyers in Hong Kong threatened to devastate my family financially by forcing us to repay the company for our relocation fees to Hong Kong from Beijing and the advance on my husband's salary that we took out, leave us with no health insurance or income, and take me to court if I did not sign a nondisclosure agreement -- even though I had never been a Bloomberg employee..."
And she ends by explaining her reasons for coming forward now.
" ... I never wanted to seek publicity about Bloomberg's threatening behavior and was genuinely terrified of financial ruin, so in spite of preserving my freedom of speech, I have never written about my experience before. I am speaking out now because unlike so many other women, I am not bound by a nondisclosure agreement ... "
2. Doesn't Seem to Respect the Working Class - Against Minimum Wage Increases
Bloomberg is on record as opposing any increase in minimum wage. On July 29, 2015 he said the following on Bloomberg TV,
"... I, for example, am not in favor, have never been in favor of raising the minimum wage..."
That said, PolitiFact notes that in 2012, as his three term Mayoralty was winding down he supported raising the minimum wage from $7.15 / hour to $8.25 / hour. On December 31, 2019, long after Bloomberg left office, minimum wage earners were given a raise to $15 / hour.
3. Doesn't Respect Unions - Didn't Sign Even One Major Contract in 12 Years as NYC Mayor
Bloomberg didn't sign a single major union contract while mayor. Click here to read our full report of Bloomberg's record as NYC Mayor.
4. Doesn't Seem to Care About Poor People - NYC Homelessness Doubles to NYC Records & Includes Over 20,000 School Age Children
Under Bloomberg NYC Homelessness nearly doubled, inching up to new records almost every year of his Mayoralty. The other Democratic candidates should ask Bloomberg how he explains using public land, lending public money and using public money in infrastructure to build affordable housing units which were indexed to income so that some of them rented for as much as $48,000 per year when the median household income was about $55,000. The Bloomberg Administration sold this to the public as affordable housing while the NYC media seemed to turn a blind eye. Click here to read about the Hunters Point South real estate development - home of the $48,000 rental affordable housing unit of the Bloomberg Administration.
5. Doesn't Care About Women?
Bloomberg & / or Company reportedly have been sued 17 times for unfair treatment of women in the workplace. See reports and sources in the earlier part of this report.
6. Doesn't Care About Minorities?
Bloomberg championed stop n' frisk under his watch, which a court ruled racist policing program. According to an August 12, 2013 New York Times report,
" ... A federal judge ruled on Monday that the stop-and-frisk tactics of the New York Police Department violated the constitutional rights of minorities in the city, repudiating a major element in the Bloomberg administration's crime-fighting legacy ..."
" ... Mayor Michael R. Bloomberg after a news conference Monday ... said the city did not get "a fair trial" in the stop-and-frisk case ..."
7. Used Public Power to Wrest Away Private Property which Went to Friends
See our return on Campaign Spending section above or click here to read more about Bloomberg's record on public lands and public infrastructure spending giveaway / privatization of public wealth. It seems Mike learned a lesson from the Russian Oligarchs - that it's not that hard to steal from the public when you're in control of the government apparatus.
8. Used Public Money and the NYC Public School System to Enrich Friends
Click here to read more about Bloomberg's record vis a vis public schools spending giveaway / privatization of public wealth - in this case to Eva Moskowitz and Success Academy.
9. Billionaire Pols of Either Party Can't Seem to Take their Greedy Hands off the Cash Box
Why would Democrats elect a nominee who has a record of racism, who founded a company that has an alleged [NDA covered] record of ill treatment of women, has a solid anti-union record as Mayor, has a record of privatizing public schools which seem to have a strategy of privatizing the profits by recruiting the best students out of the public run schools [rather than a record of doing a superior job of educating them - there's a big difference between non-profit and for profit charters], who has a history of suppression of free speech, and what seems an aversion to the democratic process as he repealed the plebiscite on term limits, which enabled him to serve a third term.
10. Why Would Democrats Want to Choose Between Two NYC Republican Billionaires who don't Represent their Values?

If we end up with having to choose between two NYC Republican Billionaires who appear to govern for the 1% in November, I think it's safe to say that our democracy has been lost.
Australian born and bred billionaire Rupert Murdoch appears to have already taken control of the democracies in Australia and Britain, where he has overwhelming shares of media which provide the voters with the information they use to make their voting decisions. That's why his media outlets and Pinocchio propagandists say "let the voters decide" because the voters are deciding using Murdoch's corrupt information.
If Bloomberg wins the Democratic nomination the voters will have a choice not unlike the choice they had in 2016 - between two unsavory candidates - neither of whom represent anywhere near the majority of us.
The real social fault lines aren't about men vs women, or black vs white - it is and always has been rich vs everyone else because they're scarfing up more than their fair share of resources, leaving little for the rest of us. These two billionaires - regardless of which party they say they represent - don't represent the majority of Americans. And I hope, We The People, will see through that.
The Perceived Electability Issue
Perceived Identity Versus Huge Dollar Spending on Mass Media
Conventional wisdom holds that in an ultra-high-visibility presidential election, campaign spending eventually hits a point of diminishing returns. A point worth noting is that Hillary Clinton greatly outspent Donald Trump in 2016. Clinton's campaign outspent Trump's campaign by $768 million to $398 million.
The report above does not take into account the undocumented hundreds of millions - if not billions - in free infomercials provided by Australian born and bred billionaire Rupert Murdoch's Fox Fake News propaganda machine in favor of Donald Trump. Murdoch's powerful propaganda machine seems to include the Wall St Journal and NY Post and other outlets. So these tallies should be considered within this context, for the reader / voter to truly understand what happened in 2016.
It seems to me it was billionaire propagandist Rupert Murdoch - not the Russians - who swayed the 2016 election.
Added Reading - Donald Trump & the Personalization of Power
Click here to view a story on despot wannabe Donald Trump and the Personalization of America's Governmental Power.
---
Copyright - All Rights Reserved. Please give proper attribution.
---
Gotham Buzz Voluntary Subscriptions
We work very hard to help keep you informed by providing you with independent news coverage, as well as

information about events in the arts, culture and business in the borough.
You can help us continue to provide you with independent, first-person, fact-based, contextural reporting by purchasing an annual subscription. As it's voluntary, there are a variety of price options, one of which should fit within your budget.
Thanks for your encouragement & support.
---
NYC Boroughs - New York City
NYC Neighborhoods - New York City Related Info
Click this link for promotions, discounts and coupons in New York City.
Click here to go to the NYC Arts & Culture section of this site.
Click these links for promotions by advertisers in Manhattan.
Click this link to go to the NYC Neighborhoods section.
---
Site Search Tips. 1) For best results, when typing in more than one word, use quotation marks - eg "Midtown Neighborhood". 2) Also try either singular or plural words when searching for a specific item such as "gym" or "gyms".
$element(bwcore,insert_search,N)$
Click this link to the Gotham Buzz front page.
---
Click the log in link below to create an ID and post an opinion.
Or send this story to a friend by filling in the appropriate box below.
---
NYC Related Links
Click for NYC Restaurants NYC.
Click for NYC Shopping NYC.
Click for Things To Do NYC - Holidays in NYC.
Click for NYC Neighborhoods NYC.
---