Kentucky Insanity: Voting Repeatedly for Mitch McConnell & Expecting Things to Change
Kentucky Has the 6th Highest Poverty Rate, Ranks 46th in Healthcare, 44th in Education & 45th in Income While
McConnell's Leadership Enriches Him & his Taiwanese Born Wife, so that Mitch is Now in the Top Ten Wealthiest Senators Club
China Surpasses U.S. Navy in Battleships on Trump's & McConnells & Chao's Watch
October 21, 2020 Updated & Greatly Expanded from 10/13/20 / NYC Neighborhoods / U.S. Politics / News Analysis & Opinion / Gotham Buzz NYC.
Monday night Republican Majority Leader Mitch McConnell squared off against challenger former Lieutenant Colonel Amy McGrath. She, along with another woman, were the first females assigned to the Marine All Weather Attack Squadron.
Televised debates these days, seem to shed little light on the candidates or issues. This may be in part due to the format of them, as well as the failure of the debate moderators to hold the candidates' feet to the fire by pressing them on tough questions, and the current climate of conversational corruption where politicians pretty much say whatever the hell they want to say ... regardless of the truth.
So I did some of my own digging to learn more about Mitch McConnell. What I found surprised me, given how deep the rabbit hole goes and yet how little attention has been given to one of the most powerful men in Washington. So it may surprise you too.
DEFINITION OF INSANITY - Repeatedly Doing the Same Thing Expecting a Different Result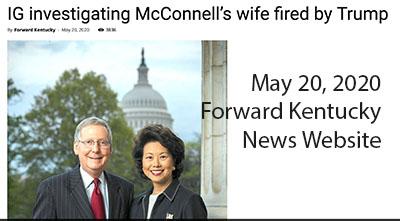 The definition of insanity is doing the same thing over and over again and expecting a different result.
The image at right was found in a web magazine, Forward Kentucky earlier this year. Donald Trump fired FIVE inspectors and among them was one investigating McConnell's wife.
What are they afraid of ... the truth?
And that is exactly what Kentuckians appear to have been doing for decades, having reportedly voted for Mitch in various elections approximately THIRTY TIMES in a row.
Let's take a look.
RICH MITCH - McConnell is the Longest [Self?] Serving Republican Leader in Senate History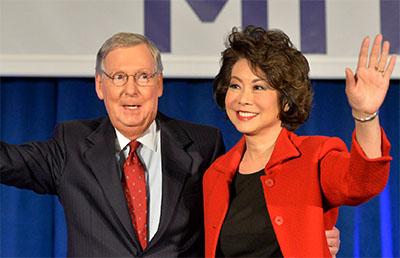 In June 2018, Mitch McConnell became the longest 'serving' Senate Republican Leader in the history of the Senate.
McConnell has been a Kentucky Senator for nearly 36 years, having first taken office in January 1985.
He's been the Republican Senate Majority Leader for nearly six years - since January 2015, and the Republican Senate Minority Leader since January 2007 - another eight years and Republican Senate Majority Whip from 2003 - 2007.
And he's been 'serving' Kentucky as a senator since 1985.
POOR KENTUCKY - Kentucky Ranks Near the Bottom in Education, Healthcare and Income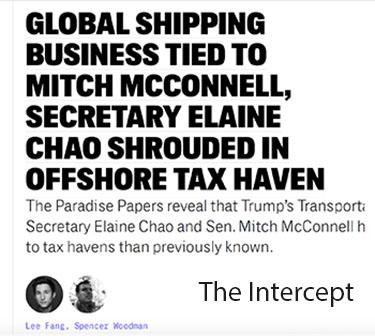 And yet Kentucky has little to show for Mitch's length of service - even though Mitch McConnell keeps telling them how good is for them, as he's been a member of the elite Republican Leadership for decades.
But McConnell he likes to tell Kentuckians - he's the only top federal political leader who is not from one of the big urban centers on the coasts, even though he's been living in Washington, D.C. for one helluva lot longer than he ever lived in Kentucky. And he's married to a Taiwanese born millionairess who has never lived in Kentucky, per se, during the nearly three decades of their blissful married life.
So what difference does it make where Mitch McConnell claims he is from, if he's not representing the people of Kentucky? But rather ... representing the big corporate and foreign interests that appear to fund his campaigns and enrich - not the state of Kentucky - but their chosen one, their 'representative' Senate Majority Leader Republican Mitch McConnell.
NOT A NATIVE KENTUCKIAN - Why Alabama Born McConnell May not Care About Kentucky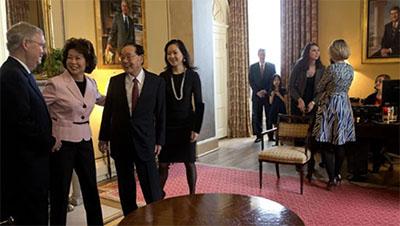 I suspect part of the reason that Mitch McConnell doesn't care that much about Kentucky, is because he wasn't born there, and he mostly did not grow up there. McConnell was born in ALABAMA in 1942, and then - by way of GEORGIA - arrived in KENTUCKY in 1956 at age 14. I think it's worth mentioning that McConnell's great, great grandparents - on both sides - were Alabama slave owners, which we'll get to shortly.
In 1968 McConnell left Kentucky for the big city, Washington, D.C., for a couple of years. He returned to Kentucky to run for office in 1971, but failed to meet the Kentucky residency requirement. In 1974 McConnell left Kentucky again for Washington, D.C. to work in the Ford Administration. Gerald Ford lost the election in 1976, so McConnell returned to Kentucky to run for office again. This time Kentuckians cut him a break and elected him the Jefferson County Executive, an office he held until he was elected in 1984 to 'represent' them as a senator, at which time he departed Kentucky for Washington, D.C. where he's been ever since.
So all tolled, McConnell only spent about 24 years in Kentucky [1984-1956=28-2-2=24], which is not even a third of his 78 years of life. And McConnell has spent 36 years 'representing' Kentuckians in the big city of Washington, D.C. - where he has lived half again as much time, as he has lived in Kentucky. So while Mitch doesn't appear to represent Kentuckians - one has to ask how could he - given he has spent so little time there and it was what seems a lifetime ago?
McConnell Received Educational Deferment from Military, Followed by Medical Exemption for Optic Neuritis - Not Polio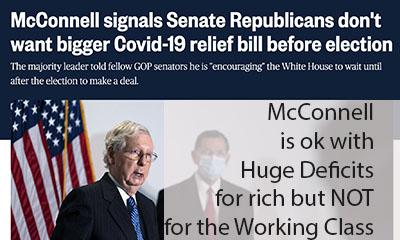 According to Wikipedia, after McConnell's educational deferment from the military expired in 1967, McConnell 'served' about a month. The same report tells us McConnell was diagnosed with optic neuritis - a temporary inflammation in the eye that can cause temporary blindness. According to a few Google searches, optic neuritis is a common eye problem that self resolves in about four to 12 weeks. There are severe cases of it, but given McConnell is 78 years old and we've heard nary a word of it since his getting out of military service, I suspect his case was 'mild', not unlike Trump's CoVid case. McConnell is also said to have contracted polio, but apparently escaped any significant long term impairment, as we see him walking up and down the halls of the Capitol without a problem.
MONEY BAGS MITCH - McConnell Supported by Chinese, Russian & Australian Immigrants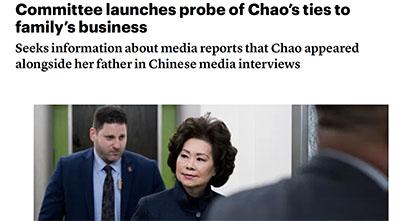 In 1984 McConnell became a Kentucky Senator. And while most Kentuckians don't like him and neither do most Americans - Australian born billionaire Rupert Murdoch's soon to be media executive, Roger Ailes, ran McConnell's first campaign. Murdoch seems to have been influential in rolling back media regulations beginning around that time, so it wouldn't be a big leap to assume that McConnell helped Murdoch feather his nest through regulatory rollbacks, while Murdoch helped keep McConnell in place as an enabler in hacking through the regulatory environment which had previously held large media corporations in check. Murdoch controls Fox News, the NY Post, the Wall St Journal and in 2019 became the largest shareholder of Disney / ABC in an inverted takeover.
We'll zoom in on why the rich Chinese and Russian born immigrants started backing Mitch McConnell a little further in the story.
McConnell Sells Out or Trades in his Old Kentucky Home?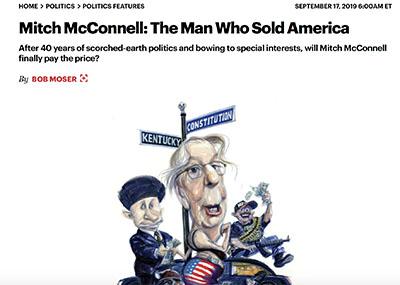 McConnell was married to a Kentucky woman, Sherrill Redmon, from 1968 [around the time of his military deferment] to 1980 [around the time he was re-elected but a few years before he hit the big time as a senator beginning in 1984]. In the early years in Kentucky McConnell was considered a liberal leaning moderate [his ex-wife and one or more of his daughters still seem to lean more toward the middle, having oppposed the Brett Kavanaugh SCOTUS confirmation].
But McConnell's views seemed to quickly change after he hired Roger Ailes, [who later became Fox News CEO], to run his 1984 Senate campaign. This was followed by McConnell 's social climbing upward mobility when he met and married his new Chinese American wife, who connected his campaign to a multi-million dollar money train. Taiwanese born Elaine Chao's mega millionaire father is well connected to the Chinese Communist Party Leadership, owns a Chinese American Shipping Company, and he and her family have donated millions to McConnell, as well as his and Republican PACs.
The Decade McConnell Went From Kentucky Mitch to Shanghai Mitch
Following the 1984 election Rolling Stone story reports McConnell,
"As I always say," McConnell wrote in his book, "the three most important words in politics are 'cash on hand.' "
---
Kentucky Insanity: Voting Repeatedly for Mitch McConnell & Expecting Things to Change
Kentucky Ranks 46th in Healthcare, 44th in Education & 44th in Income While
McConnell's Leadership Enriches Him & his Taiwanese Born Wife & her Father's Chinese / U.S. Shipping Company
October 20, 2020 Updated & Greatly Expanded from 10/13/20 / NYC Neighborhoods / U.S. Politics / News Analysis & Opinion / Gotham Buzz NYC. Continued.
GET RICH QUIK MITCH - McConnell Marries into a Super Wealthy Chinese American Shipping Family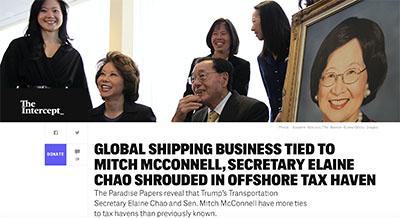 As previously mentioned, McConnell married a millionairess, Elaine Chao, the Taiwanese born daughter of a China / U.S. shipping magnate - James Chao. They married in 1993, after being introduced by Julia Chang Bloch "in the early 1990's" [it seems no confirmed date of first meeting], who is also Chinese, but born on the mainland in China. In the late 1980's Chang Bloch was an Ambassador to Nepal in the George H.S. Bush Administration. As is typical of such posts, Chang Bloch departed shortly after Clinton took office in 1993. Chang Bloch later founded the U.S. China Education Trust in 1998, which fosters educational exchanges between China and the U.S.
Elaine Chao's father, James Chao, controls the Foremost Group, which is a shipping company. James Chao founded the Foremost Group company in 1964 with his wife. Angela Chao, one of James daughters, and Mitch McConnell's wife's sister, has been the Chairwoman of the Foremost Group since 2008. Wikipedia tells us that most of the company's ships have been made in China - not the U.S. And it's also worth noting that numerous Foremost Group ships have been funded by the Export-Import Bank of China. Most of the information in the above two paragraphs were obtained from a variety of reports on Wikipedia, as well as the New York Times and Rolling Stone.
FOLLOW THE MONEY: Elaine Chao's Family & Fortune was Made with a Heavy Dose of Chinese Government Loans & Shipbuilding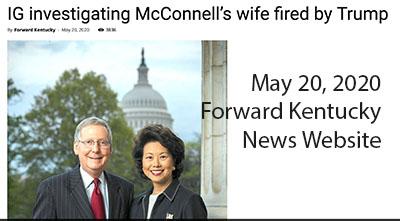 According to a May 16, 2001 report in the South China Morning Post, James Chao went to school as a youngster in Shanghai, China with former Chinese President Jiang Zemin. James Chao then married Ruth Mulan Chu after both had moved from Shanghai to Taiwan sometime around the end of World War II. They had six children and in the late 1950's and early 1960's the entire family emigrated to the U.S.
Chao started the company in 1964 in New York [one office]. And in 1988 Chao ordered a couple of his ships to be built in China while Jiang Zemin was Mayor of Shanghai. In 1989, following the Tiananmen crackdown, Chao continued to meet with Zemin who became the Chinese President in 1993, after becoming the Chinese General Secretary in 1989. According the South China Morning Post, Chao's ties deepened as he began chartering ships for two of China's largest shippers, Cosco and Sinotrans.
BYE BYE KENTUCKY. McConnell's Campaign Funding Fueled by Chao Family Fortune as Chao Influence Grows in China & McConnell's Influence Grows in the U.S.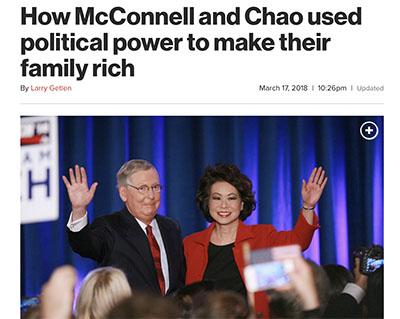 It was at this time that Elaine Chao was rising in prominence as a champion fundraiser, winning a position in the George H.W. Bush Administration. The South China Morning Post goes on,
"... Her [Elaine Chao's] social ties with Mr McConnell deepened and contributions started flowing from the Chao family and associates to his campaign coffers. The senator had started to shift from a hawkish stance aligned with arch-conservative Foreign Relations Committee chairman Jesse Helms to more moderate positions. After the 1994 senatorial elections, Mr McConnell took over the helm of the influential foreign-operations and export-financing subcommittee of the Senate Appropriations Subcommittee. It was a role which proved a magnet for future corporate donations from members of the US-China Business Council..."
Mitch McConnell Wasn't a Cheap Date ... at First
According to a June 6, 2019 report by the NYT,
"... In 1989, shortly after their first date (at the Saudi ambassador's home near Washington), Mr. McConnell was preparing for a re-election campaign. Greetings from Ms. Chao came in classic Washington fashion: a string of campaign donations, totaling $10,000, from Ms. Chao, her father, her mother, her sister May and May's husband, Jeffrey Hwang, according to Federal Election Commission records..."
But donating money to McConnell appears to have been a good investment for the Chao family, as they keep on giving.
"... In all, from 1989 through 2018, 13 members of the extended Chao family gave a combined $1.66 million to Republican candidates and committees, including $1.1 million to Mr. McConnell and political action committees tied to him, according to F.E.C. records. "I'm proud to have had the support of my family over the years," Mr. McConnell said in a statement..."
And McConnell kept on becoming more influential and seemingly helpful ... to the Chao's and Chinese interests.
"...The Chao family's ties to China have drawn some attention over the years. In 2001, The New Republic examined them in the context of the Republican Party's softening tone toward the country..."
SHANGHAI MITCH - McConnell does a 180 on American Trade with China
The South China Morning Post, relating a story by John Judis, an American Editor of The New Republic, tells us that McConnell went from an anti-trade stance to a pro trade stance in a pretty short time that coincided with his relationship [Editor's Note: and funding?] through Chao. They report,
"... [John] Judis claims Mr McConnell started reflecting the concerns of Asian-American elites over Hong Kong as he pushed provisions to expand immigration and became pro-trade. He launched the US-Hong Kong Policy Act to enshrine an active Washington relationship with the post-handover SAR - including a provision to allow for continued imports of strategic hi-tech imports into Hong Kong."
CHANGING LOYALTIES - Hidden Assets, Hidden Alliances & Hidden Loyalties?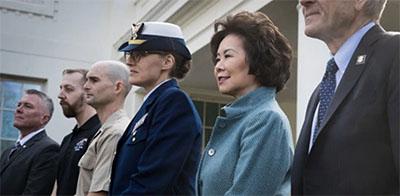 As mentioned above, the Foremost Group is a privately held shipping company founded in 1964 by James Chao. It's difficult to obtain financial information because it's privately held, and also because it appears to include a number of offshore entities.
We got a small peak into the opaque financial dealings of internationally spread corporations when the Paradise Papers were leaked to the public in November of 2017. The Panama Papers were leaked to the public a year earlier in 2016. In both cases the public was provided a crack in the opening of how the very rich avoid [and possibly evade?] taxes through off shore investments and financial instruments. Numerous Trump donors were among those found in the papers.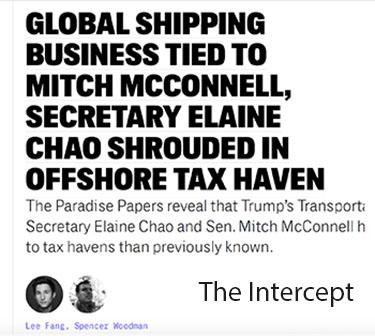 Elaine's mother Ruth Chao died in 2007. In financial disclosures reported in 2009, McConnell and his wife reported receiving an inheritance of a value estimated between $5 million to $25 million. A June 19, 2019 report by Forbes tells us,
"... The big reason for that increase [in net worth]: a $5 million-to-$25 million gift from the elder Chao in memory of Elaine's mother, Ruth, who died at age 77 in 2007..."
Since both of Chao's parents came from Shanghai, some people have begun calling McConnell Shanghai Mitch. But the name continues because they think McConnell has been shanghai-ing American foreign policy to enrich himself and his Taiwanese born wife. See down further where we examine how some of Secretary of Transportation Chao's government efforts seemed to undermine / weaken American shipping interests while 'serving' in the Trump Administration.
Some people opine that Elaine Chao is Donald Trump's back channel to the Chinese government, so that Trump can do a lot of chest pounding theatrics for the American public, while both Trump and Chao can continue negotiating trade between the two nations, while simultaneously negotiating for their self interests.
In Washington D.C. the Mitch Get Richer, While Kentuckians get Ditched?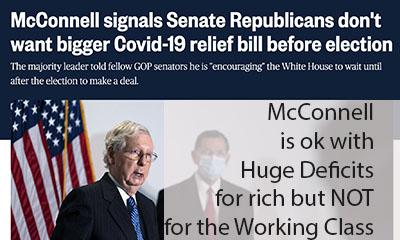 In addition to the large inheritance and unknowns related to the Foremost Shipping Group and Chao family fortune, McConnell and his wife Chao own a nice townhouse in Washington, D.C. within walking distance from the nation's capitol. I'm guessing that a townhouse in a great location in the nation's capitol must be worth at least a million, and given the McConnell's wealth and social status, probably a fair amount more.
Meanwhile, back in Kentucky, the McConnell's own what I consider a campaign prop house, which seems designed to manipulate ignorant Kentucky voters' perceptions of Mitch as the 'regular Kentuckian' that he seems not to have ever been. Politicians aren't known for their honesty and Mitch is certainly no exception to that rule.
Why is Kentucky Still Not Wise to McConnell Lies?
In the Spring of 2016 McConnell lied about his desire to let the American people weigh in on the Supreme Court Justice decision. But in 2020, with less than a month before the election, McConnell decided, pretty much single handedly - not to let the American People weigh in. In October of 2020 McConnell began rushed hearings on the confirmation of Amy Cohen Bryant as a Justice to the Supreme Court. Quite simply - McConnell lied to the American people and as you'll see below, it wasn't his first time.
DEMOCRACY HACKERS - McConnell & Chao?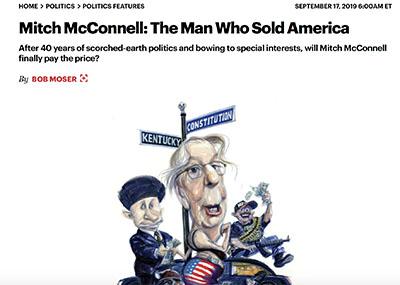 Make no mistake about it, McConnell's justices are not selected because of abortion rights or any other cultural battles - but because of the pro-business stance of the justices the Senate he controls confirms. The cultural biases of justices are used as a distraction from the meat and potatoes work of the courts which is deciding who wins and loses, based on the laws passed.
So you tell me what the hell Amy Cohen Bryant's kids are doing at a supreme court justice nomination - if not being used as cultural props to distract from the real economic discussion and rally support around fluffy cultural issues? But political theatrical performances are what the Republican party has become, beginning with the presidency of Ronald Reagan - an actor. The Democrats haven't quite yet caught on.
So Kentuckians are enabling Mitch McConnell's continued enabling of the super wealthy - including the Chinese Communists and the Russian Oligarchs [see below] - to gain an upper hand by virtue of the court nominations and confirmations they make and approve, which will make it far more difficult for the majority to be heard. Many of the court nominees come recommended by the Federalist Society and the Heritage Foundation which are billionaire funded 'think tanks'.
Do the people of Kentucky really believe that McConnell confirmed justices are going to represent them when it comes time for those justices to make decisions coming down on the side of Kentuckians and Americans or the wealthy foreign oligarchs - who got Mitch McConnell and the justices his senate confirmed - their jobs?
PROM KING & QUEEN - McConnell and Chao Tag Team to Corruption?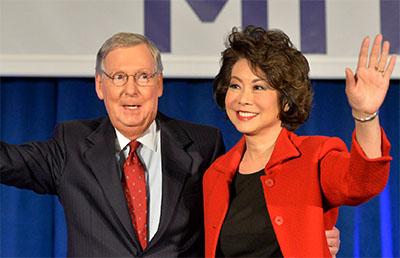 As noted above, McConnell reportedly gets millions in cash through Chao's family and efforts, which ensures his election by an ignorant electorate, made possible by an ignorant media.
And likewise, McConnell appears to enable Elaine Chao's critical appointments to the Executive branch of government, and ensure her confirmations by the Senate. This TAG TEAM TO CORRUPTION (?) seems to work well for the couple, as Chao's appointments seem to have been in areas where she would have influence over decisions affecting her father's lucrative shipping business and thus serious conflicts of interest.
Elaine Chao's executive branch appointments seemed to coincide nicely with the timing during which the couple reportedly first met [see above]. As mentioned above, she met McConnell in the early 1990's and they were married in February 6, 1993. It was reported that sparks didn't fly, so I am assuming there was a longer gestation / courtship period - possibly than reported.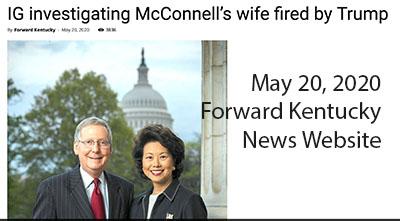 Chao was appointed to the U.S. Maritime Commission in 1988 - 1989 where her dad's shipping business would certainly seem a conflict of interest. And in 1989 - 1991 she was appointed Deputy Secretary of Transportation during the G.W. Bush Administration. So, as you can see from these appointment dates, she and McConnell must have certainly crossed paths before their reported 'first date'. For all we know, they had already teamed up to work the system.
But certainly Chao's appointment to Secretary of Labor in 2001 [to 2009] would have been a team effort. As would have McConnell's elevation to Republican Senate Minority Leader in 2007. In 2015 McConnell became the Republican Senate Majority Leader, after successfully slowing judicial appointments during the entire Obama presidency. In 2017, Chao became the Secretary of Transportation in the Trump Administration [2017 - 2021]. So the Chao / McConnell team is an accomplished team and it appears they haven't been working for free.
Currently, what seems the couple's self serving, appears to be expanding beyond themselves working the system into full blown nepotism, as according to Wikipedia,
"...In May 2019, McConnell's brother-in-law Gordon Hartogensis, who is married to Chao's sister Grace, was confirmed by the U.S. Senate as director of the Pension Benefit Guaranty Corporation (PBGC), a part of the Labor Department. McConnell voted to confirm."
MITCH'S WIFE CHAO CORRUPTION - Conflicts of Interest, Flouting the Ethics Guidelines & Trump Administration Fires an Inspector General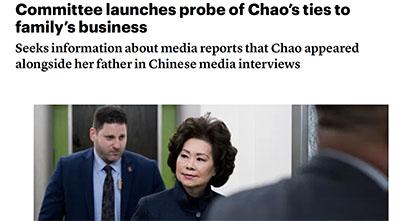 Elaine Chao appears to have ignored self-enrichment statutes personally while 'serving' in both cabinet positions. As Secretary of Labor she had an interest in a company that provided a direct internet conduit between China and the U.S. that she either didn't disclose or didn't divest in a timely manner, until someone reported her violation of the ethics code.
Similarly, as Secretary of Transportation, Elaine Chao did not divest her holdings in Vulcan Materials, a road building materials company based in Alabama, until after it was flagged in the press. After she was confirmed as the Secretary of Transportation she promised to quickly divest the investment, but she didn't divest the holdings until June of 2019.
Many people feel that her appointment to Secretary of Transportation is in itself a conflict of interest, as her family is a fairly major player in the shipping business, over which she presides as Secretary of Transportation. There was at least one known incident in the past four years where Chao seemed to use her cabinet level position to further Chinese interests by steering money away from American shipbuilders, ports and shipping companies - thus further weakening an industry where China has been flexing its strength - most notably in the South China Sea.
McConnell & Chao's Close Ties to the Chinese Communist Party Ruling Elite
According to a June 2, 2019 New York Times report,
"... in October 2017 ... Ms. Chao's office had made a series of unorthodox requests related to her first scheduled visit to China as a Trump cabinet member, according to people with knowledge of the email. Among them: asking federal officials to help coordinate travel arrangements for at least one family member and include relatives in meetings with government officials..."
Further in the report,
"... the Chaos are no ordinary family. They run an American shipping company with deep ties to the economic and political elite in China, where most of the company's business is centered ... Mr. McConnell's re-election campaigns have received more than $1 million in contributions from Ms. Chao's extended family ... Foremost [Elaine Chao's family's company] has received hundreds of millions of dollars in loan commitments from a bank run by the Chinese government, whose policies have been labeled by the Trump administration as threats to American security ... The company's primary business -- delivering China's iron ore and COAL [Editor's Note: the caps are mine] -- is intertwined with industries caught up in a trade war with the United States. That dispute stems in part from the White House's complaints that China is flooding the world with subsidized steel, undermining American producers ... Angela Chao is also on the board at the Bank of China, a top lender to the shipbuilder, and a former vice chairman of the Council of China's Foreign Trade, a promotional group created by the Chinese government ... "
Elaine Chao's sister, Angela Chao, is the current CEO of Foremost and when questioned about the close ties to the Communist Party, while her sister and brother-in-law Mitch McConnell occupy and operate from key power positions in the U.S. federal government, she gave the standard McConnell reply accusing anyone who questions their business dealings as being racist. The report says,
"... I'm an American," [Angela] said, adding, "I don't think that, if I didn't have a Chinese face, there would be any of this focus on China ..."
Undermining American Shipping Interests While Tensions Mount in South China Sea
The NYT report continues,
"...Since Elaine Chao became transportation secretary, records show, the agency budget has repeatedly called to cut programs intended to stabilize the financially troubled maritime industry in the United States, moving to cut new funding for federal grants to small commercial shipyards and federal loan guarantees to domestic shipbuilders... Her agency's budget has also tried to slash spending for a grant program that helps keep 60 American-flagged ships in service, and has tried to scale back plans to buy new ships that would train Americans as crew members. (In China, Ms. Chao's family has paid for scholarships and a ship simulator
to train Chinese seamen.)"
And what seems the undermining of a strategic industry, seems supported by Donald Trump. The NYT report continues,
"... Plans drafted during the Obama administration had called for building up to five new, state-of-the-art ships big enough to train 600 cadets each to help the American military move equipment and supplies worldwide, especially during wartime. But after Ms. Chao became secretary, the agency's budget proposed buying old cargo ships instead and renovating them. Congress balked at the costcutting measure -- one Democratic lawmaker mocked the agency's plan to "buy a bunch of rusty old hulks" -- and restored the funding. More recently, the agency budget pushed to shrink the size of one of the new ships, again provoking bipartisan protests from Congress. "Given the administration's [Editor's Note: Trump Talk is very cheap because there's so much of it around] strong commitment to American manufacturing and to being sure that we can adequately control the seas, the targeting of programs [for cost cutting] that help the maritime industry remain strong doesn't make sense to me," said Senator Susan Collins of Maine, the Republican who leads the panel overseeing the Transportation Department budget. "It seems inconsistent with the administration's overall goals." Ms. Collins added that the driving force behind these cuts had been the White House, not Ms. Chao, whom the senator called a "strong advocate" for the maritime program."
Pay Heed: China Surpasses U.S. Navy in Battle Ships - Department of Defense Report
On Donald Trump's watch, with Mitch McConnell's wife as Transportation Secretary, China surpassed the U.S. in the number of battle ships according to a May 20, 2019 Popular Mechanics report.
McCONNELL CORRUPTION - Window Dressing Mitch's Interest in Kentucky
Using Favoritism to get Election Year Projects from Secretary of Transportation Chao?
Around election time in late 2019 / early 2020 Chao steered a $76 million transportation funding into Kentucky in what appears to have been use of federal funding to improve McConnell's re-election prospects.
Those funds appear to be intended to make McConnell look like he's been working for Kentucky over the past five years, where he seems to have done nothing but try to undo programs like healthcare reform [and public education?], while giving rich people incredible tax breaks - compliments of America's children by way of increased debt that they will have to carry.
And no Republican scam on the American public seems complete without the 'air cover' from Rupert Murdoch, the Australian born billionaire who controls Fox fake news [among other titles like the NY Post and Wall St Journal which he seems to use as one well oiled propaganda machine]. Murdoch's Fox News can help by making a big deal of these transactions to make it appear to Kentuckians like Mitch has been working for Kentucky all along. Elaine Chao was formerly a Fox News board member, just prior to her appointment as the Secretary of Transportation in the seemingly corrupt Trump Administration.
WHO'S THE RACIST - McConnell's Ancestors Were Slave Owners
Yet he Calls Anyone Who Questions his & Chao's Self Dealing a Racist
This Would be Funny, if it Weren't So Real
When McConnell is held to account for what seems his and his wife's self-enrichment he claims people are racists because his wife is of Chinese descent.
But McConnell's great, great grandparents were slave owners - on both sides. The graphic at right shows McConnell's slaveowning ancestors ownership of slaves per an NBC report on July 8, 2019.
And McConnell seems to look the other way when there's voter suppression going on in Louisville, Kentucky where he keeps his modest political campaign prop house [check locale]. It's one of the largest cities in Kentucky and there was reportedly only one polling place during the primaries [they blamed CoVid]. But it seems no coincidence that Louisville is also home to the highest concentration [about half] of the African American population in the state of Kentucky. For the general election there will be either 8 or 20 poll sites [was being negotiated].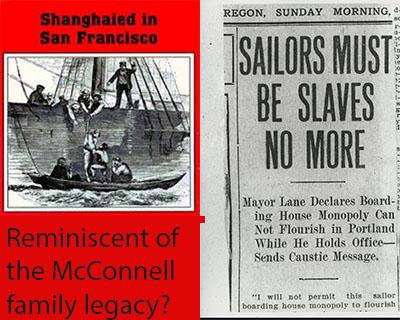 And the gall of McConnell to attack anyone else as racist, when according to a September 17, 2019 Rolling Stone report,
" ... McConnell bit his lip and declined to join the chorus of condemnation over Trump's appalling response to the neo-Nazi rally in Charlottesville, Virginia, ... "
But McConnell's racism goes back, even to his early days, as the September 17, 2019 report in Rolling Stone tells us,
"... "Forced busing" had recently been imposed by the courts to desegregate Louisville's public schools, and McConnell ran in opposition to it; the former civil-rights champion [hard to believe but they're referring to a very early Mitch McConnell] was now pandering to white voters' anxieties and resentments."
And lastly, it's definitely worth mentioning that according to Open Secrets Mitchell McConnell also receives sizeable campaign donations from private prison management complexes, which are believed generally to incarcerate an unnecessary number of men of African American descent.
So is it fair to say that like great, great grandfather - like great, great grandson?
McCONNELL LIES & DECEPTIONS - Phony Patriot?

Mitch McConnell, who after his educational military deferment from the Vietnam War expired, was released from military service for a fairly common and temporary condition called optic neuritis. I wonder if in McConnell's health records that condition was ever mentioned again?
The nerve of McConnell attacking Amy McGrath's patriotism, given McGrath spent twenty years in the military service, serving in both the Afghan and Iraq wars, flying 89 missions and receiving four service awards. McGrath rose to Lieutenant Colonel, while 'bonespurs' McConnell was in and out of the service in the bat of an eye. The bonespurs isn't literal as McConnell's medical exemption was for optic neuritis [look it up i- t's a fairly common and generally temporary condition].
A September 17, 2019 report by Rolling Stone says,
" ... One week earlier, Robert Mueller had testified that Russia was meddling in the 2020 U.S. elections.
McConnell, the majority leader, responded by shooting down -- bills that McConnell, in his familiar fashion, had previously sentenced to quiet deaths after they passed the House..."
That's how Mitch McConnell earned the nickname 'Moscow Mitch', but the truth is that he had earned that nickname long before. And it finally caught up to him in 2019.
The report tells us,
"... In January [2019], when he [McConnell] took a key role in lifting sanctions on Russian oligarch Oleg Deripaska, a Putin ally under FBI investigation for his involvement in 2016 election-meddling; three months later, Deripaska's aluminum company, Rusal, announced a $200 million investment in Kentucky. A billboard funded by a -liberal group was subsequently erected on a busy stretch of I-75: "Russian mob money . . . really, Mitch?"
" ... in July [2019] ... When a group of former coal miners suffering from black-lung disease caravaned to Washington to ask the senator for help, he met with them for only two minutes ..."
" ... coal miners in Harlan County were holding a protest that made news throughout the state. Their company had declared bankruptcy without warning and was refusing to pay their final paychecks, and the miners were blocking the tracks to prevent rail cars from shipping $1 million worth of the coal. As the protest stretched into late August, the site became a 24-hour encampment, attracting activists and food donations from around the country, and was visited by nearly every Kentucky politician except McConnell. Practically every story featured the miners cursing the senator. "He's not pro-coal," said miner Collin Cornette. "I don't even think he's pro-Kentucky."
THE RICH LOVE THE MITCH: Is Kentucky a Carpet Bagging McConnell's Plantation?
The big money train appears to rip through Kentucky every four to six years to keep Kentuckians in the dark, and their man in office.
In 2015 - 2016 McConnell & Republicans Receive $7.5 Million from Russians
Mitch McConnell's dedication to and representation of his fellow Americans is highly suspect when you gaze through his campaign funding sources.
According to an August 3, 2017 OpEd in the Dallas News, in the 2015 - 2016 election season Republican Senate Majority Leader Mitch McConnell's GOP Leadership Fund accepted $2.5 million in donations from Leonid Blavatnik's Access Technologies [$1.5 million] and AI Altep Holdings [$1 million]. The newspaper goes on to report that other top ranking Republicans including Florida Republican Senator Marco Rubio's Conservative Solutions PAC [$1.5 million] and South Carolina Republican Senator Lindsey Graham [$800K] accepted money from the Russian Oligarch's companies. All tolled Republican candidates received $7.5 million in Russian Oligarch money. OpenSecrets.org, a non profit truth seeking organization, was the original source.
In 2016 NOT ONE of McConnell's Top Funders From Home State of Kentucky
Mitch McConnell's dedication to and representation of his fellow Kentuckians is even more highly suspect when you gaze through his American campaign funding sources.
According to an October 24, 2016 report in the Louisville, Kentucky Courier-Journal, a USA Today affiliated newspaper, between January 2009 and October 2016 McConnell's highest donor was Sheldon Adelson, a Nevada casino operator, who contributed $20 million. During the same period [for all listed in this paragraph = same source], One Nation, a Karl Rove affiliated dark money group, contributed $9 million. Two Houston, Texas based energy companies donated $5.6 million. And three investment companies / hedge funds donated a combined $10 million. There's plenty more from where that came from, as I'm still listing donors above the $2 million mark - and not a one of them is from Kentucky.
Unfortunately, I don't have time to update for the 2020 campaign funding season, but a cursory review shows that the same sort of 'corrupt' state of things seems to prevail.
Moscow Mitch Helps the Rich Russians & Kentuckians Get Screwed?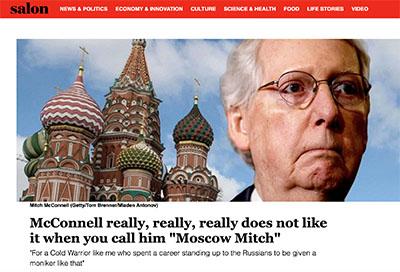 A September 10, 2019 report in Salon tells us that Mitch McConnell appeared to divert money from Kentuckians' coal miners' pensions and healthcare to a Russian Oligarch aluminum company. Do you think McConnell receiving the Russian oligarch cash, as noted above, had anything to do with that? What about letting the Russian Oligarch economic sanctions expire?
Salon tells us,
"...Senate Majority Leader Mitch McConnell blocked a measure that would have funded pensions and health care for coal miners in his home state of Kentucky, not long after steering almost the same Treasury Department funds to an aluminum plant linked to a Russian oligarch."
"... McConell voted in January to lift sanctions on Rusal, a Russian aluminum company formerly headed by Putin ally Oleg Deripaska, and just days after the Treasury Department officially de-listed the company -- it announced a $200 million investment in an aluminum plant in northeastern Kentucky..."
In another of McConnell's 'let the American People Decide' lies, McConnell blocked pension money for Kentucky coal miners, saying he wanted more 'bipartisan support' for a broader bill. McConnell also said he wants to repeal and replace Obamacare - even though ten years later the Republicans have been entirely focused on the REPLACE part of the equation. And anyone who thinks that will be followed by a Republican healtcare bill can call me as I have a bridge I want to sell you.
"... But McConnell and other Kentucky lawmakers, including Rep. Harold Rogers (R-KY), helped steer $4 million away from sewer and road repair in October 2018 to preparing for construction on the [Russian Oligarch] aluminum plant... It's not clear when Braidy Industries and Rusal began, but two sources with direct knowledge told The Daily Beast that McConnell was instrumental in helping them secure the federal funding that had been earmarked for community development in his state... McConnell then blocked a bill sponsored by Sen. Joe Manchin (D-WV) that would have pumped $4 million federal money into miner pensions."
Mandarin McConnell Helps his Taiwanese Born Wife Obtain Cabinet Level Appointment
Income. As Secretary of Labor Chao sells out the miners too by looking other way on low wages, health and safety conditions. Cheap coal is good for China as they are a large consumer and good for Chao's family company as they are transporters of bulk coal shipments.
The Wikipedia report on Elaine Chao tells us that while she was Labor Secretary she seemed to fail badly in her duties. They report,
"...The Labor Department was widely criticized for "walking away from its regulatory function across a range of issues, including wage and hour law and workplace safety". A 2009 internal audit appraising an Occupational Safety and Health Administration (OSHA) initiative focusing on problematic workplaces for the past six years stated that employees had failed to gather needed data, conducted uneven inspections and enforcement, and failed to discern repeat fatalities because records misspelled the companies' names or failed to notice when two subsidiaries with the same owner were involved; it also noted that after rules changes in January 2008 the number of targeted companies declined by almost half."
And that with respect to mining, an industry that's vital to China and Chao's family company the Foremost Group, Wikipedia tells us that under Labor Secretary Chao's tenure,
"... A 2007 report by the department's Office of Inspector General (OIG) found that mine safety regulators did not conduct federally required inspections at more than one in seven of the country's 731 underground coal mines in 2006, and that the number of worker deaths in mining accidents more than doubled to 47 in that year. The Mine Safety and Health Administration (MSHA) "missed 147 inspections at 107 mines employing a total of 7,500 workers". A separate audit of 21 inspection reports determined that documents were missing, misdated, or mislabeled and that "MSHA officials misstated inspection statistics in reports and on the agency's Web site."
Mining disasters in 2006 and 2007 included West Virginia's Sago Mine explosion, which killed 12 in January 2006; West Virginia's Alma Mine fire, which killed two in January 2006; the Darby Mine No. 1 explosion in Kentucky, where five miners died in May 2006; and the Crandall Canyon Mine collapse in Utah, which killed six workers and three rescuers in August 2007."
Why does Kentucky Rank so Low in Income, Healthcare, Education?
Probably because too Many of them Don't take their Civic Duty to Inform Themselves Seriously Enough, are Ignorant Viewers Who Trust Murdoch's Fox Fake News & Keep Pissing Away their Vote on Senator 'Benedict' McConnell
Poor Ranking in Income, Schools and healthcare in Kentucky in the bottom decile. Why? Mitch McConnell fights hard for those who fund his expensive, deceitful campaigns - but apparently does little to help those who seem to be misled because they don't do their homework and rely on Billionaire Murdoch's Fox Fake News [beware as he's in the process of taking control of Disney / ABC through an inverted takeover the Trump Administration approved in 2019].
Healthcare. McConnell is currently trying to undo ObamaCare via a case sent to the Supreme Court,which will play out shortly after this election. That's how the rich man's tool, Senate Republican Majority Leader Mitch McConnell undid campaign finance reform about a decade ago [2010].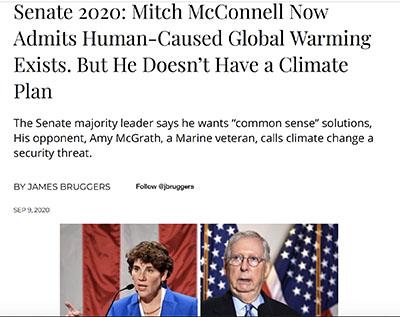 Show how the fossil fuel industry makes generous campaign donations to McConnell and his PAC's and how nothing happens on climate change - even though McConnell finally has admitted it is a real problem.
McConnell had the gall to attach Amy McGrath from taking money from large donors and out of state entities - when that's from where McConnell's campaign gets most of its cash.
You'll have to do your own review of Open Secrets Campaign Donations Comparison of McGrath's share of Kentuckians vs McConnell's paltry showing for a guy who's 'served' the state for nearly 40 years in a Republican Senate Leadership position. He's not serving Kentucky, so much as he's serving himself and the super rich international billionaires and millionaires he hangs around with. He's now one of them Kentucky.
And as mentioned above, the court picks are theatrically presented as culturally correct, while in economic reality they're designed to strengthen the hand of the rich in this country - regardless of where the rich reside and regardless of which nations the super rich are citizens.
Check big tobacco donations - see John McCain quote about why McConnell blocked campaign finance. It helped propel McConnell into the Senate Majority Leadership position.
LIES CAMPAIGN FINANCE - To Hell with Working People - Let the Mitch & Rich Decide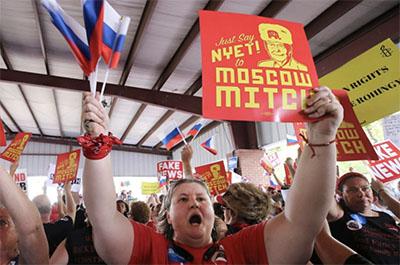 A September 17, 2019 report in Rolling Stone tells us,
"Just as he'd originally run as a pro-choice, pro-labor, pro-civil-rights Republican, McConnell had a long history of calling for removing big money from politics"
"after he was elected chairman of the Jefferson County Republican Party, he'd written an op-ed for the Courier-Journal calling for "truly effective campaign finance reform" -- lowering contribution limits, mandating public disclosure of donors, even capping how much a candidate could spend in a race. He'd later laugh this off, claiming he'd been "playing for headlines" to distract"
"in his second term, McConnell made a 180- degree turn and set himself down a path to becoming the most outspoken and influential opponent of campaign-finance restrictions in American history."
LIES CAMPAIGN FINANCE - He Seems to Accept All Rich People's $ from All Nations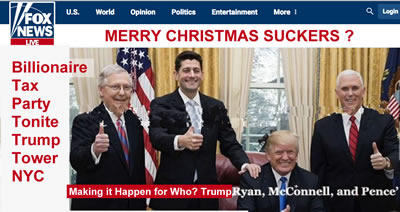 In 2010 Mitch McConnell led the opposition to the McCain Feingold Campaign Finance bill. After it passed, McConnell was one of the people behind litigating it to invalidate it. Thus, the American people can thank Mitch McConnell for all the corporate / billionaire cash that's currrently washing through candidates' campaigns in the wake of the Citizens United ruling by the Supreme Court.
The graphic at right was posted on Fox in December of 2017, but the commentary in red and white is all mine.
According to a September 17, 2019 Rolling Stone report,
"... McConnell never stopped ... passing tax cuts for wealthy Americans, declaring the "case closed" on collusion with Russia in the 2016 elections while the Intelligence Committee was still investigating, and refusing to bring election-security bills up for a vote..."
This should help readers come to the realization that Mitch McConnell is a tool for the super rich. And as mentioned above, that's what his court picks are really about. Do you think he really cares about abortion one way or the other? Follow the money. Generally speaking, religious people aren't rich.
LIES FISCAL CONSERVATIVE - Mitch McConnell & the Red Ink Republicans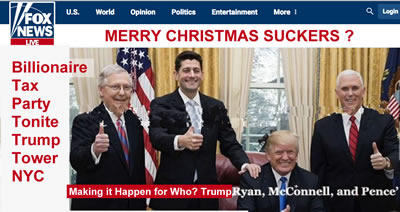 McConnell has been there since shortly after Murdoch annointed saint Ronald Reagan began racking up huge debts by giving the rich people tax breaks that they funded by dumping massive amounts of debt on America's children. And in the past four years, 'fiscal conservative' Senate Republican Majority Leader Mitch McConnell has presided over THE WORST DEFICIT in American history by a country mile.
It should be obvious to anyone paying attention that McConnell's claims of fiscal conservatism are about as real as him saying 'let the American people decide' when he blocked the Senate review of Merrick Garland for a position on the Supreme Court. Convenient. Dishonest. Opportunistic. Like most of what he tells 'the folks back home' in Kentucky?
TAG TEAM POLITICS: How Mitch McConnell and Elaine Chao do it
Elaine Chao funds McConnell's campaigns & McConnell enables Chao's executive branch appointments & Senate confirmations. It's almost that simple, but having a relationship with a billionaire who owns the largest share of media in the nation, and who is known for his reckless disregard for the truth, helps too.
LIES & MORE LIES & DECEPTIONS: How does Mitch Get Away with it?
Rolling Stone says McConnell hired Roger Ailes to run his 1984 campaign. Roger Ailes handled McConnell's campaign where they reportedly went low, ignoring truth in McConnell's senate campaign in 1984. Roger Ailes went on to lead Australian born billionaire Rupert Murdoch's Fox News propaganda machine, while McConnell immediately began stumping for his 1990 campaign funding shortly after the 1984 election was over,
A September 17, 2019 report in Rolling Stone tells us,
"The future founder and CEO of Fox News had already established his well-earned reputation for flaunting the truth and grabbing the opposition by the jugular while working for Nixon and Reagan"
"But it worked. McConnell won by six percentage points, and then proceeded to forget about his pro-labor promises once in office. "He burned them and never looked back," says Mike Broihier, a former newspaper editor."
PROPAGANDA PROFITS TOO - Rupert Murdoch's Fox Fake News, NY Post & WSJ
McConnell hired Roger Ailes, a political hit man, for McConnell's first race for senator in 1984. The September 17, 2019 Rolling Stone report tells us,
"...McConnell, who'd been re-elected judge executive in 1981, used his position to build up a fat campaign war chest, and he devoted a good amount of it to hiring the most notorious political hit man in America: Roger Ailes."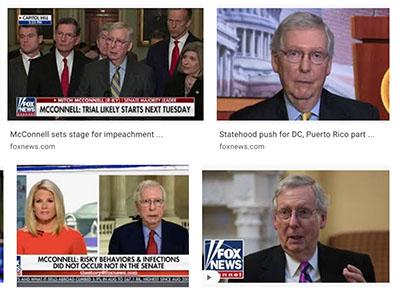 Roger Ailes later went to work for Australian born billionaire Rupert Murdoch at Fox Fake News. Many years later Rupert Murdoch appointed Elaine Chao to the Fox Board, a position which she left when she became Trump Transportation Secretary. Murdoch's Fox News, NY Post and WSJ give McConnell and Chao favorable free press and in return, Murdoch seems to get support for many of his various agendas, including greater control over American media and airwaves. Deception of Kentuckians by Fox News - see our series on Murdoch & the Rise of the 21st Century Propaganda Press on Gotham Buzz.
McConnell helps Murdoch by confirming an industry insider as the FCC Chairman who then facilitated FCC rules changes for the Australian born billionaire to increase his dominance in the American media market. Not only did the FCC roll back ownership limits but it also allowed and enabled Murdoch to complete a soft, inverted takeover of Disney / ABC. McConnell also provided Murdoch with confirmation of numerous former Fox employees to high level government positions.
Fun for the whole family of millionaires and billionaires. But what about Kentucky? Ken who? Don't know him.
CLICK here for the last few paragraphs which are at the bottom of the page on Mitch McConnell who seems Kentucky's Corrupt Senator.
---