U.S. Federal Government & Politics - Nation
This is a Look at What's Going on in the U.S. Federal Government in Washington, D.C. Including Following Various Federal Office Seeking Candidates & Campaigns on an Ad Hoc Basis
September 16, 2020 / NYC Neighborhoods / NYC Politics & Government / News Analysis & Opinion / Gotham Buzz NYC.
The policies and programs established by the U.S. federal government affect all of us directly and indirectly. This is an attempt, within the limitations of our resources, to keep our audience apprised of some of the key players, programs, policies and with an eye toward calling out the self-interested, profiteer influenced puppet pols who are working for the few - including themselves - not the people.
Oftentimes the bad ones are clever showmen or women, who know how to manipulate the weak-minded and / or the ignorant, uninformed or low information voters' perception of events. The deceitful profiteers and their puppet pols do this to fill their already full pockets, by convincing the culturally ignorants of our electorate, to vote against their own self interests - and those of the nation - by pandering and exploiting these people's biases.
---
The Republican National Convention of Lies & Deceit RNC 2020
The Republican National Convention - Where Trump 'Reality' TV Mixes with Murdoch's Fox Fake News
The Donald's Deceit, Disrespect & Demagoguery were on Full Display
Has Trump Taken America from 'Reality' TV to Staged Fiction?
August 28, 2020 / NYC Neighborhoods / U.S. Politics / News Analysis & Opinion / Gotham Buzz NYC.
It was a garish experience, watching the Republican Convention on TV this past week. The scripted and repetitive misleading and false statements, combined with what appeared outright lies, were delivered by different genders and colors of people so as to seem like it wasn't the choreographed theatrical production that it was. This is very much like what Rupert Murdoch's Fox News seems to do every night, and what Joseph Goebbels did for over a decade as the minister of propaganda for the Third Reich.
Has Trump Taken America from 'Reality' TV to Staged Fiction?
What I found interesting about the Republican Convention, was how it showcased women and people of color, who were representing what has essentially been a nearly All White Male Administration. Of the 22 cabinet level positions, only four [18%] are filled by women [Education, Transportation, CIA & Small Business] and only one [5%] person of color [Housing].
But you'd never, ever know that by watching the Trump RNC mirage this week, as women were showcased between a third and half the time [rough estimate is 40%] and there were at least three people of color [9%] - meaning the Republican Convention didn't look anything like the reality of the Trump Administration.
Trump Republicans of the Fox Nation Share Similarities to the Nazis of Goebbels Germany
I've been researching Goebbels, Hitler and the Third Reich since 2016. While investigating how Rupert Murdoch seemed to use his 'news' outlets as one big propaganda machine, I kept stumbling across references to all of them. Eventually I quit ignoring the references that popped up, and began following those threads, which have since led me to believe that the parallels between 1933 Nazi Germany and present day America are inescapable.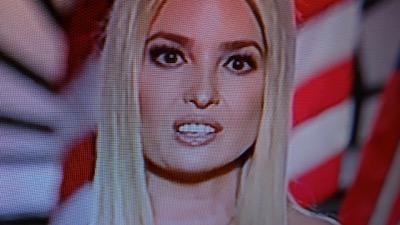 Fox News is comprised of seven hours of seemingly demagogic, even racist, propaganda programs including party line speeches and pseudo interviews by Sean Hannity, Tucker Carlson, Laura Ingraham, The Five, Fox & Friends as well as numerous Pinocchio pundits such as Jeanine Pirro, Greg Gutfield, Steve Hilton, and even Maria Bartiromo on Fox Business These 'news personalities' seem to deviate from a fair and balanced reporting of the facts far too often. Here's a link to what appears to be a distorted, even racist, report of the shooting of an African American in Georgia by Tucker Carlson.
Some of the other shows appear biased, but I haven't had the time to really tune into analyze them, as the primetime propaganda machine is already far more than I can stomach, of what seems Murdoch's continuous demagogic deceit.
To legitimate the propaganda machine, Murdoch provides an hour of real news, the Special Report with Bret Baier weekdays, as well as Fox News Sunday which is another hour of real news hosted by Chris Wallace. Murdoch reportedly fired Shep Smith after Attorney General Bob Barr was sent on a Trump campaign errand to tell Murdoch to pull Smith because Smith wasn't towing the Trump train party line. Murdoch appeared to oblige and Shepard Smith has remained silent.
I. Murdoch's Demagogic Press Manipulates People's Perceptions to Deliver Votes at the Polls - Goebbels Shaped Germans' Perceptions to Align with the Fuhrer's
Usurpation of power is the point of the propaganda machine posing as a news organization. If people know it to be a source of false information, it would be discredited and not believed. But by disguising it, by combining the propaganda with real news, Fox News is able to believably portray the world the way Rupert Murdoch wants his audience to see it.
In this manner he can deliver millions upon millions of Americans, Brits and Australians into the voting booth loaded with his propaganda machine's manipulated perceptions of events and candidates, so that his audience will vote for those pols he favors and from which he, and by virtue of payola - his propaganda pundits - will profit. Since Trump became president, multi-millionaire Sean Hannity cut a favorable multi-million dollar low interest government loan deal with HUD Secretary Ben Carson related to Hannity's $90 million property holdings.
Both Trump and Murdoch are demagogues which Merriam Webster defines as,
"... a leader who makes use of popular prejudices and false claims and promises in order to gain power ..."
Hitler and Goebbels were also demagogues and that is how they usurped and retained so much power in Nazi Germany in the 1930's and 1940's, which is why when I was doing my research, Hitler, Goebbels and the Third Reich kept showing up in my searches.
II. Trump Disrespects American Traditions & the American People by Personalizing Government Power - Hitler did the Same
The background for the Republican National Convention was a couple of taxpayer funded sites - the White House and Fort McHenry in Baltimore, Maryland. This represents yet another Trump break with American tradition of respect for the rule of law. Trump is using these taxpayer funded public sites for free, to accumulate more power. Not paying for the use of the White House lawn as a Convention site isn't the worst of it - it's the politicization of the public's property - and the seat of power that I find most disturbing.
Again, Hitler did something similar after he was elected Chancellor of Germany in 1933. He started personalizing the buildings of the German republic by adorning them with Nazi flags. That was the beginning of the personalization of power, which culminated in Hitler becoming the sole decision maker for the entire nation on everything, on whatever level he wanted. Earlier this year I identified Trump's abusive use of the Department of Homeland Security as a national police force as a disturbing parallel. Click this link a story detailing how Donald Trump has been personalizing the power of the U.S. government.
Our Founding Fathers instituted a system of checks and balances in the U.S. Constitution in order to prevent someone from personalizing power. The personalization of power, if left unchecked, leads right back to an authoritarian regime, which is exactly what the American War of Independence was all about. Kings are dictators, who have personalized all of the state power.
CLICK here to read the rest of our report on the Republican National Convention 2020 - where the Donald's deceit, disrespect and demagoguery were on display where 'reality' TV morphed into televised illusion.
---
The DNC - Battle for the Soul of the Nation
The Battle for the Soul of America Begins
Democrat Joe Biden Puts Forth a Bipartisan Convention & Makes a Strong Case for Uniting America Again
August 21, 2020 / NYC Neighborhoods / Dysfunctional Presidency of Donald J Trump / News Analysis & Opinion / Gotham Buzz NYC.
This week the virtual Democratic Convention took place across the nation beginning Monday and ending Thursday. I tuned in for a look / see on Monday, and found the convention of greater interest than I had expected. Each night I tuned in a bit more, ending last night watching most of the show.
Missing were the bells and whistles of major party conventions of prior years. The theatrical embellishments, large audiences and drama were also missing. But what came forth were four days of a well choreographed presentation for why the American people need to make a change in November.
In the photo at right is Braydon Harrington, a 13 year old stutterer featured in the Democratic National Convention. Harrington, like Biden, has a stutter handicap which is a neurological disorder that makes it difficult to get out certain words. Biden's father told Joe not to let his handicap define him.
Monday - Republican Governors, Bernie Sanders & Michelle Obama
The first night was hosted by Eva Longoria one of the stars of Suburban Housewives.
The program started on Monday and included New Yorkers Governor Cuomo and former Republican Congresswoman Susan Molinari. Molinari wasn't the only Republican to participate in the first night of the Democratic Convention. Two former Republican Governors - Christie Todd Whitman of New Jersey and John Kasich of Ohio - also participated, giving speechs at the Democratic virtual Convention.
One might ask why are Republicans giving speeches at the Democratic Convention. Both former Governors answered that question very clearly - they are concerned about the future of the American Democratic Republic if Trump's presidency doesn't end this year. Former New Jersey Republican Governor Whitman, a self described lifelong Republican, made the following statement which was published in an August 18, 2020 report by the New Jersey News Network,
"This isn't about a Republican or a Democrat. It's about a person ... A person decent enough, stable enough, strong enough, to get our economy back on track. A person who can work with everyone, Democrats and Republicans, to get things done. Donald Trump isn't that person Joe Biden is."
According to an August 17, 2020 report on Cleveland.com former Ohio Republican Governor Kasich, said he was proud of his Republican heritage, citing his party as the party of Lincoln, of unity and of a higher purpose. The Cleveland.com report said that,
"... Kasich ... [has] known Biden for 30 years, calling Biden a man of integrity"
They continued quoting Governor Kasich as follows,
" ... Yes, there are areas where Joe and I absolutely disagree. But that's OK because that's America ... Because whatever our differences, we respect one another ... no one person or party has all the answers ... But ... we know ... we can do better than what we've been seeing today for sure."
First Lady Michelle Obama advocated for Joe Biden's candidacy recommending that the American people replace a president "who is in over his head".
Senator Bernie Sanders delivered the most damning assessment of the Donald's four years in office, citing the CoVid pandemic infection and death rates, the pandemic economic fallout, and Trump's mismanagement of racial tensions which erupted in the wake of George Floyd's death. Sanders went on to call Trump a fraud citing Trump's promise to stand with working families before he won the office, and who after taking office gave huge tax breaks to the wealthy, tried removing discriminatory protections currently in place for people with pre-existing health conditions, and proposed massive cuts to Social Security, Medicare and Medicaid.
Likely many of Trump's supporters aren't aware of the issues discussed in Sanders remarks, because information that doesn't portray the president in a positive light seems rarely [ever?] reported on Rupert Murdoch's Fox News, NY Post and Wall Street Journal.
---
Michael Bloomberg Record - Part II.
Is Picking One of Two NYC Republican Billionaires Who Govern for the 1% Really a Choice?
Democrats Should Take a Hard Look at the Billionaire Republican Bloomberg's Record Before Casting Their Votes
Any American with Half a Brain should Know that Relying Soley on an Ad for all the Information You use to make a Decision is Not a Good Idea
Cleaned up March 17, 2020 from 2/21/2020 / NYC Neighborhoods / National Politics & Government / News Analysis & Opinion / Gotham Buzz NYC.
Bloomberg's Ads Talk About his Recent Donations - NOT About his Record as Mayor
If you watch Bloomberg's commercials closely you'll notice that he doesn't talk much about his record as NYC Mayor, but rather talks mostly about the donations he has made over the past two or three years.
Most of these donations were made AFTER the Donald won the presidency, and showing Bloomberg - the other NYC Republican Billionaire seeking the presidency - that it's possible that super rich people can fool enough of the electorate to vote for someone who has little to no idea what it's really like living in the middle class or working class - let alone the poor.
Bloomberg's donations include addressing gun control or lack thereof, addressing climate change and donations to women's groups. Bloomberg's donations, while very laudable, also appear to be very politically calculated.
Bloomberg Donations to Republican Senators Help McConnell Keep a Majority
Bloomberg has given to a number of Democratic candidates over the past few years, even though Bloomberg governed as NYC Mayor mostly while calling himself a Republican. But it's important to note that the former NYC Mayor also gave to Republican candidates, including senators who supported the Trump / Mitch McConnell agenda, such as South Carolina Republican Lindsay Graham [$250,000] and Pennsylvania Republican Pat Toomey [$11,700,000].
According to a November 26, 2019 report in the New York Times,
"... The former mayor of New York poured in $11.7 million to help re-elect the Republican incumbent, Senator Pat Toomey ... Federal records show that political committees funded by Mr. Bloomberg have spent more than $86 million since 2012 -- the bulk devoted to promoting Democrats. Yet more than $17 million went to boost Republicans. In addition, Mr. Bloomberg has personally donated another $950,000 to Republican campaigns and political action committees ... "
Bloomberg claimed he supported Pennsylvanian Pro Lifer Toomey for Senator because he was an advocate for gun control. But according to NY Magazine, so was the Democratic challenger, Kate McGinty. McGinty was also an environmental policy expert, while Toomey was also a Pro Life advocate. Sources for this paragraph are NYT 11/26/2019 and NY Mag 2/18/2020.
Another political donation the former NYC Republican billionaire made was in 2014 when he supported the gubernatorial campaign of former Michigan Governor Rick Snyder with a $3 million contribution. According to a February 18, 2020 report in NY Magazine,
"In 2014, Bloomberg gave $3 million to Michigan governor Rick Snyder, the conservative Republican who presided over the mass poisoning of Flint's water supply. The supposedly "socially liberal" billionaire's rationale for backing a self-described "pro-life, pro-Second Amendment" Republican? Snyder was, in Bloomberg's words, a guy "who took on the unions to get Detroit and Michigan going in the right direction. And he was re-elected despite being attacked by the unions.""
How Many Voters Can Billionaires & Mass Media Deceive?
Are Billionaires Corrupting the One Man / One Vote Promise of Our Democracy?
Bloomberg said he spent this money to "get it done", essentially claiming he can buy his way into the democratic process. Americans need to take note, because when they relinquish their votes to the siren call of the billionaires, they are relinquishing their role in what has been the American democratic process.
Voters have come to the fork in the road where they must choose between that which is easy and that which is right. Voters can make a difference by donating small sums of money over the internet, and if they can't do that. they can do a search for candidates or government officials they like and help them make calls or sign up voters or canvass neighborhood getting the word out the old fashioned way - the human way.
---
Michael Bloomberg Record - The Part You Won't See in His Ads
Michael Bloomberg's Real Record as NYC Mayor
This Contains the Part of Bloomberg's Record You Won't See in His Ad Campaign
December 16, 2019 / NYC Neighborhoods / NYC Politics & Government / News Analysis & Opinion / Gotham Buzz NYC.
I started reporting for Queens Buzz in the second half of 2007, in anticipation of the website opening in 2008. At the time, politics wasn't in the docket. But over time, as I watched government and political events unfold, I couldn't ignore the huge gap between what was happening - versus what was reported to be happening.
Thus over time I began reporting on NYC, NYS and eventually national politics, doing in-depth research along the way, so that I could provide our readers with a fresh point of view, based on facts and knowledge, with scant pandering to the politicial spin.
While I only began tuning into NYC politics as a reporter during Michael Bloomberg's third term, I had picked up information about him prior to that as an aware NYC resident / voter. My first glimpse into Republican Mayor Michael Bloomberg's anti-democratic tendencies came about in 2004, during the Republican Presidential Convention, when Bloomberg appeared to illegally lock up people protesting the wars and policies of then president George W. Bush. But before I delve into that aspect of Bloomberg's performance, I want to highlight a few others.
Disdains Democracy: Overturns Mayoral Term Limits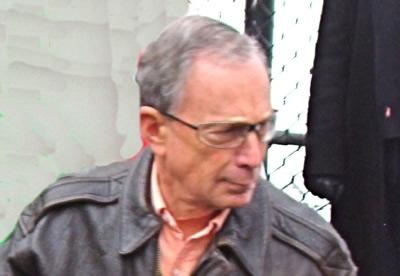 In 2008, just a year before former Mayor Michael Bloomberg was about to be term limited out of the Mayor's Office, he convinced the NYC City Council to override the plebiscite that term limited his time in office as the Mayor.
Thus Michael Bloomberg sought and won a third term - which he essentially bought - by funding his campaign with nearly $100 million of his own money, to defeat an relatively unknown candidate, retiring City Comptroller Bill Thompson.
Thompson was not given much support by the Democratic Party in that election, likely because they didn't believe he would do anywhere near as well as he did, and they were competing with a billionaire who could / would and did greatly outspend the competition. The final vote was 50.7% for Bloomberg and 46.3% for Thompson.
Did Former Mayor Bloomberg Override Term Limits in Order to Cash In NYC's Municipal Real Estate Holdings?
The deals on the Bronx Terminal Market, Hudson Yard, Hunters Point South & Flushing Meadow Corona Park were all begun in 2007. So were the two multi-billion dollar [each] subway line extension projects - the Q and the #7.
All of the real estate developments and the two major subway infrastructure projects seemed to greatly benefit one person - Stephen Ross and his privately held Related Companies. Stephen Ross went from not being counted as a billionaire at the beginning of Bloomberg's Mayoralty, to becoming the richest real estate developer in New York City within a couple of years after he took office.
It's worth noting that Bloomberg's net worth during this period shot up too. And that Bloomberg LLP, the company he founded, also operates in NYC and is also privately held.
Former Mayor Michael Bloomberg's Real Record as Mayor
The Real Record of Mike Bloomberg's Accomplishments as Mayor - Doubling of Homelessnes, Taxpayer Funded but Privately Owned Luxury Apartments, Massive Public Land Giveaways to Friendly Developer, Massive Public Transit Spending Benefitting Same Developer, Privatization / Profitization of Many Public Schools, Failure to Negotiate with Unions, City Time Scandal & Racist Stop N' Frisk Policing Program
The report includes: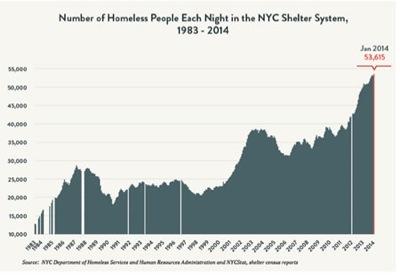 1) HOMELESSNESS: Bloomberg had a horrendous record on homelessness which broke all records & doubled during his Mayoralty.
2) AFFORDABLE HOUSING: Bloomberg sold the public on funding 'affordable' apartments that rented for $48,000 per year. These were publicly funded but privately owned apartment units that Bloomberg sold to the public as 'affordable' in order to gain passage of the bills authorizing them.
3) PUBLIC LAND GRAB. Four huge real estate developments appeared to be given to Stephen Ross & Related Companies which are now worth billions. The public lands reportedly sold for $1 apiece include Hudson Yard, Hunters Point South and the still pending Flushing Meadows Corona Park development. I'm not sure but Bronx Terminal was also transferred in a sweet deal to the real estate developer Stephen Ross & Related Companies.
4) PUBLIC SPENDING BENEFITTING FRIENDLY DEVELOPER. Bloomberg pushed two subway line extensions that seemed to disproportionately benefit Stephen Ross & Related Companies. The subway line extensions were 1) the #7 subway line extension that supported Stephen Ross & Related Companies Hudson Yard development and 2) the Q subway line extension which greatly enhanced the value of Stephen Ross and Related Companies Upper East Side properties.
5) PRIVATIZATION OF PUBLIC SCHOOLS. Bloomberg's privatization of a significant portion of the NYC public school system which appeared to tear apart the NYC public school system by enabling for profit private charter schools, disproportionately favoring Eva Moskowitz and Success Academy, to recruit the best students of the NYC public school system, while leaving the rest behind in the hands of the public and unions;
6) UNION BUSTER? Bloomberg's failure to sign a single major union contract during his 12 year administration and the
7) GIULIANI / BLOOMBERG CORRUPTION. City Time corruption scandal.
8) RACIST POLICING POLICY. Presided over racist Stop N' Frisk policing policy.
CLICK here to read the rest of our report on the part of the Mike Bloomberg's record of Mayor. The part of the Bloomberg record you won't see in his $33 million ad campaign to convince Democrats to vote for him. Billionaire Bloomberg, like the billionaire President, seems to have an inclination to distort the truth.
---
November 7, 2018 Midterm Election Results: Trump & Republicans Lose Badly in Midterms
Trump Suffers Huge Losses in Midterms
Americans Sharply Reprimand the Un-Reality TV President
November 7, 2018 / NYC Neighborhoods / NYC Politics & Government / New Analysis & Opinion / Gotham Buzz NYC.
The American people have spoken.
Now what the voters have said, by virtue of their votes, is already being spun by Donald Trump's and Rupert Murdoch's propaganda spin machines in order to further their self-serving agendas.
But before we look at the spin, let's look at the facts, as the electoral outcome is a measure of the American people's endorsement - or lack thereof - of the presidency of Donald J. Trump and by association, Rupert Murdoch, the multi-billionaire, global propagandist who was instrumental in helping Trump take the White House.
Republicans Gain 2 Senate Seats - One from Pence's Home State of Indiana & one from Donald's 2nd Home State of Florida
The Republican Party strengthened its already firm grip on the Senate by picking up three [North Dakota, Missouri & Indiana] maybe four [Florida] Democratic Senate seats, while losing two Republican seats [Nevada and Arizona], leaving them with a net gain of two seats.
Update - Republicans won Florida, so they gained four Senate seats and lost two. The tally now stands at 47 Democrats to 53 Republicans, meaning the Republican party continues to control the Senate.
So, assuming that the follow on election in Mississippi goes to Republicans, and the current tiny lead in Florida is not overwhelmed with absentee ballots, the Senate tally will change from the current 49 Democrats - 51 Republicans to 47 Democrats - 53 Republicans. Of note is that Republicans had only six seats to defend, while Democrats had 27 seats up for grabs.
At the moment there are two unresolved Senate races, one of which has been Republican [Mississippi] and the second of which is Florida [Democratic incumbent], so this tally could change.
Home States Advantage. It's worth mentioning that one of the seats picked up by the Republicans came from Indiana, the home state of Vice President Mike Pence, and the possibility of another comes from Florida, which I categorize as the second home state of President Donald Trump, given how much property he owns / manages there and how often he golfs there.
Republicans Lose Control of the House & Lose Control of 7 State Capitals
As of this report the Republican Party lost 27 and likely more seats in the House, thus relinquishing their majority in that body for the first time in eight years. And for the first time during the Trump presidency, the opposition Democrats have an opportunity to play a real role in governing again. The Democrats now have subpoena power, they have the power to impeach, and no legislation can be passed without Democratic signatures. At present count the Democrats have won 222 seats [218 provides majority rule] to the Republicans 194 seats, and there are 17 races that have not yet been officially announced, so the net loss / gain tallies will change, as the remaining 19 contests are settled. There are 435 congressional representatives.
Update - Democrats won 235 Congressional seats, while Republicans won 200 Congressional seats meaning there was a HUGE flip from strong Republican control of Congress to strong Democratic control of Congress.
---
Senator Susan Collins Votes to Confirm Brett Kavanaugh to the U.S. Supreme Court
Kavanaugh Epilogue: Onto the Midterms?
Collins' Speech, McConnell Cash & What will the Donald do if Republicans win the Senate?
Update October 7, 2018 / NYC Neighborhoods / NYC Politics & Government / News Analysis & Opinion / Gotham Buzz NYC.
Susan Collins Speech - Honest ... but?
Susan Collins gave a speech explaining to the American people why she was going to vote to approve Brett Kavanaugh to the Supreme Court. She reaffirmed what I have stated below, which that it was not a court proceeding, but rather a confirmation hearing which does not require a standard of being beyond reasonable doubt.
Collins went on to say that none of the people Christine Blasey Ford named as attendees at the party, could remember or verify their attendance at the party. And that she thought that to be fair to Brett she would vote for him, since the allegations of sexual assault were not confirmed. BUT she did not talk about any of the other allegations noted above, nor did the 'limited' investigation attempt to get at the root of those, including whether Kavanaugh had lied under oath.
Mitch McConnell's Gloating & Telling the Big Ones?
Mitch McConnell told Fox News that he was proud he and his fellow Republicans had stood up to the mob. The mob he was talking about was comprised of the American people that he often times uses as cover to justify the work he does for the people he is really serving. McConnell's campaign, or indirectly the McConnell's personally, accept oodles of cash from the super rich corporate donors, the Chinese with which his father-in-law does business, and the Russian oligarchs who are newcomers to the Mitch McConnell selling out of America program. Russian Oligarch companies donated $2.5 million to McConnell campaigns, $7.5 million to Republicans in general including Senator Lindsay Graham, and allegedly $30 million to the NRA, which is believed to have used that money in support of the Trump Campaign.
Thus, contrary to Mitch McConnell's claims to the contrary, in reality he stood up AGAINST the American people IN FAVOR the rich and powerful, including the Chinese and Russian Oligarchs, because Kavanaugh reportedly rules in favor of the corporate establishment over 80% of the time - against the American consumer, against American's health aka the environment and against American small business.
---
Brett Kavanaugh - Trump Attacks Christine Blasey Ford - American Corporate Media Failure
Kavanaugh: American Corporate Media Failure
Fox, ABC, NBC, CBS, NYT and WAPO all Sow Disinformation by Repeating Trump Attacks on Blasey Ford w/o Specifically Refuting all of Them
Only CBS's Late Show with Stephen Colbert had the Intelligence, Decency & took the Initiative to do so
October 4, 2018 / NYC Neighborhoods / NYC Politics & Government / News Analysis & Opinion / Gotham Buzz NYC.
The six largest American media corporations unanimously added insult to injury, regarding Christine Blasey Ford's testimony, which alleged Brett Kavanaugh attempted to rape her several decades ago.
Every one of them repeated Trump's false attacks on her or showed video of Trump falsely mocking Christine Blasey Ford on Tuesday, October 2nd. Trump said Blasey Ford didn't know in which neighborhood this happened [Bethesda, Md], where the house party was [between Blasey Ford's house and the country club], when this happened [36 years ago], and was it upstairs or downstairs [at the top of the stairs].
One of the big news corporations said Blasey Ford was 100% sure it was Kavanaugh, but without providing added supporting evidence. Another outlet went on to replay and amplify multiple other of Trump fake news comments, again failing to directly refute all of the ones Trump had just made regarding Blasey Ford's testimony, which was less than a week ago. And a third major American news outlet noted that as recently as last week Trump had declared Blasey Ford gave credible testimony. But so what? Trump says lots of contradictory things. So now, like so many times before, Trump contradicts himself allowing his followers to believe what they want to believe, amplified by the American corporate media.
These large media corporations, with all their resources and well educated journalists, didn't have the decency, intellect, and didn't take the initiative to do a little - very little - fact checking of the less than week old testimony.
America has a broken public information system. And when the public information system is broken, the nation is like an aircraft that has lost its flight instrumentation. The nation is flying blind. We're flying blind and making bad decisions because we are not getting accurate readings on what's going on, and where we are.
Russian billionaires and foreign companies may soon have more pull with the Supreme Court than 'We The People'. It seems the Russians already have significant influence with many of our Senators and President - see more about this in a prior report we did about Brett Kavanaugh Supreme Court Nominee.
---
---
---
Issues of Character - Brett Kavanaugh - Supreme Court Nominee
Kavanaugh: Have Republicans Abandoned Family Values and Law & Order?
Are Trump & Republicans Rushing the Nomination of a man who may be a Lying, Partisan, Alcoholic, Sex Offender with a Gambling Problem?
October 2, 2018 / NYC Neighborhoods / NYC Politics & Government / News Analysis & Opinion / Gotham Buzz NYC.
Over the past couple of weeks, we've been treated to a new season of a made-for-TV series, the Unreal Presidency of Donald J. Trump. The Donald is the star TV shock jock protagonist. He is an elderly man who appears hell bent on seeing just how far he can exercise executive privilege to serve his own ends, before some of the other 320 million people in the nation will actually stand up to stop him.
There are many antagonists including those who have filed a lawsuit accusing Trump of violating the Emoluments Clause of the U.S. Constitution [using the office of the presidency for personal profit] and there are many grassroots Democrats who are pushing their representatives on the idea that Trump was exactly the kind of president the Founding Fathers had in mind when they included the Impeachment process in the Constitution.
The past and current episodes of the Unreal Presidency of D.J. Trump have been a made-for-TV-News ratings sensation. The current episodes have been focused on Trump's rush to confirm Brett Kavanaugh, a nominee with hair-raising disqualifications, to the Supreme Court. The Trump propaganda machine - friend Rupert Murdoch's Fox Fake News - has been the ratings winner of this taxpayer funded drama.
And Murdoch's Fox News proudly declared that on Friday, September 28, 2018 with the following headline [see above],
"Fox News dominates ratings on coverage of dramatic Kavanaugh-Ford hearing."
Murdoch's Fox Fake News uses red, white and blue iconography all over its broadcast studio, calling themselves 'America's Newsroom'. Their hijacking of America's colors and flag, is reminiscent of how the Nazis hijacked German nationalism in the 1930's for their own ends. The Nazis claimed to be the one true patriotic party of Germany.
The Appearance of Due Process for TV Cameras?
The reality comes from Trump and the Republicans using Executive Privilege to withhold critical documents from the Senate, also limiting the time Senators were given to question Kavanaugh, and at first denying an authorized investigation into some of the most egregious allegations that have arisen against Trump nominee Brett Kavanaugh.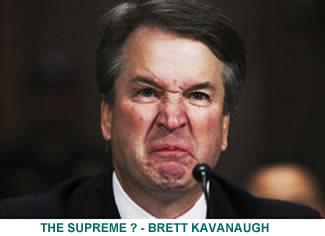 Trump's opposition, the minority political party in both the Senate and House, want access to documents surrounding one of the two roles that Kavanaugh played in the Bush Administration [2003 - 2006], when it is believed Kavanaugh ignored or supported illegal torture, illegal surveillance of the American people, and possibly worked with documents Kavanaugh knew to be obtained illegally.
What's more, the allegations surrounding Kavanaugh's character seems serious enough to disqualify him, including lying under oath, attempted rape, alcoholism and that he has a gambling problem. These allegations, if true, would impugn the integrity of the Supreme Court, as an impartial body that deliberates over the laws that govern our society.
Supreme Court Justice Nominee or Supreme A_ _ Hole?
The photo at right shows Kavanaugh at the hearing, demonstrating some of his famous anger management issues. His lying about his inability to control himself is at the core of the Senate's reluctance to confirm him - as he is alleged to have gotten into a bar dispute after repeatedly drinking too much, to have repeatedly sexually offended several women where alcohol was also involved, and to have erupted in rage following a gambling bout.
---
How Corrupt is Kentucky Senator Mitch McConnell?
How Corrupt is Mitch McConnell?
Are Republican Senators Really Russian & Chinese Lobbyists?
McConnell Accepted $2.5 Million from Russian Oligarch Company & Accepted $ Millions from Father-in-Law Who Does Big Business with China
September 27, 2018 / NYC Neighborhoods / NYC Politics & Government / Gotham Buzz NYC / News Analysis & Opinion.
Republicans & Democrats need pay heed to the real demographic fault Lines - the fault lines between the Super Rich and everyone else.
In history all conquerors need a strategy to conquer entire peoples, and that strategy is usually one based on a divide and conquer strategy. In the 1700 and 1800's the British were accomplished users of this strategy, aligning with minority groups in the Middle East - so the minority would need to rely on the British help - to maintain their control over the majority. Further away from the center of British power, Hong Kong, an island separate from the Chinese mainland, was used to extract valuable trade from the continent using a defensible locale.
In modern times Hitler used a claim to defend the German minorities in Austria and the Czech Sudetenland, as a pretext for conquering those nations. And today, we see how that strategy has evolved, as Russian and American Oligarchs, manipulate Americans and exploit divisions along ideological lines, in order to strip away the government apparatus of checks and balances embedded in the U.S. Constitution. Like Hitler, they are going about this in a more or less legal manner, in order to add legitimacy to something that in reality is anything but.
2015 - 2016 Campaign: Mitch McConnell & Republicans Receive $7.5 Million from Russians
Mitch McConnell's dedication to and representation of his fellow Americans is highly suspect when you gaze through his campaign funding sources.
According to an August 3, 2017 OpEd in the Dallas News, in the 2015 - 2016 election season Republican Senate Majority Leader Mitch McConnell's GOP Leadership Fund accepted $2.5 million in donations from Leonid Blavatnik's Access Technologies [$1.5 million] and AI Altep Holdings [$1 million]. The newspaper goes on to report that other top ranking Republicans including Florida Republican Senator Marco Rubio's Conservative Solutions PAC [$1.5 million] and South Carolina Republican Senator Lindsey Graham [$800K] accepted money from the Russian Oligarch's companies. All tolled Republican candidates received $7.5 million in Russian Oligarch money. OpenSecrets.org, a non profit truth seeking organization, was the original source.
NOT ONE of McConnell's Top Funders From Home State of Kentucky
Mitch McConnell's dedication to and representation of his fellow Kentuckians is even more highly suspect when you gaze through his American campaign funding sources.
According to an October 24, 2016 report in the Louisville, Kentucky Courier-Journal, a USA Today affiliated newspaper, between January 2009 and October 2016 McConnell's highest donor was Sheldon Adelson, a Nevada casino operator, who contributed $20 million. During the same period [for all listed in this paragraph = same source], One Nation, a Karl Rove affiliated dark money group, contributed $9 million. Two Houston, Texas based energy companies donated $5.6 million. And three investment companies / hedge funds donated a combined $10 million. There's plenty more from where that came from, as I'm still listing donors above the $2 million mark - and not a one of them is from Kentucky.
Moscow Mitch & Quid Pro Quo?
Do you think the Russian Oligarchy cash had anything to do with McConnell's December 2016 refusal to entertain the idea of a Senate Committee dedicated to investigating the Russian interference in the election? Do you the Russian Oligarchy's contributions had anything to do with the fact that in September of 2018 McConnell said the Senate won't be taking up Russian sanctions until after the election?
How Much of Mitch McConnell's Net Worth Gains - from an Estimated $3 to $36 Million - Came from Wife Elaine Chao's Father & the Chinese Seeking Influence?
In a March 17, 2018 report in the NY Post, author Peter Schweizer's book, Secret Empires: How the American Political Class Hides Corruption and Enriches Family and Friends, is reviewed. In the review the NY Post notes that Mitch McConnell and his wife Elaine Chao were worth about $3.1 million in 2004. Ten years later their wealth had increased to somewhere between $9.2 and $36.5 million.
He goes on to note that Chao's father, who operates the Foremost Group, which is a shipping company that does a significant amount of its business with China. James Chao, McConnell's father-in-law, was a classmate of former Chinese President Jiang Zemin. And Mitch McConnell's wife, Elaine Chao, is now the Trump Administration Transportation Secretary. So Father James Chao is in the shipping business, daughter Elaine Chao is the U.S. Transportation Secretary, and son-in-law Mitch McConnell is the Senate Majority Leader.
Following Marriage to Elaine Chao Mitch McConnell Flip Flops on China?
In 1994, shortly after McConnell's marriage to Elaine Chao, the NY Post report continues, McConnell took hardline positions against China. But by 1999, McConnell's stance had softened considerably, as McConnell opposed supporting Jesse Helms sponsored legislation in support of Taiwanese independence that had 21 Republican co-sponsors and heavy Republican support. In recent years McConnell continues to support China, having fought hard to stop the U.S. Senate from punishing China for undervaluing its currency, when Harry Reid was the Senate Majority Leader.
Sound like the Clinton Cash? It should. Peter Schweizer was author of the 2016 book, Clinton Cash, which was published by Harper Collins, which is a publishing house controlled by the NY Post / Fox News / Wall Street Journal Media Fuhrer, Rupert Murdoch. Murdoch appears to like to be in a position to take down the very people he promotes, as Elaine Chao was once a Board Member of 21st Century Fox. CLICK here to learn about how Rupert Murdoch who controls Fox Fake News, the Wall Street Journal and NY Post seems to undermine our democracy by misinforming his audience in order to get them to vote for candidates he favors who seem willing to grant him favors using public power.
It's worth noting that Mitch McConnell is one of the longest serving members of the Senate Leadership. And yet while Mitch is doing great, Kentuckians lag far behind the rest of the nation with a median income of $47,000 vs the national average of $59,000. So Mitch McConnell is doing great - but the people he represents aren't. Is that a surprise?
So Why is McConnell Rushing Kavanaugh Nomination?
In March of 2016, when then president Obama nominated Merrick Garland for the Supreme Court, Senate Majority Leader Mitch McConnell held off a review of Garland. In a March 16, 2016 NPR report McConnell is quoted as telling the nation,
"The American people are perfectly capable of having their say on this issue, so let's give them a voice. Let's let the American people decide. The Senate will appropriately revisit the matter when it considers the qualifications of the nominee the next president nominates, whoever that might be."
Fast forward to September 24, 2018 and McConnell tells us this on CNN.
"Chairman Grassley will make sure the facts will be heard. Judge Kavanaugh and the American people deserve nothing less."
That same day PBS reports that the Republican Senate majority on the Judiciary Committee scheduled a vote on the Kavanaugh nomination for the morning after Christine Blasey Ford's testimony. Christine Blasey Ford is the woman who accused Brett Kavanaugh of attempting to rape her at a party while they were both teenagers.
Old Saying - Haste Makes Waste
I find this rush to judgment disturbing because within the past week or so, two other accusers of Brett Kavanaugh's alleged sexual misconduct, have come forward. One is a Kavanaugh classmate from Yale - Deborah Ramirez, and the other is an alleged friend from Kavanaugh's high school years in the D.C. area, Julie Swetnick. And there may be a fourth accuser. A CBS Local report on September 27th, 2016 tells us that eleven Maryland lawmakers have asked the Montgomery County police to investigate allegations against Brett Kavanaugh, should the accusers wish them to do so.
So in March of 2016 Mitch McConnell can wait from March through January to let the American people weigh in. But in July of 2018, when Brett Kavanaugh's nomination came up, McConnell UNILATERALLY decided NOT TO LET THE AMERICAN PEOPLE WEIGH IN. And now, in the face of growing evidence of sexual misconduct, McConnell is trying to rush the Senate role in consenting on the nomination of Brett Kavanaugh through without even giving his fellow Senators a chance to fairly weigh in.
This alone would be enough to give one cause for concern. In this report I explore an alternative narrative as to why McConnell - who acts like a Chinese / Russian Lobbyist while pretending to be a 'Red State' Republican Senator - might want to rush Kavanaugh's nominating process. And it's not about Conservative values or Abortion - but rather about possible McConnell cash and payola.
---
Unite The Right Rally in Washington D.C. Aug 2018
What I Found: Unite The Right Rally in D.C.
Media Reality Distortion - How Out of Whack is America's News / Information System?
August 13, 2018 / Government, Media & Politics USA / Washington, D.C. / Gotham Buzz NYC.
Just over a week ago, I made the decision to travel down to Washington, D.C. to cover the Unite The Right Rally scheduled Sunday, August 12th, on the anniversary of the same rally organized by the same group in Charlottesville, Virginia. Charlottesville is located about 100 miles south / mostly west of Washington, D.C.
In the rally a year ago, White Supremacists, Ku Klux Klansmen, neo-Confederates and neo-Nazis participated in the rally and it became violent. One person was killed in the event when an alleged neo-Nazi drove his car through the crowd, and two officers monitoring the event in a helicopter died, when the aircraft crashed [I believe it was an accident]. And somewhere between 19 and 34 people were injured in clashes between the Unite The Right rally participants and Antifa along with other counter protesters.
The D.C. event was scheduled in D.C. because Jason Kessler, the Unite The Right Founder, couldn't get a permit in Charlottesville for the first year anniversary of the Unite The Right event. After some skirmishing over the permitting with the local Washington, D.C. authorities, Kessler prevailed and was given a permit to hold a march and rally ending in Lafayette Park, just south of the White House.
At one point there were discussions about arranging separate public transit buses for the Unite The Right rally members from their staging area a several miles west of the White House, to the march starting point at Foggy Bottom Metro Station. But the D.C. public transit union resisted, as the majority of their members are African Americans, and the union reportedly opined that they didn't want to do anything to facilitate the Unite The Right rally.
---
Critique of American Media Coverage of 2016 Presidential Primaries
On the Campaign Trail & 'Feeling the Bern'
Sanders Introduces Democratic Socialism to the American People
Updated April 19, 2016 from 4/15/16 / NYC Neighborhoods / News Analysis & Opinion / Gotham Buzz NYC.
If nothing else, this has been an interesting presidential election cycle. It's not 'reality TV', its televised reality.
Making America Great ... again?
The Republicans attracted most of the attention early on, thanks mostly to Donald J. Trump's shock jock presidential candidacy. A candidacy that turned presidential debates about public policy into name calling, discussions of poll numbers & penis size, and relentless barrages of vituperative insults.
The Donald has, in his campaign, essentially told us to forgeddabout the ballooning government deficit, a dated and at times crumbling infrastructure, fixing our public education system, helping the shrinking middle class and addressing global climate change.
The Donald has distracted us from an intelligent discussion about these 'loser' subjects, and told us that he's going to rip 12 million people [the equivalent of about 5% of the nation's population] away from their families by deporting them, punishing women for getting abortions, and erecting a wall along the border with Mexico which he tells us the Mexicans are going to pay for.
Does Trump really think this is how to 'make America great ... again'?
Trump Candidacy Increases Ratings Which Translates to Profits
Trump may not make America great again, but he's been good for corporate-owned, network television ratings. The Hollywood Reporter quotes CBS Chairman, Leslie Moonves telling a Morgan Stanley conference in San Francisco on February 29th, 2016 that,
"The money's rolling in and this is fun ... this going to be a very good year for us. Sorry. It's a terrible thing to say. But, bring it on, Donald. Keep going."
While Sanders Delivers Substance & Expands Public Debate
So while Donald Trump has been filling the pockets of corporate-owned mass media, Bernie Sanders - the man with the real story - has largely been ignored. Ignored by the mass media, but embraced by the social media and a signficant and growing segment of the American populace. In fact Sanders, during the past week of campaigning in New York, attracted crowds of tens of thousands, while the other candidates on both sides of the ticket did not.
Click here to see photos of the Bernie Sanders campaign 2016 in NYC & LIC Queens, as well as a story about the contest between Sanders and Clinton.
---
Clintons Presidency Record / Bushes Presidency Record
Are The Clintons & Bushs American Royalists?
This next section provides a brief report to remind voters of some of the highlights of the two major parties' front running candidates' family performance histories. History they made while their family worked in the Executive Branch of the federal government.
April 6, 2015 / NYC Neighborhoods / Government & Politics NYC / News Analysis & Opinion / Gotham Buzz.
I heard some folks in the audience say that they thought Elizabeth Warren might be a good running mate for Hillary. Several told me that Hillary was unstoppable. I thought about this after leaving the Barnes & Noble bookstore at Union Square in Manhattan and decided to start surveying people about how likeable Hillary Clinton is.
Hillary Clinton - Is She A Paper Tiger?
The response wasn't particularly good for those who support Hillary. To about half of the people I randomly surveyed, Hillary Clinton just isn't that likeable [note that this was a super small sample size of about a dozen folks in Union Square Park in Manhattan one evening]. One pundit opined that she's far more like Al Gore, than she is like her husband in terms of likeability.
I subsequently looked up the polling charts from eight years ago. Hillary Clinton was a paper tiger back then and, given her slippage in the polls since the email debacle, she may be a paper tiger again.
See the Obama / Clinton chart from 2006 on your right. The chart shows some loss of popularity on Hillary's part, but it was the congealing of the rest of the Democratic electorate around Obama that won him the prize. Currently Elizabeth Warren is trending in the neighborhood of Obama's poll numbers at this point in time in the race.
Back To The Past - Jeb & Hillary - 1992 Redux
I didn't do a survey, but Jeb Bush may have the same problem as Hillary. The Bushs have presided over the nation's two most significant financial disasters since the Great Depression - and by some accounts - they were in part responsible and Bush family members profited during them.
Click here to continue reading our report of a brief overview of the Clinton Record & Bush Record.
---
Elizabeth Warren At Union Square Park Barnes & Noble Bookstore
Elizabeth Warren @ Union Square
Capacity Crowd Considers A Fighting Chance
Are Buffett & Investment Bankers Trying To Pre-emptively Define Her As 'Angry' & 'Too Liberal' Before The Rest Of America Hears Her Speak?
April 6, 2015 / Village Neighborhood NYC / Government & Politics NYC / News Analysis & Opinion / Gotham Buzz.
In the past few months I have overheard a number of people chatting about Elizabeth Warren, the Democratic Senator from Massachusetts. So when I heard that she would be speaking at the Union Square Barnes & Noble in late March of 2015, to promote the paperback release of her book entitled A Fighting Chance, I decided to see for myself what they were talking about.
Up until this time I knew little about Senator Warren except that she had retaken the Massachusetts Senate seat for Democrats - that Scott Brown had won for Republicans - shortly after the death of Democratic Senator Ted Kennedy.
I arrived a bit early to get my bearings, as there has been a growing groundswell of support for Senator Warren to run for President. Like Barack Obama in 2008, she would probably have to beat Hillary Clinton, even though Hillary has not yet formally announced that she's running.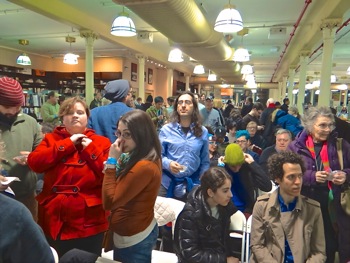 Nonetheless, just like eight years ago, Hillary has already been anointed the Democratic candidate / victor by the mass media political polls and pundits. Queen Hillary's coronation may be premature, as she continues to slip in the polls versus her potential Republican rivals, including Prince Jeb - likely due to the email debacle, and perhaps a growing reminder of the Clinton family public dramas of years gone by.
Many of the seats facing the podium on the fourth floor were filled, while the remainder of them were filling up steadily. I had been told by someone earlier in the day, that most of the folks in the audience would likely be older people. So I was surprised to see that while the audience contained a number of older people [let's say over 50 / 60], a majority of those in attendance were actually younger people [under 40 / 50].
What follows is an account of the Elizabeth Warren speech - or shall I say her Law-School-like lecture - and the crowd's reaction to it. The report also includes a preliminary examination into why those in the investment banking sector, like Warren Buffett, seem uncomfortable with the idea of Elizabeth Warren's rise as a potential or eventual Democratic candidate for president. And at the end of the report we added a brief historical review of the front running Bush and Clinton family performances on the national stage over the past three decades.
Click here to read the rest of our story about Elizabeth Warren in Manhattan NYC.
---
NYC Boroughs - New York City
NYC Neighborhoods - New York City Related Info
Click this link for promotions, discounts and coupons in New York City.
Click here to go to the NYC Arts & Culture section of this site.
Click these links for promotions by advertisers in Manhattan.
Click this link to go to the NYC Neighborhoods section.
---
Site Search Tips. 1) For best results, when typing in more than one word, use quotation marks - eg "Midtown Neighborhood". 2) Also try either singular or plural words when searching for a specific item such as "gym" or "gyms".
Click this link to the Gotham Buzz front page.
---
---
Click the log in link below to create an ID and post an opinion.
Or send this story to a friend by filling in the appropriate box below.
---
NYC Related Links
Click for NYC Restaurants NYC.
Click for NYC Shopping NYC.
Click for Things To Do NYC - Holidays in NYC.
Click for NYC Neighborhoods NYC.
---