Will the U.S. Postal Service Deliver?
Tens of Millions of Ballots That Were Issued Haven't Been Received
Too Late for Mail - See Options Below for Absentee / Mail Ballots

October 30, 2020 / NYC Neighborhoods / U.S. Politics / News Analysis & Opinion / Gotham Buzz NYC.
The unofficial motto of the United States Postal Service is "Neither snow nor rain nor heat nor gloom of night stays these couriers from the swift completion of their appointed rounds".
While that may be true, the motto says nothing about whether the USPS will be able to continue making the swift completion of their appointed rounds, in spite of efforts by the new Postmaster General Bill DeJoy that appear intended to delay them.
Louis DeJoy Seems a Corrupt Choice for Postmaster General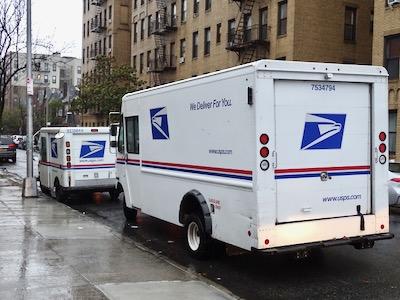 Louis DeJoy, was a $1.2 million dollar contributor to the 2020 Trump campaign, who a seemingly corrupt President appointed Postmaster General in June of this year. It was the first time in a couple of decades that someone from outside of the organization was appointed to the Postmaster General position.
According to Wikipedia, DeJoy's background is in logistics, and upon taking the job, he divested his holdings in UPS and Amazon, but held onto his
"$30-$75 million equity stake in XPO, a subcontractor for USPS."
They also report that since DeJoy became Postmaster General just over four months ago, the USPS has increased its business with XPO. We've seen this sort of conflict of interest / corruption in numerous cases at the Cabinet Level in the Trump Administration.
---
Will the U.S. Postal Service Deliver?
Tens of Millions of Ballots That Were Issued Haven't Been Received
Too Late for Mail - See Options Below for Absentee / Mail Ballots
October 30, 2020 / NYC Neighborhoods / U.S. Politics / News Analysis & Opinion / Gotham Buzz NYC. Continued.
Louis DeJoy & Donald J. Trump Election Interference?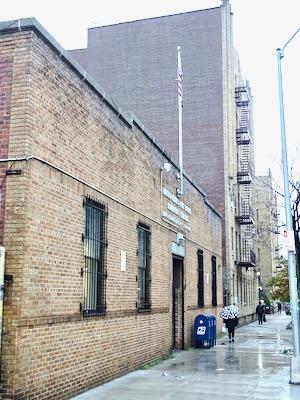 Wikipedia reports that,
"... On August 7, 2020, DeJoy announced he had reassigned or displaced 23 senior USPS officials, including the two top executives overseeing day-to-day operations ... "
If you wanted to sabotage an organization and an election, it seems this would be the way to do it.
"... on August 13, 2020, DeJoy confirmed reports of delays in mail delivery, and called them "unintended consequences" of changes that eventually would improve service. At the same time that he was taking measures that postal workers and union officials said were slowing down mail delivery, President Trump told a TV interviewer that he himself was blocking funds for the postal service in order to hinder mail-in voting..."
This seems a lot like July 27, 2016 when Trump, in a nationally televised broadcast, publicly encouraged Russia to hack Hillary Clinton's emails [and by association the election].
Attorney Generals of 20 States File Lawsuit to Stop Impedance
On August 22, 2020 the House brought forth legislation to provide funding for the USPS along with demands to stop the changes that were slowing the mail. Republican Senate Majority Leader Mitch McConnell said that the Senate would not pass a similar bill thus blocking the House effort - not unlike how McConnell stopped funding to ensure safe and fair 2020 elections [stop Russian election interference]. So when McConnell says he's doing for the American people - remember that it seems that oftentimes McConnell's really doing a lot of things TO the American people - not for them.
In an August 18, 2020 report by NPR, a statement made by House Speaker Nancy Pelosi included the following,
"... necessary but insufficient first step in ending the President's election sabotage campaign ... This pause only halts a limited number of the Postmaster's changes, does not reverse damage already done, and alone is not enough to ensure voters will not be disenfranchised by the President this fall... "
Twenty States Attorney Generals filed lawsuit against the Trump Administration protesting the changes to cripple the USPS. I believe these lawsuits are still pending, as the cuts to mail collection and processing infrastructure had not been restored. Postmaster DeJoy said he would put any further changes on hold until after the election.
A Patriotic Billionaire, Media Corp, Social Org or PAC Needs to Offer a Bounty / Reward for Info Leading to Conviction of Those Involved in Mail Delays, Dumping or Tampering
The efforts by the States and the House doesn't change the fact that the USPS is currently operating under a new Trump allied Postmaster General and his 23 new daily operational officers. And who knows of what they're capable of.
I suggest the media, because catching these people in the act, would be a great story that would be good for ratings and advertisers - and because in the process they would be protecting the Will of The People. What's more patriotic than that? And what's more a betrayal of democracy than those trying to thwart people from casting their votes?
Drop Off Your Vote - It's Too Late to Mail it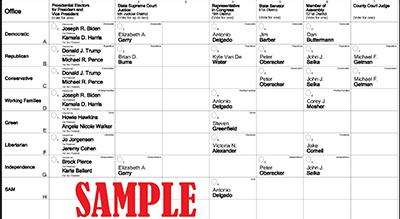 Anecdotally, I heard one man's story about mailing in his vote two weeks ago, and he kept calling the Board of Elections until it just arrived today. According to various reports, Postmaster DeJoy seems to have succeeded in screwing up or at least slowing up the USPS delivery times [see below].
In the meantime, if you haven't yet returned your absentee ballot - you have a few options: 1) bring it to the board of elections site in your borough during their office hours [see vote.nyc], 2) bring it to an early voting site where you can drop it off [there are extended hours this weekend - but early voting ends Sunday] and 3) you can drop it off at your poll site on election day.
How Broken is the USPS & Will The Organization Enable or Thwart 'The Will of The People' ?
I'm going to return with some of the data on how the mail service has been impaired, the delivery times slowed, and a look at the tens of millions of absentee / mail votes still outstanding. The question is whether these votes are stuck in the mail system or whether the voters who have requested them have not yet acted.
Here are some of the threads to this emerging story. Copy & paste into your browser. The first report, by the Associated Press, has a nifty interactive program where you can enter your zip to see how timely your mail has been of late.
https://apnews.com/article/mail-ballots-not-returned-key-states-114bea9e50052452cf4f793c1b6d5912
https://www.usatoday.com/story/news/investigations/2020/10/21/election-2020-mail-in-absentee-ballots-could-see-long-waits/5992494002/
https://www.washingtonpost.com/politics/2020/10/28/mail-ballots-postal-service/
https://www.theguardian.com/us-news/2020/oct/15/mail-in-ballot-tracker-us-election-2020
https://www.nytimes.com/2020/10/29/us/politics/post-office-mail-voting-2020-election.html
https://www.cnbc.com/2020/10/27/2020-elections-nearly-67-million-votes-cast-in-trump-biden-race-.html
https://www.msn.com/en-us/news/politics/voters-encouraged-to-hand-deliver-ballots/ar-BB1awi8N?li=BBnb7Kz
What's Wrong with Network TV News?
As you can see above, a number of the real news organizations are tracking this story - but unfortunately the majority of ignorant of Americans rely on Network TV for their news. They think that after 22 minutes of watching and listening to a half hour broadcast [includes at least 8 minutes of commercials], that they know what's going on. When in fact the reality is far different.
Rupert Murdoch's Fox Fake News appears to be a real Goebbels-like propaganda machine designed and operated to manipulate its audience's view of politicians, government officials and issues. It seems the intent is to get them to vote for Murdoch's favored pols, who seem to give him what he wants - as the implied threat seems to be that he will use his machine to manipulate the views of his massive audience against them if they don't give him what he wants. And there are plenty of recent examples in English speaking democracies where he appears to have done so in just the last four years - as he seems to replace British and Australian Prime Ministers like the 'presidentes' of banana republics. In American law this sort of behavior is called extortion, but the way Murdoch operates it's challenging to prove.
The broadcast TV Networks and the two other major cable TV Networks don't appear to be quite so evil, but instead somewhat clueless. They look good, they read the teleprompter real well, but it's a ratings driven, glamor gobbing business full of lightweight journalists (?) whose superficial reading of the news unfortunately leaves their audiences feeling informed, when they appear to be anything but ... which is, in part, why we are where we are today. It's not enough to show up and vote, Americans have to do their homework so they'll know who they are voting for.
Are the Missing Tens of Millions of Votes the Big Story of the 2020 Election?
The missing votes may be the big story of the 2020 election, especially if the Network TV news organizations don't start tracking down what's happened to the tens of millions of ballots not returned. Like in 2016, they'll be surprised with the election day result, and report the 'news' after it's fait accompli.
I watched the Network TV news shows last night, and they were busy reporting about the long lines, and about a guy who's standing in line for people for money, and about the possibility of protests AFTER the election. But NOT ONE OF THEM said anything about the 'missing ballots'. If they're reporting about things after they happen, then they're clueless and pretty much useless. And if you're relying on clueless for your news, you might want to consider reallcoating your time / finding better news sources - like those referenced above.
These days, in the post newspaper world, you have to go to the internet to find out what's going on.
Is Broadcast Media Misleading Voters About Mail Ballots?
OLD Public Service Announcements? Lastly on Friday, October 30th, Hot 97 [radio] and NBC TV both broadcast notices that told their audience to mail in their votes - with only four days prior to election day. All mail and absentee ballots must be postmarked on or before the election day of November 3rd, and in New York State they must be received by November 10th. Mail ballot regulations vary by state, but it's worth noting that ballots NOT RECEIVED by election day, won't be counted in 29 of the 50 states, and the deadline varies for the other 21 states. Given the importance of this election, make sure your vote is counted. And the broadcast media would be well advised to pay attention to the timeliness of their ads and announcements.
---
---