Bloomberg Ends Campaign
Bloomberg Ends Campaign & Endorses Former VP Biden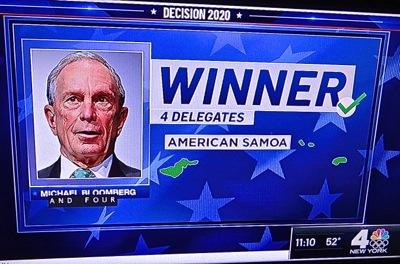 March 4, 2020 / NYC Neighborhoods / NYC Politics & Government / News Analysis & Opinion / Gotham Buzz NYC.
Update - 11.50 am - Michael Bloomberg announced that he was ending his campaign and threw his support behind former Vice President Joe Biden.
Biden and Vermont Senator Bernie Sanders remain in contention for the race, with Massachusetts Senator Elizabeth Warren far, far behind. And while Hawaii Congresswoman Tulsi Gabbard hasn't officially announced the end of her campaign, she's been out of contention, pretty much from the start.
---
Bloomberg Wins Big in American Samoa
Mike "Gets it Done" with Convincing Victory in Samoa
March 4, 2020 / NYC Neighborhoods / NYC Politics & Government / News Analysis & Opinion / Gotham Buzz NYC. Continued.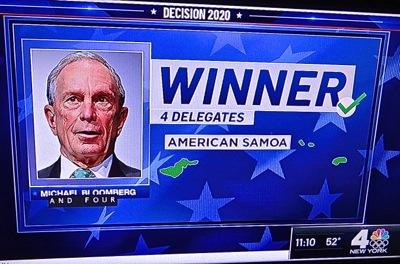 March 3, 2020 / Congratulations are in order for Michael Bloomberg. He won American Samoa hands down.
But Mike's convincing victory didn't come cheaply. To date Bloomberg reportedly spent $556 million in his effort to become our fearless leader. Bloomberg claimed he had began his campaign for that reason - to replace our existing leader - rather than a myriad of other reasons I can think of including: 1) to satisfy Michael Bloomberg's billion dollar ego, 2) to take control of the fiscal, economic and power apparatus of the American federal government - like he did the NYC municipal government apparatus as Mayor, and / or 3) to fulfill what has likely been his life long dream of becoming one of the world's most powerful men.
Going into the race this morning, Bloomberg said he was in it for the long haul. But by the end of the night, he appeared to be reconsidering. As of this report Bloomberg was estimated to have won 33 of the 1991 delegates needed to secure the Democratic nomination, which means he spent $16.8 million per pledged delegate.
Former Vice President Joe Biden, on the other hand, has been the low spender in the election so far. Biden spent only $25 million, while Vermont Senator Bernie Sanders reportedly spent $73 million. Sanders spending was 8 times smaller than what Bloomberg spent, while former Vice President Biden's spending was 22 times smaller. I guess the Sanders and Biden names carry some good measure of value, because as of this report Biden had 414 delegates, Sanders 334 delegates, and Bloomberg - as mentioned above - 33 delegates. That means that Biden spent $60,000 per delegate, Sanders spent $218,000 per delegate, while Bloomberg spent $16.8 million per delegate. Thus Bloomberg spent 280 times more per delegate than Joe Biden.
Ironically, the only thing Bloomberg appears to have achieved, is to have strengthened the hand of the one Democratic candidate Bloomberg has essentially said he would not like to see become our next president - democratic socialism advocate, Bernie Sanders.
The message that came out of the election results of Super Tuesday last night, is that the 2020 Democrats don't seem to be as ignorant as the 2016 Republicans. But then the Democrats generally don't rely on the Australian born billionaire, Rupert Murdoch, to feed them what seems to be his cleverly packaged doses of ignorance, which he appears to deliver via his multiple, branded, propaganda 'news' outlets.
If you don't know who Rupert Murdoch is, then perhaps it's time you looked him up. He's running Australia and Britain using their conservative party members as surrogates. The Conservative Parties in these nations appear to be held hostage by Murdoch's overwhelming share of media, which he seems to use propagandistically to support or attack those who toe or don't toe his Fox-like Nationalist party line. In this country Fox 'conservatives' are not really Republicans anymore - just ask Sean Hannity.
Murdoch appears well on his way to achieving the same sort of manipulative media control here in America. It was Murdoch - more than anyone besides Trump himself - who was responsible for the Trump campaign victory in 2016. The impact of the Russians on the 2016 election, versus the impact of Murdoch's overwhelming share of mass media brands [which include Fox News, Wall Street Journal, NY Post, Market Watch, Barron's and at the time he controlled National Geographic], is the difference between day and night.
In 2019 the Trump Administration greenlighted Murdoch's inverted takeover of Disney / ABC, which Murdoch appears to be insidiously corrupting, as we speak. Disney / ABC's new CEO announcement on February 25, 2020 was a complete surprise to nearly all of the observers of that organization. But you can rest assured that it was no surprise to Keith Rupert Murdoch - because that's how Murdoch operates ... by quietly slithering around behind the scenes.
See our report series about the Fox Fake News, the NY Post propaganda and the Wall St Journal to learn more about one of the not well known, but most powerful people on the planet: Rupert Murdoch.
---
---
---