The Beginning of the End of the Corona Virus Pandemic?
There's CoVid Bad News but also Some Very Good CoVid News
Despite Level or Rising New CoVid Cases, Death Rates Continue to Fall / J&J Vax Paused / Reasons for Different Reactions to Vaccines based on Gender / Why Kids are More Impacted by the New Variant B.1.1.7 / Pregnancies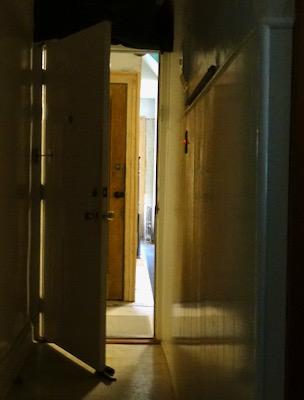 April 12, 2021 / NYC Neighborhoods / NYC Corona Virus / News Analysis & Opinion / Gotham Buzz NYC.
Weather. The temperature highs will mostly be in the high 50's / low 60's this week, while the temperature lows will be in the high 40's / low 50's. Winds will range from 5 - 10 mph all week. The humidity will generally range from 50% - 70% throughout the week. There will be about a half inch of RAIN on Monday and about an inch on Thursday.
CoVid Update NYC
We're beginning to reach a tipping point of sorts vis a vis the CoVid pandemic. There's a part of me that was inclined to wait on this story a bit longer, even though I think the trend is clear, in order avoid igniting too much enthusiasm, for what is increasingly looking like the winding down of the CoVid pandemic. But, given the trend seems real, I'm publishing my findings along with a few caveats. Please pay attention to the caveats that follow, as the implications of ignoring them, could be disastrous for people in what seem vulnerable categories.
J & J Vaccine Paused, Pending a Closer Look at Rare Blood Clotting Issues
This just came in. There were 6.8 - 8.3 million doses of the J & J vaccine administered to date. And further rollout of that vaccine is on pause, pending a closer review of the data. Blood clots arose in six of the millions of people who took the J&J vaccine, so out of an abundance of caution, the FDA and CDC want to be sure there's no link to the vaccine. It's worth mentioning that the blood clots found in the six people, have also materialized in folks who didn't take any vaccine. It is believed that this will likely be much ado about nothing, but until then the J&J vaccines have been pulled.
New CoVid Cases & CoVid Death Rates are No Longer in Sync
(Is) The Worst of the CoVid Pandemic in the U.S. Over?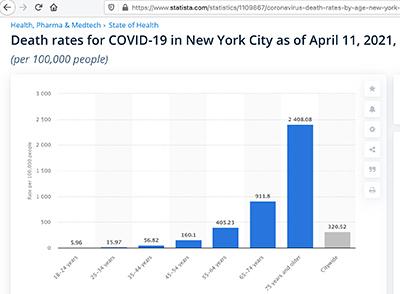 The bad news is, of course, that new cases of CoVid infections are not falling and - albeit slightly - have risen a bit, after falling from a Winter high. There's other bad news as well, for specifc segments of the population, which you will see in our discussion of what appears to be happening vis a vis the spread of new variants infecting kids and different reactions to the vaccines, based on gender. We also include a brief discussion about pregnant women.
The good news is that while new CoVid cases are steady or rising, the CoVid death rate continues to fall - even taking into account a two to four week lag from contagion to death. Since mid February, I've been monitoring both the NY Times and Washington Post graphs of the new cases and death rates, noticing as the vaccination rates went up, that the deaths continued to fall, in spite of the continued spread of the virus.
As of late March, over 70% of people over the age of 65 have received at least one vaccination shot. And if you look at the CoVid death statistics, according to an April 11, 2021 report by Statista [see graphic above right], the people over 65 accounted for over 83% of the deaths in New York City, which is about in line with other statistics I've seen for the nation.
---
The Beginning of the End of the Corona Virus Pandemic?
There's CoVid Bad News but also Some Very Good CoVid News
Despite Level or Rising New CoVid Cases, Death Rates Continue to Fall / J&J Vax Paused / Reasons for Different Reactions to Vaccines based on Gender / Why Kids are More Impacted by the New Variant B.1.1.7 / Pregnancies
April 12, 2021 / NYC Neighborhoods / NYC Corona Virus / News Analysis & Opinion / Gotham Buzz NYC. Continued.
The Vaccination Strategy is Working - CoVid Deaths Continue Falling, Even as New Cases Level Off / Rise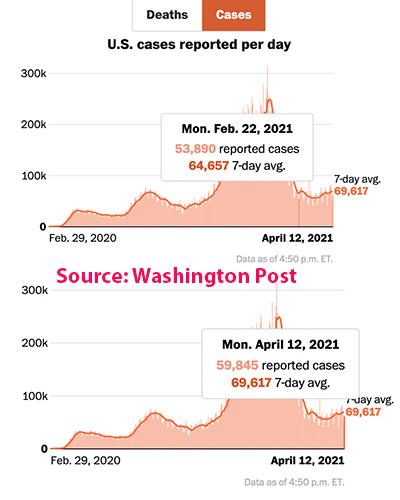 So around February 22nd, the decline in new CoVid cases seemed to level off / start growing again. At the time there were 53,890 new cases [that day] with a seven day rolling average of 64,657. CoVid deaths that day were 1337 and the seven day average was 1958.
Today, Monday, April 12th, there are 59,845 new cases and the seven day rolling average was 69,617. And today the CoVid deaths were 432 and the seven day rolling average was 752.
So about seven weeks ago, deaths were coming down, from the rolling average of 1958 to 1337 that day. And fast forward to deaths today, which are 432, still on their way down from 732. Against this downward deaths trend, we see something quite different with CoVid new cases.
CoVid new cases were 53,890 on February 22nd, coming down from a seven day average of 64,657, while today they've turned back up running at 69,617 on a seven day rolling average - but today there were only 59,845 new cases, so hard to say, but it could be coming back down again, after rising the past seven weeks.
The key statistic is that deaths were 1337 / 64,657 = 2.1% seven weeks ago, and now they are 732 / 69,617 = 1.1%. So over the past month and a half, the rolling average death rate has been cut nearly in half, likely due to the CDC / Biden Administration rollout plan whereby the people most vulnerable to dying from CoVid were vaccinated first [aka the folks 65 years of age and older as you can see in the blue chart above].
Women & Men Respond to Vaccinations Differently Based on Chromosomes
Generally speaking women have had more reactions to the vaccine than men. Originally I thought that this might be based on the fact that men are generally bigger than women. But I've since found that the difference in reactions is based on the genetic differences between men and women having to do with their X and Y chromosomes.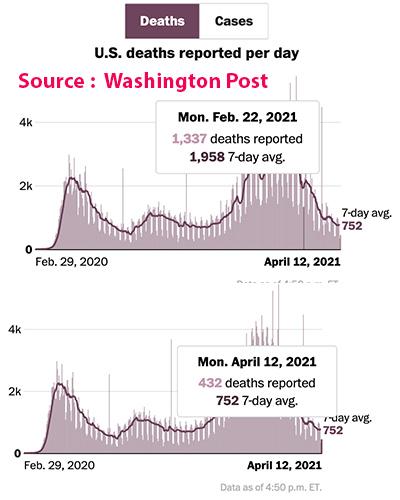 A March 17, 2021 MedPage Today article featuring Sabra Klein, who is a professor at the Johns Hopkins Bloomberg School of Health outlined why the different immune responses to the CoVid vaccine based on gender. She starts by noting that men, by a factor of 3:1, are more likely than women to end up in the Intensive Care Unit. Women's immune response system is more robust. Women's more robust immune response system appears to be related to their role in bearing offspring.
Women have higher levels of estrogen and progesterone than men, especially during their child bearing years. Because of this, women's immune cells have receptors for these two hormones and can turn on the immune response in a bigger way than men. Men have testosterone, which is an androgen, and just like hormones can turn on the immune response [inflammatory], the androgens can dampen the immune response [anti-inflammatory]. This is one of the reasons why 77% of the reported adverse responses to the vaccine have come from women - although it's unclear how much, if any, the psychology of gender roles [macho man] factors into this reporting.
CoVid Vaccinations for Pregant Women & Those Contemplating Pregnancy
Pregnant women are generally not included in clinical trials as a routine matter. The clinical trials for the CoVid vaccine were no exception. So women who are pregant or contemplating it, must decide whether or not to get the vaccine without having sufficient data to make an informed decision. And pregnant women must face the prospect of a potentially difficult immune response, should they take the vaccine - for the reasons noted above.
The New Predominant CoVid Strains are Impacting Kids at Higher Rates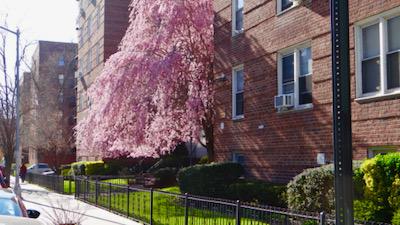 The new CoVid mutations, particularly the B.1.1.7 variant, appear to be impacting kids at a higher level than the original strain of CoVid. At present, it doesn't appear to be more deadly than the original strain, according to an April 10, 2021 Healthline report. Healthline tells us the following,
"... Children's sinuses are underdeveloped, and they have fewer ACE-2 receptors (the site where the coronavirus binds to our cells) than adults. Experts widely believe this is why kids have been protected from severe COVID-19. According to Dr. Jay Levy, a virologist and professor of medicine at the University of California, San Francisco, lab studies suggest that the B.1.1.7 variant can attach with more strength to the ACE-2 receptors than the earlier renditions of the virus. "If this is a virus that attaches with much more robust nature, then it can have less attachment sites and still infect," Levy said. This theory could explain the uptick in cases amongst younger people, but other factors are likely at play..."
In the photo at right, you can see spring blossoms on a tree. It's worth taking a few seconds, or minutes, or even hours, to stop and appreciate nature's beauty, in the midst of nature's CoVid storm.
On Tuesday, April 6th, 2021, NYS Expanded Vaccine Eligibility to All Residents 16+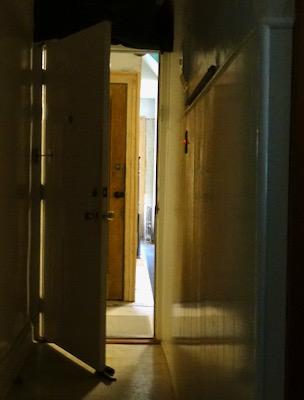 Governor Cuomo expanded eligibility in New York State to all residents aged 16+. Teens below age 18 will need parental consent.
For children ages 12 - 15, both Pfizer BioNTech and Moderna are expected to submit data showing that their vaccines are both safe and effective in that age group. Those vaccines for that age group could be approved within the next month or two.
For children below age 12, clinical trials will soon get underway with both the Pfizer BioNTech and Moderna vaccines, with results expected in the second half of the year. According to a March 31, 2021 report on NBC, children make up about 20% of the population, and their participation in the vaccination program is critical to achieving herd immunity, which requires 70% to 85% of the population to be vaccinated.
Get Vaccinated & Walk Through that Door to Safety
Stay safe by social distancing, wearing your mask and washing your hands, also get vaccinated as soon as you can. Have a good week and stay disciplined, so that we'll all have a good life again.
---
---