NYC News Round Up Mid October 2021
MTA Ridership Bouncing Above the Halfway Line, Columbus Day Weekend Travel Numbers, Movies & Theaters Attendance Update, Demographics of Office Workers Returning to Work in NYC and CoVid Vaccination Progress NYC NYS & USA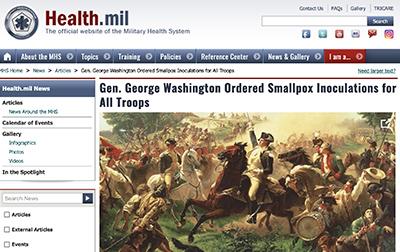 October 12, 2021 / NYC Neighborhoods / NYC Things To Do Events / Gotham Buzz NYC.
Weather. The temperature highs will range from the low to the high 70's throughout the week, while the temperature lows will be in the 60's all week. Winds will be 4 - 8 mph all week. Humidity will range from the mid 70% to mid 80% Tuesday and Wednesday, dropping to between the mid 60% - 70% range on Thursday and Friday. No rain is in the forecast until Saturday, so you can get the update in our Friday post.
The image at right was taken from the official website of the military health system in the U.S. It shows George Washington, who back in 1776 ordered his troops to get vaccinated against small pox, as the Continental Army was losing more men to disease than were being killed by the British. Here we are over two centuries later, and about a fifth to a quarter of the people in this nation, think they are being 'patriotic' by defying vaccination mandates - like Texas Governor Greg ButtHead and Florida Governor Ron De Stupido. We discuss where these people's confidence in their incredible ignorance comes from, below. The champion of American ignorance was born in Australia.
MTA Ridership Running at 45% - 65% of 2019 Volume
Both the subways and buses are running at near or over half their pre-pandemic ridership. While that may not be great news, it's encouraging, as we've been tracking the MTA's progress since the pandemic hit, and these numbers are about the best posted.
It's important to put things in context, and that is that NYC tourism contributes to MTA usage and it's still nowhere close to normal [like the MTA ridership numbers], and many white collar workers are still working remotely because many large Manhattan based corporate operations delayed their plans to return to the office in September 2021 - kicking the deadline to January 2022 because of the CoVid Delta variant surge.
The photo at right was taken a few weeks ago in Grand Central Station. Things have a come a long way from where they were a year ago.
I wish the non-vaxers would quit listening to the hypocritical pundits on Fox News, the NY Post & WSJ who are reportedly all - or mostly - vaccinated, including the Australian born billionaire and Goebbels-like owner himself, Rupert Murdoch. It was reported that about 90% of all Fox employees have been vaccinated, and for those who resist there's a very stringent testing regimen.
---
NYC News Round Up Mid October 2021
MTA Ridership Bouncing Above the Halfway Line, Columbus Day Weekend Travel Numbers, Movies & Theaters Attendance Update, Demographics of Office Workers Returning to Work in NYC and CoVid Vaccination Progress NYC NYS & USA
October 12, 2021 / NYC Neighborhoods / NYC Things To Do Events / Gotham Buzz NYC. Continued.
A Return to Economic Normalcy Was Slowed Down by the Delta Variant & Vaccine Ignorance Spread in part by Murdoch's Dominant Share of American Mass Media including Fox News, NY Post & WSJ, as well as his Rapidly Increasing Insidious Influence over ABC News - which the 'teleprompter news readers' aka on air people - Don't Even Realize Because they are More Like Empty Headed 'Models for the News' than anything approaching Real Journalists
The Delta variant surge was made possible, in part, by those protesting vaccinations. Prior to Rupert Murdoch's aquisition of the dominant share of American nationally branded daily news media - getting vaccinated against deadly diseases was considered common sense in this country.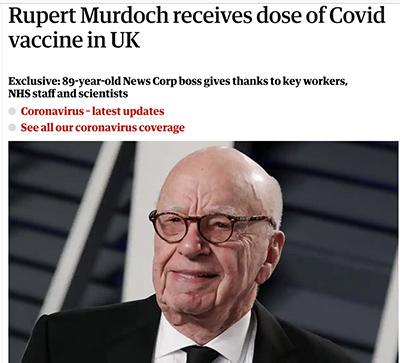 But Murdoch's overwhelming share of American mass media, and his divisive disinformation tendencies, seemingly used to extort favors from the pols he helps get elected, has made CoVid cannon fodder of the ignorant people in his audience who trust his mass media outlets. Murdoch controls Fox News, the WSJ, the NY Post, Harper Collins Publishing and he and his allies appear to have taken control of ABC News since the inverted acquisition of 21st Century Fox assets in March of 2019. But I digress.
Back to vaccinations. As early as the Revolutionary War, while the Founding Fathers were birthing this nation, General George Washington ordered all of his men in the Continental Army to get vaccinated against smallpox, as it was ravaging the troops.
According to Health.mil - the official webstie of the military health system -
"... An estimated 90% of deaths in the Continental Army were caused by disease, and the most vicious were variants of smallpox, according to the U.S. Library of Congress ..."
Please don't take my word for this and go see their report for yourself at - https://health.mil/ . When you get to the site, go to the search box on the upper right and type in - george washington vaccinations. See their website image at right, at the top of this report.
Columbus Day Weekend Air Travel at 80% of 2019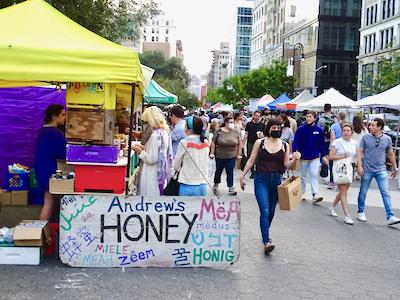 According to the TSA, the agency that screens passengers at our nation's airports, airline passenger travel for the Columbus Day weekend was about 80% of the 2019 pre-pandemic baseline. Given there are still issues with international travel, those appear to be pretty strong numbers, boding well for the end of year holidays. So if you're planning a Thanksgiving, Christmas, Hannukah, New Years trip, you might want do more than start thinking about booking your flight.
All of the major airlines, except Delta, require their employees to get vaccinated. Delta requires new employees get vaccinated, but allows existing employees to avoid vaccination by submitting to frequent testing and all Delta employees are required to wear masks whether they are vaccinated or not.
It's important to note that the huge uptick in domestic air travel occurred in spite of the fact that all airline passengers must wear masks, and must provide a proof of CoVid testing within three days prior to air travel.
The photo at right was taken a few weeks ago in Union Square Park at the farmers market. Things have a come a long way from where they were a year ago.
Correcting / Cleaning Up Misconceptions & False Narratives Spread by Murdoch Media
The WSJ, NY Post & Fox News - Collectively America's Disinformation Newsrooms
Fox News continues to be America's Disinformation Newsroom. This weekend Fox News passed along reports that the Southwest Airlines massive flight cancellations this weekend were the result of Biden CoVid vaccination mandates.
Southwest Airlines and their pilot union both denied that claim. In an October 11, 2021 report by NPR, we found the following,
" ... Henry Harteveldt, president and travel industry analyst at The Atmosphere Research Group, suggested two other possibilities to the Associated Press over the weekend. One is that Southwest scheduled more flights than it can handle, and operates a "point-to-point route network" that gives each delay a considerable ripple effect. He also suggested that some pilots are calling in sick or refusing to work in opposition to the COVID-19 vaccine mandate that Southwest announced earlier this month. Southwest executives and employees have denied that, even though the theory has been embraced by prominent conservatives including Sen. Ted Cruz (R-TX)..."
So who to trust - the Southwest Airline, its pilots' union and an industry analyst; or 'Lying Ted Cruz' and the Australian born billionaire, Rupert Murdoch, and his Fox News propaganda machine?
Murdoch's continual attacks on Biden are his modus operandi, implemented for decades in this nation, Australia and Britain. He and his minions relentlessly attack those who won't give him what he wants, in order to weaken their standing with the voters, in order to pave the way for a Murdoch favored pol who, will give Murdoch whatever government goodies he wants, compliments of the politicans Murdoch helps get elected.
The image below shows a bragging Rupert Murdoch claiming a victory he won for Margaret Thatcher by deceiving his audience, and maligning the opposition with the same combination of rumors, fake news and outright lies that he appears to continue to use to this day.
Going to the Movies Again - James Bond 007 Returns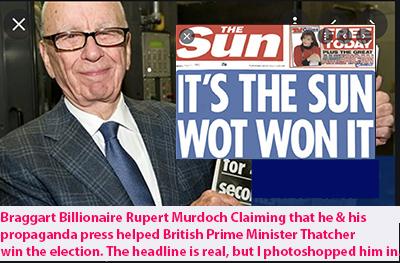 No Time To Die, Daniel Craig's farewell to 007 film, reportedly grossed $56 million over the weekend. This was a bit below expectations, but the winner of the weekend. That said, the biggest post pandemic movie box office hit, remain Sony's Venom, which grossed $90 million in its first weekend earlier this month. Year to date movie box office revenue is up 28% versus 2020 according to Bloomberg.
It's difficult to evaluate movie theater performance, given theaters closed in 2020 from about April 2020 through September 2020, then reopened partially at 33% capacity in NYS [and NYC delayed opening until Spring 2021 (not confirmed)]. The operating latitude / restrictions varied by state. But things continue to improve, as we learn to manage living with CoVid in the air, which appears likely to be sticking around for a while like the flu.
The Show Must Go On - Broadway Theaters Returned in September & Look to Stay Open
Broadway reopened in mid September 2021, led by the Aladdin, Hamilton and Chicago. Aladdin was cancelled in late September [the 29th] due to a few positive CoVid tests by folks / actors working in the theater. But given all employees / actors were vaccinated, the 'breakthrough infection' didn't wreak havoc, per se, and the production reopened two weeks later on October 12th.
The theater-wide vaccination program is credited with providing those infected with protection from hospitalizations and deaths. This is why all 41 Broadway theaters in the district are requiring all attendees to show proof of vaccination and wear a mask - except when eating or drinking in designated areas. And all theaters require the folks working there to be vaccinated, which protects them, their co-workers and ensures, as much as one can, that theater attendees won't get infected while enjoying a show.
NYC White Collar Workers Slowly Returning to the Office - August 23% / September 41%
In June of 2021, prior to it becoming obvious that the Delta variant was about to wreak new CoVid havoc, a survey of Manhattan businesses indicated that by the end of September about 60% of the one million white collar office workers would be back in their offices. As of August 2021, an updated survey showed that only 23% of businesses had their employees back in the office and only about 40% were expected back by the end of September.
Assuming the vaccinations hold the line against new variants / severe illness, these numbers should continue to edge up between now and the end of the year. I've used Google as a bell weather for white collar corporations bringing their employees back into the office in Manhattan, and Google is currently projecting a return in January of 2022, as are a few other corporations.
CoVid Vaccinations Rates in the U.S., in NYS and in NYC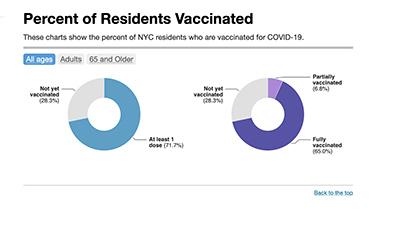 CoVid vaccination rates continue to edge up. Last week about 7 million Americans stepped up. This was the most since early July. For the nation as a whole, 66% have received at least one dose, while 57% are fully vaccinated. In NYS 72% of the population has received at least one dose, while 65% have been fully vaccinated. And in NYC 72% have been fully vaccinated and 65% have received at least one dose. I believe Vermont is the state with the nation's best informed population, as they lead the country with 79% of the population receiving at least one dose and 70% are fully vaccinated. And Mississippi leads the nation in the other direction, with the most disinformed population, as only 51% of their population has received one dose, while only 45% are fully vaccinated.
Have a nice shortened week.
---
---