Omicron, CoVid, Omicron, CoVid ... STOP
NYC News Update With as little CoVid Omicron Specific Info as Possible
This Report includes the Over Hyped 'Supply Chain Xmas Tree Shortage', Broadway Show Cancellations & Postponements & Economic Impact, MTA Subway Trains & Airline Flights Cancellations due to Staffing Outages, the Tug of War between Office Workers & their Companies, JFK getting New Terminals & Staten Island getting New Ferries
December 27, 2021 / NYC Neighborhoods / NYC Things To Do Events / News Analysis & Opinion / Gotham Buzz NYC.
Weather. Temperature highs are between 40 and 50 degrees each day, and the lows are about 40 each day. Humidity will be between 60% - 80% all week. And the wind will be fairly steady at 5 - 10 mph daily. There's a chance of showers around 8 pm tonight and a chance of a tenth inch of rain on each day - Tuesday, Wednesday and Thursday. Given the low amount of precipitation and that it's spread out over the entire day, each day, I'd say your chances of getting very wet are pretty slim.
CoVid, CoVid, CoVid ... How We Moved Beyond it as a Conversation Centerpiece at an Xmas Party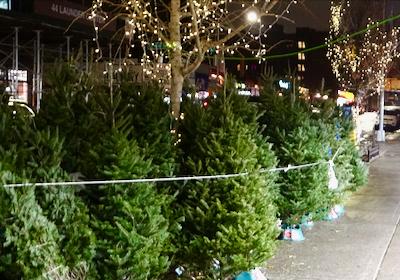 So I attended a Christmas party a couple of weekends ago, and at one point someone asked is there anything else to talk about besides CoVid? This was near the end of the party, so there were only about a dozen of us there. So, someone asked, how about those Nets? And of course, Kylie Irving soon came up, and his anti-vax stance on CoVid, and that the Nets had to postpone a number of games because of ... CoVid.
Someone else asked, whose traveling for the holidays? As you can imagine, it wasn't long before CoVid came up and how it was going to affect everyones' holiday travel plans. Another asked, whether people were going to see their kids over the holidays. And of course, the discussion about vaccinations, testing and masks ensued. And then someone asked about gifts being given this season, and eventually the impact of CoVid on shipping and supply chain ensued. How about going out to dinner ... and so forth.
Actually, it turned out to be kind of funny, in an ironic sort of way, as the pandemic was still touching most parts of people's lives.
But the good news is that we eventually did move on past CoVid. Onto what? Well that's personal and thus not going to be shared here publicly, but we did eventually make it past the CoVid goal line ... but it wasn't as easy as one would think it should have been.
So the rest of this report is going to be about other things affecting our life, but recognizing that the pandemic and our community health affects just about everything else.
How Real was the TV News Hyped Supply Chain & Xmas Tree Shortage?
Retail Sales Hit a Level Not seen in 17 Years in Spite of "No Supply"?
How is it that network TV news, still a primary source of information in this nation - and the only source by many of the uneducated - can get a story so wrong?
For months they've been hyping the SUPPLY CHAIN SHORTAGE, SUPPLY CHAIN SHORTAGE, SUPPLY CHAIN SHORTAGE. I've seen little on TV news saying anything else to the contrary, and yet somehow, retailers magically had the best holiday sales season in 17 years, with department store sales up 21% [that's huge] and online sales up 8% [also very solid performance].
Did retailers MAGICALLY turn in their best performance in 17 years without any inventory? Come on.
People need to start questioning the information they get on TV, because too often, it's so distorted in order to generate an emotional or fearful response that's good for ratings and profit - but not in the public interest.
A December 26, 2021 report in Politico provided the following update on retail sales,
"... By category, clothing rose 47%, jewelry 32%, electronics 16%. Online sales were up 11% from a year ago and 61% from 2019. Department stores registered a 21% increase over 2020 ..."
---
In that report they dutifully cite inflation, ongoing CoVid and supply chain shortages. Based on what I've been observing of the reporting in our fair nation, a lot of what is reported is repeating what others have said, without questioning or second sourcing it. So, since Politico did not cite any specific product shortages, they probably dutifully repeated what they heard on TV news, even though based on my own observations [recognizing this is a limited sample size and therefore not representative of NYC or the U.S] - while there may be some things in short supply as there are nearly every year - there weren't the massive out of stocks one might have believed there would be, if they had watched Fox News.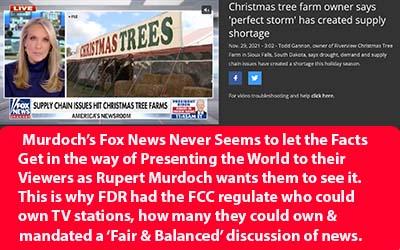 I ask Fox News, what happened to the Great Christmas tree shortage of 2021? Somone burned down the one in front of the propaganda machine headquarters, and they had one up the next day in spite of the incredible shortages they were telling their audiences existed. And I walked the streets of NYC in the weeks before Christmas, including just days before the holiday, and there were PLENTY OF TREES to be had AT DISCOUNT PRICES shortly before the holiday. Please note the Christmas trees I easily found in the photo above, in the week before Christmas, and I have plenty of other photos from different locations, showing the same.
W.C. Fields used to say that, "There's a sucker born every fifteen minutes and two to take 'em". Fox News seems willing to hype any and every sort of fear mongering story they can, in order to keep their audience tuned in for the latest fake news, which is a great generator of ratings and profit.
I know there are some real supply chain shortages, mostly having to do with semiconductors, but TV news fails to meaningfully articulate what problems are or are not, and they do a horrible job of providing much needed context.
Tons of Broadway Shows Postponed or Cancelled - More than One for Good
According to a December 22, 2021 Broadway News report, Broadway is facing significant challenges as the new Omicron variant dampens theater going attendance and causes cancellations due to infections. They tell us,
" ... [This past week] the industry grossed $22.5 million across 31 shows, marking the third lowest gross on record for the season. The comparative week in 2019, which had 34 productions running, saw a total gross of $40.6 million. However, industrywide attendance stayed somewhat stable, with theaters collectively reporting an 82.6% capacity ..."
Broadway News noted that long lasting shows will survive the pandemic, but new shows face even more daunting challenges in trying to establish themselves.
This is a snapshot in time of what's been cancelled according to reports from Broadway World. This information could change before I post this, so if you're planning to attend a Broadway Show, check the theater site before heading to the show. And if you're looking for shows to attend Broadway World is a good source of updated information on what's on and off and they have links to tickets.
So this is a December 27, 2021 Broadway World list of Broadway show cancellations beginning just prior to Christmas.
"... 12.23 Winnie the Pooh and Santa's Sing-A-Long cancel. Romeo and Bernadette and Cat on a Hot Tin Roof postponed, Moulin Rouge cancels through Xmas and also cancels Monday night 12.27. Ain't Too Proud cancels 12.27. Waitress won't reopen on Broadway - last show 12.20.21. Thoughts of a Colored Man ends Broadway Run. West Bank Cafe and Laurie Beechman Theatre close through January 11, 2022. Hamilton extends closure through 12.27. Flying Over Sunset cancels additional shows and plans return on 12.28. Twas the Night Before Xmas by Cirque du Soleil cancels rest of run. Music Man cancels Staturday evening and Sunday morning 12.25 & 12.26. Tina to resume on 12.26. To Kill a Mockingbird cancels Christmas Day performance and Sunday 12.26 matinee shows, but resumes Sunday evening 12.26. Company cancels Sunday 12.26 shows. Lion King cancelled through 12.26. Alladin extends cancellation through Tuesday 12.28.21..." Editor's Note - I inserted the dates.
Some of the Broadway shows have been able to continue using back up talent to fill in for those who've tested positive for CoVid, and there was some other illness that affected at least one of the shows that was not CoVid.
MTA Cuts Subway Trains This Week & Airlines Cut Flights due to Staffing Shortages
The MTA is cutting trains from its service this week through Thursday. The number of trains being cut was unspecified, and the reason was said to be staffers calling in sick citing Omicron CoVid as the reason. So if you're using MTA buses and subways this week, you might have a bit longer to wait than normal.
The MTA service reduction, while something of an inconvenience, will have nowhere near the impact that the flight cancellations had on folks' holiday travel plans. The major airlines serving NYC all announced sigificant flight reductions, meaning those remaining flights were probably as jam packed as they were prepandemic. The reason cited for the flight reductions included weather, but was primarily CoVid sickness call outs.
Air travel this holiday season is up somewhere between 25% - 50% over last year. According to a December 25, 2021 CBS News report, air passengers this season are expected to include an estimated 30 million people between December 23, 2021 and January 3, 2022. This is still a third below the pre-pandemic level of the holiday season in 2019 of 44 million passengers. A sizeable portion of this reduction is attributed to a significant decline [50% - 60% reduction vs prepandemic levels] in international travel.
It's worth noting that the Christmas / New Years travel fell below how well the airlines did over the Thanksgiving holiday, when according to a November 29, 2021 CNBC report airline travel came within 15% of the 2019 prepandemic Thanksgiving travel season. Naturally it's likely most of the Christmas / New Year airline travel shortfall was due to caution on the part of travelers, in the wake of the Omicron outbreak.
AAA estimates that some 109 million Americans will travel by auto over 50 miles this holiday season and another 3 million by bus, train or ship. In 2019 that figure was 119 million and in 2020 it was 82 million, so it's up significantly, but still below prepandemic travel during the same period. I reckon we're normalizing, which seems like it's going to be living with CoVid around indefinitely.
Conundrums - Will Workers Return to the Offices in Manhattan?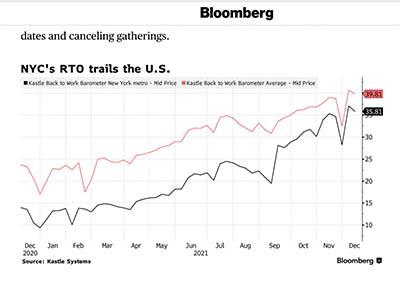 According to a November 10, 2021 Spectrum News report, office workers aren't planning on returning to full time office work any time soon. They tell us that according to a poll conducted by the business group, Partnership for New York City, more than 50% of office workers will NOT be back in the office by January.
The survey found that,
" ... the real estate industry ... had the highest in-person office attendance -- 77% -- of the industries surveyed as of last month [October]. Financial service companies and law firms tied for the second-highest in-person office attendance, with 27% each, according to the release. Law stood at 10%, media at 7%, consulting at 5%, tech at 4% and accounting at 4%, the survey found..."
In the chart at right you can see that not just NYC, but also in the rest of the U.S., office workers have been slow to return to the office. About 30% - 40% have returned, and the more than other half don't look too eager to return.
A new book entitled, Out of Office, explores the resistance to returning to the office by highly educated, highly skilled people who are generally able to perform their work requirements remotely, by telecommuting. The book explores the social and demographic factors that led to the current office configuration, like two parent families where one spouse stayed home as a full time caregiver to the kids and the 9 am - 5 pm office day. They depict the current environment as a male and white dominated paradigm, which they predict won't fully survive the pandemic, as workers feel empowered to ask for lifestyle concessions in the current economic climate. They also describe those favoring the current configuration as older, while younger people want more options and flexibility.
They also ponder whether the new configuration will lead to even more encroachment into one's personal life or less. And ask the question whether it is more important to have someone log x [more] number of hours which may not be productive versus logging y [less] number of hours which may be more productive.
JFK Terminals 1 & 4 to be Upgraded & Three New Staten Island Ferries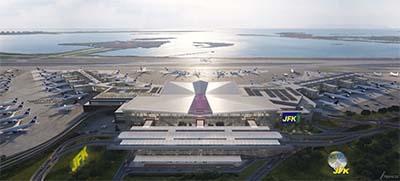 In mid December [13th & 15th to be exact] Governor Hochul announced $11 billion of investments in JFK Airport in Queens. Most of it [$9.5 billion] will be directed toward the upgrade of Terminal One into a state of the art international facility adding 23 new gates. The remainder funding [$1.5 billion] will be directed toward upgrading Terminal Four by adding ten domestic gates to the terminal. The projects are expected to begin in 2022 and be completed by 2026, replacing the existing terminals one, two and three.
And lastly, the second of three new Staten Island Ferries is expected to be launched in January of 2022. The first of the new ferries was launched in October of 2021, while the third is expected sometime in 2022. It's also worth mentioning that a paid service is available for a faster ride to Manhattan, with two stops - the second at Hudson Yard.
The rendition of planned Terminal 4 at JFK, above right, was made available by the NYS Governor Hochul's Office.
Have a good week.
---
---