Jamaican Jerk Festival NYC
Afro Caribbean Cultural Event In Queens

July 22, 2012 / Jamaica NYC / Food Fests in NYC / Gotham Buzz NYC.
It was a warm, dry, sunny Sunday, as I made my way into Roy Wilkins Park in Jamaica. Today was the 2nd annual Jamaican Jerk Festival, that I'd been waiting in anticipation for over the past few weeks. The Jamaican Jerk Festival is a combination reggae concert and food festival.
I entered through the gates of Roy Wilkins Park in the southern Jamaica neightborhood of Queens, as a slight breeze willowed its way through the trees and crowd. There were retail vendor tents to my left, with displays of vibrantly colored clothing and fashion jewelry Afro Caribbean style. Caps, hats, dresses, shirts and scarves hung loosely in little white tents, as shoppers and merchants mingled and did business.
Click here to read our report and view photos of the Jamaican Jerk Festival in Jamaica Queens NYC.
---
Jamaican Jerk Festival NYC
Afro Caribbean Cultural Event In Queens

July 22, 2012 / Jamaica NYC / Food Fests in NYC / Gotham Buzz NYC. Continued.
Off to my right were a couple of sponsors' booths, including Grace Kennedy, the anchor sponsor of the event for the second consecutive year, alongside another corporate sponsor, Jet Blue. Click here to read a related story about Jet Blue in LIC.
Grace Kennedy Foods of Jamaica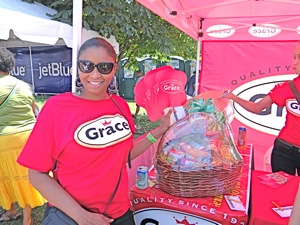 Grace Kennedy is a Jamaican firm that was spun off by W.R. Grace & Company of New York in 1922. Two W.R. Grace employees, Dr. John J. Grace and Fred W. Kennedy, purchased the company and managed it as a Jamaican-based concern.
According to the Grace Kennedy website, the Jamaican company grossed $670 million in revenue this past year, and made a $32 million profit. Grace Kennedy produces and sells food and other packaged goods into local supermarkets [see photo], and offers an array of financial, insurance and money transfer services. Grace Kennedy is traded on the Jamaican and Trinidad stock exchanges. But I digress.
Jamaican Jerk Festival in Queens 2012 - Entertainment in Jamaica NY
Further up the path there was a play area cordoned off for families with children. The children were enjoying playing in the rubber rooms of a locomotive, small village and pirate tent.
There was a small dance and music stage a bit further up, just before the food tents. A couple of percussionists were sounding out African Caribbean rhythms as a trinity of dancers moved to the beat in an island dance [see photo]. A crowd began accumulating, enjoying the warm sunny day, the music and performance and some had already found some food to nibble on.
Jamaican Jerk Cuisine - Caribbean Cooking in Jamaica NY
I wandered on to the grill area where several men were tending to one of the central facets of the event, the jerk flavored beef and chicken [see photo]. On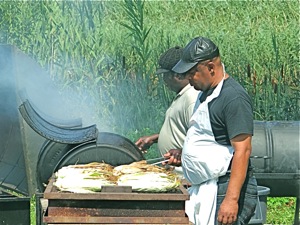 the grills, lying undisturbed, were ample offerings of chicken and beef, quietly absorbing the heat of the charcoals beneath them. I had sampled some jerk flavored beef last year and was looking forward to tasting it again.
I wandered further in, reading the food signs for tropical juices, fresh grilled corn, salads and vegetables, but what caught my eye and some additional attention was the coconut stand of Mr. Bee. In front of the tent, several people wielded machetes to chop open the tops of the coconuts, which they then served with a straw. After finishing the cool sweet watery, coconut juice; they peeled out the fresh coconut lining which has a light clean organic taste. Some of the customers didn't need help peeling the lining, but knew how to use one of the wedges cut by the machetes, to spoon out the coconut fruit lining. A photo of one of the coconut cutters is shown above and a whole sequence is shown in the slide show.
Gospel Music in Jamaica Queens - Jamaica Jerk Festival 2012
I pushed on, up to the main stage. It was still early in the day, and this portion of the event featured gospel music. Naturally there was some religion in the program, but it wasn't heavy handed and over time the crowd began to gather.
I enjoyed the music as well as some of the creative names of the groups performing, one of which was The Prodigal Son. I had moved back into the food area as some of the supporters of the Jamaican Jerk Festival were mentioned, including City Councilmember LeRoy Comrie and Irie Jam Radio.
Veggie Castel of Richmond Hill - Vegetarian Caribbean Cuisine & Restaurant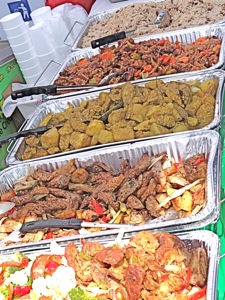 In addition to the fresh coconut, I had the opportunity to sample a few other nibbles. Several came from Veggie Castle of Richmond Hill. Cynthia is the owner, and she let me sample the curry soy chicken, but without the chicken. She substitutes soy for chicken, and then adds curry powder, cumen, marsala and other herbs and spices. It was very flavorful and the soy had a chicken-like texture.
I also sampled the jerk flavored soy beef - also without the meat ingredient. Just to give you some idea of what's in the jerk seasoning; it includes black pepper, oregano and thyme. Some of Sybils and Veggie Castle offerings are shown in the photo to your left and there are a couple photos of the staff in the slide show below.
I continued to make my way through the food stands, to see who was there and what was being offered. The snow cone line was too long to suit my level of desire versus my level of impatience. The woman running it sells snow cones on the street in the summertime throughout Jamaica.
Chef Mom of Cedarhurst - Jerk Chicken Burger & Caribbean Rice
I came upon Chef Mom of Cedarhurst who had a nice medley of jerk chicken rice with fresh bell peppers, onions, corn and peas. The chicken is sautéed in a special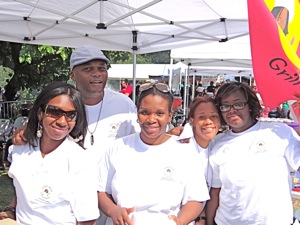 jerk sauce and it really hit the spot. This was followed by Chef Mom's jerk chicken burger. This burger includes a tender jerk flavored chicken breast and served with farm fresh cucumbers, onions, lettuce and tomato along with a slightly sweet mustard and pickle sauce. Chef Mom is shown in the photo to your left [center] with the staff / family.
By this time I was feeling pretty good. I'd had a chance to do some shopping, listen to some music, watch a bit of dancing - not to mention the theater and culture included in the sampling of the fresh coconuts, the vegetarian delights of Veggie Castle and jerk flavored foods of Chef Mom.
So I made my way back to the entrance, snapped a photo of Maxine Greaves and a friend of hers on my way out, and hopped the #85 bus back to Jamaica Station for the subway ride back home. Irie Jam Jamaica.
Photos of the Jamaican Jerk Festival 2012
Click here to view photos of the Jamaican Jerk Festival 2012 in Jamaica Queens NY.
---
NYC Boroughs Related Links
$element(adman,groupad,Catgry Foodwine)$
Click this link for promotions, discounts and coupons in Jamaica and Queens.
Click this link to go to the Jamaica Neighborhood.
---
$element(adman,groupad,Catgry Rest)$
Site Search Tips. 1) For best results, when typing in more than one word, use quotation marks - eg "Astoria Park". 2) Also try either singular or plural words when searching for a specific item such as "gym" or "gyms".
$element(bwcore,insert_search,N)$
---
$element(adman,groupads,Sectional2 Ad)$
---
Click the log in link below to create an ID and post an opinion.
Or send this story to a friend by filling in the appropriate box below.
---