The Week & a Half Before Christmas
Noreaster on its Way? Biden Wins 2020 Election Again - Would Someone Please Tell Trump that Biden is Tired of Winning. White Collar Office Workers Return Delayed? Restaurants Indoor Dining on Hiatus Because Why? Holiday Spirit & Hanukkah ends Friday.
December 15, 2020 / NYC Neighborhoods / News Analysis & Opinion / Gotham Buzz NYC.
Weather. A big noreaster is on its way, arriving here Wednesday between 1 pm and 5 pm. About 13.5 inches of snow are forecast if the temperatures remain below freezing. The whole shebang will be over by Thursday between 10 am and 3 pm. The high temperature is expected to be 32 degrees, while the low is forecast to be 29 degrees - within a few degrees of freezing - so this could possibly end up as rain and sleet, which would greatly diminish the snow. Winds will rise to 15 - 20 mph on Wednesday and Thursday, dropping to 5 mph by Friday. The temperature begins falling Thursday down to 21 and then 17 by Friday, while the high on both Friday remains in the low 30's. So this may be our first real taste of winter if the temperatures fall as predicted.
The photo at right was taken in Manhattan less than two weeks ago. I think it's important to remember that there are many folks out there who are less fortunate than ourselves. Studies show that most folks are happier when they're living next to people who are doing a bit less well than they are. And that folks are less happy, when everyone around them seems to be faring better.
Biden Wins, Defeats Trump Numerous Times
Biden Wins a Dozen Election Recounts, Wins About 40 Lawsuits, Wins Several Trump Attempts to Steal State Delegates & Now Wins the Electoral College
Senate Majority Leader Shanghai Mitch McConnell Recognizes Biden's Win, but House Republican Minority Leader Kevin 'Knucklehead' McCarthy Still Seems to Back Trump Coup Attempt - Charlie McCarthy Insists Kevin is No Relation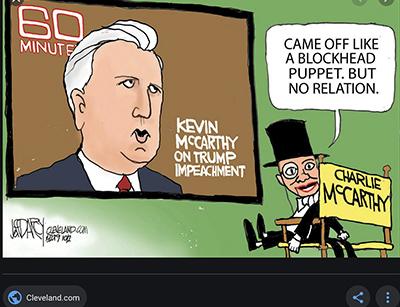 Joe Biden won the Electoral College 306 - 232 as predicted on November 7th, when the votes were tallied and the Trump election fraud began. Normally this would be no big deal, but Donald Trump appears to have as much disregard for our democracy as he does for the law.
What I don't get is how people can continue supporting a man with as long a history of self dealing - appearing to lie, cheat and essentially steal from countless contractors, employees, bankers [Trump Taj Mahal Casino], investors [Trump Airline], students [Trump University], donors [Trump Charities] and so forth. What has he done for anyone besides himself? But there are now less than 36 days left, so the end is in sight and any future effort to overturn the vote at this point is even less likely to succeed than Trump's half dozen to dozen recounts [none of which turned up any different result] and Rudy Giuliani led lawsuits [Trump and Republicans filed 41 or more lawsuits - losing all of them except maybe one].
Trump's efforts to steal the election are documented in our special reports posted on November 6th - Trump Tries to Steal the Election, November 10th - Trump using Claims of Election Fraud to Enrich or Empower himself, November 30th Trump & Election Fraud and December 11th [halfway down a Weekend Things To Do report] Trump and Corrupt Republicans Try to Steal the Election.
---
The Week & a Half Before Christmas
Noreaster on its Way? Biden Wins 2020 Election Again - Would Someone Please Tell Trump that Biden is Tired of Winning. White Collar Office Workers Return Delayed? Restaurants Indoor Dining on Hiatus Because Why? Holiday Spirit & Hanukkah ends Friday.
December 15, 2020 / NYC Neighborhoods / News Analysis & Opinion / Gotham Buzz NYC. Continued.
Two CoVid Vaccines Endorsed & Distribution has Begun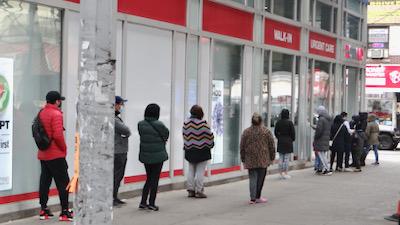 The FDA staff endorses emergency use of the Moderna vaccine. This is the second vaccine in less than a week to receive FDA staff endorsement of a CoVid vaccine for emergency use. This should have the effect of enabling the vaccination rollout to move more quickly than if just one vaccine were available.
The photo at right shows folks lining up in Queens to get their CoVid test prior to the Thanksgiving holiday. Even though NYC and NYS are testing positive above 5%, we're still doing better than most of the rest of the nation.
Closing Indoor Dining Doesn't Appear to be Following the Science / Numbers - Time to Amend?
Governor Cuomo, supported by Mayor de Blasio, decided to rescind indoor dining at restaurants effective on Monday. While generally I think these two have done a pretty fair job of managing our city and state through this pandemic, this seems another opportunity to amend their plans - like the Mayor is in the process of doing with the public school system.
The NYC public school system was closed earlier this fall when the city tested positive above 3% for a week - even though the testing rate in the public school system was well below that. So now they're looking at the possibility of amending the decision making variables that determine when public schools must transition from indoor to remote learning based on the city-wide testing results, instead of using a more appropriate metric of public school wide, or better yet, school specific testing results.
According to charts shown by Governor Cuomo, less than 2% of the CoVid transmission was the result of indoor dining. So to penalize restaurants, by closing indoor dining, when they generally seem to be adhering to the guidelines and thus performing well by minimizing risk, it doesn't seem fair to close / penalize them. And as we all know, the holidays are an important season for restaurateurs ... as well as a gathering place for most of the rest of us as well. The coming cold weather doesn't help either, as it will certainly reduce the highly successful outdoor dining option. I don't envy the Governor and the Mayor, as it's no easy feat to balance the general health and well being of the community, with the community's / people's economic livelihoods.
The photo above shows an NYC rat that I believe was hit by a cyclist. It seems the restaurateurs have done an amazing job of keeping their outdoor facilities clean, as since the outdoor dining rollout, this is the first non-subway / park rat I've encountered in nearly a half year. As you know, the hospitality and entertainment / cultural industries have been particularly hard hit by the pandemic.
The Slow Return to the Office of the White Collar Workforce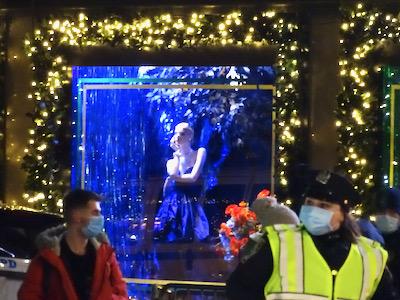 Google pushed back its estimate for when its white collar office staff might return to the office from July 2021 to September 2021. Given Google's size and intelligence, this is probably a good guesstimate for when businesses might begin to resume the post pandemic normal level of operations.
At present it's estimated that about 30% of white collar workers are working from their offices. And it is expected that in a manner not unlike what's been happening in the public schools, that white collar workers will begin increasing periodic or sporadic use of the office as the vaccines are rolled out, and the second wave we're experiencing now - begins settling down post the holidays.
The photo at right was taken at Saks Fifth Avenue across from Rockefeller Center in Manhattan. Apparently Christmas decoration sales have been up significantly, and either selling out or selling at far better prices. I've noticed myself, how the holiday decorations and music seem to mean more to me this year, than in prior years. I'm pretty sure part of the reason is that they seem to offset some of the anti-social, isolationist aspect of the pandemic. And another reason being that because of decreased mobility / activity this year, the holiday decorations and music haven't seemed as intrusive, ubiquitous and excessive this year.
Happy Hanukkah continues, ending Friday.
---