Things To Do in NYC - Weekend August 6th, 2021
NYC Summer Streets in Manhattan, Jamaica JAMS Festival, Hong Kong Dragon Boat Festival, Queens Boro Dance Festival & Capulli Mexican Dance Festival in Queens, Lincoln Center & Central Park SummerStage Concerts & Dominican Parade in Manhattan, The NY Auto Show Cancelled, BRIC Festival in Brooklyn Continues, Movies in the Bronx & on Staten Island and Asian American Film Festival Begins Next Wednesday in Manhattan
August 6, 2021 / NYC Neighborhoods / NYC Things To Do Events / News Analysis & Opinion / Gotham Buzz NYC.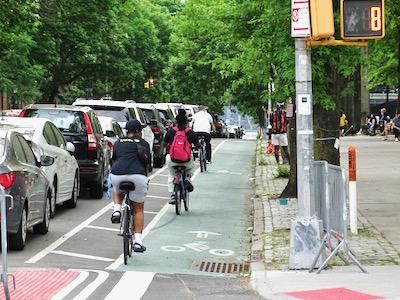 Weather. There's a 40% probability of about a tenth inch of rain beginning sometime between 10 pm Saturday and 10 am Sunday. The rest of the weekend should be clear. The temperature highs will be in the high 80's and the lows in the low 70's all weekend. Winds will be 5 - 10 mph all weekend. Humidity will rise from 50% - 60% on Friday and Saturday to 60% - 70% on Sunday. All in all not a bad weather weekend.
Mostly Good News, but with a Preventable, Dark CoVid Cloud Approaching
So there's a lot afoot this weekend. So much so, that it almost feels normal. Employment was up, unemployment down near normal levels, wages up, NYC shootings and murders down, and the eviction moratorium was extended - selectively - to early October. All great news.
But hanging over that news is the danger of this new Delta variant of CoVid, which has brought back the debate as to whether we need to mask up again, and generated a new urgency to get more people vaccinated, more quickly, in order to mitigate the health impact of CoVid on the newly infected. And with that debate all the frustration, nonsense and anger that goes with it. So let's start with the fun stuff.
NYC Shootings & Murders Down Significantly, While Gun Arrests Up Significantly
This is News that I Guarantee You, You Won't Find on the Front Page of Murdoch's NY Post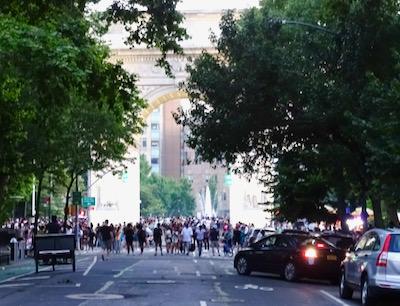 Shootings and murders were down significantly this July versus year ago [shootings - 158 in 2021 vs 243 in 2020 / murders - 29 in 2021 vs 57 in 2020], while gun arrests were up [383 gun arrests in 2021 vs 287 in 2020 up 133%].
The NYPD, lead by the steady hands of Mayor de Blasio and Commissioner Dermott Shea, have been working to correct this problem since it began just over a year ago.
A lot of the violence appears to be related to the illegal transport and sale of guns from Fox News Dictator, Rupert Murdoch's, beloved red Republican states into Democratically governed jurisdictions, where gun sales are more regulated. Federal, state and local law enforcement are working to curtail the shipments, and appear to be making good progess, but Murdoch's mass media outlets blame Democrats for gun violence, instead of focusing on the root of the cause which appears enabled by lax gun laws in Republican states, from where the murder and shooting weapons are trafficked.
---
Eviction Moratorium Ended, then Extended & Now Biden is Beginning to Winnow Down
Biden and the CDC extended the eviction moratorium selectively, in highly infected CoVid locales, until early October. In New Jersey, Governor Murphy extended it through the end of the year for low income earners but halted it for high income earners.
Unemployment Drops Signficantly to Pre Pandemic Levels as Wages Rise
Murdoch's Wall St. Journal Won't Call this Biden's Economy, since it's not in the Australian Born Billionaire Owner's Interests, as it would promote a Government Official who won't kiss Murdoch's petoots. Murdoch's WSJ Labeled the American Economy 'the Trump Economy' when it fueled with Billionaire Tax Breaks - A Label which they Subsequently Abandoned when 'the Trump Economy' Crashed like a Trump Casino Stock
Unemployment dropped to its lowest point since the pandemic began to 5.5%. An unemployment figure of 5% is considered full employment, as the 5% out of work are making changes in their lives related to education, job changing or retirement. Wages also continued their upward trajectory, gaining 0.4%, consistent with the gains made in June.
If Donald Trump were President, Rupert Murdoch's Wall St. Journal would call this the Trump economy. But since Biden is the president, Rupert Murdoch's Wall St. Journal won't label the economy Biden's - unless it gets bad. That's how Rupert Murdoch, the world's greatest propagandist since the Nazi's Joseph Goebbels, influences the unaware Americans who tune into his demagoguic media. Unfortunately an incredible number of the Fox News (and propaganda) audience fail to turn on their adult brains, while ingesting Murdoch's highly paid propagandists' distorted news accounts.
Highlights of Things To Do This Weekend in All Five Boroughs of NYC
What follows is a number of event highlights of things happening his weekend in all five boroughs. Use the links at the end of this report to obtain details.
Concerts. BRIC Festival concerts Friday 8/6 and Saturday 8/7 at the Bandshell in Prospect Park Brooklyn. There are also concerts Friday & Saturday at Industry City in Sunset Park in Brooklyn. Saturday there's a free SummerStage concert at Coney Island in Brooklyn. Sunday 8/8 afternoon salsa at Orchard Beach in Pelham Bay Park in the Bronx. Sunday 8/8 afternoon the Bronx Arts Ensemble at the Van Cortlandt House Museum in Van Cortlandt Park in the Bronx.
Friday 8/6 there's a Mostly Mozart performance in Lincoln Center in Manhattan. On Sunday 8/8 there's Met Opera Recital at the SummerStage Bandshell in Central Park in Manhattan. Friday 8/6 there's a Carnegie Hall concert in Bryant Park in Manhattan. Sunday 8/8 a concert in Travers Park in Jackson Heights in Queens. The Jamaica JAMS festival begins Friday evening 8/6 in Rufus King Park in Jamaica Queens.
Street Fairs. Summer Streets return to Manhattan on Saturday 8/7 & the Dominican Parade on Sunday 8/8. On Saturday there's Bronx Night Market and Piazza di Belmont in the Bronx. There's the Coney Island Beach Party on Sunday in Brooklyn. The Ecuadorian Parade is being held in Jackson Heights / Corona Queens on Sunday. Hong Kong Dragon Boat Festival runs this weekend in Flushing Queens. And the Queens Boro Dance Festival is at Socrates Park in Queens. Jamaica JAMS, one of the largest street fairs in the city is this weekend in the Jamaica neighborhood of Queens.
Movies. On Friday and Saturday 8/6 - 8/7 at 11 am at Lehman College in the Bronx. Friday 8/6 at Transmitter Park in Greenpoint Brooklyn. A free movie, Onward, on Friday 8/6 in Ocean Breeze / Dongan Hills on SI. Friday 8/6 Wonder Woman in Flushing at the Queens Botanical Garden.
Theater. Friday 8/6 Shakespeare's Twelfth Night at Voelker Orth in Flushing Queens. Friday 8/6 'Under Woodside' - a new play - at Hunters Point Park South in Long Island City Queens. Saturday 8/7 Antonio & Cleopatra in Gantry State Park in Long Island City Queens. Friday & Saturday 8/6 & 8/7 the Capulli Mexican Dance Festival at Queens Theatre in Flushing Meadows Corona Park. Sunday 8/8 Queens Boro Dance Festival at Socrates Sculpture Park in Queens.
Scroll down to the headline that begins with the words 'New Normal' and use the links below for the details to these events and other performances / showings this weekend. You will also find events coming next week and through the end of the summer, such as the Asian American Film Fest which begins Next Wednesday 8/11 in Manhattan and online.
Links to Upcoming Events in the Five Boros Prior to the End of the Summer
Here are some links to other things going on in the five boroughs.
Click here to see what's doing around the boroughs vis a vis free outdoor summer theatrical events / plays being performed at various venues although mostly in the NYC Parks. Click here to see what's happening in each borough, theatrically, this summer - 1) Free Summer Theater Plays Bronx Bx, 2) Free Summer Theater Plays Brooklyn Bk, 3) Free Summer Theater Plays Manhattan Mhtn, 4) Free Summer Theater Plays Queens Qns, 5) Free Summer Theater Plays Staten Island Si.
Click here to see what's doing around the boroughs vis a vis free and paid concerts / musically - 1) Free Things to do NYC / Free Outdoor Summer Concerts Bronx NYC, 2) Free Things to do NYC / Free Outdoor Summer Concerts Brooklyn NYC, 3) Free Things to do NYC / Free Outdoor Summer Concerts Manhattan NYC, 4) Free Things to do NYC / Free Outdoor Summer Concerts Queens NYC and 5) Free Things to do NYC / Free Outdoor Summer Concerts Staten Island NYC.
Click here to see what's happneing around the boroughs vis a vis free outdoor movies / films - 1) Free Things to do NYC / Free Outdoor Summer Movies Bronx NYC , 2) Free Things to do NYC / Free Outdoor Summer Movies Brooklyn NYC , 3) Free Things to do NYC / Free Outdoor Summer Movies Manhattan NYC , 4) Free Things to do NYC / Free Outdoor Summer Movies Queens NYC and 5) Free Things to do NYC / Free Outdoor Summer Movies Staten Island NYC.
There's also a number of farmers markets Bronx Farmers Markets NYC, Brooklyn Farmers Markets NYC, Manhattan Farmers Markets NYC, Queens Farmers Markets NYC and Staten Island Farmers Markets NYC. Here are some links to street fairs Manhattan street fairs NYC, Queens street fairs NYC, Bronx street fairs NYC, Brooklyn street fairs NYC and Staten Island street fairs NYC. We'll add more as the summer progresses.
The NYC public park swimming pools, which are free and open to the public opened on June 26, 2021 and will remain open until Sunday, September 12, 2021. We've compiled key information for the free public swimming pools in each borough as follows: 1) Free public swimming pools in the Bronx NYC, 2) free public swimming pools in Brooklyn NYC, 3) free public swimming pools in Manhattan NYC, 4) free public swimming pools in Queens NYC, and 5) free public swimming pools on Staten Island NYC.
Mayor De Blasio, President Biden and Governor Murphy Step up as the Adults in the Room
Biden Spanks Republican 'Freedom Babies' Florida Governor De Santis & Texas Governor Greg Abbott, While Arkansas Governor Asa Hutchinson Apologizes for Like Minded Ignorance
Proof of vaccinations or CoVid-free testing, will soon be required for indoor activities in NYC, as well as required for employment with the federal government. And New Jersey Governor Phil Murphy also just announced there would be a mask mandate for public school children this fall. It's a precautionary measure as the Delta variant is far more transmissible than the orginal CoVid, and the Delta variant is able to 'break through' the current vaccines efficacies and infected the vaccinated. With the Delta variant, vaccinated people can now catch and transmit the new variant of the virus. Now, to be clear, the vaccines are still very effective in preventing hospitalizations and deaths, just less effective in preventing disease contagion against this new variant.
Government and private industry are trying to follow the science and evaluate and navigate how best to respoind to it. This week, the first Broadway show opened on August 4th, 2021. It was the first indoor Broadway show in seventeen months, and all attendees and show business people were required to be vaccinated. Amazon also just announced it would be reinstituting a mask mandate as a preventative measure to the transmissibility of the new Delta variant.
I understand people's vaccine hesitancy for young babies, young children, pregnant mothers and people with unusual health conditions. In implementing these mandates, like the implementation of other mass consumer programs, ajdustments must be made for exceptions. But at this point, with hundreds of millions of Americans now walking around having taken the vaccine and functioning safely, other reasons for vaccine hesitancy seems less justifiable, given it affects not just each individual, but all of us collectively.
Ditto the wearing of masks. Arkansas Republican Governor Asa Hutchinson outlawed mask mandates in May of this year in Arkansas, which now has one of the worst CoVid new testing rates in the nation. Governor Hutchinson now acknowledges he made a ill-considered decision and passed a dumb law banning mask mandates, which he's now said he's going to try to reverse.
What's Wrong with America's Decision Making Capability?
Perhaps an Overabundance of Rupert Murdoch's Misinformation Coming out of 'America's Disinformation Newsroom'
There's a battle brewing in this country. In years past it was about which was the best way forward, given the facts. Today we can't get to talking about the best way forward, because Australian born billionaire Rupert Murdoch's mass media represents somewhere between a third to a half of America's branded sources of daily mass media, which seem daily, weekly, monthly, quarterly or yearly to spew all sorts of disinformation to a large segment of the public.
Murdoch famously interferes with the news, which based on history, appears to be along the lines of discrediting the pols who won't give him the regulatory and tax breaks he wants, while using his incredible share of mass media to promote those pols who will, while discrediting their opponents.
Murdoch controls Fox News, the NY Post, the Wall St. Journal and is one of the top two shareholders of Disney / ABC (News). Unfortunately he appears to be making inroads into the ABC News and related 'news' programming departments, by influencing new personnel hires, personnel promotions as well as who is invited to disinform America on ABC News shows like Stephanopolous' This Week, The View and so on and so forth.
Murdoch's Fox News and related outlets appear to have sewn and keep generating doubts about the wisdom of getting vaccinated - even though Murdoch and the dishonest propaganda pundits who serve him - are all rumored to have been vaccinated themselves. Thus it seems Fox News pundits are endangering the lives of their audiences in order to fill their own pockets with payola, in a manner not unlike how politicians like Florida Governor Ron de Santis and Texas Govenor Greg Abbott appear to be endangering the lives of the citizens of their states for political gain.
Virus Enablers - Rupert Murdoch and Florida Governor Ron DeSantis & Texas Governor Greg Abbott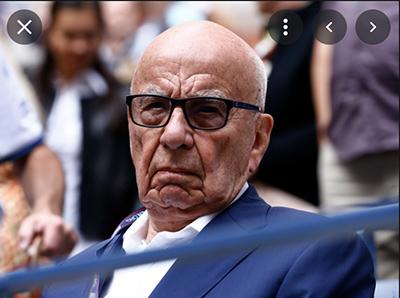 Republican Florida Governor Ron de Santis, Texas Governor Greg Abbott and Republican Senator Rand Paul of Kentucky appear to be politicizing the science and the measured scientific / governmental navigation of the dynamic waters of a rapidly evolving virus - by opposing the reinstitution of mask mandates to slow the spread of a rapidly spiking CoVid variant. I can only conclude that the bad behavior of these Republicans is part of their currying favor with the ignorance inducing elites - like Rupert Murdoch. Like Murdoch's pundits, these pols seem hellbent to compromise the nation's health and our economic comeback, in order to position themselves politically, at the expense of the people they are supposed to be serving. Like Donald Trump did in 2020.
The CoVid Delta variant rose from 10% of the infections in the U.S. in May to over 90% of U.S. infections in early August. There appear to be differences in this strain of the virus vis a vis the original CoVid - not just in transmissibility and health impact characteristics - but in the impact on younger people, who are lagging the nation in vaccinations, and have gone from a small sliver of new infections to representing double digit percentages of them today.
So the defiance of the Florida and Texas Governors against the federal government effort to get people to mask up again, seems just plain stupid. It's a common sense precaution. The Florida and Texas governors should have their names changed to Ron DeStupido and Greg Butthead. And Rupert Murdoch should have his name changed to Keith Rupert Murderoch, because he accepts no responsibility for his role in disinforming the public and the disastrous consequences suffered by others as a result of it.
I hope some sharp attorneys put together a multi-billion dollar class action lawsuit, representing the families of those who lost loved ones, because they trusted the distorted news accounts coming from Murdoch's duplicitous mass media outlets. Just as Murdoch uses distorted and sometimes even phony news accounts to generate publicity and ratings, the lawsuit can be used to generate publicity for the law firm and just maybe ... set things right. It seems apparent that Murdoch's Fox News propagandists know that they are propagating false news, but they appear to do it anyhow, in order to profit from the sensationalist ratings.
The two multi-billion dollar lawsuits against Murdoch's Fox Fake News for its seemingly dishonest coverage regarding the integrity of the voting machines used in the 2020 election, might be seen as a precursor for lawsuits to follow. Freedom comes with responsibility - a fact that Murdoch and these days far too many Republicans, seem to conveniently ignore. They are behaving like children, who will do whatever they want to do, regardless of how it affects anyone else. They need to grow up.
Have a nice weekend.
---