CoVid Back to Work NYC - Part III
Mayor & Governor Attempt a Balancing Act Worthy of the Flying Wallendas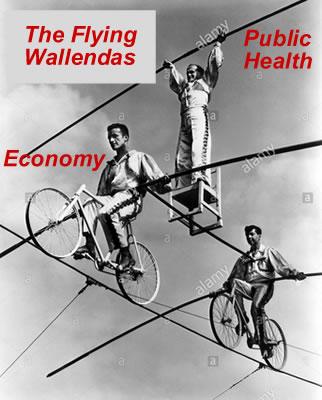 May 3, 2020 / NYC Neighborhoods / NYC CoVid 19 Special Section / News Analysis & Opinion / Gotham Buzz NYC.
Well, at least we had a pleasant weather weekend. People were out and about again in greater droves than they have been in about a month and a half. It was just nice to stretch one's legs, soak in a bit of sunshine and see people again ... albeit at a social distance.
Looking ahead the Mayor and Governor are in a tight spot, as people's economic needs begin to weigh heavily upon them, given a second month of rent and other payments have come due. Thus these two intrepid leaders need to work out a path to economic recovery, while not letting up on keeping the evil CoVid virus in check. My intent here is to add my two cents in hopes of stimulating dialogue and actions in that direction.
Putting Things In Perspective
Let's start with what has happened this past week. NYS CoVid Hospitalizations had skyrocketed to about 19,000 the week of April 13th, 2020. By this past weekend they had fallen to about 10,000 - nearly half of the peak.
At the time the Governor and Mayor, with federal government assistance, had put in place plans to accommodate the skyrocketing infected numbers, which as of April 13th had hit 195,000 people in New York State and about 107,000 in New York City. Today the cumulative totals for New York State are 318,000 and for New York City 177,000.
Brief History Of How Covid 19 Started In NYC & NYS
The first person identified with the CoVid virus, was a Manhattan healthcare worker who had picked it up overseas. She tested positive or it became publicly known on March 1st, 2020. A week and a half later, on March 10, 2020, Governor Cuomo set up a containment area in New Rochelle where there was a significant outbreak. The Governor's NY Pause - essentially shutting down non-essential business - began evolving shortly thereafter.
---
CoVid Back to Work NYC - Part III
Mayor & Governor Attempt a Balancing Act Worthy of the Flying Wallendas
May 3, 2020 / NYC Neighborhoods / NYC CoVid 19 Special Section / News Analysis & Opinion / Gotham Buzz NYC. Continued.
NY PAUSE - Mid March 2020
Within about a week - by mid March - New York City and New York State were on pause. At first all major events were cancelled, then any large gathering of 500 people or more, then gatherings of 50 people or more, and then even restaurants and bars were required to close. This tightening happened at breakneck speed. And of course the NYS and NYC public school systems and all private schools shut down at that time. Only essential businesses and services were allowed to continue operating.
Shortly after we all went on Pause in mid March, Governor Cuomo began daily press briefings, to keep the public aware of what was happening. I started tuning in daily by March 21st and by that time - only three weeks after the first tested positive - there were 46,000 cases in NYS and nearly 21,000 in NYC. By that time it was dawning on us all, that we were in real trouble.
Adding Healthcare / ICU / Hospital Capacity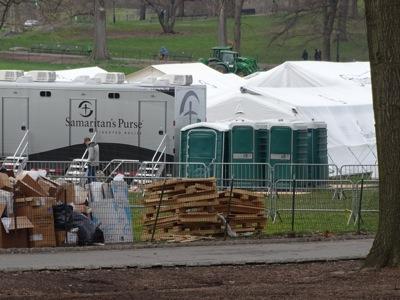 In the last half of March, the Governor and Mayor set to work to increase the city and state hospital capacity, as at the time the forecasts were daunting. Thus the Jacob Javits Center on the west side of Manhattan was outfitted to become a pop up hospital with capacity that began at 1,000, moved up to 2,000 and by the time they realized that the NY Pause was working, they had made plans to enable the Javits Center to accommodate 2,500 beds. As it was, just over 1,000 patients were treated there, as today hospital capacity is again available. This was staffed by the National Guard and federally employees. The last patient exited the Javits Center on Saturday, May 2nd, 2020.
Both the Governor and the Mayor called upon the federal branches of government to assist with managing the crisis, which is part was caused by their ignorance and slow and error-laden response. That's another story for another time. Anyhow, a floating hospital ship, the USNS Comfort, was sent to aid New York City. The ship had about a 1,000 bed capacity, or about a 750 CoVid patient capacity [social distancing]. By the time the USNS Comfort departed, on Thursday, April 30th, they had treated less than 200 patients, as the NY Pause initiative had effectively contained the outbreak.
There were other facilities put in place which we covered as they were springing up. Click here to read our report of over a month ago about NYC and NYS increase hospital capacity in preparation for the growth of CoVid 19 cases.
Late March - Flattening The Curve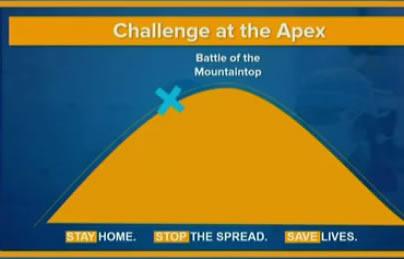 As we entered April things looked pretty bleak, except to me, as I was watching the growth in tested positives vis a vis the growth in testing. The two went up together, so I factored that into my growth expectations, while I imagine the experts were likely not discounting the growth rate for the growth in testing.
Click here to see our coverage of the flattening of the curve beginning March 31st.
By the end of that same week - the last week of March / first week of April - the Governor and Mayor were beginning to believe that the flattening had worked. This staved off some of the medium to worse case scenarios because the people of New York City and New York State took the threat of the CoVid crisis seriously and stayed home. Whew.
Managing PPE, Ventilators & Hospital Beds As Capacity Peaked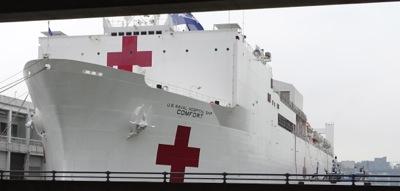 Throughout the month of April we all watched as the city and state healthcare workers and institutions grappled with a full capacity load of patients who had an infectious, potentially life-threatening illness, and generally speaking the city, state and worst of all - the federal government was unprepared and flat footed in their response.

Thus we all learned about PPE or personal protective equipment and its lack of availability. We learned about the ICU or intensive care units and key equipment like respirators / ventilators. And we learned about how stressed the healthcare system was in managing through all of this.
The Governor and Mayor asked and received some federal help in the form of the docking of the USNS Comfort, which is a navy hospital ship and the staffing of a pop up hospital at the Javits Center. But the preparations to add hospital bed capacity didn't end there, as the Governor and Mayor ramped up a facility in Central Park in Manhattan and another at the USTA Center in Queens.
Meanwhile, back in the stay at home / self quarantines, the rest of us were dealing with social distancing, being caged in our homes, a few out of stocks in things like toilet paper, or we had to switch from our usual selection of branded products to whatever was in stock. But those annoyances were mild compared to what was to come.
Unemployment, Food Lines, Financial & Psychological Stress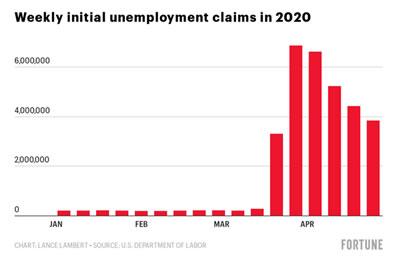 Many were and are facing food shortages and are financially strapped as they have no income and no savings. The rent and loan payments keep coming due, everyone still needs to keep the power on, and put food on the table - let alone deal with anything unexpected.
As of this past week, over 30 million Americans applied for unemployment insurance - and this is AFTER the government spent trillions keeping people on the payroll. Herbert Hoover, who presided over the beginning of the Great Depression, entered office with a 3.2% unemployment rate and left office four years later with unemployment at nearly 25%. The Donald entered office with an historically low unemployment rate of about 4%, and in the last report, the unemployment rate was about 19%.
I've noticed when I'm out reporting that a number of people are really on edge. So I advise folks proceed a bit more cautiously and patiently when out in public. The masks mandate really doesn't help in this regard, as some folks have turned into uninformed mask enforcer vigilantes.
Stimulus Package - Robbing America's Children's Future
So the federal government passed several whopping fiscal stimulus bills, where they borrowed trillions from the piggy bank of America's children, to finance what seemed, in part, to be Donald Trump's re-election plan. The Trump Administration doled out trillions in cash and sadly a good portion of it went to selfish interests, including some of Trump's own.
In another Trump first for bad behavior by an American President - the dispassionate Donald made desperate Americans wait a couple of extra days for the federal stimulus checks - so he could have his Treasury Secretary Mnuchin put the Trump name on the stimulus checks.
Meanwhile both the Mayor and the Governor are confronted with tough fiscal choices, as the city and state revenue has declined precipitously, as state and municipal expenses climbed due to efforts made to deal with the CoVid crisis.
Late April Things Improve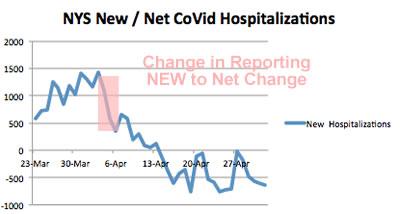 So in the latter half of April we started watching the CoVid crisis slow down, as more people came off respirators than went on them [although enough of them also died on the respirators and continue to contribute to that declining number], and while people continued dying from CoVid, it was at lower and lower numbers. Both of these metrics are the lagging indicators.
But the leading indicators also began falling in the second half of April. The number of people who tested positive fell from a high on April 15th at less than 12,000, to a weekly rolling average of about 5,000 per day this past week [ending May 2nd]. And the hospitalization rate fell from about 19,000 on April 13th to about 10,000 today.
So all indicators are generally pointing in the right direction, and have been doing so for about two weeks. So why not get back to work right away? Because we have to open the city and state smartly or we'll not just be back where we were - but possibly even worse - because the healthcare system and professionals have been working under duress non-stop for a month or more.
Getting Back To Work - Starting With Infrastructure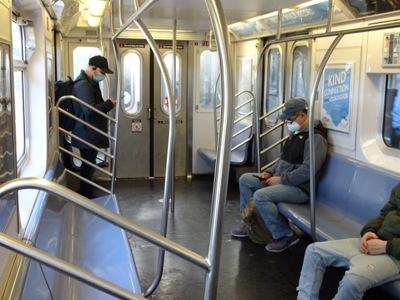 Both the Mayor and Governor are working assiduously to get us back to work, but safely. How are they doing that? One of the first big steps is that effective May 6th, 2020 the MTA subway system is going to be closed down from 1 am - 5 am so that the subway cars can be sanitized.
If you think about the city [and state for that matter] as if it were a human, there's no quicker way to spread a disease than by using the transportation infrastructure - most notably the subway. Conversely, it seems one of the quickest ways to contain a disease is to stop its spread via the transportation system / subway. Thus the collaborative and concerted actions of the Governor and the Mayor appear headed in that direction. Bravo.
Click here to see our report identifying the MTA subway system as a CoVid hazard.
Anyhow, by the beginning of May, the Governor confirmed that the public school system academic year would end online - not in the schools. Long lines continued forming at stores where masks are now required to enter. Banking and financial institutions have been overwhelmed with calls related to the fiscal stimulus checks as well as all sorts of people needing financial help. And this had to be done, while the banks shortened hours - some due in part to the many snafus by the Trump Administration in the handling of the stimulus bill execution because at least one computer system crashed and there were reportedly a myriad of a number of smaller snafus.
Many TV News Reports Seem about as Vetted as Social Media
People are staying up later as they don't have to get up to shower and commute to work the next day, unless they're an essential worker. So while free TV hasn't been interesting in a long time - now, when it's most needed - it seems to suck on an extraordinary level. And while many people have been able to collect their regular paycheck by telecommuting / teleworking, others must be feeling about as anxious as one possibly can - having no money, no work, behind in rent by one or two months, not sure if they have a job or will have a job, and to top it off no haircut in a couple months time.
So, not unexpectedly, with empty streets and people really hurting, some crimes have risen, but that's not really unexpected ... is it?
The Future - Possible Therapies & Gauging the Economy
Start by Recognizing Covid is Likely Here To Stay for a While
So what does the future look like? Predicting things is at best a precarious science, but I've made a few observations, which I'd like to share.
I. The Tenuous Promise of a Warm Weather Cure
Let's start with the first one - which quite honestly I'm not sure we can very accurately judge at this time - and that's whether the Corona Virus will be with us for a long time to come.
Some folks thought that it would behave like the flu and disappear during the warmer weather. If that were the case, then why are Brazil and India, both WARM WEATHER NATIONS, ramping UP THE CURVE, rather than flattening or coming off the curve?
This should cause one to proceed slowly.
II. No Fairytales & No Magic Pill or Spray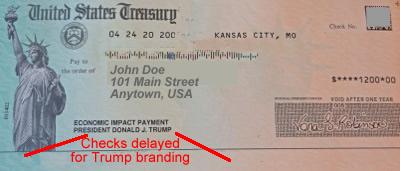 The other aspect of this are the proposed cures, therapies and vaccines. Sometimes watching the TV news it seems like the Wild West, where we hear from a plethora of TV news teleprompter readers, who don't seem to understand what it is they're saying, seeming to repeat things without providing context and without verifying source facts.
I've reported on some of the proposed vaccines and therapies in a prior report - click here for CoVid therapies and vaccines. The gist of it is that while we are very technologically advanced, it takes a while not just to discover a molecular combination therapy, but quite a while longer to understand whether it works, why it works and whether it is safe for use on the general population. To ensure efficacy and safety, clinical trials are done to measure the potential impact on various vaccine recipients or patients, depending on their baseline health, as well as what other drugs they are taking.
Ironically in late April, an over the counter medicine, Pepcid, was reported as potentially helpful to treating the Corona Virus. A friend of mine reported that it had sold out online before I had even heard the news. That's how crazy things have gotten.
Science is not as easy as the Donald portrays it to be. You can't just spray Lysol into your lungs to cure yourself [you'll poison yourself], and one of the drugs he's promoted, Hydroxychloroquine, was tested in a Brazil clinical trial. In that trial the anti-malarial drug is believed to have triggered heart problems where patients died. Because of the deaths, they ended the Brazilian clinical trial.
Science isn't for Simpletons - Vaccines Take Time & So Do Therapies
So what are the real therapy options? One is a vaccine. But the fastest vaccine ever developed was for polio in the 1950's and that took four years. Now drug development has come a long way - but it was over a half century ago that a vaccine was developed in such a 'short' period of time. So when people estimate it will take 12 - 18 months to gain access to a workable CoVid 19 vaccine, know that this is an optimistic scenario. Not that it can't be done or someone won't beat it - but the facts are four years for the fastest developed vaccine and that was 50 years ago.
And then there's Remdesivir by Gilead Sciences. I've read conflicting reports. The Chinese were said to have conducted a clinical trial and it wasn't successful. But the pronouncements and announcements by the Chinese government seem to be as unreliable as the Donald and Fox News. So maybe it doesn't work, but Gilead is moving ahead with an FDA fast tracked clinical trial. Anecdotally one of the first patients in Washington state recovered using it. But a sample size of one doesn't mean much per se, because we don't know if that patient would have recovered anyhow. Clinical trials have control patients so one can determine the difference between treatment / no treatment.
Underlying Health Conditions - Vulnerable Populations In America
I did a quick analysis, to see how many Americans may have one of the UNDERLYING HEALTH CONDITIONS that makes them vulnerable to getting severely ill or dying from CoVid 19. I did this to get a sense of the complexity that has to be managed in finding an effective therapy or vaccine to combat the virus, AND also to gauge how many people are going to be at risk in the 'new normal' as we collectively resume our livelihoods. If large numbers of people are vulnerable to contracting the disease and dying from it, they're going to be a whole lot more cautious until some remedy is found.
Needless to say, the following statistics on the health of America are daunting. It's easy to see why national opinion polls show that a large majority of Americans are interested in putting in place a public health program like Obamacare. The Donald failed to repeal and replace Obamacare. But he did work hard on the repeal end of it, as he made efforts to dismantle various aspects of Obamacare over the past four years.
Please note that in what follows, there is overlap among these groups, as the same person may have more than one of these conditions.
There are 328 million Americans.
Of those, 127 million Americans [40% of the population] have some form of Cardiovascular Disease, of which 103 million have high blood pressure [2018 Heart.org] and of which another 24 million who have some other form of heart disease besides high blood pressure [2016 American Heart Association].
As for Respiratory Diseases, 25 million Americans have asthma [aafa.org which is the Asthma & Allergy Foundation of America - circa 2016]. There are 34 million American adults [14% of adults] who are cigarette smokers, of which 16 million have a smoking related disease [2018 CDC.gov]. And these may be many of the same people, but there are 17 million Americans who are cancer survivors [2019 cancer.gov].
As for underlying health issues, there are another 70 million Americans who are obese, which includes 40% of U.S. adults [2016 Wikipedia]. Another 34 million Americans have diabetes - of which 7 million have not yet been diagnosed [diabetesresearch.org].
And lastly, as for compromised immune systems not related to what's noted above, there are 1.1 million Americans who have AIDS [2016 HIV.gov] and there are 49 million Americans who are over the age of 65 [2016 ACI.gov - Administration for Community Living].
It's probable that almost EVERY AMERICAN has family members, friends or business associates who has one or more of the underlying conditions. And for Americans with these underlying conditions, catching CoVid 19 could potentially be a death sentence.
So this has implications for the development of an effective vaccine and / or therapy - as clinical trials are designed to evaluate how things work in the general population to ensure that the 'cure' isn't worse than the condition. But these underlying health conditions also have implications for how people will, and possibly should, move forward economically if they don't want to lose a loved one.
The Implications - Living With Risk & Managing It
The Flying Wallendas Tight Rope Act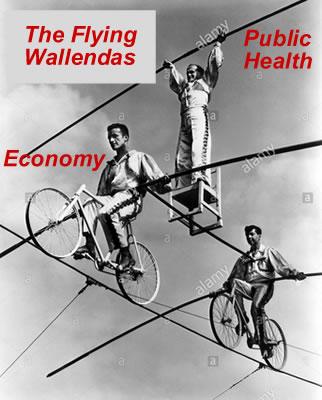 So, while what I've reported above is bad news, it's better to be aware of it and deal with it, than to ignore it and suffer the consequences. The implications are that we can't wait to defeat the Corona Virus before we return to work and play - so we have to manage it. That's where the Governor and the Mayor have to do what the flying Wallendas were so well known - walking along a tight rope - where the consequences of failure are tragic.
Karl Wallenda was an acrobat / tightrope walker. He began his notoriety in Madison Square Garden in 1928 when he walked the tightrope without a net underneath to catch him, as the net had been lost in transit. For fifty years he walked the rope until he took a misstep in 1978 and fell to his death. Let us hope we're so lucky, as he was 73 at the time and that was 50 years of walking that rope.
Anyhow, back to Cheyenne.
So CoVid 19 is probably here to stay for a while, and it's likely we're not going to have access to a therapy for a while [although it's always possible]. So we can't afford to wait for CoVid 19 to go away before we get back to work. Thus, we have to manage the health risks of returning to work - prior to the virus eradication and prior to having access to a workable therapy - as we all need to feed and shelter ourselves.

CDC Workplace Guidelines
So the CDC guidelines include things like stay at home if you're sick, cover your mouth when you cough, social distancing, wash your hands, and keep the surfaces you touch regularly clean. The CDC has issued some workplace guidelines which you can review using this link - https://www.cdc.gov/coronavirus/2019-ncov/community/organizations/businesses-employers.html
I scanned about half or more of the articles - some of which were industry specific like for food processing plants and grocery stores, while others were a bit more generic. I didn't see anything specific for restaurants, bars and other retail outlets.
Local Businesses Improvise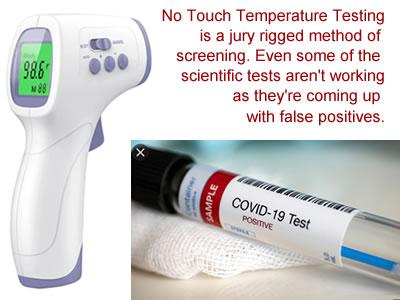 Many local employers have taken the initiative to proactively protect their workers. A few weeks ago my local grocer set up plastic see through barriers at check outs, provided their employees with masks, and within the past couple weeks started requiring all customers to start wearing masks about a week ago and limited the number of people in the store at one time. I also saw this at my local pharmacy. A friend of mine told me that his temperature is checked with a no touch device before he is let into shop.
Governor of New Jersey has started outlining guidelines for restaurants, mandating social distancing by limiting restaurant capacity to 25% of the old normal. Given we're heading into the warmer weather he is also working to enable restaurants to serve outdoors in order to expand restaurant capacity [CHECK].
Law - Define Workplace Safety Guidelines so Employers & Employees Know What is a NEED to Have vs a NICE to Have
I think they should consolidate the learning into easier to understand / implement key points. And they might want to figure out what is required by law, versus what are recommended guidelines, so the lawsuits don't start flying after this settles down.
Testing Issues & Limitations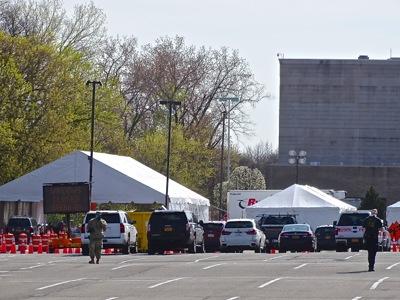 There's been much debate about testing. Quite simply it 's a mess. There are over a hundred tests on the market at present, but only eight of which have received some sort of FDA approval. Hence many tests are reportedly showing both false positives [you have it] and false negatives [you have it but the test says you don't].
Testing was one of the many early failures by the Trump Administration as they shunned using the World Health Organization test, so they could make America First. They were successful in some measure as America is #1 worldwide in CoVid infections and deaths.
After that delay, the Trump Administration CDC made their own test and sent it out, but it was flawed, so they had to recall it and try again. Now they continue to tell Americans that anyone who wants a test can have it [still not completely true but it's not the lie it was a few weeks ago]. What they don't tell you is that while you can get a test, they don't have enough reagents to actually process the test, so you can't get your results back ... least not quickly.
The reagents situation is likely to be fixed in the very near future, as they should be able to ramp test reagents production to full scale. But for many of the tests, the accuracy of them is still an unknown, as only eight of over 100 tests on the market were approved by the FDA.
I think more testing will help, but I don't see it as the pancea that others seem to think it is. I think you have to go at the CoVid 19 virus on a number of fronts, which also includes public education, and an added effort vis a vis human-to-human and human-to-surface interactions.


Managing Expectations - At Risk Populations Vis A Vis Covid 19
Given the above guidelines, which are likely to be in place for a while, we need to recalibrate our economic expectations. This affects most everything.
Let's start by reviewing the number of people in the at risk populations - meaning people who could actually lose their lives if they catch CoVid 19. As I pointed out above, it's not a short list.
Given these vulnerable people could actually lose their lives if they contracted CoVid 19, how likely do you think they are going to resume their normal activity / spending? My guess is that these folks aren't as likely to get together for dinner or drinks, or go on trips or vacations, or big weddings or funerals, or many cultural events until things settle down.
Big parties and events are likely going to be socially distanced / managed affairs, and vulnerable CoVid populations [people with underlying health conditions outlined above] are less likely to attend, and rightfully so. They're going to have to proceed cautiously, as they risk their own mortality ... and people around them, who love and care for them, should proceed with caution as well.
Simple Chores have Become a Big Pain in the Ass
Then there's the social distancing. Everything has become a big pain in the ass. Going to the grocery or liquor store requires wearing a mask and waiting in line to get in, going to the bank where hours have been shortened and personnel aren't available has become frustrating, going out of the house where every time you leave you have to don a mask and everytime you return you have to wash your hands, and possibly wash whatever you picked up, and so forth, has made life a lot less pleasant.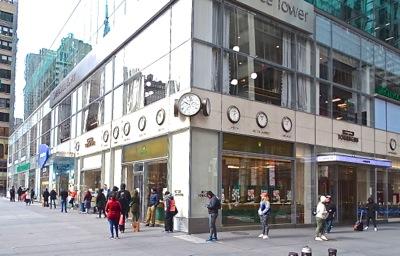 So the CoVid pandemic is going to put a damper on things for a while, possibly a long while. Thus, we must adjust our economic expectations. Right now a whopping 30 million plus Americans are out of work. Even Herbert Hoover didn't hit these high numbers before he lost his job as U.S. President when the Great Depression swooped in.
Many of the unemployed may be out of a job for a long while. Restaurants, hotels and travel will do less business because of social distancing, and cautious vulnerable populations staying close to home for a while. Autos and gas are likely to suffer as people will likely move around less. Many tenants have not been able to keep up with rent, and many home owners are having trouble keeping up with mortgage payments. Many incomes have been reduced as businesspeople adjust their cost structure to line up with with reduced business revenue.
Because for the past couple of months we've been preoccupied with the CoVid 19 virus itself, I'm not sure the full effect of the economic impact of CoVid 19 has set in. The $2.5 trillion in stimulus should buffer things, as it represents a proportionate share of economic loss during the time we've been and are likely to be locked down, but there was plenty of pork in those bills that wasn't necessary - like the tax break for real estate people like the Donald.
Financial Fallout - The $2.5 Trillion Stimulus Seemed Corrupt
The economic implications of the CoVid 19 pandemic will begin to creep into the financial industry calculus, as expectations are recalibrated. Many categories of business like hotels, restaurants and bricks and mortar retailers, strapped consumers credit card debt, small businesses, tenants and possibly even some over leveraged landlords are going to have trouble climbing out of this hole. It's possible, and maybe even likely that many simply won't make it, which has further implications. In economics it's called the multiplier effect, which is essentially a ripple effect.
Real estate may even take a hit as tenants can't afford to pay rent, while mortgage and business defaults refocus banking efforts on managing / limiting exposure. Hence, in spite of low rates, folks may not want to make a huge investment or take on risk in these uncertain times, while all levels of government will be contending with their gaping deficits, which has implications for cutting government spending and the possibility of raising some taxes. Again, there will be a ripple effect through other segments of the economy.
And while the rank and file folks suffer, the Donald gave the airlines a big bailout, and he is reportedly considering a bailout for the fossil fuel industry.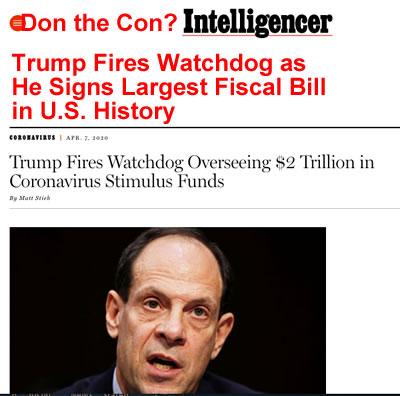 I'm so sorry that I'm notcheery here. But thinking through these things helps one prepare for the future. Forewarned is forearmed. I don't think the new normal - which is that we're living in uncertain times - has yet to sink in as we're only now beginning to look at grappling with the economic fallout.
Even if the virus subsides, which it seems to be doing, the grey clouds surrounding it will keep things dampened for a while. This is in spite of the trillions of dollars in stimulus, as well as the trillions of dollars in liquidity that the Federal Reserve has reportedly pumped into the financial system. Many health professionals are concerned that next fall could be chaotic as the flu season returns ... possibly in tandem with CoVid 19 ... and again straining the capacity of the healthcare system.
While the trillions of dollars helped, it seemed loaded with pork and corruptly managed. The Donald fired one of the watchdogs overseeing the federal stimulus package spending. Hence, because of that, I am not sure that all this money will solve our problems this time.
Absent effective leadership at the top, state and municipal government officials must balance the risks of good economic health with public health, while simultaneously balancing our civil liberties with our safety. This is no simple balancing act, as the flying Wallendas well know.
Good leadership helps, and that is what both NYC and NYS seem to have right now. Unfortunately on the national level we seem to have come up really short.
FYI - Schools Remain Closed, Evictions Suspended thru 7/1, MTA Cleaning Effective Mid Week, Slowly Opening Economies
Governor Cuomo confirmed / announced that NYC and NYS Public school systems are officially closed through the academic year. He also said that any eviction proceedings would be suspended through June.
Mayor de Blasio announced that Alternate Side Parking has been suspended / extended through May 14th. And that City Streets II would go into effect by Monday, if not before, to provide added open space for folks. Few took advantage of it last time, but perhaps things have changed.
Sanitizing the MTA subway was a good start toward preparing us for a return to work and play. The CDC guidelines for workplace safety help too, but it seems they're not done as they need to simplify the guidelines for public consumption and add categories like restaurants and bars.
Some of the small business efforts like taking no touch temperatures and socially distancing store cutomers seem intelligent and likely will become a part of the new normal. The NJ Governor's plan to start re-opening with parks seems a cautious way to gauge how well people are going to fall in line on the social distancing guidelines, while monitoring the CoVid 19 testing numbers, before opening up other categories of activities.
The NJ Governor's plan to limit restaurants to 25% of capacity, while providing expanded outdoor space seems like a good managed work / play resumption move. Airlines have started requiring passengers to wear masks. Both of these strategies are already in place at my local grocery store, where we wait in a line outside to be let in and must wear a mask.
I think the government needs to do a better job of focusing people's attention to stepped up cleaning efforts [not included in many CoVid ads by Drs. Oxiris Barbot (NYC) and Howard Zucker (NYS)]. But that said, the last time I visited the pharmacy, the cleaning products section had been pretty well emptied, so many folks have already figured this out on their own.
A Final Word for this Monday, May 4th, 2020
Life is full of risk. People get sick and die every day. Sickness and death are a part of life.
And while I worry greatly about those I love who are at greater risk, the whole of society can't wait until this threat goes away, or shut down again if another one arrives. So we all have to do what we can to protect those at risk by being mindful of the virus / germs, and doing our best to mitigate the spread of them, and manage our interactions with vulnerable people. And on the other hand, we also have to begin moving forward, albeit carefully and cautiously, while monitoring the health implications of our economic progress.
Best wishes for a good start to the first week in May.
---
$element(adman,groupad,Sectional Ad)$
---
---