Unemployment Rises to 40 Million, Trump Fires FIVE Inspectors General Overseeing his Handling of the Largest Stimulus Bill in History & Life on the Ground in NYC
May 28, 2020 / NYC Neighborhoods / CoVid in NYC Special Section / News Analysis & Opinion / Gotham Buzz NYC.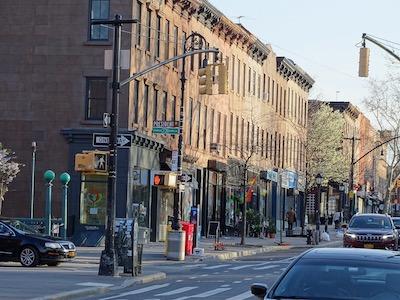 If things appear to be chaotic these days, that's because they are.
America First - #1 in CoVid & Record Breaking Unemployment
Since the CoVid Pandemic began, new unemployment claims have risen by 40 million in the nation. That's out of an estimated American workforce of 158 million - meaning that 25% of Americans have lost their jobs since the pandemic began.
The April unemployment was reported at nearly 15%, while the May unemployment report is expected to rise to in the neighborhood of 20% - 23%. And according to the Federal Reserve, the June numbers could come in a bit worse than May. As a point of reference, during the worst days of the Depression, unemployment came in just under 25% before the American people fired Herbert Hoover.
Trump's Litany of Distractions, Enabled by Network TV Boobcasts
But the Donald isn't talking about the pain Americans are suffering from the pandemic, where over 1.7 million have been infected and over 100,000 have died. Nor is he talking about the pain and anxiety that is being felt by the 40 million Americans who have lost their jobs.
Nor is he willing to talk about the firings of five Inspector Generals who had been charged with overseeing the integrity of the largest stimulus package in American history - funded by America's babies and unborn children. It's like taking candy from a baby, only this time it's money - and lots of it.
The five Inspector Generals include one from Health & Human Services, Department of Defense, State Department, Intelligence Community and the Department of Transportation. Australian billionaire Rupert Murdoch's Goebbels-like propaganda machine - including his Fox News, Wall St Journal and NY Post appeared to support the firings. I wonder what Rupert's share of the predatory propaganda plunder is?
So what is the Donald talking about, repeated nightly on the TV News broadcasts, who I've come to view as the great enablers, and now think of as the nightly news boobcasts ? Anything else.
This week the list of TV News amplified Trump outrages included: 1) Twitter exercising its freedom of speech by putting suggestions that Trump Twitter followers get off their lazy bums to click into fair and balanced information checks of the Donald's disinformational tweets. 2) Prior to that Trump attacked the Governor of North Carolinafor following the CDC guidelines vis a vis reopening the economy. The reason? The Donald appears to want a jam packed media extravaganza at the Republican National Convention that was scheduled to be held in Charlotte, North Carolina in August. 3) Another of the shock jock president's distractions was his insinuation that mail ballots are fraudulent - WHICH MIGHT COME TRUE IN November as Trump is replacing the outgoing Postmaster General with a Trump donor / businessman from North Carolina. 4) And the most incredulous of the distractions was Trump's allegations having to do with MSNBC commentator Joe Scarborough and a decade(s) old death of someone who worked for him.
---
Unemployment Rises to 40 Million, Trump Fires FIVE Inspectors General Overseeing his Handling of the Largest Stimulus Bill in History & Life on the Ground in NYC
May 28, 2020 / NYC Neighborhoods / CoVid in NYC Special Section / News Analysis & Opinion / Gotham Buzz NYC. Continued.
Break Your Dependency on TV News - It's Time to Start Surfing
While the TV news broadcasts continue to endlessly repeat Trump's nonsense [it must be good for ratings], they distract themselves and the American public from the real stories of the day. What are the real stories of the day? Good question. They are 1) the ongoing CoVid pandemic, 2) the incredible unemployment numbers and what is sure to be forthcoming economic fallout [it's official - we're now in a Trump economy] and 3) Trump's firing of FIVE INSPECTOR GENERALS who were charged with overseeing his Administration's management of the largest stimulus package in American history [$2.5 trillion], none of which was paid for by the current generation with either budget cuts or tax increases.
If you want to know what's going on, you have to get on the internet and inform yourself, because the nightly TV boobcast news is ratings driven - not driven by journalistic excellence. Social media seems as reliable as the boobcast news - if only because you will get a range of opinions - unless of course, your surround yourself with ideologues on only one side of the information spectrum.
Newspaper and magazine websites also generally seem to do a better job of reporting the facts than do most of the TV networks, as these outlets are staffed by journalists - not with ratings driven teleprompter readers who appear to hype gossip and endlessly repeat politicizations and sensationalist accounts as news, instead of providing their audiences with fact finding, contextualized reports that inform - not distort or distract.
Life on the Ground in NYC
I. Masks, Grocery Stores Hours & Lines & Heightened Interest in Biking
So I recently received a graphic about masks. As you may know, the guidance surrounding masks changed from advising only those who may feel ill to wear them, to advising the general population to wear them. And now it seems the Donald has politicized, what is in essence, prudent health advice. I will provide a graphic in the next post which visually shows why the early guidance was only for those feeling ill to wear them, but why it makes sense to wear them given that many people who are infected don't show symptoms for days .
Another report I came upon discussed how a large group of singers caught the virus from a few hours of choir practice with an infected person. It is believed that that transmission was largely airborne - coming out of the singer's lungs, sent into the air and infecting a large number of the people presen .
Wapo.
And then there's the guidance on surface transmissions. Originally it was thought to that surface to person transmission was one of the primary means of transmission. But that's changing as they learn more. Amidst all the uncertainty about changing guidance a few things are sure - 1) CoVid 19 spreads easily and quickly, 2) it's a nasty disease and a killer to many and 3) caution is the better part of valor - meaning don't take unnecessary risks for your own safety and for the safety of those with whom you interact. End of today's science discussion.
And then there's the periodic trips to the grocery store, wine store, laundromat, bank, post office, home improvement and other stores / chores. Everything still seems a bit of a hassle, although a lot less so than at the beginning of the month.
At the beginning of May, in my neighborhood there were probably somewhere between one in ten to less than a quarter of storefronts open. And then even those stores that were open, had reduced their operating hours by significant amounts.
By the end of this month, the number of storefronts open had grown to about half - although many of those open were only providing curbside deli / grocery pickup. Many businesses had closed - not because of the government order - but rather because there just wasn't enough / any foot traffic to make it worth the effort.
As anyone who's stepped outside lately knows, the foot traffic has picked up significantly, although it's still not anywhere near what it was prior to the pandemic. And since Memorial Day, a number of businesses have again lengthened their hours - although most have not yet extended hours to their full operating capacity [meaning they're not yet back to their pre-CoVid store hours]. But it is far better. It has the feeling of a return to normal, even though it still falls far short of it.
In the early days of the pandemic [March] there was a run on toilet paper and canned goods and other essentials. By mid April I noticed a run on things like beer and chips. And today it seems most of the grocery store shelves are once again pretty fairly stocked. I had to do some brand switching to fill my needs in March and April, and while I'm still using other brands or non-branded products, in most categories I use, I'm able to select the brands I favor.
I understand there's been a significant increase in demand for bicycles as folks are likely planning to skirt the use of mass transit while the weather cooperates - not to mention get a bit of exercise.
II. Real Estate Sales Plummet, but Prices Hold & Stock Exchange Reopens Floor Trading
The real estate market took a gut punch in April, with the National Association of Realtors reporting that the sales in the Northeast region fell 52% year over year. In May, things didn't look a whole lot better - at least not in NYC - as Property Shark reports that May to date sales are also trending down 53%. But that compares to a drop of 62% year over year in NYC for April. So things appear to be improving in the real estate market - albeit from a lightning quick crash. I suppose the good news for owners is that the prices remained fairly firm, as sellers held their ground and interest rates bounced along record lows at 3.15% for a 30 year mortgage.
On Tuesday, May 26th the New York Stock Exchange reopened on the floor trading by social distancing and temperature checking.
III. Subway Zappings, Food Lines & the Census
The MTA has found what seems a more comprehensive way to sanitize the subways using devices which emit ultra violet light to kill the virus and other living organisms inhabiting the crevices of the subway infrastructure. I haven't ridden the rails myself since April, but one friend reports that while they're not fully packed yet, they have gone from pretty empty, to fairly full [but not packed].
A May 19, 2020 report in Streets Blog said that on May 15th over 600,000 people rode the subway, which is the highest the ridership has been since the 676,000 on March 27th as the reality of the pandemic set in. As a point of reference, the MTA reports that on weekdays in 2019 about 5.4 million people rode the rails , while on the weekend, over 2.7 million people [on average] rode the subways . So that's still only 12% of normal ridership, but up significantly versus the prior two months.
Given that fully 25% of people are out of work nationally, many around the nation and in NYC have taken to waiting in food lines to feed themselves and their families. A number of charitable groups including the Catholic Charities of New York [www.catholiccharitiesny.org] have stepped up to help meet the challenge. If you have a bit of extra cash, they accept donations, which they deploy to help fellow New Yorkers.
Lastly, the Census is underway in spite of most unusual circumstances. On Wednesday, May 20th the Mayor informed us that the U.S. as a whole had achieved an estimated 59% participation rate, while NYC had only achieved an estimated 49% participation rate.
This affects how much of our tax dollars we get back to help offset some of the education, healthcare, infrastructure, first responder and other expenditures associated with operating a large community such as ours. There's reportedly about $1 trillion at stake for the entire nation and it also affects how much representation we get in Congress.
So if you haven't filled out the Census, take - literally - a few minutes to fill it out by clicking the ad below. They say that this information is not shared on an individual level with any other agency in the nation. So even if you're not here legally and you don't trust the government - at least try to make sure that everyone you know who was born in this country, or who has their papers in order, registers for the census.
And don't wait. Do it now. Because these ads will be gone by June 1st. And thanks.
---
$element(adman,groupad,Sectional2 Ad)$
---