Things To This Weekend & Phase IV NYC Reopening
Governor's Island Opened 7/15, Statue of Liberty Island Opens 7/20 while Ellis Remains Closed, Subway Series this Weekend w/ o Fans, Evolving CoVid Science Update & More Economic News
July 17, 2020 / NYC Neighborhoods / NYC CoVid 19 Special Section / News Analysis & Opinion / Gotham Buzz NYC.
Well another CoVid influenced weekend in NYC has arrived. It's the weekend before the NYS Phase IV reopening of the economy, which is happening on Monday, July 20th - but with an important modification. The important modification is that indoor cultural centers and shopping will remain on hold indefinitely.
CoVid Droplets Can Linger in Air for up to 16 Hours
The rationale is that CoVid 19 appears to be transmitted significantly - if not primarily - via the air droplets of infected people who may or may not be symptomatic. In the outdoor environment, the droplets are diffused by the planetary volume of air, while in the indoor environment they can linger for up to 16 hours. It was previously believed that the droplets could linger for up to three hours.
In the photo at right is Congresswoman Alexandria Ocasio-Cortez handing out food bags at Our Lady of Sorrows Church in Corona, Queens. The Congresswoman's campaign raised funds to put together 250 food bags for the folks in the community. Our Lady of Sorrows Church has been the locale for a number of such prior distributions by various donors, including by the Catholic Charities Built In Queens.
Things To Do NYC / Events This Weekend
Mets host Yankees at 7.10 pm Saturday at Citi Field and Yankees host Mets at 7.05 pm at Yankee Stadium Sunday. No attendees will be allowed, but the games will be shown on the Yes Network on TV and WFAN radio.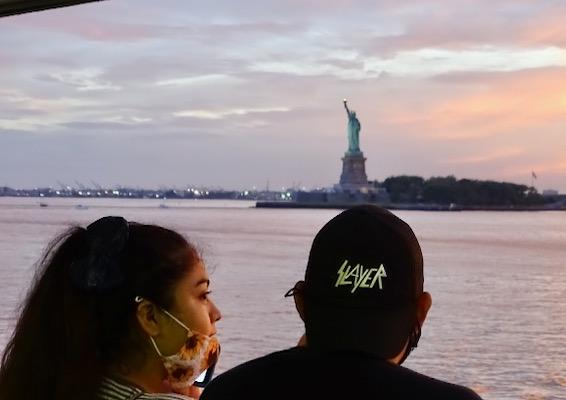 The Statue of Liberty island will open on Monday, July 20th. The statue itself will remain closed, but there will be limited souvenir and food shopping along with restrooms. The Ellis Island and the Liberty Museums will remain closed at this time. Both sites are part of the National Parks System. There are also new rules for a visit - https://www.nps.gov/stli/
St. John the Divine opened its doors to visitors from 7.30 am - 1 pm daily. No word yet on when services will resume. https://www.stjohndivine.org/
St Patrick's Cathedral reopened on June 28th for two daily services at 25% capacity on weekdays and two to three services daily on the weekend. They are suffering a $4 million revenue shortfall as a result of the Corona Virus pandemic - https://saintpatrickscathedral.org/
The piazza style dining in cordoned off streets continues on weekends beginning 5 pm Friday and at noon on Saturday and Sunday - ending at 11 pm each night. New streets and restaurants continue to be added to the original list, as clusters of restaurants apply and receive authorization for piazza style dining on their blocks / streets.
https://www1.nyc.gov/html/dot/html/pedestrians/openstreets-restaurants.shtml
The implementation of the curbside / sidewalk dining by local restaurants has been well received and appears to be a success. Thus this week the Mayor announced that it will be extended through October 31st.
Just over a week ago, on Thursday, July 9th, the Mayor extended the ban on large events requiring a city permit, through September 30th. The rationale for this extension is that states like Florida and Texas have seen surges due to large scale gatherings, where social distancing and mask norms were difficult to enforce and hence violated, leading to huge surges of the number of CoVid infections in those states. This ban extension includes NYC street fairs.
---
Things To This Weekend & Phase IV NYC Reopening
Governor's Island Opened 7/15, Statue of Liberty Island Opens 7/20 while Ellis Remains Closed, Subway Series this Weekend w/ o Fans, Evolving CoVid Science Update & More Economic News
July 17, 2020 / NYC Neighborhoods / NYC CoVid 19 Special Section / News Analysis & Opinion / Gotham Buzz NYC.
Continued
.
NYC & NYS Lags the Nation in Filling out the Census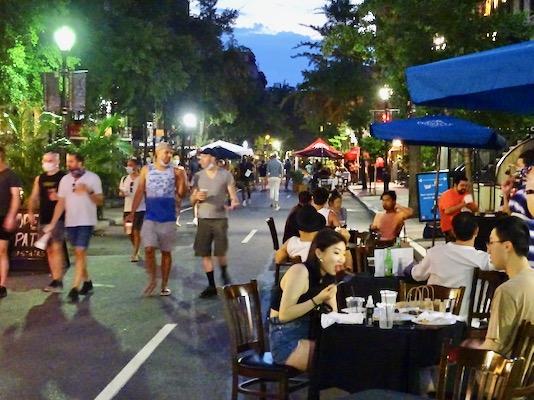 NYS ranks 38th in response to the 2020 Census. The census determines how much representation and funding each state has in / gets from the federal government. Please encourage friends and family members to participate before it's too late. Filling out the census literally takes only a few minutes and it can be done online at https://my2020census.gov/

The census taking deadline has been pushed back from July 31st to October 31st. Getting an accurate census count is worth billions in federal to state funding for education, social programs, infrastructure and the like annually - for the next ten years.
NYC Shootings Up / Other Crimes Down & Causes
NYC shootings are up significantly, while other crime stats for NYC are down. Most of the shootings are taking place in 10 of the 77 NYPD precincts. Government and law enforcement officials aren't in total sync over the causes, but among them are the recently passed NYC Bail Reform Bill, the economic hardship and displacement caused by the CoVid pandemic, including early inmate dismissals without having the transitioning apparatus fully functioning, the near shutdown of NYS Courts for the processing of charged offenders, the new City Council bill changing some of the rules for engagement by the police, the disbandment of the plain clothes unit, the unrest of the George Floyd Protests, and rising temperatures. Crime generally rises following social unrest and also with higher temperatures.
The Mayor, NY Police Commissioner Dermot Shea and NYPD Chief Monahan began a concerted effort to address the problem a couple of weeks ago. And while things have improved since the July 4th weekend, they have quite a way to go. It's a tumultuous time, and it's likely going to take a while to get all involved back on the same page.
One of the reasons not cited for the increased unrest is that large numbers of African Americans and Latinos are rent challenged. A CNN report on June 5th, 2020 cites an Urban Policy Institute Study done in May showed that 19% of all Americans had not paid their rent, versus 27% of African Americans and 25% of Latinos. Add to this that African Americans and Latinos are more likely to have been furloughed or lost their jobs, and you get a clearer view of an increasingly bleak picture that shows the kind of stress and pressure minorities in the lower income brackets are managing.
Economy - U.S. Consumer Sentiment Down, MTA Ridership Over a Million Daily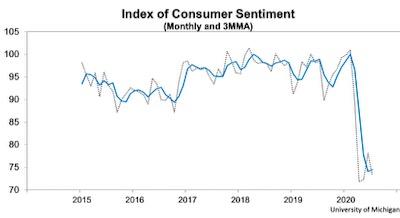 U.S. consumer sentiment stalled in the July release of the University of Michigan report. After an uptick last month, the sentiment fell back to the low 70's, which is where it was in mid April, following the largest drop in consumer sentiment ever in the index. Consumer sentiment is seen as a predictor of economic activity in the following months. So after the beginning of a recovery, we may see things level or stall for a while.
MTA ridership is still down significantly [about 75% - 80%], versus prior year, but has held relatively steady at over a million rides each weekday and over a half million each weekend day. This seems in line with what the airlines are seeing, and according to an Amtrak estimate, next year will be double this year, but still half of last year. Those estimates indicate a slow recovery.
More Layoffs Coming to NYC, NYS & US
For the 17th week in a row, over a million first time unemployment claims were filed. Approximately 33 million people were reported to be collecting unemployment insurance as of June 20, 2020 according to a July 9, 2020 CNBC report. Given America has a workforce of 161 million, this suggests a real unemployment figure of over 20%, which is well above the unemployment rate reported by the Trump Administration Bureau of Labor Statistics [BLS]. See our prior report earlier this month for errors made by the BLS in compiling their unemployment reports.
Jet Blue and American Airlines announced a strategic partnership in the northeast. According to a July 16, 2020 CNBC report, American could furlough as many as 25,000 employees after the federal stimulus expires in the fall [10/1/20]. Both stocks fell a few dollars following the announcement.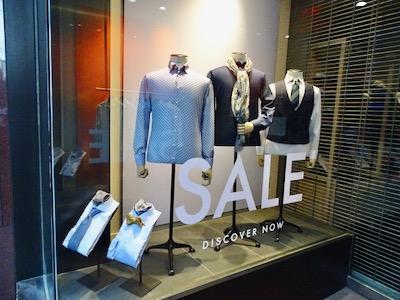 Delta to add back 500 flights daily - not 1000 as previously announced, because travel is about pacing at only 20% - 25% of prior years volume. Part of the problem is that the U.S. failed response to CoVid has resulted in most international flights being cancelled. Delta said 17,000 employees took buyouts / early retirement. According to a July 14, 2020 report by CNN Business, this represents about 20% of their staff. According to the terms of the federal government bailout, Delta will not be able to terminate employees prior to October 1st - involuntarily.
There have been 5,500 store closings announced to date according to a July 15th Business Insider report. They include the closings of more than a hundred stores by Victoria's Secret / Modell's / Macy's / GNC / Gap / Chidren's Place / JC Penneys / Guess. A number of other stores announced closings of under 100 stores including Brooks Brothers / Bed Bath & Beyond / Express / Nieman Marcus / Nordstrom / Kmart / Microsoft & Sears. According to the report there were 9,000 store closings in 2019, which beat the previous high in 2017 of 8,300. This year may set a new record as many of the traditional bricks and mortar retail outlets go the way of the horse and buggy. But some measure of bricks and mortar will survive, likely more as showrooms and pick up locations, rather than as full service in stock inventory and transaction locations.
America First in CoVid Infections & Deaths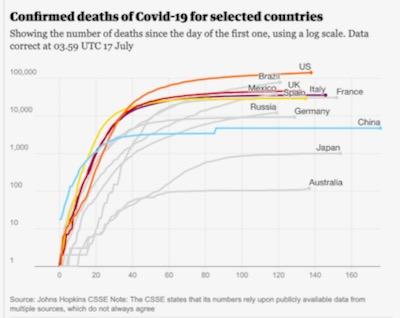 To date the U.S. has had 3.7 million infections and over 140,000 deaths, representing 27% of the infections worldwide [13.9 million] and 24% of all deaths [593,000]. The Trump Administration's abject failure becomes even more apparent when one notes that the United States represents less than 5% of the world population.
Large Chain Store Retailers Require the Wearing of Masks
Masks are increasingly becoming a requirement to enter most major retailers. A number of large chain stores, including Target, CVS and Walgreens, were followed by Walmart, Kroger and Kohl's, in making mask wearing a requirement to enter their stores this week, in the wake of surging CoVid cases nationwide.
The Trump Administration has been woefully retarded in responding to the CoVid pandemic. The Administration's most recent snafus include failing to address an overall national shortage of testing supplies, as well as failing to address testing labs capacity shortages which has lengthened the testing results turnaround times, which can take over a week in many of the currently hard hit states. Delays of a week or more, in receiving CoVid testing results reduces or eliminates the efficacy of testing in containing outbreaks - as by the time someone knows they're infected - they could have infected hundreds or more other people. NYC has a reported CoVid testing turnaround time of about two to three days.
Federal Reserve Does a 'Fred Trump' - Bails out the Donald's Failure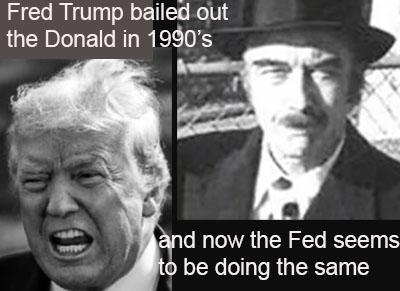 I want to take a moment to dispel the Fox / Trump propaganda myth that the economy was doing well because of the Donald. If you include all of the behind-the-scenes moves by the Federal Reserve - moving trillions around behind the scenes - it becomes apparent that the only reason the economy hasn't cratered is because of the Fed, not the Donald.
The Fed seems to be picking up where the Donald's father, Fred Trump, left off. Mega millionaire Fred Trump famously bailed out the Donald in December 1990 as his failing Taj Mahal Casino in Atlantic City was about to miss an interest payment. The Donald's father, Fred, reportedly bought $3.3 million in chips, which the Donald was able to use without limitation. This was a work around to writing the Donald a check, because the Donald's casino business had already defaulted on its debt.
A year later Fred Trump's chip buying scheme was reportedly ruled to be an illegal loan by the New Jersey Casino Control Commission and they were fined $65,000. The Donald ultimately had to give up about half of his interest in Trump Castle to creditors after it went into bankruptcy.
Reckless Fiscal Management: Borrow & Spend Republicans?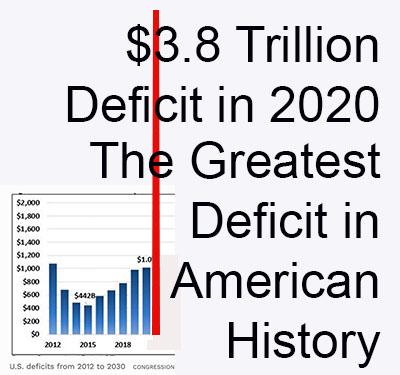 The Donald & Republican Senate Majority Leader Mitch McConnell appear to show no concern nor respect for America's children because they're running up massive multi-trillion dollar debts to cover the Trump Administration's abject failed response to the CoVid 19 pandemic.
Unfortunately both Democratic Senate Majority Leader Chuck Schumer and Congressional Speaker Nancy Pelosi seem to be the great enablers. Collectively they have spent about $2.5 trillion on this mess - and near as I can tell - they've accomplished somewhere between little to nothing, meaningful. The deficit this year [2020] is now projected to be about $3.8 trillion - the largest deficit in American history by a wide margin.
The Trump Administration has been looting the U.S. Treasury by cutting taxes for the rich without cutting any government spending [December 2016]. And most recently the Trump Administration has given away of trillion(s) in unrecoverable stimulus to the mostly wealthy - in return for nothing - save perhaps the mitigation of his upcoming November landslide loss.
If the Donald is a Great Negotiator - Then it's We Who've Been Conned
FDR was called a 'traitor to his class' as he used the government to raise the living standards for all Americans. The Donald isn't a traitor to his economic class because he's thrown trillions their way in tax cuts and stimulus checks in the four years since he's been in office.
Unlike FDR Trump is a president who seems to have betrayed the trust of the American people - not his economic class. He has betrayed America's children and future generations of Americans by his reckless mismanagement of the federal budget and governement debt.
Trump Protects Privileged Profits & Plunders the Public Purse by 'Socializing' Stimulus Costs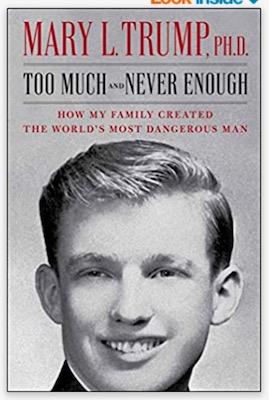 Unlike German Chancellor, Angela Merkel, who acquired a huge stake in the German Airline Lufthansa, the Trump Administration has failed to negotiate any real concessions from the industries we taxpayers have funded. NOTHING. By comparison, the Donald has dumped trillions of dollars of debt on the American public, while saving the investments of the wealthy and loans of banks, who will privatize future profits, while We, The People either lose government services or are taxed more - or both.
Trump's niece, Mary Trump, released a book, which takes a pyschological look into the Donald on Tuesday, July 14th, 2020. The book is entitled Too Much and Never Enough: How My Family Created the World's Most Dangerous Man. It sold 950,000 copies within hours of its release. The book was published by Simon & Schuster and retails for $18 - $20.
CoVid Update - 'Herd Immunity' May be Elusive
In early July the results of a study conducted in tandem with the Spanish government found that the sacred 'herd immunity' may not be achievable with CoVid 19. The test included 61,000 people which found that only 5% of those who tested positive for antibodies, still had them for a measured time after infection. This indicates that 'herd immunity' may not be achievable as over 60% of the population needs to have the antibodies, and the study suggests that most folks bodies / immune systems don't keep the antibodies for very long after the infection has ended.
This is bad news for Sweden, which took the approach of letting CoVid 19 spread without restricting behaviors, so the nation could achieve herd immunity. Reportedly Sweden has one of the highest - if not the highest - per capita CoVid death rate in the world. Also take note of the CoVid Droplets advisory [linger in the air for up to 16 hours] posted in the beginning of this report.
---
$element(adman,groupad,Sectional2 Ad)$
---
---