Weekend Update - Happy Rosh Hashana, Back to School, Economy, Social Unrest, Real Estate, Transit & Masks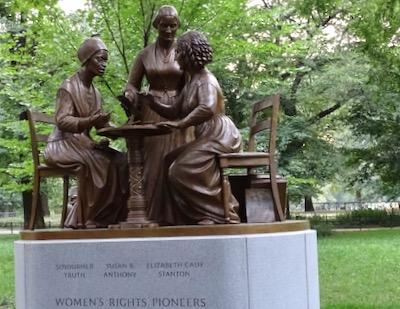 September 17, 2020 / NYC Neighborhoods / Things To Do NYC / Gotham Buzz NYC.
Rosh Hashana begins tonight at sundown and ends Sunday at sundown. Happy New Year.
EVENTS & SPORTS - U.S. Open, Virtual Boston Marathon, NJ Theaters & Restaurants & NYC Cultural Sites Reopen
U.S. Open ended and Dominic Thiem of Austria won the men's singles, while Naomi Osaka of Japan won the women's singles.
The Boston Marathon is going virtual with a starting gun, national anthem and cheers. I think there's an app to go with it as folks participate from around the globe.
Theaters opened in NJ to 25% capacity, as did indoor dining. In NYS bowling alleys at 50% capacity with some other restrictions [9/4].
The NY Aquarium in Brooklyn reopened 8/27. Think this was previously mentioned, as was MoMA free / or donation until 9/27. And the American Museum of Natural History on the Upper West Side opened on 9/9. And on September 11th, the 911 Museum reopened.
BACK TO THE SCHOOLS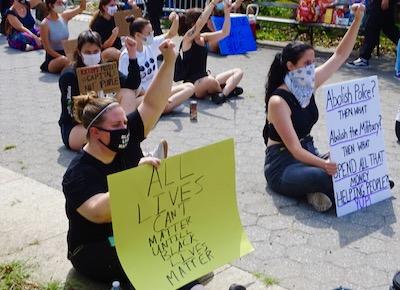 NYC began back to public school virtually on Thursday, September 17, 2020. Everyone starts virtually Monday, September 21st and the in person / in classroom part will be phased in beginning next week through early October to give the city more time to meet the NYC teachers' union demands for safety. Part of what happened is that the initial demands were done on paper, and a secondary set followed once the schools were opened operationally.
Some teachers tested positive - like 22 0f 22,000 [or so]. The testing percentage was lower than the general population rate of the city which is still below 1%.
Governor Cuomo said that swimming, field hockey and soccer sporting activity would be permissible at schools effective Monday, September 21. Football still on hold. Ice hockey and wrestling (?) open October 10 or 19 [still checking]?
LAW ENFORCEMENT / SOCIAL UNREST
Homicides in America's twenty largest cities are up 37% in.a period from May through June. An August 6, 2020 U.S. News report suggested four theories as to why the spike in violent crime. One of the reasons was that crime plummeted following the initial lockdown for the CoVid pandemic, and skyrocketed as things reopened.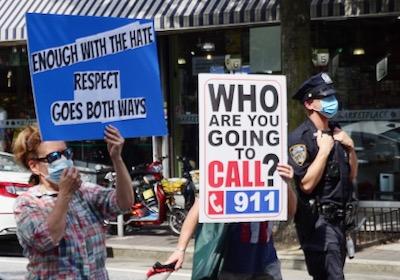 A second theory was that the police initially curtailed some policing activities because of CoVid concerns, and that morphed into anger and a continued pull back in the wake of the George Floyd protests, budget cuts and police reforms. Police reforms and / or police frustration with them are also cited as a possible cause [but not in article].
A third theory is that communities pulled back from trusting and working with the police as a reaction to the George Floyd protests, and that unemployment and healthcare issues exacerbated the situation. And the last theory, doesn't really explain the increase per se, except that homicides do tend to rise and fall with the seasons and temperatures.
The police union challenged legislation that would make complaints against the police, corrections officers and firemen public. They argued that the publication of complaints - even unverified complaints - would be unfair to the people working in these positions. The courts delayed the publication of complaint records, pending further review.
About 1189 NYPD officers have resigned or retired this year, and another 1489 are planning to do so, pending decisions on pensions et al. Police Commissioner Dermot Shea was concerned that this was a loss of some experience, but it's important to note that the NYPD police department is comprised of 55,000 employees, of which 36,000 are active duty police officers - so while departures / resignations are higher than last year - it's less than 6% turnover.
---
Weekend Update - Happy Rosh Hashana, Back to School, Economy, Social Unrest, Real Estate, Transit & Masks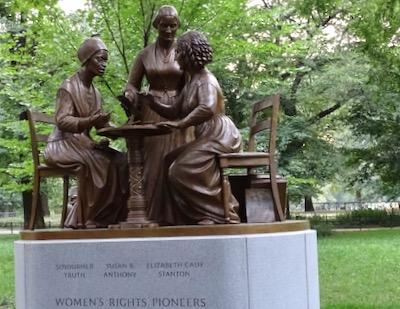 September 17, 2020 / NYC Neighborhoods / Things To Do NYC / Gotham Buzz NYC. Continued.
PANDEMIC - Revenue Shortfall & City Layoffs
The CoVid pandemic has wreaked havoc on the city, state and national economy. In the city there's been a sharp reduction [close to zero] of the 65 million tourists that visit NYC every year due to the cancellation of large sports events like the Marathon, fun events like Comic Con, like numerous parades and festivals, as well as other cultural and artistic events.
Because of the loss of tourism, and an exodus of white collar workers who are telecommuting from the suburbs and beyond, there's been a substantial loss of city tax revenue. The NYC Mayor isn't allowed to have the city borrow money, owing to laws passed in the 1970's when the state bailed out the city from bankruptcy after the federal government presided over by Gerald Ford said no to a federal bailout. And the second large stimulus package deal being talked about in Washington, D.C. is still just being talked about [but some news may be coming forthwith]. So the Mayor has to cut staff and other expenditures. He's been working with the unions to avoid the layoff of 22,000 municipal employees - but eventually he may have to do it.
As part of the Mayor's effort to avoid layoffs, nearly 500 employees of the top levels of the NYC government are taking unpaid furloughs of one week to help close a huge budget gap. It's not going to solve the multi-billion dollar shortfall, but every bit helps, and it is a show of a good faith effort.
REAL ESTATE - Economic Ups & Downs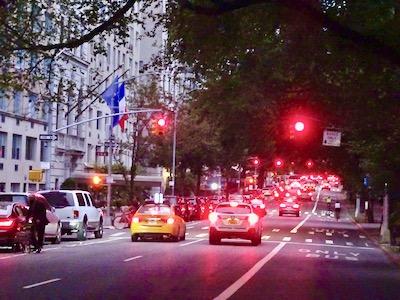 In August the economy slowed as the stimulus funds dried up. Consumer confidence is the lowest it has been in six years. I hope to add economic updates on ISM and unemployment in the next week or two, but in the meantime ...
Nationwide, new housing starts of multi-family dropped / were flat, while single family new home sales were up 4%.
Meanwhile, an August 18, 2020 report in the NYT states that Manhattan real estate rental prices are down 10% versus last year and that the vacancy rate has risen to over 4%. They note that it is the highest vacancy rate in fourteen years. Manhattan real estate sales were reported to be down 56% in one of the summer months according to an August 30, 2020 report in the New York Times, while real estate sales in the suburbs has risen 44%.
In Queens, the LIC Post notes that rents in western Queens are down 6%. People appear to be moving out of the city looking for more space / greener pastures, as the corporate pandemic lockdowns continue.
It's believed that white collar office workers won't be back until July 2021. The director of the CDC said he did not expect any vaccine to be widely administered so things could return to any kind of normal before late second quarter / early third quarter 2021, which contradicts the rosier picture painted by the Donald and his media allies - Fox News, the WSJ and the NY Post - which are controlled by Australian born billionaire Rupert Murdoch. This white collar demographic trend will continue to have a dampening effect NYC shopping, restaurants and real estate.
EVICTION MORATORIUM - for Tenants & Small Businesses
The eviction moratorium for tenants was extended by Governor Cuomo through October 1, 2020. The Governor said he wouldn't allow evictions to proceed while we're in the middle of a pandemic, but it's unclear exactly how one defines 'middle of a pandemic'. Eviction protections were supposed to expire on 9/4 for tenants and to 9/22 for small businesses.
RESTAURANTS, HOSPITALITY - have been & will remain hard hit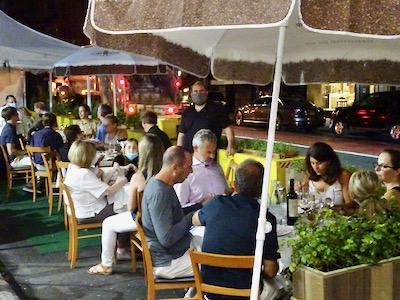 Restaurants in NJ went first, opening for inside dining on 9/4 and theaters were also opened at 25% capacity - both with additional CoVid safety precautions mandated.
On Wednesday, September 30th, NYC and NYS restaurants will resume Indoor dining at 25% capacity, rising to 50% if things go well. A bill allowing a 10% dining surcharge was passed on September 16, 2020 - which will remain in effect until after the pandemic - to aid restaurants. The surcharge must be clearly communicated on the menu and identified as NOT THE SERVICE CHARGE / TIP. The goal is to aid struggling restaurateurs with a means to increase profitability.
According to an August 13, 2020 NY Eater report, about 1,000 restaurants have closed their doors permanently. According to a July 28, 2020 NYT report about 3,000 NYC small businesses have closed permanently since the pandemic began. In a June 2020 U.S. Chamber of Commerce survey, only about 25% of small businesses expect things to get better in the next six months.
It's believed that office workers won't be back until July 2021. As mentioned above, the head of the CDC thought it wouldn't be until late Q2 or early Q3 that a CoVid vaccine would be generally available in the U.S. and that this demographic trend will continue to have a dampening effect NYC shopping, restaurants and real estate.
According to a September 16, 2020 NorthStar Meetings Group report, there are over 61,000 hotel rooms in NYC [58%] that remain unavailable. According to the report at least a couple of thousand are expected to remain permanently closed. Another report, on September 3, 2020 by Commercial Observer noted that 44% of restaurant, hotel and bar jobs - about 440,000 jobs in that industry - have been lost in NYC. This compares to an average 24% comparable loss in the rest of the nation. NYC is a high operating cost tourist destination / mecca. The hospitality industry in NYC depends far more heavily on tourism and business travel than other parts of the nation - and both categories are all but shut down - so this should help explain the difference between NYC hospitality losses vis a vis the rest of the nation.
PANDEMIC ECONOMIC IMPACT - Likely to Continue
The economy is being propped up by the Federal Reserve who reportedly has purchased $3 trillion in corporate debt to keep the market liquid. A reporter on Democracy Now said that a good measure of that was the purchase of fossil fuel company bonds. The Federal Reserve has also lowered the real interest rate to ZERO to help the ailing Trump economy which is running an unemployment rate of over 8%, but the real unemployment rate is believed to be much higher [11% according to CNBC - see report reference in prior story below]. The second stimulus package remains stalled amid haggling, but there are signs the impasse may be ending, as Trump needs to money splash to help bolster his 'Trump Economy' reelection campaign theme.
Bricks and mortar retail were already having trouble before the pandemic made things worse. Retailers have been working through their financial woes, although it's unclear how much that's going to help. So there's a bit of good news that follows the following bad news.
On September 10, 2020 the funky fashion discount retail chain, Century 21, announced that it is closing 11 stores in New York, New Jersey, Pennsylvania and Florida [it also owns two in Canada and their fate remains unclear]. Century 21 began in Brooklyn in 1961, but is best known for its downtown Manhattan store. About 1,400 jobs will be lost.
A Childrens' Place is closing 300 stores over the next 20 months, including 200 this year. Most of the planned store closings locations are in malls.
Nieman Marcus is closing 17 of its off-price Nieman Marcus Last Call stores, as well as five Nieman Marcus stores. The 116 year old retailer is working through a deal with creditors that involves removing $4 billion of $5.5 billion in debt. The bankruptcy included some drama, as a financier reportedly threatened another bidder to drop its bid on a Nieman Marcus property involved in the bankruptcy proceedings.
J. Crew came out of bankruptcy around September 10, 2020 after reaching a deal to swap $1.6 billion in credit for equity. Brooks Brothers, an American men's clothier went into bankruptcy shortly after the start of the pandemic, but found a buyer who is expected to pay $325 million for the retailer. The buyer is the Simon Property Group, the largest mall operator in the nation. There have been reports that nationwide it's estimated that about 25,000 stores could close before year end - mostly in malls. Simon Property Group is traded on the NYSE.
L'Oreal is expected to layoff 1,500 - 2,000 people due to revenue losses associated with the CoVid pandemic as cosmetic sales are down because people are staying home and wearing masks.
Generally, transportation has been slow to come back. United and American airlines are expected to layoff or furlough 16,000 and 19,000 workers, respectively, by October 1, 2020. Air travel is reportedly still down 70% versus prior year.
Both Fed Ex and Amazon are on hiring sprees as more people shop online and take deliveries at home.
PUBLIC TRANSIT Fares, FEMA Cuts, Potential Service Cuts & Window Smashing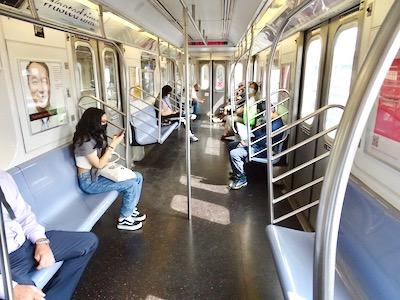 Bus fares reinstated on Monday, August 31, 2020.
Acting Department of Homeland Security secretary Chad Wolfe reportedly directed FEMA to make cuts to blue cities including NYC, WDC, Portland and Seattle. Wolfe has illegitimately / unconstitutionally occupied that cabinet level post as an acting secretary beyond the six months permitted by the U.S. Constitution. It seems Wolfe's illegitimacy could be used to challenge the funding change - at least temporarily.
The MTA said it's losing $200 million per week and would have to cut service by 40% to make ends meet if it doesn't receive $12 billion to $16 billion in bailout aid. The MTA reduced the frequency of trains [8 minutes] and buses [15 minutes] in order to conserve cash as no federal bailout has been agreed upon. The money for the extra cleanings stopped this past week too.
Ridership is still down about 75%, and the unions are fighting layoffs at nearly every level of government these days, as the city and state are running out of time / funds to make ends meet. Staggered, in-class schooling begins next week and will be rolled out through early October. Students riding public transit should increase MTA usage.
At least three people have been smashing subway windows, two of whom have focused their criminal efforts on the #7 subway line [70 windows at cost of $300,000]. One person was apprehended doing the same in Manhattan. The cost to the MTA and its riders is hundreds of thousands of dollars. You have to wonder what's wrong with these people. I think it clearly shows that there's a fine line between the criminal and the mentally ill / mentally disturbed, which has been one of the primary issues in the police funding reallocation debate.
This week I saw a number of uniformed police at a couple of the stations in Queens. It seems to me plains clothes policing might work better in catching the culprits than easily identifiable police officers milling about. I believe the use of plainsclothes police officers is also one of the issues in the law enforcement debate.
MISCELLANEOUS - Masks, Cosmetics, Plastic Surgeries, Plastic Bags & Voting
Deadline to register to vote in NYS is 10/9 and 10/13 in NJ.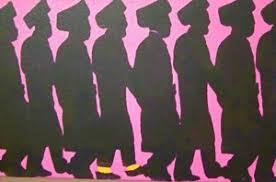 As previously mentioned, the ban on plastic bags at grocery stores took effect Wednesday, August 27th. Enforcement is likely to begin by the end of this month or early next month - if not already begun - so remember to bring your own bag(s) to the grocery store.
According to an August 7, 2020 report by Business Standard, there's been a plastic surgery boom. The pandemic induced downtime, coupled with reduced spending on shopping and dining, are said to have contributed to the boom. And patients can hide their temporary lacerations behind the mask.
The sales of cosmetics fell with the onset of the pandemic. As noted above, cosmetics maker L'Oreal, is planning layoffs. But there have been winners in the cosmestics category as while lipstick sales have fallen, eye makeup and nail care products have risen.
Zoro and the Benefits of a Mask. You don't have to shave or put on makeup, you can get away with bad breath if you can tolerate your own and social distance, and masks hide pimples, cold sores and double chins - which may be why people think someone wearing a mask looks better than that same person looks without wearing one.
Have a nice weekend and Happy Rosh Hashana. Let's hope that the Jewish new year 5781 is better than 5780.
---
---